Christoph Friedrich Blumhardt
The Lord your God is with you, the Mighty Warrior who saves. He will take great delight in you; in his love he will no longer rebuke you, but will rejoice over you with singing. Zephaniah 3:17, NIV
Lord our Savior, you are our Lord and our Helper. Show yourself again and again in our hearts as the Savior who is strong to help us even in difficult times. Remember the many people who sigh to you. Guide them into the protection of the almighty God. Even if they suffer pain and distress and have to go through fear and anxiety, even if they die, Lord Jesus, you are comfort and help. In everything life brings us you will show yourself as the One who does the will of God and who carries it out for us on earth. Amen.
TODAY'S DAILY DIG
Are you worried because you find it so hard to believe? Don't be surprised at the difficulty of faith, if there is some part of your life where you are consciously resisting or disobeying the commandment of Jesus. Is there some part of your life which you are refusing to surrender at his behest, some sinful passion, maybe, or some animosity, some hope, perhaps your ambition or your reason? If so, you must not be surprised that you have not received the Holy Spirit, that prayer is difficult, or that your request for faith remains unanswered….The person who disobeys cannot believe. Only if you obey can you believe.
Source: The Cost of Discipleship
Godtube
A Prayer from Psalm 23
By Debbie McDaniel
"The Lord is my shepherd; I shall not want. He makes me lie down in green pastures. He leads me beside still waters. He restores my soul. He leads me in paths of righteousness for his name's sake. Even though I walk through the valley of the shadow of death, I will fear no evil, for you are with me; your rod and your staff, they comfort me. You prepare a table before me in the presence of my enemies; you anoint my head with oil; my cup overflows. Surely goodness and love will follow me all the days of my life, and I will dwell in the house of the Lord forever." Psalm 23:1-6
This well-known Psalm is so rich with peace and blessing for all our days. Yet often we can become so "familiar" with popular verses and chapters of God's word, that they can almost lose the important message that He is wanting to instill within our hearts. Praying God's words back to Him, and meditating on them verse by verse, can help us to remember his goodness, and be strengthened by his truths.
"The Lord is my shepherd, I shall not be in want." v.1 – He leads us, He guides us, He's always with us, and we can be assured and feel safe under His protective care.
"He makes me lie down in green pastures, he leads me beside quiet waters, He restores my soul…" v.2-3 –  He knows where true rest and blessing are found, and leads us there, He restores, He refreshes, He brings peace and goodness.
"He guides me in paths of righteousness for his name's sake." v. 3 – He leads us to walk in His ways, He draws us to stay close to Him and follow Him.
"Even though I walk through the valley of the shadow of death, I will fear no evil, for you are with me, your rod and your staff they comfort me." v. 4 – Though life is uncertain and we may suffer with illness, loss, or pain, our God of comfort, our Lord who holds all power over death and disease walks with us. Always. He is the only One who can take us by the hand through life's darkest moments of suffering, bringing freedom and healing from the pain of this life, straight into glory and the hope of heaven that He has reserved for us. We never have to fear, in life or in death, for He is with us, our constant strength and Shepherd.
"You prepare a table before me in the presence of my enemies. You anoint my head with oil, my cup overflows." v. 5 – We have a place at His table, He makes room for us, He wants us to stay close to Him. Through history, hosts were expected to protect their guests at all costs. God's protection is real, in the midst of the traps and attacks of enemy forces, we can find security and refuge in His great care. It doesn't mean that we won't ever face huge battles, but that He covers us with His Spirit of anointing and power, to live out our days with His strength and blessing.
"Surely goodness and love will follow me all the days of my life, and I will dwell in the house of the Lord forever." v. 6 – That word for "follow" means "to chase, to pursue." We can be assured, He chases us today, and all our days, with His goodness and love. And even at the end of all our days here on this earth, He still has more in store, and it's greater than we could ever imagine.
Dear God,
Thank you that you are our good Shepherd and we can trust you with our lives. Thank you for your leadership and Sovereignty. Thank you for your guidance and care in all our days. Thank you that you restore our souls, give us peace, and bring us hope in all of our tomorrows. Thank you for your protection and strength that surrounds us like a shield. Thank you that we never have to fear. Thank you for your goodness and love that follows after us, chases us, even when were unaware. Thank you Lord, that you trustworthy and able, that you are our Refuge and hope.
In You alone is rest and peace. We praise you for the assurance that we will dwell with you forever.
In Jesus' Name,
Amen.
Verse of the Day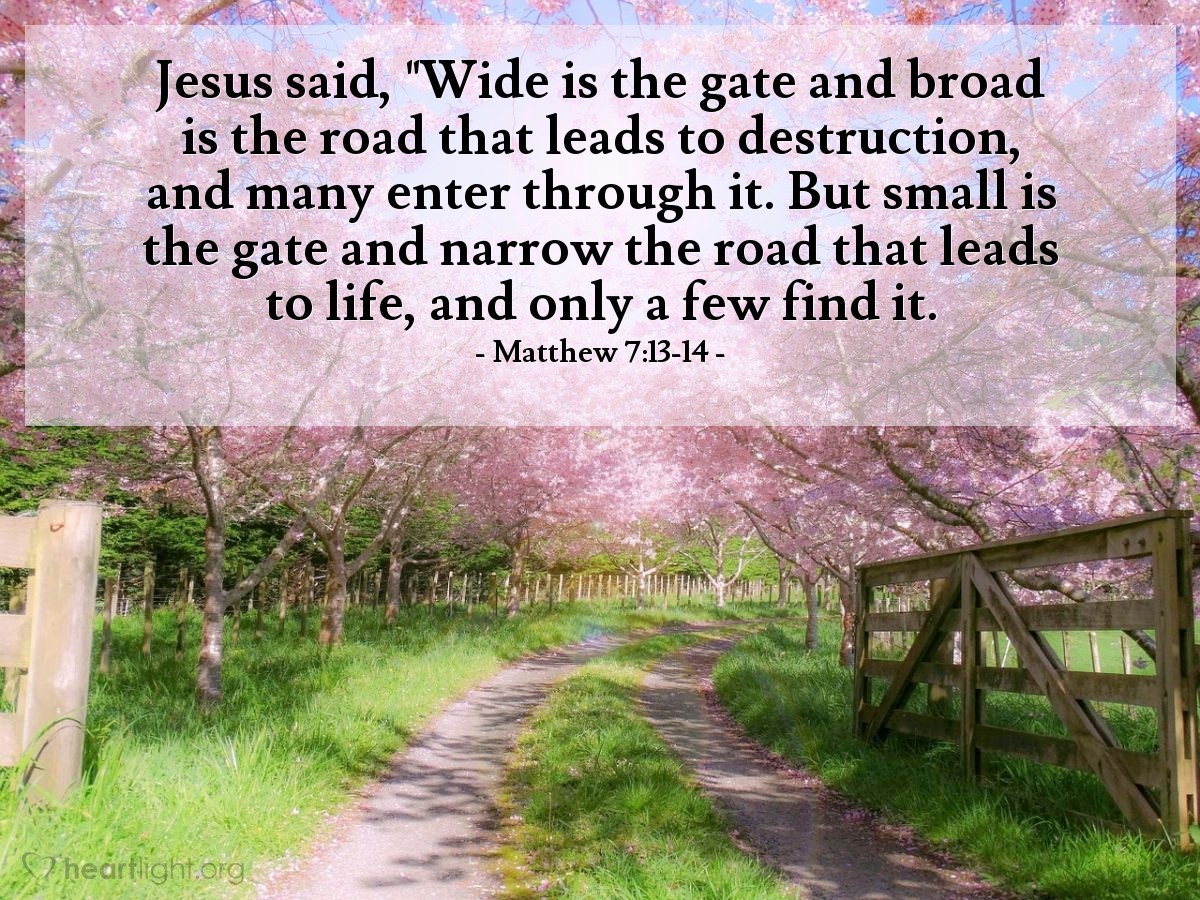 Thoughts on Today's Verse…
The world wants a Savior but not a Lord. The New Testament is clear, a Savior who is not Lord is no Savior and no friend. If the Old Testament showed us anything, it is that God's seemingly bizarre laws were written not for his fascination but for his people's preservation. Let's not only call Jesus Lord this week, let's live in a way that shows he controls our lives and his Spirit produces our character.
My Prayer…
Most Holy Lord, please take control of my life and my will that I may be wholly yours, not just in word, but in thought and in deed as well. Amen.
Saint Ephrem
Saint of the Day for 
June 9
(c. 306 – 
June 9, 373

)

https://www.franciscanmedia.org/wp-content/uploads/2016/08/SODJun09.mp3
Saint Ephrem's Story
Poet, teacher, orator, and defender of the faith, Ephrem is the only Syrian recognized as a doctor of the Church. He took upon himself the special task of opposing the many false doctrines rampant at his time, always remaining a true and forceful defender of the Catholic Church.
Born in Nisibis, Mesopotamia, he was baptized as a young man and became famous as a teacher in his native city. When the Christian emperor had to cede Nisibis to the Persians, Ephrem fled as a refugee to Edessa, along with many other Christians. He is credited with attracting great glory to the biblical school there. He was ordained a deacon but declined becoming a priest. Ephrem was said to have avoided presbyteral consecration by feigning madness!
He had a prolific pen, and his writings best illumine his holiness. Although he was not a man of great scholarship, his works reflect deep insight and knowledge of the Scriptures. In writing about the mysteries of humanity's redemption, Ephrem reveals a realistic and humanly sympathetic spirit and a great devotion to the humanity of Jesus. It is said that his poetic account of the Last Judgment inspired Dante.
It is surprising to read that he wrote hymns against the heretics of his day. He would take the popular songs of the heretical groups and using their melodies, compose beautiful hymns embodying orthodox doctrine. Ephrem became one of the first to introduce song into the Church's public worship as a means of instruction for the faithful. His many hymns have earned him the title "Harp of the Holy Spirit."
Ephrem preferred a simple, austere life, living in a small cave overlooking the city of Edessa. It was here that he died around 373.
---
Reflection
Many Catholics still find singing in church a problem, probably because of the rather individualistic piety that they inherited. Yet singing has been a tradition of both the Old and the New Testaments. It is an excellent way of expressing and creating a community spirit of unity as well as of joy. An ancient historian testifies that Ephrem's hymns "lent luster to the Christian assemblies." We need some modern Ephrems—and cooperating singers—to do the same for our Christian assemblies today.
---
Another Saint of the Day for 
June 9

 is Saint Columba.
(c. 521 – June 9, 597)
---
 Saint Columba's Story
St. Columba was most likely born  in Donegal Ireland. He moved to Leinster where he studied under Saint Finnian of Moville. He was ordained in 551 and spent 15 years setting up various foundations throughout Ireland. He left Ireland at the age of 42 and went to the island of Iona off the coast of Scotland where he and his disciples built a monastery which was to become world famous.
With Saints Canice and Comgall, he spread the Gospel to the Picts. He is credited with developing a monastic rule of life which was followed in many places until Saint Benedict's Rule of life was introduced and became more common. He is also known as Colm, Colum, or Columcil. He died at Iona.
---
Saint Columba is the Patron Saint of:
Ireland
Poets

What Jesus Did!

 'Rescue and Righteousness'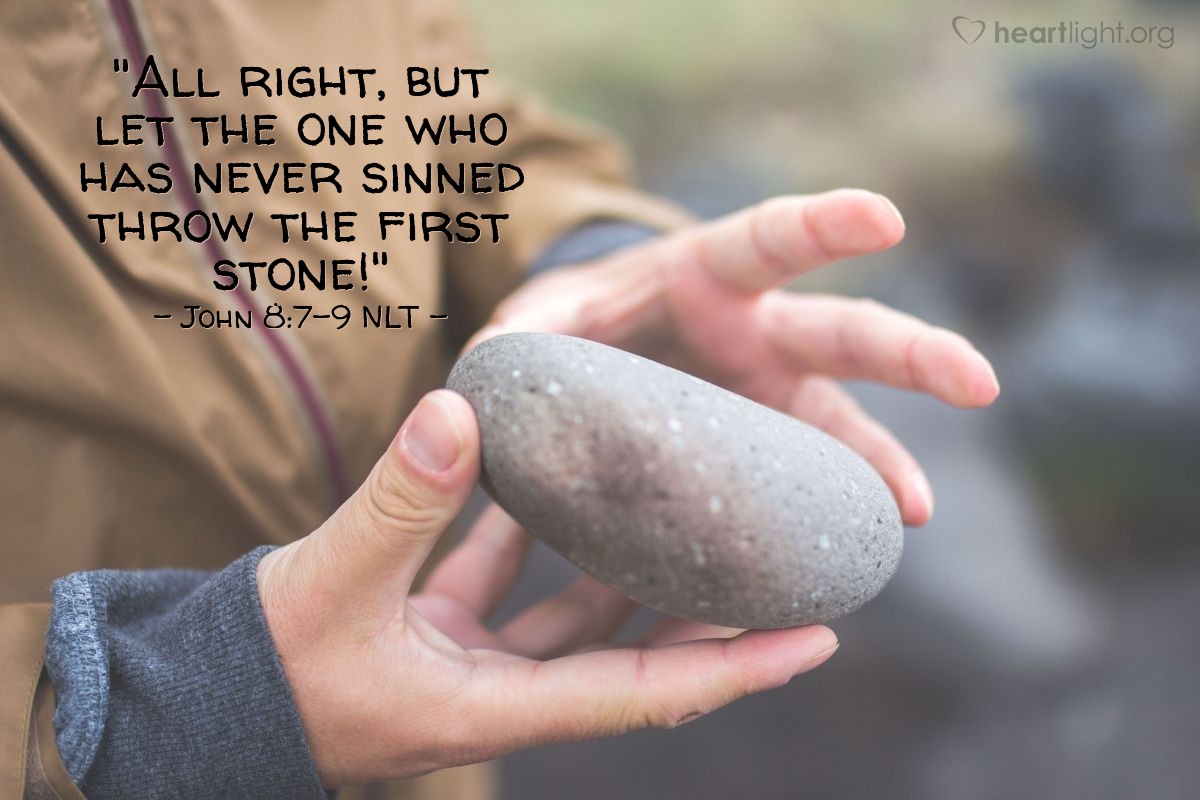 Key Thought
A lynch mob doesn't want truth. It doesn't want redemption or righteousness either. With the shame of the woman, the Jewish leaders had tasted blood. Now they planned to press on until their desire was satiated. It appeared as if no word could hold them back. They would press Jesus till they had what they wanted. But then Jesus spoke a word they had not expected. It was a heaven-sent word. It was a word rooted in truth and a word that struck their very souls. They knew they were not sinless. This word of truth penetrated to the hearts of those who were mature and knew both life and law. As Jesus glanced away to write in the dust, he gave them permission to leave without being shown up. For a brief moment, righteousness triumphed over hatred and self-importance. Those who were younger followed the example of the older men, leaving the woman protected and safe with Jesus. Redemption in action. The Gospel portrayed before our very eyes. Jesus takes the hate of hell and our own sin and turns back the foe, leaving us safe and in his presence.
Today's Prayer
How can I thank you, dear Father, for the salvation Jesus has purchased for me. Lord Jesus, thank you! The words seem so shallow and so small before your expansive grace. Use me to be a conduit of that grace to others. All glory to you, O Father who reigns above all, and to you, Lord Jesus, for you have triumphed over sin and death to rescue me. Amen.
Related Scripture Readings
Daily Wisdom:

 Galatians 6:10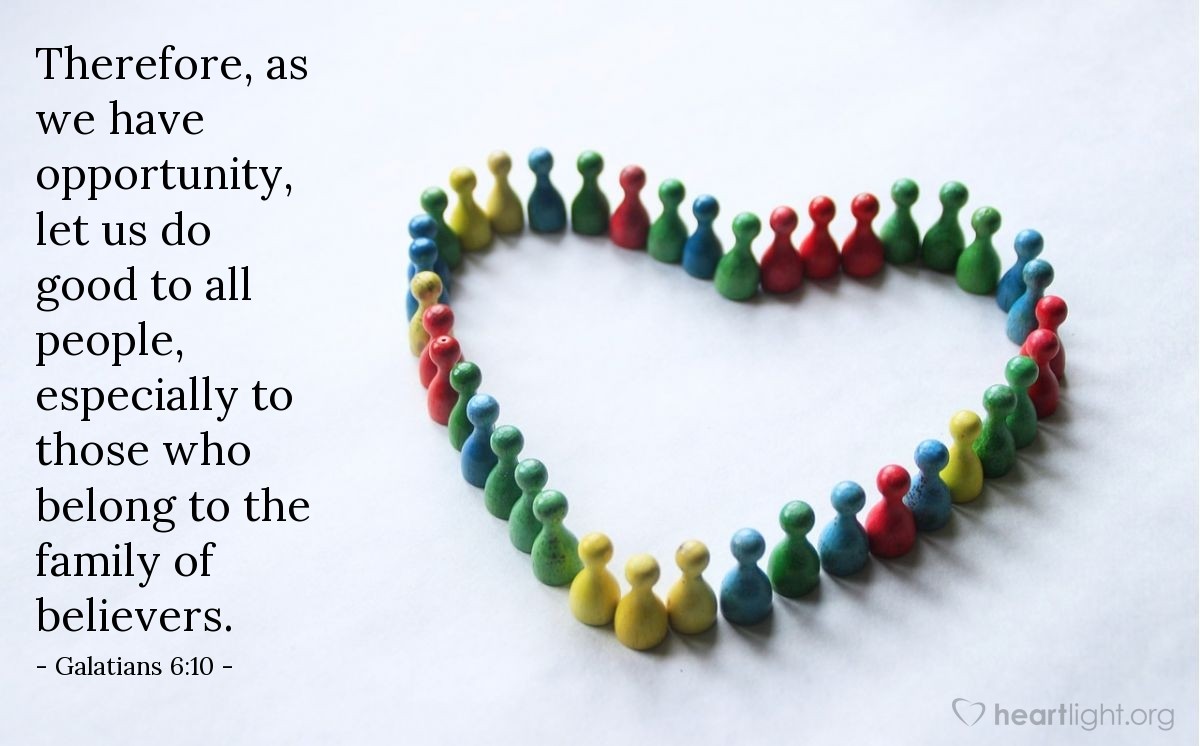 Spiritual Warfare:

 'God Rescues Us & Carries Us in His Arms'

God's Power for Our Battles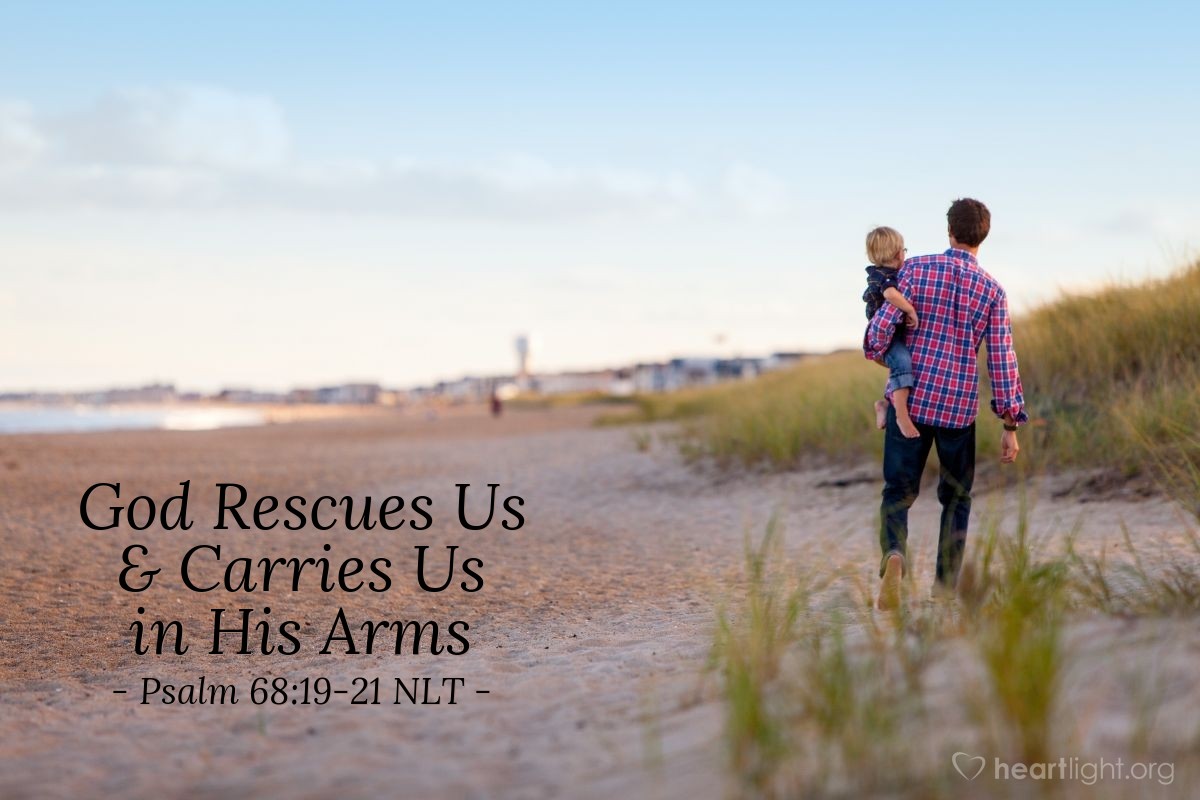 Praise the Lord; praise God our savior! For each day he carries us in his arms. Our God is a God who saves! The Sovereign Lord rescues us from death. But God will smash the heads of his enemies, crushing the skulls of those who love their guilty ways.
Today's Prayer
Lord, I praise You as my Lord and Savior! Thank You for carrying me in Your arms each day and rescuing me from all my enemies. You are the God who cares for me and saves me from death. Death has no power over me now because I know I will rise from death, just as Jesus did long ago. Thank You for conquering this enemy for me. Please continue to carry me as I try each day to walk in Your ways and witness to others about Your greatness and love and power. In Jesus' Name, Amen.
A Year with Jesus:

 'Growing through Problems'
Note from Jesus
Dear Beloved,
The apostle Paul spoke the truth about Our — Father, Son, and Spirit's — desire for Our new covenant people when he wrote:
So in Christ Jesus you are all children of God through faith, for all of you who were baptized into Christ have clothed yourselves with Christ. There is neither Jew nor Gentile, neither slave nor free, nor is there male and female, for you are all one in Christ Jesus.
(Galatians 3:26-28 NIV)
However, it often takes time for social reality to be brought into conformity with My will. So My disciples must always seek to live the values and ethics of My kingdom even if the world doesn't appreciate those values.
Almost everyone in the earliest days of the church was Jewish. Prejudice was a significant problem. Sometimes that prejudice manifested itself toward non-Jews coming into My spiritual family — the dominant problem addressed in Acts chapters 10-15. However, prejudice was also an issue between sub-groups within the Jewish community. In the verses below, Grecian Jews who were in Jerusalem and who had become My disciples made an accusation of discrimination. Their widows who did not speak the native language in Jerusalem were being overlooked and were going hungry while the native-speaking widows were receiving better care and more ample provision as the early Christians shared their possessions (Acts 4:32-35).
Rather than denying the accusation of prejudice or ignoring this charge of discrimination, My apostles acted very wisely. Notice what they did:
Openness
The apostles brought all the community of disciples together to discuss this issue — no secret meetings and no sweeping the problem under the rug!
Calling
The apostles pointed out that their primary calling was to proclaim the message they had received from God.
Involvement
The apostles called on the church family to be involved in the solution to this problem — more than just being open with the communication, the apostles were asking for help in selecting men to find a solution.
Direction
The apostles gave clear criteria for selecting those who would be part of the ministry team to the Grecian widows and asked the whole congregation to put forward leaders who fit this description.
Participation
The congregation of believers selected seven men who fit the criteria of being full of the Spirit and wisdom.
Empathy
The congregation recognized the need for those who could understand both the language of the Grecian widows and also their plight as hungry foreigners in the homeland of their ancestors. So they chose men who had Greek names — one was even a non-Jewish proselyte — and who would be familiar with the Greek language these widows spoke.
Appointment
The apostles publicly commissioned or ordained these men for service and publicly prayed for their ministry.
Growth
The problem was overcome, the message continued to spread, and many came to faith in Me.
Equipping
Some of these men selected to serve the widows later became very important leaders in other ways.
Focus
The apostles devoted themselves to their calling — prayer and sharing My message — while encouraging and equipping others to engage in ministry.
Before you read the verses below, review the ten principles of great leadership and congregational problem-solving that are listed above. These are great principles to put into practice among My people today. Every problem has a potential for disaster or development. Led by the Holy Spirit, the apostles turned this potentially crippling problem into an opportunity for the development and growth of My disciples.
Verses to Live
Imagine how unaddressed prejudice could have wrecked the growth of My early church. However, the Spirit's guidance through Godly leaders turned around this potential disaster. Instead of disaster, the actions of My leading disciples became the springboard for greater growth. It also provided a new group of leaders the opportunity for development and service.
Things were going well, and the number of disciples was growing. But a problem arose. The Greek-speaking believers became frustrated with the Hebrew-speaking believers. The Greeks complained that the Greek-speaking widows were being discriminated against in the daily distribution of food. The twelve convened the entire community of disciples.

The Twelve:

We could solve this problem ourselves, but that wouldn't be right. We need to focus on proclaiming God's message, not on distributing food. So, friends, find seven respected men from the community of faith. These men should be full of the Holy Spirit and full of wisdom. Whomever you select we will commission to resolve this matter so we can maintain our focus on praying and serving — not meals — but the message.

The whole community — Greek-speaking and Hebrew-speaking — was very pleased with this plan, so they chose seven men: Stephen (a man full of faith and full of the Holy Spirit), Philip, Prochorus, Nicanor, Timon, Parmenas, and Nicolas (a Greek-speaking convert from Antioch). These men were presented to the apostles, who then prayed for them and commissioned them by laying their hands on them. The message of God continued to spread, and the number of disciples continued to increase significantly there in Jerusalem. Even priests in large numbers became obedient to the faith.
(Acts 6:1-7)
Response in Prayer
O Father, please bless our leaders in Your church today. Give us the courage to select leaders based on their Spirit-led wisdom and their ability to serve, with empathy, those who need to be served. I pray that Your leaders can be open and courageous in dealing with problems like prejudice, division, and hunger among Your people. Help us, O LORD, to demonstrate Your love for all people in the way we treat each other. In Jesus' name, I pray. Amen.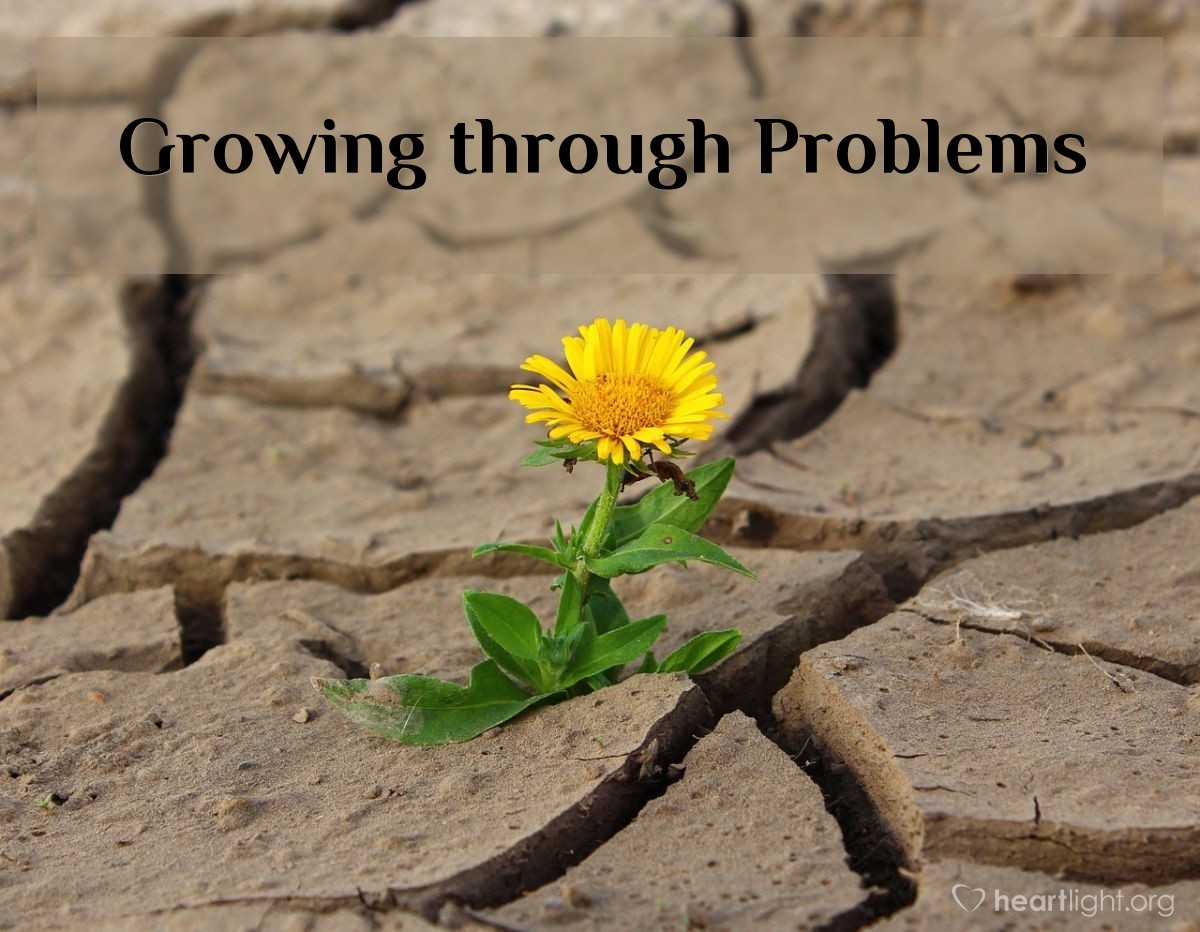 Search the Scriptures.
John 5:39
The Greek word translated search signifies a strict, close, diligent, curious search, the kind men make when they are seeking gold, or hunters when they are in pursuit of game. We must not be content with giving a superficial glance to one or two chapters, but with the candle of the Spirit we must deliberately seek out the meaning of the Word.
Holy Scripture requires searching—much of it can only be learned by careful study. There is milk for babies, but also meat for strong men. The rabbis wisely say that a mountain of matter hangs upon every word, indeed, upon every title of Scripture. Tertullian declared, "I adore the fullness of the Scriptures." The person who merely skims the Book of God will not profit from it; we must dig and mine until we obtain the treasure. The door of the Word only opens to the key of diligence. The Scriptures demand to be searched. They are the writings of God, bearing the divine stamp and imprimatur—who shall dare to treat them casually? To despise them is to despise the God who wrote them.
God forbid that any of us should allow our Bibles to become witnesses against us in the great day of account. The Word of God will repay searching. God does not ask us to sift through a mountain of chaff with only here and there a grain of wheat in it, but the Bible is sifted corn—we have only to open the granary door and find it. Scripture grows upon the student.
It is full of surprises. Under the teaching of the Holy Spirit, to the searching eye, it glows with splendor of revelation, like a vast temple paved with gold and roofed with rubies, emeralds, and all manner of gems. There is no merchandise like the merchandise of scriptural truth. Finally, the Scriptures reveal Jesus: "They that bear witness about me." No more powerful motive can be urged upon Bible readers than this: He who finds Jesus finds life, heaven, and all things. Happy are they who, in searching the Bible, discover their Savior.
NATIONAL DONALD DUCK DAY
National Donald Duck Day is observed annually on June 9th.  This day commemorates the birthday of the funny animal cartoon character, Donald Duck. Donald made his first screen debut on June 9, 1934, in The Wise Little Hen.
Donald Duck usually wears a sailor suit with a cap and a black or red bow tie and is most famous for his semi-intelligible speech along with his mischievous and irritable personality
Donald Duck has appeared in more films than any other Disney character.   Donald was also declared in 2002 by TV Guide as one of the 50 greatest cartoon characters of all times.
It was in Donald's second appearance in Orphan's Benefit that he was introduced to his comic friend, Mickey Mouse.  Donald's girlfriend, Daisy Duck, along with his nephews, Huey, Dewey, and Louie, were introduced shortly after that. 
In addition to animation, Donald is also known for his appearance in comic books and newspaper comic strips.
One of Donald Duck's famous sayings is "Oh boy, oh boy, oh boy."
HOW TO OBSERVE
Use  #DonaldDuckDay to post on social media.
HISTORY
National Donald Duck Day first proclaimed by LA Mayor Tom Bradley in 1984 on Donald's 50th birthday. The world's most famous duck gave the city a silver statue of himself as a gift in memory of the big day. He also toured the country leading up to the big Disney birthday party bash.