Christoph Friedrich Blumhardt
Lord, you have been our dwelling place throughout all generations. Before the mountains were born or you brought forth the earth and the world, from everlasting to everlasting you are God. Psalm 90:1–2, NIV
Lord our God, our refuge forever, bless us who have gathered in your presence and who turn to you in all distress, not only in our personal need but also in the distress of the nations and peoples of the whole world. Grant that we may be your children, with a simple faith that gives us strength to go on working even when life is bitterly hard. We thank you for giving us so much grace, for helping us and never forsaking us, so that again and again we can find joy and can glorify and praise you, our Father. May your name be praised from heaven above and among us here below. May your name be praised by all people throughout the world, and may everyone on earth acknowledge you and receive all that they need from you. Amen.
TODAY'S DAILY DIG
Difficulties should not depress or divert us. The cause that has gripped us is so great that the small weaknesses of individuals cannot destroy it. Therefore I ask you only one thing: do not be so worried about yourself. Free yourself from all your plans and aims. They occupy you far too much. Surrender yourself to the sun, the rain, and the wind, as do the flowers and the birds. Surrender yourself to God. Wish for nothing but one thing: that his will be done, that his kingdom come, and that his nature be revealed. Then all will be well.
Source: Seeking Peace
11 Powerful and Uplifting Early Morning Prayers to Kick-Start your Day with God
One of the persons who showed us how decisively important the early morning prayer is, and who also happens to be its biggest proponent, is non-other than our Lord and Savior Jesus Christ. Other early risers depicted in the Bible are Abraham, Joshua, Moses, and David.
It was said of Jesus: And rising very early in the morning, while it was still dark, he [Jesus] departed and went out to a desolate place, and there he prayed Mark 1:35.
When you wake up in the morning, and your heart and mind feel really heavy, like the weight of the whole world is on your shoulder, you can always run to God for strength, encouragement, guidance, rest, or peace. You wouldn't be the first to do this, Jesus Christ also did it.
Here are 11 powerful and uplifting prayers to kick-start your morning!
Prayer for the Gift of a New Day
Wonderful Father, full of mercy and grace. I give you praise for counting me worthy to witness another day on this earth. Thank you Heavenly Father, for the gift of a new day.
"Do not be anxious about anything, but in everything, by prayer and petition, with thanksgiving, present your requests to God. And the peace of God which transcends all understanding, will guard your hearts and your mind in Christ Jesus." – Philippians 4:6-7
Lord, I laid down, slept in peace and woke up safely, because you were watching over me. You kept me all through the night, even till this morning.
I go into today with a heart of thanksgiving. I love you God for all that you have done for me! Amen.
Prayer for Guidance throughout the day
Lord, thank you for a great night's rest and the opportunity to stand here today. Today is another day that you have made, I will rejoice and be glad in it.
Lord, I know you love me. Your word makes me understand the depth of your love for me, and I thank you for this boundless love.
If any of you lacks wisdom, he should ask God, who gives generously to all without finding fault, and it will be given to him. – James 1:5
Lord, I ask for your unfailing guidance, as I step out in search of my daily bread today. Let your mighty hands of protection and strength cover me as I walk through today. Thank you because I am safe in your hands. Amen.
Prayer for Divine Assistance
Father Lord, I feel like a million tons of weight is hanging over my head right now. I feel exhausted, stressed and overwhelmed, even though I just woke up. My heart is racing.
This burden on my shoulder is way too heavy for me to carry alone. Lord, I need you now more than ever. I can no longer pretend like I can help myself.
"I have set the LORD always before me. Because He is at my right hand, I will not be shaken." – Psalm 16:8
As I go out today, show yourself strong for me. My God is all powerful and is able to do immeasurably more than all I ask or imagine.
So, today Lord, help me to safely anchor myself to you. Help me to recognize and accept your divine help when I see it today. I receive the grace to depend on you and not on myself. Amen.
Prayer for my Relatives
Dear Merciful Father, thank you for those you have surrounded me with. They have been a blessing to me and I want this great blessing to continue for a long time.
Lord, my prayer today is that your hand of divine protection and guidance will fall mightily on my relatives, in Jesus name. As they go out and carry out their different assignments, bring home safely.
I thank you for their lives all these years and I pray that you will be a present help to them every moment of their lives. Amen.
Prayer for Positive Influence
There is a reason you brought me to this new day, Lord. Shine brightly through me so that everyone that come across me today may feel your presence in me.
Take my hand, Lord and teach me to do that which is right.
As I step out today, let lives and destinies be blessed by my words and actions.
I refuse to be used to denigrate, insult or disrespect people today. I uplift, motivate and bless lives. Amen.
Early Morning Prayer for Wisdom
Dear God, you said in your word that if anyone lacks wisdom, he should ask of you who gives liberally, without reproaching or faultfinding.
So in response to your word, I come this morning that you fill me up with the type of knowledge that can only come from you.
Psalm 119:66 Teach me knowledge and good judgment, for I trust your commands.
I receive the grace to make wise decisions. I receive the capacity to choose wisdom over folly.
And I thank you for your blessings and wisdom, in Jesus name, Amen!
Prayer for Strength
Dear Father, I humble myself this morning and I ask for your strength. Lord uphold me with your right hand in this world of grave temptations.
By my strength I cannot do it, I need the strength that only you gives.
The strength to say "No" to sin and temptations. The strength to choose and do that which is right.
And, as I go through this trying period, create in me a pure heart, O God. Renew a steadfast spirit within me.
In Jesus' mighty and powerful name I pray, Amen.
Prayer for Family
Lord, thank you for my family. Thank you for my spouse. Thank you for my kids.
I entrust all my family members into your mighty hand. As they go out into the world today, be with them. At the end of today, Lord God, bring us all back together.
Joshua 24:15 But if serving the Lord seems undesirable to you, then choose for yourselves this day whom you will serve, whether the gods your ancestors served beyond the Euphrates, or the gods of the Amorites, in whose land you are living. But as for me and my household, we will serve the Lord.
Lord, I pray that our relationship with you becomes better. I pray you draw us even closer to yourself.
In Jesus blessed name, Amen.
Prayer for Job and Career
Ithank you for my job because you, Lord, gave it to me. Heavenly Father, thank you for my career.
I ask for your leadership and wisdom as I do my job and go along with my career. Lord continue to direct my career.
Psalm 90:17 May the favor of the Lord our God rest on us; establish the work of our hands for us, yes, establish the work of our hands.
As I go to work today, watch over me and keep me safe. I pray against accidents, no matter how small.
I pray against any power that may want to cause problems in the place where the income with which I support my family comes from. In Jesus mighty name. Amen.
Prayer for Opportunity
Lord God Almighty,  I thank you because you have been gracious to me.
As I go through today, I welcome the opportunities to contribute with the gifts that you have blessed me with, to the growth of the world.
I receive the opportunity to be used by you to bless others today. And I thank you and pray in Jesus' name, Amen!
Prayer for Contentment
In this world of instant gratification, wild desires, unholy ambitions and evil dreams, Lord I ask that you give me the spirit of contentment.
Even as I pray that you will make my life better, I receive the capacity to be content in my circumstances. Amen.
Verse of the Day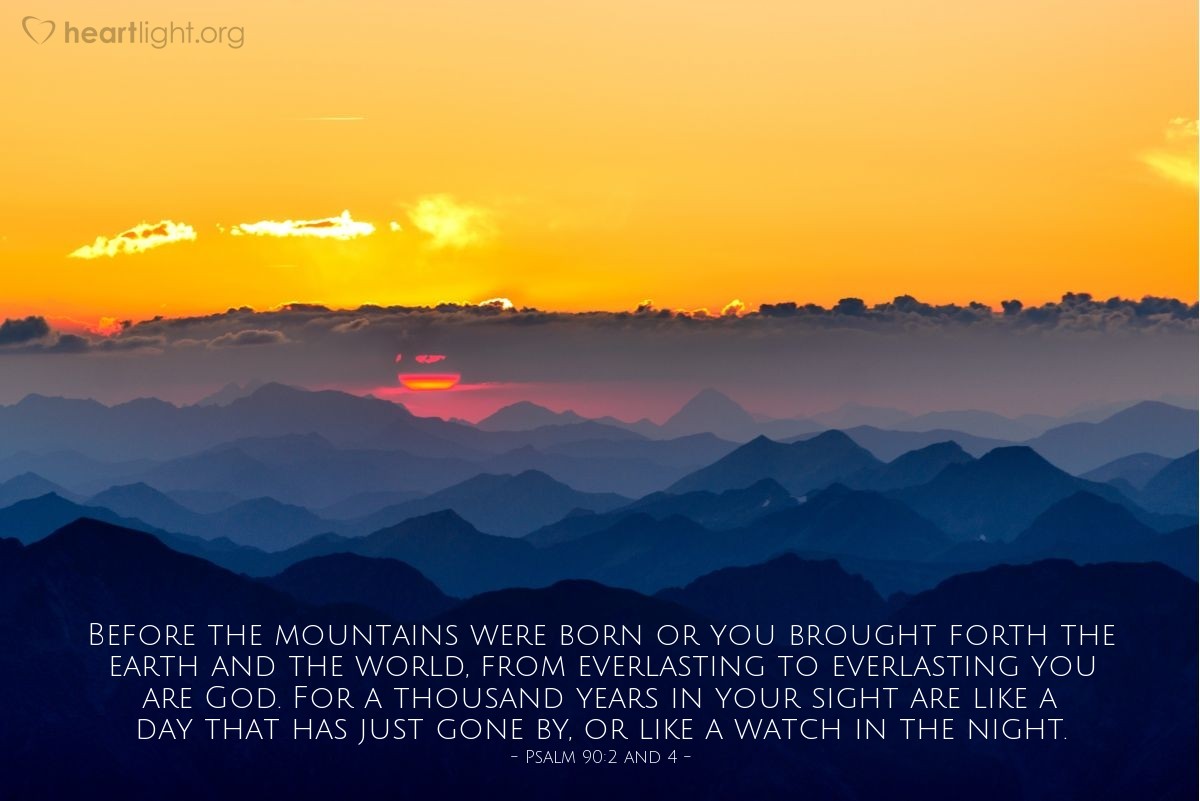 Thoughts on Today's Verse…
So many things about our life are uncertain. This one thing, however, is sure: no matter where, when, or how long, God will be there and will be with us and for us.
My Prayer…
Everlasting Father, I find great comfort in knowing that I cannot be in a place or time where you are not. Stir my courage through your Spirit that I may be more bold, by your power and presence, to share the Gospel of Jesus. In Jesus' name I pray. Amen.
When a couple is unable to bear children, there can be a lot of pain and confusion. They want a family so dearly, but for whatever reason they struggle to get pregnant. Sometimes, couples choose to turn to different avenues in order to have the family of their dreams. While adoption is a great choice for some, many couples have also started looking into surrogacy.
The surrogacy process allows the couple to see a child through conception, pregnancy and birth. It also allows there to be a biological connection to the child for one of the parents. In this situation, a third-party referred to as the surrogate mother, will carry the embryo throughout the pregnancy. The surrogate will give up the baby to its intended parents at het time of birth.
While this practice has certainly grown in popularity over the decades, many Christians struggle to understand if this is the right option for them. What does God think, and what does the Bible have to say about it?
Story of Abraham and Sarah
The Bible does not address the issue of surrogacy directly. The closest Biblical story we have to surrogacy is of Abraham and Sarah in Genesis chapter 16. Sarah was unable to bear children, so she gave her servant, Hagar, to Abraham. This was a common practice during the Biblical times, since a childless woman was considered shameful. This story more closely resembles what we call "traditional surrogacy" today, where the mother is impregnated with the sperm of a man—often one whose wife is incapable of producing eggs—usually by means of artificial insemination.
There is also the option of "gestational surrogacy," which involves transplantation of an already-conceived embryo containing the sperm and egg from a couple. In this case, the surrogate's role is simply that of a carrier, which was not the case with Hagar.
Through Hagar's story, we see how complicated a surrogacy process can be. There is a chance of pain, heartache and confusion for both the surrogate and the couple. Hager has problems giving up the child to Sarah when it was born, and this kind of problem can certainly still happen today. Giving away a child, despite the financial aspect of surrogacy, can cause incredible pain because of the bond that forms between the mother and the child she's carrying before it's born. However, many surrogate women and couples who employ them today are able to stick with their established and agreed upon roles happily and with contentment.
Morality of Surrogacy
The Bible does not forbid the practice outright, but it does bring up questions of if surrogacy itself is moral or ethical. In Psalm 127:3 we see that children are a gift to couples and not everyone is blessed with them. God will not always give us exactly what we want. Just as He blesses some people with incredible wealth, He only blesses some of us with the ability to have children. Could you possibly be going against God's plan for you by trying to have a child anyway? In addition, marriage is designed to be between two people, and children are to be born of that union (Genesis 1:28, 2:24). To bring in a third party means that the child will have a third parent.
Further questions have to be asked that may be difficult to answer. For example, will the baby know its surrogate mother? Will there be visitation? How will the child be expected to feel about the surrogate mother and will there be jealousy?
Many Christians also struggle with the financial aspect that is tied to surrogacy. Some consider it to be selling a child, and go as far as to say it's a form of human trafficking. In the United States, surrogate mothers are typically paid $20,000 to $25,000 for their help in the process.
Seek God for wisdom (James 1:15) and discern the root of your desire for a family. If using a surrogate is in defiance of God and a way to "get your own way," that would be sin. If using a surrogate is a way for you as a couple to bring glory to God, then carefully plan and define each person's role going forward and seek God's blessing. All that we do should be done to glorify God (1 Corinthians 10:31). Couples who use a family member as surrogate can often head off problems before they arise if the surrogate has a strong bond with the couple and has their welfare and that of their child at heart.
While certainly moral issues are important to follow and abide by, it is difficult to judge anyone unless or until they "have walked a mile in the other person's shoes." This being the case, it is felt by many that infertility is a medical condition – and until anyone has actually faced the reality of not being able to have a child, it is difficult to get a feel for how truly devastating this situation can be. With all of this in mind, it's truly up to God and the couple about what is right for them. Above all, those who are in the process should consistently pray for wisdom.
Blessed Franz Jägerstätter
Saint of the Day for 
June 7
(
May 20, 1907

 – 

August 9, 1943

)

https://www.franciscanmedia.org/wp-content/uploads/2016/08/SODJun07.mp3
Blessed Franz Jägerstätter's Story
Called to serve his country as a Nazi solider, Franz eventually refused, and this husband and father of three daughters—Rosalie, Marie and Aloisia—was executed because of it.
Born in St. Radegund in Upper Austria, Franz lost his father during World War I and was adopted after Heinrich Jaegerstaetter married Rosalia Huber. As a young man, he loved to ride his motorcycle and was the natural leader of a gang whose members were arrested in 1934 for brawling. For three years he worked in the mines in another city and then returned to St. Radegund, where he became a farmer, married Franziska and lived his faith with quiet but intense conviction.
In 1938, he publicly opposed the German Anschluss, annexation, of Austria. The next year, he was drafted into the Austrian army, trained for seven months and then received a deferment. In 1940, Franz was called up again but allowed to return home at the request of the town's mayor. He was in active service between October 1940 and April 1941, but was again deferred. His pastor, other priests, and the bishop of Linz urged him not to refuse to serve if drafted.
In February 1943, Franz was called up again and reported to army officials in Enns, Austria. When he refused to take the oath of loyalty to Hitler, he was imprisoned in Linz. Later he volunteered to serve in the medical corps but was not assigned there.
---
---
During Holy Week Franz wrote to his wife: "Easter is coming and, if it should be God's will that we can never again in this world celebrate Easter together in our intimate family circle, we can still look ahead in the happy confidence that, when the eternal Easter morning dawns, no one in our family circle shall be missing—so we can then be permitted to rejoice together forever." He was transferred in May to a prison in Berlin.
Challenged by his attorney that other Catholics were serving in the army, Franz responded, "I can only act on my own conscience. I do not judge anyone. I can only judge myself." He continued, "I have considered my family. I have prayed and put myself and my family in God's hands. I know that, if I do what I think God wants me to do, he will take care of my family."
On August 8, 1943, Franz wrote to Fransizka: "Dear wife and mother, I thank you once more from my heart for everything that you have done for me in my lifetime, for all the sacrifices that you have borne for me. I beg you to forgive me if I have hurt or offended you, just as I have forgiven everything…My heartfelt greetings for my dear children. I will surely beg the dear God, if I am permitted to enter heaven soon, that he will set aside a little place in heaven for all of you."
Franz was beheaded and cremated the following day. In 1946, his ashes were reburied in St. Radegund near a memorial inscribed with his name and the names of almost 60 village men who died during their military service. He was beatified in Linz on October 26, 2007. His "spiritual testament" is now in Rome's St. Bartholomew Church as part of a shrine to 20th-century martyrs for their faith.

What Jesus Did!

 'The Gift of Teaching'

Then the meeting [of the Jewish leaders] broke up, and everybody went home. Jesus returned to the Mount of Olives, but early the next morning he was back again at the Temple. A crowd soon gathered, and he sat down and taught them.

Note: The oldest and best Greek copies of John do not have verses 7:53-8:11. Nevertheless, they are in nearly all translations because the content is certainly consistent with Jesus' ministry.
Key Thought
Jesus gave people the gift of his teaching. His words were God's word. He spoke and embodied God's message. So when people gathered together, Jesus gave them his great gift of teaching. In this instance, he taught them with his words, and he also taught them with his life, his actions. Let's never underestimate the importance of learning the truth from Jesus, through both his words and his deeds, and let's never underestimate the importance of our deeds' being consistent with our words.
Today's Prayer
Almighty God and tender Shepherd, guide me into your truth. Conform me to the character of your Son Jesus. I especially ask for the help of your Holy Spirit to conform my lifestyle to the things that I believe to be true about Jesus. Help me to walk the talk and to put into practice the things I have learned. In Jesus' name. Amen.
Related Scripture Readings
Spiritual Warfare:

 'Guiding You to Eternity'

God's Power for Our Battles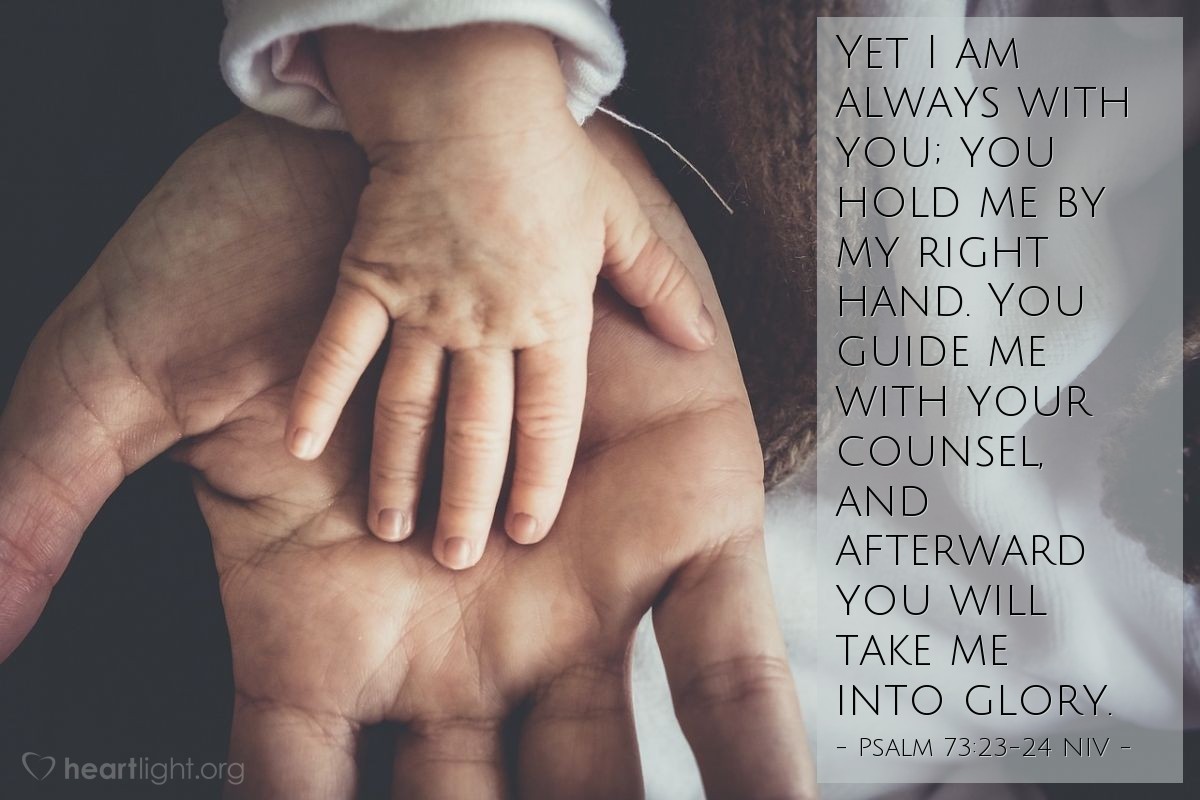 Today's Prayer
Lord, many days I feel lost and alone like I'm wandering in a foreign land with no friends. But that's not true. You are always there, right beside me, holding my hand, and helping me along the way, even when I don't realize it. Your gentle touch and still small voice resonates with my spirit. You are a constant companion, and Your promises are true. Thank You for being my anchor and my guide, and for giving me so much wise counsel in the pages of Your Word. Lead on, Lord, and I will do my best to follow in truth and righteousness. In Jesus' Name, Amen.
A Year with Jesus:

 'Prayer Power!'
Note from Jesus
Dear Disciple,
Yesterday I shared with you that while the key ruling council tried to intimidate My people, they were undaunted. Here was their answer to the threats of the religious leaders:
You are the judges here, so we'll leave it up to you to judge whether it is right in the sight of God to obey your commands or God's. But one thing we can tell you: we cannot possibly restrain ourselves from speaking about what we have seen and heard with our own eyes and ears.
My disciples responded to the threats of the ruling council with prayer! They reached back and incorporated part of Psalm 2 in their prayer recorded in the verses below, and they trusted in the promise of the closing lines of this prophetic psalm:
But blessings await all who trust in Him. They will find God a gentle refuge.
(Psalm 2:12)
Notice the focus of the prayer My disciples prayed. They didn't pray to have their difficulties cease, but that they be given strength and boldness to declare My message:
And now, Lord, take note of their intimidations intended to silence us. Grant us, Your servants, the courageous confidence we need to go ahead and proclaim Your message while You reach out Your hand to heal people, enabling us to perform signs and wonders through the name of Your holy servant Jesus.
They didn't back down. Instead, they were "praying up" their work of sharing the good news and bringing My healing to those who were broken and lost.
I had promised in My earthly ministry that the Father would send the Holy Spirit to those who asked (Luke 11:13). I promised I would never abandon My disciples as they shared My message (Matthew 28:18-20) and testified before hostile audiences (Mark 13:11).
My early disciples believed in these promises. They believed in the power of the Holy Spirit. They believed in the great importance of their mission. Do you?
Enduring persecution, they rejoiced and they prayed. Facing intense scrutiny, they testified to the truth. Being threatened with death, they were undaunted. They chose to be My faithful witnesses no matter the cost. Do you? Will you?
Great blessing comes to those who are faithful under trial. Pray and ask for boldness. Seek the "courageous confidence" you "need to go ahead and proclaim" My message and do My work in your broken world. One of those blessings is experiencing the powerful movement of the Holy Spirit in your midst as you are empowered and inspired to do My work and speak My message. And notice, dear disciple, that this power and inspiration are for you, and not just a holy few who lived long ago:
All the disciples were filled with the Holy Spirit, and they began speaking God's message with courageous confidence.
Verses to Live
Prayer is powerful because you place your trust in Us — Father, Son, and Spirit. You trust that We will enter into your world and into your lives. You trust that We will do Our will through you by the power of the Holy Spirit working through you.
We long for you to invite Us to do in you, and through you, the very things that Our sovereign will longs to do. Often we are waiting for your faith to be displayed and for your prayers to ask Us to act. Look what can still happen when My disciples display that faith and, through their prayers, invite Us to act:
Jewish Leaders:

What do we do with these fellows? Anyone who lives in Jerusalem will know an unexplainable sign has been performed through these two preachers. We can't deny their story. The best we can do is try to keep it from spreading. So let's warn them to stop speaking to anybody in this name.

The leaders brought the prisoners [Peter and John] back in and prohibited them from doing any more speaking or teaching in the name of Jesus. Peter and John listened quietly and then replied,

Peter and John:

You are the judges here, so we'll leave it up to you to judge whether it is right in the sight of God to obey your commands or God's. But one thing we can tell you: we cannot possibly restrain ourselves from speaking about what we have seen and heard with our own eyes and ears.

The council threatened them again, but finally let them go because public opinion strongly supported Peter and John and this man who had received this miraculous sign. He was over 40 years old, so his situation was known to many people, and they couldn't help but glorify God for his healing.

Peter and John, upon their release, went right to their friends and told the story — including the warning from the council. The whole community responded with this prayer to God:

Community of Believers:

God, our King, You made the heaven and the earth and the sea and everything they contain. You are the One Who, by the Holy Spirit, spoke through our ancestor David, Your servant, with these words:

Why did the nations rage?

Why did they imagine useless things?

The kings of the earth took their stand;

their rulers assembled in opposition

against the Eternal One and His Anointed King.

This is exactly what has happened among us, here in this city. The foreign ruler Pontius Pilate and the Jewish ruler Herod, along with their respective peoples, have assembled in opposition to Your holy servant Jesus, the One You chose. They have done whatever Your hand and plan predetermined should happen. And now, Lord, take note of their intimidations intended to silence us. Grant us, Your servants, the courageous confidence we need to go ahead and proclaim Your message while You reach out Your hand to heal people, enabling us to perform signs and wonders through the name of Your holy servant Jesus.

They finished their prayer, and immediately the whole place where they had gathered began to shake. All the disciples were filled with the Holy Spirit, and they began speaking God's message with courageous confidence.
(Acts 4:16-31)
Response in Prayer
O Father, give Your disciples today the courageous confidence to proclaim Jesus and live before others as witnesses of Your grace. Fill us even more with the Holy Spirit, Who now lives in us. Fill us to overflowing so that not only will we display the fruit of the Spirit in righteous behavior and gracious compassion, but that we also will be bold in declaring the message of Jesus no matter the opposition or hostility we face. In Jesus' name, I pray. Amen.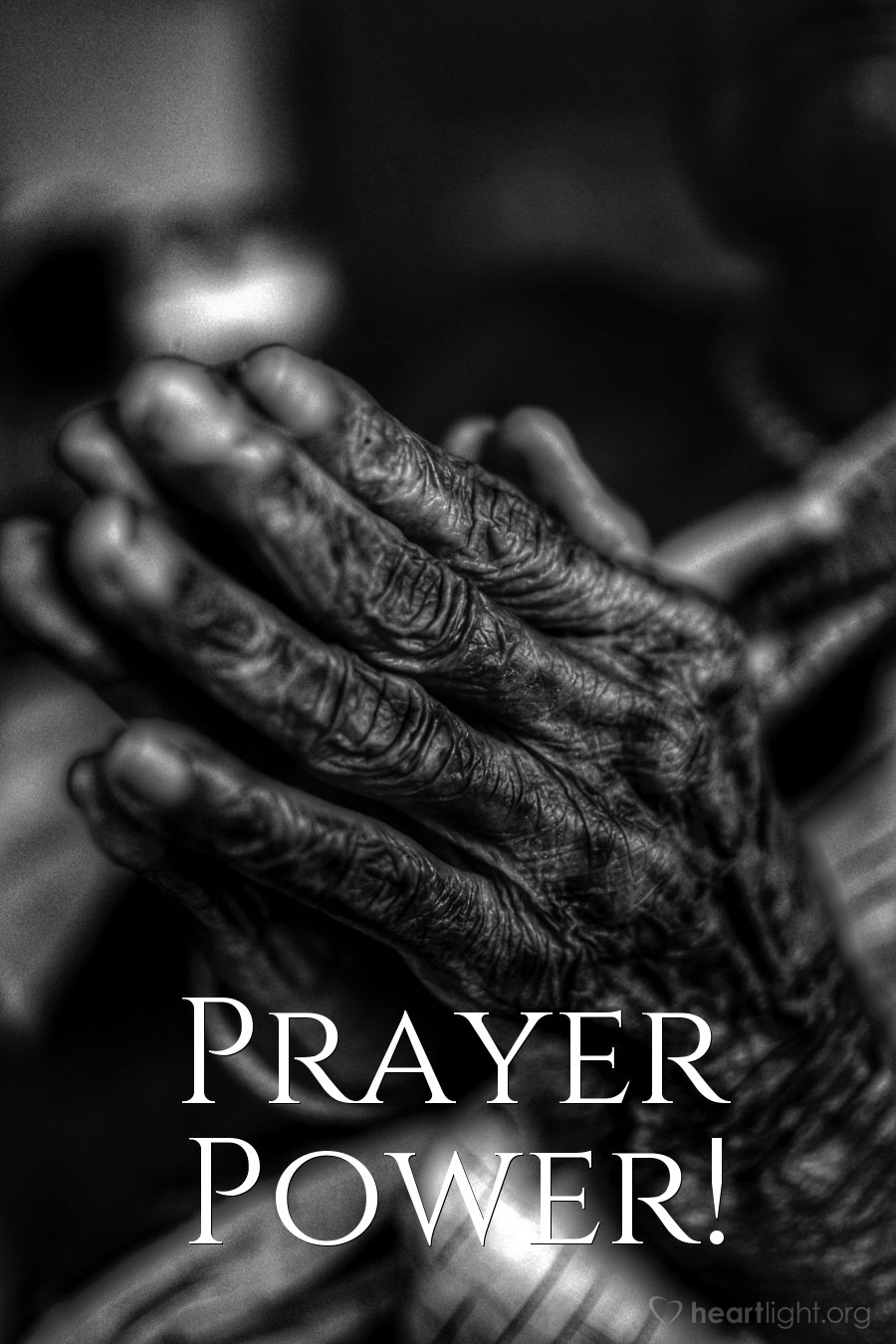 Be zealous.
Revelation 3:19
If you want to see souls converted, if you want to hear the cry that "the kingdom of the world has become the kingdom of our Lord,"1 if you want to place crowns upon the head of the Savior and see His throne lifted high, then be filled with zeal. For under God, the way the world will be converted is by the zeal of the church. Every element of grace will do its work, but zeal will be first; prudence, knowledge, patience, and courage will follow in their places, but zeal must lead the charge. It is not the extent of your knowledge, though that is useful, it is not the extent of your talent, though that is not to be despised, it is your zeal that will do great exploits.
This zeal is the fruit of the Holy Spirit: It draws its vital force from the continued operations of the Holy Spirit in the soul. If our inner life dwindles, if our heart beats slowly before God, we will not know zeal; but if everything inside is strong and vigorous, then we cannot but feel a loving urgency to see Christ's kingdom come, and His will done on earth, even as it is in heaven.
A deep sense of gratitude will nourish Christian zeal. When we reflect on the miry pit from which we were lifted, we find plenty of reason for spending ourselves for God. And zeal is also stimulated by the thought of the eternal future. It looks with tearful eyes down to the flames of hell, and it cannot sleep: It looks up with anxious gaze to the glories of heaven, and it cannot stay still. It feels that time is short compared with the work to be done, and therefore it devotes all that it has to the cause of its Lord. And it is continually strengthened by remembering Christ's example. He was clothed with zeal as with a cloak. How swift the chariot-wheels of duty went with Him! He never loitered on the way. Let us prove that we are His disciples by displaying the same spirit of zeal.
Your Testimony
TGIF Today God Is First Volume 1 by Os Hillman
June 07, 2018
"I tell you the truth, we speak of what we know, and we testify to what we have seen, but still you people do not accept our testimony." – John 3:11
Over the last several years I have seen two distinct types of Christian workplace believers. One type enthusiastically teaches their Bible knowledge to others. These people, though they may be genuine in their motive, lack one essential ingredient to being effectively used by God – a testimony. The second type of people I have encountered has a genuine testimony of what God is doing and continues to do in their lives. This was the case in the early Church. Men and women were able to give powerful testimony of events and experiences that could only be explained as a work of God.
God desires to build a testimony in each of us. Each of us is one of God's chosen vessels to reflect His power in and through us. When others see this power reflected, they are impacted because they cannot explain that power. God desires to frame your life with experiences designed to reflect the character and nature of Christ. Sometimes these events can be very devastating, but they are designed to reveal His power in and through us.
Every one of us has a testimony. What would others say your testimony is today? Can others see God's work in your life? Is your testimony one of Bible knowledge only? Are things happening in your life that can only be explained as God? These can be problematic questions for each of us. Ask God to build a testimony of His life in and through you today.
NATIONAL CHOCOLATE ICE CREAM DAY
To observe National Chocolate Ice Cream Day on June 7 all you need is chocolate ice cream.  Who says you have to stop there, though? You can have it in a cone or make it from scratch.  Add sprinkles or syrup or whipped cream.
Chocolate ice cream is the second most common flavor, surpassed only by vanilla.  The chocolate flavored ice cream has been in existence well over a hundred years and has been popular in the United States since the late 19th century.
Cocoa powder is blended in with eggs, cream, vanilla and sugar to make chocolate ice cream.  The cocoa powder is what gives the ice cream a brown color.  Other flavors, such as rocky road or triple chocolate chunk, use chocolate ice cream in their creation.
HOW TO OBSERVE
Try this chocolate ice cream recipe and a chocolate milkshake recipe. Use #ChocolateIceCreamDay to post on social media.
HISTORY
Within our research, we were unable to find the creator of National Chocolate Ice Cream Day.
NATIONAL OKLAHOMA DAY
National Oklahoma Day on June 7 recognizes the 46th state to be granted statehood.
The panhandled state of Oklahoma is a dotted series of granite mountain peaks, sloping sandstone ridges, rolling hills, and plains. In 1803, the land became part of the United States through the Louisiana Purchase.
Across the state, significant sites record the result of the Indian Removal Act of 1830. The Trail of Tears National Historic Trail crosses nine states and describes the brutal impact on the lives of Cherokees, Chickasaws, Choctaws, Creeks, and Seminoles.
In 1889, several counties in Oklahoma became open to settlement by Land Run. Settlers could claim quarter sections of land only after a specific time (usually noon) on a set date. Some eager settlers would cross the boundary into the county seeking their preferred quarter section sooner than the stroke of noon, earning them (and the state) the nickname "Sooners."
From the Arkansas River to the Neosho River, Oklahoma has scenic views, lakes and mountain trails. Put on your hiking boots and make some trail mix for an afternoon adventure. After a good hike, take in Route 66 for a drive and maybe pick up some barbeque or something fried.  Oklahomans seem to have cornered the market on nearly everything fried. To mention a few, we came across fried okra and lamb balls and catfish. For something fresh, don't forget the state fruit. Strawberries!
HOW TO OBSERVE
Join National Day Calendar as we celebrate National Oklahoma Day. We'll take a drive out on the open highway, and work up an appetite. Discover the best eateries in the state and explore the history that goes with them. Find adventure in The Sooner State and use #NationalOklahomaDay to share on social media.
Each week following the week of Independence Day 2017, National Day Calendar will be announcing a National Day in honor of each state in the order they entered the union. We start with Delaware on July 13 and will complete the celebrations with Hawaii on June 27, 2018, allowing for some time off for the holidays.