Christoph Friedrich Blumhardt
Surely God is my salvation; I will trust and not be afraid. The Lord, the Lord, is my strength and my song; he has become my salvation. Isaiah 12:2, NIV
Dear Father in heaven, we thank you that you are so near us and that we may be near you. We thank you that throughout our days we may be people who listen to you with all our hearts and minds, a listening people who can receive what is good and true for our lives and who can witness to the power you give us through the Savior. Protect us in all things. Look into our hearts and into the situation of each one of us, where many things are still faulty and unclear. Deliver us from evil, for the kingdom shall be yours. From you the power shall come. Your glory shall radiate from our lives, and we shall praise and thank you forevermore. Amen.
TODAY'S DAILY DIG
We must loathe lukewarm people. This message is found throughout scripture. Those who are violent are better off, even if initially they do evil. We cannot expect anything from souls who are slumbering; from those who do good – or think they do good – by abstaining from evil. A heart that is on fire, even if it bewilders us at times, is equipped to serve. God freely chooses his saints from among the great sinners, but never from among those who are lukewarm – from those who do not risk anything.
Source: Translated from the novel Mort, ou est ta victoire?
PRAYER: If God is for you, who can be against you
Majestic Creator, beautiful Lord, wonderful Savior, we rest assured that all of our days are held in Your hand, crafted into Your perfect plan for us. As we give our hearts to You today, Lord, open up our minds, bodies, and souls to receive the inflow of great wisdom of Your Word and overflowing, unspeakable joy.
Let it rain down from the heavens to touch each of us in a special way. We desire to know You Lord. We hunger and thirst after righteousness, we hunger and thirst for You, we hunger and thirst for peace and redemption. Continue to pour out Your beautiful Grace and Mercies. We thank You for all You've done for us and we praise Your Holy Name.
Joshua 23:10 – 11 One man of you shall chase a thousand, for the Lord your God is He who fights for you, as He promised you.  Therefore take careful heed to yourselves, that you love the Lord your God.
The Lord is fighting on your side
Lord, nothing is hidden from You, for Your Blessed Spirit runs to and fro throughout the whole earth. You know our hearts and what we desire. Your eyes behold both good and evil of the land.
Father, You and Your angels battle on our behalf when our hearts are focused on You and You alone. You are always on our side.
Life may consist of numerous battles but for us, only victory lies ahead! Oh what a great privilege it is to be Your child, oh loving Father, for those who don't know the Lord and Savior Jesus Christ cannot depend on Him to fight their battles, they are surely doomed.
1 Timothy 6:12 Fight the good fight of faith, lay hold on eternal life, to which you were also called and have confessed the good confession in the presence of many witnesses.

Ephesians 6:12 For we do not wrestle against flesh and blood, but against principalities, against powers, against the rulers of the darkness of this age, against spiritual hosts of wickedness in the heavenly places.
Overcoming the evil around us
Father, help us fight against the evil spirits of this world. The devil's army increases daily but we shall clothe ourselves with the full armor of You, Oh God. We charge into battle, confident the battle has already been won at the cross.
We bind every demonic force brought against us, they shall not prevail. Every attack against our finance, our health, our minds, our relationships and our joy shall not prevail! Hallelujah!
Jesus, Your Holy Spirit dwells within us, prayer and Your Word carries us through to Victory! We are crucified with Christ! We declare today that we are victorious and we take dominion over the devil and his lies through Jesus Christ our Lord and Savior! Victory is ours! In Jesus mighty name Amen!
No weapons formed against us shall prosper. Even though we walk through the valley of the shadow of death, we shall not fear, for You are with us, Lord. You are mighty to save!!
Romans 8:31 What then shall we say to these things? If God is for us, who can be against us?
Saint Boniface
Saint of the Day for 
June 5
(c. 675 – 
June 5, 754

)

https://www.franciscanmedia.org/wp-content/uploads/2016/08/SODJun05.mp3
Saint Boniface's Story
Boniface, known as the apostle of the Germans, was an English Benedictine monk who gave up being elected abbot to devote his life to the conversion of the Germanic tribes. Two characteristics stand out: his Christian orthodoxy and his fidelity to the pope of Rome.
How absolutely necessary this orthodoxy and fidelity were is borne out by the conditions Boniface found on his first missionary journey in 719 at the request of Pope Gregory II. Paganism was a way of life. What Christianity he did find had either lapsed into paganism or was mixed with error. The clergy were mainly responsible for these latter conditions since they were in many instances uneducated, lax and questionably obedient to their bishops. In particular instances their very ordinations were questionable.
These are the conditions that Boniface was to report in 722 on his first return visit to Rome. The Holy Father instructed him to reform the German Church. The pope sent letters of recommendation to religious and civil leaders. Boniface later admitted that his work would have been unsuccessful, from a human viewpoint, without a letter of safe-conduct from Charles Martel, the powerful Frankish ruler, grandfather of Charlemagne. Boniface was finally made a regional bishop and authorized to organize the whole German Church. He was eminently successful.
In the Frankish kingdom, he met great problems because of lay interference in bishops' elections, the worldliness of the clergy and lack of papal control.
During a final mission to the Frisians, Boniface and 53 companions were massacred while he was preparing converts for confirmation.
In order to restore the Germanic Church to its fidelity to Rome and to convert the pagans, Boniface had been guided by two principles. The first was to restore the obedience of the clergy to their bishops in union with the pope of Rome. The second was the establishment of many houses of prayer which took the form of Benedictine monasteries. A great number of Anglo-Saxon monks and nuns followed him to the continent, where he introduced the Benedictine nuns to the active apostolate of education.
---
Reflection
Boniface bears out the Christian rule: To follow Christ is to follow the way of the cross. For Boniface, it was not only physical suffering or death, but the painful, thankless, bewildering task of Church reform. Missionary glory is often thought of in terms of bringing new persons to Christ. It seems—but is not—less glorious to heal the household of the faith.
---
Saint Boniface is the Patron Saint of:
Germany

What Jesus Did!

 'Slow Search for Truth'

Then Nicodemus, the leader who had met with Jesus earlier, spoke up. "Is it legal to convict a man before he is given a hearing?" he asked.
Key Thought
One of my favorite stories in the Gospel of John is the story of Nicodemus. This wonderful seeker of truth came to Jesus at night because he saw in Jesus something of heaven. However, it wasn't easy for him to come to Jesus all at once. God kept working on his seeking heart, leading him closer to Jesus through the events and circumstances of both Jesus' life and Nicodemus' role as a religious leader. Eventually, the events of the cross captured Nicodemus' heart just as Jesus said they would. Even in today's verses, in a hostile setting, Nicodemus' search for truth and his love of integrity called him to stand up for Jesus. For me, Nicodemus is a great reminder not to give up hope on those around me who have not yet become Christians, but who keep having Jesus tug at their hearts. Let's not give up on these precious people in our lives, but let's work and pray for them to come to see Jesus in light of the cross!
Today's Prayer
Father, please be with the folks in my life who are good-hearted and genuine, but who haven't responded yet to the call of Jesus. Help me as I try to make my life a consistent and helpful witness to Jesus and his transforming power. Guide my words and give me wisdom for the proper timing to know when to talk with them about Jesus and what to say. Most of all, please be at work in their lives just as you were in the life of Nicodemus and bring them safely into your Kingdom. In Jesus' name, I pray. Amen.
Related Scripture Readings
Daily Wisdom:

 Psalm 100:3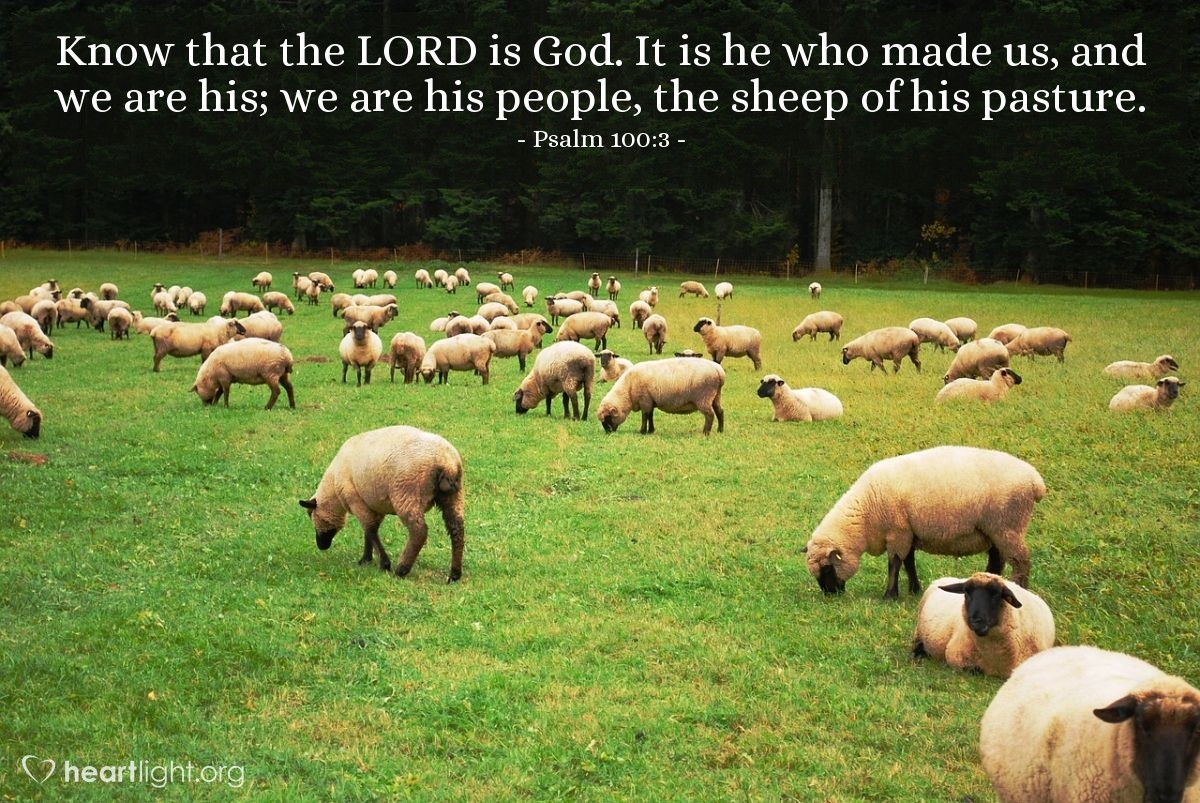 Spiritual Warfare:

 'Don't Be Afraid – God Fights for His People'

God's Power for Our Battles

But I said to you, "Don't be shocked or afraid of them!The Lord your God is going ahead of you. He will fight for you, just as you saw him do in Egypt.
Today's Prayer
Lord, I confess that many times I feel all alone. I feel lonely and afraid, and I build up my fears by focusing on them. Remind me, Lord, that when I'm full of fear, my faith ceases to exist. Fear and faith cannot coexist; one displaces the other. Help me to remember that You promised to go ahead of me and fight for me, and let this thought fill me with faith in Your promises so my fear will evaporate rather than my faith. In Jesus' Name, Amen.
A Year with Jesus:

 'Times of Refreshing'
Note from Jesus
Dear Beloved,
Are you stuck?
Are your days too predictably monotonous?
Do you feel that nothing is ever going to change?
I want you to look especially at the words highlighted in bold in the verses below. I want you to realize that when I ascended back to the Father, I didn't abandon My disciples. I continued to be present in their lives. I worked in them through the Holy Spirit when they called on My name to help them.
Notice the following four different sets of words that tell the story of a paralyzed man trapped by his circumstances and of My grace that brings "times of refreshing." Please realize that these "times of refreshing" are not just for the paralyzed man who was healed, but also for all who turn to Me!
Predictable Unwanted Daily Sameness:
The words "customary time" and "every day" help us enter the world of the lame man. His discouraging situation is also the world for every man and woman stuck in a rut that he or she wants to escape. The man whom Peter and John met had been "paralyzed since birth." His routine was set by his physical limitations, his limited opportunities in society, and the limited number of people who chose to help him in their limited ways and with their limited expectations of what his life could ever be.
Power of My Name:
While the man who was born lame faced severe limits, these limits were removed by My gracious power. My power was released through Peter and John as they proclaimed the power behind the man's healing: "faith in the name of Jesus of Nazareth." Even though I had ascended back to the Father, Peter and John knew that I wasn't gone. They knew My power and My grace were still available through the Holy Spirit to those who called on My name. They didn't have money, but they did have faith. So they called on the power of My "name" and brought My presence and power near to address this paralyzed man's needs.
A New Day Dawning:
The formerly paralyzed man's life was changed forever! After he had been healed, praise was not something he watched from afar. He could stand, walk, leap, and dance in joyous praise. He was no longer dependent upon his friends to get him to the place where he could beg from other people for a few meager coins to sustain him. And if you listen to what Peter said to the crowd, you realize that the people in the crowd were paralyzed as well. They were stuck in their ways with low spiritual expectations. However, even for them, "a new day can dawn." They, too, could experience "days of refreshing times flowing from the Lord." Just as miraculous as a paralyzed man given the power to walk, these religious people could be delivered from their paralyzed religious forms into a life filled with My power and presence.
Life's Ultimate Turning Point:
The folks stuck in their religious rut needed to "rethink everything and turn to God." They could call upon the Father believing in My name. Believing in Me is something that you may have decided in the past. However, I hope that you will do it afresh each day, beginning today. Rethink everything! Call on My name! Believe in Me. Trust in My power and My presence! I do long to be present and powerful in your life and bring you "days of refreshing"!
Verses to Live
My apostle Paul said it well:
Therefore, if anyone is united with the Anointed One, that person is a new creation. The old life is gone — and see — a new life has begun.
(2 Corinthians 5:17)
Step away from the boring sameness of a predictable life. Leave behind dry religion if you find yourself caught in low expectations of what I can do. Turn your heart to the Father. Call upon My name. Trust that I will be present with you and powerful for you through the Holy Spirit. Even if you feel satisfied with your life, you can experience so much more through My power and grace that bring you "days of refreshing."
One day at three o'clock in the afternoon, a customary time for daily prayer, Peter and John walked to the temple. Some people were carrying in a man who had been paralyzed since birth. Every day they brought him to a place near the beautiful gate (one of the temple entrances) so he could beg for money from people entering to worship. He saw Peter and John coming and asked them for a contribution. Peter gazed intensely at him — so did John.

Peter:

Look at us.

The man looked up at them, assuming they were about to give him some money.

Peter:

I want to give you something, but I don't have any silver or gold. Here's what I can offer you: stand up and walk in the name of Jesus of Nazareth, the Anointed One.

Then Peter took the man's right hand and lifted him to his feet. Instantly the man's feet and ankles grew strong. He jumped and walked, accompanying Peter and John into the temple where he walked, jumped for joy, and shouted praises to God. A crowd ran to the commotion, and they gathered around this man in an open area called Solomon's Porch. There he was, standing on his own two feet, holding on to Peter and John. They knew exactly who he was — the beggar they passed at the beautiful gate every day. Everyone was absolutely amazed at this wonderful miracle; they were speechless, stunned.

Peter (to the crowd):

Why are you so amazed, my fellow Israelites? Why are you staring at my friend and me as though we did this miracle through our own power or made this fellow walk by our own holiness? We didn't do this — God did! The God of Abraham, the God of Isaac, the God of Jacob — the God of our ancestors has glorified Jesus, God's servant — the same Jesus Whom you betrayed and rejected in front of Pilate, even though Pilate was going to release Him. He is the Holy and Righteous One, but you rejected Him and asked for a murderer to be released to you instead. You not only rejected Him, but you killed Him — the very Author of life! But God raised Jesus from the dead, Whom my friend John and I have seen with our own eyes. So that's how this miracle happened: we have faith in the name of Jesus, and He is the powerthat made this man strong — this man who is known to all of you. It is faith in Jesus that has given this man his complete health here today, in front of all of you.

Listen, friends, I know you didn't fully realize what you were doing when you rejected and betrayed Jesus. I know that you, and your rulers as well, were acting in ignorance. God was at work in all this, fulfilling what He had predicted through all the prophets — that the Anointed One would suffer. So now you need to rethink everything and turn to God so your sins will be forgiven and a new day can dawn, days of refreshing times flowing from the Lord.
Response in Prayer
O Father, I call on the mighty name of Jesus. I pray to You by the power and presence of Jesus' name. Give me eyes to see and a heart to believe, O Father. I know that You long to bring times of refreshing to me and to bring Your refreshing grace to others through me. So I offer You my heart. I seek Your Holy Spirit to help me rethink everything and see my world, my circumstances, and my influence through Your eyes of grace and possibility. Amen.
Anyone who does not love does not know God.
1 John 4:8
The distinguishing mark of a Christian is his confidence in Christ's love for him and in the offering of his love to Christ. First, faith sets her seal upon the man by enabling the soul to say with the apostle, "Christ loved me and gave himself for me."1 Then love gives the countersign and stamps upon the heart gratitude and love to Jesus in return. "We love because he first loved us."2
In those grand old ages, which are the heroic period of the Christian religion, this double mark was clearly seen in all believers in Jesus; they were men who knew the love of Christ and rested upon it as a man leans upon a staff whose trustiness he has proved. The love that they felt toward the Lord was not a quiet emotion that they hid within themselves in the secret place of their souls and that they only spoke about in private or when they met on the first day of the week and sang hymns in honor of Christ Jesus the crucified; it was a passion with them of such a vehement and all-consuming energy that it was visible in all their actions, evident in their conversation, and seen in their eyes, even in their casual glances. Love for Jesus was a flame that fed upon the core and heart of their being and therefore by its own force burned its way into their demeanor and shone there. Zeal for the glory of King Jesus was the seal and mark of all genuine Christians.
Because of their dependence upon Christ's love they dared much, and because of their love for Christ they did much, and it is the same now. The children of God are ruled in their inmost powers by love. The love of Christ constrains them; they rejoice that divine love is set upon them, they feel it shed abroad in their hearts by the Holy Spirit, who is given to them, and then by force of gratitude they love the Savior with a pure and fervent heart.
My reader, do you love Him? Before you sleep, give an honest answer to this weighty question!
1) Galatians 2:20
2) 1 John 4:19
Effective Leadership
TGIF Today God Is First Volume 1 by Os Hillman
June 05, 2018
"And when the Israelites saw the great power the Lord displayed against the Egyptians, the people feared the Lord and put their trust in Him and in Moses His servant." – Exodus 14:31
What makes an effective Christian leader today? Is it charisma? Is it ability? Is it communication and oratory skills? God's view of an effective leader has nothing to do with these qualities. They may be a part of an effective leader. However, the core attribute of a Christian leader is his integrity with God and his obedience to follow Him. When this happens, God manifests His power in and through that leader. Moses was effective because he was willing to obey the commands God gave him. When Moses did this, God manifested His presence in him. The result was that people followed. They followed because they saw God working in and through the man. They saw that this man was worthy of following because God's anointing was on him.
When people see the Lord's power manifested in your life, they will have a healthy fear of the Lord. They will look at you and say, "This person has something I don't have that is worthy of more investigation." Your challenge is to seek the Lord with a whole heart, resulting in God's power being manifested in the daily activities of your life. When this happens, you can expect others to be drawn to what they see in you. The problem with many Christians today is that non-Christians see nothing different about the way they live to motivate the unsaved to desire their faith.
What makes you different from your neighbor? Is your experience with God noticeably different from that of the man next door? If you're not experiencing regular encounters with God, it's time to ask why not. We don't live day-to-day for the next spiritual experience, but we should see by-products of a life centered in God that is reflected in fruit from His presence in our lives.
Verse of the Day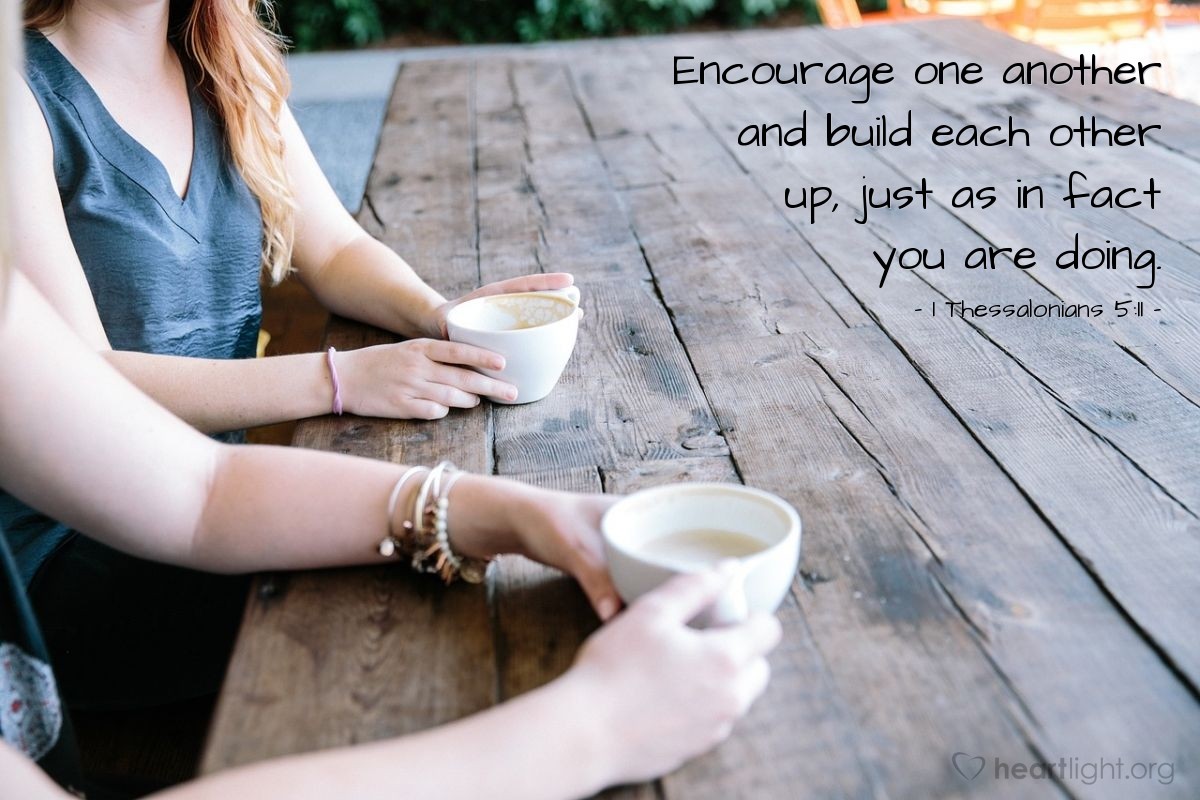 Thoughts on Today's Verse…
While Paul's exhortation here is excellent, it is the style of the exhortation we should especially notice. We live in an age where we are constantly pressured to emphasize the novel, new, or improved versions of things. But in our lives as Christians, our knowledge always exceeds our obedience. So more often than we like to think, we need to remind each other of what we are doing right and just simply say, "Hey, you're doing well; just keep doing what you're doing!"
My Prayer…
Faithful Father, thank you for noticing and keeping record of the things I've done that are good and pleasing to you. Please help me to keep doing those things that please you, only better, that you may be pleased and glorified. In Jesus name. Amen.
NATIONAL VEGGIE BURGER DAY
When it comes to combining flavor and plant power, National Veggie Burger Day on June 5 proclaims it can be done!
Packed with flavor, protein and nutrients, veggie burgers show up at backyard barbecues, tailgate parties and on the menus of high-class restaurants.  Grill them, fry them or bake them. Layer all your favorite toppings like onion, tomato, lettuce, cheese, ketchup and mustard between crusty roll or bun and take a big juicy bite.  That's one way to celebrate National Veggie Burger Day.
HOW TO OBSERVE
Give a veggie burger a taste. Have a veggie burger cook-off.  Invite your friends and family to grill up and stack up their favorite burger combos and share! Use #VeggieBurgerDay to share on social media.
HISTORY
Amy's Kitchen founded National Veggie Burger Day to encourage everyone to eat a veggie burger and celebrate the positive impact plant-based veggie burgers have on us and the planet. The Registrar at National Day Calendar declared the day to be observed annually in 2017.