Christoph Friedrich Blumhardt
The Lord's unfailing love and mercy still continue, fresh as the morning, as sure as the sunrise. The Lord is all I have, and so in him I put my hope. Lamentations 3:22–24, TEV
Dear Father in heaven, we thank you for guiding us, your children, here on earth. We thank you that whatever happens to us, we can again and again find joy because you give us what is good even when times are evil and when we go through sorrow. We thank you that your goodness and your faithfulness penetrate everything, and that at last, at long last, they penetrate our hearts. Then we can know and be glad that your Spirit guides us. We can know we are never alone but can receive strength to help us in the struggle and toil of our life. Through your help everything becomes fruitful – good and evil, life and death, health and suffering. Everything must serve you through the working of your Spirit. Amen.
TODAY'S DAILY DIG
Be gentle-minded, for those of a gentle mind shall possess the earth. Be patient and have a loving heart. Be guileless. Be quiet and good, trembling in all things at the words you have heard. You shall not exalt yourself or allow your heart to be bold and presumptuous. Your heart shall not cling to the high and mighty, but turn to the good and humble folk. Accept as good whatever happens to you or affects you, knowing that nothing happens without God.
Source: The Early Christians
Prayer: No Weapon Formed Against Me Shall Prosper
Prayer of Praise
Almighty God, I worship You because of who You are. You are my God, the lover of my soul, my righteousness. I put my confidence and trust in Your love for me. Father, I thank You for Your unwavering protection which I most graciously receive.
Prayer of Protection- The Full Armor of God
Jehovah Yasha, The Lord My Savior, You have heard me cry out to You in despair. The enemy has formed weapons against me, using even my own friends and family as tools for his work.
I need your protection, Father, from the evil forces that rise up against me today. I put on the full armor of God so that I will be ready to face any situations that present itself to me.
As I cover myself in the precious blood of Your Son, Jesus Christ, I am reminded that I have the authority to stamp on serpents and scorpions and over all the power that the enemy possesses.
I will not, in any way, be harmed.  In my comings and goings, I declare that I am ready to face the day as I am covered in the blood of Jesus!
Prayer of Faith – No Weapon Formed Against me Shall Prosper
I stand firm on this promise Lord. You are my PROTECTOR, my SHIELD and my STRENGTH in times of trouble. You will never leave me or forsake me, of this I am assured.
I place my faith completely in You, where I find comfort, peace and rest.
My declaration today is no weapon formed against me shall prosper and every tongue that rises up in judgment will be condemned in the name of Jesus!
I claim all Your mercies Father, in the name of our Lord and Savior Jesus Christ, SO BE IT…AMEN!
Recommended Reading
Whether you're going through a hard time and need faith to overcome, or if you just want to know how to take your faith to the next level –no matter what, this book is for you: Slaying Your Giants: How to Have Massive Faith
Blessed Angeline of Marsciano
Saint of the Day for 
June 4
(1377 – 
July 14, 1435

)

https://www.franciscanmedia.org/wp-content/uploads/2016/08/SODJun04.mp3
Blessed Angeline of Marsciano's Story
Blessed Angeline founded the first community of Franciscan women other than Poor Clares to receive papal approval.
Angeline was born to the Duke of Marsciano near Orvieto. She was 12 when her mother died. Three years later, the young woman made a vow of perpetual chastity. That same year, however, she yielded to her father's decision that she marry the Duke of Civitella. Her husband agreed to respect her previous vow.
When he died two years later, Angeline joined the Secular Franciscans and with several other women dedicated herself to caring for the sick, the poor, widows and orphans. When many other young women were attracted to Angeline's community, some people accused her of condemning the married vocation. Legend has it that when she came before the King of Naples to answer these charges, she had burning coals hidden in the folds of her cloak. When she proclaimed her innocence and showed the king that these coals had not harmed her, he dropped the case.
Angeline and her companions later went to Foligno, where her community of Third Order sisters received papal approval in 1397. She soon established 15 similar communities of women in other Italian cities.
Angeline died on July 14, 1435, and was beatified in 1825. Her Liturgical Feast Day is July 13.
---
Reflection
Priests, sisters and brothers cannot be signs of God's love for the human family if they belittle the vocation of marriage. Angeline respected marriage, but felt called to another way of living out the gospel. Her choice was life-giving in its own way.
---
Saint Francis Caracciolo's Story
A medical crisis that proved to be a false alarm changed the life of this 16th-century saint. At age 22, Francis developed a troublesome skin disease resembling leprosy—one of the most dreaded diseases of the day.
He vowed that if he recovered he would devote his life to God. The skin condition cleared up completely. Convinced his recovery was miraculous, Francis kept his promise to God.
He studied for the priesthood in Naples. There he befriended a man who wanted to establish a new religious community that would focus on both the active and the contemplative life. Francis helped draw up Rules for the new Order of the Minor Clerks Regular. Members of the Order agreed among themselves never to seek leadership within the group, though Francis was elected many times to serve in such positions.
Even in his capacity as superior of the Order, he insisted on sharing simple tasks: sweeping rooms, making beds, washing dishes. As a priest, Francis spent many hours in the confessional. He also begged in the streets for the poor and gave away most of his possessions to the needy.
Francis died in 1608.
---
Reflection
The buzzword in the modern business world is empowerment. In firms everywhere, hands-on management is being phased out and employees are gaining responsibility. Francis came at it from the other direction: In spite of his high position in his order, he put his hand to the most ordinary tasks. We who exercise authority in our families and elsewhere might welcome opportunities to pitch in with tasks that lack status or glamour.
---
Saint Francis of Caracciolo is the Patron Saint of:
Naples

What Jesus Did!

 'Opposition to the Word'

"Have you been led astray, too?" the Pharisees mocked [to the Temple guards]. "Is there a single one of us rulers or Pharisees who believes in [Jesus]? This foolish crowd follows him, but they are ignorant of the law. God's curse is on them!"
Key Thought
Smug rejection is such an obnoxious trait. Yet we see it often. When others don't want to grapple with the truth of Jesus or the perplexing and demanding challenges of genuine discipleship, they smugly look down their noses and speak of believers as idiots and imbeciles. Some do it more subtly than others, but the smug arrogance is still there. "If only you were as educated or smart or street-wise as we are, you would know that Christianity is a bunch of fluff for the weak." We need to remember, however, that many reject Jesus because his demands are hard, not because his existence is questionable. The religious opposition in Jesus' day was rooted in the religionists' not wanting to have to change their lives, their perspectives, their places of power, their positions, their… So when they could not explain Jesus away, they had to put down his followers and any who had an interest in what he had to say. If you listen closely today, you will continue to hear their voices. Just don't heed them! Decide for yourself based on what you read and see of Jesus on your own.
Today's Prayer
Father, I recognize that the Gospel of Jesus doesn't exist in a vacuum. I confess that I am frustrated by several of those around me that I love dearly but who will not accept the truth about Jesus. Please grant them an open heart. Please bless them with an openness to truth. Please use me to point them to Jesus so they can decide about him honestly for themselves from an open heart. In Jesus' name, I pray. Amen.
Related Scripture Readings
Daily Wisdom:

 Deuteronomy 33:29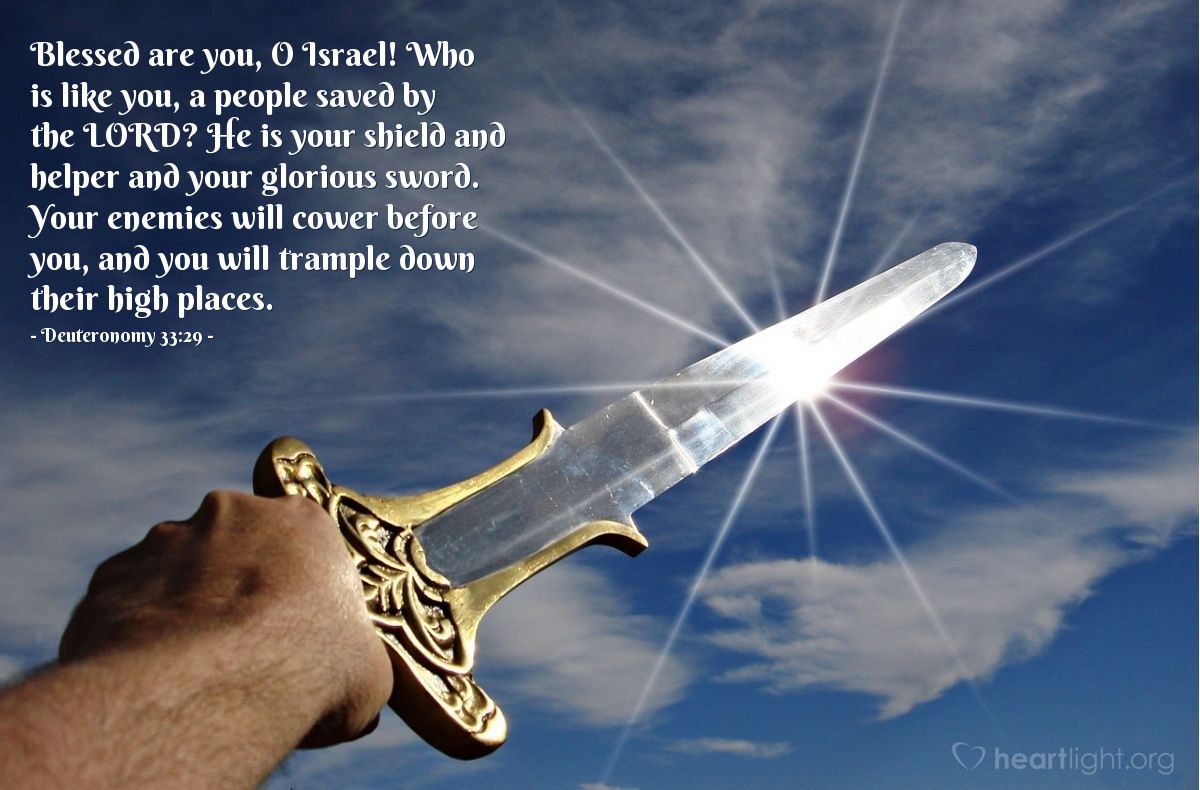 Spiritual Warfare:

 'Answers and Victory'

God's Power for Our Battles

If anyone attacks you, it will not be my doing. Whoever attacks you will be defeated by you. … No weapon that has been made to be used against you will succeed. You will have an answer for anyone who accuses you. This is the inheritance of the Lord's servants. Their victory comes from me," declares the Lord.
Today's Prayer
Lord, You are the One. You provide the answers right when I need them most. You give the victory. You are the way to success and hope. Thank You for helping me defeat all enemy attacks. Thank You for being the victory over death that provides eternal hope—even illustrated in the life of Your Son Jesus. Help me to relish these thoughts and the assurance of victory through my relationship with You. Use me to Your glory. In Jesus' Name, Amen.
Illustration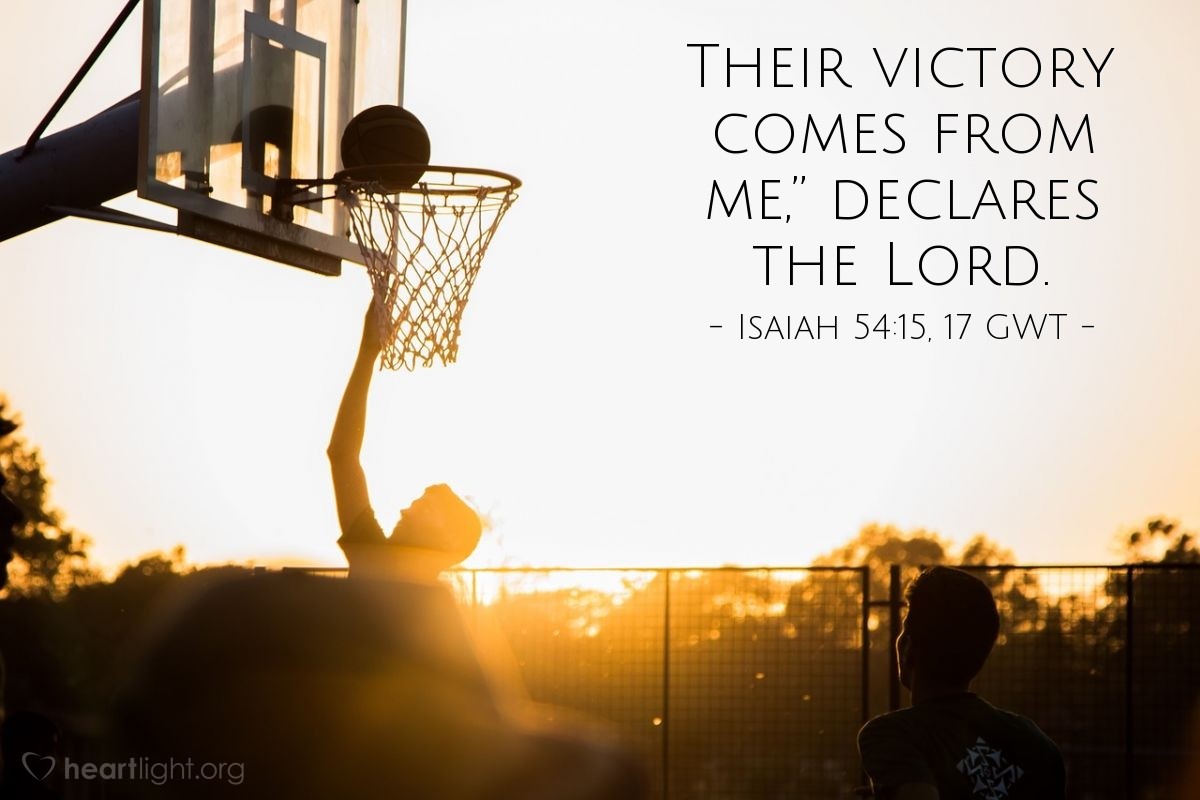 A Year with Jesus:

 'Heart Surgery'
Note from Jesus
Dear Disciple,
I've been sharing some reasons that the Scriptures, including the teaching of the apostles and others in the New Testament, are important to you. The Scriptures are alive because We — Father, Son, and Spirit — are all active as you read the Scriptures. The Father examines you as you read. The Spirit opens your heart to receive Our truth. The goal of the Scriptures is to transform you to be like Me in righteous character and gracious compassion. The Holy Spirit breathed out My message through human writing partners (2 Timothy 3:16-17). The Spirit is also active in helping you understand the Father's message (1 Corinthians 2:6-16). The Spirit reminds you of My words, helps you to remember My deeds, and conforms you to the Father's will (John 15:26-27; John 16:12-15; Romans 8:1-4; 2 Corinthians 3:18).
In the hands of the Spirit, the message of the Scriptures has the power to reach into your heart. As a tool of the Spirit, the Scriptures can do the delicate and drastic surgery necessary to help you understand the truth, receive correction, accept instruction, and understand Our will for your life. The Scriptures speak to your inner being ("soul and spirit"), to your physical being ("joints and marrow"), and to your mind and heart ("thoughts and will of the heart"). Just as you are to love Us heart, soul, mind, and strength (Mark 12:30), We work on you in each area of your being through the Spirit and using the word.
So open your Bible and read it. Open your hearts to Our message. Offer yourselves to the Father. Invite the Spirit to work in you. Read the Scriptures to seek My truth and to follow Me as My disciple.
Verses to Live
In the two passages below, you will find the word of God described as a 
"sword"
, even a 
"double-edged sword"
 or very sharp dagger or scalpel. The word of God is alive because this scalpel is used by the Spirit as the Father looks into and works on every area of your being to bring it into conformity to Our will. You need to understand these Scriptures. In order to understand how to apply Our word to your life, ask the Holy Spirit to help and look at the things I taught and the way I lived and treated people.
The word of God, you see, is alive and moving; sharper than a double-edged sword; piercing the divide between soul and spirit, joints and marrow; able to judge the thoughts and will of the heart. No creature can hide from God: God sees all. Everyone and everything is exposed, opened for His inspection; and He's the One we will have to explain ourselves to.
(Hebrews 4:12-13)

Take also the helmet of salvation and the sword of the Spirit, which is the word of God.
(Ephesians 6:17)
Response in Prayer
Father in heaven, I open my heart to You and ask that the Spirit work to bring every area of my being — soul, spirit, joints, marrow, thoughts, and heart — into conformity with Your will. My petition, dear Father, is that Paul's prayer for the Thessalonians will be true for me:
May God himself, the God of peace, sanctify [me] through and through. May [my] whole spirit, soul and body be kept blameless at the coming of our Lord Jesus Christ. [I believe that the] one who calls [me] is faithful, and he will do it.
I pray this in the name of Jesus. Amen.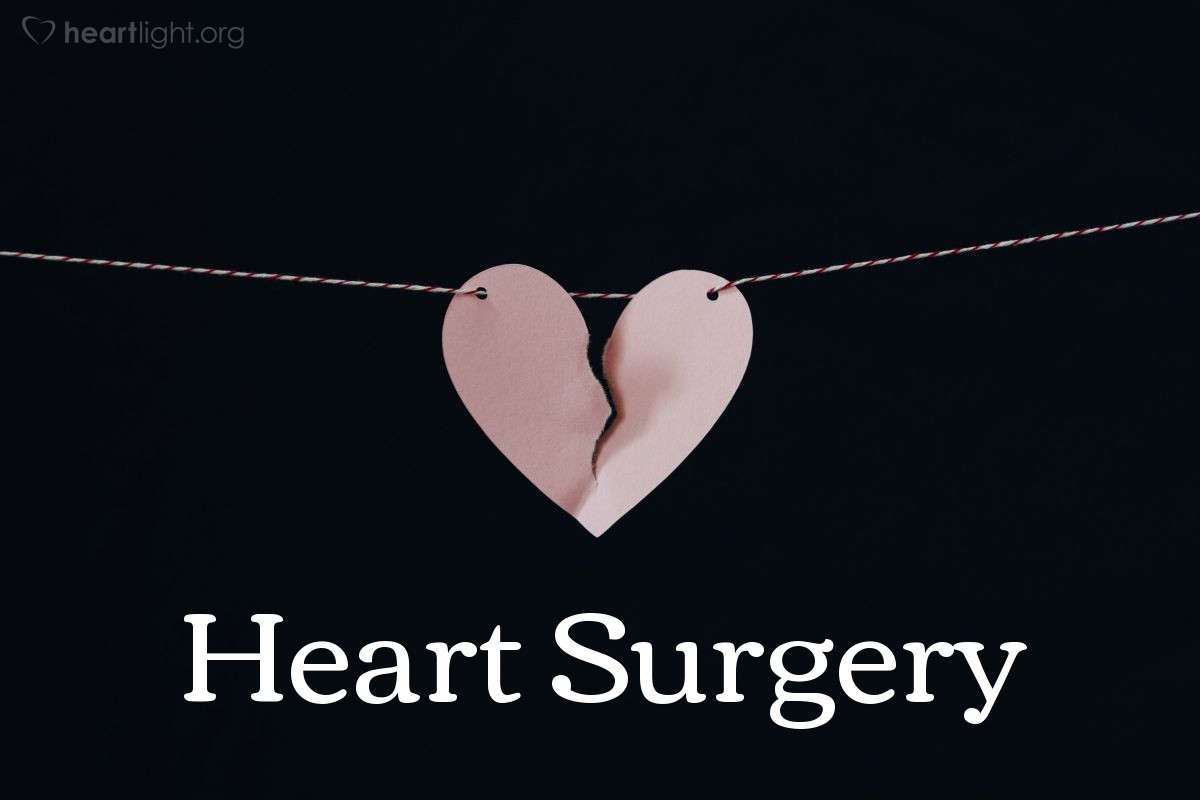 A New Remnant of Priests
TGIF Today God Is First Volume 1 by Os Hillman
June 04, 2018
"Aliens will shepherd your flocks; foreigners will work your fields and vineyards." – Isaiah 61:5
God is calling forth a remnant of workplace believers whom He will use mightily to bring good news to those who have never heard the gospel. The "10/40 Window" is commonly referred to as those areas of the world where no one has heard the name of Jesus Christ. This region represents many of the Muslim nations in the Middle East, India, China, and the former Soviet Republics. If Christian missionaries are not welcome in these countries, how do you suppose God plans to bring His message to these people? Certainly He loves these people just as much as He loves us.
God is mobilizing His workplace believers around the world to be the vessels who will bring the good news to these peoples. These countries welcome commerce, and in most cases this represents the only way to bring the gospel to these nations. In these countries, workplace believers are often viewed as those who have corrupt morals. However, God wants to change this. The "Joshuas and Calebs" are spying out the land. This class of workplace believer has a pioneer spirit that is seeking ways of penetrating strongholds of spiritual darkness in these countries. God is raising them up. They see the risks, but they see the awesomeness of God that enables them to accomplish something for His Kingdom by using their resources and talents.
And you will be called priests of the Lord, you will be named ministers of our God. You will feed on the wealth of nations, and in their riches you will boast. Instead of their shame My people will receive a double portion, and instead of disgrace they will rejoice in their inheritance; and so they will inherit a double portion in their land, and everlasting joy will be theirs ( Isaiah 61:6-7).
Workplace believers in these nations will be called priests of the Lord. They will feed on the wealth of these nations. The wealth of these nations are the souls who are precious in God's sight. Salvations will be their true reward as a result of their efforts. No longer will the shame many of these people live under rule their lives. God will set them free.
Has God called you to be such a vessel? Has He called you to be a catalyst in some way? Ask your heavenly Father if He might want you to affect nations for Him.
Verse of the Day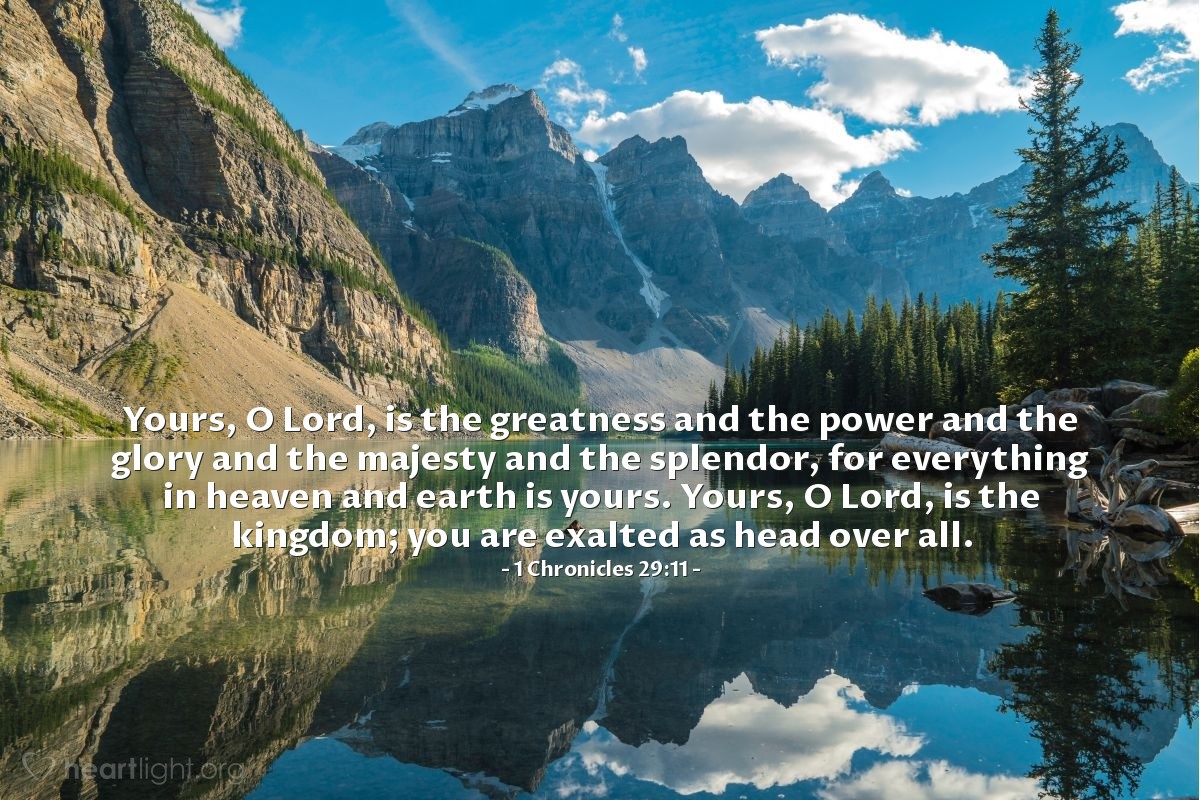 Thoughts on Today's Verse…
Praise is the direct address of God that lets him know we recognize him for who he is, what he has done, and what he is doing. But more than informing God of his greatness, praise is rejoicing before him in his greatness and recognizing that not only is his grace without comparison, his majesty and might and holiness and faithfulness and righteousness and mercy and love and forgiveness and justice and… without comparison. God is God and praise is thankful celebration that he is God, and even more importantly, that he is our God.
My Prayer…
Great and Gracious God without compare, you are truly worthy of my best words and best thoughts and best imaginings. I not only worship and submit to you, but I rejoice that you are who you are, I celebrate what you have done, and I long for what you are yet to do. You are magnificent, my Father and my God. Through Jesus, and because of his matchless love, I praise you. Amen.
NATIONAL OLD MAID'S DAY
Every year on June 4, it is National Old Maid's Day.
Old Maid refers to an older, childless woman who has never been married. Another term frequently used is the word spinster.
While the term was once considered a degrading one, National Old Maid's Day celebrates Old Maid's everywhere and their contributions to their families and communities.  While they may be single, it does not mean they are solitary.  Today, Old Maids are often career oriented, postponing marriage and motherhood by choice or by circumstance. From a lively social life to a commitment to volunteerism as well as involvement in their church, community organizations and their extended family Old Maids are hardly wallflowers waiting to be asked to dance.
On National Old Maid's Day, consider revising your definition of an Old Maid to one that describes an empowered, independent woman who embraces life.
HOW TO OBSERVE
To celebrate National Old Maid's Day, get together with a group of your friends and play an Old Maids card game or bake a tasty Old Maid's Vinegar Pie or this delicious Old Maid Cake. Use #OldMaidsDay to post on social media.
HISTORY
In 1948 Marion Richards of Jeffersonville, Pa, held the first Old Maid's Day gathering.  According to a June 4, 1982, Asbury Park Press article, "Guests ranged from 75 years old down to an age when hope still flickered." Richard created the day to honor all the contributions Old Maids offer to their communities and their families.  During Richard's generation, single women played a major role in many areas of the schools, churches, offices and their families.  While June is full of floral bouquets, white lace and wedding plans, Richards had hopes that Old Maid's Day would someday be as popular as Mother's Day.