Christoph Friedrich Blumhardt
They are not of the world, even as I am not of it. Sanctify them by the truth; your word is truth. John 17:16-17, NIV
Dear God and Father of us all,sanctify us in your truth. Your Word is truth. We come before your presence and ask you to touch us with your Spirit, to shape our lives in the truth and in the joy of your name. Touch us with your Spirit, that we may carry out our tasks in your service. May your face shine on us and on all needy people who turn to you. May your power be given ever more fully, and may your cause become great in the world until at last it brings new life to all nations. Amen.
A Prayer for the Spirit to Work in Your Life
By Dr. Charles Stanley
 "But you will receive power when the Holy Spirit has come upon you; and you shall be My witnesses both in Jerusalem, and in all Judea and Samaria, and even to the remotest part of the earth." – Acts 1:8
God's Spirit works in every believer. He does not limit Himself to pastors and missionaries. If you've received Jesus Christ as your personal Savior, then residing within you is the same great power that raised Christ from the dead (Rom 8:11) The Holy Spirit pours His energy into creating godly character in all who follow the Lord.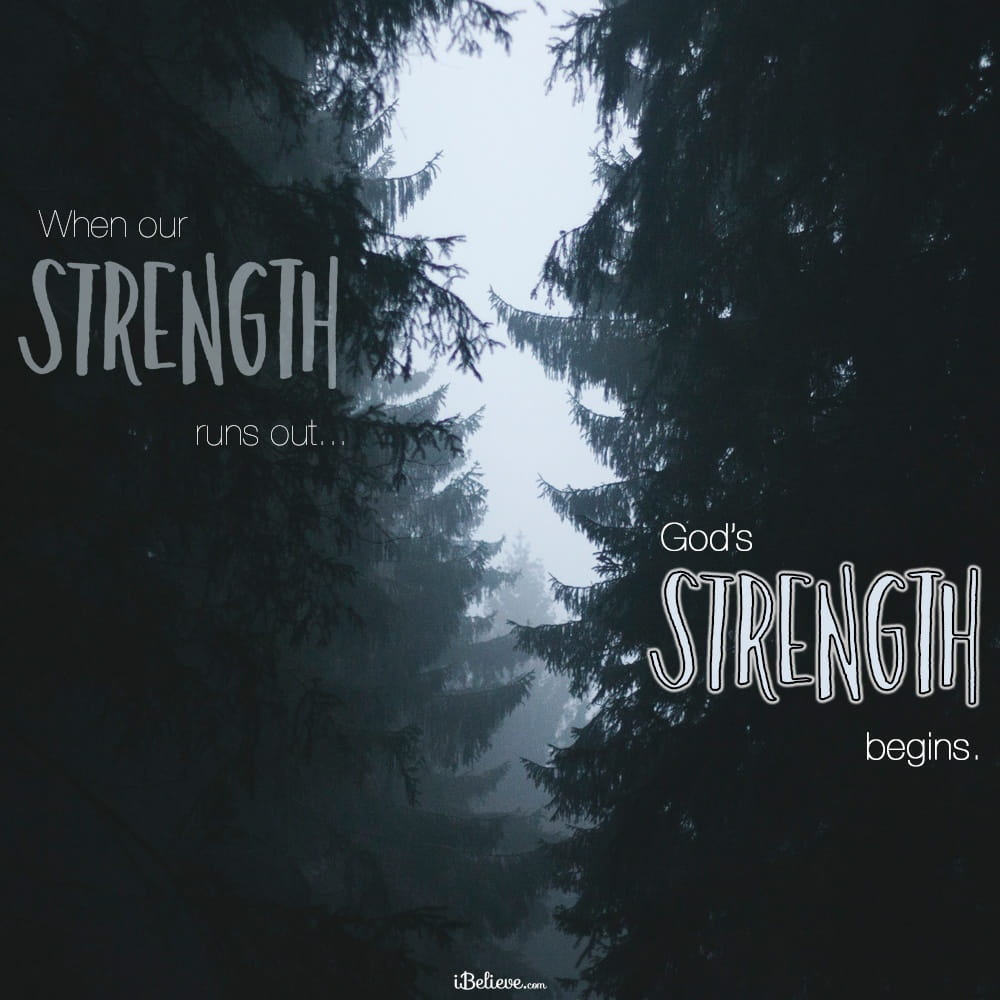 The fruit of the Spirit is so named because it is the character and conduct that the Holy Spirit produces in believers. These are qualities that we can't generate consistently on our own. The most powerful message we can give isn't a testimony or sermon; it is the life we live when the pressure is on, temptation is tremendous, or we are buried under an avalanche of problems.
What the world most needs to see in this modern culture is godly families loving one another, business people working with integrity and frugality, and young men and women who choose moral purity. In a word, the world needs to be exposed to believers who are obedient.
By showing peace instead of anxiety or practicing patience rather than speaking a sharp word, a Christian bears witness to the beauty of the gospel. We attract unbelievers to Christ through our words and deeds. They may turn down a doctrine, but they cannot ignore a righteous life.
The strongest gospel message does not come from a pulpit. The most powerful witness for Jesus Christ where you work, where you live, and where you relax is you. Submit to the Holy Spirit's work, and He will produce a great harvest of spiritual fruit in your life.
Dear Lord, as we rise to meet each new day, please let us be filled with Your spirit. Wherever we go, let us spread love, joy, peace, goodness, and faithfulness. Let us desire to become more like you and to worship you in all we do. Help us desire these things so much more than the sin that entices us. Thank you for always going before us. In Jesus' Name, Amen.
There is a difference between being tired and being weary.
The feeling of being tired at the end of the day is satisfying. You sleep and wake up refreshed and ready to tackle another day.
But weariness isn't physical.
Weariness is a soul and spirit weighed down, exhausted, worn out—and crying for relief.
While weariness can be traced to worry, anxiety or unforgiveness, it can also result from bad habits or health issues. And in my next post, I will talk about 10 things I do when I am weary.
But establishing healthy habits is of little value if we don't first find rest in Jesus Christ.
When you find yourself soul-weary, the first place you need to go is to your war room. And here's why: Satan will take advantage of your weariness. He will whisper lies to your heart.
He has already been creating a strategy for your demise.
He wants to use your weariness for his purpose, to steal your joy, to rob you of your purpose and to destroy your testimony.
When you are weary, you need to get in your war room and begin developing a strategy against the enemy—a war plan for victory!
5 War Room Prayers to Pray as a Weary Woman
1. "But those who wait upon the Lord shall renew their strength; they shall mount up with wings as eagles, they shall run and not be weary,
and they shall walk and not faint" (Isa. 40:31).
God, I look to you. I hope in You. I purpose to linger here in expectation of You. You have promised that when I wait on you, You will give me new strength; that You will cause new power to spring up inside of me. You promised I will soar with wings as eagles; I will run and not grow weary, I will walk and not be fatigued.
I pray You will grant me that strength today by the power of Your Holy Spirit. In Jesus' name, Amen.
2. "Come to Me, all you who labor and are heavily burdened, and I will give you rest. Take My yoke upon you, and learn from Me. For I am meek and lowly in heart, and you will find rest for your souls. For My yoke is easy, and My burden is light" (Matt. 11:28-30).

Jesus, you said when I am weary, exhausted and burdened, I need to come to You.
I am coming to You today. You promised if I come to You and follow You, You will give me rest; You will refresh me. You promised that if I take on Your burden and learn from You, I will find soul-rest.
Jesus, I need rest deep, deep down in my soul. Teach me. Train me how to wait on You. Show me how to lay down my burden and take up Your burden instead. In Jesus' name, Amen.
3. "It is in vain for you to rise up early, to stay up late, and to eat the bread of hard toil, for He gives sleep to His beloved" (Ps. 127:2).
Lord, my hurt inside has caused sleepness nights. Out of busyness, I woke up extra early to get a head start on my day. I've worked too hard and exhausted my body and soul. Rather than feeding my spirit Your Word, I fed on my hurt, my pain. I fed on my work. I fed on my to-do list, and now I'm utterly weary.
I know now that it was worthless. And now I am asking you to give me rest. Give me sleep. Give me rest deep down in my soul so I can wake up feeling refreshed and renewed—body, soul and spirit. In Jesus' name, Amen.
4. "I will both lie down in peace and sleep; for You, Lord, make me dwell safely and securely" (Ps. 4:8).
Heavenly Father, I need Your peace right now. My soul is weary, my spirit is exhausted and troubled. But Your Word says that You give us healthy mind and soul. You also say that You help me to abide in Your confidence, hope and security.
Right now, I choose to lay down every burden in my heart. I choose to receive your peace, confidence and hope. Please give rest to my body, soul and spirit. Help me to sleep in Your perfect peace. In Jesus' name, Amen.
5. This day is holy to our Lord. Do not be grieved, for the joy of the Lord is your strength" (Neh. 8:10b).
God, I choose to today—right now—to consecrate this day unto you as a day of significance. Today I choose to lay down my hurt, my pain and my past. Today I choose to receive the joy You give: the joy of the Lord.
In Your Word, You promise Your joy gives strength, refuge, safety, protection. You promise Your strength is a stronghold to which I can run.
Please be my strength. Be my refuge and my safety. Give strength to my body, soul and spirit—the strength only You can give. In Jesus' name, Amen. 
Rosilind Jukic, a Pacific Northwest native, is a missionary living in Croatia and married to her Bosnian hero. Together, they live with their two active boys, and she enjoys fruity candles, good coffee and a hot cup of herbal tea on a blustery fall evening. Her passion for writing led her to author her best-selling book The Missional Handbook. At A Little R & R she encourages women to find contentment in what God created them to be. You can also find her at Missional Call, where she shares her passion for local and global missions. You can follow her on Facebook, Twitter,Pinterest and Google +.
Saint Gregory VII
Saint of the Day for 
May 23
(c. 1025 – 
May 25, 1085

)

https://www.franciscanmedia.org/wp-content/uploads/2016/08/SODMay23.mp3
Saint Gregory VII's Story
The 10th century and the first half of the 11th were dark days for the Church, partly because the papacy was the pawn of various Roman families. In 1049, things began to change when Pope Leo IX, a reformer, was elected. He brought a young monk named Hildebrand to Rome as his counselor and special representative on important missions. Hildebrand was to become Gregory VII.
Three evils plagued the Church then: simony–the buying and selling of sacred offices and things; the unlawful marriage of the clergy; and lay investiture—kings and nobles controlling the appointment of Church officials. To all of these Hildebrand directed his reformer's attention, first as counselor to the popes and later as pope himself.
Gregory's papal letters stress the role of the bishop of Rome as the vicar of Christ and the visible center of unity in the Church. He is well known for his long dispute with Holy Roman Emperor Henry IV over who should control the selection of bishops and abbots.
Gregory fiercely resisted any attack on the liberty of the Church. For this he suffered and finally died in exile. He said, "I have loved justice and hated iniquity; therefore, I die in exile." Thirty years later the Church finally won its struggle against lay investiture. The Liturgical Feast of Saint Gregory VII is May 25.
---
Reflection
The Gregorian Reform, a milestone in the history of Christ's Church, was named after this man who tried to extricate the papacy and the whole Church from undue control by civil rulers. Against an unhealthy Church nationalism in some areas, Gregory reasserted the unity of the whole Church based on Christ, and expressed in the bishop of Rome, the successor of Saint Peter.

God Said So – Alternative View
In His Presence: Matthew 4:1-11
"The tempter came and said to [Jesus], 'If You are the Son of God, command that these stones become bread.' But He answered and said, 'It is written, "Man shall not live on bread alone, but on every word that proceeds out of the mouth of God" ' ''(Matthew 4:3-4).
What should we do when we face Satan's lies, especially the lie that God's Word cannot be true? Jesus was faced with a legitimate need–the need to eat to sustain Himself. His need wasn't wrong. Jesus had the power to do what was suggested, but to do it at the demand of Satan would have been satisfying Himself apart from God.
What proceeds out of God's mouth must be our foundation for everything. It must be the foundation for counseling, for work, for our families, and for our finances. God has given us His definitive Word, and His Word addresses everything that is relevant to us today. Christians who do not believe His Word and obey it do not see His power demonstrated today. God does not want us to pay homage to Him; He wants us to believe Him and act on faith. Faith believes God in the absence of empirical evidence.
In the Garden of Eden, Eve stumbled over this type of faith. She failed the test because she did not believe something she had never seen–death. When it's difficult to believe God but we place our faith in Him anyway, that's faith.
One Minute Please
Faith is believing something is so, even when it is not visibly so, that it might be so simply because God said so.

The Detached Role
Love must be sincere. Hate what is evil; cling to what is good. – Romans 12:9
Tom's a clerk in a hectic government office. In the midst of all the daily pressures, he's regarded as one of the most even-tempered workers in the department. He's quiet, efficient, and never seems to get riled at his impatient coworkers or those visiting his office.
Tom spends his energy herding his emotions because he feels they're his enemy. Deep inside he believes that his father didn't like him as a boy because he was too much of a crybaby and a "fraidy-cat." Since he perceives that he lost his father by being too much of a sissy, Tom isn't about to expose his emotions as an adult. His controlled emotional detachment also keeps him aloof from his wife. In the past, whenever Tom showed any signs of being troubled, angry, or fearful, she'd ask him what was wrong. But his usual response was a curt, "Nothing!" So, she learned not to ask.
Detached people like Tom find it difficult to live out the values they profess because they ignore their heart, which is the center from which values come. Often a detached person will become addicted to work, money, football, alcohol, or drugs.
Are you like Tom? Do you stuff your sense of defeat inside, thinking you should be able to "take it?" Are you emotionally frozen? Perhaps you're so dead inside you have little to give a relation-ship. Is your spouse enduring a frustrating relationship because you insist on suffering your losses alone? You can change. Start by connecting with others. Find a safe person that you can talk to. We were meant for connection, not detachment!
"Never shall I forget the days I spent with you. Continue to be my friend, as you will always find me yours." -Ludwig Van Beethoven (1770-1827)

From Wisdom for Each Day by Billy Graham
Fear Not!
There is no fear in love. But perfect love drives out fear.  – 1 John 4:18
The world of Jesus' day was filled with fear. The Romans feared rebellion, and their subjects feared Rome's power. The Sadducees feared the Pharisees, and both were suspicious of the publicans. The hearts of people everywhere were filled with fear and distrust. Life was precarious, and above all, people feared death.
The world lives with fear even today. What is your fear? Do you fear the future? Do you fear life's burdens that sometimes seem almost overwhelming? Do you fear death? Most of us fear everything except God—yet it is God whom we should fear most of all!
Jesus can put an end to fear for all who trust in Him. "Do not be afraid, little flock" is a phrase typical of His teaching and preaching (Luke 12:32). He is the answer to any fear you have. After all, God's power is greater than the powers of evil, and "neither death nor life, neither angels nor demons, neither the present nor the future…nor anything else in all creation, will be able to separate us from the love of God that is in Christ Jesus our Lord" (Romans 8:38–39)
You have not bought me sweet cane with money.
Isaiah 43:24
Worshipers at the temple were keen to bring presents of sweet perfumes to be burned upon the altar of God. But Israel, in the time of her backsliding, became ungenerous and made fewer offerings to her Lord. This was an evidence of coldness of heart toward God and His house.
Reader, does this never happen with you? Is it not possible that the complaint of this text may occasionally, if not frequently, be brought against you? Those who are poor in pocket, if rich in faith, will be accepted even though their gifts are small; but, poor reader, do you give in fair proportion to the Lord, or is the widow's mite kept back from the sacred treasury? The rich believer should be thankful for the wealth entrusted to him but should not forget his large responsibility, for where much is given, much will be required.
But, rich reader, are you mindful of your obligations, and is your giving to the Lord proportionate to the benefit you enjoy? Jesus gave His blood for us; what shall we give to Him? We are His, and He has purchased us for Himself—can we act as if we were our own? O for more consecration! O for more love! Blessed Jesus, how good it is of You to accept our sweet cane bought with money! Nothing is too costly as a tribute to Your unrivaled love, and yet You receive with favor the smallest sincere token of affection! You receive our poor forget-me-nots and love-tokens as though they were intrinsically precious, though indeed they are but as the bunch of wild flowers that the child brings to his mother.
Let us never grow stingy toward You, and from this hour may we never hear You complain of us again for withholding the gifts of our love. We will give You the firstfruits of our increase and pay You tithes of all, and then we will confess, "of your own have we given you."1

What Jesus Did!

 'The People Were Surprised'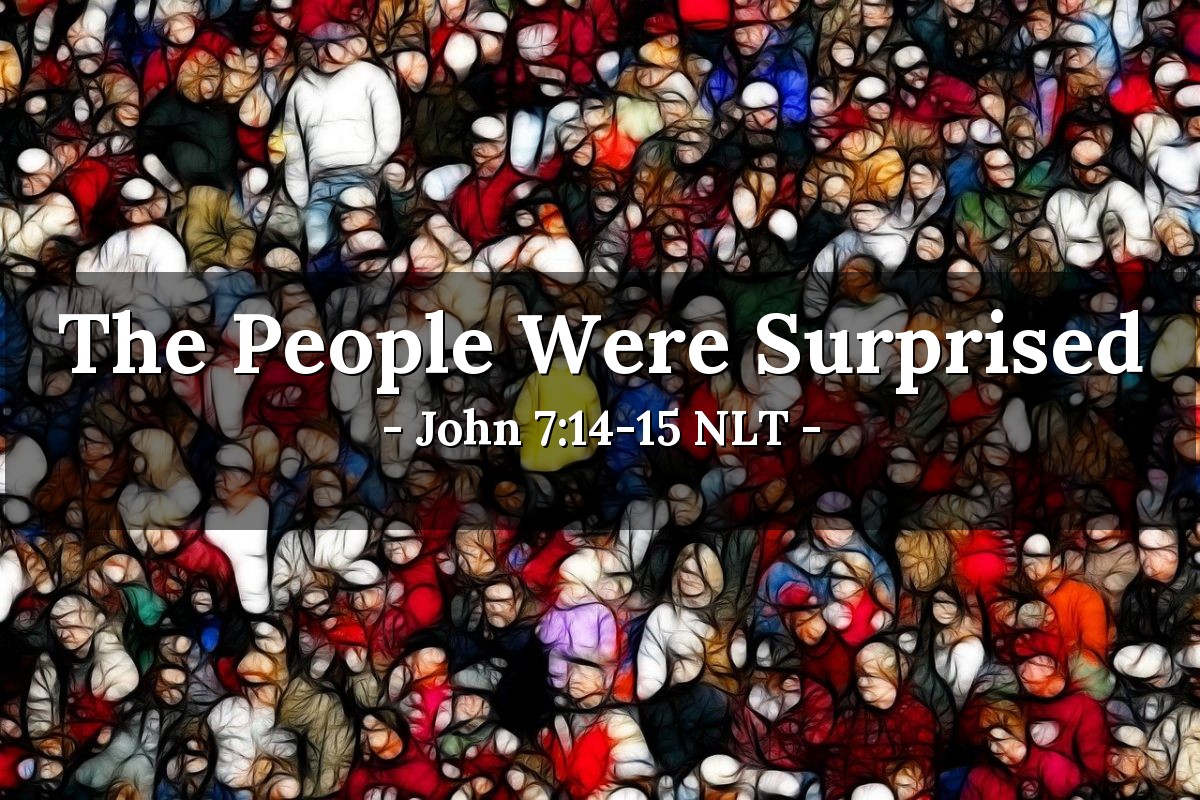 Key Thought
Arrogance is such an unattractive and unnecessary trait. Not only is it sinful, but it also shuts us off from truth. None of us has a corner on the market for truth. Education, experience, and training should not mean that we refuse to learn something from someone who does not have these advantages. Christian living is about faithfulness, not about the letters that come after our names to indicate our degrees or certifications. Jesus came from God. He spoke the truth of God. He called others to share God's message. He calls us to listen to others whose lives reflect the truth of that message and learn from them without prejudice. Education, experience, and training can be fantastic tools when coupled with humility. Let's commit to being true disciples. Let's commit to being life-long learners!
Today's Prayer
Father, forgive me for those times that I have not listened to others because I have thought that they had nothing to teach me. Humble me gently. Help me discern your truth no matter from whom I need to learn it. Give me a heart that is open to all that you want to teach me. In Jesus' name. Amen.
Related Scripture Readings
Daily Wisdom:

 Proverbs 17:14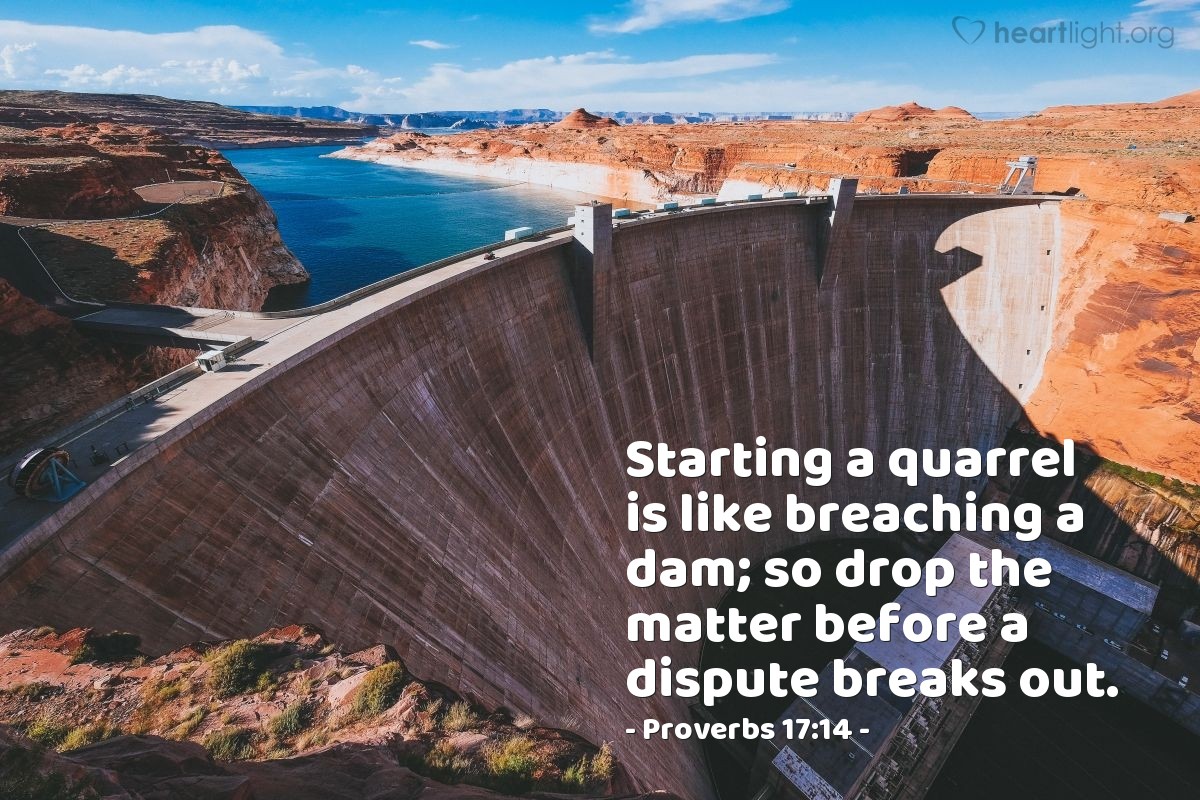 Spiritual Warfare:

 'God Will Clear the Way'

God's Power for Our Battles

Trust in and rely confidently on the Lord with all your heart and do not rely on your own insight or understanding. In all your ways know and acknowledge and recognize Him, and He will make your paths straight and smooth [removing obstacles that block your way].
Today's Prayer
Lord, over and over I have relied on myself; on my human wisdom and faulty understanding. I thought I knew the best way to proceed. I was wrong. Forgive me. From now on, Lord, I choose to rely on You: Your wisdom, guidance, and understanding. Lead the way, Lord, and I will do my best to follow faithfully. Show me the path, Lord, and clear my way so I can follow You. In Jesus' Name, Amen.
Illustration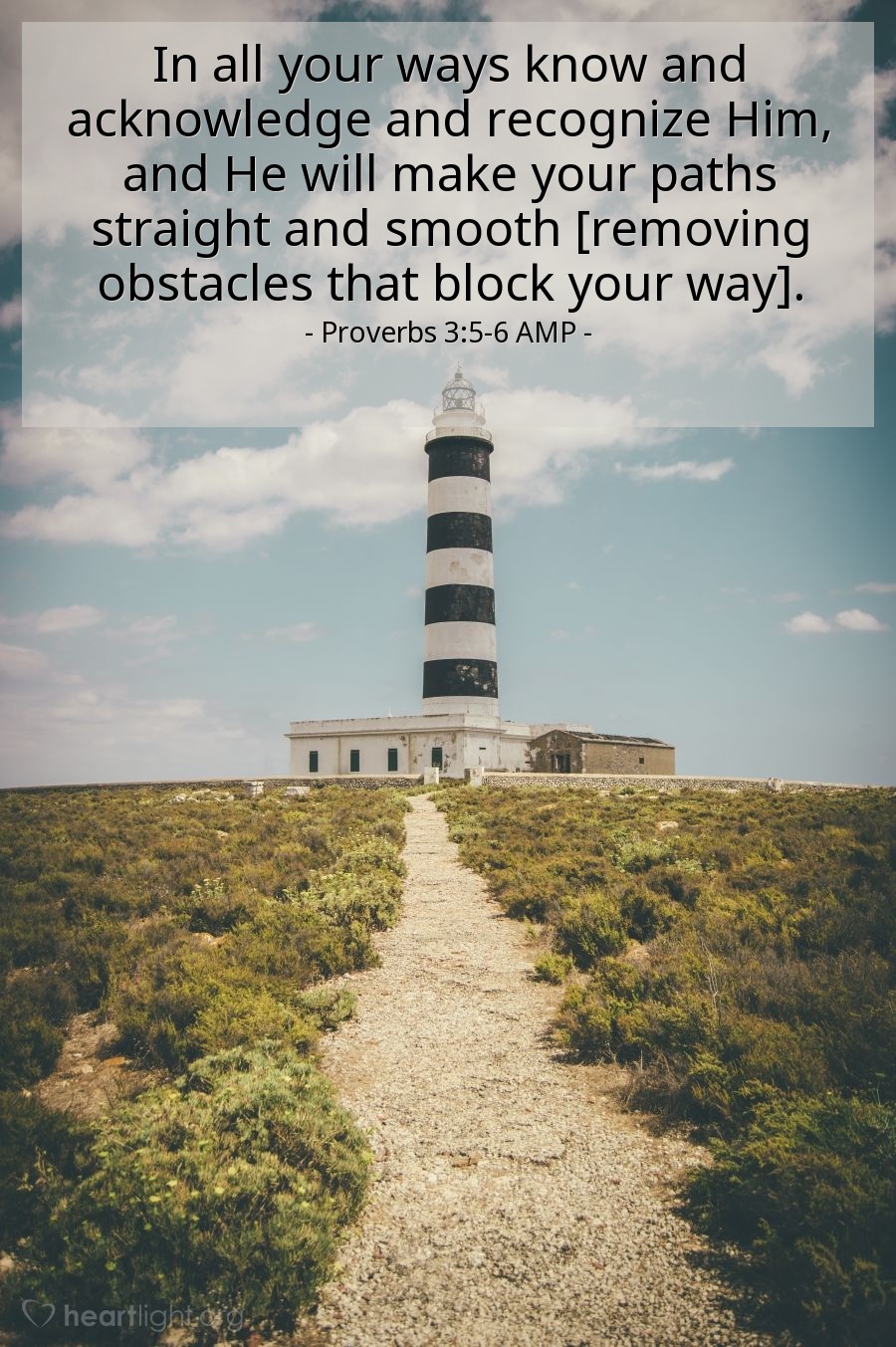 NAMES OF GOD: JEHOVAH-SHALOM: THE LORD IS PEACE
Living Free Every Day*
A ministry of LivingFree.org
Wednesday, May 23, 2018
Today's Scripture
"And Gideon built an altar to the LORD there and named it Yahweh-Shalom (which means 'the LORD is peace')." Judges 6:24 NLT
Thoughts for Today
God, our heavenly Father, is Jehovah [Yahweh]-Shalom: "the Lord is peace."
Ever since the sin of Adam and Eve, man's deepest need has been for peace with God. This longing for peace is expressed in many ways. People look to political reform, New Age philosophies, cults and other factions …searching for peace. Some try to find peace through alcohol or drugs. Some adopt an attitude of "if it feels good, do it." Others look for peace by being good and doing good, volunteering for humanitarian service of various types. But if people find any kind of peace in these kinds of searches, it is a temporary refuge that disintegrates when problems and difficult situations arise.
The only real lasting peace comes from a relationship with God through Christ.
When we receive Jesus Christ as our savior and make him the center of our lives, we receive a peace that is beyond our understanding. "Then you will experience God's peace, which exceeds anything wecan understand. His peace will guard your hearts and minds as you live in Christ Jesus." Philippians 4:7 NLT
Consider this … 
We may still go through difficult times and stressful challenges, but as long as we trust God and choose to do things his way … as long as we keep our eyes on Jesus and not on the waves pounding against us … as long as we truly believe that he loves us, that he has forgiven us, and that all things will work together for good, we will continue to experience his peace. Jehovah-Shalom, the Lord is peace.
Prayer
Father, I thank you that you are peace. Thank you that you gave me peace through forgiveness in Jesus. Thank you for giving me peace even in the midst of difficult times. My peace is not determined by my circumstances, but by who you are and what Jesus did for me. Help me to keep my eyes on Jesus, not the storm. In Jesus' name …
Wrestling With God
TGIF Today God Is First Volume 1 by Os Hillman
May 23, 2018
"So Jacob was left alone, and a man wrestled with him till daybreak." – Genesis 32:24
All that Jacob had lived for was coming down to one event – his reunion with Esau. More than 20 years had passed since Jacob had manipulated his father's blessing away from his brother Esau. During these years God had been changing Jacob from a controller and manipulator to a man who was learning to trust God. He was now ready to meet Esau. However, he was fearful that Esau might take revenge on him and his family for his past sin, so he sent a gift ahead, while he retreated and sought mercy from God.
As an angel appeared to Jacob, he realized the only hope he had was in God. Only if God blessed him would he survive this ordeal. In the past, Jacob would have sought to solve his problem his way. Now, he wanted only God's way. He wanted Him so badly that he wouldn't let go of the angel. He was striving with God, but it was the right kind of striving. Jacob was striving to have all God's blessing on his life. He was seeking God with all that he had. "When the man saw that he could not overpower him, he touched the socket of Jacob's hip so that his hip was wrenched as he wrestled with the man" (Gen. 32:25). The only way to overcome the strong will of this man was to physically immobilize him. The angel touched the socket of Jacob's hip. It was painful; it broke him. This was the final stage of removing the old nature from Jacob. It was the place of complete brokenness and surrender. No longer would Jacob walk in his own strength. He would now have to lean on a cane, symbolic of his leaning on God alone.
It was the final act from God in Jacob's life that was celebrated with a new name – Israel. No longer would he strive with God or man. The process was now complete. God could now bless this man abundantly. He gave him favor with Esau and restored their broken relationship.
What does God have to do in our lives to remove the controlling and manipulative nature that so often is part of a workplace believer's life? Perhaps it will require a time of immobilizing, loss of a job, loss of income, loss of health, loss of a close relationship. These are His methods of preparation. Your new nature will not be complete until you've stopped striving with God through your own self-efforts. If God is taking you through this process, be encouraged; it is because of the inheritance He has prepared for you. However, the inheritance can only be received when God brings us to total dependence on Him.
Verse of the Day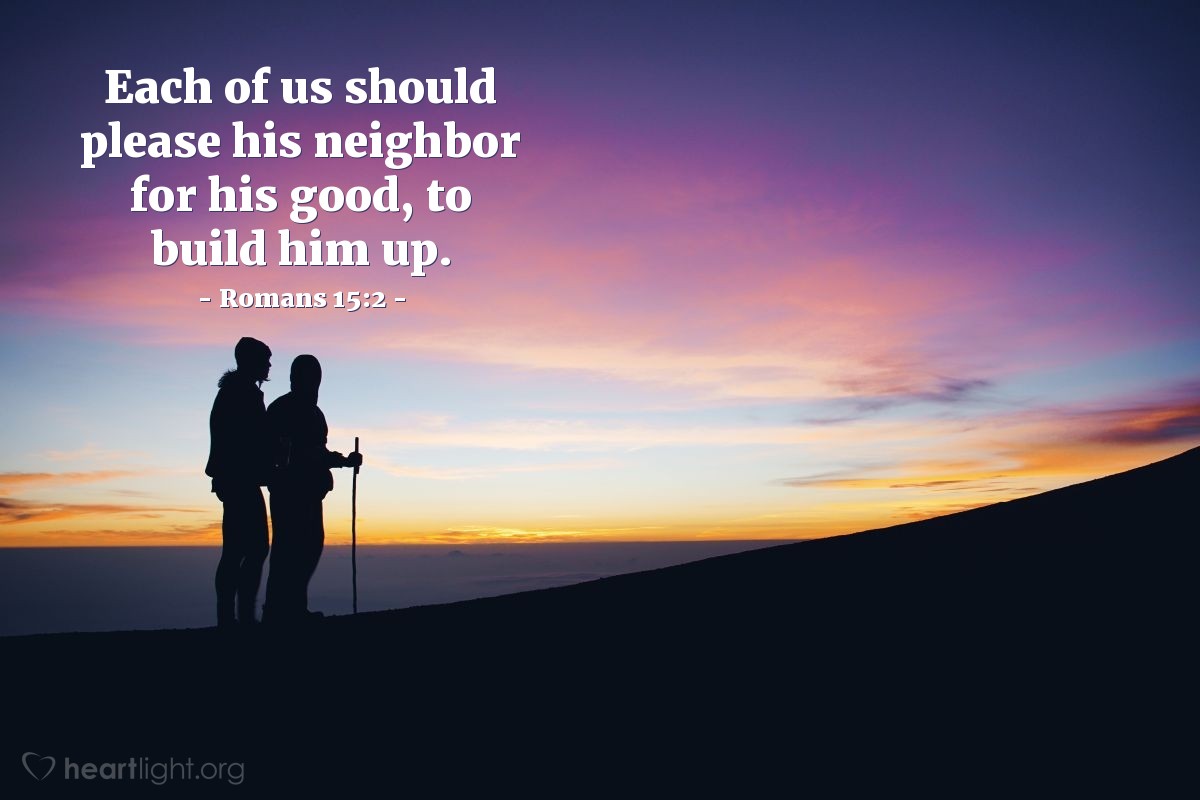 Thoughts on Today's Verse…
Being depressed and dissatisfied with life can be caused by a myriad of things. But for many of us, these are symptoms that we have focused too much on ourselves and are angry with life. We have forgotten to count our blessings, neglected giving thanks to God, become silent in our praise to our Father, and have quit helping those around us. Thinking of others is how Christ lived. When we follow his example, ours actions make a difference in the lives of those we bless and we also find ourselves immensely blessed as well. Let's get our focus off ourselves and look to bless our neighbors!
My Prayer…
Holy and Matchless God, help me see the brokenness, hurt, and difficulties in the lives around me. Please use me to bless others who so desperately need to experience your love and grace. In Jesus' name I pray. Amen.
NATIONAL LUCKY PENNY DAY
National Lucky Penny Day is observed each year on May 23rd..
See a penny, pick it up… All day long you'll have good luck.

When you are out and about, look on the ground for pennies.  It just might be your lucky day!
Years ago a penny was able to buy something. (Check out National Taffy Day – to see what we used to get for a penny.) Today, due to inflation, the penny does not buy much of anything. The metal value and cost of minting pennies exceed their face value.  Many nations have stopped minting equivalent value coins and efforts are being made to end the routine use of pennies in several countries including the United States.
1793 – The first pennies in the United States were made of copper.
HOW TO OBSERVE
See how many pennies you can find! Use #LuckyPennyDay to post on social media.
HISTORY
Within our research, we were unable to find the creator or the origin of National Lucky Penny Day.
NATIONAL TAFFY DAY
May 23rd was made for mouth-watering deliciousness. It's National Taffy Day!  Taffy candy has been made and sold for many years and has become a favorite souvenir of many vacationers.
Salt water taffy in was invented 1883 in Atlantic City, New Jersey.
This confection is made with boiled sugar and butter that is stretched and pulled until it is a chewy consistency that can be rolled and cut. The flavors range from buttery to tart to sweet.  There is something for everyone. Taffy's colorful displays have tantalized children and adults alike for generations.  And, since today is also Lucky Penny Day, it was also one of the penny candies that once could be bought for a cent.
HOW TO OBSERVE
Use #NationalTaffyDay to post on social media.
HISTORY
Our research was unable to find the creator and origin of National Taffy Day.
God bless!!!