Christoph Friedrich Blumhardt
I will declare your name to my brothers; in the congregation I will praise you. Psalm 22:22, NIV
Lord our God, Almighty Father in heaven, we stand before you as your children, whom you want to protect through the need of our time, through all sin and death. We praise you for giving us so much peace in an age full of trouble, and for granting us the assurance of your help. Even when we suffer, we do not want to remain in the darkness of suffering but want to rise up to praise and glorify you. For your kingdom is coming; it is already at hand. Your kingdom comforts and helps us and points the way for the whole world, that your will may be done on earth as in heaven. Amen.
When we watch the news, we see evil acts taking over our local communities. We become so frustrated about the amount of hate, violence, and negativity in the world. The acts some people commit are absolutely pure evil and our first thought might be "they should burn in hell."
While this isn't how God wants us to think, it does draw up the question "do certain acts automatically condemn a person to hell?" If so, have you already committed one? As Christians this is a scary thought!
Here is the truth about sin straight from the Bible.
No Sin is Too Great
People who commit murder and rape innocent woman automatically go to hell, right? Wrong. The truth is that there is no sin too great that God cannot forgive. Anyone that truly repents for their sins, puts their faith in God, and accepts Jesus Christ as their savior can be forgiven by God, no matter what sin they have committed.
The Apostle Paul is a great example of this. Before he came to Christ, he absolutely hated Christians. He was even responsible for the death of a few. The Bible says before his conversion he was "breathing threats and murder against the disciples of the Lord" (Acts 9:1). Paul called himself the foremost of sinners (1 Timothy 1:15) but the Lord still forgave his sins and made him an apostle.
The Bible gives us a second example of this. In Matthew 27, there is a story about two robbers and murderers were crucified. The two men lived only for themselves and mocked Jesus. However one of them, while hanging from the cross, observed Jesus and came to faith in Him. Luke 23:42-43 says "And he said, 'Jesus, remember me when you come into your kingdom.' And He said to him, 'Truly, I say to you, today you will be with me in Paradise.'" Jesus promised the murder that he would be going to heaven, despite the acts he had committed. Not only that, but a murderer who had moments left before death.
Is it fair that these people who committed evil acts can still go to heaven? Some people get frustrated and think the answer is no. While it doesn't seem fair, there is actually a great amount of comfort in this. God loves His children so much that He refuses to ever turn His back on them. God chooses to save sinners. If He can truly save the former evil men, He most certainly will be able to save you and your family.
The Unforgiveable Sin
Many Christians are scared, understandably, about a sin they read in the Bible called the "unforgivable" or "eternal sin." In one New Testament scene, Jesus' critics accuse Him of being in association with the Devil. When answering His critics, Jesus refers to the "unforgivable sin." This is what Jesus says.
"I promise you that any of the sinful things you say or do can be forgiven, no matter how terrible those things are. But if you speak against the Holy Spirit, you can never be forgiven. That sin will be held against you forever." — Mark 3:28-29
This confuses many Christians because they think it contradicts verses like 1 John 1:19, which state that God can forgive any wrongdoing. However if you are worried you committed this sin, you most certainly haven't. Having concern about it reveals the complete opposite of what the sin is about – those who are guilty wouldn't care because they have no stress over the possibility.
Jesus didn't address the comment He made to His disciples or the crowd. He was talking specifically to Pharisees, who had witnessed Jesus' miracle of transforming a blind and mute demon possessed man. Instead of acknowledging the fact that Jesus had incredible divine powers, Pharisees attributed that His power was from Satan. Pharisees willfully rejected God and deliberately refused to believe in His abilities, despite being shown direct evidence. "He has an unclean spirit" (Mark 3:30).
Blasphemy against the Spirit is not just a one-time offence, but rather an ongoing attitude of rebellion against God by continually rejecting, insulting and resisting the Holy Spirit. Blasphemy against the Spirit is not unforgivable because of something done unintentionally in the past, but because of something being done deliberately and unrelentingly in the present.
The Lord is ready to forgive us of our sins; all we have to do is ask. The Bible is very clear that God is ready to give us! He wants us to be able to come to Him and celebrate in heaven. You can acknowledge your sin, feel legitimate remorse for your actions, work towards turning away from sin and cast yourself upon the mercy of God.
Verse of the Day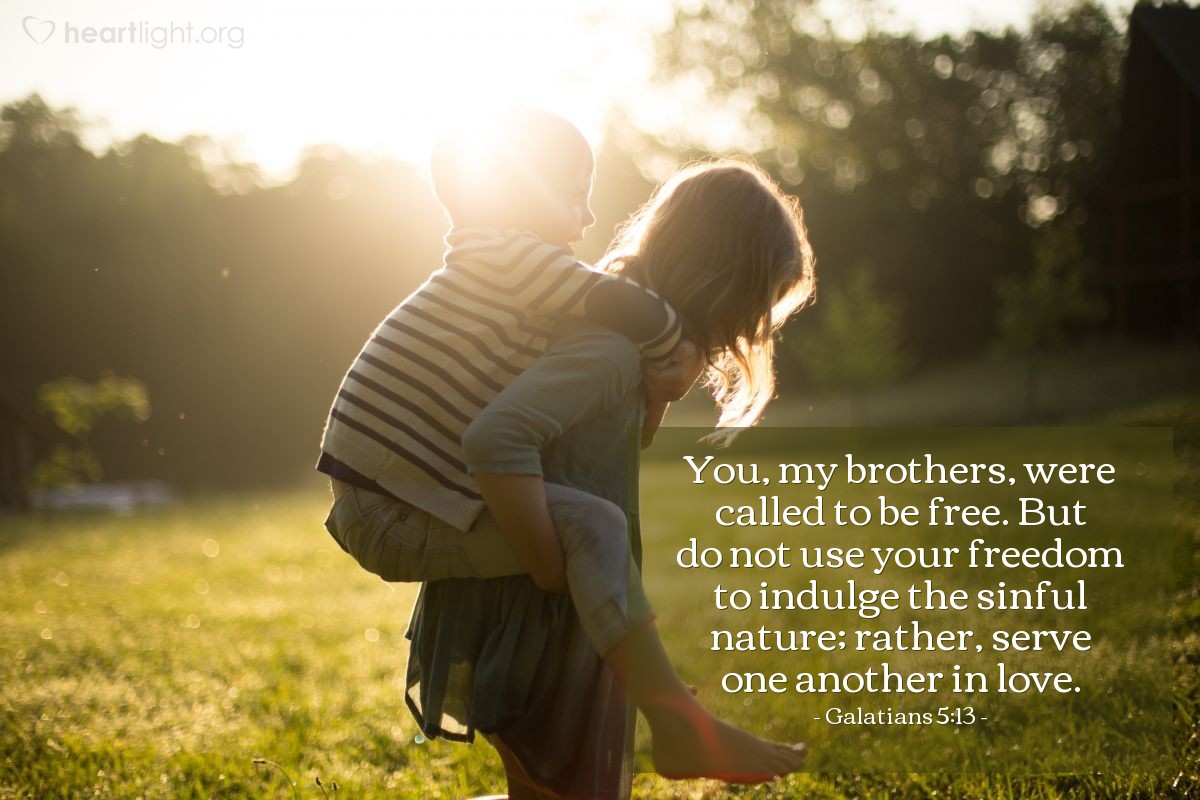 Thoughts on Today's Verse…
Freedom is a wonderful gift when it is handled with responsibility. Not being under law is such a sweet grace, but we want to pass that sweetness on to each other through service, kindness, and care.
My Prayer…
O Great God of Deliverance, thank you for rescuing Israel from Pharaoh's grasp, David from the sword of Goliath, and Daniel from the lion's den. But O Great Deliverer, thank you most of all for the triumph of Jesus over sin at Calvary and his victory over death at the empty tomb. I long to see you face to face and thank you for my freedom. Until that day, guide me as I use this gift of liberation to serve you children and live for you. In Jesus' name I pray. Amen.
A Prayer to Soothe an Anxious Heart
By Jennifer Heeren
"Do not be anxious about anything, but in every situation, by prayer and petition, with thanksgiving, present your requests to God." (Philippians 4:6)
Feelings of worry and nervousness will inevitably pop up as you travel your life's path. Things will happen that you don't understand. You will be called to do something even when you don't have a clue about the outcome. Anxiety will present itself to your uncertain mind. But you don't have to live there. The answer to anxieties is to go to God as soon as you sense a worry. Don't wait. Pray immediately and ask for His strength to carry you.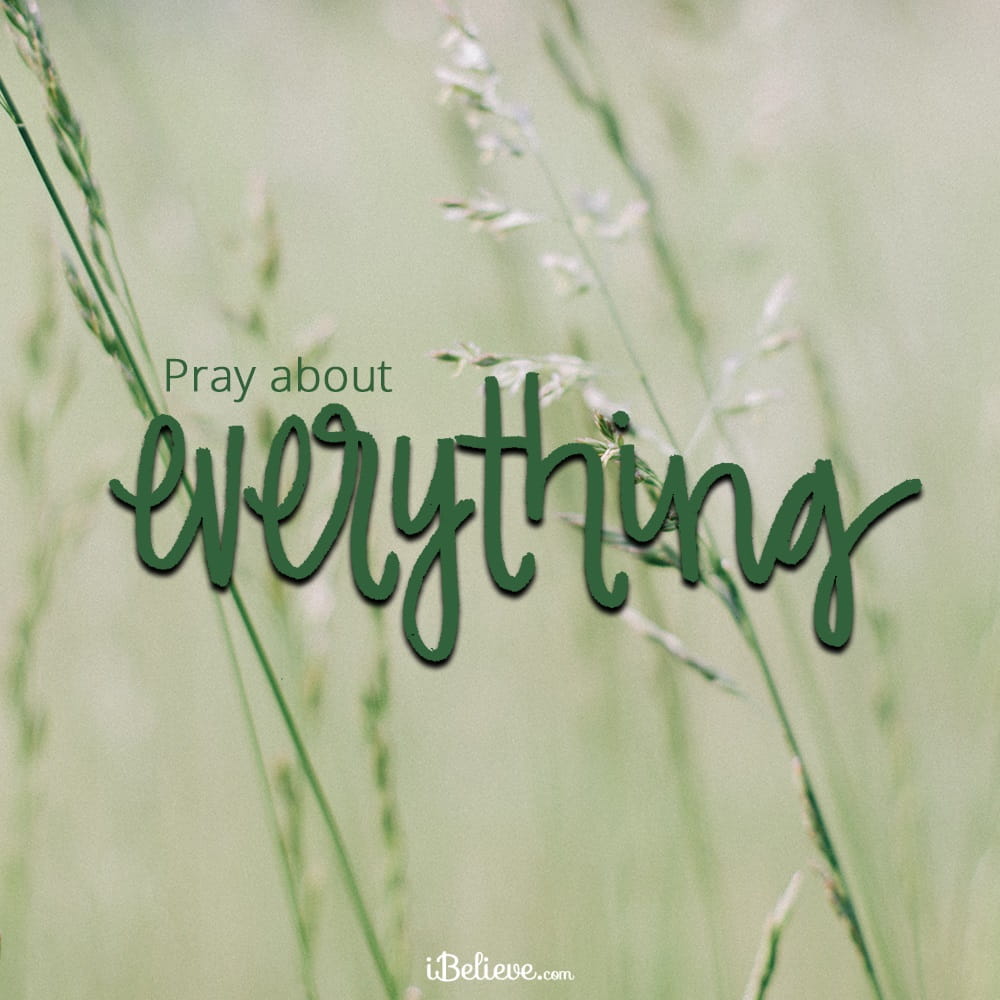 Philippians 4:6 has the first three steps to talk to God about your anxiety:
1. Pray about everything. Does it say only pray about the big problems? I know I have the tendency to try and muddle through in my own meager strength until I can't go on anymore. But if I do what Philippians says and pray about everything, that really does include everything. God is strong enough to handle ALL my worries. Whereas, I often break from the pressure that I put on myself.
2. Tell God what you need. Don't use the excuse that He already knows. Of course, He knows already. He's God. Actually, He knows even more than you do. I tend to get so caught up in my wants, that my real needs are often hidden from view. God may already know what I need but He wants me to always come to Him about everything. Even when I ramble on, He probably just smiles and listens and is glad that I felt comfortable talking with Him
3. Thank Him for all He has done (and will do). Gratefulness goes a long way to cover my anxieties. When I keep a long mental list of all that God has blessed me with, they often crowd out my anxieties. Also, I can keep a mental list of hopes and promises for my future, that also takes up the space that fears try to live. Doubts may seek to fill my mind but thoughts of comfort give me renewed hope and cheer (Psa 94:19).
Go straight to the psalms. The psalms are a great place to go when anxieties seek to overwhelm you. They often begin with a problem and a crying out to the Lord. Then they explain what they want. Finally, the Spirit within the author remembers the truths about just who God is and extreme comfort is the result. The situation may not go away but the attitude changes.

Does Your Inside Match Your Outside?
"Blessed are the pure in heart, for they shall see God."MT 5:8
Once a father told his child to sit down. The child refused. Again the father told his child to sit down, and again the child stubbornly refused. Finally, the father said, "If you don't sit down I'm going to give you a spanking." The child sat down and said, "I'm sitting down on the outside, but I'm still standing up on the inside!" Reminds me of what Jesus said to the Jewish leaders:
You hypocrites! Well did Isaiah prophesy of you, when he said: 'This people honors me with their lips, but their heart is far from me…' MT 15:7-8
Outwardly they honored God. They sang songs and prayed and tithed. But they had no love for God. Their hearts – their inner persons – were impure – they acted religious to be noticed by men, not to please God.  They were hypocrites.
The word hypocrite comes from a word meaning actor. A hypocrite's an actor, a pretender. He professes some value or belief but his private life does not match it. He's not pure in heart. So, to be pure in heart means our words match our thoughts. Our outer life matches our inner life.
When God saves us he gives us new hearts:
And I will give you a new heart, and a new spirit I will put within you. And I will remove the heart of stone from your flesh and give you a heart of flesh. And I will put my Spirit within you, and cause you to walk in my statutes and be careful to obey my rules. Ezekiel 36:26-27
God gives us new hearts that want to follow and obey him and pours his Holy Spirit into us who motivates us to sincere obedience.
A friend once requested I ask him about his TV watching every time he traveled for work. This man sincerely wanted to please Jesus and didn't want to sin when no one else was watching.
To be pure in heart doesn't mean we never sin. But it means that now we don't want to. We hate it when we do, and are grateful for Jesus' constant cleansing (1 JN 1:9).
A few ways to cultivate purity of heart:
Read your Bible regularly for it convicts, warns and encourages us.
Ask God for inner purity. David prayed, "Create in me a clean heart." Regularly ask God to deliver you from evil and temptation.
Be careful what you take in through your eyes and ears. Flee temptation. Thomas Watson said, "In a duel a man will chiefly guard and fence his heart, so a wise Christian should above all things keep his heart pure."
Fellowship – confess your struggles and temptations and ask for prayer of one or a few wise, trustworthy believers.
The reward for pursuing purity? "They shall see God."
Beloved, we are God's children now, and what we will be has not yet appeared; but we know that when he appears we shall be like him, because we shall see him as he is. And everyone who thus hopes in him purifies himself as he is pure (1 John 3:2-3). 
Because of our glorious hope to see Jesus, the infinitely pure one, face to face, we purify ourselves now, by the power of the Spirit.
Saint Rita of Cascia
Saint of the Day for 
May 22
(1381 – 

May 22, 1457

)
https://www.franciscanmedia.org/wp-content/uploads/2016/08/SODMay22.mp3
Saint Rita of Cascia's Story
Like Elizabeth Ann Seton, Rita of Cascia was a wife, mother, widow, and member of a religious community. Her holiness was reflected in each phase of her life.
Born at Roccaporena in central Italy, Rita wanted to become a nun but was pressured at a young age into marrying a harsh and cruel man. During her 18-year marriage, she bore and raised two sons. After her husband was killed in a brawl and her sons had died, Rita tried to join the Augustinian nuns in Cascia. Unsuccessful at first because she was a widow, Rita eventually succeeded.
Over the years, her austerity, prayerfulness, and charity became legendary. When she developed wounds on her forehead, people quickly associated them with the wounds from Christ's crown of thorns. She meditated frequently on Christ's passion. Her care for the sick nuns was especially loving. She also counseled lay people who came to her monastery.
Beatified in 1626, Rita was not canonized until 1900. She has acquired the reputation, together with Saint Jude, as a saint of impossible cases. Many people visit her tomb each year.
---
Reflection
Although we can easily imagine an ideal world in which to live out our baptismal vocation, such a world does not exist. An "If only …." approach to holiness never quite gets underway, never produces the fruit that God has a right to expect.
Rita became holy because she made choices that reflected her baptism and her growth as a disciple of Jesus. Her overarching, lifelong choice was to cooperate generously with God's grace, but many small choices were needed to make that happen. Few of those choices were made in ideal circumstances—not even when Rita became an Augustinian nun.
---
Saint Rita of Cascia is the Patron Saint of:
Difficult Marriages
Impossible Causes
Infertility
Parenthood

Who Makes the Suffering of This Life Worth It?
MAY 22
"Come unto Me, all ye that labor and are heavy laden, and I will give you rest … for My yoke is easy, and My burden is light." Matthew 11:28, 30
I've heard it said so many times that it's hard to be a Christian. Where did you get that? You didn't get it out of the Word of God. It's not hard to be a Christian.
Listen, the Bible says that "the way of the transgressor is hard" (Proverbs 13:15), but it's not hard to be a Christian. I'm having a wonderful time serving the Lord Jesus.
You say, "You mean there's no suffering?" There's suffering in this world whether you're saved or lost. You're not going to get out unbent, unbloodied, or unbowed.  But I want to tell you, there is joy in the Lord Jesus Christ; and Jesus is the One who makes the sufferings of this life worth it all.
If you are struggling and straining today to "lead the Christian life." then something is out of whack. Jesus said, "I will give you rest." Come to Him right now in humility and lay down the heavy burden.

The Solitary Role
But it is you, a man like myself, my companion, my close friend, with whom I once enjoyed sweet fellowship as we walked with the throng at the house of God. – Psalm 55:13-14
Evan owns a small business with one employee. He prides himself on his precision craftsmanship that keeps a steady stream of customers lined up and waiting. He's been urged to expand his shop and hire more employees, but Evan likes things small and controllable. He doesn't want to grow, because he doesn't want to get in a position where he needs his customers more than they need him.
Evan has the same attitude about his relationship with his wife. He keeps his thoughts and feelings well hidden because he feels he must act as if he doesn't need anything from her. His wife and children don't feel they know Evan, because he never shares anything from his heart. In addition, he has no close friends.
Evan learned in his upbringing that it's not manly to need anyone. He picked up early in life that his father didn't need him. And by spending more time on his career than with his family, Evan's father conveyed the idea that Evan shouldn't need him either. So Evan grew up feeling that he must face life without any help.
Are you living a solitary life like Evan? Is it okay to be needed by others, but you can't commit to need anyone else? Your choice for solitude and distance are depriving you of your basic needs for love, relationship, and intimacy. The longer you play the solitary role, the greater your loss. You were made to need and be needed. Don't be afraid to connect.
"If everyone is moving forward together, then success takes care of itself."- Henry Ford (1863-1947)

From Dear Jesus by Sarah Young
Remember that I can fit everything into a pattern for good, including the things you wish were different. Start with where you are at this point in time and space, accepting that this is where I intend you to be.
Dear Jesus,
            How I long to see this all-embracing pattern for good! I can't begin to imagine how You can fit everything into such a pattern. My current situation seems like a gigantic mistake to me: something I should have been able to prevent. I'm trying to accept my circumstances as Your will, but I feel as if I'm clawing my way up a sheer cliff. Help me make a new beginning, right where I am.
Beloved, even if I showed you the all-encompassing pattern, you wouldn't be able to understand it. Some things—many things—are simply beyond your comprehension. Do not indulge in obsessing about what you could have done differently, for that is an exercise in unreality: The past cannot be different from what has actually occurred.
There is only one place to make a new beginning, and that is NOW: the unique intersection of time and space you currently inhabit. I believe you can accept the present moment without too much difficulty. After all, you are conversing with Me, your Savior and Shepherd, this very moment. You can also handle the next moment as it comes—and the next. What you find most difficult to accept is the way the future looks to you: basing your predictions on current circumstances. But the future is one of those secret things beyond your domain; release it to Me, the rightful Owner. Refuse to worry about the future, and you will find your resources for today quite sufficient. Remember that I am part of those resources, and nothing is impossible with Me!
We are assured and know that [God being a partner in their labor] all things work together and are [fitting into a plan] for good to and for those who love God and are called according to [His] design and purpose. – Romans 8:28 AMP
The secret things belong to the LORD our God, but the things revealed belong to us and to our children forever, that we may follow all the words of this law. – Deuteronomy 29:29
For nothing is impossible with God. – Luke 1:37

What Jesus Did!

 'Conflict Over Faith'

But after his brothers left for the festival, Jesus also went, though secretly, staying out of public view. The Jewish leaders tried to find him at the festival and kept asking if anyone had seen him.

There was a lot of grumbling about him among the crowds. Some argued, "He's a good man," but others said, "He's nothing but a fraud who deceives the people." But no one had the courage to speak favorably about him in public, for they were afraid of getting in trouble with the Jewish leaders.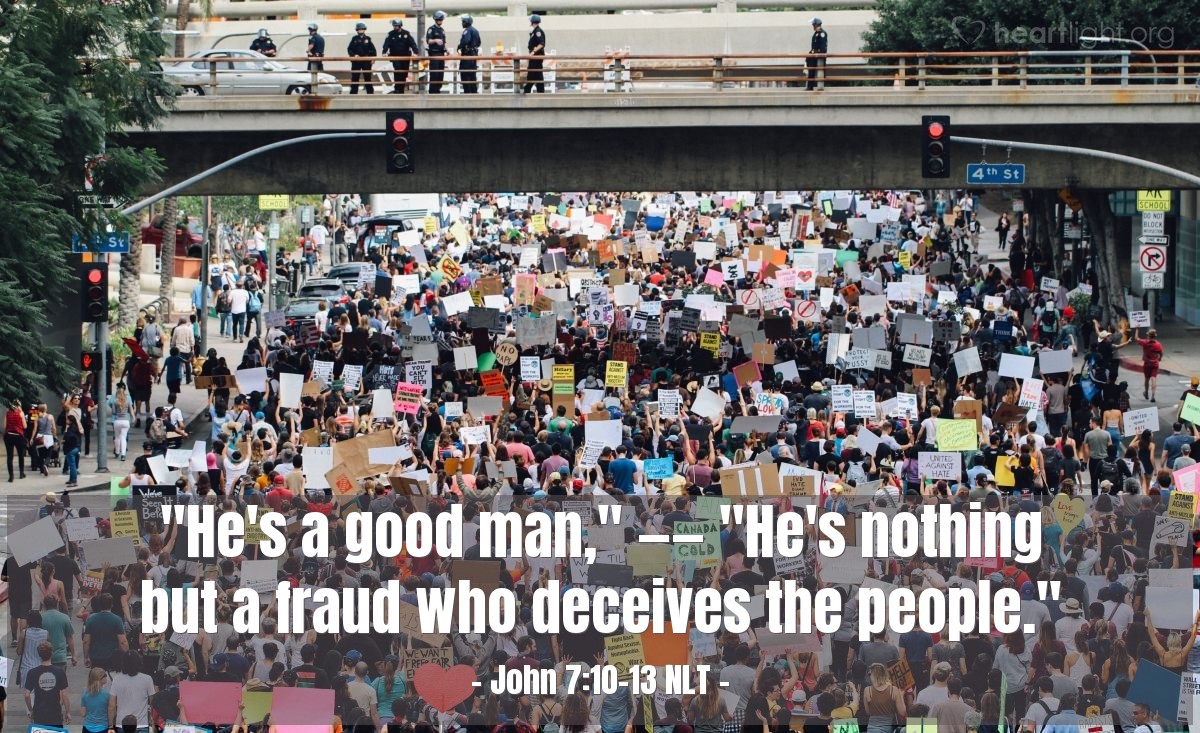 Key Thought
People don't come to faith in a vacuum. The enemy of faith is always trying to cast doubt and reinforce unbelief with fear. Throughout John's story of Jesus, we will see the struggle to believe in the face of the fear of rejection. How many people around you would be more willing to believe if you were more open about your faith? Is there someone, or something, keeping you silent because of fear? Faith is not just believing in our heads and hearts; it is also believing with our lives — demonstrating our faith with our actions, words, and influence. Don't let fear silence your faith; someone around you has her or his salvation depending upon it!
Today's Prayer
Father, please give me courage and wisdom to demonstrate my faith in appropriate and effective ways. I need your help to influence those around me to come to Jesus. I need your guidance as I try to be bold about my faith without turning off those around me. In Jesus' name, I ask for your help so that I will have a redemptive influence in my world. Amen.
Related Scripture Readings
Daily Wisdom:

 Proverbs 28:1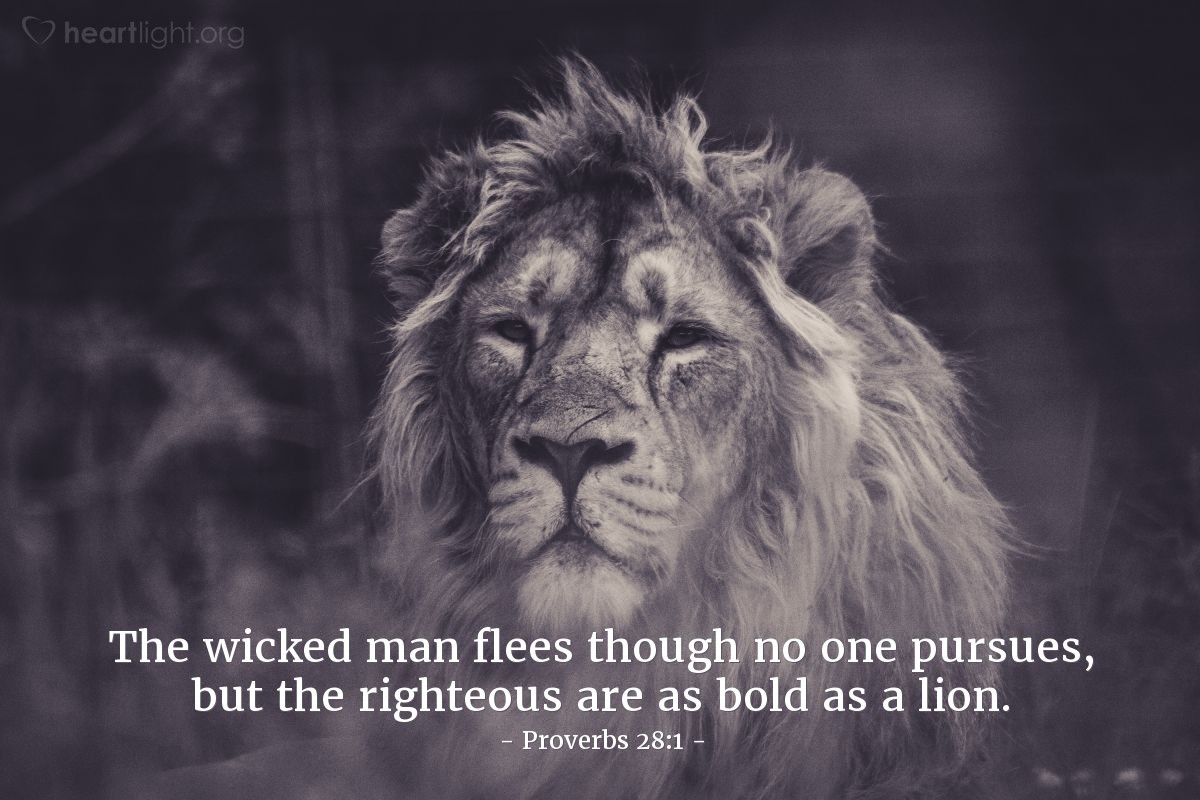 v1 Sin makes men cowards. Whatever difficulties the righteous meet in the way of duty, they are not daunted. Pr 28:2. National sins disturb the public repose. Pr 28:3. If needy persons get opportunities of oppressing, their extortion will be more severe than that of the more wealthy. Pr 28:4. Wicked people strengthen one another in wicked ways. Pr 28:5. If a man seeks the Lord, it is a good sign that he understands much, and it is a good means of understanding more. Pr 28:6. An honest, godly, poor man, is better than a wicked, ungodly, rich man; has more comfort in himself, and is a greater blessing to the world. Pr 28:7. Companions of riotous men not only grieve their parents, but shame them. Pr 28:8. That which is ill got, though it may increase much, will not last long. Thus the poor are repaid, and God is glorified. Pr 28:9. The sinner at whose prayers God is angry, is one who obstinately refuses to obey God's commands. Pr 28:10. The success of ungodly men is their own misery. Pr 28:11. Rich men are so flattered, that they think themselves superior to others. Pr 28:12. There is glory in the land when the righteous have liberty. Pr 28:13. It is folly to indulge sin, and excuse it. He who covers his sins, shall not have any true peace. He who humbly confesses his sins, with true repentance and faith, shall find mercy from God. The Son of God is our great atonement. Under a deep sense of our guilt and danger, we may claim salvation from that mercy which reigns through righteousness unto eternal life, by Jesus Christ our Lord. Pr 28:14. There is a fear which causes happiness. Faith and love will deliver from the fear of eternal misery; but we should always fear offending God, and fear sinning against him. Pr 28:15. A wicked ruler, whatever we may call him, this scripture calls a roaring lion, and a ranging bear. Pr 28:16. Oppressors want understanding; they do not consult their own honour, ease, and safety. Pr 28:17. The murderer shall be haunted with terrors. None shall desire to save him from deserved punishment, nor pity him. Pr 28:18. Uprightness will give men holy security in the worst times; but the false and dishonest are never safe. Pr 28:19. Those who are diligent, take the way to live comfortably. Pr 28:20. The true way to be happy, is to be holy and honest; not to raise an estate suddenly, without regard to right or wrong. Pr 28:21. Judgment is perverted, when any thing but pure right is considered. Pr 28:22. He that hastens to be rich, never seriously thinks how quickly God may take his wealth from him, and leave him in poverty. Pr 28:23. Upon reflection, most will have a better opinion of a faithful reprover than of a soothing flatterer. Pr 28:24. Here is the wickedness of those who think it no sin to rob their parents, by wheedling them or threatening them, or by wasting what they have, and running into debt. Pr 28:25. Those make themselves always easy, that live in continual dependence upon God and his grace, and live by faith. Pr 28:26. A fool trusts to his own strength, merit, and righteousness. And trusts to his own heart, which is not only deceitful above all things, but which has often deceived him. Pr 28:27. A selfish man not only will not look out for objects of compassion, but will look off from those that call for his attention. Pr 28:28. When power is put into the hands of the wicked, wise men decline public business. If the reader will go diligently over this and the other chapters, in many places where at first he may suppose there is least of Christ, still he will find what will lead to him.
Spiritual Warfare:

 'God, You Are My Hiding Place!'

God's Power for Our Battles

For you are my hiding place; you protect me from trouble. You surround me with songs of victory.The Lord says, "I will guide you along the best pathway for your life. I will advise you and watch over you."
Today's Prayer
Lord, You are my hiding place. You are the One I seek. You are the protection I need. I yearn for Your advice, Your guidance, and Your help. Show me which way to turn. Put me right where You want me to be to do the most good. Watch over me as I make this journey. Continue to show me when to turn left, and when to turn right. You are the victory I seek, Lord, so bring me safely home to You. In Jesus' Name, Amen.
Illustration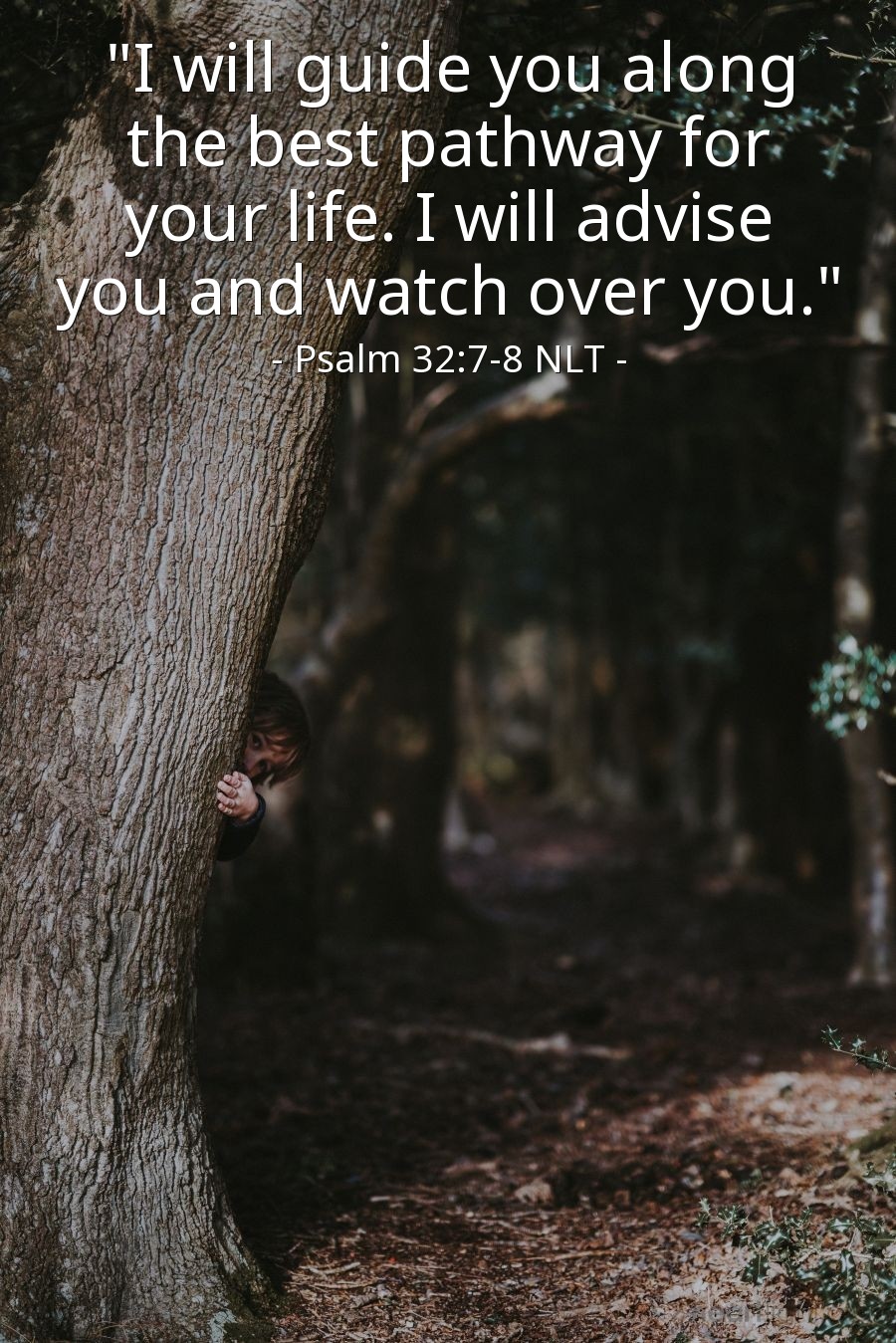 NAMES OF GOD: JEHOVAH-RAPHA: THE LORD WHO HEALS YOU
Living Free Every Day*
A ministry of LivingFree.org
Tuesday, May 22, 2018
Today's Scripture
"He said, 'If you listen carefully to the voice of the LORD your God and do what is right in his eyes, if you pay attention to his commands and keep all his decrees, I will not bring on you any of the diseases I brought on the Egyptians, for I am the LORD, who heals you.'"
Exodus 15:26 NIV
Thoughts for Today
God, our heavenly Father, is Jehovah-rapha, "the Lord who heals you."
After God miraculously provided for the Israelites by parting the Red Sea, they continued on their journey. After three days without finding water, they came to Marah and were delighted to see water. Their delight soon turned to grumbling, however, when they discovered that the water was bitter.
As Moses prayed, God instructed him to cast a tree into the water, and the water became sweet. God then spoke the words in today's scripture verse. He told them that he is Jehovah-rapha, the Lord who heals you.
The Old Testament recounts many instances of God providing healing and restoration. And, of course, the New Testament is filled with accounts of people being healed by Jesus, and later through the apostles. What Jehovah did at Marah, what Jesus did throughout the New Testament, he will do today for those who trust and obey him.
Consider this . . .… 
We all need healing at various times in our lives. Physical, emotional, moral or relationship healing. If you need healing in any area of your life today, listen carefully to God by reading the Bible, by communicating with him in prayer and by seeking godly counsel. Commit to pleasing the Lord, doing things his way. Trust Jesus. God is Jehovah-rapha, the Lord who heals you.
Prayer
Father, I thank you that you are the Lord who heals me. Thank you that no matter what the need—physical, emotional, moral or relationship—you are the Lord who heals me. In Jesus' name . . .…
God's Preparation for Moving Out
TGIF Today God Is First Volume 1 by Os Hillman
May 22, 2018
"In this way the man grew exceedingly prosperous and came to own large flocks, and maidservants and menservants, and camels and donkeys." – Genesis 30:43
Jacob left his homeland after suffering a broken relationship with Esau for stealing the family blessing. He went to work for his uncle Laban where he stayed for 20 years. It came time for him to leave, but he had no physical assets to show for those years under Laban. Laban had taken advantage of his nephew in every way. (In some ways, Jacob was reaping the seed he had sown his entire life as a manipulator and controller.) Nevertheless, God's hand was on Jacob, and He had plans to prosper him. However, Jacob had one problem – he had no resources of his own. For Jacob to launch out on his own, he would need resources. In those days, resources often meant large flocks of animals. God gave Jacob a dream that resulted in a strategy for creating wealth by multiplying his sheep. Even though Laban sought to thwart Jacob's efforts, God overcame the evil in Laban to allow Jacob to prosper.
There are many important lessons for us in this story. First, when God decides it is time to move you into a larger place of His calling, He has the ability to provide the resources you need to support the call. God gave Jacob a dream that resulted in a strategy never used before to build wealth. It was totally from God's hand. It was creative and new. God called Jacob to move out after he had demonstrated his faithfulness in 20 years of serving Laban. He learned to live under authority and served Laban faithfully, even though he knew he was being taken advantage of.
God will do the same for you and me. However, a word of caution: Be sure the strategy is born from above, and not from self-effort. The difficulty for most of us workplace believers is to learn the difference between the strategies born of God versus the strategy of self-effort.
NATIONAL SOLITAIRE DAY
On May 22, National Solitaire Day recognizes a card game that has been around for more than 200 years.
Also known as Klondike, the classic version of the game uses a standard deck of 52 playing cards. The object of the game is to clear the board by creating a stack of cards from low to high in each suit. If the player completes each suit, the game of Solitaire is won.
It wasn't until 1990 when Microsoft included Solitaire in Windows 3.0 that the game truly went viral.Microsoft Solitaire successfully helped teach computer users how to use a mouse and, in the process, ended up becoming one of the most played video games in history.
"Over the past 28 years, Microsoft Solitaire has been providing great entertainment to hundreds of millions of players in every corner of the world, and we're happy to announce that May 22 of each calendar year will officially be designated as National Solitaire Day, recognizing the day Microsoft first included Solitaire in Windows," says Paul Jensen, Studio Manager for Microsoft Casual Games.
In 2012, Microsoft evolved Solitaire into the Microsoft Solitaire Collection, which features five of the top Solitaire games in one app. Since then, the game has been played by over 242 million people and has become so popular that each year 33 billion games are played with over 3.2 trillion cards dealt!
Microsoft Solitaire Collection is available as a free download from the Windows, iPhone, and Android App Stores.
HOW TO OBSERVE
There's no need to be particularly productive today on National Solitaire Day – just play some Solitaire! Either on a computer, laptop, tablet, phone, or "go retro" and play using real cards. And use #NationalSolitaireDay to post on social media to share in the fun of this classic card game.
HISTORY
Microsoft founded National Solitaire Day on May 22, 2018, to celebrate one of the most played computer games. In 2015, Microsoft Solitaire celebrated its 25th anniversary. National Solitaire Day continues that celebration with an annual event recognizing the contributions Microsoft Solitaire has provided in the computer age of the game.The Registrar at National Day Calendar proclaimed National Solitaire Day to be observed annually in 2018.
There are over 1,500 national days. Don't miss a single one. Celebrate Every Day with National Day Calendar!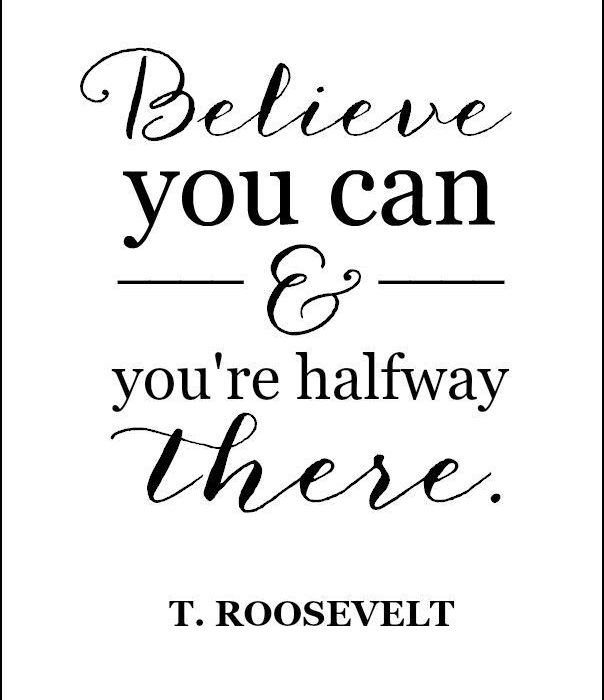 God bless!!!!!