Christoph Friedrich Blumhardt
Know that the Lord is God. It is he who made us, and we are his; we are his people, the sheep of his pasture. Psalm 100:3, NIV
Father in heaven, may we recognize and acknowledge that you are God. You have made us, and not we ourselves, to be your people and the sheep of your pasture. Baptize us with the truth we need throughout our lives. Give us the gift to discern who we are and what we should become. Free our eyes from all deception so that we can no longer delude ourselves with short-lived, earthly things. Clear our eyes to see what is eternal in and around us. Make us children, true children, who awake to exult and rejoice in what is childlike and who give thanks to you, O God, the Father, the Son, and the Holy Spirit. Amen.
Daily Dig
In your inbox every morning
Start off your day with a jolt – a pithy quote from the likes of Arnold, Blumhardt, Dostoevsky, Kierkegaard, Romero, Sundar Singh, Tolstoy, and others, waiting in your inbox every morning.
Think of it as caffeine for your conscience.
TODAY'S DAILY DIG
It is possible even in the contradictions and confusions of this life to keep the center of your being calm and undisturbed. It is possible even in this life to go through one hellish situation after another with strength and confidence of spirit. It is possible to endure physical pain and suffering while the mind and heart are filled with peace and joy. That's what I mean by being in paradise even while you are still part of this earthly scene of chance and change.
Verse of the Day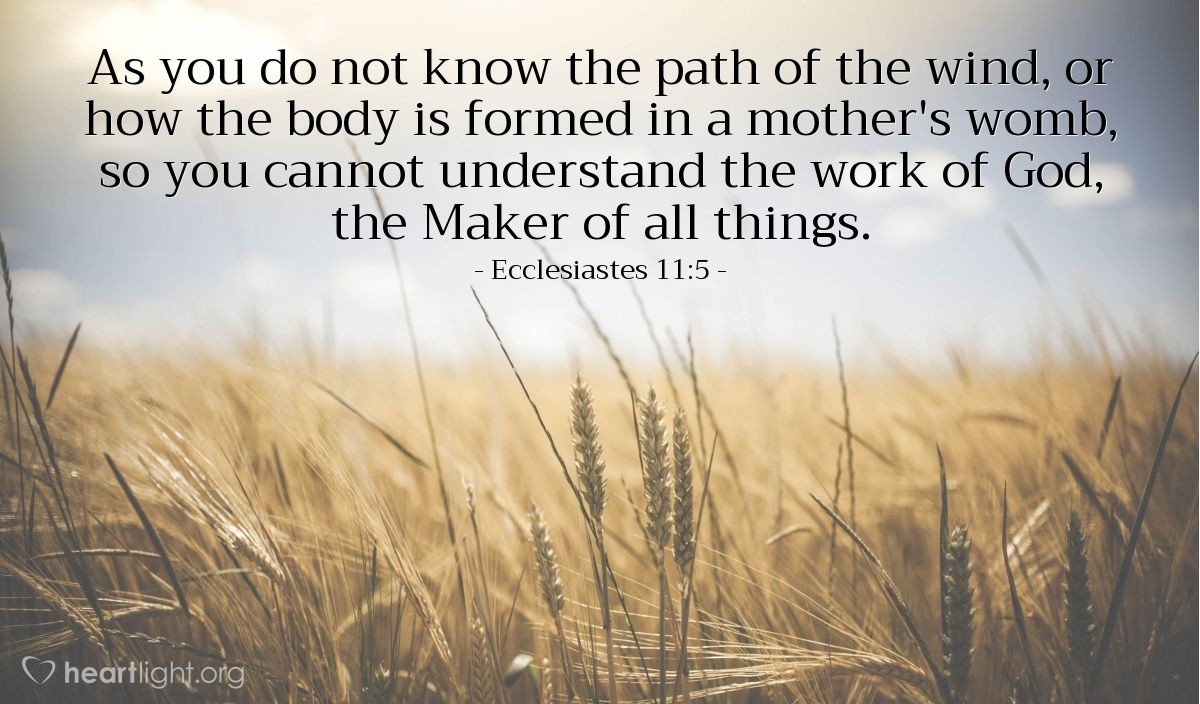 Thoughts on Today's Verse…
I don't know. I don't know! That has to be one of the hardest phrases for us to use. But when thinking about God and his ways, that's really all we can say. What we know about God is only what he in his grace has chosen to reveal to us. He is the Mystery of mysteries. He is the supreme knowable Unknown. Yet what we do know of him, what he has revealed to us in Jesus, is not only mighty and awesome, but loving and merciful.
My Prayer…
To you, O Lord God, I can only offer my wonder and awe. When I consider the vastness of the universe in which our tiny blue planet spins its existence, I am humbled at your wonderfully complex and expansive soveriegnty. At the same time, Abba Father, I treasure your nearness. You are the good far above all I know, the God who transcends space and time, and also God my Father who is ever near. Thank you for being accessible but not penetrable, available but not controllable. I thank you and praise you in the name of Jesus. Amen.
A Prayer for Fulfillment
By Jack Graham
"You make known to me the path of life; in your presence there is fullness of joy; at your right hand are pleasures forevermore." – Psalm 16:11
As a pastor, I have people come up to me all the time and ask me about how to overcome this or that temptation. And one conclusion I've come to after speaking with so many people is that every temptation is a solicitation to fulfill a God-given desire in a God-forbidden way. Let me explain…
Take food, for example. There's nothing wrong with eating food. In fact, hunger is a God-given desire for life and sustenance. But the temptation can be to fulfill that desire through gluttony, which is obviously a sin.
This can also be applied to less tangible desires, like the desire to be loved and accepted. A God-honoring way to fulfill that desire would be to find love and acceptance in Him. But sadly, many people try to find love and acceptance solely in the things of the world and become enamored with searching and searching for something they'll never find.
Desires are normal. Search God's Word and discover what glorifies Him. Understand He's created you with desires. And ask God for His leading in showing you how you can find your ultimate need and satisfaction in Him alone!
Heavenly Father, please help us find fulfillment in your presence. Help us to live in such a way that our actions serve as a reflection of your own grace and mercy. Teach us to seek first your Kingdom, in a life that brings glory to your name. Amen.
By My Stripes You Are Healed
Have you ever asked God for healing? It can test your faith, especially when reality doesn't seem to line up with God's promises.
When one of Every Home for Christ's Moldovan leaders was paralyzed from the neck down, she faced a difficult choice. She could believe her doctors' prognosis that she would never walk again… or she could believe a promise that went against everything the doctors told her.
In her thoughts, she heard God saying one thing — By My stripes you are healed….
At first it was just her hand. She tried to open the car door, but her hand wouldn't work properly. A massage before bedtime didn't seem to help. Sometime during the night she awoke and realized she couldn't move her arms or legs.
Svetlana was paralyzed from the neck down.
Her husband, Nicolae, lay within arm's reach, but she had no way of waking him. Just as she began to panic — a voice.
By My stripes you are healed.
OK, she thought. I cannot see that I am healed, but by faith…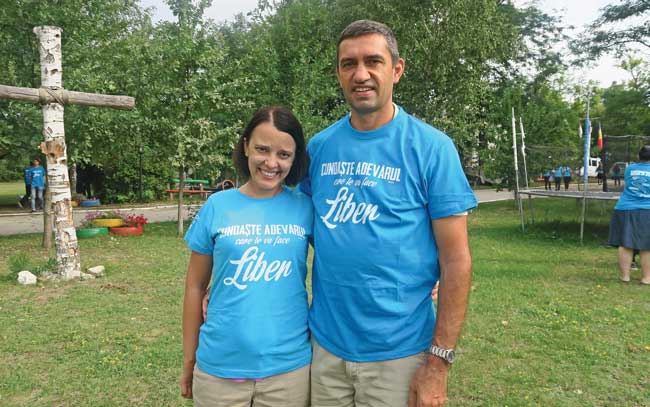 Nicolae and Svetlana lead an evangelism camp, from which local youth are launched into their communities with the Gospel.
She focused on the voice, and it got her through the long night. In the morning, Nicolae took her to the hospital, and the news was bad. After a battery of tests, doctors told Svetlana that she had suffered a severe stroke and would never walk again. One doctor told her she should buy a comfortable mattress, because she would spend the rest of her life in bed.
For days, Svetlana lay inert in her hospital bed, as the voice in her mind reassured her, By My stripes you are healed. The other three patients in the room lamented how terrible it was that she would always be paralyzed. Some of the doctors called her crazy for believing that God would heal her. Test after test brought back the same prognosis: She would never walk again.
During a discouraging conversation with her doctors, Svetlana told Nicolae, "Please talk to them outside." She couldn't bear to hear them contradict her faith.
Day after day she lay motionless, but in her mind she was above it all, seeing herself healed. Meanwhile, Nicolae contemplated whether he should give up his ministry position. As Every Home for Christ's leader in Moldova, his job was to oversee evangelism efforts for his entire nation. He and Svetlana had always led outreaches side by side, but things would have to be different after this. He worried that it was time to step down from the ministry.
But when he prayed, Nicolae felt an assurance that God still had plans for him with Every Home for Christ. He decided to keep working to share the Gospel in Moldova, to find a way forward even though he couldn't see it. He would keep leading; Svetlana would keep believing. Both held onto their faith, living by a reality they couldn't see.
Ten days passed, and they got their first sign of hope: Svetlana was able to move her finger.
One of the doctors who had called her crazy came into the room and watched in awe as she moved her foot. "There is a God!" he said, as he paced the room. "There is a God!"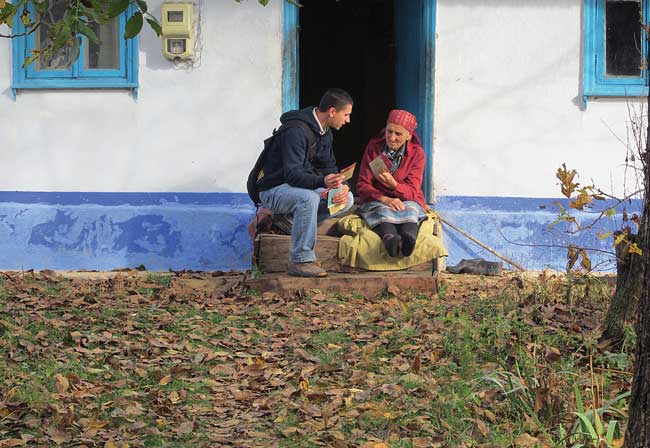 Home-to-home outreach in a rural community.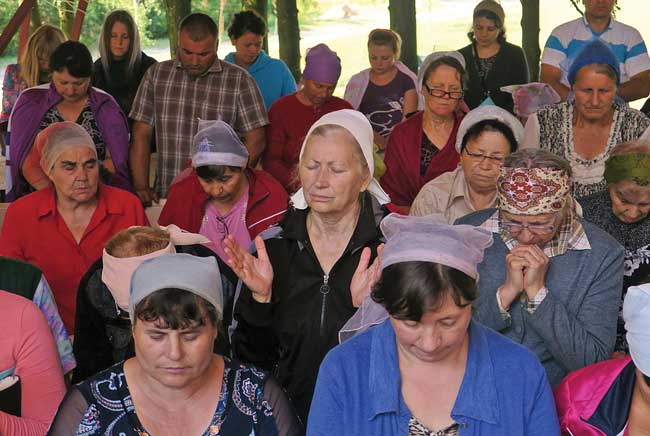 More than 150 people gather for a prayer conference.
In the years that followed, Svetlana's slow recovery silenced the voices of all those who doubted. Through it all, God's voice stayed with her. She still hears Him when she prays, and she heard Him when she returned to help lead outreaches again with Nicolae in 2016.
During an outreach among gypsies, she met a fortune-teller and suddenly heard the voice of God in her thoughts: The fortune-teller has a smoking problem. She spoke out what she heard, and the fortune-teller looked at her in amazement.
"You're a fortune-teller too!" she said.
"I'm not," Svetlana answered. "But God told me, and God can help you quit smoking."
They prayed together, the fortune-teller and the woman who hears the voice of God. By the end of their conversation the fortune-teller had decided to give her life to Jesus.
A sensitivity to God's voice has proven essential in dangerous situations. Nicolae leads many outreaches in Orthodox neighborhoods where priests often respond violently to evangelical Christians. Nicolae shared about other evangelists who have had their car windows bashed in with rocks and baseball bats. In villages where the Orthodox Church has held power for centuries, the Gospel is a threat to religious control.
During a recent outreach, Nicolae, Svetlana and 13 teenagers squeezed into a small van and drove into one such Orthodox neighborhood. As soon as they pulled onto the main street, a policeman stopped them. Nicolae stepped out and spoke with the officer while Svetlana stayed inside with the teens, trying to eavesdrop through cracked windows.
"We're not doing anything illegal," Nicolae said. He knew it was in fact illegal for the officer to prohibit them from evangelizing, since freedom of religion is protected by Moldovan law.
But the officer didn't budge. He explained that two years before, Orthodox priests had provoked an uprising against a visiting team of evangelists, destroying their car and chasing them from the village. This resulted in a two-year lawsuit that had disrupted the entire community. The police officer was determined to keep the peace this time.
Inside the van, Svetlana prayed. Nerves were running high, but she suddenly felt a sense of peace — and direction. She grabbed her Bible and stepped outside.
Joining Nicolae and the policeman, she opened her Bible and read Colossians 1:16: "For by him all things were created, in heaven and on earth, visible and invisible, whether thrones or dominions or rulers or authorities — all things were created through him and for him" (ESV).
Svetlana, Nicolae and the police officer discussed the verse together. They talked about how all authority is given by God, which meant the police officer was God's servant. After considering this new idea, the officer gave them permission to enter the neighborhood. And they were able to take the Gospel to every home.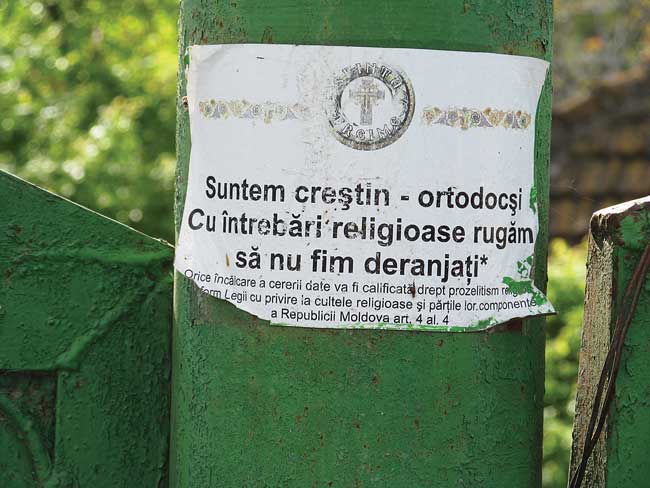 Signs tacked to telephone poles warn: "We are Orthodox. Please do not proselytize."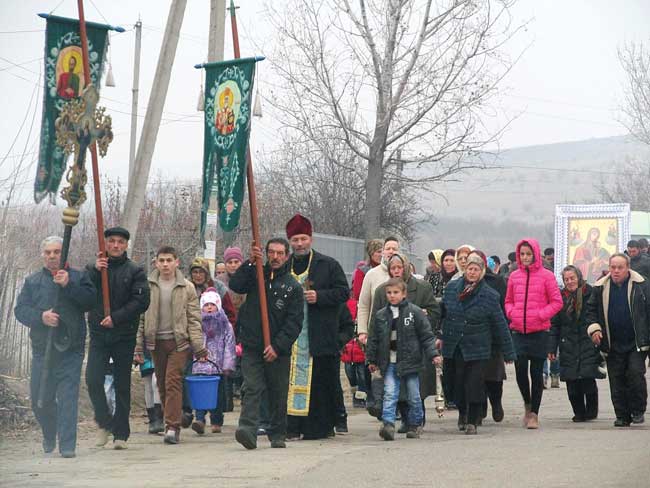 Local Orthodox Church members march through their neighborhood.
But things don't always go so smoothly. During an outreach in another village, an Orthodox priest roused a mob with pitchforks and other weapons. Nicolae tried to de-escalate the situation, but the mob wouldn't disperse.
"So we decided to leave," Nicolae recalls. "But the next day we came back and finished. We must finish. This is the task — reach every home."
When asked what it's like to be surrounded by an angry mob, Nicolae smiles and says, "Come visit us and see."
Svetlana is more instructive. "Our response is to pray," she says. "We ask God to give them a quiet spirit."
Nicolae adds, "And you speak what God gives you."
This encouragement to "speak what God gives you" recalls the practice of the early Church, whose members similarly faced angry mobs. It is also reminiscent of Jesus' words to His disciples: "But when they arrest you, do not worry about what to say or how to say it. At that time you will be given what to say" (Matthew 10:19, NIV).
When Svetlana was paralyzed, God spoke to her. When Nicolae thought of giving up his ministry, God spoke to him. God's voice has directed them in every difficulty they've faced.
"When God gives you the vision, He gives you the faith," Svetlana says.
That's good news. Nicolae and Svetlana's vision for the future of Moldova is audacious, requiring no small amount of faith. In the coming years, they plan to take the Gospel to every home in their nation. Some people might say this is impossible, but Nicolae and Svetlana hear a voice that says otherwise.
10 Surprising Teachings from Song of Solomon
With so many biblical scholars disagreeing on interpretation, is it any wonder many find Song of Solomon confusing? Some say it's a drama or musical, and elaborate that there are two or three main characters. It's often called Song of Songs, and even the Canticle of Canticles. Most agree it that shows a beautiful picture of God's design for love and the marriage relationship. Others say the book is an allegory of God and His relationship with the church. Still others claim that theory is nonsense.
So, this non-theologian dove into its commentary, read sermons online, and studied old textbooks to see what I could find out about this poetic book. The journey took me in lots of different directions. But, regardless of your views, consider the following interesting observations pertaining to this Old Testament book.
Here are 10 surprising teachings from Song of Solomon:
1. Courtship is important.
This book is made up of different sections which show the progression of the relationship between King Solomon and his beloved, and it starts with a courtship. This is a phase where one "puts their best foot forward." Lovers' words are sweet and full of compliments to one another. Clearly, the characters in Song of Solomon are deliriously happy over their mutual growing affection. They long for one another in an intimate way but demonstrate restraint.
This world needs a lot more courtship and restraint. I've watched middle schoolers tell the opposite sex they "love" them. They jump into what they call "dating" before they even know one another and there doesn't seem to be any courtship or "winning one over" anymore. What happened to playing hard to get, chivalry, being coy, or simply waiting until they've put in their best efforts before even uttering the words "relationship"? And let's not get started on the restraint for intimacy and sticking to God's design for it.
I'm not sure how to navigate this, but I tell my daughter to look for someone like her dad and who loves God. That's the only place I know to begin.
2. Song of Solomon inspired worship.
If you sit down to read this book, you may notice a few verses are lines in a popular worship song titled, You Won't Relent. It was one of the first songs I gravitated to when I began to listen to Christian music—when I realized I needed to change what I was putting into my mind and wanted more of Jesus.
Many worship songs incorporate Scripture, but I'd never recognized it in this one. Song of Solomon 8:6-7 says, "Place me like a seal over you heart, like a seal on your arm; for love is as strong as death, its jealousy unyielding as the grave. It burns like a blazing fire, like a mighty flame. Many waters cannot quench this love…" You'll find this almost word for word in the chorus, and I now understand why it affected me so powerfully—it was Scripture, God's very Word to us.
3. God can and will use our weaknesses for His glory.
King Solomon was known for having a lot of wives, and I mean a lot. 1 Kings 11:3 (NIV) tells us he had, "seven hundred wives of royal birth and three hundred concubines." Yet in Song of Solomon, we read, "Sixty queens there may be, and eighty concubines, and virgins beyond number…" (v. 6:8 NIV). So, one can assume that this book must have been written early in his life, prior to accumulating his harem, as his women are often called.
I'll be honest and admit I about laughed out loud in realizing the truth in this observation. How ironic that a book about love and marriage was written (according to most) by a man who couldn't be faithful to anyone?
And yet in that same breath, as my chuckle released, it hit me that God used an imperfect man and his greatest weakness—women—to highlight the strength of a true and loving marriage relationship. Aren't we all glad God doesn't let our weaknesses define us?
4. God's banner over you is love.
No matter where an army marched or sailed, a banner proudly flew high over them, announcing who the men, horses, ships, and arms belonged to. A unique logo—not a word they would've used, but an accurate one for our day—claimed possession and gave esteem to its ruler.
Song of Solomon 2:4 (NIV) says, "Let him lead me to the banquet hall, and let his banner over me be love." This is a sweet representation of a proud fiancé showing off his bride-to-be, but it can also be taken as a beautiful image of God's great love for us.
A sweet children's song recites this verse, so again this book has inspired worship music, and I imagine God's banner over us having a big red heart on it claiming us as His. To think God wants to affirm flawed and sinful humans as his beloved stirs my soul with joy and contentment. I hope it does for you too.
5. The honeymoon phase will end, but the marriage doesn't have to.
After courtship, the couple marries, and they live happily ever after, right? Wrong. The happy newlywed period ends, and since most accounts believe the whole book (or song) takes place between one and two years, we can assume the marriage becomes challenging pretty quickly. But they don't give up on their relationship, and after struggling through a few arguments and compromises (my thoughts on what could've happened), they repair and restore their loving devotion to one another.
This is a great example of the reality of marriage. The Hallmark Channel does a great job of showing a couple falling in love and making it to the altar, but they stop there. Perhaps because love gets tough after the I dos. Marriage is a lifetime commitment and takes hard work, but the mature love shown at the end of Song of Solomon is a beautiful picture of the intimacy God desires couples to share.
6. Song of Solomon was written as a love song, but God used it for so much more.
It's undeniable that this book of the Bible is very different than the rest in the Canon. In fact, God is only mentioned (in some translations) in verse 8:6b when referring to a strong love between the couple being like "flashes of fire, the very flame of the Lord." So why is this song, out of the 1,005 which King Solomon wrote (1 Kings 4:32) a part of God's Word?
I believe our all-knowing God knew we'd be able to look at this book thousands of years later and see how it values the incredibly special love relationship between a husband and wife, one that should be beautiful and intimate. It shows that God wants us to long for and desire our spouses. It's how He intended the marriage relationship to be all along. We've distorted, polluted, and diluted it somewhere along the way, but Song of Solomon highlights the sacred vow we pledge to our beloved, mirroring His covenant to us as well.
7. Compliments should be the norm in a love relationship.
Much of Song of Solomon could be words in an anniversary card or on a thousand sticky notes left for your love to find around the house on Valentine's Day. It's like a big compliment-off where kind, loving, and even seductive words are fired back and forth at each other. What's for sure is this couple likes to compliment one another.
My husband is pretty good at this. He's the first to say dinner was terrific or tell me I look good in an outfit, even when I feel less than stellar. Studying this book reminded me to do a better job of telling him, in the moment, how amazing he is. As his spouse, I'm in a prime position to give him the adoration he deserves, maybe even give the only compliment he'll hear all day. Spouses, let's honor our beloveds by showering them with compliments.
8. When in doubt, use comparisons.
King Solomon loved similes and metaphors. He was a master at weaving words together, and the reader clearly sees the passion and adoration taking place between this couple. He also never compares their love to anything unbecoming. As I consider my marriage, I realize I don't often have the words to express these powerful emotions, and I certainly didn't know how to early in our courtship. Is this you too?
Maybe we should take a tip from King Solomon and use more positive comparisons in our love language to our spouse. A friend told me that when her marriage was in trouble, God told her to look for whatever was true, noble, right, pure, lovely, and admirable (Philippians 4:8) in her husband and to praise him for those things. I can find those qualities in my spouse and let him know, through sweet similes and metaphors if they help me to express my feelings, just how much he's impacted my life for good. My friend also said when her words towards her husband changed to praise, her marriage began to heal.
9. Look out for stumbling blocks in relationships.
Song of Solomon 2:15 (NIV) says, "Catch us the foxes, the little foxes that ruin the vineyards, the vineyards that are in bloom." The general consensus is that this verse warns us to watch out for stumbling blocks in our relationships. This is specifically referring to the love relationship between the couple here but can be applied to our love relationship with God as well.
Anything that has the potential to disrupt or put a wedge in a relationship could be like these foxes that seek to ruin the vineyard, such as selfish ambition, lust, unforgiveness, jealousy, and mistrust. Be on guard in both your marriage and your relationship with God to not allow these hindrances to sneak in and steal something that is good away.
10. We should bring exclamation marks back!
There are many exclamation points in Song of Solomon. As an author, I'm cautioned to avoid using these in my novels, and to show the character's emotions through their thoughts, expressions, and actions instead. But sometimes placing an exclamation mark on the end of a sentence is so satisfying! It cues the reader to raise the voice in their head and give the word an emphasis it would otherwise lack.
Now, I'm only jesting about this punctuation faux pas when it comes to books, but in all seriousness, the frequent use of these in Song of Solomon do stand out (and in some translations there are even more!). I'm not a Hebrew translator, so I'm not sure why these are added so often, but I take them to mean a pure expression of joy and intensity. This is refreshing considering the book is a love story between spouses. Let's bring exclamations back into our words, notes, texts, and emails when speaking to our beloved!
Kristen Terrette holds a Master's degree in Theological Studies and served as a Children's Ministry Director for over five years. She cherishes her Southern roots and currently lives forty-five minutes outside of Atlanta, GA. With the support of her husband and two children, she stays at home writing Christian fiction, allowing God to take the story where He needs it to go. She's also serves on the women's leadership and teaching team at her church and writes for Wholly Loved ministry at WhollyLoved.com. To see her blog and current novels, check out her website at www.kristenterrette.com.
Saint Isidore the Farmer
Saint of the Day for 
May 15
(1070 – 

May 15, 1130

)
https://www.franciscanmedia.org/wp-content/uploads/2016/08/SODMay15.mp3
Saint Isidore the Farmer's Story
Isidore has become the patron of farmers and rural communities. In particular, he is the patron of Madrid, Spain, and of the United States National Rural Life Conference.
When he was barely old enough to wield a hoe, Isidore entered the service of John de Vergas, a wealthy landowner from Madrid, and worked faithfully on his estate outside the city for the rest of his life. He married a young woman as simple and upright as himself who also became a saint—Maria de la Cabeza. They had one son, who died as a child.
Isidore had deep religious instincts. He rose early in the morning to go to church and spent many a holiday devoutly visiting the churches of Madrid and surrounding areas. All day long, as he walked behind the plow, he communed with God. His devotion, one might say, became a problem, for his fellow workers sometimes complained that he often showed up late because of lingering in church too long.
He was known for his love of the poor, and there are accounts of Isidore's supplying them miraculously with food. He had a great concern for the proper treatment of animals.
He died May 15, 1130, and was declared a saint in 1622, with Saints Ignatius of Loyola, Francis Xavier, Teresa of Avila, and Philip Neri. Together, the group is known in Spain as "the five saints."
---
Reflection
Many implications can be found in a simple laborer achieving sainthood: Physical labor has dignity; sainthood does not stem from status; contemplation does not depend on learning; the simple life is conducive to holiness and happiness. Legends about angel helpers and mysterious oxen indicate that his work was not neglected and his duties did not go unfulfilled. Perhaps the truth which emerges is this: If you have your spiritual self in order, your earthly commitments will fall into order also. "[S]eek first the kingdom [of God] and his righteousness," said the carpenter from Nazareth, "and all these things will be given you besides" (Matthew 6:33).
---
Saint Isidore the Farmer is the Patron Saint of:
Farmers
Laborers
---
Another Saint of the Day for 
May 15

 is Saint Dymphna.
Saint Dymphna's Story
Saint Dymphna, according to tradition, was born the daughter of Damon, a pagan king of Ireland. Early in her life, she became a Christian and was secretly baptized. When she was only 15 years of age, her mother died, and her father was wrought by terrible grief. He sent messengers throughout his own town and other lands to find another to be his wife, only none could be found. He proposed to his daughter that they marry, only she refused.
Dymphna fled from her father's castle with Saint Gerebran, her confessor, and two other friends. Their boat landed in Gheel, Belgium. Damon found them in Belgium, due to tracing her spending of foreign currency, and proposed his offer once again. At this, Gerebran rebuked the king for his proposition and urged Dymphna to remain in opposition. Damon then ordered his servants to behead the priest. When she persisted in her refusal, he drew his sword and struck off her head. Saint Dymphna received the crown of martyrdom in defense of her purity about the year 620.
Shortly after her death, five "lunatics" wandered to the countryside where she was killed, and slept the night there, only to awaken cured. She has since been invoked as the patron of those suffering from nervous, mental, and spiritual afflictions. A church was built on this site, only to be destroyed by fire in 1489, and rebuilt in 1532. The church remains to the present day, and has been joined by a house for the mentally ill that often houses as many as 1,500 patients.
---
Reflection
Let us join Saint Dymphna and all of the saints in praying for those suffering from mental or spiritual ailments.
---
Saint Dymphna is the Patron Saint of:
Epilepsy
Insanity
Mentally ill
Neurological diseases

Tuesday, May 15, 2018
It Starts with One
The high and lofty one who lives in eternity, the Holy One, says this: "I live in the high and holy place with those whose spirits are contrite and humble. I restore the crushed spirit of the humble and revive the courage of those with repentant hearts." (Isaiah 57:15 NLT)
As we look at revivals in the Bible and at historical revivals, we see they often began with one individual, one person who decided to do something. Jeremiah Lanphier was a businessman who began a lunchtime prayer meeting on Fulton Street in downtown New York. A handful of people showed up at the first meeting on September 23, 1857 at North Dutch Church. Lanphier was persistent, however, and the group continued to meet for prayer and continued to grow.
Then something dramatic took place: The New York stock market crashed. Suddenly the prayer meeting began to explode. Prayer meetings quickly popped up throughout New York City, and within six months, ten thousand people were gathering for prayer in the Big Apple. It was unexplainable. They were renting concert halls and Broadway theatres for daily 6:00 AM, 9:00 AM, and noon meetings, packing them out as men and women called on the name of the Lord. And God began to work.
It was reported that 50,000 New Yorkers came to know the Lord during a period of three months in 1858, from March to May. Ten thousand people were added to church membership rolls weekly. The revival spread to other cities as well, and when it was all over, an estimated one million people had come to faith in Christ.
This revival from 1857 to 1859 became part of what is known as the Third Great Awakening in the United States. The revival wasn't orchestrated. It wasn't a campaign planned by people. It simply was a work of God in which God poured out His Spirit. We need to see that today.
Jeremiah Lanphier was not a great preacher. He was not a famous person. He was just an ordinary person who decided to pray. And you can do the same.
Copyright (c) 2018 by Harvest Ministries. All rights reserved.

Overconfidence/Self-Assurance
The Sovereign Lord is my strength; he makes my feet like the feet of a deer, he enables me to go on the heights. –Habakkuk 3:19
Overconfidence is usually viewed as a negative personality trait.  The story of Joseph in the Old Testament is a good example.His youthful boasting to his brothers got him in trouble. Based on a dream, he claimed that the others would someday bow down to him. This, coupled with his father's favoritism, led to jealousy and broken family relationships.  In the end, his brothers sold him into slavery, cutting him off from his family altogether.
Through years of difficulties and suffering, however, Joseph's over¬confidence was developed by God into a mature self-assurance. This self-assurance made Joseph capable of tackling and succeed¬ing when most other men would have run away. His  integrity, took him from being a prisoner to being second only to Pharaoh. And, as only God could orchestrate, Joseph was in a position to save the young nation Israel during a time of terrible famine.
Overconfidence without God's perspective will invariably lead you down the pathway to other personal problems and mistakes. On the other hand, self-assurance based on a strong faith will enable you to overcome incredible obstacles and see God's hand in your life.
Are you overconfident and relying on your strength or intelligence to succeed? Or are you self-assured, knowing that God is the source of any strength, favor, or success? One way leads to trouble while the other God will use for his plans and his glory.
"Be who you are and say what you feel because those who mind don't matter and those who matter don't mind." – Dr. Seuss (1904-1991)

From The Heaven Answer Book by Billy Graham
God has put within each of us an inner sense that life on earth is not all there is. The Bible answers this so clearly: "[God] has also set eternity in the hearts of men" (Ecclesiastes 3:11).
People may suppress this truth or deny it, but our conscience still speaks. The "still small voice" of God tells us—down deep—that it is still true (1 Kings 19:12). We must never ignore that inner voice—but rather, check what we believe it is saying alongside Scripture, where He reveals these truths.
The apostle Paul wrote about this danger of deny­ing God's truth: "What may be known about God is plain to them, because God has made it plain to them. For since the creation of the world God's invisible qualities—his eternal power and divine nature—have been clearly seen . . . so that men are without excuse" (Romans 1:19-20).
The reason we have this inner conviction that death is not the end—and that Heaven exists—is because we were created in the image of God. We aren't simply physical beings; we also have a soul (or spirit), and we bear within us the likeness of our Creator. That likeness has been marred and distorted by sin—but it is still there. And just as God is eternal, so we sense in our hearts that we too must be eternal. The Bible says that God lives forever (Isaiah 57:15). Just as God lives forever, we who are made in His likeness will also live forever.
There is a time for everything . . . under heaven. . . . a time to search and a time to give up" (Ecclesiastes 3:1, 6). My prayer is that you will exercise your God-given right to search the Scripture and to seek the One who died for you. Don't give up on God. Instead, give up running from God—He hasn't given up on you.

What Jesus Did!

 'Hard to Understand'

Many of [Jesus'] disciples said, "This is very hard to understand. How can anyone accept it?" Jesus was aware that his disciples were complaining, so he said to them, "Does this offend you? Then what will you think if you see the Son of Man ascend to heaven again?"
Key Thought
"Make it easy for them!" That seems to be the slogan today. "Don't set the bar too high!" "Don't make it difficult!" Unfortunately, the best things in life and the truest things in life are sometimes the hardest to acquire and to achieve. Quite often, the truest things in life are the hardest to discern. If we make them easy, then we make them less than what they are. Jesus didn't make following him easy for the disciples. Instead, he made it even more challenging. He made sure those seeking him knew the stakes involved; so for that reason, he refused to water down the challenge to them. While I want people to come to Jesus and receive his grace that has been so freely offered, I surely don't want to rob his message of its bite, of its power, or of its demands. Jesus calls us to follow a road that sometimes may be tough, but it leads to a wonderful place of glory and grace. Don't let his challenging words put you off. He is the only way.
Today's Prayer
Give me the heart to follow only you and your messengers, O LORD. Please don't let me be deceived by those who are false or misled by those who don't know the way. Give me discernment so that I can know your will more completely and follow you more passionately. In your name, I pray. Amen.
Related Scripture Readings
Daily Wisdom:

 Proverbs 13:3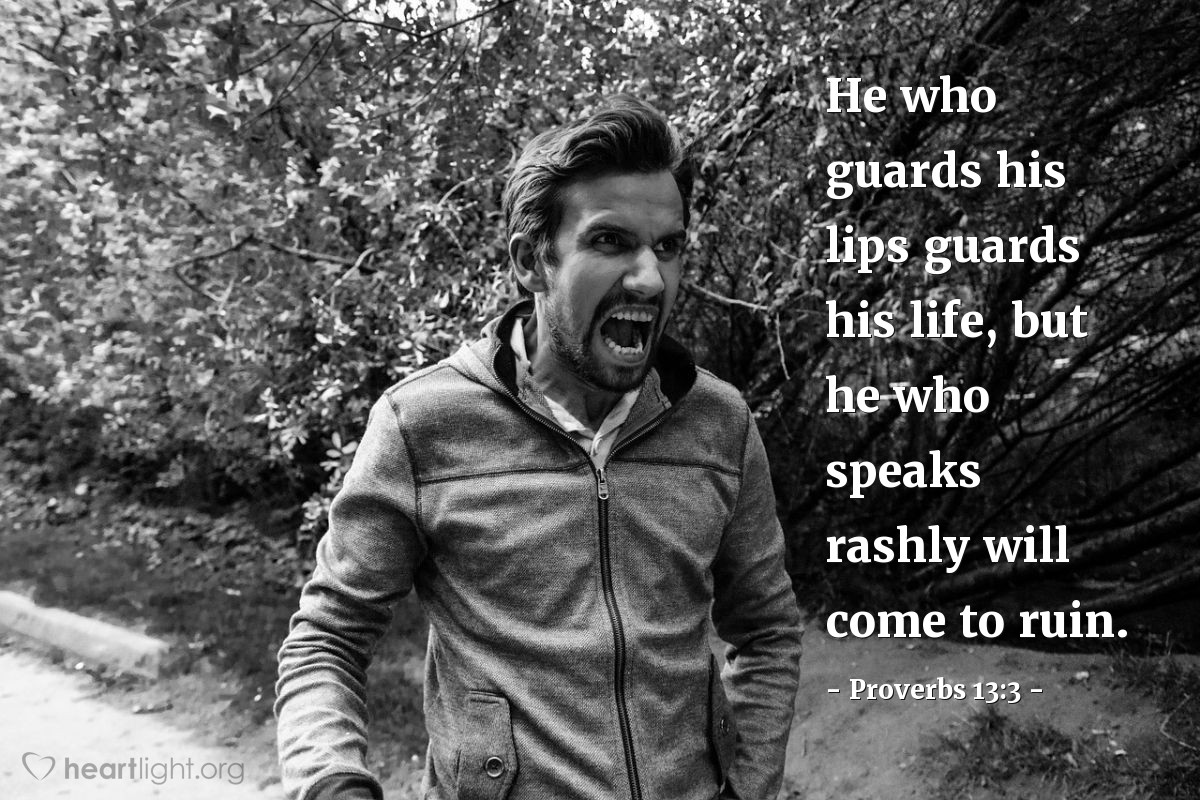 Spiritual Warfare:

 'Jesus Regularly Gathered with God's People'

God's Power for Our Battles

Jesus returned to Galilee in the power of the Holy Spirit, and stories about him spread all through the area. He began to teach in their synagogues, and everyone praised him. Jesus traveled to Nazareth, where he had grown up. On the Sabbath day he went to the synagogue, as he always did, and stood up to read.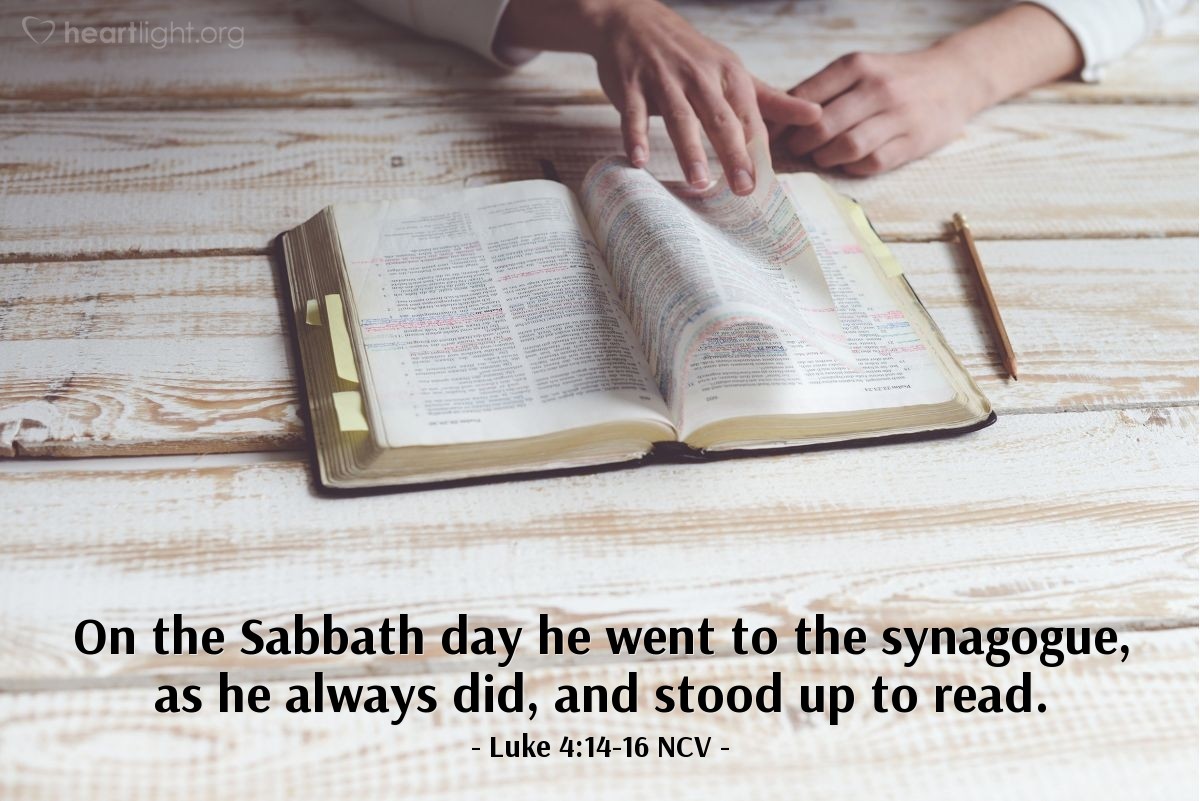 Today's Prayer
Lord, I realize that the church is the bride of Christ (2 Cor. 11:2). Forgive me for speaking ill of the church and letting hypocrites in the church keep me from attending. I also realize that Jesus always went to gather with Your people in the synagogue. I know that I should follow His example. I know that he could have used the excuse not to assemble because He actually was gathering with those who were planning His murder. If He didn't use that excuse, Lord, then neither should I find an excuse to miss gathering with Your people. Help me as I seek to be faithful. In Jesus' Name, Amen.

DETERMINED: DETERMINATION AND CONFLICT
Living Free Every Day*
A ministry of LivingFree.org
Tuesday, May 15, 2018
Today's Scripture
"Get rid of all bitterness, rage, anger, harsh words, and slander, as well as all types of evil behavior. Instead, be kind to each other, tenderhearted, forgiving one another, just as God through Christ has forgiven you." Ephesians 4:31-32 NLT
Thoughts for Today
Brad Rymer, author of Where Is the Image of God in You?, does marriage counseling. Many folks he counsels have a high degree of determination. That does not mean it is impossible for them to change their minds or their ways. It just means it probably will not happen without a fight. Commonly a spouse will say after a grueling counseling session where the couple appeared to be upset with everything that occurred, "That was a hard session, but it sure was good!"
Determined people are often willing to do whatever it takes to accomplish something important to them. They are usually not afraid of a fight. The questions becomes this: Will they fight fair?
Ken Sande, founder of Peacemaker* Ministries, says there are three primary approaches to conflict.
Peace-Fakers: those "more interested in avoiding conflict than in resolving it" – peace at all costs.
Peace-Breakers: those "more interested in winning conflict than in preserving a relationship."
Peace-Makers: those who look for "mutually agreeable solutions to conflict" – win-win solutions (22-25).
Consider this …
Why are we discussing conflict in our devotions about the character trait of determination? The things we are determined about generally involve some level of confrontation, so it is important to reflect on how we handle conflict as a first step in developing a healthy and godly use of determination.
Think about conflict resulting from your determination. Are you a Peace-Faker, a Peace-Breaker, or a Peace-Maker? Jesus said, "Blessed are the peacemakers, for they will be called children of God (Matthew 5:9 NIV).
Prayer
Father, help me be a better peacemaker. Help me get rid of anger and harsh words and replace them with kindness and forgiveness. You have forgiven me of so much . . . Help me be forgiving of others. In Jesus' name . . .
Overcoming Our Past
TGIF Today God Is First Volume 1 by Os Hillman
May 15, 2018
"Then the Spirit of the Lord came upon Jephthah." – Judges 11:29a
We've all heard stories of individuals who have overcome extreme hardship during their childhood years. Children of alcoholics, orphans who never have parents, loss of parents to a fatal crash, childhood disease – these are all difficult circumstances to overcome.
Jephthah was a man who overcame his obstacles and refused to allow his circumstances to prevent him from becoming great in God's sight. He was born to Gilead, a result of his father's adulterous encounter with a prostitute. Jephthah's half-brothers decided to reject Jephthah, and drove him away from their home saying, "You are not going to get any inheritance in our family because you are the son of another woman." Imagine the rejection this young man felt as he was cast away from his own family.
This experience taught Jephthah to become a hardened warrior. Today he probably would have been part of a street gang. As he got older, his reputation as a warrior became known to those in his country, so much so that when the Ammonites made war on Israel, the elders of Gilead went to Jephthah and asked him to be their commander. Jephthah had to fight off those feelings of rejection from previous years.
"Didn't you hate me and drive me from my father's house?" he responded. He overcame his hurt and pain, and responded to the call God had on his life.
It is said that if we were to help the butterfly remove itself from the cocoon, the butterfly would not be strong enough to survive. It is the struggle that prepares the butterfly to become strong enough to fly. Without the struggle in the cocoon, it could not survive as a butterfly.
The Lord prepares each of us in similar ways. Some of our childhoods seem to have been harsh and born from a seemingly unloving God. However, the Lord knows our struggle and will make our life an instrument in His hand if we will follow Him with an upright heart. He does make all things beautiful in His time if we are willing to be patient.
Well, I'm still trying……still getting beat up, too!  I am referring to how things are between my daughter and me………we have NO communication and NO relationship…..is it time to close the book on it all?  Oh, how it truly breaks my heart!  In fact, it causes me physical heart pain!  I can't believe that she can just ignore me the way she has……how can anyone treat their Mother in such a manner?  Okay, I offended her and her daughters….I have apologized and tried to explain, but either she never got my messages or my words fell on deaf ears and a cold heart!  Okay, I will try to forget her now……….Jenni, just know that I will ALWAYS be your Mother…you can't change THIS……..I love you and I will continue to pray for you……….but, this Mom is finally giving up and giving in………you have talked of how you had a terrible childhood and that I caused you such hurt and shame…well, how about how much pain you caused ME?  I always forgave you, though………an example I guess you've chosen to ignore and not learn from…………..well, good bye, and have a good life………….