Christoph Friedrich Blumhardt
Therefore, since we have been justified through faith, we have peace with God through our Lord Jesus Christ, through whom we have gained access by faith into this grace in which we now stand. And we boast in the hope of the glory of God. Romans 5:1-2, NIV
Lord our God, almighty and holy One, whose glory shines upon the earth so that we may find joy in you and may live rejoicing in all your loving-kindness, spread out your hands in blessing over all people. Spread your blessing over the happy and the sad, over the courageous and the weak. Shepherd them in your love, in the great grace you have given through Jesus Christ, confirmed in us through the Holy Spirit. Do not let us remain degraded and worthless. Lift our hearts above what is transitory, for you have given us something eternal to live by. Help us every day so that we can reach the goal you have set for us, for many others, and finally for all peoples of the earth. Amen.
Verse of the Day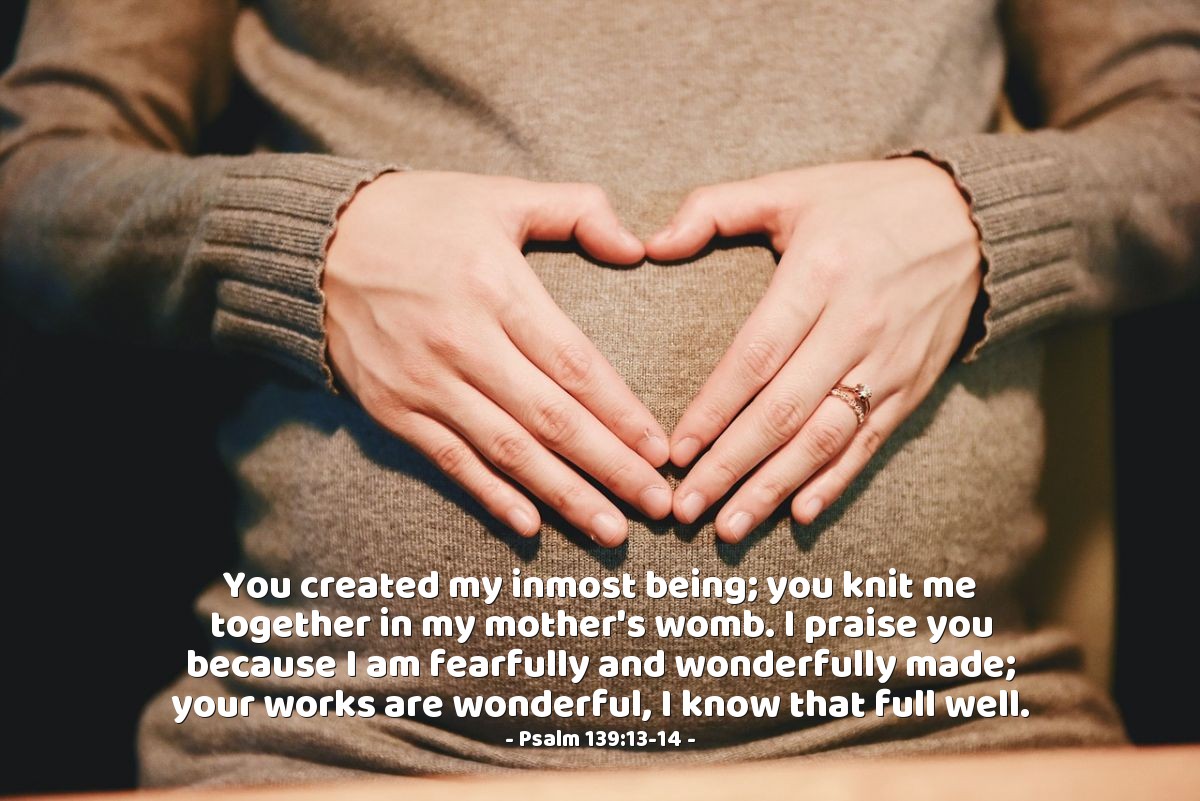 Thoughts on Today's Verse…
I am made by God! You are made by God. Just as surely as ANYone has been made by God, we have been made by God. He knew us before anyone knew we were there. He had plans for us before anyone planned our arrival. And he made us well! How do we know? Look at all God has made.
My Prayer…
God Almighty, my Savior and Redeemer, thank you for knowing me before I was able to know. Thank you for choosing my life and giving it to me. Thank you for giving me the gifts, abilities and talents that you have given me. Now please help me live as if I was made special by you, because I am! Through Jesus I pray. Amen.
A Prayer for the Redeemed
By Beth Moore
"I have blotted out your transgressions like a cloud and your sins like mist; return to me, for I have redeemed you." Isaiah 44:22 (ESV)
I don't think any prefix in the English Bible could be more beautiful than "re." Two little letters that simply mean: "again." God appears to have a particular affinity for "re" verbs. For instance, "return to me, for I have redeemed you" (Isaiah 44:22, ESV). It looks like He'd just turn His back on us when we turn our backs on Him, but He doesn't. Instead He echoes throughout Scripture, "Return to me!"
Return. You'll find that one "re" verb over 400 times in the Bible. But that's not the only fabulous "re" verb in the Bible. Here's a list of some of my favorites (with emphasis added in bold).
There's renew: "They who wait for the LORD shall renew their strength" (Isaiah 40:31a, ESV). And revive: "I dwell in the high and holy place, and also with him who is of a contrite and lowly spirit, to revive the spirit of the lowly, and to revive the heart of the contrite" (Isaiah 57:15b, ESV). And restore: "He restores my soul" (Psalm 23:3a, ESV). And repair. Oh, and rebuild and sometimes in the same verse: "In that day 'I will restore David's fallen shelter — I will repair its broken walls and restore its ruins — and will rebuild it as it used to be'" (Amos 9:11, NIV). And replant: "I have rebuilt the ruined places and replanted that which was desolate. I am the LORD; I have spoken, and I will do it" (Ezekiel 36:36b, ESV).
Astonishingly, there appears to be no limit to what God will lovingly and lavishly redo and refresh for those simply willing to return and repent.
"Repent therefore, and turn back, that your sins may be blotted out, that times of refreshing may come from the presence of the Lord, and that he may send the restoring all the things about which God spoke by the mouth of his holy prophets long ago" (Acts 3:19-21, ESV).
Simon Peter is Exhibit A for those of us in Christ who could use a redo.
"And the Lord said, 'Simon, Simon! Indeed, Satan has asked for you, that he may sift you as wheat.  But I have prayed for you, that your faith should not fail; and when you have returned to Me, strengthen your brethren'" (Luke 22:31-32, NKJV).
So, you blew it again? Been rejected again? Been broken again? Fallen in that trap again? Been foolish again? Faithless again? I know a Savior willing to put you back together again. Go back to Jesus. Yes, you get to return, because "re" is the most beautiful prefix in history.
Our all-glorious God and Father, we are awed by Your grace, patience and love. Thank You for the endless power of resurrection because of the cross of Christ. Apply it to us lavishly this day. In Jesus' Name, Amen.
Rescue Your Prayer Life
What does the doctrine of the Trinity have to do with the practice of prayer? Well, the Trinity is something that all Christians believe, but often find difficult to understand, much less explain. And prayer is something that all Christians do, but rarely practice with the consistency and delight they know they should. In the realms of Christian doctrine, the Trinity ranks among the most difficult. Among the disciplines of Christian living, prayer tops the list as most challenging.
But there's another connection between prayer and Trinitarian theology that helps us better understand the doctrine of the Trinity and make progress in our prayer lives. The connection is in many passages, but most succinctly in Ephesians 2:18 where Paul says, "For through him [Christ] we both have access in one Spirit to the Father." This sentence is pregnant with significance for understanding who God is and how we can come to him.
But first, some definitions: What do Christians mean when they talk about the Trinity? Essentially, three things. You might think of these as three strong pillars on which the doctrine of the Trinity rests.
First, we mean that there is only one God. "Hear, O Israel: The Lord our God, the Lord is one" (Deuteronomy 6:4).
Second, this one God exists in three distinct persons, or personalities: the Father, the Son, and the Holy Spirit.
Third, the Father, Son, and Holy Spirit are each fully, equally, and eternally God.
Deny one of those statements, and we get into trouble. If we deny the first and say that there are actually three gods, then we are tri-theists, rather than monotheists. More commonly, people say that there is one God who acts in three different modes, or manifests himself in three different ways, or wears three different hats: the Father, the Son, and the Spirit (much as I myself am a son, a husband, and a father).  But this idea (formally known as modalism and condemned by both Protestants and Catholics), denies the second pillar, and dozens of texts, that affirm the distinct personalities of Father, Son, and Spirit.  Others, especially among the cults, teach that the Son and/or the Spirit are somehow inferior to the Father, being less than fully, equally, and eternally God.
But Scripture leads us to affirm all three pillars. There is one God, who exists in three Persons, the Father, Son, and Holy Spirit, and these three are each fully, equally, and eternally God.
So, what does this have to do with prayer? Well, prayer is essentially talking with God. But communication with God requires access to his presence. And Ephesians 2:18 shows us that our access to God involves all three Persons of the Trinity.
We have "access…to the Father."
But that access to the Father is "through him" – Jesus Christ, God's Son, who reconciles us to the   Father (see Ephesians 2:11).
But notice further that our access to God is "in one Spirit". This means that our prayers are enabled and empowered by the Spirit.
So, when we pray we come to Father, through the Son, in the Spirit. Prayer is communion with the Three-in-One God.
Now, how can this rescue your prayer life?
Sometimes we hesitate to pray, because of unbelief. We're not sure God really cares about our needs. But this is to forget that we're praying to our Father, who already knows our needs and invites us to come to him as little children.
At other times, we wrongly think we've got to manufacture certain feelings or emotions in order to pray. But Paul says that we have access to God in the Spirit. The Spirit is the one who enlivens our hearts and enables to us to pray.
All too often, we feel compelled to pray from a sense of duty. (Good Christians pray, therefore, if I want to be a good Christian, I should pray.) Or, we're held back from prayer by a sense of guilt. (Only good Christians can really come to God. I haven't been very good lately, so I'm not worthy enough for God to hear my prayers.) Worst of all, sometimes we can feel confident about prayer because we've been keeping our Christian noses clean!
But, don't you see? This is self-reliance and legalism. This kind of thinking and praying, neglects the work of the Son in reconciling us to the Father. When we live and pray like this, we're not coming through Jesus. We're coming on the basis of our own merits. And there is no access to God that way. But when we remember that our access to God is through Christ alone, then we can come boldly to the throne of grace in the confidence that God will forgive our sins and hear our prayers, for Jesus' sake.
---
Brian G. Hedges is the lead pastor for Fulkerson Park Baptist Church in Niles, Michigan. He has been married to Holly since 1996 and has three children: Stephen, Matthew, and Susannah. He has contributed articles to Heartcry! A Journal on Revival and Spiritual Awakening, Pastor Connect, and The Banner of Truth magazine. He is the author of christ formed in you: the power of the gospel for personal change (Shepherd Press, 2010). And licensed to kill: a field manual for mortifying sin (Cruciform Press, 2011)
Saint Matthias
Saint of the Day for May 14
(? – ?)
Saint Matthias' Story
According to Acts 1:15-26, during the days after the Ascension Peter stood up in the midst of the brothers—about 120 of Jesus' followers. Now that Judas had betrayed his ministry, it was necessary, Peter said, to fulfill the scriptural recommendation that another should take his office. "Therefore, it is necessary that one of the men who accompanied us the whole time the Lord Jesus came and went among us, beginning from the baptism of John until the day on which he was taken up from us, become with us a witness to his resurrection" (Acts 1:21-22).
They nominated two men: Joseph Barsabbas and Matthias. They prayed and drew lots. The choice fell upon Matthias, who was added to the Eleven.
Matthias is not mentioned by name anywhere else in the New Testament.
---
Reflection
What was the holiness of Matthias? Obviously, he was suited for apostleship by the experience of being with Jesus from his baptism to his ascension. He must also have been suited personally, or he would not have been nominated for so great a responsibility. Must we not remind ourselves that the fundamental holiness of Matthias was his receiving gladly the relationship with the Father offered him by Jesus and completed by the Holy Spirit? If the apostles are the foundations of our faith by their witness, they must also be reminders, if only implicitly, that holiness is entirely a matter of God's giving, and it is offered to all, in the everyday circumstances of life. We receive, and even for this God supplies the power of freedom.

How To Stay United In The Face of Division
May 14
"I do not ask for these only, but also for those who will believe in me through their word, that they may all be one, just as you, Father, are in me, and I in you, that they also may be in us, so that the world may believe that you have sent me."
Everywhere I go today it seems I see churches divided. I was in another state preaching awhile back and it felt like everywhere they drove me, there were little tiny churches. So I asked the man who was with me, "Why are there so many churches? Was there some kind of big revival here?"
And he told me, "Nope. Every church you see only has a few people who actually attend it. They didn't start from revivals, but from church splits." He went on, pointing to the churches as we passed, "That church split because of the color of the carpet in the sanctuary… and that one split because they brought in a modern praise band."
As he told me about the church splits, I was saddened. But unfortunately, I wasn't surprised. It amazes me how men and women of God can find so many reasons to divide rather than unite for the cause of Christ. It's contrary to the biblical message!
It's time to stop the division and unite under the banner of Jesus Christ. Don't let petty things drive a wedge in the body of Christ. Keep your focus on Christ, first and foremost, and that which threatens to divide us will fade away as our Savior is brought into focus!
FOCUS ON JESUS, NOT PETTY DIFFERENCES, AND YOU'LL FULFILL CHRIST'S COMMAND TO STAY UNITED IN THE BODY!
Waiting is so hard! But in one way or another, we are all waiting. Whether we seem to have it all or have the weight of the world on our shoulders, we're all waiting for something—waiting for change, waiting for answers, waiting for healing, waiting for things to get better. No matter how good life gets, every human being—rich or poor—will always need something.
I believe one of the reasons so many people give up and lose hope while waiting on God is because they feel that where they are right now is going to be forever. Don't fall into that trap. This waiting season is only temporary. As you are standing between your prayer and the receipt of your answer, remember this: your blessing is worth the wait. Instead of quitting, you should take on the attitude of a winner and keep believing. Hope against hope as Abraham did when God promised him he would be the father of many nations (Rom. 4:18-22). It took 25 years for his promised child to arrive, but God brought the blessing into Abraham's life in His perfect timing.
What if you are just one step away from your promised miracle? I saw a photo some time ago that showed a man digging through a cave. The image revealed that just on the other side of the rocky wall he was digging through was a big pot of gold. The man took one last swing and then gave up, but if he had taken just one more swing, he would have reached his treasure.
This image teaches us a lesson. Sometimes when we feel as if we have been waiting forever, we quit, and we miss out on our treasure. Don't miss your blessing because you choose to give up. Be the one who is able to testify that you waited on God's perfect timing, and the Lord brought forth your blessing right on time.
I can promise you this—waiting on God isn't always easy, but it's always worth it. Be encouraged. Don't give up. Wait so you can win!
Adapted fromEverybody Wants to Win but Nobody Wants to Wait by Marcus Gill, copyright 2017, published by Charisma House. This book will help you to defeat the lure of immediate gratification, avoid frustration and embrace uninterrupted peace by understanding God's way concerning purpose, timing, worship and breakthrough. To order your copy, click on this link.
Prayer Power for the Week of May 13, 2018
This week as we honor mothers, remember those "mothers in the church" who are instrumental in influencing you and those coming behind you. Thank God for those He has lifted up and placed as pillars of faith in the church. Remember our president and those working with him to ensure our peace and prosperity. Continue to pray for the peace of Jerusalem and worldwide revival. Read Psalm 27:14 and Philippians 3:14.

Reframing
The Lord has made his salvation known and revealed his righteousness to the nations. – Psalm 98:2
Have you ever had one of those days where nothing was going your way, and you just felt like God was against you? I know it's an over-inflated ego thing to think that way. But that's partly why I wrote my book, Reframe you Life. In that book I try to outline how you can change the way you view your life.
Have you ever sat in the doctor's office waiting for the doctor, and he's running late. You become irritated at the doctor and his lack of consideration for other people's schedules. But instead of getting irritated, have you ever thought to use that time to think through more carefully what issues you want to discuss with the doctor, or to stop and think about your day, your week, or the things you want to do and people you want to call, or stop and use the quiet moment to spend some time praying for your friends and family.
That's just a small example of reframing your thinking. Reframing will keep you from asking the "why" questions in life and just accept those things that don't have answer and move on. Yes, there's still pain to work through, but it helps to realize that everything in life hasn't been targeted to you. God is not your abuse. He is not your past. He is not all the bad and hurtful things that happened to you. He is a loving God who wants the very best for you and who went to great lengths to let you know how valuable you are. So valuable that he allowed his Son to go to the cross for you.
Learn to reframe your thinking and you'll see life differently than you ever have.
"I'm not funny. What I am is brave." – Lucille Ball  (1911-1989)

From Sanctuary by Dr. David Jeremiah
Joy That Stays
I will see you again and your heart will rejoice, and your joy no one will take from you. – John 16:22
The joy of Christ doesn't go away. Have you noticed how easily earthly joy can leave? Have you discovered how simple it is for your gladness of today to become your sadness of tomorrow, for your sweetness of the morning to turn into the bitterness of the night? Have you discovered how the people you thought were your friends today can become your enemies tomorrow, the wisdom you thought was so great yesterday is foolishness today?
Nothing seems to be too stable in the world. You can't really count on much anymore. But the joy of Christ is a continual, never-ending, absolutely constant joy when we follow the principles of the Word of God. This joy survives all the difficult times in life. This joy is not hinged on happenings but on a Person.
In John 16:22, Jesus says, "Therefore you now have sorrow; but I will see you again and your heart will rejoice, and your joy no one will take from you." Isn't that something? Jesus says the joy He wants to give every one of His children is the kind of joy you don't have to lose. Nobody can take it away from you!

What Jesus Did!

 'Live Forever?'

[Jesus said,] "I live because of the living Father who sent me; in the same way, anyone who feeds on me will live because of me. I am the true bread that came down from heaven. Anyone who eats this bread will not die as your ancestors did (even though they ate the manna) but will live forever." He said these things while he was teaching in the synagogue in Capernaum.
Key Thought
Our power comes from a living Lord who was sent to us by the living Father! He gives us his power. He blesses us with his life. We will not die! But how is this so? Won't we surely die? Of course, our physical bodies will die. However, there is a part of us that will never die. We belong to Christ. When our physical bodies die, we go to be with him. When Christ comes again, we will be given new immortal bodies and go to be with him and with all those who are his, forever. No bread can give us this kind of life except the true bread from heaven: Jesus Christ, God's Son!
Today's Prayer
Father, please bless those on my heart who are struggling with broken, aging, and diseased physical bodies. We often find it hard to deal with our mortal physical bodies. However, dear God, please help those on my heart not to lose faith in Jesus' promise that the real and lasting part of them will never die. Give them courage and hope as they face the roughest part of their physical journey on their way to the best part of their spiritual journey. In Jesus' name, I pray. Amen.
Related Scripture Readings
Daily Wisdom:

 Proverbs 11:13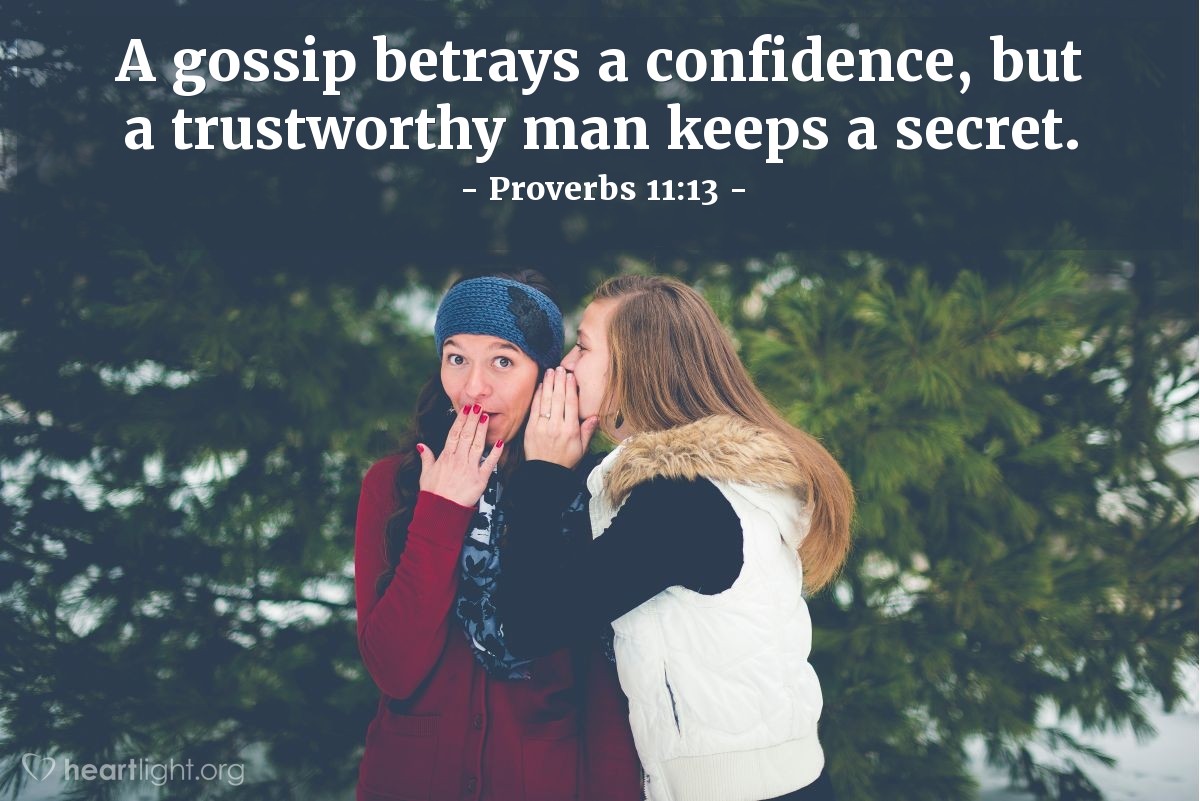 Spiritual Warfare:

 'Lost Sheep Are an Easy Target for the Enemy'

God's Power for Our Battles

If a man has a hundred sheep and one of them wanders away, what will he do? Won't he leave the ninety-nine others on the hills and go out to search for the one that is lost? And if he finds it, I tell you the truth, he will rejoice over it more than over the ninety-nine that didn't wander away!
Today's Prayer
Lord, thank You for helping me realize what Satan is looking for: sheep who are not with the other sheep. Thank You for reminding me that lost sheep who are all alone are vulnerable; that there is safety in numbers — and that's part of the purpose of Your church. Use me to help others realize this important truth: safety comes from being with other people of God, and there is grave danger in trying to be a Christian all alone. In Jesus' Name, Amen.
Illustration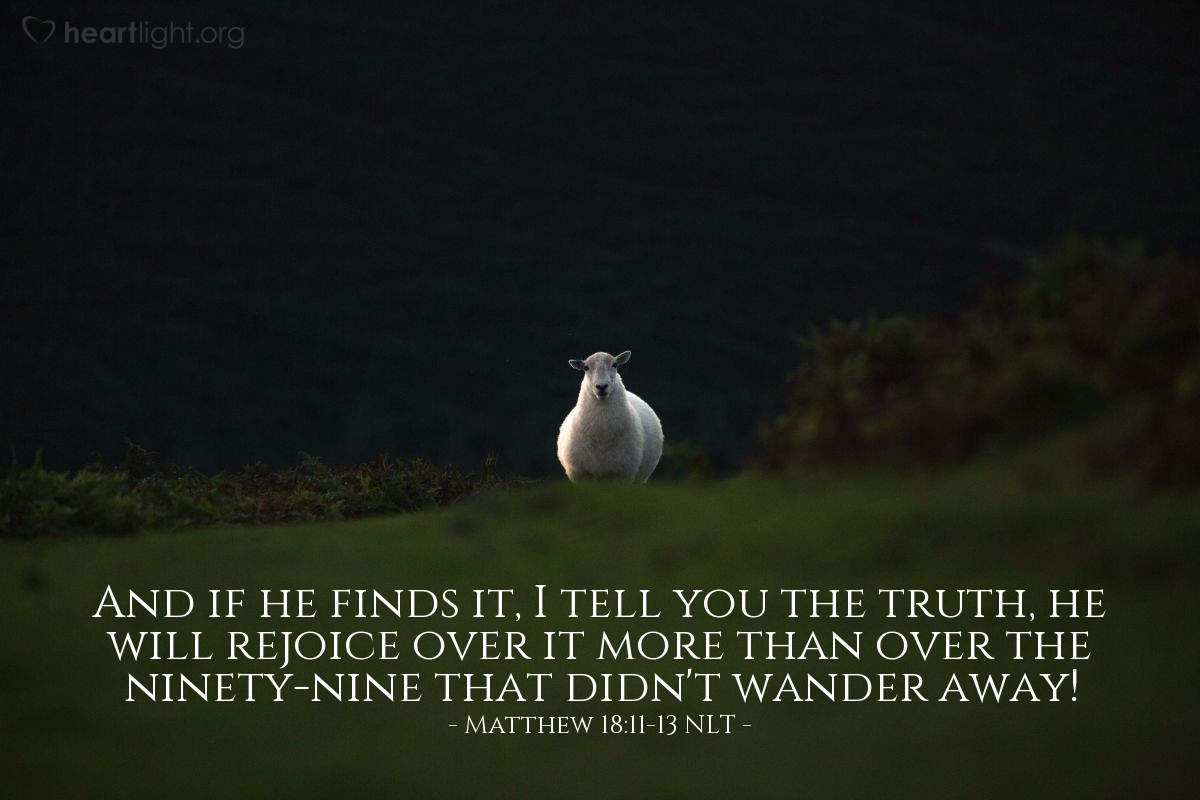 Join us on our podcast each weekday for an interesting story, well told, from Charisma News. Listen at charismapodcastnetwork.com.
---
Walt Disney World cancelled Night of Joy, an annual Christian music festival held on Disney property in Orlando for more than 30 years.
The elimination of the Night of Joy event was part of the resort's philosophy of "continually changing our offerings," a Disney spokesperson tells the Orlando Sentinel.
The event featured top Christian artists including: MercyMe, TobyMac, Natalie Grant, Danny Gokey, Matt Maher, Colton Dixon, Rend Collective, Zach Williams, Amy Grant, Steven Curtis Chapman, Kirk Franklin, Jordan Feliz, Crowder, Jeremy Camp and Tye Tribbett.
According to the Orlando Sentinel, the event began in 1983 at Magic Kingdom, where it remained for most of its 35-year run. The last two years, it was held at the ESPN Wide World of Sports complex. The second night of the 2017 event was called off because of the threat of Hurricane Irma.
Disney will, however, host Christian artists at its annual Food and Wine Festival held at Epcot each year. This year, MercyMe is scheduled to perform Sept. 4-5, and Tauren Wells will take the stage Sept. 8-9 for the Eat to the Beat Concert Series.
Apart from Disney, Orlando theme parks host many Christian festivals, including Universal Studios' Rock the Universe and Sea World's Praise Wave.
Jesus Culture, For King and Country, Toby Mac, Lauren Daigle, Family Force 5, Trip Lee and Andy Mineo are all on the line-up for Rock the Universe, to be held September 7-8.
Jessilyn Justice @jessilynjustice is the director of online news for Charisma.

DEALING WITH DISAPPOINTMENT: MOVING BEYOND BAD CHOICES
Living Free Every Day*
A ministry of LivingFree.org
Friday, May 11, 2018
Today's Scripture
"No, dear brothers and sisters, I have not achieved it, but I focus on this one thing: Forgetting the past and looking forward to what lies ahead, I press on to reach the end of the race and receive the heavenly prize for which God, through Christ Jesus, is calling us."
Philippians 3:13-14 NLT
Thoughts for Today
God loves us so much that he gives us the freedom to make choices. Some are of little consequence, but others are life-changing. This freedom of choice dates back to Adam and Eve. They made a bad choice, and sin entered the realm of mankind.
The freedom to make choices brings responsibility. We have all made poor choices at times and have suffered the consequences of those bad choices. The good news is that no matter what poor choices we may have made in the past, there is always hope for a better future. God knew that we would make some bad choices, but he loves us so much that he sent Jesus to pay the price for our sin and to provide a way for our relationship to him to be restored.
Some people go through life carrying the load of some wrong choices they have made in the past. They believe they have messed up so badly that nothing good can ever come of their lives. Do you ever feel this way?
Good news! If you want to be set free from the past, Jesus is the answer. He has already paid the price for your sin … for every wrong choice you have ever made. Talk to him. Ask him to forgive you and to help you make better choices from now on. He is ready, and he is more than able.
If we confess our sins, he is faithful and just and will forgive us our sins and purify us from all unrighteousness. 1 John 1:9 NIV
Consider this …
Remember, you are very special to God. He loves you no matter what you have done. He is there for you. He wants you to put the past behind so that you can become all that he has designed you to be. Ask God's forgiveness … learn from your mistakes … and look forward to a future filled with hope.
Prayer
Lord, thank you for forgiving my sins. I have made so many wrong choices. Help me now to put them behind and to look forward to the future you have planned for me … one filled with hope. In Jesus' name …
A Two-Way Relationship
TGIF Today God Is First Volume 1 by Os Hillman
May 14, 2018
"He wakens me morning by morning, wakens my ear to listen like one being taught." – Isaiah 50:4b
The prophet Isaiah describes his relationship to God as a relationship that has two-way communication. Have you ever felt that your communication with God was only one way – you to Him only? Isaiah tells us, "The Sovereign Lord has given me an instructed tongue, to know the word that sustains the weary…. The Sovereign Lord has opened my ears, and I have not been rebellious; I have not drawn back" (Is. 50:4-5).
The key to Isaiah's relationship with God lies in four important principles:
1. He had an instructed tongue. Isaiah had given over rule of his life completely to God's purposes.2. He knew the word of the Lord, which allowed him to sustain and encourage others.

3. He took time to listen.

4. He did not flee from the tough assignments. He didn't shrink back.
If we are to be able to listen to God, we must follow the same principles. Knowing and spending time studying God's Word allows the Holy Spirit to bring to mind His instructions for what He wants for us. Recently, I became very busy in my work and other activities. It wasn't long before I felt distance between God and me. I had to make a conscious decision to carve out more time alone to listen, study, and meditate on His Word. This is the lifeline for the follower of Jesus. When we begin to lose the relationship, we are susceptible to becoming rebellious, going our own way. Invest your life in this relationship so that you may continue to hear His voice and sustain the weary ones around you.
NATIONAL DANCE LIKE A CHICKEN DAY
Dance Like a Chicken Day is observed each year on May 14th!  This is an entertaining day from start to finish!  Everyone has probably danced the "Chicken Dance" at least once in their lifetime.  This silly fun song is popular at wedding dances, Oktoberfest, and other celebrations. The song gets people of all ages up and moving on the dance floor.
Written in the 1950s by Werner Thomas, a Swiss accordionist, the Chicken Dance didn't even make it to the United States until sometime in the 1970s. The Chicken Dance is associated with polkas or oom-pah-pah music. Originally written with the name Der Ententanz (The Duck Dance) it was rumored to have been written as a drinking song for Oktoberfest. The song's name was later changed to Vogeltanz (The Bird Dance).
Upon arriving in America in the 1970s, the song had acquired choreography with repetitive beak, wing, and tail motions as well as the new name, The Chicken Dance.
Cincinnati, Ohio —  September 20, 2004 — At the Oktoberfest Zinzinnati, rock musician Vince Neil served as Grand Marshall at the World's Largest Chicken Dance.
Judson Laipply's Evolution of Dance featured  "The Chicken Dance".
November 13, 2009 — In support of the Children's Hospital of Eastern Ontario, CIHT-FM played "The Chicken Dance" continuously until 389 tickets for the CHEO Dream of a Lifetime were purchased for $100 each.  They played for over 3 hours straight.
April 23, 2010 — An attempt at the World's Largest Chicken Dance record was held at Byron Center, Michigan at Jake's  Restaurant in a fundraiser for Helen DeVos Children's Hospital.  Jake's Restaurant is the site of a giant plastic chicken sculpture.
July 4, 2010 — Mandan, North Dakota established a new World Record for the Longest Chicken Dance at their annual Independence Day Parade and Street Festival.
The Mandan, ND "Chicken Dance" line covered twenty-four city blocks and was 1.627 miles long.
HOW TO OBSERVE
Use #DanceLikeAChickenDay to post on social media.
HISTORY
Within our research, we were unable to find the creator of National Dance Like a Chicken Day.
Amen and God bless you all!!!!