Christoph Friedrich Blumhardt
Jesus replied, "Anyone who loves me will obey my teaching. My Father will love them, and we will come to them and make our home with them." John 14:23, NIV
Lord our God, we thank you that we can be children of your Spirit. We thank you that because you have called us, we receive eternal gifts that enable us to stand firm even when many sorrows and burdens weigh us down. For you are our life, and in all the darkness, even that of death, you give us light and strength and joyful hope. Keep these alive in us. May an ever brighter light shine on all that you have already put into our hearts, on all that draws us daily to you. Amen.
Today, I pray for those seeking insight and revelation knowledge into their prayer life, to lock this message inside their hearts and keep it there. Let us open our mouths and confess daily, in prayer. ALL THINGS work together for GOOD to those who LOVE GOD and are called according to HIS purpose! In Romans 8:26-28  we read:
Meanwhile, the moment we get tired in the waiting, God's Spirit is right alongside helping us along. If we don't know how or what to pray, it doesn't matter. He does our praying in and for us, making prayer out of our wordless sighs, our aching groans. He knows us far better than we know ourselves, knows our pregnant condition, and keeps us present before God. That's why we can be so sure that every detail in our lives of love for God is worked into something good.
Prayer
Almighty God, we recall Your many promises to us and ask You to fulfill each one in our lives, as we face the many challenges that life throws our way. May we see each promise manifested through the working power of the Holy Spirit as we are taught and guided in everything we do.
Teach us Lord so we may learn to move forward with confidence, knowing that You always walk with us. Continue to lead us by Your gently way as we accomplish our mission here on earth.
Declaring Your Blessings
As we speak to You constantly during the day, we listen to Your still, small voice within us. We declare that Your blessings will flow ever so graciously upon us.
You, Lord, are the same, yesterday, today and forevermore. So we pray Your word back to You, as we strive to know You more and more each day.
Walking in Obedience
Abba Father, I declare that as we walk in obedience to Your will, we leave all the consequences to You. We kneel before Your throne of grace and we have faith in knowing that our battles have already been won.  We are victorious over all situations, every time! In Jesus name we pray, Amen!
Let us all remember to BE the person GOD created US to be! Don't forget – He called you a CONQUEROR through JESUS, so be one! SMILE & enjoy your day!
Inspired by a personal message to BJ from Rio
Verse of the Day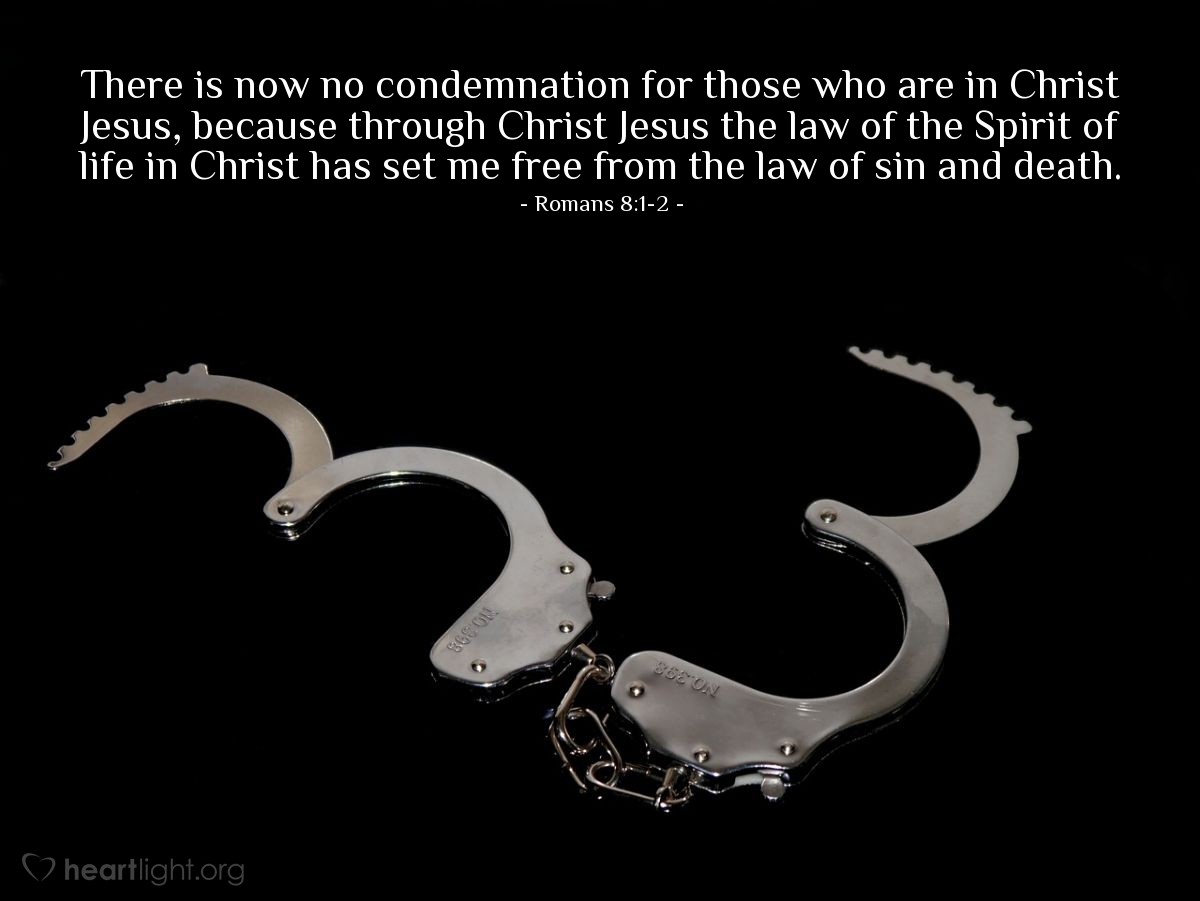 Thoughts on Today's Verse…
"Free at last! Free at last! Thank God Almighty, we are free at last!" Becoming a Christian means we have been liberated from law keeping. We now have God living in us through the Holy Spirit. The Spirit helps us to know God's will and then live it. Through the Spirit's power, we can do what no law could make us do: live up to God's standards of righteousness. We are set free to be like God and to be with God, free from the crippling power of law, sin, and death.
My Prayer…
Gracious father, thank you for all of your gifts to me. Today, I want to especially thank you for liberating me from law and empowering me with your Spirit. Fill me and empower me today with your Spirit as I commit to live my life for you. In the name and by the authority of Jesus my Lord I pray. Amen.
A Prayer for a New Season
By Renee Davis
"Those who sow with tears will reap with songs of joy. Those who go out weeping, carrying seed to sow, will return with songs of joy, carrying sheaves with them." Psalm 126:5-6
It's early, just after dawn. I plunge my spade into the blackest of soil, and grin as I hear that rowdy rooster from down the lane. He sounds extra energized this morning. Perhaps it's the slight nip in the air? I hold my seemingly meager seeds and smile, pondering their potential and the transformation they'll undergo.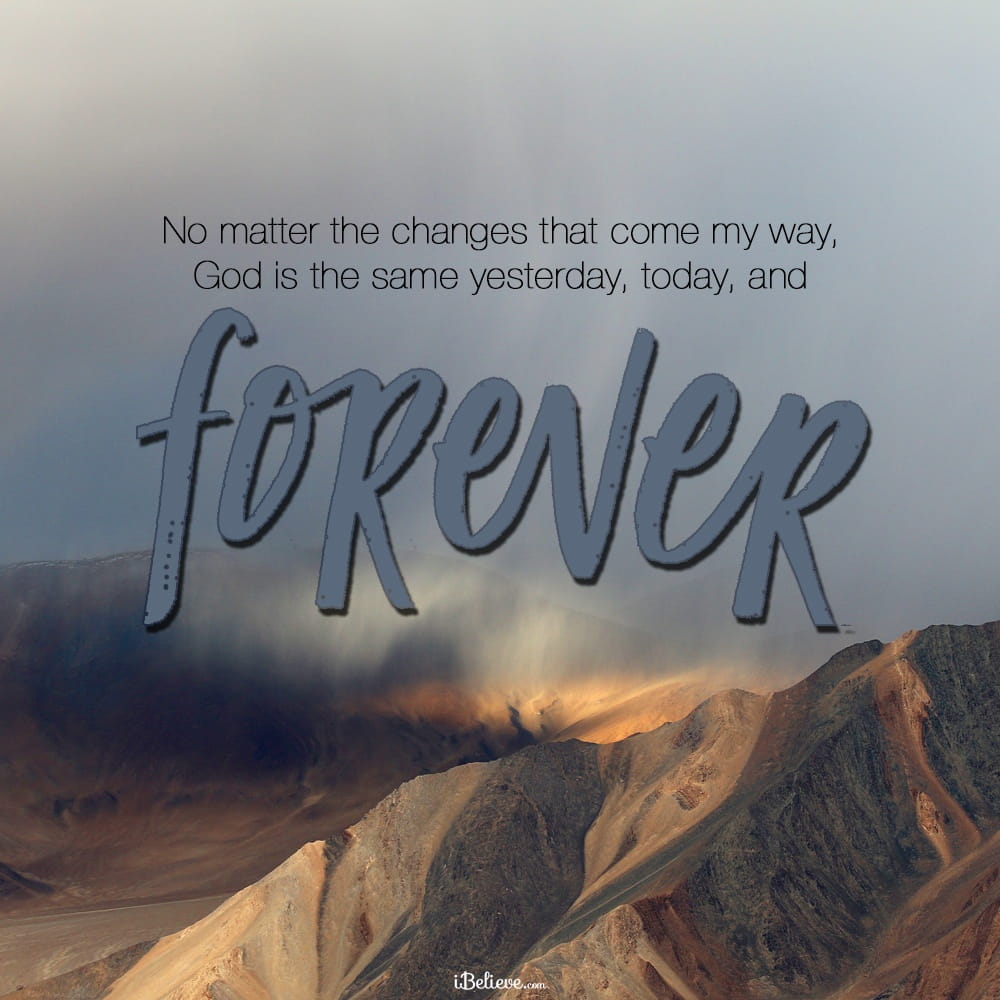 I ready them for their slumber, covering them with their blanket of darkness.  I tuck them in tight as a cool hint of anticipation dances on the breeze, softly brushing my ponytail aside, reminding me the change of the season is here. Autumn. The season of transition, nudging us from a summer that was most likely too hot for many of us to a winter that will most likely be too cold for most of us.
I gently pat the bed and tell them to sleep well. Will these seeds I've sown yield a harvest I'll be pleased with? I wonder what these months of transition and change will yield in my own life. Change. That word makes me so uneasy. So much uncertainty in this next season of my life.
My anticipation turns to anxiousness as the 'what ifs' parade through my mind. Will I yield fruit? Will my potential be made known? Will this season of my life be one of hurting or healing, absence or abundance, hardship or happiness?
I close my eyes and pray. I am comforted when He whispers Truth to me: No matter the changes that come my way, He is the same yesterday, today, and forever. He is eternally unchanging and faithful—no matter the season, no matter the circumstances.
May you praise Him and trust Him in every season of your life.
Dear Father God,
Thank You for Your unfailing love for me, Your blessings, and goodness. Thank You for Your faithfulness to guide me and see me through times of uncertainty, for lifting me up, and setting me on high. Thank You for Scripture that comforts and reminds me of Your promises, plan, and provision. Thank you for taking away my fears and worries, the what-ifs, and reminding me that my help comes from You. Help me be a good steward and to sow wisely.
In Christ's Name.
Amen. 
Can You Miss God's Will for Your Life?
Decision making can be a paralyzing experience.
Say, for example, that you have been offered a new job in a different state? Should you take it? Well, it depends. What are the schools like in the area? What is the traffic like? Are there any nuclear power plants nearby? Is the increased salary worth the emotional cost of moving your family? Will you be forced to root for the Dallas Cowboys? All these different factors can make it difficult to decide.
Now, throw the whole issue of God's will into the mix? Is it really God's will for you to move? It seems like it's God's will, but maybe it's not. What if you make a terrible mistake and somehow miss the will of God? Are you going to end up in some purgatorial situation because you accidentally missed God's will?
The fear of missing God's will is enough to paralyze any Christian. But here's the question: can a Christian miss the will of God for their life? Could you somehow go your entire life being outside of God's good plan for you?
It seems that the Bible teaches that, yes, you can miss God's will. It also teaches that no, you can't miss God's will.
You Can Miss God's Will If…
The way to miss God's will is really simple: ignore the Bible. In the Bible God has told us exactly what we should do when it comes to making decisions. First, we should determine if our decision goes against anything clearly spelled out in the Bible. The Bible is clear that fellowship with other believers is necessary for our Christian growth. If taking a job will cut you off from fellowship with others, it's not God's will for you to take the job.
Second, we should ask God to give us wisdom. James 1:5–6 says:
If any of you lacks wisdom, let him ask God, who gives generously to all without reproach, and it will be given him. But let him ask in faith, with no doubting…
Getting wisdom from God isn't a mystical, super-spiritual experience. It means asking God to help us think clearly and biblically about the decision in front of us. When we ask for wisdom we should believe God is going to give it to us. God isn't trying to hide his good will from us. He wants to help us understand the right way to walk.
Third, we should ask the opinion of others. Proverbs 15:22 says, "Without counsel plans fail, but with many advisers they succeed." This is so gloriously simple. Finding God's will for your life is as simple as asking the opinion of other, godly Christians. Lay the situation out before them, and then let God speak to you through their counsel.
You Can't Miss God's Will If…
If we heed the counsel of scripture, we won't miss God's will. God isn't hiding his will, or trying to trick us into making a bad decision. If we evaluate our decision by scripture, ask for wisdom, and then ask the opinion of others, we are doing what God requires of us. He promises to guide us through that process.
We don't need to seek a subjective, mystical, spiritual feeling when it comes to decision making. Don't get me wrong; sometimes God gives us peace about a decision, and that's a blessing. But that's not always the case. Sometimes we might not feel one way or another about a decision. In general, feelings are a very bad barometer of the truth. A feeling of peace can come from God, but it can also come from a lot of other things, like a glass of wine or a good nap. Plus, what exactly constitutes the "right" feeling when it comes to a decision? Is it peace? Or maybe joy? Or a sense of rightness?
The Bible doesn't tell us what we're supposed to feel about our decisions. Instead, it tells us how to make biblical, God-honoring decisions. So, if you have a big decision to make, don't freak out. Instead, go to the Word, ask for wisdom, and get others involved.
---
Stephen Altrogge serves as a pastor at Sovereign Grace Church. Find out more at The Blazing Center.
Saints Nereus and Achilleus
Saint of the Day for 
May 12
(? – ?)
https://www.franciscanmedia.org/wp-content/uploads/2016/08/SODMay12.mp3
Saints Nereus and Achilleus' Story
Devotion to these two saints goes back to the fourth century, though almost nothing is known of their lives. They were praetorian soldiers of the Roman army, became Christians, and were removed to the island of Terracina, where they were martyred. Their bodies were buried in a family vault, later known as the cemetery of Domitilla. Excavations by De Rossi in 1896 resulted in the discovery of their empty tomb in the underground church built by Pope Siricius in 390.
Two hundred years after their deaths, Pope Gregory the Great delivered his 28th homily on the occasion of their feast. "These saints, before whom we are assembled, despised the world and trampled it under their feet when peace, riches and health gave it charms."
---
Reflection
As in the case of many early martyrs, the Church clings to its memories though the events are clouded in the mists of history. It is a heartening thing for all Christians to know that they have a noble heritage. Our brothers and sisters in Christ have stood in the same world in which we live—militaristic, materialistic, cruel and cynical—yet transfigured from within by the presence of the Living One. Our own courage is enlivened by the heroes and heroines who have gone before us marked by the sign of faith and the wounds of Christ.
---
Another Saint of the Day for 
May 12

 is Saint Pancras.
Saint Pancras' Story
St. Pancras Railway Station in London got its name from an early Christian martyr about whom we have very little information. He is said to have been martyred at 14 during the persecution of Diocletian. He was buried in a cemetery which later was named after him. Pope Gregory the Great built a monastery for Benedictines and, when Augustine of Canterbury came to England, he named the first church he erected after Pancras. Hence the name of the railway station.
Pancras (Pancratius) appears in fictionalized form in Cardinal Wiseman's novel Fabiola. German farmers had a saying that three saints whose names are similar—Pancras, Servatz and Bonifatz—were the "ice men" because it was often unseasonably chilly on their feast days, May 12, 13, 14.
---
Reflection
Again we have a saint about whom almost nothing is known, but whose life and death are cherished in the Church's memory. Details fall away or are mixed with legend. But a single, powerful fact remains: He died for Christ and his heroism sent a wave of inspiration through the Church of his day. It is good for us to share that feeling.

Honestly Admitting Our Needs
Which of you, if his son asks for bread, will give him a stone? Or if he asks for a fish, will give him a snake? If you, then though you are evil, know how to give good gifts to your children, how much more will your Father in Heaven give good gifts to those who ask Him. – Matthew 7:9-11
Are you reluctant to ask for help? You're definitely not alone. Too many of us are unwilling to admit we need help. We think it's a sign of weakness. But it's really a sign of pride and self-sufficiency, both which go against the grain of a healthy dependence upon God and the power of His Holy Spirit in our lives.
God wants to give you good things. He's hoping you'll humbly admit that you have needs. Don't be afraid to ask others for help.  Remember, God made us to relate to one another, to love one an¬other. We weren't made to live life alone. If you're "the strong" one that is always lending a hand and seeing to it that others are taken care of, it's hard for you to let someone know you need help, but it's important that you do.
We need more two way streets in our Christian community.
"Refusing to ask for help when you need it is refusing someone the chance to be helpful." – Ric Ocasek (1949-    )

From Right from the Heart by Bryant Wright
Happy Mother's Day!
Her children arise and call her blessed. – Proverbs 31:28 NIV
Kids start to develop some pretty interesting perceptions of the world at an early age. Notice the answers some second-graders gave when asked about their mothers.
Q: Why did God make mothers?
A: To help us out of there when we were getting born.
Q: What ingredients are mothers made of?
A: God makes mothers out of clouds and angel hair and everything nice in the world and one dab of mean.
Q: Why did God give you your mother and not some other mom?
A: God knew she likes me a lot more than other people's moms like me.
Q: What does your mom do in her spare time?
A: Mothers don't do spare time.
Q: If you could change one thing about your mom, what would it be?
A: I would like for her to get rid of those invisible eyes on the back of her head.
As these kids can tell you, motherhood is the toughest, most demanding, most important job in the world. With the many choices for women today, let's not forget that there is no calling of God more important than being a mom.

What Jesus Did!

 'The Forever Bread'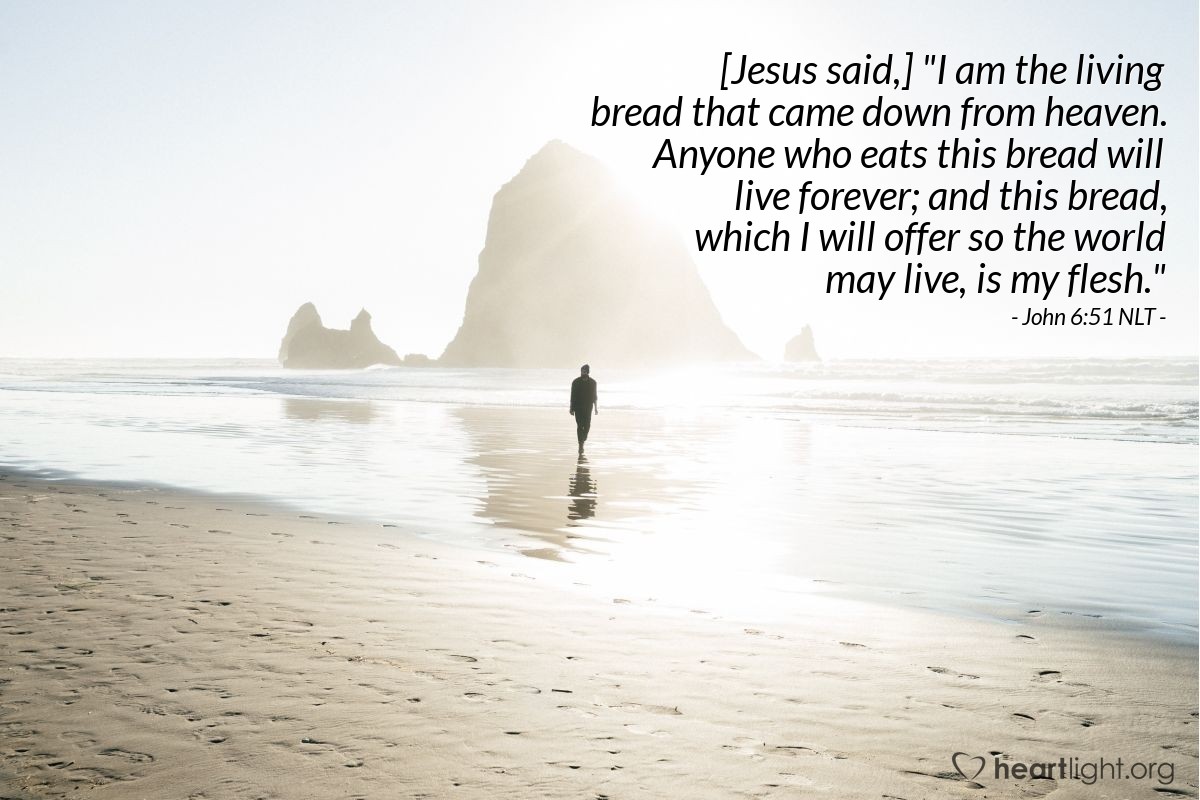 Key Thought
Jesus, unlike wheat that has to "die" to be made into flour, is alive. He died and rose again. He is "living bread." The gift of his flesh, taken to the cross and sacrificed as a sin offering for us and then raised up on the third day, is offered so that the world can live forever — so that I can live forever! Jesus is the forever bread!
Today's Prayer
Holy and righteous God, thank you for making salvation so accessible in Jesus. Thank you for living in our world, facing our pain, enduring our ridicule, and facing our death. Thank you for the hope that frees me from the fear of death. Thank you for the confidence this hope gives me in my trials. Thank you for giving me the living bread of Jesus, in whose name I pray. Amen.
Related Scripture Readings
Daily Wisdom:

 Proverbs 13:21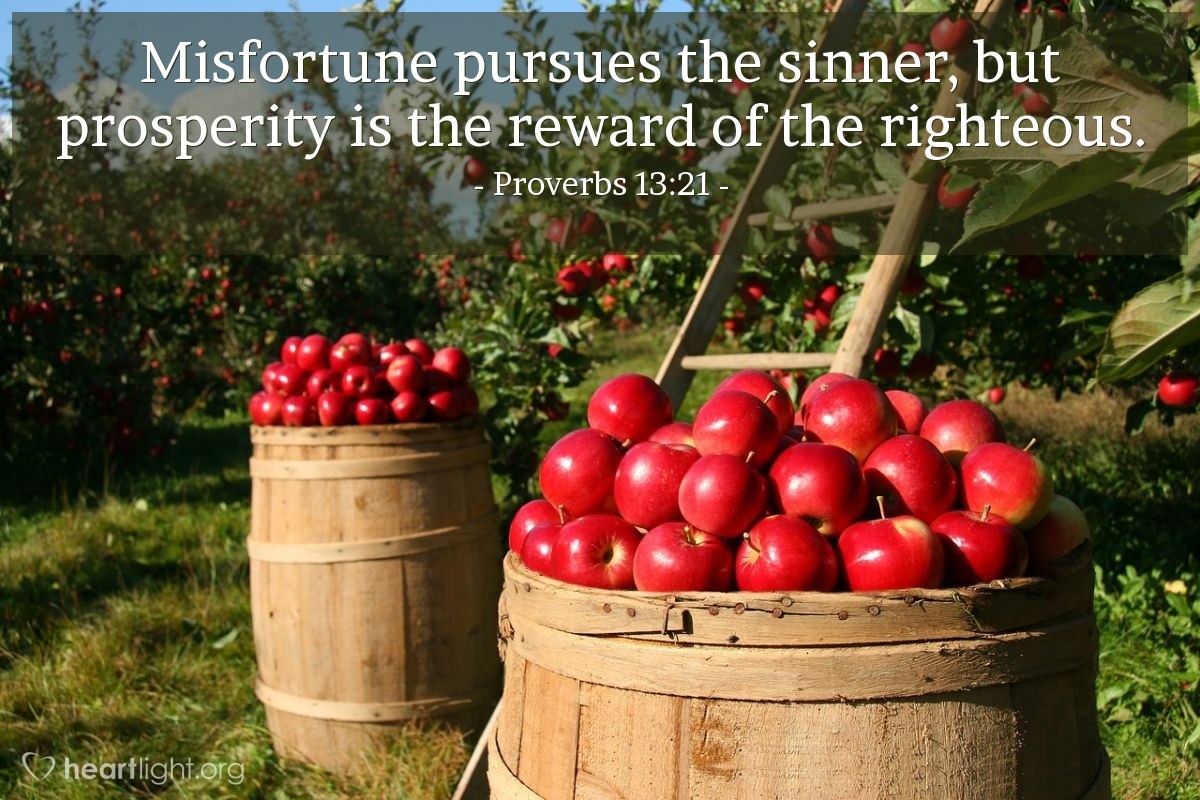 Spiritual Warfare:

 'God Directs & Restores Godly People'

God's Power for Our Battles

Lord, help me to abound in godliness. Lead me to be obedient and faithful to Your Holy word. I know that this will cause You to direct my steps, Lord, and I confess that I don't know which way to turn, so I desperately need Your guiding hand. I stumble over and over, Lord, and I know You are the One who is helping me recover and keep going. With Your help, Lord, I can always snap back and continue the journey, but without You, I'm doomed. Hold my hand, Lord, as I take each step. I rely on You. In Jesus' Name, Amen.
Do not be afraid to go down to Egypt, for there I will make you into a great nation. I myself will go down with you to Egypt, and I will also bring you up again.
Genesus 46:3-4
Jacob must have shuddered at the thought of leaving the land of his fathers to live among heathen strangers. It was a new scene, and likely to be a trying one: Who shall venture among citizens of a foreign power without some anxiety? Yet the way was evidently appointed for him, and therefore he resolved to go.
This is frequently the experience of believers; they are called to face perils and temptations. At such times let them imitate Jacob's example by offering sacrifices of prayer to God and seeking His direction. Let them not take a step until they have waited upon the Lord for His blessing: Then they will have Jacob's companion to be their friend and helper.
How blessed to feel assured that the Lord is with us in all our ways and condescends to enter into our humiliations and banishments! Even at such times we may bask in the sunshine of our Father's love. We need not hesitate to go where He promises His presence; even the darkest valley grows bright with the radiance of this assurance. Marching onward with faith in their God, believers shall have Jacob's promise. They will be brought up again, whether it be from the troubles of life or the chambers of death. Jacob's offspring came out of Egypt in due time, and so shall all the faithful pass unscathed through the tribulations of life and the terror of death.
Let us exercise Jacob's confidence. "Do not be afraid" is the Lord's command and His divine encouragement to those who at His bidding are launching upon new seas; God's presence and preservation forbid so much as one unbelieving fear. Without our God we would be afraid to move; but when He bids us to, it would be dangerous to linger.
Reader, go forward, and do not be afraid.
NATIONAL DOG MOM'S DAY
During the second Saturday in May, National Dog Mom's Day sends out a chorus of yips, barks, and howls of praise for all the dog mommas!
Our dogs are our family members, whether they came into our lives unexpectedly or as carefully planned additions. We adopt them as puppies, adolescents, or fully mature animals with a bit of baggage and yet, we find common ground, a connection and bond like families do. They know our moods, and we know theirs. We care for them, shelter them and share an immeasurable loyalty with them.
National Dog Mom's Day recognizes the bond women share with their fur kids. When they humor us, charm us or even when they are naughty, they are like any other child to us.
HOW TO OBSERVE
On National Dog Mom's Day make sure to get some extra cuddles. Bake up some yummy homemade puppy treats. Plan for some double pampering – a pedicure for you and paws for the puppers. Then take an extra special selfie with fur baby to mark the occasion.
Dog Moms in New York City and New Orleans can celebrate at the FREE official Dog Mom's Day events with treats, drinks, and praise for dog moms!
Use #DogMomsDay to share on social media.
Win dog moms day gifts! National Day Calendar  + Dig will be giving away free dog mom gifts on Facebook Live on May 12. Prizes will be provided by the following dog-friendly businesses: Amuse Pooch, PetChatz, Paul's Custom Pet Food, Pet Krewe, ShaggySwag, The Big City Woof Walker, Damn Dog, Navé, Dog Is Good, Leela Ryan Boutique Dog Treats AND MORE! Find our full list of prizes at digdates.com/dogmomsday
HISTORY
Dig – The Dog Person's Dating App founded National Dog Mom's Day to celebrate and thank the dog moms who dedicate their love and support every day to their dogs. It's a different, special and visceral love that deserves its own day to be recognized and appreciated.
The Registrar at National Day Calendar proclaimed National Dog Mom's Day to be observed the second Saturday of May beginning in 2018.
About Dig – The Dog Person's Dating App
Dog people are always looking for ways to get dogs in their lives. You'll linger near the dog park's fence, you'll repeatedly offer to dog-sit while your friends are away, and you'll scan every dating app for photos of potential matches with dogs at their sides. If you're lucky enough to own a pup, you know that things never work out with someone if they're not as into your dog as you are. So Dig founders Casey and Leigh Isaacson built a dating app that connects dog people based on what's most important to them. Dig is the best way for dog lovers and dog owners to find a compatible date.
NATIONAL BIRTH MOTHER'S DAY
National Birth Mother's Day is observed the Saturday before Mother's Day. This day has been set aside as a day for birth mothers to acknowledge and support one another. It is a day to recognize the biological mothers of adopted children.
Each birth mother's experience is personal. While the day originated as a day of solidarity, education and compassion, it has evolved and may be received with a mixture of emotions, viewed as a celebration of the life a birth mother has brought into the world and has chosen to share with another family.
HOW TO OBSERVE
Use #NationalBirthMothersDay to share on social media.
HISTORY
National Birth Mother's Day was established in 1990 by Mary Jean Wolch-Marsh to show support for birth mothers like herself.
NATIONAL MINIATURE GOLF DAY
Annually the second Saturday in May recognizes National Miniature Golf Day. This day is separate from Miniature Golf Day, which is celebrated worldwide on September 21.
Similar to the sport of golf, but as the name suggests it is a miniature version of the game. While still played with a series of 9 or 18 holes, miniature golf courses are shorter, usually themed and have a variety of obstacles which add to the difficulty of the game.
There isn't any need to call "FOUR" since only putters are used in this version. The distances are too short (usually about 10 yards) to use any of the other clubs in golf.  The courses are made mostly of concrete or artificial turf so there are no divots to replace, either! The game is also known mini-golf, midget golf, putt putt and peewee golf.
Some of the more challenging miniature golf courses have waterfalls, caverns and castles with drawbridges as part of their obstacle course.
HOW TO OBSERVE
Meet your friends at your local miniature golf course and have a fun-filled day!  Share your photos using #NationalMiniGolfDay.
HISTORY
The Illustrated London News had mention of the earliest documented minigolf course in its June 8, 1912, edition. The first standardized minigolf courses to enter into commercial mass-production were the Thistle Dhu course in 1916 in Pinehurst, North Carolina and the Tom Thumb patent of Garnet Carter from Lookout Mountain, Tennessee in 1927.