TODAY'S DAILY PRAYER
Oh, that salvation for Israel would come out of Zion! When the Lord restores his people, let Jacob rejoice and Israel be glad! Psalm 14:7, NIV
Lord our God, our Father in heaven, bless us who have become united in our hope in you and in our expectation of your help on this earth, where people live in all kinds of foolish ways. Bless your Word within us. Grant us your Holy Spirit to restore life and gladness to our hearts, even in grief and suffering. Grant this not only in the distress of the whole world, but also in our own lives as long as we remain on this earth. Let signs be seen on every hand that you help us and give us a strength we can rely on. You help us in all circumstances every day, every year, ever anew. For this we thank you and praise your name. Amen.
Verse of the Day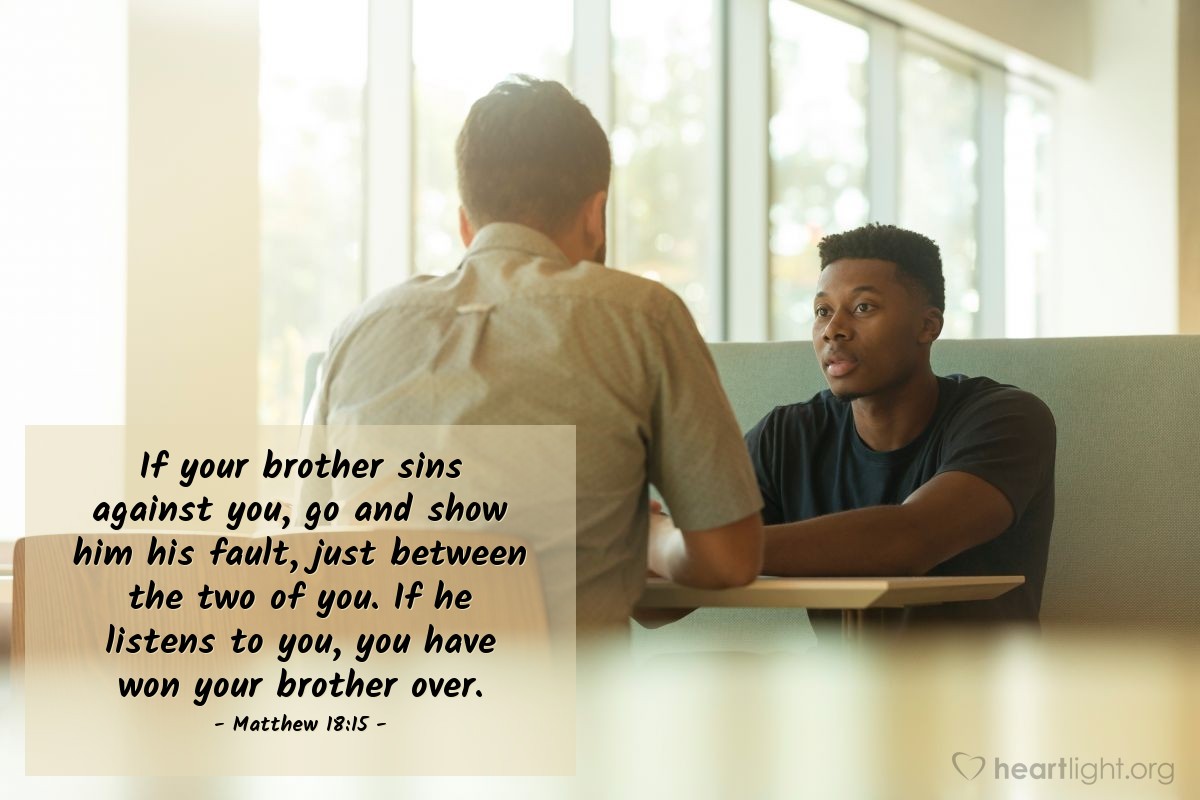 Thoughts on Today's Verse…
The right thing is so hard to do sometimes. It seems so much easier to gossip about someone who has wronged us, or to mention them in a group prayer as needing help, or to pass around an innuendo when talking about struggling Christians. But, only one thing is the right thing when we have been wounded by the action of another brother or sister in Christ! Go to the person who has wronged you, try to keep the damage contained to just the two of you, and work on being reconciled. This is God's desire, and should be our goal as his children.
My Prayer…
Lord God Almighty, forgive my foolish and selfish ways. Give me courage to lovingly confront those who have sinned against me, but if I cannot bring reconciliation, help me through the power of your Holy Spirit to forgive as you have forgiven me. In Jesus' name, and because of his atoning sacrifice for sin I pray. Amen.
A Prayer to be Unshakeable
By Kelly Balarie
And whatever you do, whether in word or deed, do it all in the name of the Lord Jesus,giving thanks to God the Father through him. Col. 3:17
Make no mistake, my fellow seekers, we are all after something. Many of us just don't acknowledge it – because we are afraid to look at what our heart really wants. We are embarrassed; we don't really want God after all. No shame here friends. I get off track all the time. I blow it!
Getting off track is not the major problem, but remaining in denial of the problem – always is. Where are you in denial? 
Confront these questions (this means really consider them):
What is your heart's goal on the daily basis?
Is it about pleasing God or pleasing man?
Seeking self or glorifying God?
Self-protection or God-dedication?
Go where He wants to go, knowing that it is the ONLY and the BEST place to go.
A person dedicated to the Lord is like a ship anchored to the core of the earth. He is unwavering, unbreakable and unshakable.
Prayer to be an Unshakable:
God, help us. Where we are weak, make us strong. Where we are wavering, help us lay our anchor down. May we find strength through knowing you hold us. We no longer need to be held down by the world's claws. May we believe you are so believable we see your hand in our everything. May we so fall into your arms of grace, so we never feel the pangs of condemnation rip us apart. That is not you. And, truly, we want nothing that is not associated with you – it will only leave us empty. God, you are one that leaves us on full. Not once, but all the time. God, give us you. Increase our faith; make us into fighters who don't back down. May we know, strongly, you are what we need to run after. You are the answer to everything. You are the only way. Tie down our heart into you. Amen.
The Ascension
"By rising to the Father on a cloud of glory, Jesus confirms that he is the Son of Man who has emerged victorious and that the restored kingdom Daniel envisioned has arrived. It is now up to the apostles to extend this kingdom to the ends of the earth. …
"Like the first apostles, we too share in the mission of spreading Christ's kingdom in the world today. Yet we do not have to become missionaries in Africa to do this. Whether a teacher in the classroom, a businessman in the workplace, a college student on campus, or a mother raising children in the home, all Christians play a crucial role in helping build the kingdom where God has called them to serve. By bringing the extraordinary witness of Christian truth, virtue, and love into our ordinary, daily endeavors, we can help transform our culture into the kingdom of
the risen and ascended Christ."
—excerpted from Praying the Rosary Like Never Before: Encounter the Wonder of Heaven and Earth, by Edward Sri
Ascension takes place on the fortieth day of Easter and commemorates Jesus's ascension into heaven as described in the New Testament of the Bible. According to the Bible, after his resurrection on Easter, Jesus met with his disciples multiple times over the forty day period and instructed them on how to continue to carry out his teachings. On the fortieth day, he took them to the Mount of Olives, and they watched as he ascended into heaven.
Ascension is one of the earliest Christian festivals, dating back to 68 CE. It takes place ten days before Pentecost and is always on a Thursday, although some churches celebrate it on the following Sunday. Many Eastern Orthodox churches follow the Julian calendar, so Easter—and Ascension—is later than it is for Western churches. Some churches have "church crawls" where people go to different churches for different prayer events. Some Western churches extinguish and take away a Paschal candle after the gospel is read on the day, which symbolizes Christ leaving Earth. The liturgy during Ascension and through Pentecost is joyful, as it marks the triumph of the risen Christ.
Ascension is not a public holiday in the United States, but it is in many other countries. In those countries, government offices, banks, schools, and many businesses are usually closed. There, many people get the day off work, and many people also take off the following day to make it a long weekend.
Ascension is being observed today! It has always been observed 39 days after Easter.
How to Observe
If you are a Christian, the day is perhaps best celebrated by attending a church service. Just like Easter and Pentecost, the day is celebrated joyfully because it marks the triumph of Christ over death. Regardless if you are religious or not, you could mark the day by reading accounts of the ascension in the Bible.
Ascension
CHRISTIANITY
Ascension, in Christian belief, the ascent of Jesus Christ into heaven on the 40th day after his Resurrection (Easter being reckoned as the first day). According to the first chapter of The Acts of the Apostles, after appearing to the Apostles on various occasions during a period of 40 days, Jesus was taken up in their presence and was then hidden from them by a cloud, a frequent biblical image signifying the presence of God. Although belief in the Ascension is apparent in other books of the New Testament, the emphasis and the imagery differ. In The Gospel According to John, the glorification described by the Ascension story seems to have taken place immediately after the Resurrection. The imagery of the account in The Gospel According to Luke is similar to that of Acts, but there is no mention of a period of 40 days.
The meaning of the Ascension for Christians is derived from their belief in the glorification and exaltation of Jesus following his death and Resurrection, as well as from the theme of his return to the Father. Thus, The Gospel According to John uses both the sayings of Jesus and his post-Resurrection appearances to indicate a new relationship between Jesus and his Father and between him and his followers, rather than a simple physical relocation from earth to heaven.

The Ascension of Jesus is mentioned in the Apostles' Creed, a profession of faith used for baptism in the early church. The feast of the Ascension ranks with Christmas, Easter, and Pentecost in the universality of its observance among Christians. The feast has been celebrated 40 days after Easter in both Eastern and Western Christianity since the 4th century. Prior to that time, the Ascension was commemorated as a part of the celebration of the descent of the Holy Spirit at Pentecost.

A distinctive feature of the feast's liturgy in the Western churches is the extinguishing of the Paschal candle, first lit on Easter, after the Gospel has been read, as a symbol of Christ's leaving the earth. Despite the idea of separation indicated in this act, which might be expected to set a note of sadness, the whole liturgy of Ascensiontide, through the 10 days to Pentecost, is marked by joy in the final triumph of the risen Lord. One of the central themes of the feast is the kingship of Christ, and the theological implication is that the Ascension was the final redemptive act conferring participation in the divine life on all who are members of Christ. In other words, Christ "was lifted up into heaven so that he might make us partakers of his Godhead."

In the European Middle Ages the people's delight in the visual and dramatic found an outlet in various ritual practices that came to be associated with the feast. Popular customs included a procession in imitation of Christ's journey with his Apostles to the Mount of Olives, as well as the raising of a crucifix or a statue of the risen Christ through an opening in the church roof.

In Christian art the Ascension is an old theme, appearing since the 5th century. The earliest version of the Ascension, which persisted in the West until the 11th century, shows Christ from the side, climbing to the top of the hill and grasping the hand of God, which emerges from a cloud above to pull him into heaven. The Apostles, assembled below, watch the event.

In the 6th century a different version of the Ascension was developed in Syria and was later adopted in Byzantine art. This version emphasizes Christ's divinity, showing him frontally, standing immobile in a mandorla, or almond-shaped aureole, elevated above the earth and supported by angels. He holds a scroll and makes a gesture of benediction. A curious detail of this version is the regular inclusion of the Virgin Mary, who is not mentioned in the biblical account of the event, and St. Paul, who, on historical grounds, was not present. The inclusion of these figures has not been adequately explained, but they may represent, with the figure of St. Peter, an allegory of the church that Christ leaves behind. This type of Ascension, which follows the Roman tradition of representing the apotheosis of an emperor, often figured prominently in the monumental decoration of Byzantinechurches as the emblem of one of the principal church feast days. By the 11th century, the West had also adopted a frontal representation. In the Western version, however, the humanity of Christ is emphasized: he extends his hands on either side, showing his wounds. He is usually in a mandorla but is not always supported or even surrounded by angels; thus, he is no longer carried to heaven but ascends by his own power. In the 12th century this version of the Ascension had an especially prominent place in French Romanesque church decoration. The Ascension remained important as a devotional subject in the art of the Renaissance and Baroque periods, both of which retained the iconography of Christ displaying his wounds.
Saint Damien de Veuster of Moloka'i
Saint of the Day for 
May 10
(

January 3, 1840

 – 

April 15, 1889

)
https://www.franciscanmedia.org/wp-content/uploads/2016/08/SODMay10.mp3
Saint Damien de Veuster of Moloka'i's Story
When Joseph de Veuster was born in Tremelo, Belgium, in 1840, few people in Europe had any firsthand knowledge of leprosy, Hansen's disease. By the time he died at the age of 49, people all over the world knew about this disease because of him. They knew that human compassion could soften the ravages of this disease.
Forced to quit school at age 13 to work on the family farm, Joseph entered the Congregation of the Sacred Hearts of Jesus and Mary six years later, taking the name of a fourth-century physician and martyr. When his brother Pamphile, a priest in the same congregation, fell ill and was unable to go to the Hawaiian Islands as assigned, Damien quickly volunteered in his place. In May 1864, two months after arriving in his new mission, Damien was ordained a priest in Honolulu and assigned to the island of Hawaii.
In 1873, he went to the Hawaiian government's leper colony on the island of Moloka'i, set up seven years earlier. Part of a team of four chaplains taking that assignment for three months each year, Damien soon volunteered to remain permanently, caring for the people's physical, medical, and spiritual needs. In time, he became their most effective advocate to obtain promised government support.
Soon the settlement had new houses and a new church, school and orphanage. Morale improved considerably. A few years later, he succeeded in getting the Franciscan Sisters of Syracuse, led by Mother Marianne Cope, to help staff this colony in Kalaupapa.
Damien contracted Hansen's disease and died of its complications. As requested, he was buried in Kalaupapa, but in 1936 the Belgian government succeeded in having his body moved to Belgium. Part of Damien's body was returned to his beloved Hawaiian brothers and sisters after his beatification in 1995.
When Hawaii became a state in 1959, it selected Damien as one of its two representatives in the Statuary Hall at the US Capitol. Damien was canonized by Pope Benedict XVI on October 11, 2009.
---
Reflection
Some people thought Damien was a hero for going to Moloka'i and others thought he was crazy. When a Protestant clergyman wrote that Damien was guilty of immoral behavior, Robert Louis Stevenson vigorously defended him in an "Open Letter to Dr. Hyde."

Bumping Life Off (Self) Center
by Max Lucado
Blame the bump on Copernicus.
Until Copernicus came along in 1543, we earthlings enjoyed center stage. Fathers could place an arm around their children, point to the night sky, and proclaim, "The universe revolves around us."
Ah, the hub of the planetary wheel, the navel of the heavenly body, the 1600 Pennsylvania Avenue of the cosmos. Ptolemy's second-century finding convinced us. Stick a pin in the center of the stellar map, and you've found the earth. Dead center.
And, what's more, dead still! Let the other planets vagabond through the skies. Not us. No sir. We stay put. As predictable as Christmas. No orbiting. No rotating. Some fickle planets revolve 180 degrees from one day to the next. Not ours. As budgeless as the Rock of Gibraltar. Let's hear loud applause for the earth, the anchor of the universe.
But then came Nicolaus. Nicolaus Copernicus with his maps, drawings, bony nose, Polish accent, and pestering questions. Oh, those questions he asked.
"Ahem, can anyone tell me what causes the seasons to change?"
"Why do some stars appear in the day and others at night?"
"Does anyone know exactly how far ships can sail before falling off the edge of the earth?"
"Trivialities!" people scoffed. "Who has time for such problems? Smile and wave, everyone. Heaven's homecoming queen has more pressing matters to which to attend."
But Copernicus persisted. He tapped our collective shoulders and cleared his throat. "Forgive my proclamation, but," and pointing a lone finger toward the sun, he announced, "behold the center of the solar system."
People denied the facts for over half a century. When like-minded Galileo came along, they imprisoned him. You'd have thought he had called the king a stepchild or the pope a Baptist.
People didn't take well to demotions back then.
We still don't.
What Copernicus did for the earth, God does for our souls. Tapping the collective shoulder of humanity, he points to the Son–his Sonand says, "Behold the center of it all."
"God raised him [Christ] from death and set him on a throne in deep heaven, in charge of running the universe, everything from galaxies to governments, no name and no power exempt from his rule. And not just for the time being but forever. He is in charge of it all, has the final word on everything. At the center of all this, Christ rules the church" (Ephesians 1:20–22 MSG).
When God looks at the center of the universe, he doesn't look at you. When heaven's stagehands direct the spotlight toward the star of the show, I need no sunglasses. No light falls on me.
Lesser orbs, that's us. Appreciated. Valued. Loved dearly. But central? Essential? Pivotal? Nope. Sorry. Contrary to the Ptolemy within us, the world does not revolve around us. Our comfort is not God's priority. If it is, something's gone awry. If we are the marquee event, how do we explain flat-earth challenges like death, disease, slumping economies, or rumbling earthquakes? If God exists to please us, then shouldn't we always be pleased?
Could a Copernican shift be in order? Perhaps our place is not at the center of the universe. As John Piper writes, "God does not exist to make much of us. We exist to make much of him." It's not about you. It's not about me.
The moon models our role.
What does the moon do? She generates no light. Contrary to the lyrics of the song, this harvest moon cannot shine on. Apart from the sun, the moon is nothing more than a pitch-black, pockmarked rock. But properly positioned, the moon beams. Let her do what she was made to do, and a clod of dirt becomes a source of inspiration, yea, verily, romance. The moon reflects the greater light.
And she's happy to do so! You never hear the moon complaining. She makes no waves about making waves. Let the cow jump over her or astronauts step on her; she never objects. Even though sunning is accepted while mooning is the butt of bad jokes, you won't hear ol' Cheeseface grumble. The moon is at peace in her place. And because she is, soft light touches a dark earth.
What would happen if we accepted our place as Son reflectors?
Such a shift comes so stubbornly, however. We've been demanding our way and stamping our feet since infancy. Aren't we all born with a default drive set on selfishness? I want a spouse who makes me happy and coworkers who always ask my opinion. I want weather that suits me and traffic that helps me and a government that serves me. It is all about me. We relate to the advertisement that headlined, "For the man who thinks the world revolves around him." A prominent actress justified her appearance in a porn magazine by saying, "I wanted to express myself."
Self-promotion. Self-preservation. Selfcenteredness. It's all about me!
They all told us it was, didn't they? Weren't we urged to look out for number one? Find our place in the sun? Make a name for ourselves? We thought self-celebration would make us happy…
But what chaos this philosophy creates. What if a symphony followed such an approach? Can you imagine an orchestra with an "It's all about me" outlook? Each artist clamoring for self-expression. Tubas blasting nonstop. Percussionists pounding to get attention. The cellist shoving the flutist out of the center-stage chair. The trumpeter standing atop the conductor's stool tooting his horn. Sheet music disregarded. Conductor ignored. What do you have but an endless tune-up session!
Harmony? Hardly.
Happiness? Are the musicians happy to be in the group? Not at all. Who enjoys contributing to a cacophony?
You don't. We don't. We were not made to live this way. But aren't we guilty of doing just that?
No wonder our homes are so noisy, businesses so stress filled, government so cutthroat, and harmony so rare. If you think it's all about you, and I think it's all about me, we have no hope for a melody. We've chased so many skinny rabbits that we've missed the fat one: the God-centered life.
What would happen if we took our places and played our parts? If we played the music the Maestro gave us to play? If we made his song our highest priority?
Would we see a change in families? We'd certainly hear a change. Less "Here is what I want!" More "What do you suppose God wants?"
What if a businessman took that approach? Goals of money and name making, he'd shelve. God reflecting would dominate.
And your body? Ptolemaic thinking says, "It's mine; I'm going to enjoy it." God-centered thinking acknowledges, "It's God's; I have to respect it."
We'd see our suffering differently. "My pain proves God's absence" would be replaced with "My pain expands God's purpose."
Talk about a Copernican shift. Talk about a healthy shift. Life makes sense when we accept our place. The gift of pleasures, the purpose of problems–all for him. The God-centered life works. And it rescues us from a life that doesn't.
But how do we make the shift? How can we be bumped off self-center? Attend a seminar, howl at the moon, read a Lucado book? None of these (though the author appreciates that last idea). We move from me-focus to God-focus by pondering him. Witnessing him. Following the counsel of the apostle Paul: "Beholding as in a glass the glory of the Lord, [we] are changed into the same image from glory to glory, even as by the Spirit of the Lord" (2 Corinthians 3:18 KJV).
Beholding him changes us. Couldn't we use a change? Let's give it a go. Who knows? We might just discover our place in the universe.
Excerpted from:
It's Not About Me by Max Lucado
Copyright (c) 2004, Max Lucado
ISBN 1-59145-042-X
Published by Integrity Publishers
Used by permission. Unauthorized duplication prohibited.

Not Too Broken to Fix
Then you will call upon me and come and pray to me, and I will listen to you. – Jeremiah 29:12
I've had times in my life where I felt I was too broken to fix. Have you had those times? Are you in one of those times now? Do you know someone in one of those times?
I say, "one of those times," because that's what it is.
None of us are ever too broken to fix. But we've all been in a spot where we felt so stuck that we thought we'd be there forever.  Haven't you felt that you were going to die in that spot because you were stuck there so long, and you couldn't see a way out, and you were getting comfortable being stuck?
Healing and recovery can be a long road. But if you take the first step, the road is one step shorter. And if you take the second step, it's two steps shorter. And you keep taking steps and the hope in¬creases and you don't worry any more that you'll be swallowed up with fear and you won't be paralyzed by the long road ahead.
You'll get to a point that you'll look back and see how far you've come. You'll recognize that God honored your decision to take a step toward healing. He honored your decision to connect with others.
"Never look down to test the ground before taking your next step; only he who keeps his eye fixed on the far horizon will find the right road." – Dag Hammarskjold (1905-1961)

From Jesus Calling® for Kids by Sarah Young
Troubles into Triumph
…always giving thanks to God the Father for everything, in the name of our Lord Jesus Christ. —Ephesians 5:20
Don't try to run away from the problems in your life. Those problems aren't just random mistakes. They are blessings in disguise. And I can use them to make your faith stronger. So instead of worrying about problems, see them as a chance to trust Me more.
When you start to feel stressed, that is a sign that you need My help. And it's okay to need My help—I created you to need Me. This world idolizes those who don't seem to need help from anyone. But in My kingdom I bless those who come to Me and ask for My help. As you practice trusting Me, you will see that I have the Power to turn problems into possibilities and troubles into triumphs.
So when a problem comes your way, be thankful. And let that problem lead you into a closer relationship with Me.
Read on Your Own
John 15:5; 2 Corinthians 1:8–9

What Jesus Did!

 'Eternal Life Now'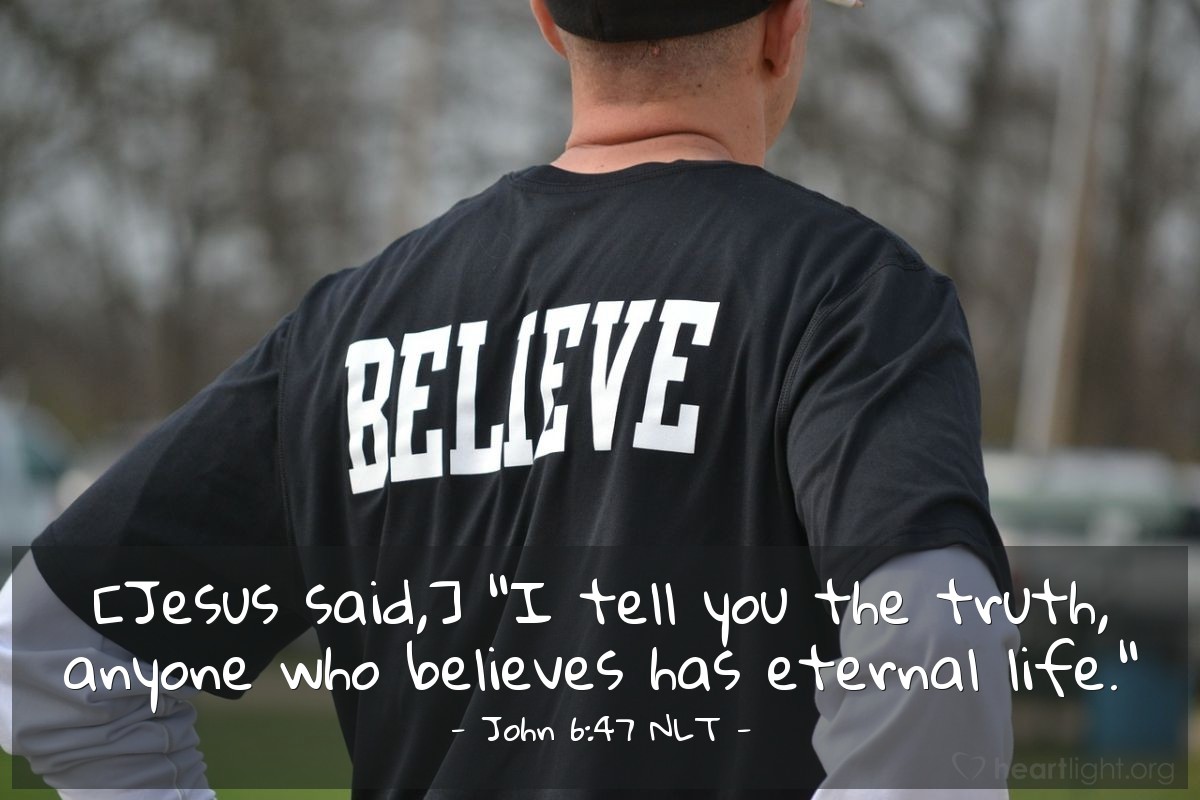 Key Thought
John repeatedly reminds us that deciding about Jesus is THE watershed event in our lives. When we believe and obey Jesus, we pass from death to life — this is not a delayed transaction, but something that happens now. We no longer stand under judgment, but share in eternal life. While that life is not all that it will be when Christ returns, it is a quality of life, a character of life, and a fullness of life that begins now! Don't settle for anything less than eternal life — today!
Today's Prayer
Holy God, please give me the courage and the confidence to live the life you have given me to its fullest, not holding anything back because I know that the life you give cannot be taken from me. In Jesus' name, and by his power and grace, I pray. Amen.
Related Scripture Readings
Daily Wisdom:

 Proverbs 14:27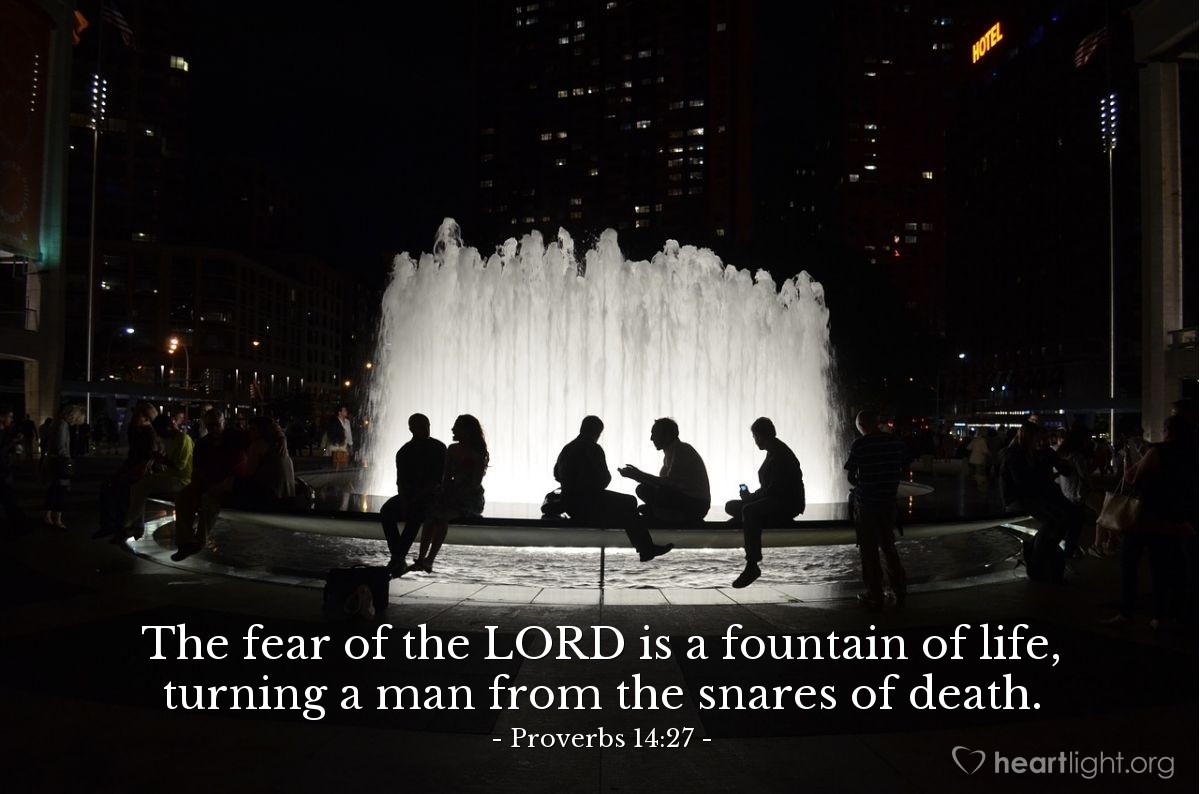 Spiritual Warfare:

 'Trust God — He Guides, Rescues, & Hides You'

God's Power for Our Battles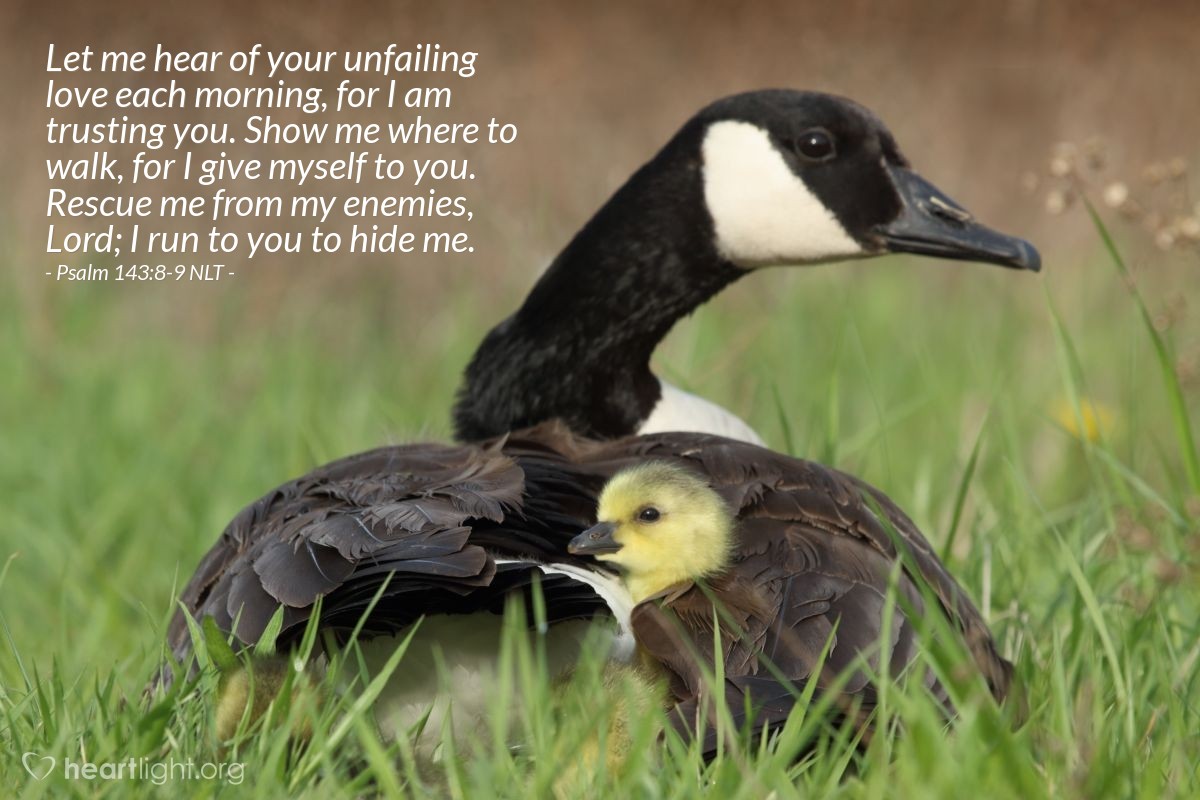 Lord, I commit myself to You and to Your Word each day. I trust You to lead me through every difficult situation I face. I ask for Your guidance and direction every step of the way, and I promise to do my best to give myself wholeheartedly to Your ways. Rescue me from my enemies, Lord, for they are surely out to get me. You are my safety net, Lord, my hiding place. You are able to distract my enemies and hide me from their eyes and their plans — even in plain sight. Rescue me, Lord, but rescue those around me, too — especially my loved ones. In Jesus' Name, Amen.

DEALING WITH DISAPPOINTMENT: FORGIVE
Living Free Every Day*
A ministry of LivingFree.org
Thursday. May 10, 2018
Today's Scripture
"But don't be upset, and don't be angry with yourselves for selling me to this place. It was God who sent me here ahead of you to preserve your lives." Genesis 45:5 NLT
"You intended to harm me, but God intended it all for good. He brought me to this position so I could save the lives of many people."Genesis 50:20 NLT
Thoughts for Today
From a human perspective, Joseph had every right to be angry with his brothers. Their hostile actions toward him had led to many years of hardship. Now he was in a position of authority and strength that entitled him to do whatever he wanted to his brothers. Get even time. He could have had them imprisoned or put to death.
But Joseph didn't see things that way. He served God and saw things His way. He realized that God had used all these difficult circumstances to save lives. He recognized that his brothers had meant to harm him. But he also recognized that their actions were part of God's plan for good.
Joseph loved his brothers. He forgave them and wanted only good for them. Joseph's attitude opened the door for God's healing and blessing for all concerned.
Consider this . . . 
Perhaps someone has treated you unfairly. Maybe they have rejected you or been unkind or even abusive. From a human perspective, you have every right to be angry with them and want revenge. But God is a God of forgiveness. Jesus died on the cross to pay the penalty for our sins. If God, who is perfect and holy, is willing, and even eager, to forgive us, how can we refuse to forgive others.
Only when we let go of unforgiveness and bitterness, do we open the door for God to heal. Only then will we be able to begin to see things from His perspective–that He can bring good even from actions that others meant to be harmful.
Prayer
Father, Thank You that Jesus died on the cross for my sins. Please forgive me for unforgiveness and bitterness. Help me let go of them and forgive those who have hurt me, even as You have forgiven me. Help me see things from Your perspective and trust You to work all things for good. In Jesus' name . . .…
Entitlements
TGIF Today God Is First Volume 1 by Os Hillman
May 10, 2018
"And being found in appearance as a man, He humbled Himself and became obedient to death-even death on a cross!" – Philippians 2:8
Society today has duped many of us into believing that the world owes us. It owes us a good living, a loving spouse, good health throughout our whole life, sexual pleasure when we want it, and paid vacations the rest of our lives. The world has told us if we work hard and do right, we are entitled to these things. This is the Esau perspective on life. For a mere meal, he sold his own birthright for a simple pleasure to which he felt entitled.
Society, and even the Church, is more pleasure-focused than ever before. George Barna, the Christian researcher, cites:
We are not a society that simply enjoys its time off. Our leisure appetites drive us. It is increasingly common to hear people turning down job offers because the hours or other responsibilities would interfere with their hobbies, fitness regimens and other free time activities. Even our spending habits show that playing has become a major priority. The average household spends more money on entertainment than it does clothing, health care, furniture or gasoline. Recreational activities have jumped more than 10 percent in the amount of time given to them. [George Barna, Frog In The Kettle (Ventura, California: Regal Books, 1990), 82.]
What are the motives for our work life? Is it only to gain increased pleasure and leisure time? Jesus said He came only to do the work of the Father. I am sure that Jesus had times of refreshment in His life that allowed Him to get recharged for the mission God called Him to. However, He understood the balance of maintaining mission and play. When we view life with an attitude of entitlements, we are susceptible to becoming disappointed, resentful, and even bitter when our expectations go unmet. Ask the Lord if you need to relinquish any rights that may be hindering your freedom to experience His love and grace.
NATIONAL CLEAN UP YOUR ROOM DAY
National Clean Up Your Room Day is observed annually on May 10.  This is a day parents appreciate much more than do their children.
National Clean Up Your Room Day isn't just for kids to clean their rooms.  It is about picking up, straightening up and cleaning up.  It is a day to do some serious spring cleaning and make your surroundings more pleasant.  Clean out a cluttered closet and donate or throw away those things you are not using.  Help your children make their beds, clean their rooms and eliminate the toys and clothing they have outgrown.
HOW TO OBSERVE
Spend some time getting your home looking and feeling clean and fresh for summer. Post photos on social media using #CleanUpYourRoomDay.
HISTORY
Within our research, we were unable to find the creator of National Clean Up Your Room Day.
Stay blessed!!!!