Christoph Friedrich Blumhardt
The sun will no more be your light by day, nor will the brightness of the moon shine on you, for the Lord will be your everlasting light, and your God will be your glory. Isaiah 60:19, NIV
Lord, our God and Father, we thank you that in all the misery and night on earth you have let your hope dawn as a light shining for all your people – all who honor your name, all who dwell in Jesus Christ through forgiveness of sins and through resurrection to a new life. Praise to your name. Praise to Jesus Christ. Praise to the Holy Spirit, who can comfort, teach, and guide our hearts. O Father in heaven, we can never thank you enough that we are allowed to be a people full of grace, full of hope, and full of confidence that your kingdom is coming at last to bring salvation and peace for the whole world. Amen.
Looking forward to Mother's Day?
Mother's Day
The loveliest masterpiece of the heart of God is the love of a mother. —Thérèse of Lisieux
A high school junior's tribute to her mother, Margrit Zimmerman, who even while dying of cancer pointed her children and many others to Jesus.
First of all, she was my mom. An awesome cook, she could do it all – dumplings, coffee cakes, bagels, pies, and chicken, and she used every opportunity to pass on the tricks of her trade to my sister and me. One of the last things she did was to peel apples for her famous apple crisp, and even though she had to do it sitting and couldn't eat more than a mouthful, she glowed over the finished dessert. She could be deadly serious if we were disobedient or disrespectful, but she also loved to have fun, and never turned down an opportunity to dress up or dance. One of my favorite childhood memories is her singing us to sleep with a "candle dance," twirling around our dark bedroom with a lighted candle to the rhythm of a lullaby.
Even after she was diagnosed with cancer two years ago, she did her best to keep her role as Mom, despite worsening pain, nausea, and fatigue. And she was never too tired to hike, at Ashokan, Mohonk, or the Wallkill Rail Trail. Until ten days before her death she was still getting up at 5:00 a.m. to get breakfast on the table and to see us off to school, no matter how weak or tired she felt. Almost to the very end, she was more concerned about those around her than herself, offering guests a drink or a chair even when she could barely open her eyes.
Besides being a wonderful mother, she was an expert nurse: warm, caring, conscientious, and quiet. Her favorite assignment was caring for mothers and babies, but she loved working in a daycare center almost as much.
Most important,she was a lifelong disciple of Jesus. When she felt that something was wrong, she didn't hesitate to speak her mind—especially to her siblings, her nephews, and her many cousins. If it was a matter of loyalty to Jesus or something else she felt strongly about, she wouldn't back down, but she was also quick to laugh, forgive, and comfort. She continually pointed us kids to Jesus, reminding us that if we made him our best friend, "everything would work out." Full of laughter and love, she made a lasting impression on everyone she met. No one who worked with her could be sullen or silent for long; her infectious laughter, her radiant smile, and positive attitude melted the stoniest hearts.
Her faith was childlike and simple, and it was all about actions, not words. Her Bible, given to her by her grandfather J. Heinrich Arnold in 1980, was well-worn and heavily underlined. Just nine days before she died, she told my dad that she was overwhelmed with a feeling of "perfect, perfect peace" – and that she hoped we felt the same.
My mom was diagnosed with cancer at age forty-three in the summer of 2013. By the time she was hospitalized, she had already endured months of pain and vomiting, but I never heard her complain or draw attention to herself. Even after a month at Albany Medical Center, she never lost her optimistic attitude. And when she finally stopped chemotherapy after trying four different regimens, she faced death bravely and quietly. More than once, she told my dad that she was not afraid, and encouraged us to "hold on."
How could she face death with such peace and joy? I am certain it was only because of her simple confidence in God, her clear conscience, and her knowledge that she had indeed fought the fight and run the race.
On Thursday, March 12, at 6:50 p.m., my mom was called home to Jesus. All five of us children and my dad were at her side, and as terrifying as her struggle was, we knew that God was with her and with us, because she radiated peace. She leaves a tremendous hole in our family, but her life and death are now moving hearts all over the world. Somehow, God is using her suffering to point us to the suffering of Jesus and to win souls for his kingdom.
I will never forget how beautiful she looked at the wake, in a blue dress with a garland of yellow roses and a bouquet in her hands. She was truly a "wise virgin" who was ready for the Wedding Feast, and who went to meet her Maker with joy (Matt. 25:1-13). Her life, suffering, and death will shake, challenge, and inspire me for the rest of my life.
Verse of the Day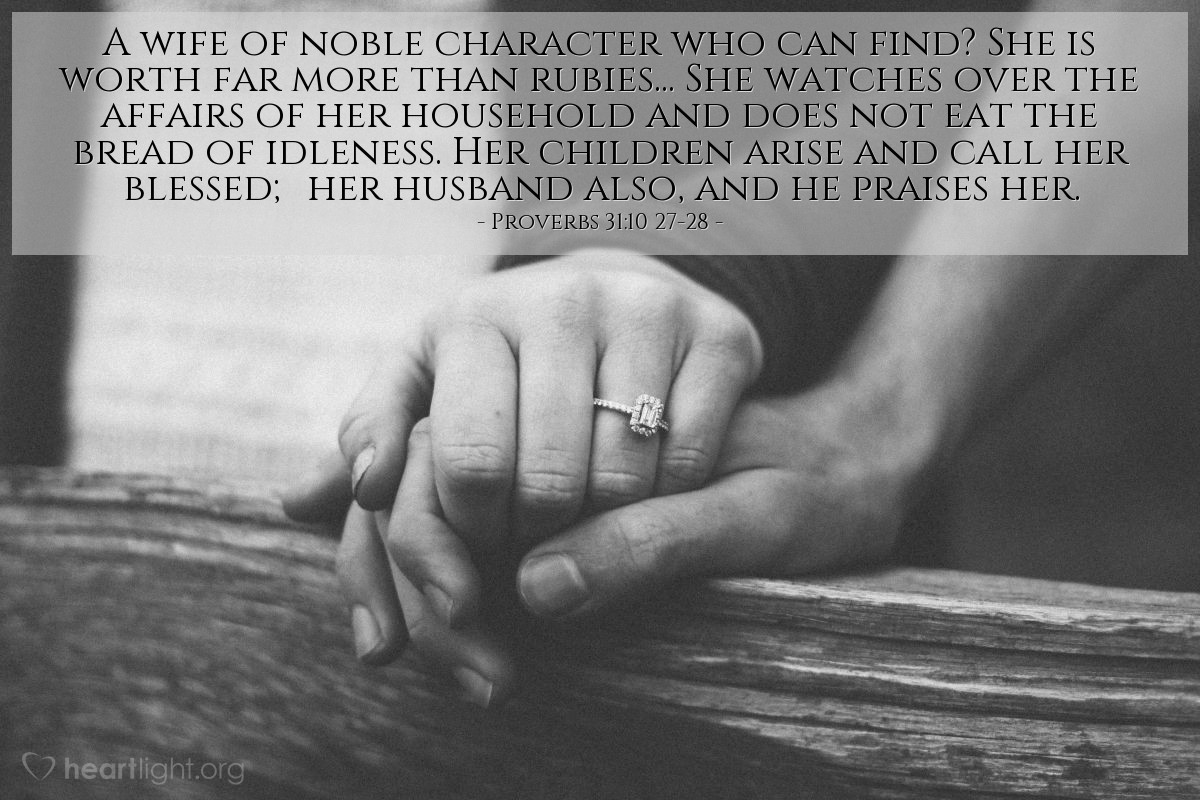 Thoughts on Today's Verse…
Give honor to whom honor is due! This biblical principle is most certainly true of women, and especially those who are godly mothers. Let's make sure we praise the key women in our lives today!
My Prayer…
Father, I want to thank you for the women of character and grace, tenderness and fire, love and tenacity, who have helped shape my life in a way which helped me find, follow, and faithfully serve you. Please bless them this day. I ask this in Jesus' name. Amen.
Love: The Greatest Apologetic
How will everyone know who Jesus' disciples are?
Loving One Another
It is difficult to reconcile the fact that someone hates their brother or sister and yet professes to be Christ's. That is not my opinion, but what Scripture clearly teaches. Hating a brother or sister is dangerous ground to tread as Jesus said, "whoever insults his brother will be liable to the council; and whoever says, 'You fool!' will be liable to the hell of fire" (Matt 5:22). Hating others is contrary to Scriptural teaching. The Apostle John states that "Anyone who claims to be in the light but hates a brother or sister is still in the darkness. Anyone who loves their brother and sister lives in the light, and there is nothing in them to make them stumble. But anyone who hates a brother or sister is in the darkness and walks around in the darkness. They do not know where they are going, because the darkness has blinded them" (1 John 2:9-11). Whoever hates their brother or sister may think they're in the light, but they're walking in pitch black. God calls anyone a liar who claims to be a believer and yet hates their brother or sister. John writes, "If someone says, 'I love God,' and hates his brother, he is a liar; for he who does not love his brother whom he has seen, how can he love God whom he has not seen? This commandment we have from Him: that he who loves God must love his brother also" (1 John 4:20-21). I want to quote that again…"he who loves God must love his brother also." Must! It's not should or ought, but must.
The Silent Lamb
One of the greatest differences between the way of the world and the teachings of Jesus is the response to enemies. To vividly mark this contrast, Jesus said, "Love your enemies, do good to those who hate you, bless those who curse you, pray for those who abuse you" (Luke 6:27-28). This means we don't give people what they deserve (payback, revenge, etc.) but we give them what they need, and that is love. Jesus showed God's mercy, amazingly while being nailed to the cross. Even then, Jesus prayed to the Father, "Father, forgive them, for they know not what they do" (Luke 23:34a), so when Jesus "was reviled, he did not revile in return; when he suffered, he did not threaten, but continued entrusting himself to him who judges justly" (1 Pet 2:23). The Lamb of God, Jesus Christ, "was oppressed, and he was afflicted, yet he opened not his mouth; like a lamb that is led to the slaughter, and like a sheep that before its shearers is silent, so he opened not his mouth" (Isaiah 53:7). Many I have come to know have put their trust in Christ because they were shown love…especially when they didn't deserve it, but that's what God did for us. Jesus understood that loving others makes a huge impact, but it's also a strong indicator of who a child of God is and who is not (1 John 2, 4). John was so bold as to write that whoever "says, "I love God," and hates his brother, he is a liar; for he who does not love his brother whom he has seen cannot love God whom he has not seen" (1 John 4:20).
Apologetics
In John 13:34-35, Jesus says, "A new command I give you: Love one another. As I have loved you, so you must love one another," so that explains why the Apostle John emphasized love so much, and the type of love Jesus is talking about is not the greeting card kind of love or pouring out "I love you's," but pouring out of self. It is showing love to others when they don't deserve it, as God did for us (Rom 5:6-10). Jesus knew that love would make His disciples known, and that it would be a powerful magnet that draws people to Christ, or at least some. Jesus said, "By this everyone will know that you are my disciples, if you love one another"(John 13:35). By what? It is by this love for one another that "everyone will know," and that surely includes non-believers. John MacArthur said, "We might be the only Bible some people read," and he's right! An important part of this passage is where Jesus said, it is"By this" that others will know we're His disciples. This indicates that people will know we're His disciples by our love for one another. They won't know we are His disciples by our theology, our seminary training, our Sunday school lessons, or doing good for others. It is love that convinces, so by loving one another, everyone will know that we're Jesus' disciples. If we're less than loving to one another, people will have a hard time knowing we're His, and there'll be doubts, and they'll be well founded!
Love is Tangible
Love is exceedingly more than just a feeling or a verbal expression. Love is a verb…it's what you do. The Apostle Paul gave one of the most beautiful definitions of love in the entire Bible. He wrote, "Love is patient and kind; love does not envy or boast; it is not arrogant or rude. It does not insist on its own way; it is not irritable or resentful; it does not rejoice at wrongdoing, but rejoices with the truth. Love bears all things, believes all things, hopes all things, endures all things" (1 Cor 13:4-7). Love is not some greeting card or "I love you," as much as it is patience, humility, bearing with others, believing or giving people the benefit of the doubt, hoping for the best in people, and is able to endure all things. Faith and hope are essential, but love is the greatest (1 Cor 13:13), so instead of focusing on the gifts of the Spirit, why not focus on the fruits of the Spirit, and the greatest of these is love….so what does that look like? You express it when you "Bless those who persecute you; bless and do not curse them. Rejoice with those who rejoice, weep with those who weep" (Rom 12:14-15). That's tangible, physical evidence of the love of God. You hurt when they hurt and rejoice when they rejoice.
Conclusion
Just as God did to us, we must do to others, and that is, we don't give people what they deserve…we give people what they need, and that is love. God has sent us the greatest love letters of all time – 66 books that show His love for us, and several of these books tells us to love others because love is how believers and non-believers will know that we belong to Christ. John writes, "Little children, let us not love in word or talk but indeed and in truth" (1 John 3:18). Love without deeds is hypocrisy; a deed without love is legalism. Love must be "indeed and in truth."
Article by Jack Wellman
Jack Wellman is Pastor of the Mulvane Brethren Church in Mulvane Kansas. Jack is a writer at Christian Quotes and also the Senior Writer at What Christians Want To Know whose mission is to equip, encourage, and energize Christians and to address questions about the believer's daily walk with God and the Bible. You can follow Jack on Google Plus or check out his book Teaching Children the Gospel available on Amazon.
TODAY

'S
Christian 

Quote
Rest in this–it is His business to lead, command, impel, send, call…It is your business to obey, follow, move, respond…
The truth of the matter is that we all won't be entering into heaven.
Heaven is not the default destination after someone dies. Despite this, an overwhelming majority of American's believe that they will head to the eternal afterlife with God. The optimism is great, but we have to remember what Jesus said in Matthew 7:13-14. "Enter by the narrow gate. For the gate is wide and the way is easy that leads to destruction, and those who enter by it are many. For the gate is narrow and the way is hard that leads to life, and those who find it are few."
Hell is our default destination according to the Bible. Jesus, however, gave us the way to fix our sin problem and change that setting. Once we put our hearts towards God and ask for forgiveness, we can begin the process of becoming a true Christian.
Being Good isn't Enough
There is a common assumption in society that as long as you lead a good life, you will be able to go to heaven. However the thought that "all good people enter heaven" isn't truth from the Bible. This belief assumes that though some "bad" people need punishment, that most are generally good and entitled to heaven. It also assumes that the entrance to heaven is on the basis of merit and our actions, and not because of God's grace. However there's no righteous deed we can do that will earn us a place in heaven (Titus 3:5). Lastly, the thought suggests that hell is only for a few marginal people who do purely evil acts.
Being a good person only isn't going to get someone into heaven. When we sin, we fall short of God's standards. Sin separates us from a relationship with God (Isaiah 59:2). God wanted to give us a way to free ourselves from our sin, so He blessed us with Jesus Christ. "For God so loved the world, that he gave his only Son, that whoever believes in him should not perish but have eternal life" (John 3:16). Jesus died on the cross as the only one worthy to pay the penalty for our sins demanded by the holiness of God. But in victory over death, God raised Jesus from the grave, defeating the consequences of sin.
Repent For Our Sins
Only when our sins are dealt with in Christ can we enter heaven. We cannot pay our own way. Jesus said, "No one comes to the Father except through me" (John 14:6). "There is salvation in no one else, for there is no other name under heaven given among men by which we must be saved" (Acts 4:12). Because of Jesus Christ's sacrificial death on the cross on our behalf, God freely offers us forgiveness. You have to accept Him into your heart, though, if you want to enter into the eternal life.
In order to be forgiven of our sins we have to recognize that we sin in the first place and then ask for forgiveness from God. Forgiveness is not automatic. The verse 1 John 1:9 states "If we confess our sins, he is faithful and just to forgive us our sins and to cleanse us from all unrighteousness." Christ offers to everyone the gifts of forgiveness, salvation, and eternal life. This gift cannot be worked for, earned, or achieved. It's dependent solely on Christ's generous sacrifice on our behalf.
God Wants Us to Go to Heaven
Despite heaven not being our default destination that does not mean God doesn't want us there. He actually is hoping for us to come to Him! God would not have sent Jesus down to free us from our sins otherwise. In John 6:38, Jesus says "For I have come down from heaven not to do my will but to do the will of him who sent me." There are six other times in just John 6 where Jesus stresses that His purpose is to do the Will of God. God wants us to apologize for our sins and accept Jesus as our savior so that one day we can come home to Him.
There is a way for us on earth to get into heaven. We have to work on being a good Christian that regularly confesses our sins, and recognize that Jesus is our only way to salvation. If we do this we can take comfort in knowing that God is cheering us on and can't wait to have us home again.
A Prayer for Blind Spots
By Dave Wyrtzen
"When pride comes, then comes disgrace, but with humility comes wisdom." –Proverbs 11:2
Greg is the wonder-working carpenter who has salvaged key pieces from our old house, brainstormed with my wife, Mary, and then transformed them into something new to be strategically placed in our new home. One of the major things Mary and Greg did was knock out a wall to open things up to the light. To do this they needed to place a large beam.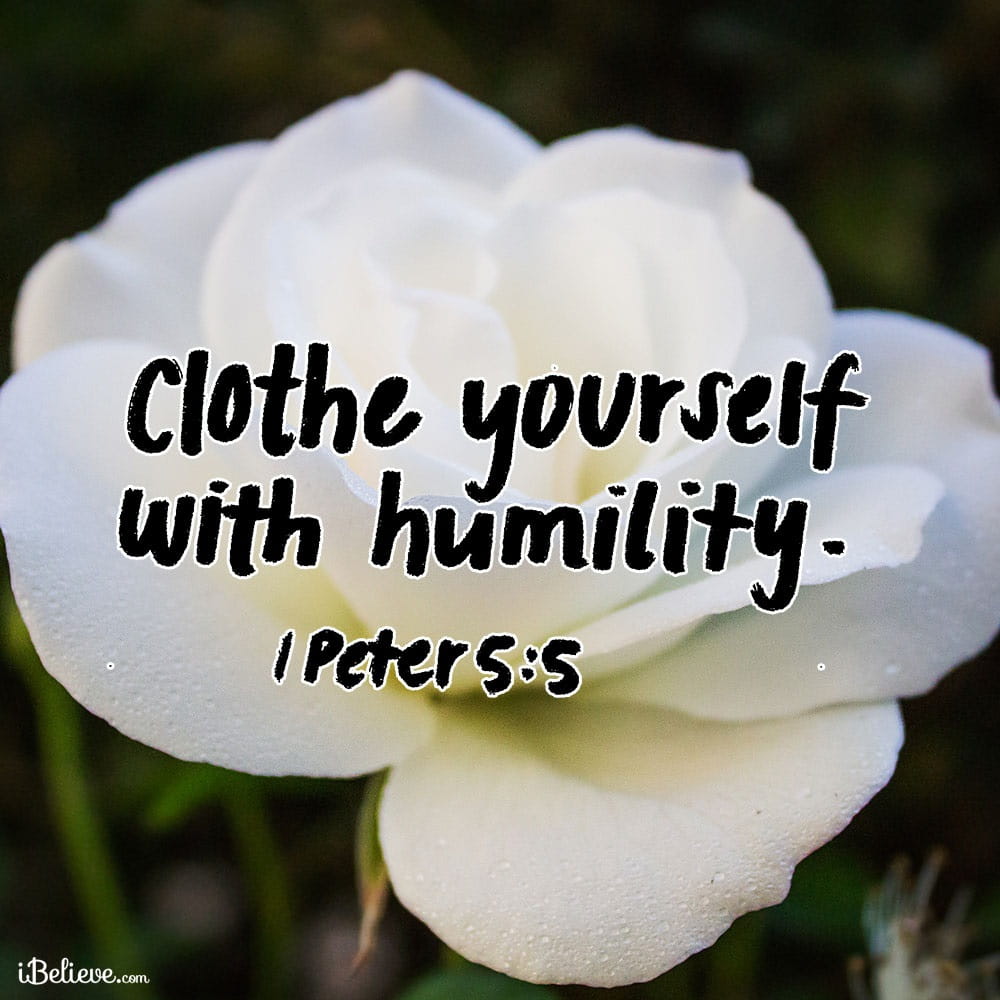 One morning, Greg strolled out to the front yard where I was trying to transplant some St. Augustine. "Dave, look at this splinter." He was using his knife to carefully withdraw a tiny speck, all that was left of about an inch- long splinter that had driven itself into his hand earlier in the week.
Tiny specks and massive beams—Jesus uses the contrast to warn us against hypocritically trying to correct others, but first He presents a word cartoon. Two blind men are struggling. Obviously, neither can see, but the leader insists he knows exactly where they are going.
"And He also shared a parable with them, 'Can the blind lead the blind? Will not both of them fall into a pit? Is a student above his master? Know this –whenever a student is fully trained, he will be like his teacher.
Now tell me, why do you look at the tiny speck in your brother's eye, but you don't even notice the wooden beam in your own? How will you be able to say to your brother, 'Brother, let me take that tiny speck out of your eye when you don't even see the beam protruding from your own?' Hypocrite! First remove the beam from your own eye. Then you will see clearly to remove the speck in your brother's.'" Luke 6:41-42
I need to remember that Jesus did tell me that once I did get the beam out of my own eye, I, then, could see clearly to remove the speck from my brother's. I also remember the red line I could see in Greg's palm and the pain even that little remaining sliver generated. Big sin or little sin—they both still hurt and threaten us with the pit, the results of wandering down the wrong path.
Lord, please give us the wisdom to recognize our own mistakes, and the courage to acknowledge them. Help us to grow a spirit of humility. Teach us to look first for the plank in our own eye before we turn to judge our neighbors. In Your Name, Amen.
2 Striking Truths about the Last Supper
Most of us are familiar with Jesus' words at the Last Supper—or at least with some of those words. When we celebrate communion together, we regularly hear "this is my body given for you; do this in remembrance of me" and "this cup is the new covenant in my blood, which is poured out for you." Recently, however, I read through Luke 22, which includes the Last Supper and the events surrounding it. In addition to these familiar words from the Last Supper, I was struck by some of the other words spoken by Jesus on this momentous occasion.
After Jesus and the disciples settled together around the Passover table, the first words Jesus spoke were these: "I have earnestly desired to eat this Passover with you before I suffer" (Luke 22:15). As he faces a time of unimaginably intense suffering in his life, Jesus has a deep and powerful longing to be with his disciples. Though Jesus clearly needed to be with his Father as he approached the suffering that was to come (vv. 41-44), he also seems to have felt a need to be with his disciples—his closest earthly, human friends. Jesus' profound yearning to be with his disciples at this darkest, most difficult place in his life is quite remarkable.
This desire is even more remarkable when considering the major imperfections of the disciples, which are on display for all to see in the events following the Last Supper in Luke 22. Their immediate reaction to Jesus' disclosure of his imminent suffering is not sympathy, but a discussion of which one of them is going to betray Jesus (v. 23). This is immediately followed by a dispute that arose among them as to which of them should be considered to be the greatest (vv. 24-30). He later asks them to pray that they might not enter into temptation while he is alone in prayer with the Father. Instead, they fall asleep (vv. 39-46). Judas betrays him (vv. 47-48), and Peter denies him (vv. 54-62). Their actions do not reveal the disciples as being intent on encouraging and strengthening a friend in a time of great need. Yet in spite of the disciples' human frailties and failures, of which Jesus was well aware, he still earnestly desired to be with them at this horrendously grueling point in his life.
There are two truths in particular from this narrative in Luke 22 that I find most striking and extraordinary. First, Jesus loved his disciples as they were and strongly desired to be with them. It is obvious that the disciples needed Jesus in profound ways. Yet, on some level, Jesus "needed" the disciples—or at least he wanted them with him in this place of deep struggle and pain. And he didn't want to be with them because of the depth of their maturity; rather, he longed to be with them with all their flaws and defects because he knew that they (except maybe Judas) loved him to the degree that they were capable of doing so. I find it immensely comforting and quite astounding to know that Jesus actually wants to be with me with all my imperfections and weaknesses—because I have a lot of them.
Second, though the disciples were with Jesus in this place of deep anguish, they didn't really hear what he had to say. They were more focused on themselves and what they perceived as their needs. They seemed to be more worried about which of them would betray Jesus rather than the fact that Jesus was going to be betrayed. During their last hours with the greatest human being who ever lived, they were arguing about which of them was the greatest. When Jesus asked them to pray while he was alone with the Father, they fell asleep. With momentous events of eternal consequence taking place around them and in the presence of the one at the center of these events, the disciples seem to be missing the significance of Jesus' words and the privilege of Jesus' presence.
It saddens me to realize that often I am welcomed into the presence of Jesus, who earnestly desires to be with me, and all I can do is think about and talk about me. I miss what he is saying and doing, which is of much greater, deeper, and lasting significance than what I am saying and doing. Jesus gave his body for me and poured out his blood for me; he willingly sacrificed all for me. Shouldn't that motivate me to recognize the eternal, incalculable value of reveling in the privilege of enjoying his presence and closely watching for what he is saying and doing while I am with him?
Remembering Our Place When Wronged
Then his brothers also came and fell down before him and said, "Behold, we are your servants." But Joseph said to them, "Do not be afraid, for am I in God's place?" (Genesis 50:18-19)
We find in Joseph a kind of humble grace that deserves our thought and appreciation. His brothers had wronged him severely. They had sold him into slavery and death. Years later, as second in power to Pharaoh in Egypt, Joseph is given an opportunity for retribution. It would be easy to assume that God was providing a chance for him to even the score. What would you do if you were in Joseph's place?
I am amazed by how he responded. The posture Joseph takes is contrary to our sinful nature and wholly divine. Clearly the Spirit of God abides in him. Mankind tends not to act in this way. None of us tend to act this way. When hurt and abused, we tend to be quicker to punish and revile. We need help. We need God abiding in us. We need to believe and practice what Joseph believed and practiced.
Remember the place of God – to assume the seat of judge upon the souls of others is to forget the Lord has already filled the seat. It is like a pardoned convict demanding the judge step aside so that he may evaluate and sentence a fellow criminal. The Father has given the position of Judge to His Son.[1] Not one of us can bear the burden, nor would we exercise the chair with wisdom that is fitting. We can take comfort, however, that God is Judge enough. He dispenses mercy and wrath in perfect seasons and proportions.
Remember the place of Self – a recipient of grace. Perhaps we are offended in the present situation, but we have often assumed the other spot. Whether we recall the incidents or not, the Lord remembers countless moments when His grace was extended to us, undeserved. Our grit and savvy did not secure our pardon, but God's grace in Jesus Christ. "Who can say, 'I have cleansed my heart, I am pure from my sin'?"[2]
Remember the ways of God – they are righteous and pure. They have always been righteous and pure. "For I proclaim the name of the LORD; ascribe greatness to our God! The Rock! His work is perfect, for all His ways are just; A God of faithfulness and without injustice, righteous and upright is He. "[3] We can trust our God. We can trust His works. Since the foundation of the world, He has proved Himself holy beyond measure. His law is perfect. His wrath upon sinners is perfect. His wrath was so perfect that the sacrifice of His Son was necessary to satisfy it. Indeed, His grace is perfect too.
Remember the ways of Self – they are prideful and distorted. Whatever true justice we perceive and dispense is a gift from God anyway. It is not of us or from us. If we had our way, then true grace and mercy wouldn't happen. Justice wouldn't either. We cannot trust ourselves. We cannot trust our works. It is not our instinct to redeem, or absorb transgression, or overlook a fault in love. The Spirit must train our hearts to believe and apply the gospel in these forms.
Next time we are offended, as those who counsel the word of God to life, let us pray for the Lord to bring these verses and truths to our minds. Let us pray to give the same mercy we have received. Then we will better understand what it means to be children of God. "But I say to you, love your enemies and pray for those who persecute you, so that you may be sons of your Father who is in heaven; for He causes His sun to rise on the evil and the good, and sends rain on the righteous and the unrighteous. "[4]
Saint John of Avila
Saint of the Day for May 9
(c. 1500 – May 10, 1569)
Saint John of Avila's Story
Born in the Castile region of Spain, John was sent at the age of 14 to the University of Salamanca to study law. He later moved to Alcala, where he studied philosophy and theology before his ordination as a diocesan priest.
After John's parents died and left him as their sole heir to a considerable fortune, he distributed his money to the poor. In 1527, he traveled to Seville, hoping to become a missionary in Mexico. The archbishop of that city persuaded him to stay and spread the faith in Andalusia. During nine years of work there, he developed a reputation as an engaging preacher, a perceptive spiritual director, and a wise confessor.
Because John was not afraid to denounce vice in high places, he was investigated by the Inquisition but was cleared in 1533. He later worked in Cordoba and then in Granada, where he organized the University of Baeza, the first of several colleges run by diocesan priests who dedicated themselves to teaching and giving spiritual direction to young people.
He was friends with Saints Francis Borgia, Ignatius of Loyola, John of God, John of the Cross, Peter of Alcantara, and Teresa of Avila. John of Avila worked closely with members of the Society of Jesus and helped their growth within Spain and its colonies. John's mystical writings have been translated into several languages.
He was beatified in 1894, canonized in 1970, and declared a doctor of the Church on October 7, 2012.
---
Reflection
Saint John of Avila knew that the lives of Christians can contradict the Good News of Jesus Christ—for example thinking racism is OK—implicitly encouraging Christians to live their faith-halfheartedly, and causing obstacles to non-Christians who might accept Baptism. In 16th-century Spain, those who advocated reforming the Church were often suspected of heresy. Saint John of Avila held his ground and was eventually recognized as a very reliable teacher of the Christian faith.

Wrestle for the Blessing
But he said, "I will not let You go unless You bless me!"  (
Genesis 32:26
)
What do you need from God? The real question is, "Are you willing to wrestle for it?" Stop giving up so easily and fight for what you believe in. Pray for yourself. Don't put all your trust in someone else praying for you. Get on your knees, bow your head, and pray to your Father! If you know that God can bless you, wrestle until the blessing comes. You might have to stay up all night. Pray anyway. You might even have to cry. Cry anyway. You have to fight until God delivers you, touches you, and sets you free.

Letting Go and Moving On
When I was a child, I talked like a child, I thought like a child, I reasoned like a child. When I became a man, I put childish ways behind me. – 1 Corinthians 13:11
When was the last time you tried to break a habit, an old idea, a negative behavior pattern, or an unhealthy emotional recording from the past? It's not easy! Even though you know you need to, even though you know it would be a good thing to do and will result in a healthier or happier state, it's just a pain. And you'd rather live in the comfort of your misery, or so you think.
We often react like two year-olds whose parents are taking the bottle away. Tantrums, meltdowns, and tears always seem to be a part of the process.
What are you holding on to? What from the past are you hanging on to that you need to let go of? You know the things that tear you down and keep you from emotional health, but you just hang on to.
How many times has God given you the opportunity to give those things up because they keep you isolated and stuck, even poisoning your spirits? But it means letting go. That "S" word again . . . surrender.
It takes a willing spirit. But you can walk in the victory that the Lord has already given you, if you choose it. Choose it today!
"Faith, as Paul saw it, was a living, flaming thing leading to surrender and obedience to the commandments of Christ." -A.W. Tozer (1897-1963)

From A Jane Austen Devotional
Following the Golden Rule
"Oh [Jane]! you are a great deal too apt, you know, to like people in general. You never see a fault in any body. All the world are good and agreeable in your eyes. I never heard you speak ill of a human being in my life.''
            "I would wish not to be hasty in censuring any one; but I always speak what I think.''
            "I know you do; and it is that which makes the wonder. With your good sense, to be honestly blind to the follies and nonsense of others! Affectation of candour is common enough;—one meets it every where. But to be candid without ostentation or design—to take the good of every body's character and make it still better, and say nothing of the bad—belongs to you alone. And so, you like this man's sisters too, do you? Their manners are not equal to his.''
            "Certainly not; at first. But they are very pleasing women when you converse with them. Miss Bingley is to live with her brother and keep his house; and I am much mistaken if we shall not find a very charming neighbor in her.''
            Elizabeth listened in silence, but was not convinced. Their behavior at the assembly had not been calculated to please in general; and with more quickness of observation and less pliancy of temper than her sister, and with a judgment, too, unassailed by any attention to herself, she was very little disposed to approve them.
—From Pride and Prejudice
Elizabeth may be the most intellectual of the Bennet sisters, but Jane is the sweetest: "You never see a fault in any body. All the world are good and agreeable in your eyes. I never heard you speak ill of a human being in my life.'' In a nutshell, Jane looks for the best in others—and as a result, she invariably finds it.
Throughout Pride and Prejudice, Jane's character reflects the golden rule: "Do to others as you would have them do to you" (Luke 6:31 NIV). This verse, spoken by Jesus, is the personal standard He set for dealing with others. Jane lives out this truth by employing a simple philosophy: if we want to be loved, we have to give love. Likewise, if we want meaningful relationships, we need to treat others with respect and esteem. Forgiveness, kindness, generosity—in all these areas, we must lead without expectation of reciprocity.
The benefit of following Jesus' golden rule isn't that we will automatically be rewarded for our efforts, but that we come to see and understand and appreciate the way Christ first loved us. It is almost too much to comprehend when we are living for ourselves; but if we choose to obey Christ's command in doing unto others, we begin to walk in step with Him and His thoughts become our own.
Do you desire a life free from the expectation that you'll always be treated well or get the outcome you think you deserve? Are your thoughts sometimes consumed by life's unfairness? Focus on treating others as Jesus would. Your reward will be a newfound, heartfelt appreciation for how much He loves you.
"So whatever you wish that men would do to you, do so to them; for this is the law and the prophets." – Matthew 7:12 RSV

What Jesus Did!

 'Those Who Know God Know Me!'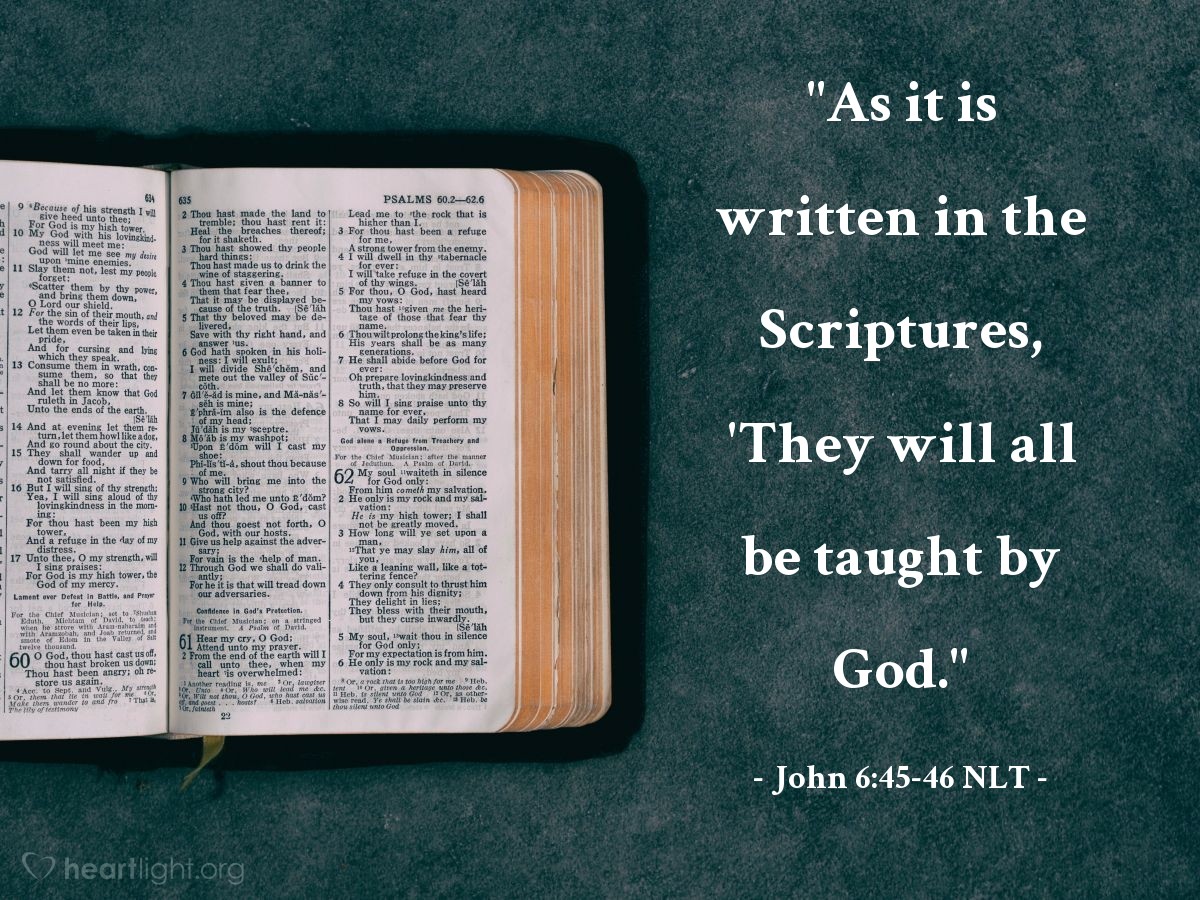 [Jesus said,] "As it is written in the Scriptures, 'They will all be taught by God.' Everyone who listens to the Father and learns from him comes to me. (Not that anyone has ever seen the Father; only I, who was sent from God, have seen him.)"
Key Thought
Sometimes we miss the exclusive claims of Jesus because we've heard them so often. This claim is bold: "If you have learned the truth from God, then you are going to come to me!" Jesus not only claims to be the only way to the Father and the only one who has seen the Father, but he also claims that anyone who really knows God recognizes that he has come from God. Jesus comes to lay claim on your heart as a God-seeker. Have you yielded to him?
Today's Prayer
Father God, you are awesome in might, righteousness, and faithfulness. No one is comparable to you. Please bless me, dear Father, as I seek for you in the Scriptures. Please reveal yourself to me and reconfirm the identity and uniqueness of your Son as I study your word and I am guided by your Spirit. In Jesus' name, I pray. Amen.
Related Scripture Readings
Daily Wisdom:

 Proverbs 16:33
Spiritual Warfare:

 'God Leads & Protects His Faithful Servants'

God's Power for Our Battles

Leave the city of Babylon! Don't touch anything filthy. Wash yourselves. Be ready to carry back everything sacred that belongs to the Lord. You won't need to run. No one is chasing you. The Lord God of Israel will lead and protect you from enemy attacks.
Today's Prayer
Lord, lead me away from the things in this world that would make me dirty in Your sight. I want to follow Your path and honor what You call sacred. The world threatens me and puts fear in my heart, making me want to run for my life, but You are my protection. You lead me forward, and You have my back. Thank You for Your divine protection. When I am overcome with fear, remind me that You are always there. In Jesus Name, Amen.
Illustration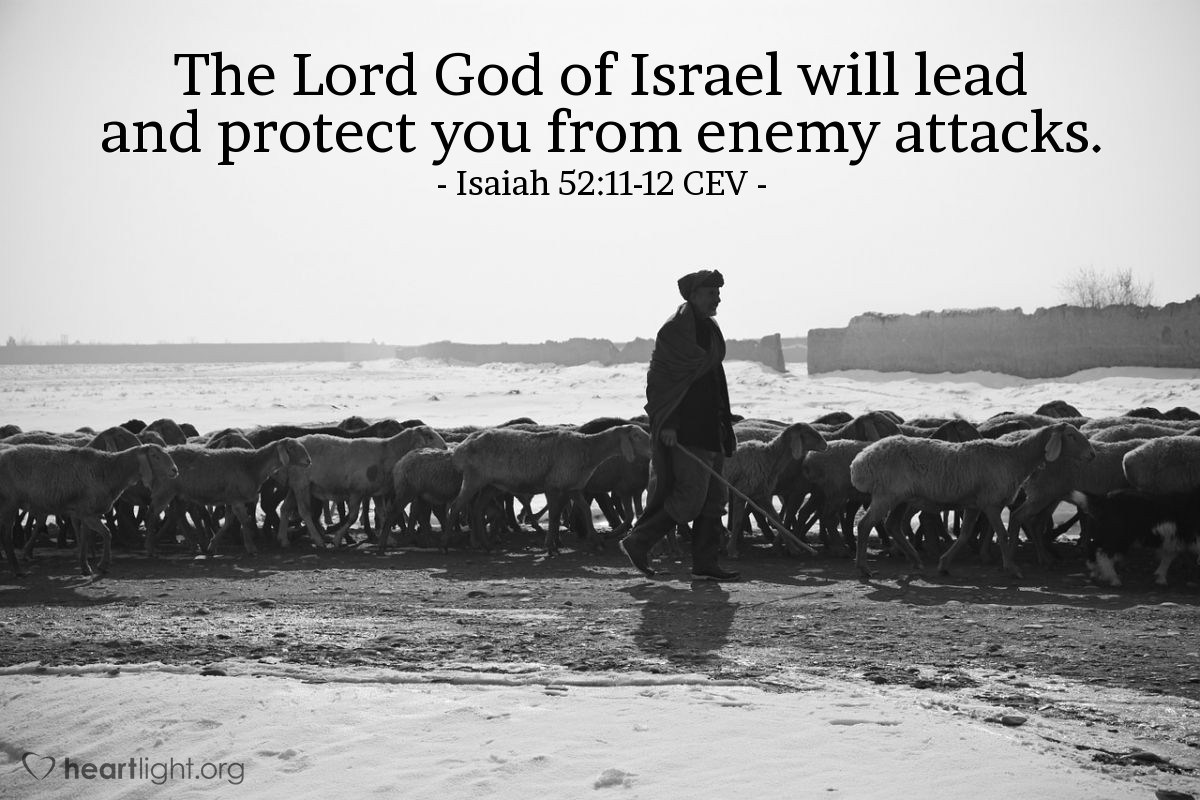 Come, my beloved, let us go out into the fields . . . Let us . . . See whether the vines have budded.
Song of Songs 7:11-12
The bride was about to engage in hard work and desired her beloved's company in it. She does not say, "I will go," but "let us go." In like fashion, it is a blessing to work when Jesus is at our side! It is the business of God's people to be trimmers of God's vines. Like our first parents, we are put into the garden of the Lord for usefulness; let us then go out into the fields.
When God's people are thinking properly, they desire to enjoy communion with Christ. Some may imagine that they cannot serve Christ actively and still have fellowship with Him; they are mistaken. There is no doubt that we may easily neglect our inward life in outward exercises and be forced to say, "They made me keeper of the vineyards, but my own vineyard have I not kept!"1 There is no reason why this should be the case except for our own foolishness and neglect. It is certain that a professing Christian may do nothing and end up just as lifeless in spiritual things as those who are most busy.
Mary was not praised for sitting still, but for her sitting at Jesus' feet.Even so, Christians are not to be praised for neglecting duties under the pretense of having secret fellowship with Jesus: It is not sitting, but sitting at Jesus' feet that is commendable. Do not think that activity is in itself an evil: It is a great blessing and a means of grace to us. Paul called it a grace given to him to be allowed to preach; and every form of Christian service may become a personal blessing to those engaged in it. Those who have most fellowship with Christ are not recluses or hermits, who have time on their hands, but tireless workers who are toiling for Jesus and who, in their endeavor, have Him side by side with them, so that they are workers together with God.
Let us remember then, in anything we have to do for Jesus, we can do it and should do it in close communion with Him.
The Flight of Geese
TGIF Today God Is First Volume 1 by Os Hillman
May 09, 2018
"Also in Judah the hand of God was on the people to give them unity of mind to carry out what the king and his officials had ordered, following the word of the Lord." – 2 Chronicles 30:12
A major corporation conducted a study on the flight of geese. In their study they found that geese fly in a "V" formation with one goose in the lead. After a period of time, this goose relinquishes the lead to another goose. During flight they noticed head movements of the leader that seem to give signals to the other geese flying, perhaps to let the others know how he was doing. They estimate that the formation flight pattern reduces wind drag due to the lift the other birds receive and believe it increases their performance by up to 70 percent. Whenever one goose drops out, another goes with it. These two geese do not catch up to the original pack, but join another group later.
Independence is one of the strongholds of the workplace. The entire system feeds the desire within us to gain recognition from our individual achievements. We wrongly believe financial independence frees us from needing to depend on anyone else. The fact is dependence on others is a good thing. It can bring us into a unity of spirit that accomplishes much more with less effort while meeting needs for each of us. Christ talked a lot about unity among brothers and sisters. He said that others would know we are Christians by our love for one another and by our unity. We need to depend on others so that we don't go it alone. By walking together we increase our strength. By going it alone we must carry a load we were never intended to carry. God did not create us to go it alone. By joining together we accomplish more for Jesus Christ. Ask the Lord today if there is an independent spirit within you that prevents you from joining others in the mission He has called you to.
NATIONAL LOST SOCK MEMORIAL DAY
May 9 recognizes a fun and unique holiday, National Lost Sock Memorial Day.  It is time to say "good-bye" to all of the single socks, the ones where their mates have been lost to the unknown.  Where do all the missing socks go?  Is there a washing machine heaven?  This is a question that people have been trying to solve for many centuries.  An answer may never be found to this problem, and life will go on.  How sad to have lost such a close-knit friend!
Of course,  since before the dawn of Tupperware inventors have attempted the prevention of such separation anxiety. Alas, if they had succeeded mismatched socks wouldn't be popular today. And, we there wouldn't be National Lost Sock Memorial Day.
HOW TO OBSERVE
Now is the time to let go and move on.  Clean out all of your left behind socks. Make sock puppets or recycle those old socks by reusing them as dust rags!  Say your final goodbyes to your lost socks using #LostSockMemorialDay.
HISTORY
Within our research, we were unable to identify the found of National Lost Sock Memorial Day.
Buttons Day
Hurray! Today we celebrate buttons! The first buttons were used for ornamentation and seals, and have been found in the Indus River Valley (c. 2800-2600 BCE), China (c. 2000-1500 BCE), and ancient Rome. The oldest known button—dating to 5000 BCE—was made from a curved shell and found in the Indus River Valley. Buttons that function as fasteners, along with buttonholes, didn't come about until the 13th century, where they first appeared in Germany and spread throughout Europe. They have been made from almost every material, their composition often reflecting the popular materials of the era in which they were made. Today they are most often constructed out of hard plastic, metals, seashells, or wood. They have been created by artisans, artists, and craftspeople, out of raw materials or found objects such as fossils, or from a combination of both. They have been made in small quantities, or in large quantities at factories.
Button collecting, which is most popular in the United States, varies from people having buttons in a container for future use, to casual collecting, to competitive collecting. The National Button Society was founded in 1938. Hobbies magazine had organized a hobby show in Chicago in 1938, and button collectors participated in the show. Later that year they formed the Society and held their own button show the following year. Many state and local button clubs were formed the following decade, and they also put on button shows. Today the National Button Society has over 3,000 members in four continents. The Society focuses on educational research and exhibitions, the publication of materials about buttons, and the preservation of the importance of buttons.
Hurray for Buttons Day, also known as Hooray for Buttons Day, is observed next on Thursday, May 9th, 2019. It has always been observed annually on May 9th.
How to Observe
The easiest way to celebrate the day is to wear something with buttons. If you have a container where you keep spare buttons, you could compare the different types of buttons you have in it, or you could compare the variations of the buttons you have on different pieces of clothing. If you are an avid button collector, you could take out your collection to look at and could show it to others. If you have interest in button collecting, you could become a National Button Society member and see if your state has its own button society. You could plan ahead to attend an upcoming button show and learn more about the hobby by purchasing something informative from the National Button Society store.
Going to a museum that showcases buttons is a great way to spend the day, and some museums even display some of their collections online. The Victoria & Albert Museum has buttons for view online. Many Smithsonian museums have buttons, such as the Smithsonian National Museum of the American Indian. Hammond Turner & Sons in England has an online museum. There are a handful of button museums in the United States, including the Waterbury Button Museum in Waterbury, Connecticut, and the Keep Homestead Museum in Monson, Massachusetts. If you can't make it to a museum, you could also explore some links on the National Button Society's Button Gallery page.
Another idea for the day is to make crafts with buttons. More resources that may be of interest are at the Button Country website.