Christoph Friedrich Blumhardt
I heard a loud voice proclaiming from the throne: "Now at last God has his dwelling among men! He will dwell among them and they shall be his people, and God himself will be with them. He will wipe every tear from their eyes; there shall be an end to death, and to mourning and crying and pain; for the old order has passed away!" Revelation 21:3–4, NEB
Lord our God, we look to you and to Jesus Christ our Savior. Continually renew your grace and your power in our lives, we pray. Renew your grace and power, that we may have light even in dark and distressing times and through the Savior may overcome as we wait faithfully for your kingdom. Help us to be ready to take anything upon ourselves, to serve you with body and soul, with all we have and are. May we belong to the hosts of those who go to meet you, who wait for your coming kingdom, which will bring comfort to the world and to all people who now suffer and grieve. O Lord our God, have mercy on our times and on our world. Grant that with thanks and praise we may soon see the signs of the fulfillment of your promises. Amen.
Verse of the Day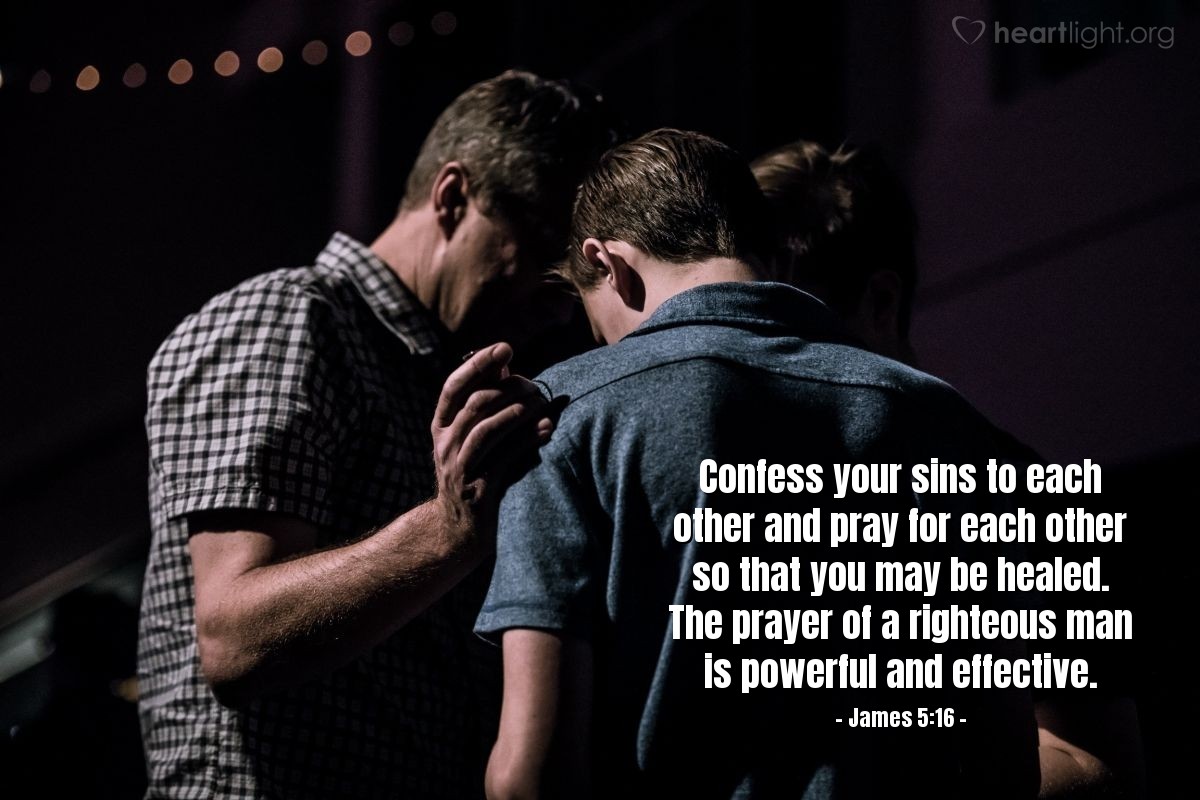 Thoughts on Today's Verse…
To confess our sins means we do two things with our sin: 1) we recognize sin for what it is in God's eyes and 2) we get rid of our secrets and are honest with another Christian about our weakness, vulnerabilities, failures, and sins. James' language is powerful. He mentions that this confession doesn't just bring forgiveness, it also brings healing.
My Prayer…
Holy Father, I have sinned. I now confess my own personal sin of ____________. I ask for your forgiveness and for your Spirit to strengthen me in overcoming temptation. I want to live for you and not let my sin, any sin, entangle me and draw me away from you. Through the mighty name of Jesus I pray. Amen.
A Prayer to Bless the Lord
By Debbie McDaniel
"Bless the Lord, O my soul, and all that is within me, bless his holy name! Bless the Lord, O my soul, and forget not all his benefits, who forgives all your iniquity, who heals all your diseases, who redeems your life from the pit, who crowns you with steadfast love and mercy, who satisfies you with good so that your youth is renewed like the eagle's." Psalm 103:1-5
To "bless" the Lord means to give Him praise, to actually "kneel before Him;" to recognize His goodness and Sovereignty over our lives, by giving Him respect and honor.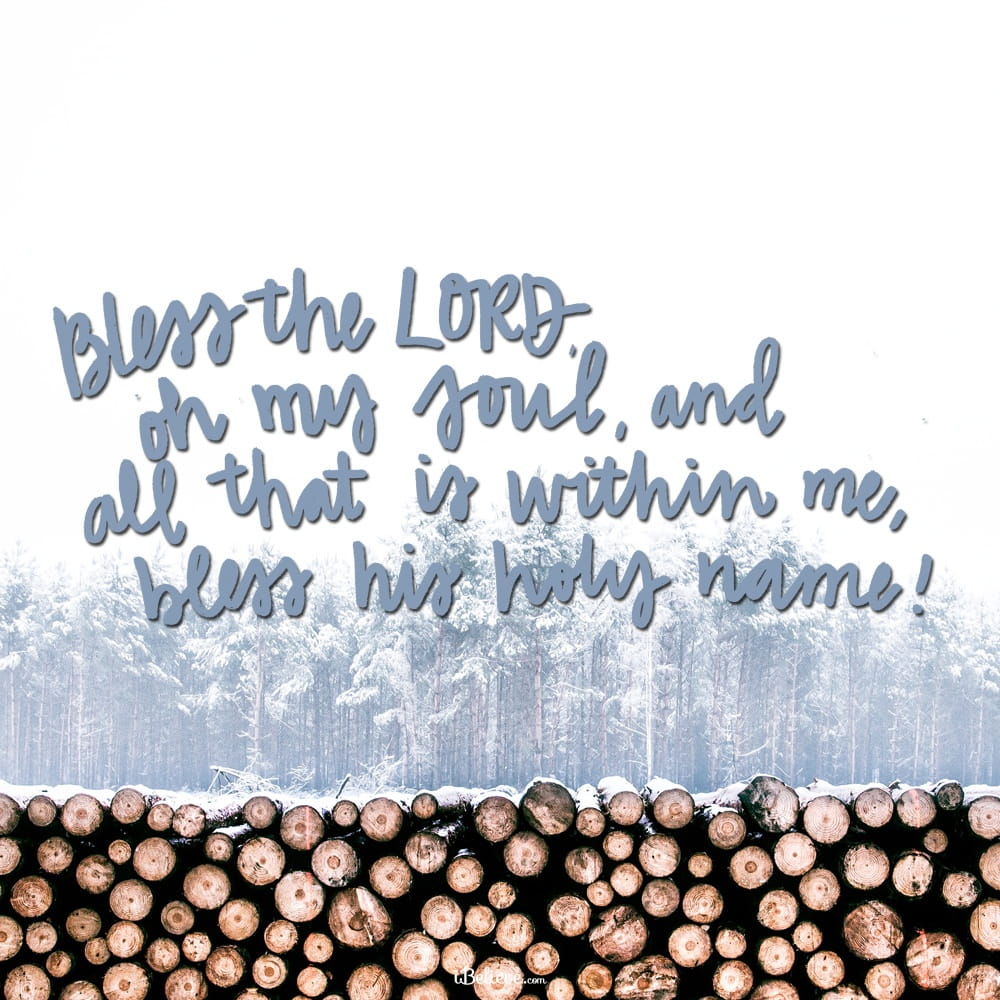 We have so many reasons to give God praise. If you're having a tough day and can't think of many, here's just a few from these verses:
He forgives our sin – For all of those times when we've missed the mark, turned our back on Him, or gone our own way, He forgives. He graciously extends mercy for every sin, when we simply come to Him and confess our need.
He heals our diseases – Physical, emotional, spiritual, He covers every area of life where we have need. Sometimes our "disease" is a need to please. Sometimes our disease is a heart far away from God. Other times our disease is a physical illness or deep loss we're facing. And He is able to heal all.
He redeems our lives from the pit – He sets us apart for His purposes, He will never waste the painful times we experience. He lifts us out of dark places, He holds the power to make all things new. Nothing is impossible with Him. No one, no situation, is ever too far gone from His grasp of love and hope.
He crowns us with love and mercy – He is faithful to reward us with his goodness. He gives constantly, continually, steadfastly, love and great mercy. We don't deserve it, but He loves lavishly, He pours out His grace.
He satisfies our desires with good – He is good to us in all our days. Life may not always be fair, life may not always be good, but God is always just and good. He brings favor and blessing.
He renews our strength like the eagle – His Spirit flows through us, constantly renewing us with strength and power. We can be assured that He is with us, and He will help us to soar over every obstacle and trial.
He has done great things…
So thankful.
Dear God,
We bless your holy name today! Thank you for your goodness, thank you for your crown of steadfast love and mercy. We recognize all that you have done for us, all that you continue to do now, and all that you will do in the future. Thank you that your plans for us are good and that you renew our strength like the eagle's. Thank you that you have redeemed our lives from the pit, you have forgiven our sin and healed all our disease. You are Restorer of the broken, Healer, and Redeemer. You are Father, you are Friend, slow to anger, and abounding in lovingkindness. You are Faithful, you are True, you are Powerful, you are forever with us.
You are Holy, you are Worthy, and we worship you this day, and always…
In Jesus' Name,
Amen.
Saints Marian and James
Saint of the Day for 
May 6
(d. 
May 6, 259

)

https://www.franciscanmedia.org/wp-content/uploads/2016/08/SODMay06.mp3
Saints Marian and James's Story
Saints Marian, an ordained lector, and James, a deacon, were martyred during the persecution of Valerian around the year 259. Few other facts are known about them.
It seems that while they were in prison, each had a vision regarding his martyrdom. They drew courage from these apparitions and were able to courageously face death. They were joined in their deaths by other Christians.
---
Reflection
The old saying that the more things change the more they stay the same may apply to today's celebration. Two faithful people facing the hardships of life during persecution in the third century may have a lot in common with those facing persecution for their faith today.

The Christian And The Work Place
You yourself must be an example to them
 (
Titus 2:7
).
Dear friends:
We thank God for the religious freedom we have in this nation.  However, we must be wise in how we practice it.
Dave was wise in his approach.  He is a dedicated young man who received Christ into his life as Savior and Lord several years ago.  He has a highly successful career at one of the major film studios in Hollywood.
The atmosphere at Dave's place of business is extremely worldly, and although several thousand employees work there, very few seem to be Christians. Nevertheless, he recently decided to start an office Bible study.  He designed a small poster, photocopied it and distributed it throughout the studio.
The following Wednesday, Dave anxiously waited at the door of his conference room.  Just past noon a young woman arrived.  Then a middle-aged man.  After 10 more minutes, another woman rushed in.  The four introduced themselves, and talked excitedly about this new opportunity for prayer and fellowship.  They briefly shared needs, discussed a portion of Scripture and agreed to pray for one another until they met again the following week.
Betsy was not so wise, but she learned a lesson.  A Christian nurse, she shares her responsibilities with Karen, a non-Christian.  One day Karen confronted her with some very disturbing words.
"Betsy, I've noticed that you bring your Bible to work every day," Karen began.  "I know you are a Christian, but you really aren't doing much of a job as a nurse.  You give more time to studying your Bible than you do to quality nursing," she said. "If I were you, I'd be the best nurse I could possibly be.  Maybe then people would be more interested in your religion."
That was a blow, as truth often is, but Karen was right.  Betsy had learned to do just enough to get by, and no more.  Worse yet, she was so busy with church activities that she hardly had enough energy left to do a good job at work.
Soon after the conversation with Karen, Betsy went to her nursing supervisor.  "I want to apologize to you for the poor job I've been doing," she said. "Will you point out to me any other attitudes or habits that are hindering the quality of my performance?"
Then, Betsy also apologized to her coworkers.  From that day on she concentrated on being the best nurse she could be during working hours.  And you can be sure that as a result her coworkers were more open to her witness for Christ.
Yours for fulfilling the Great Commission each year until our Lord returns,
Bill Bright
---
The late Dr. Bill Bright was Founder and President/Chairman Emeritus of Campus Crusade for Christ, an organization which began as a campus ministry in 1951 and now has more than 27,000 full-time staff and up to 500,000 trained volunteer staff in 196 countries in areas representing 99.6 percent of the world's population. In the past 50 years, Campus Crusade for Christ has seen approximately 6 billion exposures to the gospel worldwide. The film, "JESUS," which Bright conceived and funded through Campus Crusade for Christ, is the most widely translated and viewed film of any type ever produced. Since its use began in 1980, the film has been translated into 839 languages and viewed or listened to by over 5.7 billion people in 228 countries. Dr. Bright was also the author of more than fifty books. Visit campuscrusade.com for more details
Copyright (c) 2003, Bill Bright. All rights reserved. However, readers may copy and distribute this message as desired, without restrictions in number, as long as the content is not altered. Forwarding this e-mail to friends is encouraged. For many evangelistic and spiritual growth materials, visit the Campus Crusade for Christ Web site at ccci.org. See campuscrusade.com for Bill Bright's own materials.
When Tragedy Strikes
God is our refuge and strength, an ever-present help in trouble. The Lord Almighty is with us; the God of Jacob is our fortress.  – Psalm 46:1, 11
Knowing how to respond to tragedy is never easy. Maybe it's the terrible sense of loss you feel. Perhaps it's the desire to know why the tragic event happened that leaves you feeling alienated and alone. Was it something you did? Was it someone else's fault? Why did God allow it to happen? These questions usually go unanswered because "Why?" is almost always the wrong question.
Remember Job? The Bible tells us Job was a godly man. Yet, he lost everything . . . his wealth, family, and his health. Why did all of this happen, especially to such a good man? When you read the story of Job, you'll discover his suffering was the result of spiritual warfare. Yet, Job didn't know this. His friends accused him of secret sin.  And as time passed Job grew increasingly upset and confused. He even began to question God's sense of justice.
In the end, however, Job's arguments were silenced before God.  While God never explained fully to Job why the disasters had befallen him, he did bring Job to a place of humble surrender. This increased Job's understanding of God and gave him the proper perspective to continue life. Neither Job nor any other man who has suffered a serious loss can ever fully understand why a catastrophe has happened. But if you're willing to seek God and surrender your life and your situation into his powerful hands, he'll do a work in you and through you that will restore your spirit and bring Him honor and glory.
"Tears are often the telescope by which men see far into heaven." – Henry Ward Beecher (1830-1887)
From Jesus Calling® by Sarah Young
Do not long for the absence of problems in your life. That is an unrealistic goal, since in this world you will have trouble. You have an eternity of problem- free living reserved for you in heaven. Rejoice in that inheritance, which no one can take away from you, but do not seek your heaven on earth.
Begin each day anticipating problems, asking Me to equip you for whatever difficulties you will encounter. The best equipping is My living Presence, My hand that never lets go of yours. Discusseverything with Me. Take a lighthearted view of trouble, seeing it as a challenge that you and I together can handle. Remember that I am on your side, and I have overcome the world.
John 16:33; Isaiah 41:13; Philippians 4:13

What Jesus Did!

 'The Father's Will: Eternal Life!'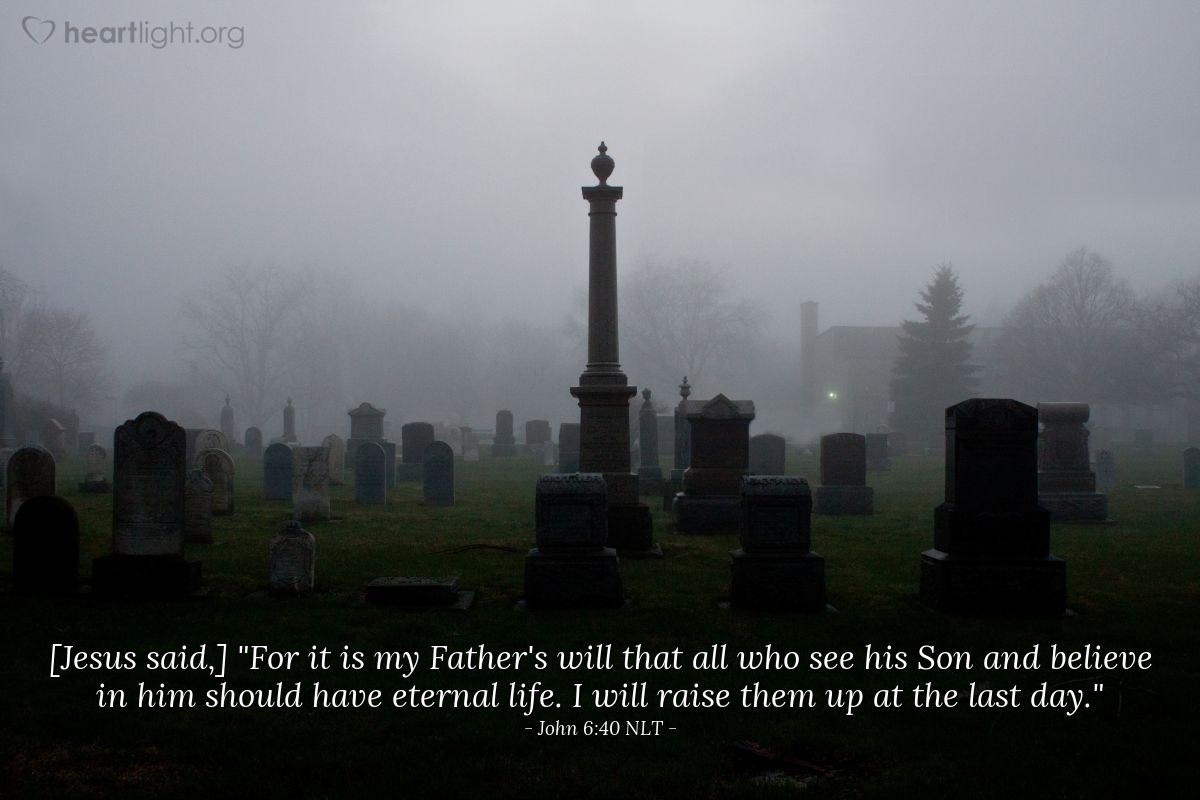 Key Thought
So often, people picture God as a surly old man looking for people who mess up so he can punish them. God's will, however, is that all come to salvation. He doesn't want any person to perish. He wants all to know Jesus and find salvation in him. Jesus is the way to God. Jesus is the door to a new and lasting life — not a temporary one, whether real or imagined. Jesus is the focus, the hope, and the life behind God's plan. Learning to believe in Jesus is everything! Learning to see Jesus as God's Son is the doorway to forever! We receive a life that outlasts history and the assurance that nothing can ever conquer us once we belong to Jesus (
Romans 8:31-39
)! He will raise us up in victory.
Today's Prayer
Thank you, God Almighty, the God of the ages. You are the Alpha and the Omega, and you have given me forever in Jesus. Please fan the fires of faith and keep them vibrant. Help me focus my eyes on Jesus and trust him to lead me home. Give me the wisdom to see through the doubts that Satan places before me. Help me experience the eternal life that begins now and will never end. In Jesus' name, I pray and offer my sincerest praise. Amen.
Related Scripture Readings
Daily Wisdom:

 Proverbs 11:1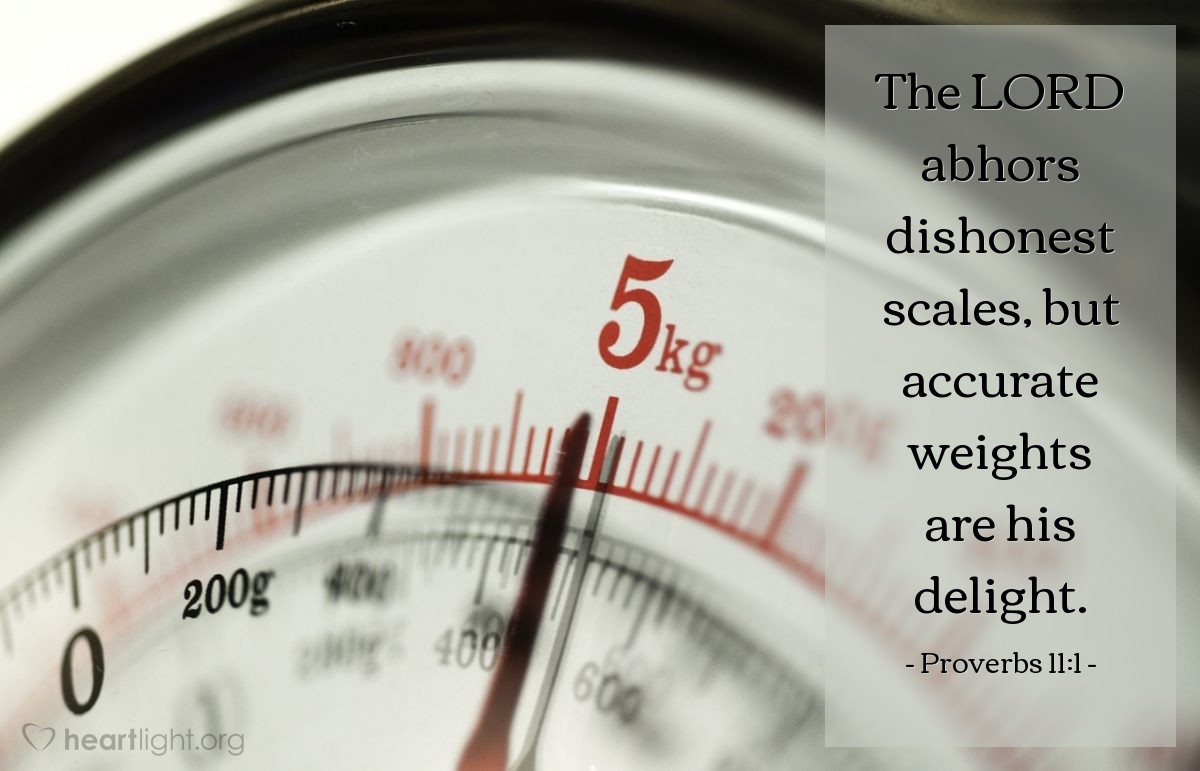 Spiritual Warfare:

 'Cancer in the Bones'

God's Power for Our Battles
Today's Prayer
Lord, I confess the jealousy I've had in my heart many times in the past. I have craved many things that belonged to others, and I had no idea this was like a cancer to the very essence of my being. Forgive me, Lord, and restore my health to what it would have been without this jealousy. Help me to be content and at peace with all the things You have provided to me. I know this contentment can help me live in a better state of healthiness. Help me to use my health to serve You better and glorify Your Name. In Jesus' Name, Amen.
Illustration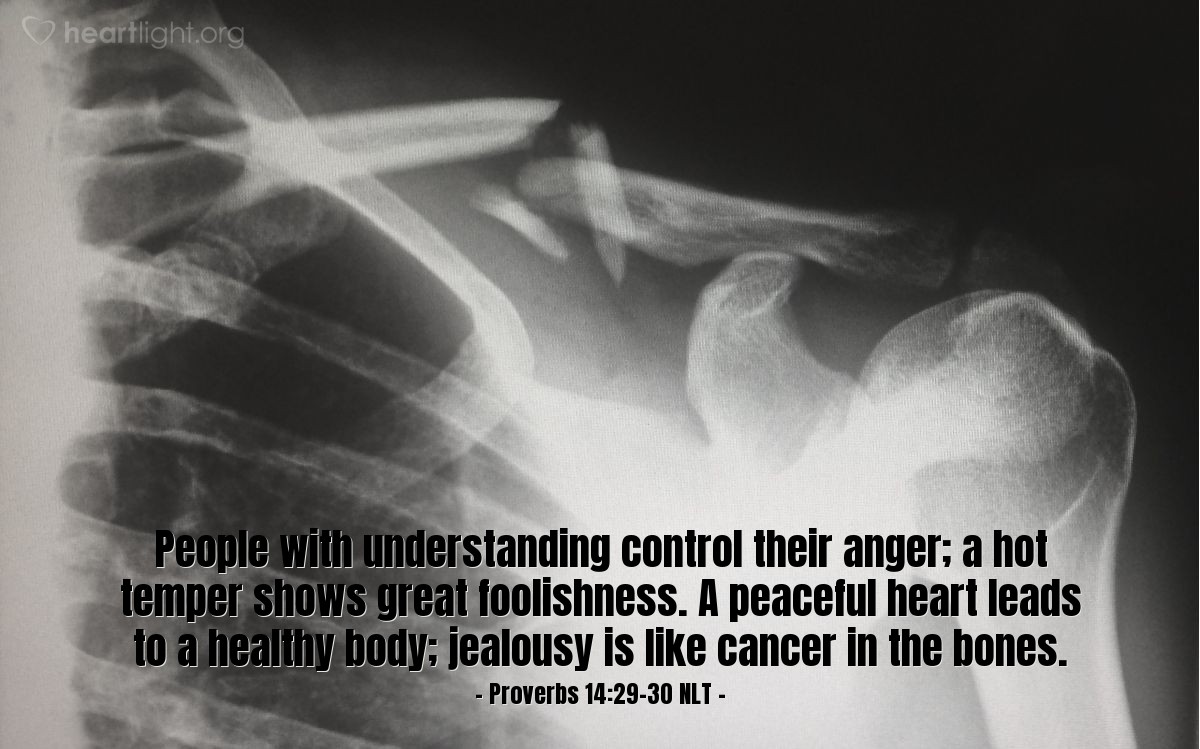 St. Stephen
"When they heard these things, they became enraged and ground their teeth at Stephen. But filled with the Holy Spirit, he gazed into heaven and saw the glory of God and Jesus standing at the right hand of God. 'Look,' he said, 'I see the heavens opened and the Son of Man standing at the right hand of God!' But they covered their ears, and with a loud shout all rushed together against him. Then they dragged him out of the city and began to stone him; and the witnesses laid their coats at the feet of a young man named Saul. While they were stoning Stephen, he prayed, 'Lord Jesus, receive my spirit.' Then he knelt down and cried out in a loud voice, 'Lord, do not hold this sin against them.' When he had said this, he died."
—Acts of the Apostles 7:54–60
In giving up his spirit to the Lord, Stephen became poor. He gave up all he had—his spirit and his life—and placed his life in Jesus' hands. Stephen had nothing, and he suffered death at the hands of those who persecuted him. The Beatitudes remind me that the poor in spirit and those who are persecuted inherit the Kingdom of Heaven. (Matthew 5:3, 10)
Stephen truly did see the Kingdom of Heaven that day. He saw it when he beheld the Son of Man standing at the right hand of God. More importantly, he saw the Kingdom of Heaven when he uttered with his last breath, "Lord, do not hold this sin against them."
Stephen teaches me that forgiveness allows me to see the Kingdom of Heaven present in the world today. It allows me to overcome the grudges, resentment, and offenses that divide communities. To celebrate the Risen Christ is to acknowledge that mercy and compassion are more powerful than anger and revenge.
When I focus on forgiveness, the Kingdom of Heaven seems more of a possibility. It is no longer something that I passively wait for, but, with God's grace, it is something I can actively work toward.
Easter Action
If you're a regular reader of this blog, you know about the Examen, a prayer designed to help a person make a daily review with a focus on gratitude and openness to the Holy Spirit's direction. This was the prayer St. Ignatius considered most important for a consistently God-ward journey.
The steps of the Examen—pray for the Holy Spirit's guidance; review the day; identify where you saw God at work and give thanks for it; identify where you could have done better; pray with a view to tomorrow's challenges—can be custom fitted to any focus. Today, let's focus our Examen on the Beatitudes.
Blessed are: the poor in spirit, those who mourn, those who are meek, those who hunger and thirst for righteousness, the merciful, the pure in heart, the peacemakers, those who are persecuted for righteousness's sake.
Step 1: Ask the Holy Spirit to guide your memory over the past few months.
Step 2: Call to mind the people you encountered who were poor or mourning or meek…any people described by the Beatitudes.
As you think of these people, give thanks for them and for how they brought the Kingdom of God into your life.
Step 3: Call to mind when you were poor in spirit or mourning or meek, etc.
Ask God to help you perceive that you have been blessed in these experiences, even if they were difficult. Ask God to help you believe that these experiences open your life to God's grace and love.
Step 4: Ask forgiveness for any time you resented or resisted the times of poverty or mourning or other beatitude experiences. Know that God already knows where you are weak or unpracticed and that everything you do is met, first of all, with God's great mercy.
Step 5: Identify one or two beatitude experiences or qualities that you desire to nurture in your attitudes and behavior during the next few weeks. Ask for help in being open and ready to learn and grow.
Please remember that you live one moment at a time and that God gives you opportunities one moment, one decision, one action, at a time. No one lives out all the Beatitudes at one time. For instance, your beatitude experience might be mourning. Mourning can be all-consuming, and that might be your beatitude for weeks, months, a year, or longer. Allow your life to be what it is. Ask God to help you recognize the beatitude to which you are called right now, and don't concern yourself further.
Read The Way of Discipleship by James P. Campbell.
Embracing the Way Series
Part Three
by James P. Campbell, D.Min.
Part 3 of the Embracing the Way series examines Jesus' call to discipleship.
Jesus calls us all to discipleship. The Second Vatican Council teaches that the call to holiness is universal, and all are called to be saints in whatever local environment God has called them to. We are all called to be disciples today.
Discipleship in the New Testament
Jesus called his first disciples from the middle of their daily lives to follow him. While they were initially enthusiastic, they eventually discovered that the path they were called to follow was not one of gaining earthly power and prestige. Quite the opposite: Jesus was calling them to follow the path of being servants to others culminating, in the Way of the Cross. (Matthew 20:27–28) For most of the disciples the shock of Jesus' arrest, torture, and crucifixion was too great to endure and they abandoned him on the way to Calvary.
The appearances of Jesus to the disciples after the Resurrection were experiences of forgiveness and reconciliation. In the coming of the Holy Spirit the disciples were newly inspired to proclaim to the world that salvation had come through Jesus' Life, Death, Resurrection, and Ascension. They were sent out to proclaim salvation, to heal the sick, to cast out demons. They were especially sent out to love all those whom Jesus loves: "This is my commandment, that you love one another as I have loved you. No one has greater love than this, to lay down one's life for one's friends." (John 15:12–13)
Discipleship during the Roman Empire
Early Christians moved into a hostile world. In the Roman Empire the person of the emperor was considered divine, and local communities celebrated their local gods in order to hopefully reap the benefits of their devotion. Christians did not participate in emperor worship nor the drunken festivals celebrating local gods. Christians were considered atheists and were blamed when things went wrong. While periods of extreme persecution were sporadic, there were martyrs in every generation and martyrdom was considered the ultimate expression of discipleship.
The discipleship of martyrdom is not simply the story of past heroic saints. More Christians are being persecuted and dying for their faith today then did in the first three centuries. Today Christian refugees numbering in the thousands are fleeing their tormentors. There are the horrid images of Christians losing their heads for the world to see. Unfortunately many Christians in the West are indifferent to the suffering of their fellow brothers and sisters.
Monastic Discipleship
Roman persecution officially ended with the reign of the Roman emperor Constantine. As Christianity became more in favor, many rushed to become Christian because it now provided a path to economic and social benefits. In this new environment many walked away from the worldly benefits of being Christian into the desert to lead lives of fasting and prayer. This was the beginning of the monastic movements modeled after the example of St. Antony the Great (c. 251–356) who sold his property and withdrew into the desert in order to live gospel values more faithfully.
The monastic movement in Western Catholicism following the principles of St. Benedict of Nursia (480–547) was foundational for the development of western civilization. With the dissolution of the institutions of the Roman Empire and the waves of Germanic tribes resettling inside the borders of empire, there were centuries of disorder. Monastic communities became beacons of light, models of stable, hospitable communities, and preservers of culture in these unsettling times.
Discipleship in the Cities
By the late 1100s and 1200s the economy in western Christianity began to revive: more cities were growing, people were becoming more literate and a new model of discipleship was called for. There were a number of lay movements springing up; each seeking a more mobile spirituality not tied to monastic life. A number of these became extreme in their criticism of the institutional Church.
Among these came the life and ministry of St. Francis of Assisi (1181–1226) and St. Dominic Guzman (1170–1221), who called their followers to leave their families and possessions to follow Jesus more closely. This led to the establishment of Franciscan Dominican communities. These mendicant communities were not tied to the monasteries and could go out among the people to preach the Gospel in their social environments.
The sure way to holiness and honest discipleship is in discerning how we may witness to the risen Christ in the course of our day, with the people we encounter, with the tasks that we do.
Reformation and Counter Reformation
Western Christianity entered a period of severe trial with the Reformation beginning in 1517 with Martin Luther's challenge to the Church's teaching of indulgences. In the fractious years that followed—including Christian on Christian wars and violence—the Church clarified its teaching in the Council of Trent (1545–1563). The period of the Counter Reformation led to the renovation of the Catholic priesthood and the establishment of religious communities of priests and sisters who became missionaries in proclaiming the Gospel throughout the world. Wherever they went, they established communities dedicated to schools, hospitals, social services, and other charitable causes. The ideal of Christian discipleship as practiced by becoming a member of these communities or as diocesan priests was seen as a "better way" of serving God.
Discipleship as the Universal Call to Holiness
The Second Vatican Council (1962–1965) placed all the historical ideals of discipleship in perspective:
The classes and duties of life are many, but holiness is one—that sanctity which is cultivated by all who are moved by the Spirit of God, and who obey the voice of the Father and worship God the Father in spirit and in truth. These people follow the poor Christ, the humble and cross-bearing Christ in order to be worthy of being sharers in His glory. Every person must walk unhesitatingly according to his own personal gifts and duties in the path of living faith, which arouses hope and works through charity. (Dogmatic Constitution on the Church #41)
As Jesus did with the first disciples, the Council teaches that we are called to holiness in our daily lives and tasks. The sure way to holiness and honest discipleship is in discerning how we may witness to the risen Christ in the course of our day, with the people we encounter, with the tasks that we do.
It is also true that the Church on her pilgrimage leaves nothing behind. The ideals of discipleship mentioned earlier—martyrdom, monastic life, mendicant orders, religious communities, and diocesan priesthood—are ways of life and grace to encounter and proclaim Jesus Christ.
The Insights of Pope Francis
The Apostles, who saw the Risen Christ with their own eyes, could not keep silent about their extraordinary experience. He had shown himself to them so that the truth of his Resurrection would reach everyone by way of their witness. The Church has the duty to continue this mission over time. Every baptized person is called to bear witness, with their life and words, that Jesus is Risen, that Jesus is alive and present among us. We are all called to testify that Jesus is alive.
Regina Cæli, 19 April 2015
James P. Campbell, D.Min., father of two children and grandfather of six, is a religious educator and author. He is the coauthor of the Finding God religious education program and has three post-graduate degrees, including masters degrees in theology and history and a doctorate in Ministry in Christian Education from the Aquinas Institute of Theology. He lives in Rockford, IL, with his wife Barbara.
The Value of Words
TGIF Today God Is First Volume 1 by Os Hillman
May 06, 2018
"And do not swear by your head, for you cannot make even one hair white or black. Simply let your 'Yes' be 'Yes,' and your 'No,' 'No'; anything beyond this comes from the evil one." – Matthew 5:36-37
Imagine for a moment that you are living in Jesus' time. It is before Jesus has begun His public ministry. He is a carpenter in your local town of Nazareth. You have asked Jesus to make a table for you. You're on a deadline and you must have it in a week. You agree on the price of $100 for the table and the date of one week for completion. A week later you arrive to pick up the table. You lay your money down on the table and Jesus says, "Mr. Johnson, I am sorry but the table is not ready. I ran into complications. Also, I can no longer honor the price I gave you. It is now $150 instead of $100."
Two years later you hear about this same Jesus who is preaching to the local townspeople. How are you going to view this Jesus? You probably won't give much credence to His message because of your personal experience. Our lives have an ability to reinforce the message we stand for, or they can violate it and make it totally ineffective. This literally happens all over the world in different settings with Christian workplace believers. Our message becomes ineffective because we have not done what we said.
I know people who, when they tell me they plan to do something, I can expect them to follow through about 50 percent of the time. I am sure you have had the same experience. Words and commitments are made with little meaning behind those words. However, I know others who will follow through almost every time. The only time they don't is when something falls outside their control. I quickly learn whose words have substance behind them.
There are times when we are unable to perform or deliver what we promised due to outside influences. The key to turning these potentially negative circumstances into a witness for Christ is communication. If we are unable to pay a bill on time, we must communicate with those we owe and make a good faith effort to resolve it within our means. In these cases, God's purposes are being performed as well if we seek to do the right thing.
Do your words mean anything to those who hear them? Do you make commitments and fail to follow through on them? What would others say about how you follow through? Ask the Lord today to show you how you are doing in this area. You might even want to ask three people who are the closest to you how you fare in this area.
NATIONAL LEMONADE DAY
National Lemonade Day is observed the first Sunday in May.
Not only is National Lemonade Day a time to enjoy a refreshing glass of lemonade, but more importantly, it is a day to give youth an opportunity to experience the taste of success.
Through LemonadeDay.org, millions of kids around the nation learn what it takes to run a business in a fun and constructive way.
The days leading up to Lemonade Day are full of preparation by small but budding entrepreneurs. They attend workshops, check their stock and scout out their locations. On Lemonade Day, they will be ready to set up shop and sell the freshest, coolest lemonade their side of the block!
HOW TO OBSERVE
To participate in National Lemonade Day visit www.lemonadeday.org. Frequent your favorite lemonade stand on National Lemonade Day and use #NationalLemonadeDay to post on social media.
HISTORY
National Lemonade Day was founded by Michael Holthouse in 2007 in his hometown of Houston, Texas. Today he and LemonadeDay.org is partnered with Google to continue to bring the entrepreneur spirit to the youth of the America.