Christoph Friedrich Blumhardt
I am unworthy of all the kindness and faithfulness you have shown your servant. I had only my staff when I crossed this Jordan, but now I have become two camps. Genesis 32:10, NIV
Lord our God, we are not worthy of all the mercy and faithfulness you show to us. We thank you for your love and ask you to keep our hearts united in the hope we have together for all things. Keep our hearts united, that again and again we can receive something new from your mighty hand. Keep us true to the calling you have given us. Let light shine out into the world, right into the dark places. Remember those all over the world who are sighing to you, longing that in your great and wonderful goodness light may come to the peoples and to the nations through some deed from your hand. Amen.
Verse of the Day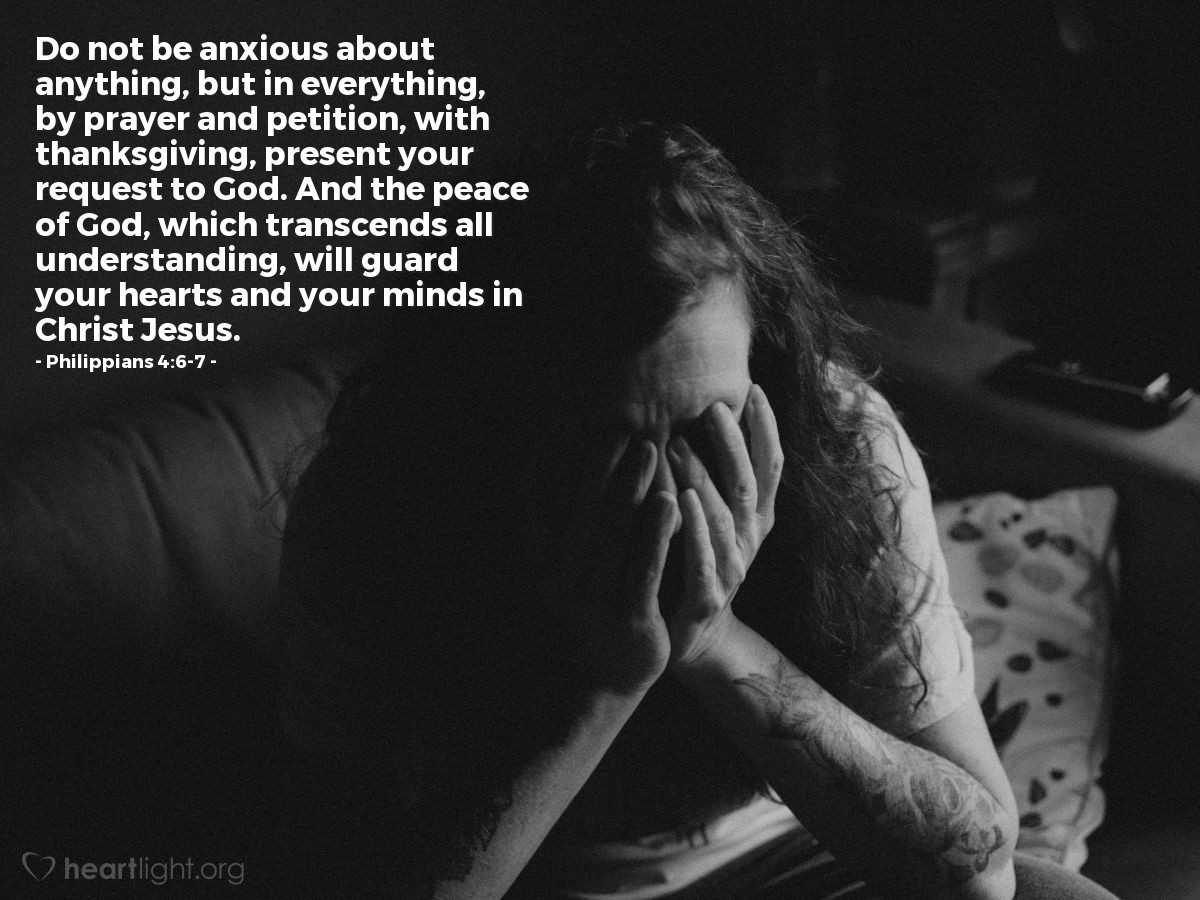 Thoughts on Today's Verse…
God wants to hear our prayers. But to keep them from becoming too self-focussed, God wants us to always remember to give thanks. It is so easy for us to turn prayer into a request line. We are the ones who are left bereft when thanksgiving and praise are robbed from our prayers. Without praise our hearts grow dim because all we think about are problems and prayer becomes a wish list.
My Prayer…
Gracious God, I have so many reasons to praise you. In the face of trial and hardship I have your promises to reawaken my hope. In the moment of victory I have you to thank for my abilities. In the boredom of the routine, I have great joys in your surprises. Thank you God for being so great and yet so loving. In Jesus' name. Amen.
Reincarnation is the philosophical or religious concept that an aspect of a living being commences a new life in a different physical body or another form after each biological death. This position of metempsychosis has propagated into religious beliefs, including Christianity. For example, in Hinduism, the cycle of rebirth is referred to as the wheel of karma. The wheel explains why some people have luck and some don't due to past deeds in another life. Tibetan Buddhism believes that there are a couple of ways that someone can take rebirth after death. This does not mean it's in a form of another human being, but as an existence in 1 of the 6 Gati called "Bhavachakra." For Christians, the life cycle is more linear with a beginning and an ending. The Bible explains that the body and the soul are intertwined and can't become separated, whereas, reincarnation, the soul is looking for a new body and a way to redeem itself. More Christians are becoming open to the idea Dr. Christopher Bache, author of Life Cycles: Reincarnation and the Web of Life suggested. Research taken in the mid-1970s and mid-80s show that approximately 24 percent of the American adult population believed in reincarnation. "This is a remarkable statistic, given that medical, academic and scientific institutions generally have not supported that position. I believe over 20 percent of the people who self-identify as Christians believe in reincarnation." Here are 4 things to contemplate if reincarnation is on your mind.
People are being deceived.
Many people credit Edgar Cayce as being the Father of the New Age evolution. Cayce's most active period of work began in 1925 when he moved to Virginia Beach, Va. after hearing a voice during one of his trances that directed him to do so. He received information that confirmed the existence of reincarnation and was fed information from the voice regarding how to heal. Cayce did over 16,000 life readings between 1901 until his death in 1945. He believed in past lives and came to accept occultic beliefs. Cayce would reference the Bible during his teachings, which misled people into believing it lined up with Scripture. His work greatly influenced many believers. Christians may agree with Cayce. Some believe that Jesus assured His disciples that John the Baptist really was Elijah who returned from the grave. "But I tell you, Elijah has come, and they have done to him everything they wished, just as it is written about him." Meaning, you won't come back in another form of consciousness. In Philippians 3:20-21, the believer is assured he will have his earthly body changed into a Heavenly body like the resurrected body of Jesus Christ. Hebrews 9:27 also explained: "And as it is appointed unto men once to die, but after this the judgment."
Reincarnation feeds an innate hunger.
Kabir Helminski is a Shaikh of the Mevlevi Order of Sufis, which traces its inspiration to Jelaluddin Rumi and could be considered New Age. He wrote "Many people of the contemporary secular world finger through the shards of meaning trying to imagine what the whole might have been like. But mostly they try to take care of themselves as best they can in the belief that they are insignificant microbes in an indifferent universe." Since people are so hungry for more, reincarnation fills a gap in their hearts that they get another shot at life in the future. Again, there is nothing in the Bible that supports this premise. "Who shall change our vile body, that it may be fashioned like unto his glorious body, according to the working whereby he is able even to subdue all things unto himself," Philippians 3:20-21 explained. No matter how you spin it, reincarnation is undeniably opposed according to the Word of God. People are always in search for meaning in their lives, and we found it in Christ, but as humans, we are continually looking to satisfy an insatiable appetite of the afterlife.
Reincarnation takes people away from God.
Isaiah 30:9-11 said, "These are rebellious people, deceitful children, children unwilling to listen to the Lord's instruction. They say to the seers, 'See no more visions!' and to the prophets, 'Give us no more visions of what is right! Tell us pleasant things, prophesy illusions. Leave this way, get off this path, and stop confronting us with the Holy One of Israel!'" Reincarnation never appears in the Bible. The Bible shows that being born again is a spiritual rebirth and this happens when we are alive, not dead. This rebirth comes from God, not from past actions. Jesus said: "Most truly I say to you unless anyone is born again, he cannot see the Kingdom of God."
Reincarnation is a lie of the devil.
In the Book of John, we are told that the devil is a genius liar and cunning in his technique of disinformation. Reincarnation is part of his anecdote and is rooted in fear because people are not sure that they will get into Heaven, despite being saved. With this, reincarnation is the resolution for many. "For our struggle is not against flesh and blood, but against the rulers, against the authorities, against the powers of this world's darkness, and against the spiritual forces of evil in the heavenly realms," the Bible warned. The devil knows how much you are loved because he once had the love of the Father. "For God so loved the world that He gave His only begotten Son, that whoever believes in Him should not perish, but have eternal life," John 3:16 said.
Reincarnation is another falsehood that we need to be conscious of even if other theories suggest that it is credible. Be it New Age or any other movement, we only get one shot at life, so make it count.
A Prayer of Confession for When You Mess Up
By Jack Graham
"If we confess our sins, he is faithful and just and will forgive us our sins and purify us from all unrighteousness." – 1 John 1:9
A young man was coming home late one night, well after his midnight curfew. He didn't pull into his driveway until almost 2 in the morning. So he took his shoes off, opened the door quietly, and slipped up the stairs as softly as he could.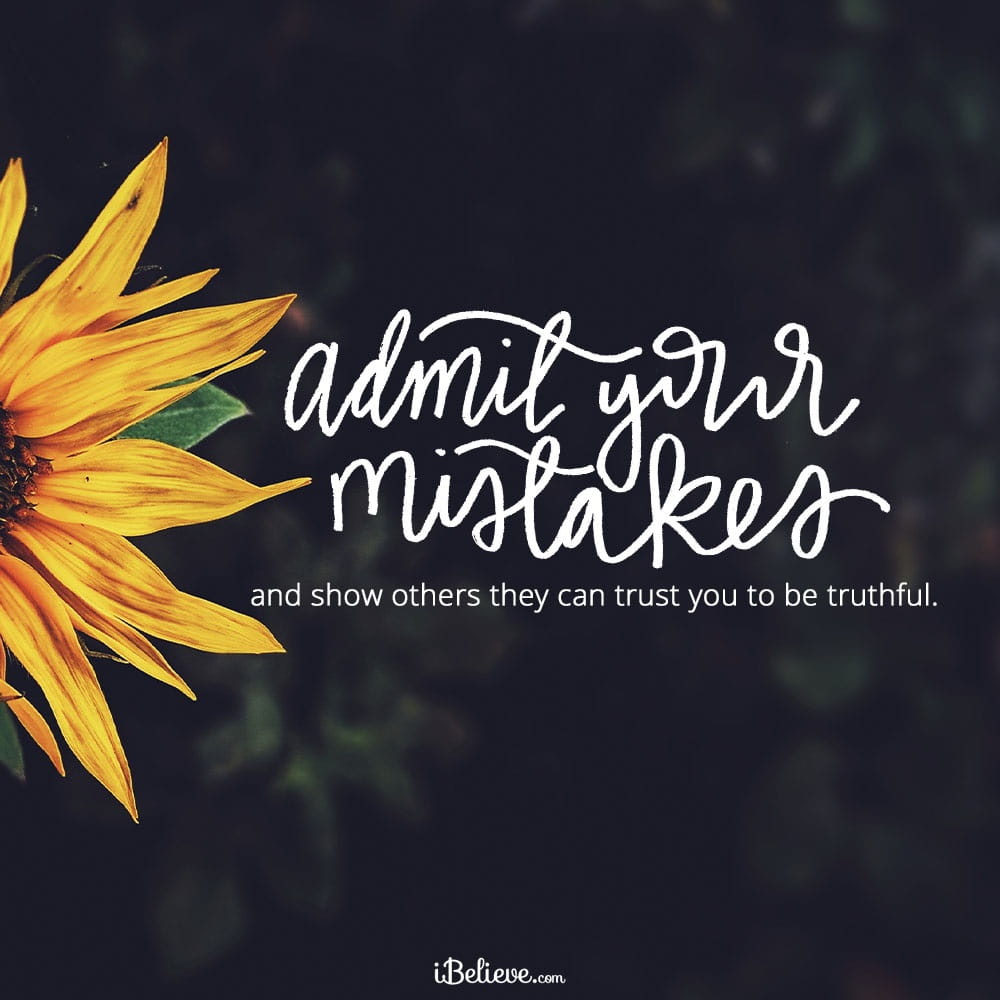 He had almost made it to the top of the stairs when, all of a sudden, his parents' cuckoo clock struck 2, "Cuckoo, cuckoo." He heard his parents stirring in their room, and had the boldest idea he'd ever had. He stood there on the stairs and cuckoo-ed 10 more times!
Now that's creative, but it's not telling the truth. In fact, one very neglected aspect of telling the truth is admitting when you've made a mistake, rather than covering it up. Confessing when you're in the wrong is difficult, especially when a little lie like "my dog ate my homework" or "I put those reports on your desk" can pass the blame to someone else.
But when you mess up and confess it, you not only have the reward of a clear conscience, you build rapport as an honest person among those around you. And, most importantly, you glorify God through your obedience. So admit your mistakes and show others they can trust you to be truthful!
Gracious Lord, give us the courage to seek forgiveness. Remind us that confession is never a mistake; it frees us from the chains of the enemy. We know we cannot hide our hearts from you. Help us to let go of our bitterness and fear, and purify us with the knowledge that you have taken away every sin. In your name, Amen.
3 Phrases about the Bible that Should Make You Very Suspicious
When someone claims to know what Jesus or Paul or any other biblical author "really" meant.I've got to admit, it takes a lot of guts to make a claim like this. By saying you know what Jesus "really" meant you're saying that all the scholars, church historians, pastors, and Christians throughout all of church history have missed the true meaning of Jesus' words. I mean, sure, there have been many theological mistakes throughout church history. But now, after thousands of years, you've finally figured out what Jesus really meant? If that's the case then Jesus' words must have been pretty unclear.
When someone claims to know what Jesus or Paul or any other biblical author would have said if they were alive today. Again, another bold, audacious claim. God chose to close the canon of Scripture at a very particular time and place in history. There were very particular cultural practices and ideas in place when God closed the canon of Scripture. If he wanted to, God could have continued to cause men and women to write Scripture. But he didn't. When you claim to know what Jesus would have said regarding homosexuality or gender roles or politics or church, you are walking on very dangerous ground. You are treading where only heretics dare to tread. Jesus and Paul and Luke and Jude and James and every other Biblical author said what they said and no more.
When someone claims that the Church has gotten an issue completely wrong. Yes, there have been many mistakes made by church leaders throughout church history. But to claim that the Church as a whole has gotten an issue completely wrong for the last 2,000 years? Wow, very, very bold claim. To claim that Christians, who are indwelt and led by the Spirit of God, have collectively swung and missed for the past 2,000 years is a very strong claim indeed. And doesn't it strike you as a bit odd that only now God is starting to make up for his mistake? That now, after 2,000 years, we are the generation who has finally gotten things right?
My generation is infatuated with the new and immediate. We love the newest gadgets and newest movies and newest theological ideas. We would be wise, to paraphrase C.S. Lewis, to let the fresh winds of church history blow through our musty brains.
I'm about 95% sure that at least one person who reads this post will remind me of the fact that many Christians owned slaves. In response I would say two things. First, it is my educated guess that many men and women throughout church history who have defended sinful practices were not born again. This is the case when it comes to the Crusades, slavery, the Spanish Inquisition, and many other sad events. These events and practices were promoted by those who embraced cultural Christianity, not true Christianity.
But this is not always the case. Jonathan Edwards, who was clearly born again, owned slaves. Many churches clearly embraced racist attitudes and practices for many years. What are we supposed to do in these cases? We acknowledge that Christians and churches get it wrong sometimes. This isn't a contradiction of what I said earlier. Churches can get particular issues wrong. This is why we must always be testing our beliefs against the clear revelation of Scripture and the collective wisdom of the last 2,000 years, as opposed to the last 200 years.
We would be wise to test our modern ideas of sexuality, politics, gender roles, and every other issue against church history as a whole. As I look out over the battles being fought in churches I find it remarkable how closely many of the battles resemble the fight for democracy in the United States. This probably isn't a good thing. Our battles must always be fought on the basis of God's word, not current ideas. Please don't misunderstand. I'm not in any way suggesting that slavery or racism or sexism is okay. But our definitions of what is right and wrong must be shaped by God's word and nothing else.
If we don't we don't test our ideas against God's word and church history, we are in danger of letting our theology be shaped by current events and ideas rather than the clear, unshakable Word of God.
---
Stephen Altrogge serves as a pastor at Sovereign Grace Church. Find out more at The Blazing Center.
Saint Hilary of Arles
Saint of the Day for 
May 5
(c. 401 – 
May 5, 449

)

https://www.franciscanmedia.org/wp-content/uploads/2016/08/SODMay05.mp3
Saint Hilary of Arles' Story
It's been said that youth is wasted on the young. In some ways, that was true for today's saint.
Born in France in the early fifth century, Hilary came from an aristocratic family. In the course of his education he encountered his relative, Honoratus, who encouraged the young man to join him in the monastic life. Hilary did so. He continued to follow in the footsteps of Honoratus as bishop. Hilary was only 29 when he was chosen bishop of Arles.
The new, youthful bishop undertook the role with confidence. He did manual labor to earn money for the poor. He sold sacred vessels to ransom captives. He became a magnificent orator. He traveled everywhere on foot, always wearing simple clothing.
That was the bright side. Hilary encountered difficulty in his relationships with other bishops over whom he had some jurisdiction. He unilaterally deposed one bishop. He selected another bishop to replace one who was very ill–but, to complicate matters, did not die! Pope Saint Leo the Great kept Hilary a bishop but stripped him of some of his powers.
Hilary died at 49. He was a man of talent and piety who, in due time, had learned how to be a bishop.
---
Reflection
Saint Hilary teaches us to respect authority even if found in a young person. Age is not the issue: prudence and wisdom are.
A Message from God
As though David continues his worship service, he opens his mouth and shares a message from God, which is the major theme of this composition. We can imagine his standing before the people and preaching about the needs of humanity and the grace of God.
First, he considers the pitiful inadequacy of humanity. Read verses 3 and 4 slowly. Think them over and enter into the mental picture David has in mind.
When I consider Your heavens, the work of Your fingers,
The moon and the stars, which You have ordained;
What is man that You take thought of him,
And the son of man that You care for him? (Psalm 8:3–4)
The Hebrew word translated "consider" is the common verb meaning "to see, behold, take a look." David was out among the splendor of natural phenomena. As he looked about him, he was gripped with the startling realization of God's greatness. Every one of us has had that experience. When we glance heavenward, we are struck with awe. We "take a look" at the expanse, and invariably, we are overwhelmed!
David refers to God's creation as "the work of Your fingers." Creating the universe was nothing more than "finger work" for God; salvation, however, represents His "arm work" (Isaiah 52:10; 53:1; 59:16; Psalm 77:15, KJV).
In asking the question, "What is man?" David uses a rather uncommon term for man. Enosh comes from a Hebrew verb that means "to be weak, sick, frail." In other words: "In comparison to your splendor and majesty, O Lord, what is puny, weak, frail humanity?" According to David, God overlooks our lowly status and acts on behalf of humanity in two significant ways: He takes thought of him and takes care of him.
What do these things mean? The first statement–"take thought of"–means that God remembers us, while the second phrase–"care for"–means He pays attention to us. What an amazing truth! If the daily grind of feeling overlooked has you in its grip, here is a thought worth massaging: the God who created all the magnificent surroundings of the universe actually remembers and pays attention to puny individuals like you and me. It is easy to believe that God has too many other things to concern Himself with than to care about us. Peter reminds us, however, that "[God] cares for you" (1 Peter 5:7). God never overlooks His own!
This prompts David to reflect on the grace of God.
Yet You have made him a little lower than God,
And You crown him with glory and majesty!
You make him to rule over the works of Your hands;
You have put all things under his feet,
All sheep and oxen,
And also the beasts of the field,
The birds of the heavens and the fish of the sea,
Whatever passes through the paths of the seas. (Psalm 8:5–8)
In spite of the vast difference between God and man, David declares that the Lord has set His love upon us and has given humanity a place of dignity and importance in this world. We are made lesser than angels in terms of power, but we are, nevertheless, crowned with glory and majesty. Moreover, He gave us the responsibility and privilege of ruling over the world as His vice-regents (Genesis 1:28–30). Hebrews 2:6–9 applies these verses to Jesus Christ, making this section of Psalm 8 messianic and prophetic. Historically, however, it is applicable to all humans. While Jesus is the Son of God, we share this honor and responsibility with Him. Amazing!
The God who created the universe also remembers and pays attention to puny folks like you and me.
— Charles R. Swindoll Tweet This
Accepting Yourself 
Oh Israel, put your hope in the Lord, for with the Lord is unfailing love and with him is full redemption. – Psalm 130:8 
Many people seem to go about life with a kind of bravado . . . bold confidence and self-assurance. The truth, however, is that most of us wish we were different somehow. If only you were as outgoing as Jack . . . if you were as physically fit as Mary . . . if you had the financial sense of Tom . . . a full head of hair like John . . . or the quick wit of Connie. While it's okay to admire good traits in others, often this desire to be like someone else is actually a form of covetousness, or envy. So, how about learning to accept yourself as God has made you.
Before you can truly accept yourself, however, you need to see the truth about yourself, recognizing both the gifts and the limitations that God's given you. If you don't, you will constantly struggle to be someone you're not.
One way to appreciate how God has made you is to read Psalm 139. The psalmist rejoices, "Thank you for making me so wonderfully complex! Your workmanship is marvelous–and how well I know it."  (139:14)
Each of us is unique and special . . . embraced and accepted by God himself . . . even though not one of us is perfect. Spiritual renewal cannot begin until you're willing to accept yourself as God made you. Once you accept the truth about yourself your focus can change . . . and you can bring great glory to God himself. He, after all, is the one who made you, and He is the reason we live.
"I am somebody. I am me. I like being me. And I need nobody to make me somebody."  – Louis L'Amour (1908-1988)
From Good Morning, Lord by Sheila Walsh
Today, I will, with faith–however shaky­–in your love for me and in your healing power, reach out and touch the hem of your garment.    
She had been bleeding for twelve years, and, despite all the money she had spent on medical bills, no doctor had been able to help her. An out­cast in society, penniless, and desperate, she decided to try to touch the hem of the Healer's robe. What if I am able to touch him—and nothing happens? I have to try. How could my life be any worse than it is now? Pushing through the dense crowd, she reached out her bone-weary arm and touched Jesus' robe. Suddenly something happened! It was as if someone had pulled open the drapes, and dazzling, healing light poured into the darkest part of her soul (see Mark 5:25–34).
Be encouraged by this woman's experience. First, she took a risk. She didn't succumb to that inner voice of shame that told her she shouldn't even show her face in public. Second, she reached out to Jesus himself. The body of Christ can indeed be vessels of healing love and hope, but we must never forget that Christ is the head. Third, this precious woman—the only person in all four Gospels whom Jesus addressed as "daughter"—told her story and allowed herself to be seen. She could have walked away when Jesus asked, "Who touched me?" Then she would have been physically healed but still sick at heart. So I encourage you to take the risk of going to Jesus for healing. He can release you from your shame and then use your story to encourage others.

What Jesus Did!

 'I Will Never Reject Them'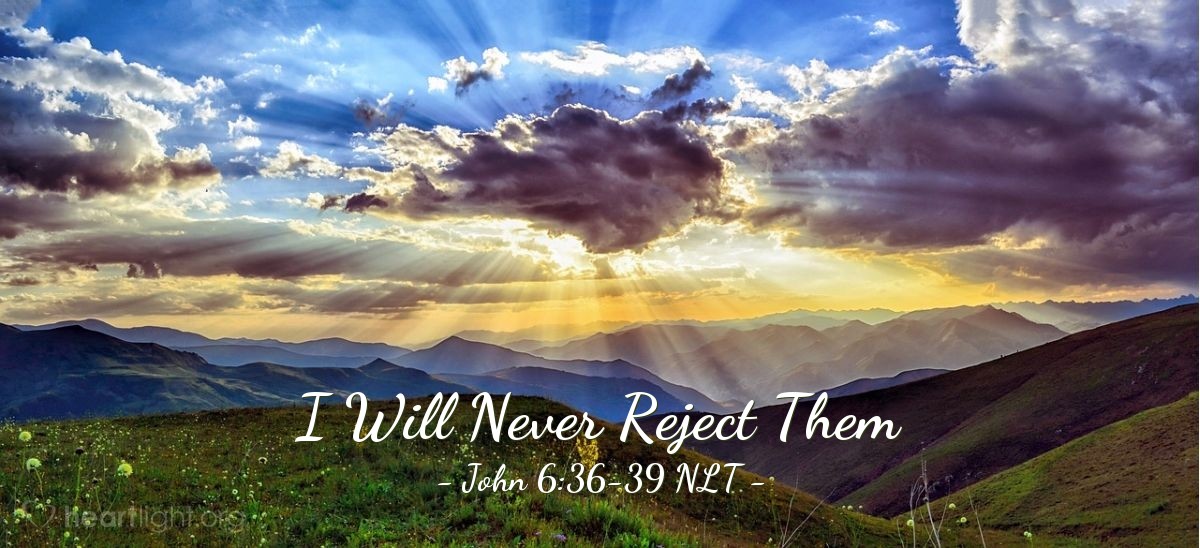 [Jesus said to the crowd of people,] "But you haven't believed in me even though you have seen me. However, those the Father has given me will come to me, and I will never reject them. For I have come down from heaven to do the will of God who sent me, not to do my own will. And this is the will of God, that I should not lose even one of all those he has given me, but that I should raise them up at the last day."
Key Thought
Imagine being in a relationship where you could be sure you wouldn't be rejected. You wouldn't wake up one morning and hear, "I'm sorry, but I've grown tired of you." You wouldn't have to fear the words, "I'm sorry, but I've grown apart from you." You would never have to worry about hearing, "I never really loved you." Jesus came to seek us out and bring us home. When our hearts belong to Jesus, his love and his home are ours. Our assurance is the cross, our proof is the empty tomb, and our guarantee is the Spirit we have received
Today's Prayer
Father, help me live with confidence each day, knowing that I am your child and that nothing can separate me from your love as I depend upon Christ. Thank you that my future is bound up in you and not in my own strength or the will of any person, power, event, or influence. In Jesus' name, I pray. Amen.
Related Scripture Readings
Daily Wisdom:

 Proverbs 15:33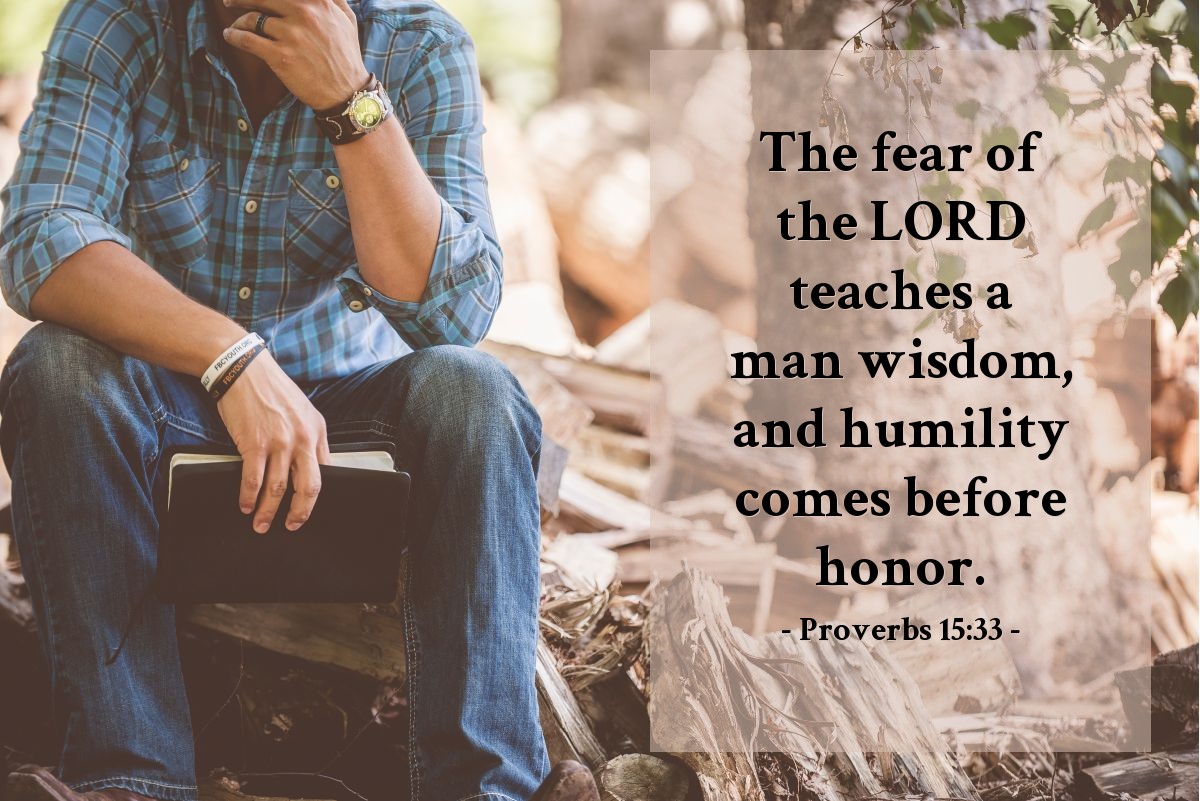 Spiritual Warfare:

 'Enemies of God Don't Trust the Bible'

God's Power for Our Battles

You adulterers! Don't you realize that friendship with the world makes you an enemy of God? I say it again: If you want to be a friend of the world, you make yourself an enemy of God. Do you think the Scriptures have no meaning? They say that God is passionate that the spirit he has placed within us should be faithful to him.
Today's Prayer
Lord, I confess that the things of this world have drawn me in and made me doubt the validity and truth of Your Holy Word. I have desired friendship and acceptance with the world, and that has been more important to me than faithfully trusting Your absolute truths. Please remove my desire to please mankind, and replace it with a deep craving to want to please You, and may that lead to a greater trust of Scripture. In Jesus' Name, Amen.
Illustration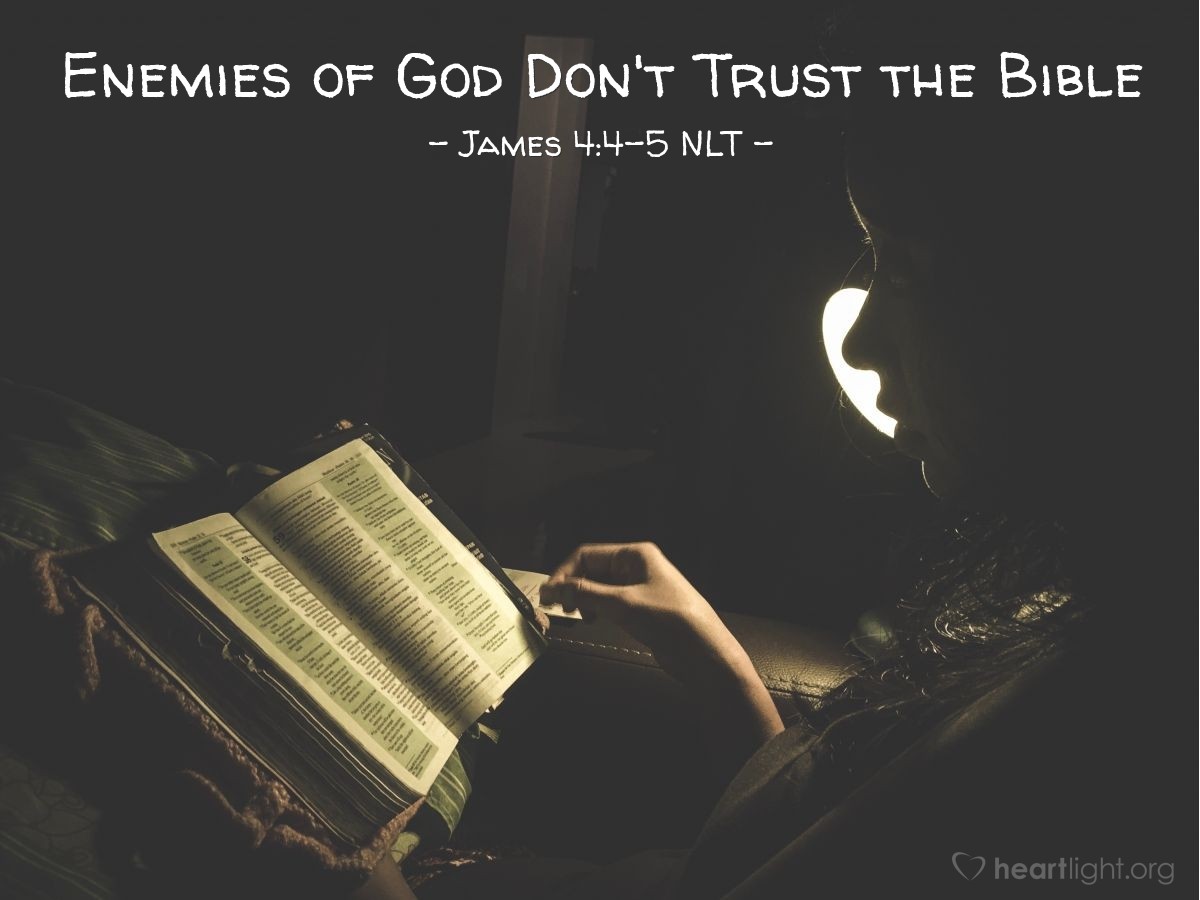 Whoever gives thought to the word will discover good, and blessed is he who trusts in the Lord.
Proverbs 16:20
Wisdom is man's true strength; and under its guidance he is best able to find and fulfill his reason for living. Wisely handling the matter of life gives to man the richest enjoyment and presents the noblest occupation for his powers; and in this way he finds good in the fullest sense.
Without wisdom, man is like a wild donkey running here and there, wasting strength that might have been profitably employed. Wisdom is the compass by which man is to steer across the trackless waste of life; without it he is a derelict vessel, the victim of winds and waves. A man must be prudent in such a world as this or he will find no good, but will be betrayed into unnumbered ills. The pilgrim will sorely wound his feet among the briers of the wood of life if he does not pick his steps with the utmost caution. He who is in a wilderness infested with thieves must handle matters wisely if he would journey safely.
If, trained by the Great Teacher, we will follow where He leads, we will find good even in the darkness, and celestial fruits to be tasted, and songs of paradise to be sung amid the groves of earth. But where shall this wisdom be found? Many have dreamed of it without possessing it. Where will we learn it? Let us listen to the voice of the Lord, for He has declared the secret. He has revealed to the sons of men where true wisdom lies, and we have it in the text, "blessed is he who trusts in the LORD." The true way to handle a matter wisely is to trust in the Lord. This is the sure clue to the most intricate labyrinths of life; follow it and find eternal bliss. He who trusts in the Lord has a diploma for wisdom granted by inspiration: Happy is he now, and happier he shall be above.
Lord, in this sweet evening walk with me in the garden, and teach me the wisdom of faith.
NATIONAL SILENCE THE SHAME DAY
On May 5, National Silence the Shame Day brings an opportunity to continue the conversation about mental health and wellness and erase the stigma associated with mental illness.
Mental illness, like any other health concern, is diagnosed at different stages that may have fewer symptoms and/or impact on our daily functioning. It is important to know that mental illness is treatable and recovery is possible.
Unlike other areas of our health care, many don't have an affordable or accessible routine plan of care for mental health challenges.For individuals who may have access often suffer in silence due to the stigma of being diagnosed.
National Silence the Shame Day offers education and awareness, opening up conversations about mental health and wellness, mental illness and recovery.
HOW TO OBSERVE
DONATE: Text SILENCE to 707070 to benefit educational programs/awareness for mental health services.
Use #SilenceTheShame to share on social media on May 5th.

Sample Copy for post/video:
TODAY I am Silencing the Shame around mental health and donating to increase resources. Join me by texting the word SILENCE to 707070.
Today I will Silence the Shame around stigma in mental health! Please join us and text to give! $5 or $100, every amount helps! Text the word SILENCE to 707070.
Today I will Silence the Shame and not be afraid to talk about mental wellness! Please help me to raise awareness and funding by texting SILENCE to 707070.
Attend a mental health fair to learn about mental health conditions and how to care for your own mental health and wellness.
If you think you're the only person dealing with mental health concerns, think again. Visit the blog/hashtag at #SilenceTheShame for stories like yours.
Request an assessment at your next checkup if you feel you may have mental health challenges.
Consider that 1 in 5 Americans suffers from some kind mental illness. A neighbor, family member, coworker, friend, church member or classmate could be struggling with a mental illness but silenced due to the stigma. Find out how you can make a difference to #SilenceTheShame by checking out the resources page.
Some employers offer free, confidential employee assistance programs that include counseling sessions.
The National Suicide Prevention Lifeline is a 24/7 free suicide hotline (1-800-273-8255). Here you can get help or get involved.  Also for confidential help, you can text the word Silence to 741741 from anywhere in the USA to text with a trained Crisis Counselor from Crisis Text Line.
Visit www.silencetheshame.com to learn more and join the movement.
HISTORY
The Hip-Hop Professional Foundation, Inc
. founded Silence the Shame Day on May 5, 2017, to increase positive awareness and education concerning mental illnesses and to encourage open discussion about mental health.
The Registrar at National Day Calendar proclaimed National Silence the Shame Day to be observed in 2018.
About Shanti Das
Shanti Das is an accomplished entertainment executive, consultant, entrepreneur, mentor, author, and Philanthropist.
Shanti is a 27-year veteran in the entertainment business. Her music industry career (intern to Executive Vice President) included positions at Capitol Records, LaFace Records, Columbia Records, Sony Urban Music and Universal Motown where she worked directly with some of music's top talent like Outkast, Usher, Prince, TLC, Toni Braxton, Erykah Badu, and more.
An advocate for many social issues and service projects for the past 9 years, she decided to establish her very own nonprofit, The Hip-Hop Professional Foundation, Inc. The mission of the foundation is: To empower and enrich the lives of those in underserved communities around mental health, youth empowerment and poverty.
The foundation's mental health movement is Silence the Shame. Shanti has suffered from depression over the years and has also experienced loved ones affected by mental health disorders. With Silence the Shame, she hopes to peel back the layers of shame and stigma as it relates to mental health.
CINCO DE MAYO
Originating in the 1860′s with Mexican-American communities in the American West, Southwest and Northwest, the American Cinco de Mayo began as a way to commemorate the cause of freedom and democracy during the first years of the American Civil War.  Today, in the United States, Cinco de Mayo is observed annually on May 5 as a celebration of Mexican heritage and pride.
Cinco de Mayo is Spanish for "fifth of May."
The United States Congress issued a Concurrent Resolution on June 7, 2005, calling on the President of the United States to issue a proclamation calling upon the people of the United States to observe Cinco de Mayo with appropriate ceremonies and activities.
According to José Alamillo, professor of ethnic studies at Washington State University in Pullman, a 2006 study found there are more than 150 official Cinco de Mayo events across the country.
Cinco de Mayo celebrations in the United States have taken on a significance beyond that in Mexico.  They include displaying of banners and events highlighting Mexican culture, music and regional dancing, as well as school districts holding special events to educate students about its historical significance.  In the U.S., commercial interests have capitalized on the celebration advertising Mexican products and services with an emphasis on beverages, food and music.
HOW TO OBSERVE
Share your Mexican heritage and use #CincodeMayo to post on social media.
HISTORY
Celebrated in Mexico as a commemoration of the Mexican army's 1861 victory France during the Franco-Mexican War. The victory occurred at the Battle of Puebla between 6,000 French troops and small, under-supplied Mexican force of 2,000 men.
The victory was not the battle that won the war, but it held great symbolism for the Mexico during the war, but is minor holiday there and is not considered a federal holiday.
JOIN HANDS DAY
Join Hands Day, which is observed across the United States on the first Saturday in May, is about uniting the older generation with the younger generation in a day of volunteering.  Instead of pointing out differences in each other, that often times distance one another, this day is intended to bring to everyone's awareness, the realization of how beneficial aiding each other can be.
HOW TO OBSERVE
Take the opportunity to volunteer.  You may just bridge the generation gap! Use #JoinHandsDay to post on social media.
HISTORY
Join Hands Day was founded in 2000 by America's Fraternal Benefit Societies as a way for adults and youth to work together as volunteers toward a greater purpose for their communities. In the last decade and a half, service organizations across the country have developed projects that have beautified parks, organized food drives, provided care packages for those in need and much more, all while fostering relationships across generations.  To find volunteer opportunities visit the Join Hands Day website.
The Kentucky Derby is a tradition that takes place on the first Saturday in May.
Its long and storied history brings out a taste for mint juleps, colorful sun hats and a thrill for the race.  The jockeys and horses will prepare for the day at Churchill Downs in Louisville, Kentucky. The first in the Triple Crown series, The Kentucky Derby will be followed The Preakness Stakes and The Belmont Stakes. While both The Preakness and The Belmont are the older races, The Kentucky Derby has run continuously since its inception in 1875.
The beautiful horses and the bustling crowds under the spring sunshine make for an exciting day of racing.  Add to the months of training and any money at stake, and the nervous butterflies of the event
HOW TO OBSERVE
The Kentucky Derby is broadcast live, so anyone can enjoy the thrill of the race.  Tune in, or go to the race. Pick your horse and cheer for place, show or win! Use #KentuckyDerby to share on social media.
HISTORY
The Kentucky Derby's first race took place on May 17, 1875. It was inspired by the Epsom Derby in England attended by the grandson of Meriwether Lewis Clark. In 1872, William Clark traveled to Europe and developed a taste for horseracing after his experiences at the Epsom Derby. Upon returning to the U.S., he pursued creating a Thoroughbred racetrack in Kentucky. In 1875, the Kentucky Derby was born in Louisville and has remained ever since.