Christoph Friedrich Blumhardt
But how is it to your credit if you receive a beating for doing wrong and endure it? But if you suffer for doing good and you endure it, this is commendable before God. To this you were called, because Christ suffered for you, leaving you an example, that you should follow in his steps. 1 Peter 2:20-21, NIV
Dear Father in heaven, we thank you that the Savior has been with us on the earth and that in our day we can still follow him and wait for your will and your rulership. For you are Almighty God, and your kingdom must come, your will must be done, and all promises be fulfilled. Carry out your will, we ask and beseech you. Establish your kingdom among all nations, even if today this is possible with only a few. For through your working, hearts can change so that your name may be praised and all promises may be fulfilled. Thanks be to you for allowing us to live in such great hope. Stay by us in our work on earth so that it may be done in your service. In every situation deepen our longing for the Savior to come and establish your kingdom. Be with us during the night and bless us in your great goodness and faithfulness. Amen.
Verse of the Day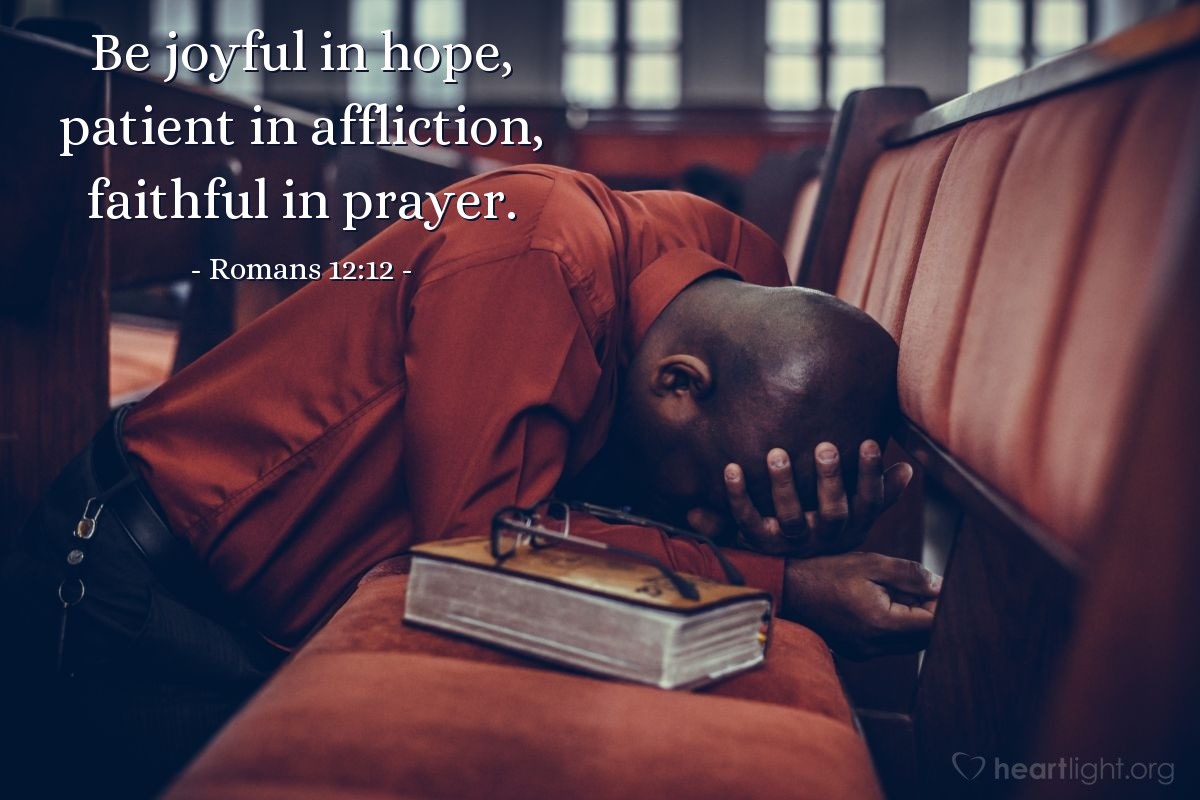 Thoughts on Today's Verse…
Sometimes the key to survival is simply "setting our jaw" and going on faithfully trusting that God is there helping us, despite the apparent and outward circumstances. Choosing joy through hope rather than despair, choosing patient endurance in times of affliction, and choosing faithfulness in prayer are all decisions of the will trusting that the God who raised Jesus from the dead can also change our circumstances because he hears our voice.
My Prayer…
Create in me, O Mighty God, a resolute and steadfast heart so that I might persevere with joy no matter what the difficulty. This I ask in the name of your faithful Son. Amen.
How We All Can Preserve the National Day of Prayer
It is time that all faiths unite.
There is an assault on people of faith, and perhaps all faiths.
If the freedom of religion is going to continue, we all better pay attention. As we look towards the horizon in gaining a new president in 2016, the time is crucial for all Americans to reflect on what liberties are at stake. No matter what our political agendas may entail—as a people of a democracy—we need to unite.
The National Day of Prayer is supposed to encourage all religions to set aside differences and pray. The annual observance happens on the first Thursday of May. It was started in 1952 by a joint resolution of the United States Congress and President Harry S. Truman signed it into law. Congress wrote:
"Prayer has indeed been a vital force in the growth and development of this Nation. It would certainly be appropriate if, pursuant to this resolution, and the proclamation it urges, the people of this country were to unite in a day of prayer each year, each in accordance with his own religious faith, thus reaffirming in a dramatic manner the deep religious conviction which has prevailed throughout the history of the United States."
A day of prayer is not a novelty. The Continental Congress called a day for the colonists to seek God regarding the forming of a new nation in 1775. Abraham Lincoln called a day of national prayer and fasting in 1863.
"Now, therefore, in compliance with the request, and fully concurring in the views of the Senate, I do, by this my proclamation, designate and set apart Thursday, the 30th day of April, 1863, as a day of national humiliation, fasting and prayer," Lincoln proclaimed.
"And I do hereby request all the People to abstain, on that day, from their ordinary secular pursuits, and to unite, at their several places of public worship and their respective homes, in keeping the day holy to the Lord, and devoted to the humble discharge of the religious duties proper to that solemn occasion."
President Ronald Reagan designated in 1988 that the National Day of Prayer be held on the first Thursday in May.
However, the day is continuously challenged.
Many found the NDP unconstitutional. Federal Judge Barbara Crabb wrote that it violated the First Amendment, but it was overturned in 2010. The Freedom from Religion Foundation has worked to end the bias and to stop the "evangelicals from hijacking the Constitution." The non-profit organization posted its objections and asked that the U.S. end the discrimination in that lawsuit on its website.
"Our founders did not pray when they adopted our Constitution, which shows their intent to separate religion from government. The Constitution's only references to religion are exclusionary. The U.S. President and elected officials have neither the moral nor the constitutional authority to dictate to Americans to pray, much less to tell citizens what to pray about, to set aside an entire day for prayer every year, and to gather with others "to turn to God in prayer and meditation at churches, in groups, and as individuals."
The National Day of Prayer Task Force helps mobilize the Christian community and represents "Judeo-Christian expression of the national observance, based on our understanding that this country was birthed in prayer and in reverence for the God of the Bible." The organization is fighting to keep NDP on the books.
Dion Elmore is the Chief Communications Officer of the Prayer Task Force and shared "While the National Day of Prayer has been challenged by atheistic special interest groups the last few years, the Federal Courts have upheld its constitutionality and in turn our religious freedom."
If you're passionate about NDP, get involved. Work with local religious organizations and keep the community in loop on your progress. Get involved with ministries outside your own. Invite people to pray for the city and nation no matter what their faith is.
It's a time to unite, not divide.
Some final questions to ponder: Should people who disagree with NDP have a right to have the day deleted from history, and is it a violation of their freedoms?
Regardless, as a nation we should unite, and no matter what faith inspires you, finding common ground with others allows for religious tolerance. This includes all people.
A Prayer for Our Nation on this National Day of Prayer
By Debbie McDaniel
"Lord, listen! Lord, forgive! Lord, hear and act! For your sake, my God, do not delay, because your city and your people bear your Name." Daniel 9:19
In 1952 President Harry Truman signed a bill into law, making the National Day of Prayer for America an annual event on the first Thursday of May, encouraging millions across our nation to unite together to pray.
We've come a long way since that day.  And now, maybe more than ever, our nation needs our continued prayers for God's healing, help, and peace.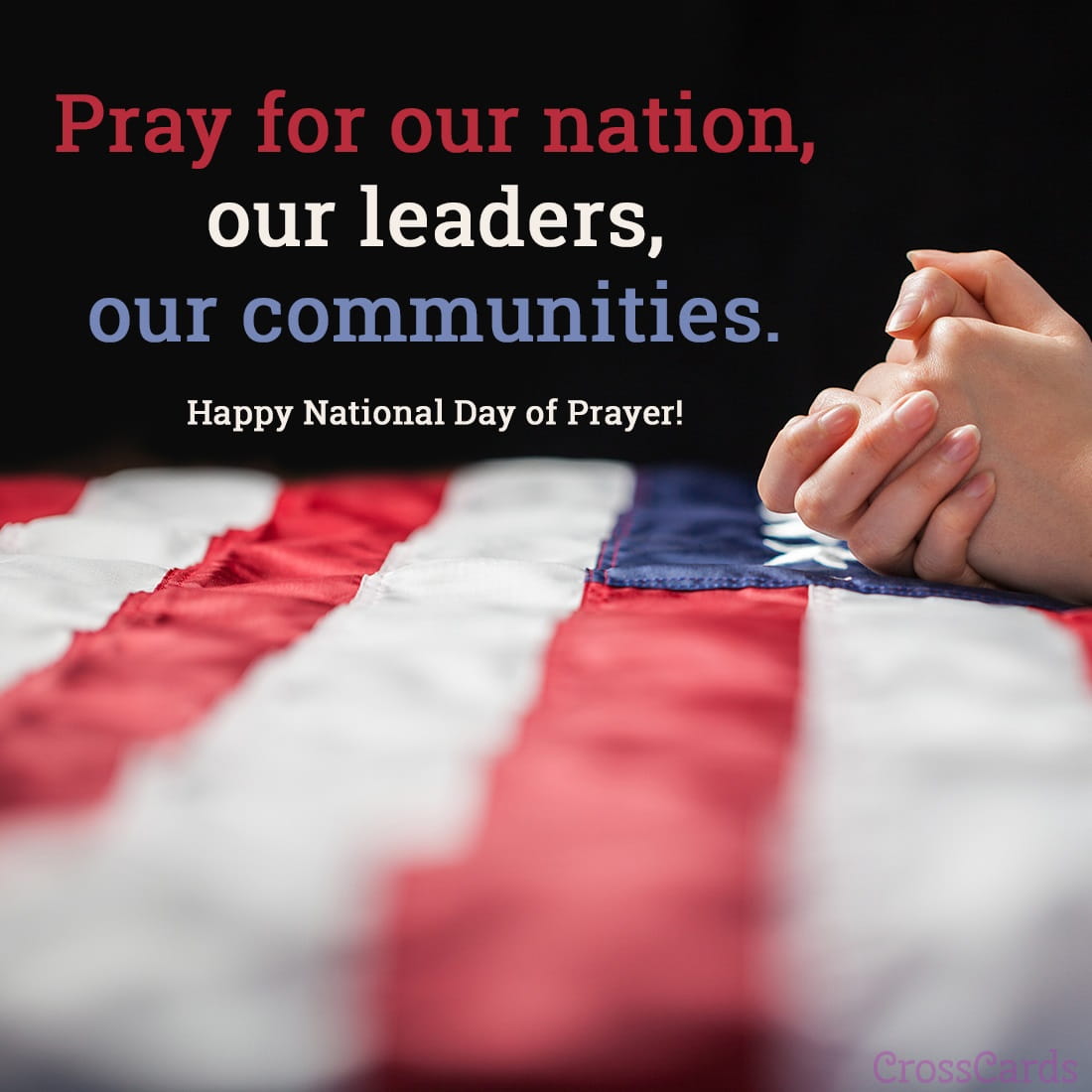 Yet, sometimes it's hard to know where to begin or how to pray. We just know we have a deep ache in our hearts that cries out for God's mercy, and a longing to see him heal our land. And maybe other times we wonder how effective our prayers even are.
But no matter how we feel, we can be confident that God is faithful. He is aware and His Spirit is at work, over all that swirls around us in our nation today. That same power that broke prison chains, raised Lazarus from the dead, and parted the Red Sea, the same power that healed the blind man, and delivered the delirious from demons, that same power is at work still today.
He is the same. Yesterday, today, and forever.
May we stand together as believers, and pray for God to heal our land, and strengthen His people. May we pray for all those in authority. May we pray for God's miraculous intervening, for blind eyes to be opened, for many to see the power of our Lord as never before.
We are never left to fend for ourselves, wrestling in worry, consumed with fear, or driven towards hate. He reminds us that He is with us, He will help us, and hasn't lost control, but has a plan. And His purposes will prevail.
We can be assured, that He hears our prayers, He knows our needs. There's great power in uniting together, turning our hearts towards God, and praying on behalf of America, our nation.
At this important time in our nation's history, we can do nothing more important than pray.
Remembering today this powerful truth upon which this nation was founded. We are "One Nation Under God." He is where our real hope is found, not in our leaders, not in our economy, not in the condition of our nation today, or any other day.  "…my hope comes from Him." Ps. 62:5
Prayer for National Day of Prayer:
Dear God,
Thank you for your great power. We praise you for your Truth. We're grateful that you have set us free from the clutching grasp of sin and death.
Would you be with your people, extending your grace, granting your freedom, providing your protection, and empowering with your strength. We ask that you'd bring about an awakening of your presence to America as never seen before. We ask that your Name be proclaimed, that all plans to silence the Name of Jesus would be thwarted and crushed.
We pray that many would come to know you as Lord and Savior, we pray that many would see your Light, that you would open blind eyes and release those still imprisoned.
We pray that you would unify your people for the glory of your Name, that all who call themselves Christians would rise up, believing your great Truth.
Wake us up Lord! Remind us to live aware, to redeem the time, to listen to your words, to be willing to make a difference in this land.
We pray for all those in authority, that you would give them your wisdom and discernment as they lead. We ask that you would appoint strong, faithful men and women to serve this nation and our people.
We pray for your great healing on America. Shine your face on us dear God. We need you now, more than ever before. Our times are in your hands.
Thank you that you are rich in mercy and full of grace. Thank you that you are forgiving and merciful. Thank you that you are strong and mighty. Thank you that you are for us and that you fight for us still today. Bring honor to your Name, Oh Lord, for You alone are worthy.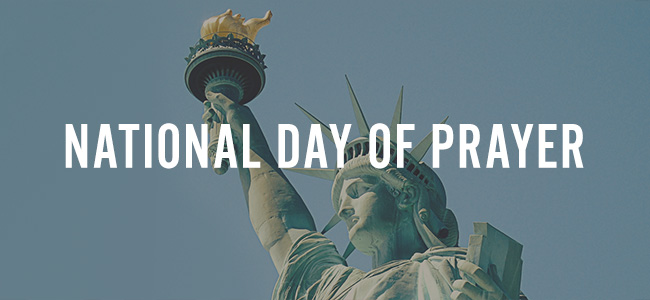 Prayer — The Fabric of the American Culture
Today, May 3, 2018, is America's National Day of Prayer. It became a permanent fixture on America's calendar of national observances in May of 1988 when President Ronald Reagan signed a bill into law designating the first Thursday of May as America's official, annual National Day of Prayer. I had the privilege, as a member of America's National Prayer Committee, to be in the White House that day to watch President Reagan sign this unprecedented historic document. Today, it may surprise you to know that more than 45,000 different public gatherings will be held all across America — on state capitol steps, in churches and in public arenas, including a national celebration in the famed Statuary Hall of the U.S. Capitol building. It is estimated that some 5 million Americans, and possibly many more, will participate in some way in united, public prayer on this very day. But how did this all begin?
From the earliest days of our republic, prayer has been foundational to the very fabric of our culture. Proclamations for a National Day of Thanksgiving, Fasting and Prayer were common. For example, from 1775, when the first Thanksgiving proclamation was issued, and up to 1815, a 40-year span, 42 different proclamations for prayer were issued (an average of about one per year). Of those 42, 13 focused on "Fasting, Humiliation and Prayer." I'll highlight two of these proclamations, one from our nation's earliest years and another from the Civil War almost a century later.
In 1777 a proclamation called for a Day of Fasting, Humiliation and Prayer that was to include "humble penitence confessing [our] manifold sins and aggravated transgressions imploring through Jesus Christ our Lord, the pardoning mercies of almighty God…" What amazing wording. The proclamation ends with this directive: "All servile labor and recreation are hereby forbidden on said day!" Imagine that wording getting by the "politically correct" censors of our day!
But perhaps most memorable of such national proclamations was issued in 1863 when President Abraham Lincoln challenged all Americans:
…to confess their sins… and the sins of our nation…
and to recognize the sublime truths… of Holy Scriptures,
and proven by all history, that those nations only are blessed
whose God is the Lord…
Fast forward to 1952 and our modern National Day of Prayer. During the Korean War, a young 34-year-old evangelist named Billy Graham stated in early 1952 that it would be deeply significant "at this time of crisis to see the leaders of our country kneeling before almighty God in prayer." Congressman Percy Priest of Tennessee heard these words from the young evangelist and referred to them before Congress as "a challenge to our nation for a National Day of Prayer."
No doubt these words reached President Truman's desk, perhaps beside the president's famed plaque that read "The Buck Stops Here," because in April of 1952 Truman signed a bill stating "a National Day of Prayer must be declared by each subsequent President at an appropriate date of his choosing."
Although this was surely a positive development, the phrase "an appropriate date of his choosing" was too general and lacked the impact of a fixed day, like Memorial Day, Thanksgiving or Martin Luther King Jr. Day. Furthermore, no broad coalition of spiritual leaders existed at the time to promote the cause.
That changed in the mid-1970s when Vonette Bright, co-founder of Campus Crusade for Christ with her husband, Bill, caught the vision. In 1976, Vonette hosted a meeting at the Christian Embassy in Washington during which seeds for a National Prayer Committee were planted. I had the privilege of being in that meeting, and all of us present felt that God was giving birth to something destined to become a new movement of prayer for our nation. The National Prayer Committee became official in 1979 and began contending ("lobbying" might be a better word) for a fixed National Day of Prayer.
Breakthrough came in 1986 when Senator Strom Thurmond of South Carolina, at the encouragement of the National Prayer Committee, offered a bill before the Senate for just such a fixed day. Almost immediately, 13 senators and 90 congressmen endorsed the bill. Two respected rabbis — Joshua Haberman and Marc Tanenbaum — also voiced full support of the bill. On May 5, 1988, the bill passed the Senate unanimously, followed quickly by overwhelming passage in the House. Final victory came Thursday, May 8, 1988, when President Ronald Reagan signed the bill into law. The first Thursday of May was now America's official, annual National Day of Prayer!
Today, America's National Day of Prayer is thriving. Not only will some 5 million Americans participate in some form of united, public prayer, but Christians in other nations will join in as well. And I am rather certain, when all this praying is completed — somewhere in the last time zone in America, the Hawaiian Islands — all will have prayed in agreement with President Lincoln's words, that both "the Holy Scriptures and history itself" prove "that those nations only are blessed whose God is the Lord!"
Editor's Note:
Dick Eastman is the International President of Every Home for Christ, a global evangelism ministry with 189 offices throughout the world. Dick is also a founding member of America's National Prayer Committee and has served as its president for more than 20 years.
3 Things We Teach Our Children When We Pray
By Ken Berding
Last week I posted a piece in which I encouraged each of us to actually pray when we pray. Since then my thoughts about prayer have moved in another direction, particularly as it relates to the training of our children. I am becoming increasingly convinced that one of the most significant ways we convey spiritual truth to our children is through our prayers. I believe that when we pray with our children, our children learn about our relationship with the Lord and what we believe about God. Let's look at three things we teach our children when they listen to us pray.
1.  When we pray, our children learn that we have a sincere relationship with the Lord.
This past Sunday I was talking with a friend about what children learn when they listen to their parents pray. He shared with me that when he was growing up his father's prayers were formulaic and seemed artificial to him. But in recent years my friend has noticed a change in his elderly father's relationship with the Lord. What's significant is that the chief way he has come to recognize the change is by listening to the way his father prays.
I grew up with a mother who had a sensitive relationship with the Lord, and I knew it from the way that she prayed. When I was a child she used to tell me that even if all my friends stopped being my friends, Jesus would always be my friend. I believed her. The reason I believed her is that when she prayed I could tell that she was talking to her closest friend.
 2.  When we pray, our children learn that we actually believe that God can and will answer our prayers.
Honestly, learning how to pray in groups in the United States has been kind of tough for me. When my wife and I lived in the Middle East, we were often around Christians who were expecting God to do big things. We knew it because of the way that they prayed. But one message has come through loudly and clearly to me in most of the prayer meetings I have attended in the United States: we don't actually believe anything is going to happen when we pray! I want my children to know that when we pray, we are speaking to a God who is strong enough to answer our prayers and who cares deeply enough to act on our behalf.
(Please note that you don't generate such faith by trying really hard to believe; rather you increasingly develop sensitivity to the Holy Spirit who helps you know how to pray and who increases your faith as you pray in dependence upon him. But that is another topic for another day.)
 3.  When we pray, our children learn what we believe about God.
I've thought more about this since reading Fred Sanders's recently released book, The Deep Things of God:  How the Trinity Changes Everything. The basic biblical pattern is praying to the Father, on the basis of what the Son has done, empowered by the Spirit. It is, of course, possible that we could communicate to our children a deficient view of the Trinity by praying always to Jesus as a friend, or being overly Spirit-focused in our prayers. (I am not saying that a prayer thanking Jesus for his death on the cross or a prayer to the Holy Spirit asking for him to empower you for witness is wrong, just that it isn't the biblical pattern.)
Your children will learn from you that God is holy by listening to the way you confess your sins; that God is a God of power when you worship him; that God truly cares when you call upon him in your time of need, and so on.
When I'm alone with the Lord, one of the prayers I pray more than any other is: "Lord, I want it to be real. I don't want to be a fake. I need your grace to live out what I teach." And now, by God's grace, I want my children to see the same thing in me. I don't pray for them; I pray to the Lord. But I think it's good to remember that our children are listening.
Saints Philip and James
Saint of the Day for 
May 3
(? – ?)
https://www.franciscanmedia.org/wp-content/uploads/2016/08/SODMay03.mp3
Saints Philip and James' Story
James, Son of Alphaeus: We know nothing of this man except his name, and, of course, the fact that Jesus chose him to be one of the 12 pillars of the New Israel, his Church. He is not the James of Acts, son of Clopas, "brother" of Jesus and later bishop of Jerusalem and the traditional author of the Letter of James. James, son of Alphaeus, is also known as James the Lesser to avoid confusing him with James the son of Zebedee, also an apostle and known as James the Greater.
Philip: Philip came from the same town as Peter and Andrew, Bethsaida in Galilee. Jesus called him directly, whereupon he sought out Nathanael and told him of the "one about whom Moses wrote" (Jn 1:45).
Like the other apostles, Philip took a long time coming to realize who Jesus was. On one occasion, when Jesus saw the great multitude following him and wanted to give them food, he asked Philip where they should buy bread for the people to eat. Saint John comments, "[Jesus] said this to test him, because he himself knew what he was going to do" (Jn 6:6). Philip answered, "Two hundred days' wages worth of food would not be enough for each of them to have a little [bit]" (Jn 6:7).
John's story is not a put-down of Philip. It was simply necessary for these men who were to be the foundation stones of the Church to see the clear distinction between humanity's total helplessness apart from God and the human ability to be a bearer of divine power by God's gift.
On another occasion, we can almost hear the exasperation in Jesus's voice. After Thomas had complained that they did not know where Jesus was going, Jesus said, "I am the way … If you know me, then you will also know my Father. From now on you do know him and have seen him" (Jn 14:6a, 7). Then Philip said, "Master, show us the Father, and that will be enough for us" (Jn 14:8). Enough! Jesus answered, "Have I been with you for so long a time and you still do not know me, Philip? Whoever has seen me has seen the Father" (Jn 14:9a).
Possibly because Philip bore a Greek name or because he was thought to be close to Jesus, some gentile proselytes came to him and asked him to introduce them to Jesus. Philip went to Andrew, and Andrew went to Jesus. Jesus's reply in John's Gospel is indirect; Jesus says that now his "hour" has come, that in a short time he will give his life for Jew and gentile alike.
---
Reflection
As in the case of the other apostles, we see in James and Philip human men who became foundation stones of the Church, and we are reminded again that holiness and its consequent apostolate are entirely the gift of God, not a matter of human achieving. All power is God's power, even the power of human freedom to accept his gifts. "You will be clothed with power from on high," Jesus told Philip and the others. Their first commission had been to expel unclean spirits, heal diseases, announce the kingdom. They learned, gradually, that these externals were sacraments of an even greater miracle inside their persons—the divine power to love like God.
---
Saints Philip and James are the Patron Saints of:
Uruguay
The Day I Rolled Down the Window
by John UpChurch, Crosswalk.com Contributor
"There is no fear in love. But perfect love drives out fear, because fear has to do with punishment. The one who fears is not made perfect in love."  1 John 4:18 
The guy had no teeth on top. Sadly, I noticed that first. His cigarette dangled between gum and lip.
While my wife jogged into Walgreens, this guy passed up dozens of other open spaces to squeeze his red coupe between our Prius and a truck that stuck slightly over the white line. He glanced over at us for only a moment before his window stuttered down and a mud-and-oil stained mitt poked out of the window to wave at my daughters in the backseat.
I confess. I didn't exactly feel neighborly.
And then the guy began speaking and pointing to our car. I couldn't hear a word through the glass, but that didn't stop him from mumbling around his cigarette, which was probably 80% ash. Smiling from the silliness of it, I zipped the passenger-side window down and wondered what would compel him to speak to a complete stranger in a parking lot.
Gas mileage. Seriously.
This random guy in the parking lot of Walgreens wanted to compare gas mileage. At least, that's what opened the door for conversation. From there, I learned what he did (shoeing horses), found out how his work had hurt his back (bulging disk), saw a picture of his prized new jackdaw (I had no clue either), and realized how much you can love a guy with no upper teeth.
He was real. He had no pretensions, no conceit, no desire to be anything more than he was. You got the raw, muddy man. And, sadly, I would never have spoken to the guy on my own if he hadn't put his huge hand and ashy cigarette out the window. Sadly, I didn't want to get messy.
But, really, love is all about the uncomfortable mess–just as God revealed in my life. To Him, I once looked much worse than toothless, much dirtier than mud-covered. But Jesus didn't care. He saw something through all that muck He loved. And am I ever glad He did.
Intersecting Faith and Life: Love means getting close to people who are nothing like us. God may put people there for us to reach out to that don't fit our ideal image of people we want to be around. They could reek of smoke, have few teeth, or even champion political views we don't like. It's enough to make us squirm.
But there's one key here that we cannot forget: He loves them. Jesus touched the diseased, dirty, and destitute. He wasn't afraid of engaging with the unpopular and scandalous. Instead, He specifically sought out those that no one else would. His grace knew no social barrier.
We can't let being uncomfortable prevent us from sharing that love.
For Further Reading
>1 John 1:1
>James 2:1

Be a Joshua
Have I not commanded you? Be strong and courageous. Do not be terrified; do not be discouraged, for the Lord your God will be with you wherever you go. – Joshua 1:9
All through the Old Testament book of Joshua, the Lord says, "Be strong and courageous, do not be afraid." What a message for us!
As I read through the book I was amazed at how when the Lord spoke to Joshua, Joshua never stood before the Lord with excuses.  He didn't attempt to refute why he couldn't capture the territory the Lord had already given him. He never grumbled and complained about his childhood or his feelings of inadequacy or his anxiety or anything else you can think of. He simply moved forward in faith. As a consequence he led the entire nation of Israel to conquer and settle in the Promised Land.
If you would arise each day with the same simple faith of Joshua, a faith that simply trusted the Lord as shown by your actions and behavior, just think about what area of your life you could capture. You could turn the tables on the enemies of your past . . . on the abuse and neglect and fear and hurt. You can capture that enemy territory.
The Lord has already captured that area of your life for you. He wants to hand it over to you so you can obtain victory!
In what area of your life do you need to see the walls come tumbling down?
"Courage is being scared to death and saddling up anyway." – John Wayne (1907-1979)
From How to Raise Selfless Kids in a Self-Centered World by Dave Stone
Years ago a friend told me that if you catch several crabs and place them in a basket, you won't need a lid.
"Won't they just crawl up and out?" I asked.
"No," he said. "If one of them starts its ascent and rises to the top, the others will pull him back down."
Modern society is a study in crab behavior. We're swimming in a sea of sarcasm. We gossip and talk back and criticize and spew out negativity. We undermine our enemies—and even our friends—without thinking twice about it. From the playground to the boardroom, tearing others down has become commonplace.
If you don't think so, just look around you. Whenever anyone gets too much praise or attention, some crabby person will feel it's time to bring the person back down. Kids who discourage other kids and run them down typically belong to parents who specialize in belittling. They are parroting their parents.
But that's not the way Jesus lived.
Jesus was a cheerleader, a congratulator, an encourager—and for some of the most unexpected people too. He went around touching lepers, welcoming prostitutes, forgiving adulterers. He even went to dinner with a hated tax collector named Zacchaeus when the so-called "holy people" of Jericho wouldn't give him the time of day. And Zacchaeus changed his ways on the spot, paid back four times what he had gained by cheating people, and became a follower of the Rabbi who accepted him as he was (Luke 19:1–9).
Encouragement breathes life into people. It gives them a second chance. Jesus knew the truth: you never make yourself look big by making others look small.
A very present help.
Psalm 46:1
Covenant blessings are not meant only to be observed but to be appropriated. Even our Lord Jesus is given to us for our present use. Believer, you do not make use of Christ as you ought to do. When you are in trouble, why do you not tell Him all your grief? Does He not have a sympathizing heart, and can He not comfort and relieve you? No, you are going to all your friends, except your best Friend, and telling your story everywhere, except into the heart of your Lord.
Are you burdened with this day's sins? Here is a fountain filled with blood: Use it, saint, use it. Has a sense of guilt returned upon you? The pardoning grace of Jesus may be proved again and again. Come to Him at once for cleansing. Do you deplore your weakness? He is your strength: Why not lean upon Him? Do you feel naked? Come here, soul; put on the robe of Jesus' righteousness. Do not stand looking at it, but wear it. Strip off your own righteousness, and your own fears too: Put on the fair white linen, for it was meant to be worn.
Do you feel yourself sick? Call upon the Beloved Physician, and He will give the medicine that will revive you. You are poor, but remember you have a kinsman, who is incredibly wealthy. What! Will you not go to Him and ask Him to give you from His abundance when He has promised that you will be joint heir with Him and has credited all that He is and all that He has to your account? There is nothing Christ dislikes more than for His people to make a show of coming to Him and yet not to use Him. He loves to be employed by us. The more burdens we put on His shoulders, the more precious He will be to us.
Let us be simple with Him, then,
Not backward, stiff, or cold,
As though our Bethlehem could be
What Sinai was of old.

What Jesus Did!

 'Give Us Daily Bread'

[Jesus said,] "The true bread of God is the one who comes down from heaven and gives life to the world." "Sir," [the people] said, "give us that bread every day."
Key Thought
The people's request is a valid one. Jesus even taught us to pray for our "daily bread." The problem is that requests for physical blessings are sometimes substituted for requests for a relationship with Christ and for an intimate walk with God. "Daily bread" sustains for only a day. The bread God most longs to give us sustains forever. What have you set your sights upon: "daily bread" or the eternal "bread of life"? Our goal is to pursue the latter, depending on God to give us the former! Pursue God's eternal bread of life, and you get both. Pursue daily bread, and you get eternal hunger.
Today's Prayer
O LORD God, my Father in heaven, please fill my heart with a passion for the right bread. Please give me the true bread of life to sustain, nourish, and fill me. I believe that Jesus not only has the words of life but that he also is the true bread that has come from you to give me life. Give me a holy passion to know him and to be filled by him. I pray this in his name. Amen.
Related Scripture Readings
Daily Wisdom:

 Proverbs 17:3
Spiritual Warfare:

 'God Commands You to Store up for Yourself'

God's Power for Our Battles

Don't store treasures for yourselves here on earth where moths and rust will destroy them and thieves can break in and steal them. But store your treasures in heaven where they cannot be destroyed by moths or rust and where thieves cannot break in and steal them.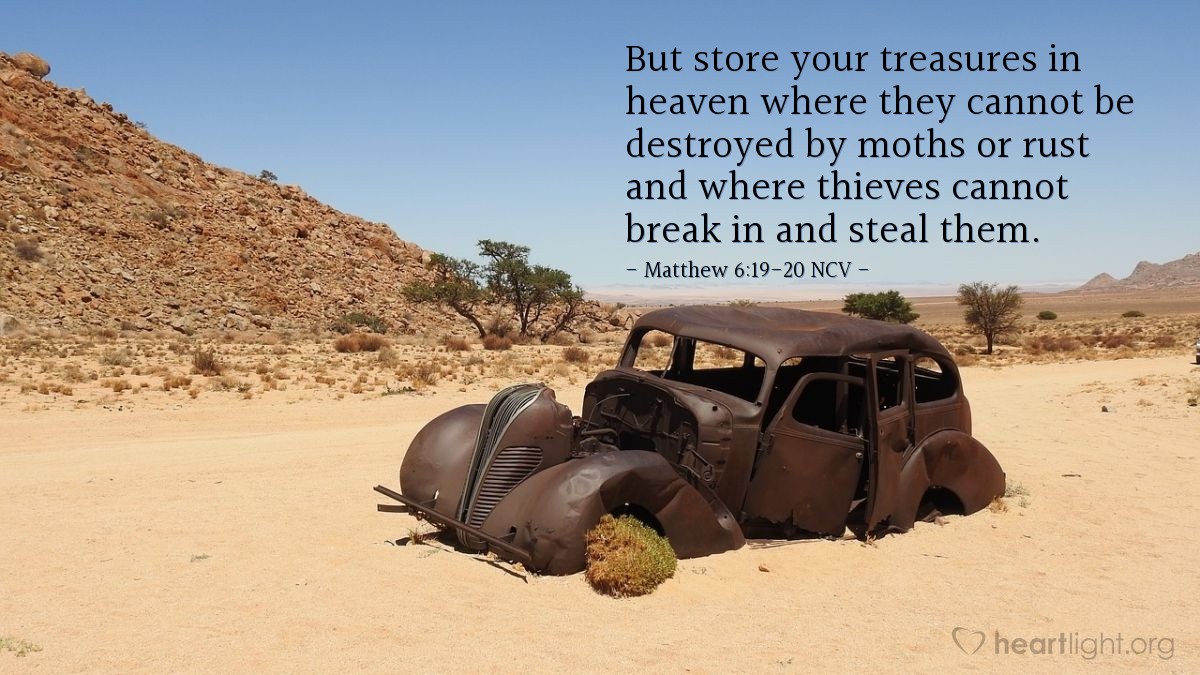 Lord, I used to think that it was selfish to store up treasure for myself, but now I realize that You commanded us to do just that. Thank You for reminding me what kind of treasures will last, and where they need to be stored. Help me now, Lord, to be rich in giving to others and to the church and also to be wealthy in good deeds and acts of kindness. Help me always to remember that treasure stored here won't last and that doing good deeds adds enormously to my eternal bank account. I want to have credits for my eternal life, so lead me to do good. In Jesus' Name, Amen.

Today's Scripture
"Let us think of ways to motivate one another to acts of love and good works. And let us not neglect our meeting together, as some people do, but encourage one another, especially now that the day of his return is drawing near." – Hebrews 10:24-25 NLT
Thoughts for Today
We can show love for the family of believers by thinking of ways to motivate one another to reach out with acts of love and good works.
Notice this scripture doesn't call us just to motivate one another. It says to think of ways to motivate one another. We aren't supposed to motivate others just when the opportunity presents itself (although we should do that). We are supposed to think of ways to motivate one another. To pray for ways to encourage one another. God wants us to be proactive in motivating others to do good. .
Consider this …
Today's scripture tells us that meeting together is an important ingredient to motivating and encouraging one another. We can't motivate people if we don't see them! Meeting together to encourage one another strengthens us as the body of Christ.
Today's world brings great challenges. Financial challenges. Family challenges. Ministry challenges. The battle between sin and righteousness grows sharper. We need to be courageous to reach out to lost and hurting people. We need to motivate one another to acts of love and good works to win those people to Jesus. This is not a time for isolation or withdrawal. This is a time for us to seek God together as never before and to continually motivate one another to do what God is calling us to do.
Prayer
Father, open my eyes to the needs of my brothers and sisters. Show me how to encourage them and motive them to acts of love and good works. In Jesus' name . . .
Our Labor in the Lord
TGIF Today God Is First Volume 1 by Os Hillman
May 03, 2018
"Therefore, my dear brothers, stand firm. Let nothing move you. Always give yourselves fully to the work of the Lord, because you know that your labor in the Lord is not in vain." – 1 Corinthians 15:58
There is a paradigm shift going on among a remnant of workplace believers today. That paradigm shift is a focus on using our business and work life as a platform for ministry versus a platform solely for material success. There is a remnant of workplace believers throughout the world today who understand their birthright in the workplace is to reflect Christ fully in and through their work. It is reflected by a commitment to use their resources and skills to provide a product of excellence with the overall motive to affect people for Jesus Christ. The difference is that these individuals have an overriding ministry objective to their work.
When the apostle Paul tells us to fully work unto the Lord, he does not mean we must be working as missionaries in "full-time Christian effort." He understands that all of life is holy and sacred to God. If our motive is to serve God where we are, then our labor "in the Lord is not in vain."
As you begin your work today, ask God if you are working with the primary motive of reflecting His life and character through your work on this day. Let nothing move you from this motive being central to your activity. The Lord will reflect His power and leading in and through your life when this becomes your primary motive.
NATIONAL SPECIALLY-ABLED PETS DAY
Annually on May 3, National Specially-abled Pets Day is celebrated.  This day is set aside to educate the public about caring for disabled pets. National Specially-Abled Pets Day features disabled animals looking for a home.  It also encourages animal lovers to consider choosing a disabled pet when they are looking at adopting a new pet family member.
HOW TO OBSERVE
Use #SpeciallyAbledPetsDay to post on social media.
HISTORY
National Specially-abled Pets Day was launched by animal advocate, author and pet lifestyle expert Colleen Paige. The Animal Miracle Foundation helps to educate the public and celebrates these amazing and heroic animals. For more information visit www.disabledpetday.com.
On a personal note…..
Blind but not Unseeing….
I cannot see you Mommy, when you cuddle me so near.
And yet I know you love me, it's in the words I hear.
I cannot see you Daddy, when you hold me by your side
But still I know you love me when you tell me so with pride.
I cannot see to run and play out in the sun so bright
For here inside my tiny head it's always dark as night.
I cannot see the treats you give when I am extra good
But I can wag my tail in Thanks just like a good dog should.
"She cannot see. The dog's no good" is what some folks might say
"She can't be trained, she'll never learn, She must be put away."
But not you, Mom and Daddy, You know that it's alright
Because I love you just as much as any dog with sight.
You hold me close, you give me love and we will never part
Because I'm blind with just my eyes, I see you in my heart.
Our tiniest fur baby, Zelda, has suddenly gone blind……she had ear infections that we got treated and she "'gator-rolled" for about 2 days or so while she had these infections. Now, just when we thought she was well, I began to notice that she was still sorta walking sideways, and then she leaped out of her Daddy's arms for no reason……..that night, after a nap, she awoke and I could tell she was blind…..she stares off into the distance……she bumps into walls and things…..she turns her head at the sound of our voices, trying to find us. Oh, Lord, I can't bear the thought! Our baby fell asleep in daylight and awoke to darkness!! WHY????? Please, give her back her eyes! I am not ready to lose her!