Christoph Friedrich Blumhardt
I cry to you, Lord; I say, "You are my refuge, my portion in the land of the living." Psalm 142:5, NIV
Lord our God, we seek your light and pray that you shed your light upon us so that we live not only on earth but in you, the eternal and living One. May our lives be drawn into eternity, to the praise of your name, O Father. May we take your Word to heart so that we can become true men and women, able to bear everything in your name and to remain in the love you want to give us. Rouse us to become true men and women at the side of Jesus Christ our Savior, who has been patient in all things with all people. Be with us at all times, Lord our God. You are our help and our refuge. Amen.
Verse of the Day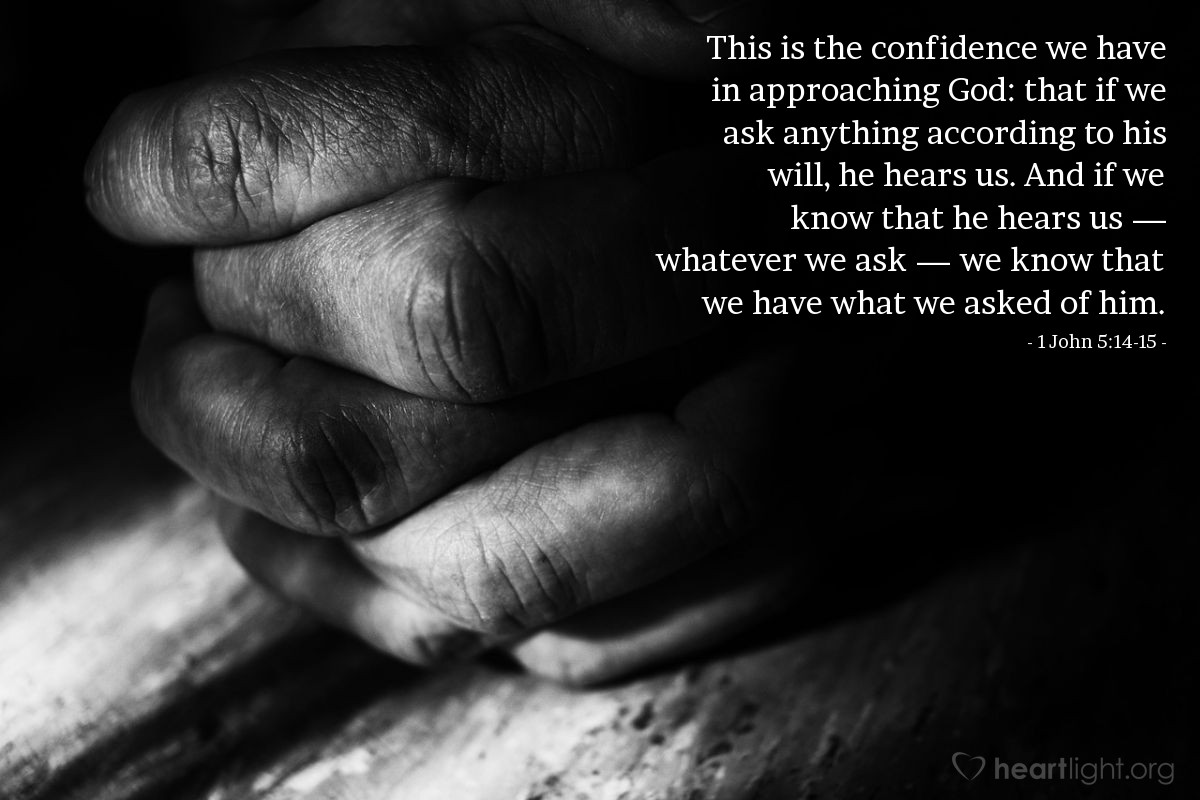 Thoughts on Today's Verse…
Confidence before God. That's sort of an oxymoron if you meditate upon it. Yet through the presence of Jesus at the Father's right hand and the intercession of the Holy Spirit, we can have confidence and come boldly before the Creator of the universe and know that he not only hears us, but also cares for us. Wow, what an audience! Oh, and one final thing, he also ACTS on what we ask.
My Prayer…
Abba Father, for the grace of your listening ear I thank you more than words can say. Through the authority of Jesus my brother and by the grace of your interceding Holy Spirit, I offer you my thanks and love this day. Amen.
Armor 'n Enemies
by Shawn McEvoy, Crosswalk.com Director of Editorial
Therefore put on the full armor of God, so that when the day of evil comes, you may be able to stand your ground, and after you have done everything, to stand. Stand firm then, with the belt of truth buckled around your waist, with the breastplate of righteousness in place, and with your feet fitted with the readiness that comes from the gospel of peace. In addition to all this, take up the shield of faith, with which you can extinguish all the flaming arrows of the evil one. Take the helmet of salvation and the sword of the Spirit, which is the word of God. And pray in the Spirit on all occasions with all kinds of prayers and requests. With this in mind, be alert and always keep on praying for all the saints. Pray also for me, that whenever I open my mouth, words may be given me so that I will fearlessly make known the mystery of the gospel.
Six pieces of armor. Five primarily defensive, one primarily offensive. And yet…
Have you ever used the chest-bumper of righteousness on someone? How about the head-butter of salvation? The bludgeoner of faith? The shin-kicker of readiness or the gut-puncher of holiness?
Even the sword of the spirit has its proper purpose: to fight our enemies. Which are?
Other Christians? Unbelievers? Mean people?
While we humans can be so hard on each other, no. One verse earlier, Paul tells us what we're fighting:
Our struggle is not against flesh and blood, but against the rulers, against the authorities, against the powers of this dark world and against the spiritual forces of evil (v. 12).
Quite convicting, really. Not only do I clearly go into many days without getting completely dressed, even when I do, I'm mis-using my equipment, fighting in the dark, swinging blindly, or wounding with friendly fire.
I don't know about you, but for me, the elemental 
Bible
 verses I first learned as a youth (like today's verse) are the ones I need to continually reconsider, because they're the ones I tend to just believe without acting upon.
When times come – like these days we're in now – where there is fierce political thought and lines being drawn and opinions spouted as truth, including the opinion that there is no truth – it's just so easy to get drawn in before we remember to put on our armor or be trained in using it. When that happens, we tend to view our enemies as each other, and forget or deny that the war is still spiritual. And therefore more serious, more wearying, not less.
Intersecting Faith & Life: Get dressed this morning, and tomorrow morning. Once equipped, try emphasizing the defensive uses of most of the armor. Stand up for someone. Protect the reputation of another. Shelter someone in loving truth. Run quickly to someone in need. I pray you'll begin to survive your days much less scathed.
Further Reading
3 Words Which Absolutely Destroy Worry
Worry is the act of imagining a future without God.
When you strip it down to its bones that's what it really is. I worry when I imagine a future devoid of God. I worry when I project my current feelings and discouragements and struggles into the future. I worry when I take God's love and faithfulness out of the equation. When I imagine a stark and bleak future, a screaming void in which my faithful and loving Father does not exist or act on my behalf. Underneath all the anxiety and fear and confusing emotions worry is actually a form of atheism. It's acting as if God does not exist.
Psalm 18:46 provides three words which destroy worry and fuel faith: "The Lord lives…"
Don't pass over those words too quickly. The. Lord. Lives.
My budget is flatlining and we are financially tanking and I don't see hope for the future! But the Lord lives. The same Lord who owns everything and provides for ravens and sustains galaxies and calls us his children is real and alive and active in your life. You can't provide for yourself but your budget is not too tight for God. The Lord lives.
Worry is the act of imagining a future without God.
My child is not doing well spiritually and I've tried everything and I don't have any hope that anything will change! The Lord lives. The same Lord who has saved murderers and prostitutes and Pharisees and drug addicts and money addicts and pastors' kids is real and alive and active in your life. You can't save your child, but your kid is not too hard for God. The Lord lives.
My marriage is on the rocks and we've tried counseling and we've read all the books and I don't see things getting any better! The Lord lives. The same Lord who created a bride for himself out of rebellious, wicked, God-hating sinners is real and alive and active in your life. You can't rescue your marriage, but your marriage is not too hard for God. The Lord lives.
My spiritual life is dry, and I've tried a thousand different things to get it kickstarted, but nothing seems to work, and honestly, I don't think things are going to get any better. The Lord lives. The same Lord who caused you to become spiritually alive is real and alive and active in your life. You can't breathe fresh life into your heart, but your heart is not too dry for God.
Your circumstances may be bleak. You may not see a light at the end of the tunnel. You may not see any silver lining. But circumstances and tunnels and silver linings are not the basis of our hope, God is.
Don't be a functional atheist today. The Lord lives. Let's live in light of that reality.
---
Stephen Altrogge serves as a pastor at Sovereign Grace Church. Find out more at The Blazing Center.
Saint Athanasius
Saint of the Day for 
May 2
(c. 296 – 
May 2, 373

)

https://www.franciscanmedia.org/wp-content/uploads/2016/08/SODMay02.mp3
Saint Athanasius' Story
Athanasius led a tumultuous but dedicated life of service to the Church. He was the great champion of the faith against the widespread heresy of Arianism, the teaching by Arius that Jesus was not truly divine. The vigor of his writings earned him the title of doctor of the Church.
Born of a Christian family in Alexandria, Egypt, and given a classical education, Athanasius became secretary to Alexander, the bishop of Alexandria, entered the priesthood and was eventually named bishop himself. His predecessor, Alexander, had been an outspoken critic of a new movement growing in the East—Arianism.
When Athanasius assumed his role as bishop of Alexandria, he continued the fight against Arianism. At first, it seemed that the battle would be easily won and that Arianism would be condemned. Such, however, did not prove to be the case. The Council of Tyre was called and for several reasons that are still unclear, the Emperor Constantine exiled Athanasius to northern Gaul. This was to be the first in a series of travels and exiles reminiscent of the life of Saint Paul.
After Constantine died, his son restored Athanasius as bishop. This lasted only a year, however, for he was deposed once again by a coalition of Arian bishops. Athanasius took his case to Rome, and Pope Julius I called a synod to review the case and other related matters.
Five times Athanasius was exiled for his defense of the doctrine of Christ's divinity. During one period of his life, he enjoyed 10 years of relative peace—reading, writing, and promoting the Christian life along the lines of the monastic ideal to which he was greatly devoted. His dogmatic and historical writings are almost all polemic, directed against every aspect of Arianism.
Among his ascetical writings, his Life of St. Anthony achieved astonishing popularity and contributed greatly to the establishment of monastic life throughout the Western Christian world.
---
Reflection
Athanasius suffered many trials while he was bishop of Alexandria. He was given the grace to remain strong against what probably seemed at times to be insurmountable opposition. Athanasius lived his office as bishop completely. He defended the true faith for his flock, regardless of the cost to himself. In today's world we are experiencing this same call to remain true to our faith, no matter what.
Pursue Hospitality
Romans 12:9-14 says,
Let love be without hypocrisy.  Abhor what is evil.  Cling to what is good.  Be kindly affectionate to one another with brotherly love, in honor giving preference to one another; not lagging in diligence, fervent in spirit, serving the Lord; rejoicing in hope, patient in tribulation, continuing steadfastly in prayer; distributing to the needs of the saints, given to hospitality.  Bless those who persecute you; bless and do not curse.
At the end of verse 13, Paul says we are to be "given to hospitality."  The word given is the Greek word translated "pursue" everywhere else in the New Testament.  This could be translated "pursuing hospitality."
Hospitality is actually a compound word in the Greek language.  The first part of the word means to be fond of.  The second part means guests.  So hospitality means to be friendly to strangers, to open your heart and open your home to others.
The Scripture is very strong when it says we are to pursue hospitality.  It is one of the greatest ways in all the world to demonstrate the love of God to people who are in need.
I remember like it was yesterday a time I was preaching at a church.  It was over 20 years ago, when I was a newlywed.  After the service was done, Janet and I were standing around not knowing what to do.  No one was speaking to us and the church had made no provision for our lodging or meals.
Just then an elderly couple came up to us and invited us to their home for lunch, which we gratefully accepted.
And you know what?  I don't remember what I preached that day, but to this day I remember eating roast in that couple's home.  I remember their graciousness, their hospitable spirit, and how much they made us feel welcome.
Pursue hospitality!
Wise Counsel
But Jehoshaphat also said to the king of Israel, "First seek the counsel of the Lord" – 1 Kings 22:5
If you desire spiritual growth, then you'll need wise counselors in your life. Even Solomon, the wisest man who ever lived, recognized the need for wise and godly counsel. Turning to trustworthy counselors in times of confusion or uncertainty can help you preserve your spiritual strength.
In the book of Proverbs, Solomon gave this advice, "Plans go wrong for lack of advice; many counselors, bring success." (15:22)  He also said, ". . . with many counselors there is safety."(Proverbs 11:14)
Where else can you look for wise counsel? Solomon's father David looked to God's Word, saying, "Your decrees please me; they give me wise advice." (Psalm 119:24) And the prophet Isaiah made it clear that the Messiah himself would be our great counselor when he came. He said, "For a child is born to us, a son is given to us.  And the government will rest on his shoulders. These will be his royal titles: Wonderful Counselor, Mighty God, Everlasting Father, Prince of Peace." (Isaiah 9:6)
Jesus is the one who grants wisdom, hope, and purpose to life, even and especially in times of confusion or trouble. Good counsel comes from God's word and from godly people. It can come from professionally trained pastors, counselors, or from people who understand your specific issues and care for you. Whatever the case, don't isolate. You'll do yourself a great service if you seek wise counsel.
"Counsel woven into the fabric of real life is wisdom." – Walter Benjamin (1892-1940)
From In God We Still Trust by Dr. Richard Lee
If My people . . . will humble themselves, and pray . . . then I will . . . forgive their sin and heal their land. – 2 Chronicles 7:14
National Day of Prayer
On January 25, 1988, the United States Congress declared the first Thursday of each May to be recognized as a National Day of Prayer.
Be it enacted by the Senate and House of Representatives of the United States of America in Congress assembled, That the joint resolution entitled "Joint Resolution to provide for setting aside an appropriate day as a National Day of Prayer," approved April 17, 1952 (Public Law 82–324; 66 Stat. 64), is   amended by striking "a suitable day each year, other than a Sunday," and inserting in lieu thereof "the first Thursday in May in each year."
Patriot's Prayer
Sovereign God, thank You for this great country where we can set aside a day for the express purpose of praying for our nation. Raise up people to do just that, not only on an official day, but every day.
Patriot's Promise
God rewards those who pray to Him—those individuals and those nations: "He shall pray to God, and He will delight in him, He shall see His face with joy, for He restores to man His righteousness" (Job 33:26).

What Jesus Did!

 'True Bread Gives Its Life'

Jesus said, "I tell you the truth, Moses didn't give you bread from heaven. My Father did. And now he offers you the true bread from heaven. The true bread of God is the one who comes down from heaven and gives life to the world."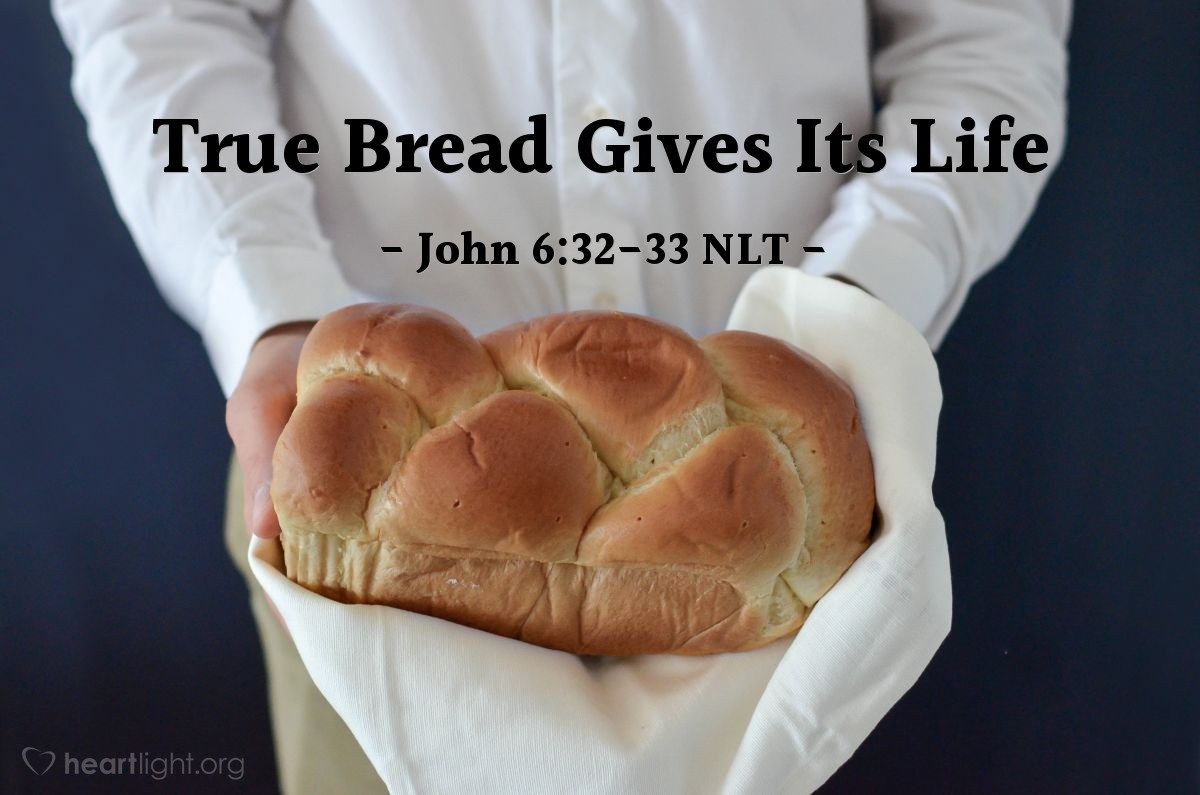 Key Thought
Bread is the "staff of life" in many countries. But physical bread can sustain only the physical body and for only a short time. Heavenly bread sustains long term. It gives genuine life. Why? Because it has come from heaven! Jesus is that true bread. He alone sustains forever. When our lives are joined to Jesus, his glory and his life become our own.
Today's Prayer
Thank you, dear God, for giving me true bread. Only you can feel the hunger I feel in my soul. I come to you to be sustained and fed. Only you bless with the bread of life, in whose name I thank you. Amen.
Related Scripture Readings
Daily Wisdom:

 Proverbs 11:22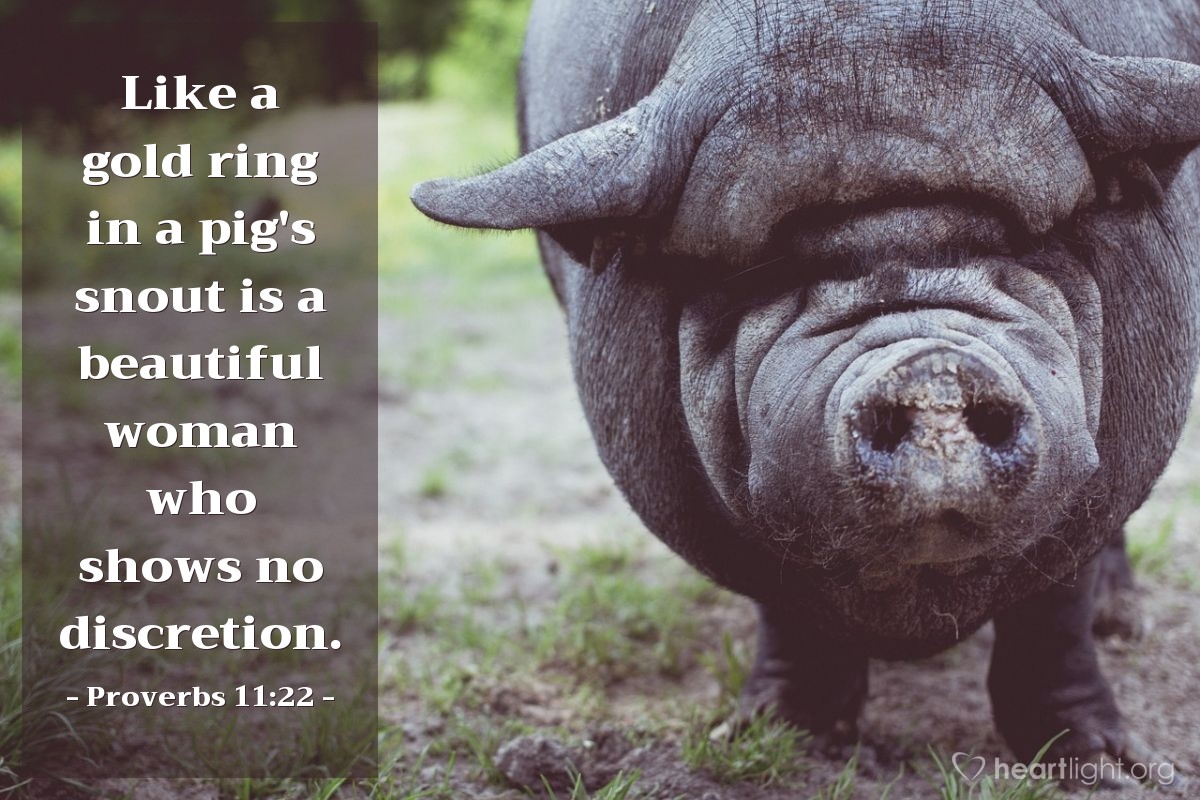 Spiritual Warfare:

 'Some Christians Teach & Promote Lies'

God's Power for Our Battles

The Spirit says clearly that in later times some believerswill desert the Christian faith. They will follow spirits that deceive, and they will believe the teachings of demons. These people will speak lies disguised as truth. Their consciences have been scarred as if branded by a red-hot iron.
Today's Prayer
Lord, it's disturbing to realize that there are some Christians listening to demons and believing their awful lies. It's scary that demons can use believers to lead other believers astray. But I know now that this is possible, so help me to be on my guard. Please have Your Spirit to show me when teaching is false. I love Your truth, and don't want to see it become diluted, Lord, so please open my eyes to this sort of deception. In Jesus' Name, Amen.
Illustration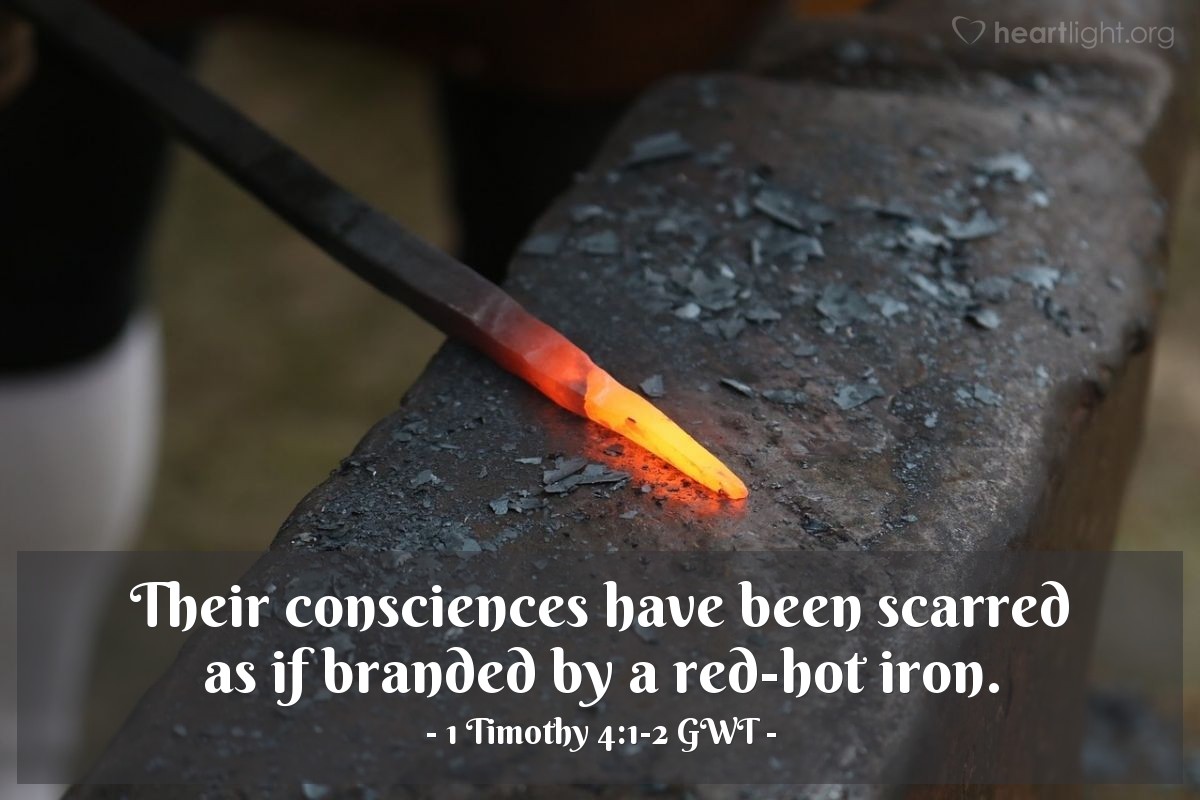 These all died in faith.
Hebrews 11:13
Consider the epitaph of all those blessed saints who fell asleep before the coming of our Lord! The issue is not how they died—whether of old age or by violent means—but that whatever their diverse experiences, they are united in Him: "These all died in faith." In faith they lived—it was their comfort, their guide, their motive, and their support; and in the same spiritual grace they died, ending their life-song in the sweet melody that had followed them through life. They did not die trusting in the flesh or their own attainments; they never wavered from their first way of acceptance with God but held to the way of faith to the end. Faith is as precious to die by as to live by.
Dying in faith has distinct reference to the past. They believed the promises that had gone before and were assured that their sins were blotted out through the mercy of God. Dying in faith has to do with the present. These saints were confident of their acceptance with God; they enjoyed the benefits of His love and rested in His faithfulness. Dying in faith looks into the future. They fell asleep, affirming that the Messiah would surely come and that when He in the last days appeared upon the earth, they would rise from their graves to behold Him. To them the pains of death were but the birth-pangs of a better state.
Take courage, my soul, as you read this epitaph. Your journey, through grace, is one of faith, not sight, and this has always been the pathway of the brightest and the best. Faith was the orbit in which these stars of the first magnitude shone in their day; and happy are you to be in their company. Look again tonight to Jesus, the founder and perfecter of your faith, and thank Him for giving you like precious faith with souls now in glory.
Today's Scripture
"Be devoted to one another in love. Honor one another above yourselves." – Romans 12:10 NIV
Thoughts for Today
Family love means we are to honor one another. We are to treat our brothers and sisters with respect and never think we are better than they are. We are to put the needs of other people before our own. We are to live with a servant's heart.
Jesus gave us such a beautiful example of honoring others when he washed the feet of the disciples. God the Son humbled himself by kneeling down and washing the feet of those he was teaching. The magnitude of that act of humility is beyond our comprehension. He tells us to follow his example: "Now that I, your Lord and Teacher, have washed your feet, you also should wash one another's feet" (John 13:14 NIV). Jesus calls us to have a servant's heart.
Honoring others can have many faces. Reaching out to do practical acts of service to help others–even when the task is unpleasant or inconvenient. Submitting to someone else's idea and helping pursue it even when we think our idea is better. Respecting other people's opinions even when they differ from ours. Staying in the background and allowing others to be credited for a job well done.
Consider this …
God has a plan for each believer. And as believers around the world carry out those plans, his will can be accomplished. Instead of competing with other believers or ministries, we are called to honor and support them. Instead of envying other people's gifts and talents, we are called to encourage them.
As we learn to honor one another with love, we will show this competitive world that Jesus does make a difference. As we honor one another, we will accomplish more for the kingdom. And, most important, as we honor one another, we will please our Lord. .
Prayer
Father, help me remember to honor my brothers and sisters. To respect them and their ideas. To serve them with humility. In Jesus' name . . .
Ability Versus Availability
TGIF Today God Is First Volume 1 by Os Hillman
May 02, 2018
"His pleasure is not in the strength of the horse, nor His delight in the legs of a man; the Lord delights in those who fear Him, who put their hope in His unfailing love." – Psalm 147:10-11
Do you ever feel so skilled in what you do that you require little help from others? Perhaps you may feel that you are more skilled than any other in your field. Does God need your skills and abilities in order to accomplish His purposes on this earth? The answer is NO.
One thing God does not need is our skills and abilities. However, He does give us the privilege to exercise our gifts and abilities for His service. That service may be as a computer technician, a secretary, an ironworker, or even a lawyer. God calls each of us to our vocations to work unto Him. To believe that He needs our skills to accomplish His mission on earth would be to lower our understanding of an all-encompassing and all-powerful God. The psalmist tells us that His pleasure is not in our strength and ability, but His pleasure is in the attitude of the heart. It is what we find in the heart that helps determine whether ability is translated into availability. You see God is looking to and fro throughout the earth for a man or woman who is fully committed to Him. A man or woman who is committed to fearing the Lord and placing his hope in His unfailing love is the person God seeks to support. "For the eyes of the Lord range throughout the earth to strengthen those whose hearts are fully committed to Him" (2 Chron. 16:9a). When our agenda becomes His agenda, we can expect God to fully support all that we do.
If we want to see our skills and abilities multiplied a hundredfold, then we must make them completely available to His service. Where are the opportunities in which God is calling you to be available to Him? Next time someone asks you to be involved in some activity, before you say yea or nay, make sure you check in with the Master of our decisions to ensure that your gifts and talents are being used, as He desires.
NATIONAL TRUFFLE DAY
National Truffle Day is observed annually on May 2nd.  On this day, the deliciously sweet chocolate truffle gets the spotlight.
This chocolate confectionery is traditionally made with a chocolate ganache center coated in chocolate, icing, cocoa powder, chopped nuts or coconut.  The truffle may be filled with other fillings such as cream, melted chocolate, caramel, nuts, fruit, nougat, fudge, toffee, mint, marshmallow or liqueur.
N. Petruccelli of Chambery, France is believed to be the inventor of the chocolate truffle in December 1895.  Truffles became much more popular in 1902 when Prestat Chocolate Shop opened in London.  Prestat still sells "Napoleon III" truffles made to the original recipe.
HOW TO OBSERVE
Enjoy the following tried and true recipes.
Easy OREO Truffles
Easy Decadent Truffles
Basic Truffles
Chocolate Truffles
Use #NationalTruffleDay to post on social media.
HISTORY
Within our research, we were unable to identify the creator of National Truffle Day.
NATIONAL LIFE INSURANCE DAY
National Life Insurance Day is observed annually on May 2nd.  This day marks the anniversary of the first day life insurance became available in the United States.
The sale of life insurance in the U.S. began in the late 1760s. The Presbyterian Synods in Philadelphia and New York City created the Corporation for Relief of Poor and Distressed Widows and Children of Presbyterian Ministers in 1759.
On May 2, 1759, the charter was recorded for the Corporation for Relief of Poor and Distressed Widows and Children of Presbyterian Ministers. Episcopalian priests created a comparable relief fund in 1769. Between 1787 and 1837 more than two dozen life insurance companies were started, but fewer than half a dozen survived.
Life insurance can do some pretty amazing things for people. It can buy loved ones time to grieve. It can pay off debts and loans, providing surviving family members with the chance to move on with a clean slate. It can keep families in their homes and pre-fund a child's college education. It can keep a family business in the family. It can provide a stream of income for a family to live on for a period of time.
HOW TO OBSERVE
Use #LifeInsuranceDay to post on social media.
HISTORY
Submitted by Liran Hirschkorn, an Independent Insurance Agent at www.BestLifeQuote.com in March 2014 and certified by the Registrar at National Day Calendar by the policies set forth to designate a National Day Observation.