Christoph Friedrich Blumhardt
"For I know the plans I have for you," declares the Lord, "plans to prosper you and not to harm you, plans to give you hope and a future." Jeremiah 29:11, NIV
Lord Jesus, we look to you on the throne beside your Father in heaven and ask that you be Lord of peace in our hearts. Help us to overcome ourselves again and again and to remain at peace. Then your will may be done in your disciples, a power of peace may be around us that goes out into the whole world, and your name may be glorified on earth. For you are Lord of peace, and we await you. In difficult times faith and hope will take hold in our hearts all the more firmly, to your glory, Lord Jesus. For you will suddenly come according to your promise as the One who does God's will on earth among all people. Amen.
Verse of the Day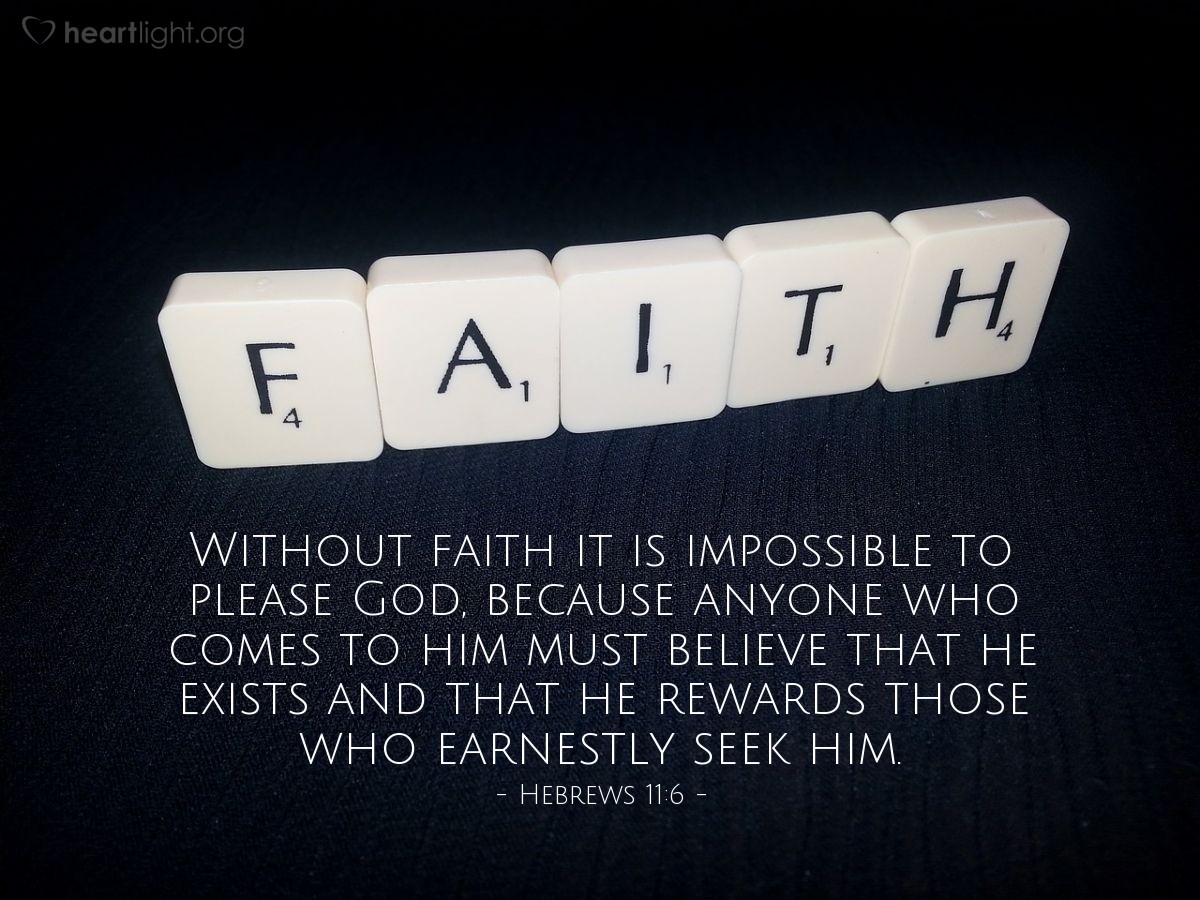 Thoughts on Today's Verse…
I believe! I believe that God not only knows me, but cares about me. I believe that God not only created the universe, but he knows the number of hairs on my head. I believe that God not only sent his Son to save the world, but that he's sending him back to bring me home. What's more, I believe that God is pleased by my belief.
My Prayer…
Almighty, Most Holy Lord, I thank you for your steadfast love and enduring faithfulness. I thank you for your grace and mercy. I thank you for your might and power. I thank you for your awesome holiness. I thank you… for being you, and choosing to reveal yourself to mortals like me. Through Jesus, your final Word, I pray. Amen.
It's too soon to say for sure, but if things continue to develop positively between North and South Korea, it would not be farfetched to think that we are witnessing a miracle unfold before our eyes. And I say this circumspectly.
After all, just a few months back, North Korean dictator Kim Jong Un was threatening nuclear war as he and President Trump rattled their sabers. The situation looked grim, and many pundits were concerned that Trump was provoking a madman with a powerful army and arsenal.
Worse still, North Korea has been one of the darkest, most closed countries on the planet for more than half a century. Whole families can be imprisoned. Christians suffer horrific abuse. Crowds are ordered to watch public executions.
Big Brother is always watching, while the nation is fed a steady diet of propaganda and lies. It's as if someone read Orwell's 1984 and said, "Let's do this in North Korea."
As for Kim himself, an editorial column by David A. Welch posted in January on the Globe and Mail noted that, "Mr. Kim is clearly not a run-of-the-mill leader. He has assassinated his brother, executed his uncle and had senior military officers killed by anti-aircraft fire for no more reason than failing to stand up quickly enough when he entered the room or nodding off in a meeting."
And yet, just days ago, we were reading these words: "North Korea's Kim Jong-un and South Korea's Moon Jae-in shook hands at the border and then held hands as they crossed the military line between the two countries.
"This is the first time a North Korean leader has set foot in the country of South Korea in 65 years."
Go back six months in time and ask yourself who would have imagined that, in the last week of April, 2018, the leaders of North and South Korea would meet at the border in mutual embrace? Or that the president of South Korea, President Moon Jae-in, would be recommending Donald Trump for the Nobel Peace Prize? (Honestly, I'm not sure which is more remarkable, the smiling pictures of the two Korean leaders laughing and holding hands, or the headlines about Trump deserving the Peace Prize.)
Again, we don't know exactly how this will turn out, and we don't know what natural circumstances produced this amazing breakthrough. But the breakthrough is so shocking and significant that I'm not only looking for natural explanations. I'm looking for supernatural explanations.
I've had the privilege of ministering in South Korea on 12 different occasions, spending many hours with the devoted Christians there. They are incredibly hardworking, incredibly passionate, incredibly visionary and incredibly prayerful. No one prays like the Korean Christians!
One megachurch pastor told me that, for several decades, he personally led the 6:00 a.m. prayer meeting at his church. He also led the early-morning prayer meeting that started at 4:30 a.m. The 6:00 a.m. prayer service was the later one.
He was a very busy pastor, nationally respected and sitting on many boards. Yet for decades, he found the time to lead these two prayer meetings, beginning at 4:30 a.m.
One night, I spoke at the 10:00 p.m. service of another megachurch. After they sang some hymns, I was asked to preach, then to walk through the building and lay hands on each of the several thousand believers gathered there, one at a time.
As you could imagine, this took some time. But what got my attention was the fact that almost no one opened their eyes or looked around. They were all fervently praying. Even in the nursery, the mothers prayed with eyes closed, holding their little ones in their arms as they rocked back and forth.
But this was just the beginning. (Remember: We started at 10:00 p.m.) The service continued for hours after I left. It was their weekly, congregational, all-night prayer meeting.
To say it again: No one prays like the Korean Christians.
And this is why I'm wondering out loud if there has been unusual divine intervention between North and South Korea.
Before the Korean War, the majority of the nation's Christians were in the north, and they fled south or went underground when the country was divided. Then something remarkable happened. Christianity began to spread like fire through South Korea, with many of the world's most significant congregations based there today.
Yet these congregations are not complacent. There is a powerful enemy just miles to the north, an enemy that threatens to invade and devastate their nation. And so, for decades, they have prayed for divine protection from their hostile northern neighbor.
But they have also prayed with many tears for their oppressed northern siblings. These South Korean Christians grieve over the deprivation suffered in the north, over the persecution, over the famines. And when they saw the North Koreans weeping when their national leader died—they had worshipped him as if a god, just as they do today with Kim—these South Korean Christians also weep, praying that the veil of deception would be lifted.
Back in July 2016, I participated in an open-air worship service and prayer meeting at the demilitarized zone together with local and international Christians. It was chilling to look over the border and think that, just a few hundred yards away, a whole nation lived virtually cut off from the outside world. Yet we prayed with fervor for the reunification of Korea, adding our voices to the millions of others who have cried out to God through the decades.
And now, less than two years later, near this very same location, the leaders of North and South Korea embraced. Do you understand better why I asked if we are witnessing a miracle unfolding before our eyes?
Again, I recognize that we don't know exactly where things are going. And even if both countries opted for reunification tomorrow, it would be a massively complex, difficult endeavor. How do you bring a closed nation into the light of day?
But to answer this, I go to the Scriptures: With man, it's impossible. "With God, all things are possible" (Matt. 19:26b).
Let's continue, then, to pray and watch and wait. We may be eyewitnesses to a 21st-century act of God.
Dr. Michael Brown (www.askdrbrown.org) is the host of the nationally syndicated Line of Fire radio program. His latest book is Playing with Holy Fire: A Wake-up Call to the Pentecostal-Charismatic Church. Connect with him on Facebook or Twitter, or YouTube.
A Prayer Like Hannah's
By Dannah Gresh
"In her deep anguish Hannah prayed to the LORD, weeping bitterly." 1 Samuel 1:10 (NIV)
Hannah, a mother whose name makes it into the Bible, poured out her soul-breaking pleadings to God in such a way that she looked not just crazy, but drunk.
Eli, the priest, notices her. This was a day and age of pretense and sophistication — not spontaneous, unveiled expression. The behavior of a woman in public was especially guarded. But not for this woman.
The Bible says Hannah was praying so hard, her mouth was moving, but no sound came out. Distraught emotion distorts her expression.Eli, the man of God, concludes: This woman has had too much wine. "How long are you going to stay drunk?" he wrongfully challenges in 1 Samuel 1:14a (NIV).
Hannah claims she's only drunk with the desire to be a mother.And the man of God sees. As clearly as he sees the wet tears on her face, he sees the heart behind the guttural pleadings erupting from her soul."Eli answered, 'Go in peace, and may the God of Israel grant you what you have asked of him,'" (1 Samuel 1:17, NIV). And the peace comes. "She said, 'May your servant find favor in your eyes.' Then she went her way and ate something, and her face was no longer downcast," (1 Samuel 1:18, NIV).
As I read the account of Hannah earlier this year, I felt a prayer of my own leap out from within me. I wrote it in the margin of my Bible: "Lord, make me drunk with prayer!"I prayed what was really in my heart — the good, the bad, the ugly. After all, God already knew it was in there.
And you know what? It works. I feel peace after I pray like that. My problems aren't always solved, but my heart is quieted. Maybe when the Bible says to "cast your cares" on God in Psalm 55:22, this is what it's talking about.
Some people might misread and misunderstand you when you pray as fervently as Hannah did. But isn't that the point of prayer? Isn't prayer the tool of an audaciously optimistic woman? One whose faith rises above what her eyes tell her to be true? If prayer makes us anything, it should be radical.
Pray:
Lord, I haven't been bringing myself to You honestly. You know what's inside of me and where the bitterness and anxiety rest. Please help me to pray like I mean it today, free of all pretense. I'll trust You to sort it out. In Jesus' Name, Amen.
Your Guide to the Top 10 Most Extraordinary Mothers of the Bible
1. Sarah: The Mother Who Waited
In Genesis 11:30 we learn, "Now Sarai was childless because she was not able to conceive." This would have grieved both Sarah and Abraham, and in Genesis 15 when the word of the LORD came to Abram he answered, what will you give me LORD since you have not given me an heir? God tells him to look at the stars in the Sky, for that would be the number of his offspring. Abraham and Sarah waited 15 years before God renewed His promise, and 10 more years before the promise was fulfilled and Sarah bore a son, Isaac.
Sarah probably wouldn't win an award for waiting and she even laughed at the idea that God could do what He promised, but thankfully God's promise did not rely on the level of Sarah's faith. God fulfilled His promise according to His plan and Sarah responded in Genesis 21,
"'God has brought me laughter, and everyone who hears about this will laugh with me.' And she added, 'Who would have said to Abraham that Sarah would nurse children? Yet I have borne him a son in his old age.'"
Can you imagine waiting that long for a blessing? Sarah tried to believe the promise, but she had doubts until it finally came to fruition. Then she laughed with joy at what the LORD had done. Isaac would go on to continue the legacy of his father Abraham.
2. Hagar: The Mother Who Endured
Hagar was an Egyptian slave and a maidservant to Sarah, the wife of Abraham; she didn't have much say about anything and especially not in becoming Abraham's wife. Though her status changed, she was still secondary to Sarah.
Once Hagar became pregnant with Abraham's child, a rift developed between her and Sarah. After receiving mistreatment from Sarah, Hagar fled toward her homeland. But she met the angel of the LORD who told her to return, He also promised her numerous descendants through her son whom she was to name Ishmael.
Later, Hagar and her son Ishmael were sent away into the desert, where she believed they would both die. But God is faithful and showed her a well. Genesis 21 tells us, "God was with the boy as he grew up. He lived in the desert and became an archer."
Hagar thought she would get to escape her misery, but God called her to return to it. She obeyed, and He blessed her and her son just as He promised He would.
3. Rebekah: The Mother Who Deceived
Rebekah was a woman of great faith, obeying God when Isaac's servant told her of the man who wanted to marry her. Genesis 25 tells us that when Rebekah became pregnant she could feel the babies jostling within her. When she asked the LORD why this was happening, He answered her: "Two nations are in your womb, and two peoples from within you will be separated; one people will be stronger than the other, and the older will serve the younger." In that time, the older would have never served the younger, and the firstborn son would have inherited the best of everything.
When Isaac was old in age, he told Esau to hunt and prepare food so that he could receive his blessing. But Rebekah overheard this and told Jacob to bring her food so she could prepare it for Isaac first. Jacob was unsure about deceiving his father, but Rebekah responded in Genesis 27, "My son let the curse fall on me. Just do what I say; go and get them for me." I think it is safe to say that she remembered and took very seriously what God had spoken to her during her pregnancy.
Rebekah risked deception to follow God's promise, and His plan unfolded exactly as He had told her. Later her son Jacob would wrestle with God and be given a new name, Israel.
4. Leah and Rachel: The Mothers Who Had to Share
When Jacob went to stay with his uncle Laban, he met one of his daughters, Rachel, and loved her. He wanted her for his wife and was willing to work seven years to marry her. But Laban tricked Jacob by giving him his older daughter Leah in marriage instead. Jacob worked another seven years for Rachel, and he loved her more. Leah, knowing that she was unloved, bore Jacob many children to please him, while Rachel remained barren.
Both women ended up giving their maidservants to Jacob, who in turn bore him more children. Genesis 30 tells us, "Then God remembered Rachel; he listened to her and enabled her to conceive." Rachel bore Jacob two sons, Joseph and Benjamin, before she died in childbirth with Benjamin.
Siblings like to compete, but can you imagine having to share a husband with your sister, feeling like you always had to outdo the other. But God blessed both Leah and Rachel with children, continuing his covenant promise with Abraham. Leah and Rachel's sons would go on to form the 12 tribes of Israel.
5. Jochebed: The Mother with a Plan
A new King in Egypt came to power who was under no obligation to honor Joseph's deeds in Egypt and keep the special arrangement with the Israelites. He was worried about the Hebrews outnumbering and overtaking the Egyptians, so he made them slaves. He also commanded the Hebrew midwives to kill Hebrew baby boys when they were born, but they did not listen. Then Pharaoh gave another decree in Exodus 1, "Every Hebrew boy that is born you must throw into the Nile, but let every girl live."
A Levite woman, Jochebed, gave birth to a son and hid him for 3 months. Exodus 2 tells us that when she could hide him no longer, she coated a papyrus basket with tar and pitch, placed the baby in it, then she set it in the reeds along the bank of the Nile. Jochebed's daughter, Miriam, watched to see what would happen as Pharaoh's daughter went down to bath. When Pharaoh's daughter saw the basket, her servant's retrieved it for her and inside she found the baby crying and knowing he was a Hebrew child she felt sorry for him.
Miriam then spoke up and asked her if she would like her to fetch a Hebrew woman to nurse the baby; she agreed and Jochebed returned with her daughter to nurse her own baby. Pharaoh's daughter paid Jochebed to nurse and raise the baby until he was old enough to come live with her. She then adopted him as her son and named him Moses.
Jochebed was determined to find a way to save her son, and God blessed her plan. Not only was her son saved from death, she was able to nurse and raise him until he was old enough to go live with Pharaoh's daughter. Her son, Moses, went on to free the Hebrew people from Egypt, leading them in the desert toward the Promised Land according to God's plan.
6. Samson's Mother: The Mother Who Followed the Rules
She is not mentioned by name in the Book of Judges, although some would say she is the Hazelelponi mentioned in 1 Chronicles 4. We cannot know for sure, so we can deduce that what she did is more important than her name. She was married to a man named Manoah but was unable to conceive. Judges 13 tells us,
"The angel of the LORD appeared to her and said, 'You are barren and childless, but you are going to become pregnant and give birth to a son. Now see to it that you drink no wine or other fermented drink and that you do not eat anything unclean. You will become pregnant and have a son whose head is never to be touched by a razor because the boy is to be a Nazirite dedicated to God from the womb. He will take the lead in delivering Israel from the hands of the Philistines.'"
Samson's mother knew there was something special about the angel of the LORD, and when her husband was afraid they would die for having seen the face of God she became the voice of reason saying He would not have told us these things if He were going to kill us.
She gave birth and named the baby Samson, and the LORD blessed him. Although some of his actions were questionable, the LORD used him mightily in His plan to defeat the Philistines.
7. Naomi: The Mother-in-Law Who Shared Her Faith
Naomi and her family fled to the country of Moab because of a famine in their land. Her husband died, and her two sons married Moabite women, Orpah and Ruth. After 10 years both of Naomi's sons passed away, and Naomi heard that the LORD had blessed the land of her people with food again. She told her daughters-in-law that they could return home to find new husbands. Although they both wept at her leaving, one refused to leave Naomi's side. Orpah returned to her people and her gods, but Ruth said,
"Don't urge me to leave you or to turn back from you. Where you go I will go, and where you stay I will stay. Your people will be my people and your God my God. Where you die I will die, and there I will be buried. May the LORD deal with me, be it ever so severely, if even death separates you and me."
Ruth was already learning from Naomi's faith even during a time of bitterness. Naomi continued to watch out for Ruth and instruct her wisely in her dealings with Boaz, who became her kinsman redeemer. The LORD blessed Naomi, and she gained a son when Boaz married Ruth. Ruth and Boaz had a child, and the women of the land said to Naomi,
"Praise be to the LORD, who this day has not left you without a guardian-redeemer. May he become famous throughout Israel! He will renew your life and sustain you in your old age. For your daughter-in-law, who loves you and who is better to you than seven sons, has given him birth."
The child was named Obed, the father of Jesse, the father of David who would be king. –Ruth 4:17.
8. Hannah: The Mother Who Kept Her Promise
Hannah was married to a man who loved her very much, but he also had another wife. This wife was able to bear children, but in 1 Samuel 1:5-6 we learn that the LORD had closed Hannah's womb. The rival wife provoked Hannah continually, but Hannah would go to the house of the LORD to pray. Her husband tried to console her saying, "Don't I mean more to you than 10 sons?" in 1 Sam. 1:8. Hannah prayed to the LORD and wept bitterly; she made a vow saying,
"LORD Almighty, if you will only look on your servant's misery and remember me, and not forget your servant but give her a son, then I will give him to the LORD for all the days of his life, and no razor will ever be used on his head."
In fact, she was praying so hard that her lips were moving but no sound came out so that the priest, Eli, thought she was drunk. The LORD blessed Hannah, and she gave birth to a son and named him Samuel, "saying, 'Because I asked the LORD for him.'" –1 Sam. 1:20
She did just as she had promised, and when the boy was old enough she took him to the house of the LORD and presented him to Eli. Hannah then prayed,
"My heart rejoices in the LORD; in the LORD my horn is lifted high. My mouth boasts over my enemies, for I delight in your deliverance." And her beautiful prayer continues in 1 Samuel 2:1-10.
Samuel lived a life dedicated to the LORD, and he would go on to lead the people of Israel, anointing Israel's first and second kings—Saul and David.
9. Elizabeth: The Mother Who Believed in Miracles
Elizabeth was married to a priest named Zechariah, and Luke 1 tells us that both Elizabeth and Zechariah were righteous before God, observing all of His commands. But Elizabeth was childless, and they were both old in age. Similar to people in Job's day, people would have thought that sin prevented Elizabeth from bearing a child. This would have been very hard to face, especially being a wife of a priest.
When Zechariah was serving in the temple, an angel of the Lord, Gabriel, approached him and said,
"Do not be afraid, Zechariah; your prayer has been heard. Your wife Elizabeth will bear you a son, and you are to call him John. He will be a joy and delight to you, and many will rejoice because of his birth, for he will be great in the sight of the Lord." –Luke 1:13-14
Zechariah still questioned how this would be possible and because he doubted he was struck mute for the duration of Elizabeth's pregnancy. Elizabeth was overjoyed at this blessing of life and said, "The Lord has done this for me… In these days he has shown his favor and taken away my disgrace among the people." –Luke 1:25
When Mary, the mother of Jesus, came to visit her cousin Elizabeth, the baby leapt in Elizabeth's womb and Elizabeth was filled with the Holy Spirit. She took great joy in Mary's pregnancy and blessing from the Lord. And when it came time for Elizabeth to give birth, she named her son John. When neighbors went to confirm this with Zechariah he wrote the same name and his mouth was opened; everyone wondered at what the child would be since his birth was miraculous.
John would go on to baptize people from their sins with water. He would prepare the way for the Messiah.
10. Mary: The Mother Who is Blessed among Women
Mary, a virgin pledged to a man named Joseph, was also visited by the angel Gabriel. He said to her in Luke 1:31,
 "Do not be afraid, Mary; you have found favor with God. You will conceive and give birth to a son, and you are to call him Jesus. He will be great and will be called the Son of the Most High. The Lord God will give him the throne of his father David, and he will reign over Jacob's descendants forever; his kingdom will never end."
Mary wondered at how this would be possible, and the angel told her, "The Holy Sprit will come on you, and the power of the Most High will overshadow you. So the holy one to be born will be called the Son of God." Mary embraced these words in faith. When she visited her cousin Elizabeth, Elizabeth proclaimed, "Blessed are you among women, and blessed is the child you will bear!" Mary believed God would fulfill His promise.
An angel of the Lord also visited Joseph, who put him at ease with Mary's pregnancy. As we read in Matthew 1, Joseph took Mary to be his wife, but they did not consummate the marriage until after she had given birth. Mary and Joseph traveled to Bethlehem for a census, where she gave birth in the humblest of environments.
Mary treasured up many things in her heart as she raised Jesus, but she also had to endure the greatest sacrifice of all time—her son was the Son of God and He had come to give Himself up as a sacrifice, the one and only sacrifice that could be made for mankind. She had to watch Him suffer, be tortured and mocked, and die a cruel death on a cross by crucifixion.
John 19 tells us,
"Near the cross of Jesus stood his mother, his mother's sister, Mary the wife of Clopas, and Mary Magdalene. When Jesus saw his mother there, and the disciple whom he loved standing nearby, he said to her, 'Woman, here is your son,' and to the disciple, 'Here is your mother.' From that time on, this disciple took her into his home."
Even while He was dying, Jesus cared for His mother and gave her a new son to love her. Mary was blessed among women, for she was chosen by God to bear His Son and raise Him. Though there was death there was yet joy for Mary, as her son did not stay dead. He rose again from the grave, securing eternity for her and all who would believe.
Liz Kanoy is an editor for Crosswalk.com.
Saint Joseph the Worker
Saint of the Day for 
May 1
https://www.franciscanmedia.org/wp-content/uploads/2016/08/SODMay01.mp3
The Story of Saint Joseph the Worker
To foster deep devotion to Saint Joseph among Catholics, and in response to the "May Day" celebrations for workers sponsored by Communists, Pope Pius XII instituted the feast of Saint Joseph the Worker in 1955. This feast extends the long relationship between Joseph and the cause of workers in both Catholic faith and devotion. Beginning in the Book of Genesis, the dignity of human work has long been celebrated as a participation in the creative work of God. By work, humankind both fulfills the command found in Genesis to care for the earth (Gn 2:15) and to be productive in their labors. Saint Joseph, the carpenter and foster father of Jesus, is but one example of the holiness of human labor.
Jesus, too, was a carpenter. He learned the trade from Saint Joseph and spent his early adult years working side-by-side in Joseph's carpentry shop before leaving to pursue his ministry as preacher and healer. In his encyclical Laborem Exercens,Pope John Paul II stated: "the Church considers it her task always to call attention to the dignity and rights of those who work, to condemn situations in which that dignity and those rights are violated, and to help to guide [social] changes so as to ensure authentic progress by man and society."
Saint Joseph is held up as a model of such work. Pius XII emphasized this when he said, "The spirit flows to you and to all men from the heart of the God-man, Savior of the world, but certainly, no worker was ever more completely and profoundly penetrated by it than the foster father of Jesus, who lived with Him in closest intimacy and community of family life and work."
---
Reflection
To capture the devotion to Saint Joseph within the Catholic liturgy, in 1870, Pope Pius IX declared Saint Joseph the patron of the universal Church. In 1955, Pope Pius XII added the feast of Saint Joseph the Worker. This silent saint, who was given the noble task of caring and watching over the Virgin Mary and Jesus, now cares for and watches over the Church and models for all the dignity of human work.
Five-Fingered Prayer
This devotional was written by Kelly McFadden
And pray in the Spirit on all occasions with all kinds of prayers and requests. With this in mind, be alert and always keep on praying for all the saints. —Ephesians 6:18
I received an email some time ago that demonstrated how to use your fingers to pray. It's a simple reminder of how we can easily be reminded of different ways to pray for those around you. If you're looking for ideas to improve your prayer life, give it a try.
Thumb: The strongest digit on your hand. Give thanks for all the strong things in your life, like home and family, or relationships that support and sustain you.
Index finger: This is the pointing finger. Pray for those people and things that guide and help you in your life. Friends, teachers, doctors, nurses, emergency services and so on.
Middle finger: The tallest finger. Pray for all the important people who have power in the world, like world leaders and governments, members of parliament and local councilors, city mayors and aldermen, or our president.
Ring finger: The weakest finger on your hand. It cannot do much by itself (ask anyone who plays piano). Remember the poor, the weak, the helpless, the hungry, the sick, the ill and the bereaved.
Little finger: The smallest and the last finger on your hand. Pray for yourself.
One of the things I like most about this guide to prayer is that it reminds me to keep others before myself. Too often when I pray, I immediately present God with my needs, wants and desires and then lose my train of thought before I even think to pray for anyone else. Try using this tool as you drive home from work or go out for a walk. Prayer is something we can do at all times and this may be just the tool to make it a part of your life, not just something you do before you go to bed or face a difficult situation. Prayer is an activity we can't engage in enough.  God hears our prayers and your hand is a good way to remind yourself to pray for someone else.
GOING DEEPER:
1. Think through the five-fingered prayer.  Can you place someone you know in each category?
2. Today, when you are in your car, turn off the radio and put your cell phone aside.  Take some time to pray through your fingers for those in your life who fit each category.
FURTHER READING:
Psalm 34:4-10; Romans 8:26-27; 1 Thessalonians 1:3-3
David
The Lord is near to all who call on him, to all who call on him in truth – Psalm 145:18
We know more about the spiritual life of David than probably any other person in the Bible. The extensive record of his life and the Psalms he wrote show us that he studied and meditated on God's word, he fasted, and that his entire life was yielded to God's service. Two things he did stand out to me:  he worshiped and he prayed. These spiritual exercises renewed his spirit over and over again.
For example, David's first role in the king's court was as a musi¬cian. His ministry of worship touched Saul's heart, as it has untold millions of others since David lived. His worship is so powerful because it's a natural, unforced mixture of David's heart (when he is up and when he's down) with an unwavering faith in a gracious, almighty God.
His prayers often begin with an honest confession of anger, despair, or frustration. He didn't hide his feelings from God and  he didn't pretend that he was "super-spiritual." Spiritual renewal flows from the freedom to be totally honest with God. Read 
Psalm 145
 and you will see David's progression from anxiety and distress to faith filled assurance and confidence.
When you consider the worship and prayer in David's life, you soon recognize that being someone after God's own heart doesn't mean you never fall . . . it means when you fall, you look to God to restore your spirit, and you fall to your knees in worship and prayer.
"The most valuable thing the Psalms do for me is to express the same delight in God which made David dance." – C. S. Lewis (1898-1963)
A Year With Jesus…
From Hope for Each Day by Billy Graham
The Power of Prayer
I urge, then, first of all, that requests, prayers, intercession and thanksgiving be made for everyone— for kings and all those in authority, that we may live peaceful and quiet lives in all godliness and holiness.
1 Timothy 2:1–2 NIV
Looking around at all the evil that happens today, we may find ourselves wondering if some people must have been born without a conscience! But the Bible teaches that God has placed within every human being some sense of right and wrong.
We can, however, ignore the voice of our conscience, and over time, become so hardened by sin that we almost can't hear its voice. This is one reason why Christians need to take a stand for what is right and not let evil go unchallenged.
But most of all, we need to pray. During this first week in May, many people will celebrate an annual Day of Prayer, praying especially for our world and its leaders—its politicians, trendsetters, media powers, athletes, and others in a position of influence. Pray that they may use their influence for good and not for evil. Remember: God is sovereign and is still at work, and He alone is our hope for a better world.

What Jesus Did!

 'Prove It Once Again!'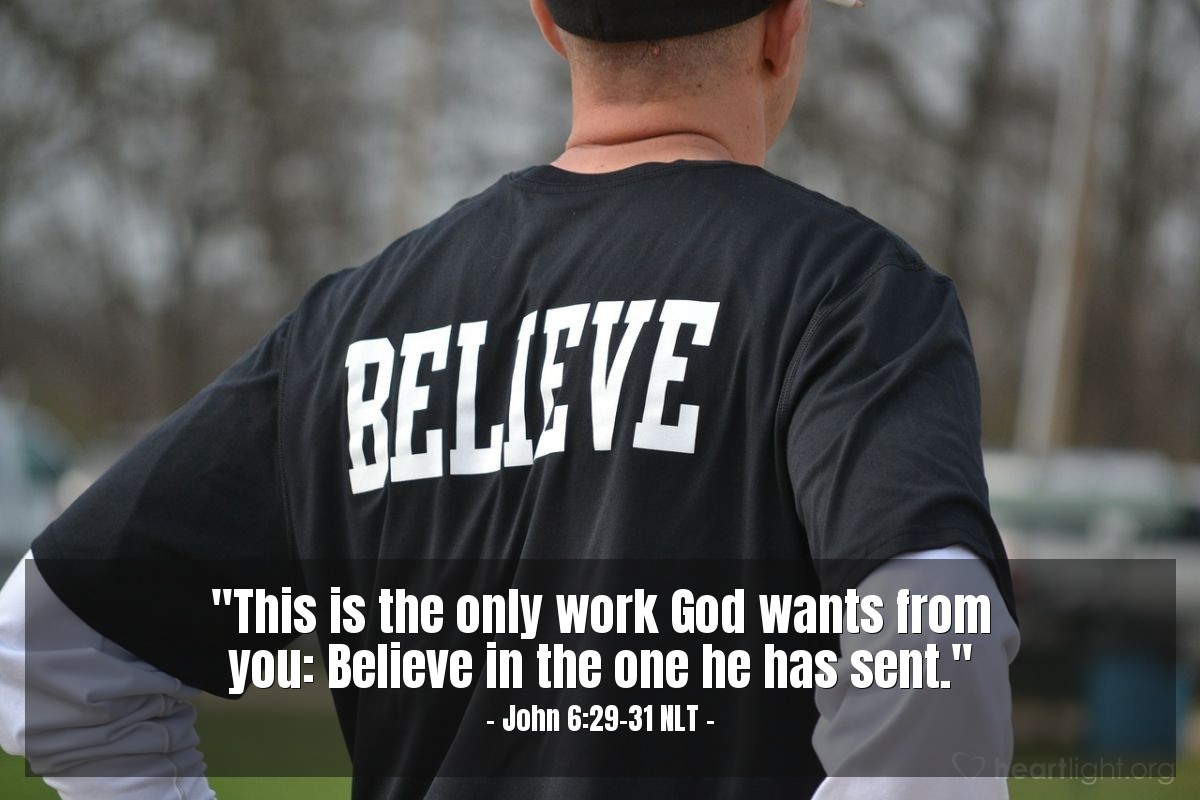 Jesus told [the people in the crowd], "This is the only work God wants from you: Believe in the one he has sent." They answered, "Show us a miraculous sign if you want us to believe in you. What can you do? After all, our ancestors ate manna while they journeyed through the wilderness! The Scriptures say, 'Moses gave them bread from heaven to eat.'"
Key Thought
Come on, folks who lived in Jesus' day! How many times does he have to do something spectacular? He gave you bread (
John 6:1-15
). He got across the lake mysteriously (miraculously, 
John 6:22-25
). You've heard about his great healings elsewhere. What will it take to prove to you he is from God?
Oops, all I need to do is change the century, and the story is the same for our day. Jesus has done so many things to bless us today. How many more will he have to do before we truly believe he came from God and he gives us life?
Today's Prayer
Father, forgive me when I discount the wonderful things you have done for me through your Son Jesus. Forgive me for not giving thanks for your blessings in my life. Forgive me for not seeing Jesus' work of shaping me and changing me. I don't need another miracle or mighty deed to believe. I truly believe that your Son Jesus gives life. Thank you. In Jesus' name. Amen.
Related Scripture Readings
Daily Wisdom:

 Proverbs 16:5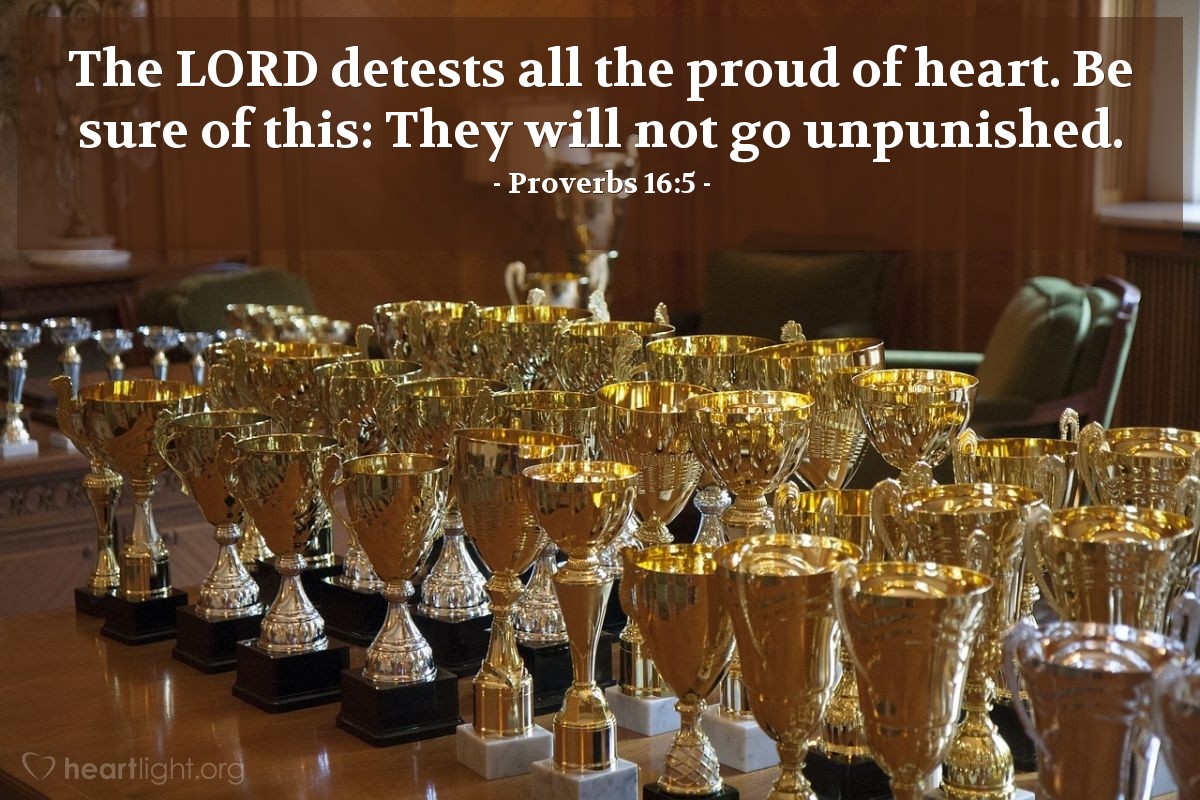 Spiritual Warfare:

 'Don't Quit Church — a Place of Encouragement'

God's Power for Our Battles

We must also consider how to encourage each other to show love and to do good things. We should not stop gathering together with other believers, as some of you are doing. Instead, we must continue to encourage each other even more as we see the day of the Lord coming.
Today's Prayer
Lord, forgive me for being so lax in my church attendance. Please help me to forget if I've been mistreated there in years past, and help me instead to see it as a place of encouragement — both to get encouragement and also to give encouragement. Please help me make the church a place to show love and spur others on to do good works. And help me to realize how vital it is to my Christian walk. Keep me from using petty excuses to justify not going. Help me to be faithful. In Jesus' Name, Amen.
I am a rose of Sharon.
Song of Songs 2:1
Whatever beauty there may be in the material world, Jesus Christ possesses all of that in the spiritual world to the nth degree. Among flowers the rose is regarded as the sweetest, but Jesus is infinitely more beautiful in the garden of the soul than a rose in the gardens of earth. He takes the first place as the fairest among ten thousand. He is the sun, and all others are the stars; the heavens and the day are dark in comparison with Him, for the King in His beauty transcends all.
"I am a rose of Sharon." This was the best and rarest of roses. Jesus simply is not "a rose"; He is "a rose of Sharon," just as He calls His righteousness "gold," and then adds, "the gold of Ophir"1—the best of the best. He is positively lovely, and superlatively the loveliest.
There is variety in His beauty. The rose is delightful to the eye, and its scent is pleasant and refreshing; so each of the senses of the soul, whether it be the taste or feeling, the hearing, the sight, or the spiritual smell, finds appropriate gratification in Jesus. Even the recollection of His love is sweet. Take a rose of Sharon, pull it leaf from leaf, and place the leaves in the jar of memory, and you will find each leaf retains its fragrance, filling the house with perfume. Christ satisfies the highest taste of the most educated spirit to the full. The greatest amateur in perfumes is quite satisfied with a rose: And when the soul has arrived at her highest pitch of true taste, she will still be content with Christ; indeed, she shall be more able to appreciate Him.
Heaven itself possesses nothing that excels a rose of Sharon. What emblem can fully set forth His beauty? Human speech and earthborn things fail to tell of Him. Earth's choicest beauties combine to provide ultimately a feeble picture of His glory. Blessed rose, bloom in my heart forever!
Today's Scripture
"Show proper respect to everyone, love the family of believers, fear God, honor the emperor." 1 Peter 2:17 NIV
Thoughts for Today
Each of us is born into an earthly family. Within that family we are to love one another and care for one another's needs. But God has also blessed Christians with another family: the family of believers who follow Christ as Savior. Instructions for ways we are to love one another abound in the New Testament.
Sometimes we limit our concept of the family of believers to our local church body. But the Bible makes it clear that every Christian believer–everywhere–is a member of the family. All denominations. All cultures. All races. And we are to love one another.
Consider this … 
Loving one another means living at peace with one another. "Don't grumble against one another, brothers and sisters, or you will be judged. The Judge is standing at the door!"(James 5:9 NIV). "Live in harmony with one another" (Romans 12:16 NIV).
Within the local church, jealousy, competitiveness, and bitterness often replace the love God wants us to share. And we tend to be suspicious and critical of other Christian denominations and cultures who do things differently than we do.
God says we are family. All of us. We are his representatives here on earth. How well are we representing him? When unbelievers look at our family, do they see the love of Christ?
Prayer
Father, help me show more love to my Christian family. Forgive me for any unforgiveness or mistrust. Help me to love my brothers and sisters with the love of Christ. In his name . . .
Being Given Over to Death
TGIF Today God Is First Volume 1 by Os Hillman
May 01, 2018
"For we who are alive are always being given over to death for Jesus' sake…. So then, death is at work in us, but life is at work in you." – 2 Corinthians 4:11-12
It is the great mystery of the gospel of Jesus Christ. Death gives life. Jesus' death on the cross gave life. The death of a vision brings new vision. The death of a seed gives new life. It is the central focus of God's requirement for experiencing Him–death. When Jesus extended us an invitation to experience salvation and a relationship with Him, it came with a great cost, our very lives. Yet what we don't realize is that until we relinquish our total lives, we really aren't living at all. Without this death we will continue to strive, manipulate, and fret over every detail of life. It is when we finally say, "Yes, Lord, I am Yours completely," that we experience real freedom for the first time. This is the only time when Christ is fully seen in and through our lives. Christ describes our lives as vessels – vessels for Him to be revealed in and seen by others.
How is your vessel today? When people look inside, will they see a life that is dead to all things, save the life of Christ revealed? In the workplace, we are faced with challenges each day that seek to instill fear and control at every turn, but Christ says He wants to live through your life in the workplace. He wants to reveal Himself to your fellow workers today. However, He can only do this if our vessel is free of ourselves. Ask Jesus what things must die todayin order for Him to live completely in and through you.
MAY DAY
May Day is observed annually on May 1.  In many ancient calendars, May 1 was the first day of summer.  This was a cause for celebration.  One of the more popular rituals was harvesting flowers and giving them to neighbors and strangers in cone-shaped baskets. These "May Baskets" become more commonly known as "May Day Baskets".  The current tradition is observed by hanging a cone-shaped basket full of flowers or other gifts on the outside doorknob, then knocking or ringing the doorbell and run away. May Day has been a traditional day of celebration for centuries, with some of the earliest appearing in pre-Christian times.  In English tradition, May Day is celebrated by crowning a May Queen and dancing around a maypole.  The Finnish tradition is a carnival-type celebration in the streets that includes a special type of lemonade that is made with lemons, brown sugar and yeast.  In France, it is correct to give people either dogwood or lily of the valley to celebrate May Day.  In Italy, a seasonal feast is held to celebrate the arrival of spring. While different countries have different ways to celebrate May Day, it is truly a celebration of spring. HOW TO OBSERVE Use #MayDay when posting on Social Media.  Participate in the May Day tradition of hanging baskets of flowers on doors. HISTORY There are over 1,500 national days. Don't miss a single one. Celebrate Every Day with National Day Calendar!
NATIONAL MOTHER GOOSE DAY
National Mother Goose Day is observed each year on May 1.  This day honors Mother Goose, the imaginary author of a collection of fairy tales and nursery rhymes we loved as children.  Mother Goose is often illustrated as an elderly country woman in a tall hat and shawl, but she is also sometimes depicted as a goose wearing a bonnet.   Enjoy two different versions of Peter, Peter, Pumpkin Eater: (Originally dated in Mother Goose's Quarto c1825) Peter, Peter, pumpkin eater, Had another, and didn't love her; Peter learned to read and spell, And then he loved her very well. (Most well-known version) Peter, Peter, pumpkin eater, Had a wife and couldn't keep her; He put her in a pumpkin shell And there he keeps her very well. HOW TO OBSERVE In honor of Mother Goose Day, revisit those wonderful childhood stories with your children.  Share your favorite Mother Goose story using #NationalMotherGooseDay on social media. HISTORY Charles Perrault is believed to be the initiator of the fairy tale genre when he published his fairy tale collection in 1695.  His publication marks the first authenticated starting point for the Mother Goose stories.  An English version of Perrault's collection appeared in 1729:  Robert Samber's Histories or Tales of Past Times, Told by Mother Goose.  These fairy tales introduced Sleeping Beauty, Little Red Riding Hood, Puss in Boots, Cinderella and others.  Mother Goose's Melody – A book of poems for children was published in 1781 and has been enjoyed by billions since then. Mother Goose Day was founded in 1987 by Gloria T. Delamar in tandem with the publication of her book, Mother Goose; From Nursery to Literature. For more information on National Mother Goose Day visit The Official Home of the Mother Goose Society.