Christoph Friedrich Blumhardt
He withdrew about a stone's throw beyond them, knelt down and prayed, "Father, if you are willing, take this cup from me; yet not my will, but yours be done." Luke 22:41-42, NIV
Dear Father in heaven, we lift our eyes to you. You allow earthly events to follow their own course, and even your own Son had to suffer and die. But your plan is already prepared and you will act in our time according to your will. We pray, "Your will be done, your will!" In the midst of all the suffering let your love be revealed in many places, wherever it is possible for people to understand it. You have always protected us; protect us still. You have done much for us and we want to praise your name. We want to be people who always acknowledge you and praise you, for you will never let any be lost who hope in you. Be with us this night, help us, and send us the strength we need to serve you, also in our everyday life. Amen.
Verse of the Day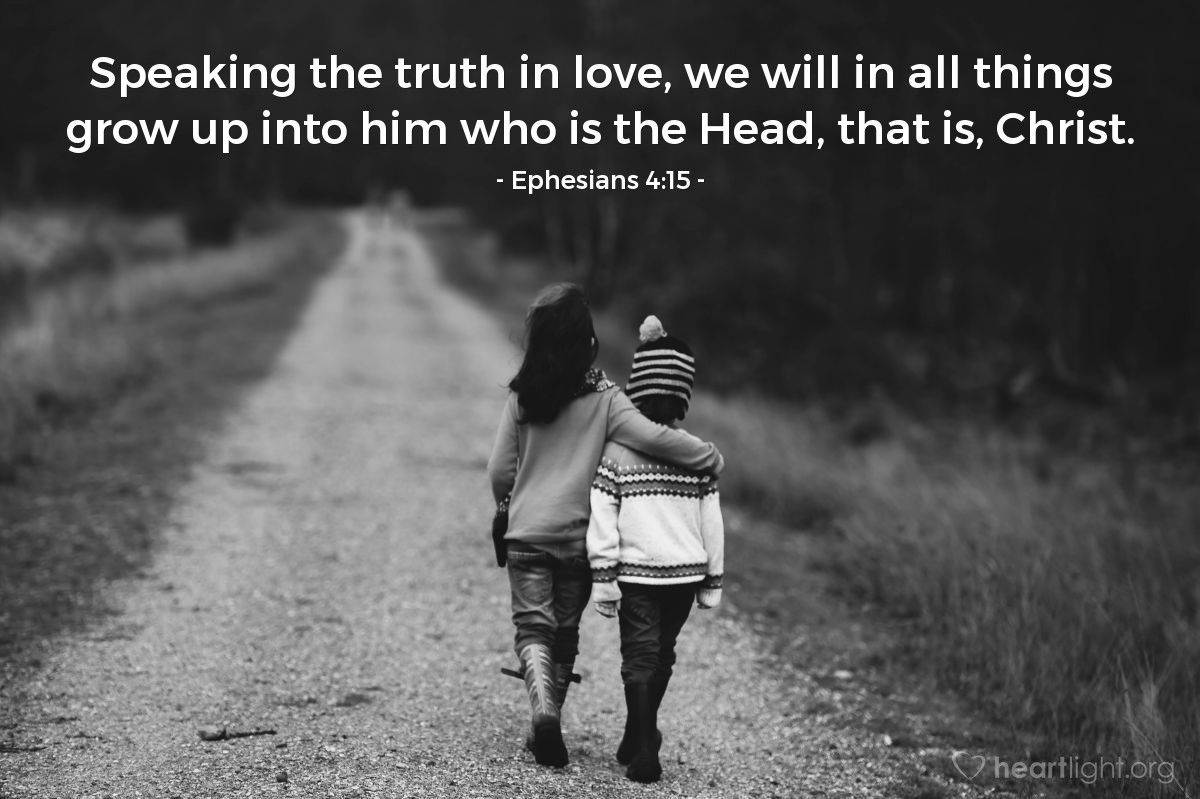 Thoughts on Today's Verse…
Speaking the truth is hard enough. You mean I have to do it in love? Yes, if I am to be Christ's man or woman, I must speak to others as he did.
My Prayer…
Father, forgive me for the bitterness in my heart and unfairness on my lips. Through your Spirit, help me better use my speech to bless others and glorify you. May I speak your truth with your love today in all my conversations. Through him who is Truth and Love I pray. Amen.
When my husband abandoned me in 1999, leaving me in massive debt with our then-2-year-old baby, I shook my fist at an invisible God I did not yet know and demanded answers for the injustice. He was silent then, but I know now He was watching over me and protecting me. His thoughts over me were thoughts of peace and not evil, to give me a future and a hope (Jer. 29:11). He had wild dreams for me before I ever accepted His Son into my heart.
About 18 months after my husband disappeared and left my life in utter shambles, I was arrested for a crime I didn't commit. I was facing five years in prison—a sentence that would have left my daughter essentially orphaned. Helpless and hopeless, I finally cried out to God—and He delivered me from the enemy's plot to destroy our lives. Wearing a bright orange jumpsuit in a dark county jail, I surrendered my heart to the one who created me, and the peace of God that passes all understanding guarded my heart and mind in Christ Jesus (Phil. 4:7).
It was in this setting—a county jail filled with prostitutes, drug addicts, thieves and all manner of violent criminals—that I heard the still, small voice of God for the first time. In the face of impossibility God taught me that "all things are possible to him who believes" (Mark 9:23). He taught me to dream an impossible dream even when everyone around me thought I was foolish to hold out hope.
After several days of supernatural guidance through the Word, the Holy Spirit made it clear to my heart that I would be released from the injustice of imprisonment in forty days. It seemed impossible, considering the judge had refused to allow me bail three times—and this same judge was on vacation well after the 40th day of my captivity, so it seemed there was no way I would be released on that day. All I could say was, "But God."
On the 40th day of my incarceration, I was called into a holding cell with other inmates. I was never tried or convicted by my accusers. I never stood before an earthly judge. Thankfully the judge—Jesus Christ—is not a man that He should lie. I was released on the 40th day, just as the Holy Spirit told me I would be. A judge ruled the whole case a "gross injustice" The accusations were washed away, sort of like my sins when I accepted Jesus.
God has restored my life in beautiful ways, more than making up for the injustice of being abandoned with a baby and falsely accused and imprisoned.
That was just the beginning. The "dream wild" revelation promises the best is yet to come, that my latter shall be greater than my past (Hag. 2:9). I'm on a new journey with God to dream wild. God is inviting you on the same journey.
Prayer Power for the Week of April 22, 2018
This week, thank God that He has purpose and plans for you to fulfill. Delight yourself in Him, and He has promised to give you the desires of your heart. Remember to pray for our president and all those working with him to provide safety, security, prosperity and peace for our country. Pray for the peace of Jerusalem as commanded by Scripture. Continue to ask for revival and more workers for the harvest fields. Read Jeremiah 29:11 and Mark 9;23.
Jennifer LeClaire is senior leader of Awakening House of Prayer in Fort Lauderdale, Florida, founder of the Ignite Network and founder of the Awakening Blaze prayer movement. She is author of over 25 books. Find her online at jenniferleclaire.org or email her at info@jenniferleclaire.org.
One of my friends is a black pastor. He is also a conservative Republican. As a result of his political views, he has been told by many of his friends that he is not black enough. And that leads to an obvious question: Is black an ideology and not just a color? If so, since when, and why?
I imagine that Kanye West would have something to say about this today.
He has come under heavy criticism for his positive tweet about black conservative Candace Owens, followed by even more intense criticism for his open support of President Trump. As noted by the strongly-leftist Teen Vogue, "People have expressed everything from rage at what they feel is a form of betrayal in his coming out as a Trump supporter to concern about his mental health."
But where is written that blacks must be Democrats or liberals? Where is the betrayal? As Chance the Rapper tweeted, "Black people don't have to be democrats." (By no means, though, was he expressing support for Trump, as his following comments made clear.)
It's true that a large percentage of white evangelicals voted for Donald Trump. But that was ideologically driven based on their evangelical convictions, not their whiteness. For them, defeating the ultra-liberal, pro-abortion Democrat, Hillary Clinton was of paramount concern. (According to exit polls, 57 percent of whites voted for Trump, 37 for Clinton and 6 percent for other candidates, or they didn't respond to the poll. So, the white vote as a whole was hardly monolithic. Plus, there has been a steady stream of white evangelical resistance to Trump.)
It's true that a large percentage of American Jews voted for Barack Obama and Hillary Clinton. That too was ideologically driven, since most American Jews are quite liberal, espousing a highly humanistic form of Judaism. In contrast, the more traditional a Jewish person is, the more likely he or she is to vote Republican.
Exit polls also indicated that two-thirds of Asians and Latinos voted for Hillary (compared to slightly over one-quarter who voted for Trump), and among other races, 56 percent voted for Hillary and 36 percent for Trump. So, while the clear majority of non-white voters stood for Hillary, they were hardly monolithic in their vote.
In contrast, black votes for Hillary was 89 percent, with only 8 percent for Trump (and 3 percent other or no answer). Why this overwhelmingly high percentage of black support for Hillary?
It's perfectly understandable that many black voters would have cast their lot with President Obama, recognizing the historic importance of having our first black president.
But their support for him in 2012 was not that much higher than their support for Hillary Clinton in 2016 or other Democratic candidates in previous elections. Why the assumption that blacks will vote Democrat?
On average, black Americans are more religious than white Americans, and many black Americans have strong, pro-family roots. How then do they end up being Democrats in such high numbers?
Planned Parenthood hasn't done them any favors. (Massive understatement.) The welfare system has not elevated their status. Identity politics have not served them well. Why, then, can a black pastor be told that he is not black enough because of his conservative political views?
The obvious answer is that African-Americans share a unique history (and, often, ongoing experience), because of which they share certain beliefs and convictions and outlooks. In their mind, it is the Democratic party that has shown an interest in their well-being, that understands their struggles and that wants to work with them against inequality and injustice.
Many African-Americans also see the Republican Party as being insensitive to their needs. It is, some think, the rich (white) man's party. It's almost as if, in the minds of many black Americans, it was Republicans who enslaved them in the past. (Interestingly, from what I have gleaned anecdotally, more recent African immigrants do not lean Democrat in such large numbers. But I'm not aware of solid data to support this.)
All this being said, it is an insult to believe that African-Americans cannot think for themselves, as if they, of all ethnic groups in our country, are unable to break out of the preconceived mold.
It is true that Taleeb Starkes listed "Lack of Diversity" as one of "The Top 5 Issues Facing Black Americans."
In his words, "Blacks repeatedly demand an 'honest dialogue or debate about race.' But how can there ever be an honest dialogue about race between blacks and whites when there is virtually no honest dialogue between blacks and blacks? It's hypocritical. And if a black doesn't think, 'whites are ultimately responsible for black people's problems,' they're labeled a 'sell-out,' 'Uncle Tom' or 'race-traitor.'
"As long as this type of groupthink exists, race-reverends of the Al Sharpton, Jesse Jackson type will continue to be celebrated while independent black thinkers such as Professors Thomas Sowell and Walter Williams will be shunned."
This is certainly a problem, but perhaps now is a good time to put these issues on the table again and ask: Must blacks be Democrats? And what (or who) are you betraying if you are not?
What if Trump's economic policies proved beneficial for black Americans? Would that change their vote? And what would it take for Republicans to make African Americans feel welcomed and esteemed?
These days, it's not just black intellectuals like Professors Sowell and Williams who are making the case for conservatism. It's voices like Diamond and Silk. And maybe even voices like Kanye.
Either way, whichever way black Americans decide to vote, my only encouragement is this (and I look in the mirror as I speak as a white evangelical): Don't allow groupthink to do the work for you. You are far better than that, and our nation needs your independent voices. We need you to think for yourselves.
Dr. Michael Brown (www.askdrbrown.org) is the host of the nationally syndicated Line of Fire radio program. His latest book is Playing with Holy Fire: A Wake-up Call to the Pentecostal-Charismatic Church. Connect with him on Facebook or Twitter, or YouTube.
Many people struggle with understanding the Trinity. The Holy Trinity is the belief that one God exists in Three Persons – God the Son, God the Father and God the Holy Spirit. This generally presents the difficult question: Is it three gods or one?
What makes the Trinity particularly difficult to understand is our understanding of who a person is. While a person can look, act or even sounds like someone else, a person can't actually be another person. So how can God, Jesus and the Holy Spirit be one person? While it isn't easy to comprehend, God doesn't live with our earthly limitation given His complexity. Jesus, the Son of God can be different from our Heavenly Father, and yet the same. No, you're not crazy to struggle to comprehend how three can be one. It goes against our logic.
While no specific passage states that God exists in three persons, we do see evidence for the Trinity in the Bible. Matthew 28:19 is an example: "Therefore go and make disciples of all nations, baptizing them in the name of the Father and of the Son and of the Holy Spirit." We also see this taught in 2 Corinthians 13:14: "May the grace of the Lord Jesus Christ, and the love of God, and the fellowship of the Holy Spirit be with you all." Scripture teaches that God has certain characteristics and applies them to three Persons – the Father, Son and Holy Spirit and these three persons are all one God.
There are countless examples in the Bible that mention all three Divine Persons. Some of these include Acts 2:33: "Exalted to, the right hand of God, he has received from the Father the promised Holy Spirit and has poured out what you now see and hear." Another is 1 Corinthians 6:11, "And that is what some of you were. But you were washed, you were sanctified, you were justified in the name of the Lord Jesus Christ and by the Spirit of God."
We also see examples of the Holy Spirit directly referred to as God throughout Scripture. One of these is Acts 5:3-4: "Then Peter said, 'Ananias, how is that Satan has so filled your heart that you have lied to the Holy Spirit and have kept for yourself some of the money you received for the land? Didn't it belong to you before it was sold? And after it was sold, wasn't the money at your disposal? What made you think of doing such a thing? You have not lied just to human beings but to God.'"
A Prayer to Do Less and Trust God More
By Rick Warren
"We were under great pressure, far beyond our ability to endure, so that we despaired of life itself. As it turned out, it was the best thing that could have happened. Instead of trusting in our own strength or wits to get out of it, we were forced to trust God totally — not a bad idea since he's the God who raises the dead!" 2 Corinthians 1:8-9, NIV/MSG
Some of you have had some goals and dreams that you've been striving, seeking, working, hustling, hurrying for year after year after year, and you haven't achieved them yet. Why don't you just back off a little bit? Relax. Chill out. Trust God. Watch what he can do. He can do it a whole lot faster and a whole lot better than you can do it.
The only benefit of being stretched and being on overload is that it forces you to trust God. It brings you to your knees, and you realize you're up against the wall, out of steam, out of energy.
One time the Apostle Paul hit burnout. He was in Asia, working and serving. And he was ready to throw in the towel!
God can do what you can't do. Jesus did not say, "If you're busy, you can move mountains." He didn't say, "If you work really hard and get really stressed out, you can move a mountain." He said that if you have faith, you can move mountains (Matthew 17:20). Faith, not busyness, is what gets the job done.
So what's your mountain? What's the problem in your life that needs moving? Stop doing so much! Do less, and trust God more.
Pray this prayer today:
Father, I've lived without margin in my life for so long I can hardly remember what it's like to not feel fatigue or pressure all the time. I think fatigue is the normal way I'm supposed to live and feel, but it's not. I'm tired of being rushed and late and exhausted all the time. I've got too many irons in the fire, and I need your help to get out of the mess I've gotten myself into. Help me to recognize and accept my limitations. Help me to put some space in my schedule. I need breathing room and margin in my life. Jesus Christ, I know I can't do it all, and I need your wisdom in deciding what matters most and what I should do. I don't want to waste my life. Please give me the courage to say 'no' to the wrong things and 'yes' to the right things. Most of all, help me to trust you. Forgive me for thinking and acting as if everything depends on me. It doesn't. It all depends on you! I want to have greater faith in you and less reliance on myself. I want less stress and more margin in my life. In your name I pray. Amen.
FEAR OR FOCUS?
"There is no fear in love. But perfect love drives out fear, because fear has to do with punishment. The one who fears is not made perfect in love." 1 John 4:18
Satan uses and plays on one of the basic elements and instincts of our nature–fear. It is natural for finite man to fear–especially the fear of the unknown, the fear of being hurt and the fear of death. There is nothing more Satan would like than to see us paralyzed with fear just like King Saul when facing the Philistines and Goliath.
Why do we allow fear to be so controlling? On the one hand, we have past experiences that we don't want to relive and on the other hand, we are very hesitant about what might lie ahead. But often the events and situations creating most fear in people have no basis in reality.
All fear is based on perception. Thus fear has been described in the English language as an acronym for "False Evidence Appearing Real". If we could consciously remember this, it would help us to allay many fears. But that false evidence sometimes is so convincing! However, we must always realize that dread and fear–like other tactics of the enemy–are based on a lie. This is why throughout the Scriptures we are repeatedly commanded–366 times–to "fear not."It is intensely liberating for our witness when we personally overcome the fear of death. This allows us to focus on Christ and His kingdom.
Living as a Christian under Romania's dictatorship posed extreme difficulties and dangers.  Even though Rev. Joseph Tson had counted the cost and served the Lord and His flock faithfully, he feared the day that he would be called in by security. He knew the possibility of facing death was inevitable.
The day that Joseph feared arrived. Security officers arrived at his home one day and took him to their headquarters. He was instructed to sit on a chair and a gun was put to his head. "The choice is easy," came the commander's voice. "Deny Jesus or we pull the trigger."
This was indeed the moment that Joseph feared all through his ministry. But suddenly the Spirit of the Lord filled his whole being. "If you kill me today you will do me a great favor. All my sermons that were recorded will be in great demand because I will be a martyr for Christ. You will help me greatly to share my messages. You will also help me to go to my Lord quickly!" Joseph fearlessly replied.
The officer dropped the gun. "You Christians are crazy," he shouted and then commanded the officers to take Joseph back home.
Joseph's life was spared but in a sense he lost it that day. "Never again did I fear what man can do to me. Never again did I fear to lose my life," Joseph concluded.
RESPONSE: Today I will not allow Satan's favorite tactic of fear and intimidation to conquer me in any way.
PRAYER: Lord, enable me to overcome the fear of dying as I realize that I am already dead to myself in You. May this be true today too for believers in conflict zones of our world.
STANDING STRONG THROUGH THE STORM (SSTS) -A daily devotional message by Paul Estabrooks
(c) 2010 Open Doors International. Used by permission
"When the storm has swept by, the wicked are gone, but the righteous stand firm forever." Proverbs 10:25
Right now millions of Christians face persecution because of their faith in Christ. Register to receive the Open Doors USA Weekly Prayer Alert email. Join alongside thousands of others praying for our brothers and sisters worldwide to stand strong in the midst of their struggles. Also learn more about countries where the persecution of Christians is most severe by visiting the Open Doorswebsite today.
Saint Pius V
Saint of the Day for 
April 30
(
January 17, 1504

 – 

May 1, 1572

)

https://www.franciscanmedia.org/wp-content/uploads/2016/08/SODApr30.mp3
Saint Pius V's Story
This is the pope whose job it was to implement the historic Council of Trent. If we think popes had difficulties in implementing Vatican Council II, Pius V had even greater problems after Trent four centuries earlier.
During his papacy (1566-1572), Pius V was faced with the almost overwhelming responsibility of getting a shattered and scattered Church back on its feet. The family of God had been shaken by corruption, by the Reformation, by the constant threat of Turkish invasion, and by the bloody bickering of the young nation-states. In 1545, a previous pope convened the Council of Trent in an attempt to deal with all these pressing problems. Off and on over 18 years, the Fathers of the Church discussed, condemned, affirmed, and decided upon a course of action. The Council closed in 1563.
Pius V was elected in 1566 and charged with the task of implementing the sweeping reforms called for by the Council. He ordered the founding of seminaries for the proper training of priests. He published a new missal, a new breviary, a new catechism, and established the Confraternity of Christian Doctrine classes for the young. Pius zealously enforced legislation against abuses in the Church. He patiently served the sick and the poor by building hospitals, providing food for the hungry, and giving money customarily used for the papal banquets to poor Roman converts. His decision to keep wearing his Dominican habit led to the custom–to this day–of the pope wearing a white cassock.
In striving to reform both Church and state, Pius encountered vehement opposition from England's Queen Elizabeth and the Roman Emperor Maximilian II. Problems in France and in the Netherlands also hindered Pius's hopes for a Europe united against the Turks. Only at the last minute was he able to organize a fleet which won a decisive victory in the Gulf of Lepanto, off Greece, on October 7, 1571.
Pius's ceaseless papal quest for a renewal of the Church was grounded in his personal life as a Dominican friar. He spent long hours with his God in prayer, fasted rigorously, deprived himself of many customary papal luxuries, and faithfully observed the spirit of the Dominican Rule that he had professed.
---
Reflection
In their personal lives and in their actions as popes, Saint Pius V and Blessed Paul VI both led the family of God in the process of interiorizing and implementing the new birth called for by the Spirit in major Councils. With zeal and patience, Pius and Paul pursued the changes urged by the Council Fathers. Like Pius and Paul, we too are called to constant change of heart and life.
---
Saint Joseph Benedict Cottolengo's Story
In some ways Joseph exemplified St. Francis' advice, "Let us begin to serve the Lord God, for up to now we have made little or no progress" (1 Celano, #103).
Joseph was the eldest of 12 children. Born in Piedmont, he was ordained for the Diocese of Turin in 1811. Frail health and difficulty in school were obstacles he overcame to reach ordination.
During Joseph's lifetime, Italy was torn by civil war while the poor and the sick suffered from neglect. Inspired by reading the life of Saint Vincent de Paul and moved by the human suffering all around him, Joseph rented some rooms to nurse the sick of his parish and recruited local young women to serve as staff.
In 1832, at Voldocco, Joseph founded the House of Providence which served many different groups (the sick, the elderly, students, the mentally ill, the blind). All of this was financed by contributions. Popularly called "the University of Charity," this testimonial to God's goodness was serving 8,000 people by the time of Joseph's beatification in 1917.
To carry on his work, Joseph organized two religious communities, the Brothers of St. Vincent de Paul and the Sisters of St. Vincent de Paul. Joseph, who had joined the Secular Franciscans as a young man, was canonized in 1934.
---
Reflection
How do we know God's will for us? Is that will static? Joseph did not begin the work for which he is most famous until 21 years after his ordination. Years of praying and searching certainly kept Joseph alert to God's call. However well we have responded to our neighbor's need in the past, God is surely calling us to greater generosity. That must have been what Francis meant when he said, "Let us begin to serve the Lord God."
A Small, Brown Spot
For where your treasure is, there your heart will be also. –Luke 12:34
I was sitting in a meeting one morning last week when I glanced down and something captured my eye. It was a small brown coffee spot on my clean, white shirt. I couldn't believe it. I was bothered by it but really couldn't do anything about it. But my ADD mind was racing. "What if someone sees this?" "Will the stain come out?" "Do I have another shirt somewhere around here I could change into?" "Why didn't I wear a brown shirt?"
It was ridiculous to be consumed with such thoughts. Looking back I laugh at it, but at the time, I wasn't. It's kind of sad the way my mind can obsess over things like this, and a rather sad example of what can be so important to us at times. Why do we focus on the negative aspects of life?  How many of us compare ourselves to others and worry we don't measure up?  How many times do we walk into a group setting and worry about what we are wearing and how we look, so concerned that it's the way others think it should be?
What is more important? That my desk is organized and neat, or that I set aside time to be with the Lord? To make a purchase to fill a void inside, or to support the kingdom of God with that money? Would God rather I memorize Scripture, or apply it to my life?
What is your focus on today? Are you working to do a better job than the person in the next cubicle because you want to look better to the boss, or are you working to show them God's love in some way for their benefit? Is it on kingdom living, or on a small, brown spot?
"Beware lest you lose the substance by grasping at the shadow." – Aesop
A Year With Jesus…
From A Charles Dickens Devotional
Christian Cleanliness
Mrs. Joe was prodigiously busy in getting the house ready for the festivities of the day, and Joe had been put upon the kitchen doorstep to keep him out of the dust-pan . . .
Joe . . . ventured into the kitchen after me as the dustpan had retired before us . . . [He] secretly crossed his two forefingers, and exhibited them to me, as our token that Mrs. Joe was in a cross temper. . . .
We were to have a superb dinner, consisting of a leg of pickled pork and greens, and a pair of roast stuffed fowls. . . .
So, we had our slices served out, as if we were two thousand troops on a forced march instead of a man and boy at home . . . In the meantime, Mrs. Joe put clean white curtains up, and tacked a new flowered flounce across the wide chimney to replace the old one, and uncovered the little state parlor . . . , which was never uncovered at any other time, but passed the rest of the year in a cool haze of silver paper, which even extended to the four little white crockery poodles on the mantel-shelf, each with a black nose and a basket of flowers in his mouth . . . Mrs. Joe was a very clean housekeeper, but had an exquisite art of making her cleanliness more uncomfortable and unacceptable than dirt itself. Cleanliness is next to Godliness, and some people do the same by their religion.—Great Expectations
Pip, the orphaned main character of Great Expectations and narrator of this passage, resides with the Gargerys— Pip's abusive sister and her kind husband, Joe. Mrs. Joe keeps her house hospital clean, and heaven help anyone who dirties it! In his description, Dickens purposely fashions her home as the antithesis of Christian cleanliness. You will not find the proverb "Cleanliness is next to godliness" in the Bible, but the Scriptures have much to say on the topic of keeping clean. The Old Testament offers scores of laws concerning cleanliness in its literal sense; however, when Jesus arrived, He had a new interpretation. In Mark 7, we read that the Pharisees criticized Jesus' disciples for eating bread with unclean hands—against the traditions of their elders (vv. 1–13). Jesus told them that "unclean" does not mean dirty hands or a dirty house, but a dirty heart (vv. 18–23). In His Sermon on the Mount, He told the crowd, "Blessed are the pure in heart, for they shall see God" (Matthew 5:8). In a spiritual sense, cleanliness is next to godliness. A clean heart is our pathway to God. Christian cleanliness means being pure in our thoughts, attitudes, and in everything we do. The apostle John said, "If we confess our sins, [God] is faithful and just to forgive us our sins and to cleanse us from all unrighteousness" (1 John 1:9).
Create in me a clean heart, O God, and renew a steadfast spirit within me. – Psalm 51 :10

What Jesus Did!

 'The One Thing'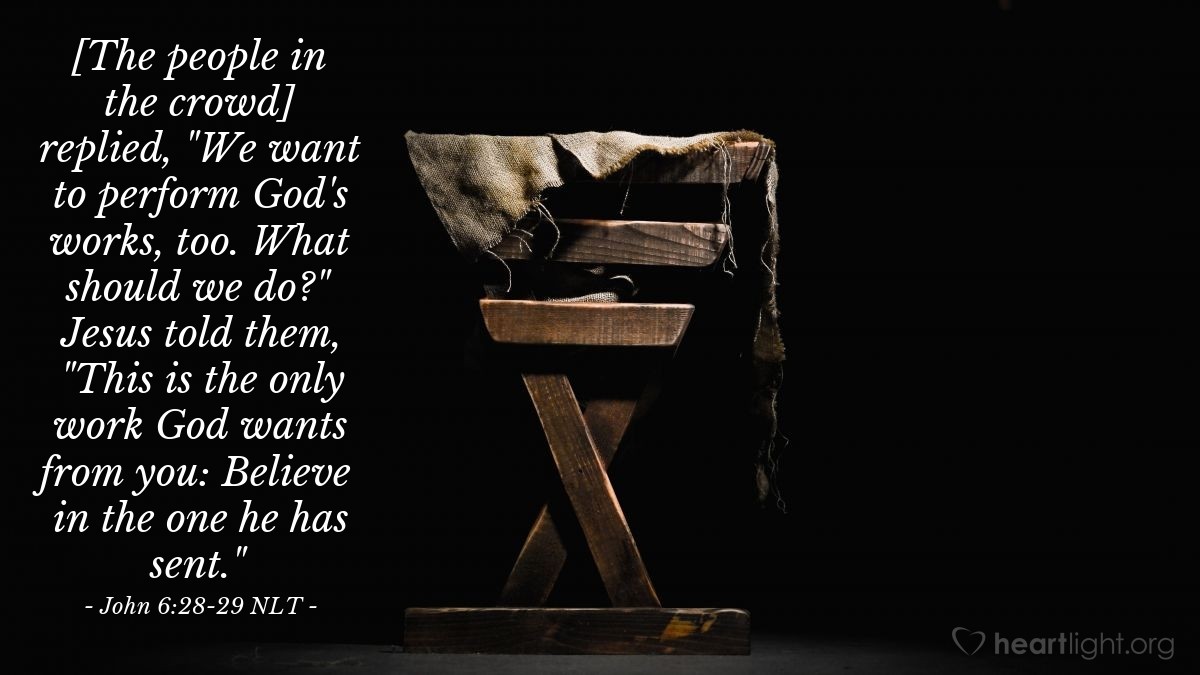 Key Thought
What does God want us to do? What is the work that endures to eternal life? What matters most in the scope of all other things? Believe that God sent Jesus to be our Savior.
Today's Prayer
Dear God, my Father, please stir me to live with my faith in Jesus as THE most important thing in my life. Help me properly discern what is important. Help me integrate everything into my life based on my relationship with Jesus. May Jesus be the center of my life, my hope, and my faith. Amen.
Related Scripture Readings
Daily Wisdom:

 Proverbs 10:19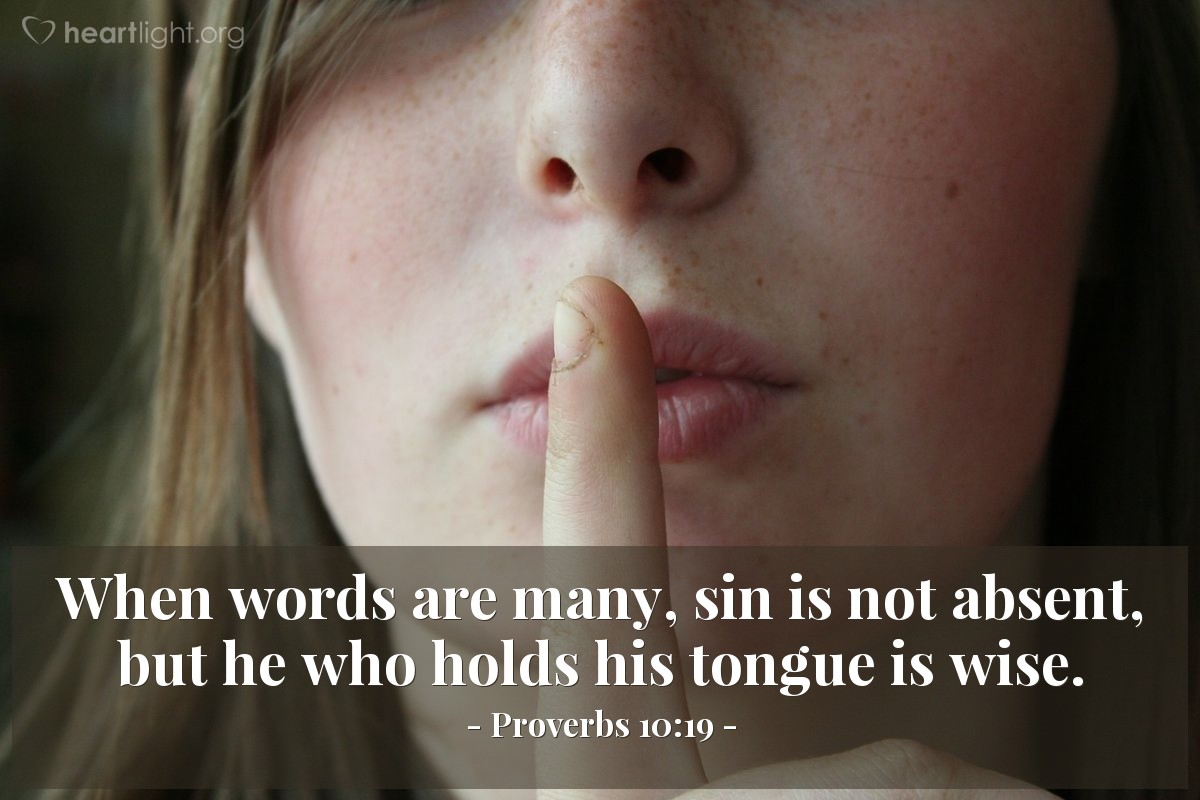 Spiritual Warfare:

 'Fools Focus on Wealth Instead of Relationship'

God's Power for Our Battles

But God said to him, 'You fool! You will die this very night. Then who will get everything you worked for?' Yes, a person is a fool to store up earthly wealth but not have a rich relationship with God.
Today's Prayer
Lord, I know that no one gets out of this world alive, and one day I will have to face You and give an account of how I spent my earthly life. Don't let me be like this foolish man, Lord, who spent his life storing up earthly treasures for this world while completely neglecting his eternal home and savings account. Help me to be rich in good deeds, kind words, and acts of love. Help me to be sympathetic and empathetic to those around me who are hurting. Give me eyes to see them as You see them, and a heart that wants to make a difference in their lives. In Jesus' Name, Amen.
Illustration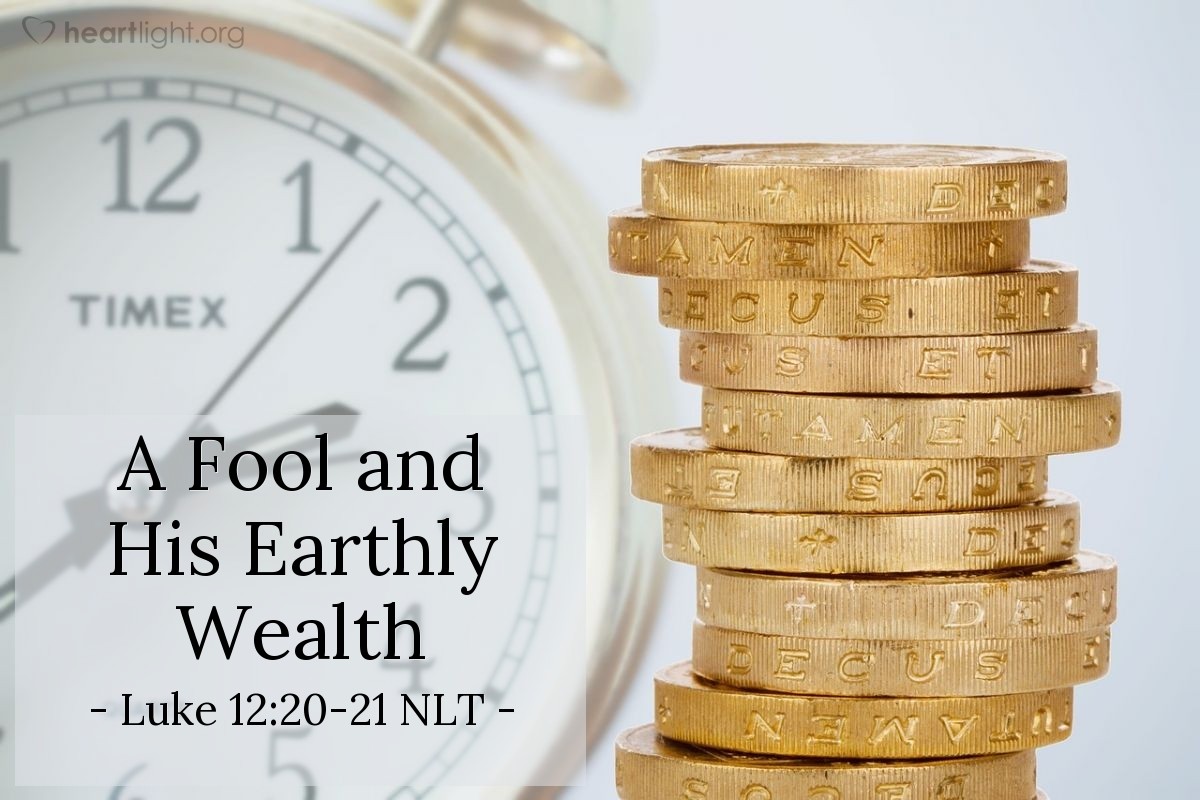 Today's Scripture
My dear brothers, take note of this: Everyone should be quick to listen, slow to speak and slow to become angry, for man's anger does not bring about the righteous life that God desires. – James 1:19-20
Thoughts for Today
The Bible clearly states that we are to practice being slow to anger. This simple admonition means we can work with angry feelings, not just bury them or release them in bursts of temper. This week we will be looking at five steps to help us control the episodes of anger that come into our lives.
The first step involves acknowledging feelings of anger and accepting them. Describe your feelings (to yourself). I am irritated. I am angry. I am furious. Determine the level and intensity of these feelings: a little upset, moderately upset, or very upset. Get honest with your anger. Admit you are losing control.
At this point don't be critical of your feelings as to their being right or wrong but look at your feelings and think of them as you would a temperature gauge on the dash of your automobile. The gauge light comes on, and it is red indicating that the engine is overheated. Don't try to determine the cause of the malfunction or try to fix it at this point. Just observe the warning light. It's overheated! Just acknowledge the fact.
Consider this …
This is the principle of the first step in controlling your anger. Just acknowledge and accept the fact of feeling angry–don't bury your feelings … or blurt out a hasty response that you will regret. "Be quick to listen, slow to speak and slow to become angry."
Prayer
Father, help me to be slow to anger. When feelings of anger begin to build, help me to acknowledge them. And help me to refrain from instantly blurting out an angry response that I will probably regret. In Jesus' name …
When I was 14 years old, my friends were going on a ski trip, but I was unable to join them. The upcoming trip was the main topic of conversation for weeks before they departed. I was terribly sad when they left, knowing they were making memories I'd never be a part of. There was that sick feeling in my stomach that happens to me when I am missing out on something. Oh, how I wanted that feeling to fly away as quickly as possible. When my friends returned, the same thing happened as before they left. They reminisced about all the fun times—and reminisced and reminisced.
An idea came: I picked a date and circled it on a calendar hanging next to my bed. Until that date arrived, I'd allow myself to feel the sadness and pain. Once the circled date came, I would move pass those feelings. There was no science or method to choosing the particular date. I prayed and then selected a date on the calendar that felt right. Instead of masking the pain, I gave myself the freedom to fully feel the sadness during that time. Like many people, I often try to suppress the sadness I feel. We try to make the hurt go away by rushing through the healing process. Shoving the emotions down so they won't surface is common among the best of people.
The experience of missing "a trip of a lifetime" with my friends was simply learning ground, a preparation for significantly more difficult experiences facing me later in my life. I might have lost the fun of skiing and fellowship, but I gained much more than I lost. Ahead were to come:
Three painful miscarriages
Heavy empathetic emotions watching my beloved Terry go through emotional and physical pain during a battle with cancer at age 21.
The loss of my dad (my best friend) to pancreatic cancer right after I got married.
What I learned from the ski trip incident was time doesn't necessarily heal all wounds … completely. But I did find out raw, can't-catch-my-breath-pain feelings will pass. We won't necessarily be able to stop the storm, but we can live with the hope that we will survive it and it will pass.
This pain is just a chapter in our story, not the whole book. We may not forget the chapter, but we will move past it. Sometimes all we have at our disposal is the knowledge the "hurricane" will not last forever, every storm has an ending, the sun will absolutely shine again…in time.
Your method of moving forward may not be circling a date on the calendar as I did, but we can decide not to bury the feelings that arise during a storm, or after a loss, or even in the middle of heartache. We can all rest in the knowledge that no matter what chapter of life we are in, no matter the "emotional nausea" we are experiencing, this too shall pass; this too shall considerably lessen, considerably weaken with time. It always does.
When my dad passed away, my emotions were raw. I ached deep down in the pit of my stomach and in the center of my heart. This life on earth will surely pass away in but a moment. What a reunion I will have with my dad once again.
I remember my dad using the phrase "This too shall pass" when I faced fears. Taking a few minutes to turn to my Father in heaven and concentrating on my dear earthly father's words allows me to balance my fear with reality. You can use the phrase "This too shall pass" daily as well; it will help keep life in perspective.
Adapted from The Kindness Effect by Jill Donovan, copyright 2018, published by Charisma House. This book shows what happens when you give generously to others, pursue your dreams and never give up. To order your copy, click on this link.
Avoiding Self-Based Faith
TGIF Today God Is First Volume 1 by Os Hillman
April 30, 2018
"We live by faith, not by sight." – 2 Corinthians 5:7
Over the years I have run into many businessmen who make the statement, "Whenever I get things in order in my business, I want to get more involved in ministry." What are these men really saying? They are saying that as soon as they can get the amount of money that creates security, they will trust God. They are saying that what they have been doing to date has not been ministry. This separation of "work and faith" is common among our culture. We fail to understand that life is sacred to God and there is nothing "holy" and nothing "sacred" in itself.
I would love to hear one workplace believer say, "I have spent my life in this business. The Lord has blessed me with great resources. But now God has told me to give away my wealth and to trust Him to provide for me through new ways." Wouldn't that be a novel concept? That is exactly what C.T. Studd, the great cricket player in the 1800s, did. He was reared in a wealthy home, but his deep conversion experience led him to take actions that forced him to trust God in ways he never had to before. He became one of the great missionaries of all time.
Whenever we seek to plan ways of ministry that depend on our ability to manipulate and plan outcome, this is not faith. The ministry that comes from this will be minuscule. Faith that bears fruit is faith that is born from experience with a living God. It is faith that says, "I don't know where the next check is coming from. All I know is that God told me to do this and trust Him for the next step." That is faith that moves mountains and moves God's heart. God rarely allows His servant to see beyond the next faith step. However, those who are willing to take the first step and leave the outcome to Him see His works.
"Others went out on the sea in ships; they were merchants on the mighty waters. They saw the works of the Lord…" (Psalm 107:23-24).
NATIONAL HONESTY DAY
April 30 is National Honesty Day in the United States.
We know the different kinds of lies. We've spared someone's feelings or fudged the truth just a little or maybe told an all out whopper. Unless we walked on water, we've all told a lie or two.  National Honesty Day challenges us to be truthful in all we do.
HOW TO OBSERVE
Celebrate National Honesty Day by answering questions truthfully all day long. Use #NationalHonestyDay to share on social media.
HISTORY
The author of The Book of Lies, M. Hirsh Goldberg, created National Honesty Day in the early 1990s.  Former press secretary to a Maryland governor selected the last day of April in contrast to all the foolishness the first of the month brings. National Honesty Day is often used as a campaign for prevention against the most deceitful lies in history.  This day also urges politicians to stay away from lies and tell the truth.
On April 30, 1938, a cartoon character known as "Happy Rabbit" made his debut in a short Warner Bros. cartoon titled "Porky's Hare Hunt." He was the prototype for Bugs Bunny, having a similar personality, but looking a bit different. It is on the anniversary of the release of this short film that we celebrate Bugs Bunny Day.
Bugs Bunny is an anthropomorphic gray hare with a relaxed and passive personality—but he is also a trickster. He became a cultural icon and is best known for starring in Looney Tunes and Merrie Melodies, short films that were made by Warner Bros. from the 1930s through the 1960s. He appeared in many other formats, such as feature films, comic books, and musical records. He has appeared in more films than any other cartoon character, and TV Guide listed him as the greatest cartoon character of all time. In 1997, he became the first cartoon character to appear on a postage stamp. He even has a star on the Hollywood Walk of Fame.
The name "Bugs" or "Bugsy" means crazy or loopy and was used as a nickname in the first half of the twentieth century. For example, mobster Benjamin Siegel is best known as Bugsy Siegel. Today the name survives in phrases such as "You're bugging me," and in Bugs Bunny.
Although we celebrate Bugs Bunny Day today, he didn't make his official debut until July 27, 1940, when he appeared in "A Wild Hare." It is in this short film, which also starred Elmer Fudd, where Bugs Bunny first used his catchphrase "Eh, What's Up Doc?" By 1942, Bugs was the number one star of Merrie Melodies. He appeared in 167 short films from the 1940s through 1964, during his "Golden Age."
The Bugs Bunny Show debuted in 1960. It was tweaked over time but was on television for forty years. Bugs Bunny also appeared in other animated network television specials in the 1970s and 1980s. In 1988, he appeared in the live-action/animated film Who Framed Roger Rabbit? Box Office Bunny, released in 1990, became the first Bugs Bunny cartoon in theaters since 1964. Bugs appeared in another live-action/animated film, Space Jam, starring other Looney Tune characters and Michael Jordan. In 2003, he appeared in Looney Tunes: Back in Action, and he appeared in The Looney Tunes Show on the Cartoon Network for two seasons, beginning in 2011.
Bugs Bunny Day is observed next on Tuesday, April 30th, 2019. It has always been observed annually on April 30th.
Stay blessed!!!!!