Christoph Friedrich Blumhardt
You answered me when I called to you; with your strength you strengthened me. Psalm 138:3, TEV
Dear Father in heaven, we thank you that we are your children and that your eyes watch over us and see all that is in our hearts. You hear the request of each heart, and you will answer at the right time. Stretch out your strong hand to us, for we are weak and often heavy-hearted, not knowing what to do nor how to find you. But you are with us in every need in spite of all our faults and shortcomings. You are with us; you lead us through everything to our life's true goal, until each of us can rejoice over all you have done, to the praise of your name, our Father. Amen.
Witness
Spare no place, spare no tongue, nor pen, but be obedient to the Lord God: go through the work, be valiant for the truth upon earth. —George Fox
The Road to Freedom
Dietrich Bonhoeffer's Last Writings
 Dietrich Bonhoeffer – theologian, pastor, dissident, and martyr – will remain a controversial figure. Did he, a convinced pacifist, take part in a failed plot to assassinate Hitler? Where was his theology heading? The following selections from his last writings will not resolve these questions. But they do show what enabled him to bear the consequences of his opposition to the Nazi regime: his complete rootedness in Christ's overcoming love.
By late 1942, the independent Confessing Church seminaries had been closed for five years. Even the underground seminary that Dietrich Bonhoeffer had started in Finkenwald had been broken up by the Gestapo in 1939. But Bonhoeffer worked hard to maintain ties among the Finkenwald seminarians and other Confessing Church pastors. He sent them a series of circular letters – hand-signed and hand-addressed – reporting on the activities and deaths of members of this circle, encouraging those remaining, and continuing their instruction. The last of these letters was written on November 29, 1942, several months before his arrest:1
Dear Brother …,At the beginning of a letter that in this solemn hour is meant to call you all to true joy, there necessarily stand the names of those brothers who have died since I last wrote to you: P. Wälde, W. Brandenburg, Hermann Schröder, R. Lynker, Erwin Schutz, K. Rhode, Alfred Viol, Kurt Onnasch, Fritz's second brother; in addition to them, and presumably known to many of you, Major von Wedemeyer and his oldest son, Max.
"Everlasting joy shall be upon their heads" (Isaiah 35:10). We are glad for them; indeed, should we say that we sometimes secretly envy them? From early times the Christian church has considered acedia – the melancholy of the heart, or resignation – to be one of the mortal sins. "Serve the Lord with joy" (Psalm 100:2) – thus do the scriptures call out to us. For this our life has been given to us, and for this it has been preserved for us unto the present hour.
This joy, which no one shall take from us, belongs not only to those who have been called home but also to us who are alive. We are one with them in this joy, but never in melancholy. How are we going to be able to help those who have become joyless and discouraged if we ourselves are not borne along by courage and joy? Nothing contrived or forced is intended here, but something bestowed and free.
Joy abides with God, and it comes down from God and embraces spirit, soul, and body; and where this joy has seized a person, there it spreads, there it carries one away, there it bursts open closed doors.
A sort of joy exists that knows nothing at all of the heart's pain, anguish, and dread; it does not last; it can only numb a person for the moment. The joy of God has gone through the poverty of the manger and the agony of the cross; that is why it is invincible, irrefutable. It does not deny the anguish, when it is there, but finds God in the midst of it, in fact precisely there; it does not deny grave sin but finds forgiveness precisely in this way; it looks death straight in the eye, but it finds life precisely within it.
What matters is this joy that has overcome. It alone is credible; it alone helps and heals. The joy of our companions who have been called home is also the joy of those who have overcome – the Risen One bears the marks of the cross on his body. We still stand in daily overcoming; they have overcome for all time. God alone knows how far away or near at hand we stand to the final overcoming in which our own death may be made joy for us.
Some among us suffer greatly because they are internally deadening themselves against so much suffering, such as these war years bring in their wake. One person said to me recently, "I pray every day that I may not become numb." That is by all means a good prayer.
And yet we must guard ourselves against confusing ourselves with Christ. Christ endured all suffering and all human guilt himself in full measure – indeed, this was what made him Christ, that he and he alone bore it all. But Christ was able to suffer along with others because he was simultaneously able to redeem from suffering. Out of his love and power to redeem people came his power to suffer with them.
We are not called to take upon ourselves the suffering of all the world; by ourselves we are fundamentally not able to suffer with others at all, because we are not able to redeem. But the wish to suffer with them by one's own power will inevitably be crushed into resignation. We are called only to gaze full of joy at the One who in reality suffered with us and became the Redeemer.
Full of joy, we are enabled to believe that there was and is One to whom no human suffering or sin is foreign and who in deepest love accomplished our redemption. Only in such joy in Christ the Redeemer shall we be preserved from hardening ourselves where human suffering encounters us.
Whoever I am, Thou knowest me, O God, I am thine!
In July 1944, Bonhoeffer had been in prison for over a year. He'd composed prayers for other prisoners, circulating them illegally, and ended each day in prayer, including prayers for his guards. His composure and evident dependence on Christ would become legendary. Fellow prisoner Fabian von Schlaberdorff writes that Bonhoeffer kept them all going, "consoling those who had lost all hope and giving them fresh courage. A towering rock of faith, he became a shining example to his fellow prisoners."2It was then that he wrote this, enclosing a copy in a letter to his parents:
Who am I? They often tell me
I step from my cell
calm and cheerful and poised
like a squire from his manor.
Who am I? They often tell me
I speak with my guards
freely, friendly and clear,
as though I were the one in charge.
Who am I? They also tell me
I bear days of calamity
serenely, smiling and proud,
like one accustomed to victory.
Am I really what others say of me?
Or am I only what I know of myself?
restless, yearning, sick, like a caged bird,
struggling for life breath, as if I were being strangled,
starving for colors, for flowers, for birdsong,
thirsting for kind words, human closeness,
shaking with rage at power lust and pettiest insult,
tossed about, waiting for great things to happen,
helplessly fearing for friends so far away,
too tired and empty to pray, to think, to work,
weary and ready to take my leave of it all?
Who am I? This one or the other?
Am I this one today and tomorrow another?
Am I both at once? Before others a hypocrite,
and in my own eyes a pitiful, whimpering weakling?
Or is what remains in me like a defeated army,
Fleeing in disarray from victory already won?
Who am I? They mock me, these lonely questions of mine,
Whoever I am, Thou knowest me, O God, I am thine!
The next month, on August 23, 1944, he wrote in a final letter to his friend Eberhard Bethge:
…I am so sure of God's guiding hand that I hope I shall always be kept in that certainty. You must never doubt that I'm travelling with gratitude and cheerfulness along the road where I'm being led. My past life is brim-full of God's goodness, and my sins are covered by the forgiving love of Christ crucified….
"I have hardly seen a man die so entirely submissive to the will of God."
 On February 7, he was transferred to Buchenwald; then, on April 6, with several others, to another facility. April 8 was a Sunday: Bonhoeffer led a worship service for the prisoners, speaking on the Scriptures for the day: "Through his stripes we are healed" (Isaiah 53:5) and "Blessed be the God and Father of our Lord Jesus Christ, which according to his abundant mercy hath begotten us again into a lively hope by the resurrection of Jesus Christ from the dead" (1 Peter 1:3). Early the following morning, Bonhoeffer was lead to the scaffold. The camp doctor watched: "Through the half-door in one room of the huts I saw Pastor Bonhoeffer, before taking off his prison garb, kneeling on the floor praying fervently to his God. I was most deeply moved by the way this lovable man prayed, so devout and so certain that God heard his prayer. At the place of execution, he again said a short prayer and then climbed the steps of the gallows, brave and composed. His death ensued a few seconds. In the almost fifty years that I worked as a doctor, I have hardly seen a man die so entirely submissive to the will of God."4
Discipline
If you are drawn to seek freedom, learn first of all
to discipline yourself and your senses, lest desires
and your members lead you hither and thither.
Pure and chaste be your body and spirit, totally under control,
and obedient, seeking the goal which is set for them.
No one experiences the secret of freedom, except by discipline.
Action
Choose and do what is right, not what fancy takes,
not weighting the possibilities, but bravely grasping the real,
not in the flight of ideas, but only in action is there freedom.
Come away from your anxious hesitations into the storm of events,
carried by God's command and your faith alone.
Then freedom will embrace your spirit with rejoicing.
Suffering
Wondrous is the change. The strong active hands
are bound now. Powerless and alone, you see the end
of your action. Yet, you breathe a sigh of relief and lay it aside
quietly trusting to stronger hands and are content.
Only for a moment did you touch the bliss of freedom,
then you gave it back to God that He might gloriously fulfill it.
Death
Come now, highest feast on the way to everlasting freedom,
death. Lay waste the burdens of chains and walls
which confine our earthly bodies and blinded souls,
that we see at last what here we could not see.
Freedom, we sought you long in discipline, action and suffering.
Dying, we recognize you now in the face of God.
Verse of the Day
for Friday, April 27, 2018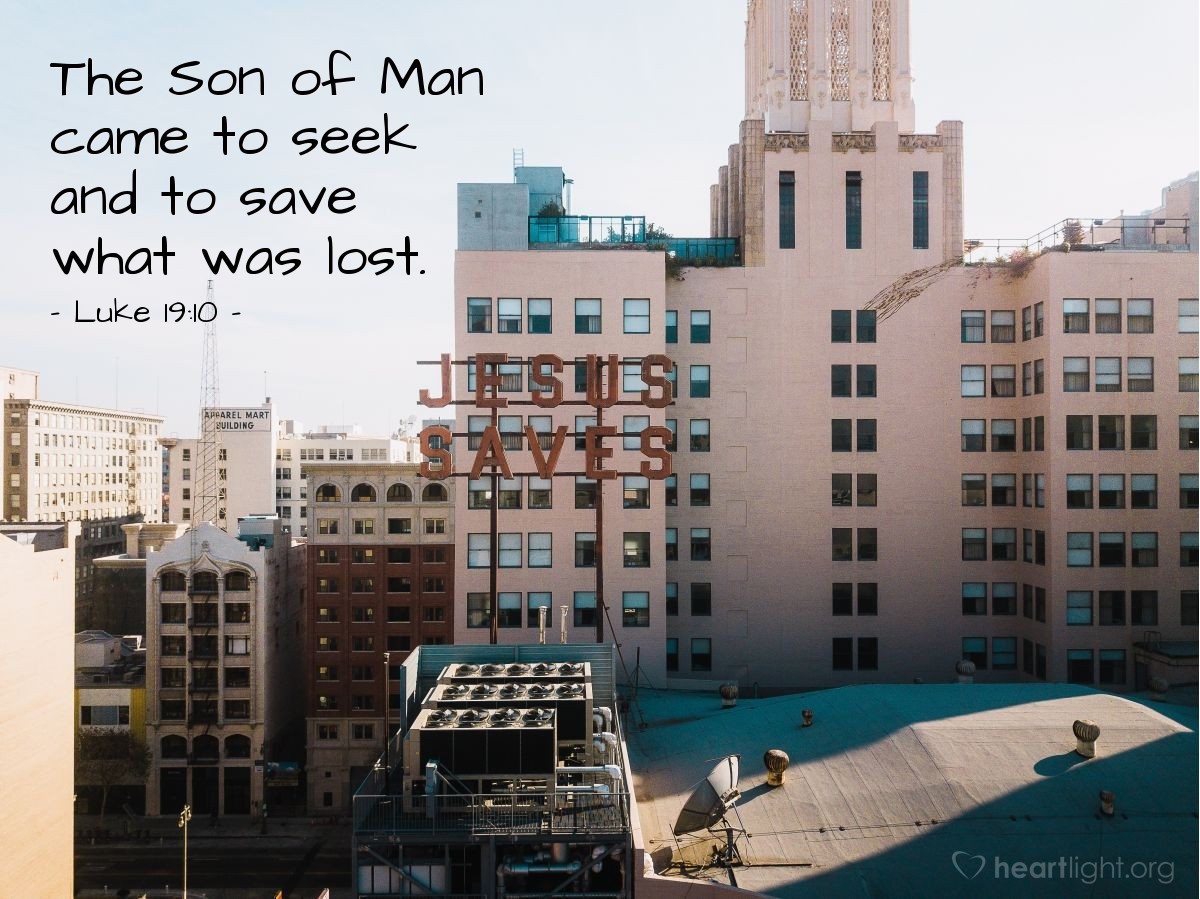 Thoughts on Today's Verse…
"The Friend of Sinners." Of all the things Jesus was called, I believe that was his favorite. Come to think of it, I believe it's my favorite, too!
My Prayer…
Father, while I know you hate sin and the havoc it creates in our lives, I am so thankful that when you came to earth you were not our judge but our Savior, you were our friend. I promise to live today more aware of your love for the lost because I know what it means to be found. Through Jesus my Lord, I pray. Amen.
6 Things I Wish Everyone Knew About Hell
The Bible tells us that everyone will exist eternally either in heaven or hell. While heaven is a place of perfect peace, hell is a place of everlasting punishment. Hell is mentioned in the Bible numerous times including in Matthew 8:12, which says, "The children of the kingdom will be driven out into the darkness where there will be wailing and grinding of teeth". Hell is also mentioned related to internal destruction in 2 Thessalonians 1:9 which says, "These will pay the penalty of eternal ruin, separated from the presence of the Lord, and from the glory of His power". Hell is also described in great detail in Revelation 14:11 which says, "The smoke of the fire that torments them will rise forever and ever, and there will be no relief day or night for those who worship the beast or its image or accept the mark of its name". From these verses, we see that the Bible gives a number of descriptions of hell, or that place of final judgment. As believers, we know that hell is very real but it is still a confusing notion. Descriptions of hell are dark and scary. While it's not easy to wrap our minds around it, as Christians we have to fully understand it to understand God and His love for us. Here are six things I wish everyone knew about hell:
Hell Exists
You may be surprised how many believers don't believe or accept that hell exists. For those who doubt it, God has given us substantial evidence that Hell does exist in His infallible message to us. If you don't believe hell exists, consider these words from Jesus: "I tell you, my friends, do not be afraid of those who kill the body and after that can do no more. But I will show you whom you should fear: Fear him who, after your body has been killed, has authority to throw you into hell. Yes, I tell you, fear Him" (Luke 12:4-5). If you don't believe hell exists, you don't trust God's Word or truth.
Jesus Talked About Hell
There is a common misconception that Jesus didn't talk about hell which is completely untrue. Jesus talked about hell more than anyone else in the Bible. In fact, Jesus talked about hell more often than He talked about heaven. There is also a notion that God only talked about hell in the Old Testament but not in the New Testament, being that the New Testament is the Good News. It's time to open up our Bibles, folks. Yes, Jesus spoke about love and compassion, but that doesn't mean that He didn't address hell. Hell is very real and it was important that Jesus speak on this often.
Hell is Not a Result of a Flaw in God's Love
Jesus spoke a lot about hell because He wanted us to understand what He was going to experience on the cross on our behalf. John 3:16 is a great reminder of how greatly God loves us: "For God so love the world that He gave His one and only Son, that whoever believes in Him shall not perish but have eternal life". Jesus had to endure great physical and mental pain, including being separated from God during His crucifixion and taking on the hell of our sin into His body to fulfill this truth. For those who think that hell is a great blemish or flaw in God's love, they are greatly mistaken.
Hell is Not Temporary
Just as heaven is eternal, hell is eternal. As Christians, we believe that the righteous will inherit the kingdom they have been citizens of during life on earth, and the unrighteous will be told to depart from Jesus. This is what Jesus told the apostles, when He said, "Then [the unrighteous] will go away to eternal punishment, but the righteous to eternal life" (Matthew 25:46). What will the truth of your life be? Whatever the verdict at the time of judgment is, there will be two options, and they are both eternal, not temporary.
God Sends You to Hell When He's Upset
Hell is not a place that God sends you when He's upset with you, or turned off by something you've done. There's a common misconception that God sends people to hell. This is wrong. People send themselves to hell when they reject Christ. Yes, those who do not accept Jesus will go to hell but that's because of their own choosing. Our God is a God of love. When we are born again through the waters of baptism and make Christ the center of our lives, we have no place in hell.
Hell is All About Suffering
Popular media often depicts hell in movies, books and music as a place similar to that on earth today, with people running around killing and committing evil acts. If you think hell is anything like this, you've got the story very twisted. Hell was designed as a place of horror, torment and torture. That's why it is repeatedly referred to as a lake of fire and brimstone. The Bible warns that we not make light of this evil. The Bible tells us, "For the waywardness of the simple will kill them, and the complacency of fools will destroy them" (Proverbs 1:32). The only concern in hell is how bad the pain is. Scripture is clear that hell is all about suffering.
For those of you who believe that you are destined for hell with no hope, you are missing God's message of grace. God gives us what we don't deserve. It is His will that we are saved – that we repent and turn to Jesus to receive forgiveness of our sins. These facts are sobering reminder of awaits those who do not believe. Suffering in hell is intense anguish. People in hell will be isolated from everything else. They will realize that have been permanently cut off from God and everything good. But there is hope with God. The beauty of God's love is that we can all be saved. Don't allow Satan to keep you away from God's love.
Biblical Warnings About False Prophets
A Prayer for Submission
By Dr. Neil T. Anderson
"Submit yourselves for the Lord's sake to every human institution." <u>1 Peter 2:13</u
The world system in which we were raised says that you are nothing, so compete, scheme, achieve and strive to get ahead. The Bible teaches that you are something, so be submissive. Here's how Peter said it:
"You are a chosen race, a royal priesthood, a holy nation, a people for God's own possession, that you may proclaim the excellencies of Him who has called you out of darkness into His marvelous light; for once you were not a people, but now you are the people of God; you had not received mercy, but now you have received mercy" (1 Peter 2:9,10).
Only after that affirmation of us being the people of God does Peter say, "Submit yourselves for the Lord's sake to every human institution" (verse 13), and "Servants, be submissive to your masters" (verse 18). He even relates it to the home: "In the same way, you wives, be submissive to your own husbands" (1 Peter 3:1).
Submission is not a dirty word; it is a liberating word. We are all under God's protective authority, and we can only be free if we seek it and submit to it. Coming under authority is your protection. Living free is your opportunity to be all that God created you to be.
There are two types of people who will never live up to their potential in Christ: those who can't do what they are told to do and those who won't do anything unless they are told. Don't wait to be told what you are already free to do. Step out in faith and live up to your potential in Christ.
You can bring light into a dark world if you will allow Christ to shine through you. You don't need a greater position; bloom where you are planted. Stop waiting for the big opportunity and seize the one you have. Someone in your world of influence desperately needs what Christ can do through you.
Prayer:
Lord, forgive me for my rebellious spirit. Teach me to be submissive and respectful to those in authority over me. Help me be a light in our dark world; let Christ shine through me. Give me eyes to see and ears to hear those around me who need Your gospel truth. Thank You for Your great love and tender mercy toward me. In Jesus' Name, Amen.
Saint Louis Mary Grignion de Montfort
Saint of the Day for 
April 27
(
January 31, 1673

 – 

April 28, 1716

)

https://www.franciscanmedia.org/wp-content/uploads/2016/08/SODApr27.mp3
Saint Louis Mary Grignion de Montfort's Story
Louis's life is inseparable from his efforts to promote genuine devotion to Mary, the mother of Jesus and mother of the Church. Totus tuus ("completely yours") was Louis's personal motto; Pope John Paul II chose it as his episcopal motto.
Born in the Breton village of Montfort, close to Rennes, France, as an adult Louis identified himself by the place of his Baptism instead of his family name, Grignion. After being educated by the Jesuits and the Sulpicians, he was ordained a diocesan priest in 1700.
Soon he began preaching parish missions throughout western France. His years of ministering to the poor prompted him to travel and live very simply, sometimes getting him into trouble with Church authorities. In his preaching, which attracted thousands of people back to the faith, Father Louis recommended frequent, even daily, Holy Communion—not the custom then!—and imitation of the Virgin Mary's ongoing acceptance of God's will for her life.
Louis founded the Missionaries of the Company of Mary, for priests and brothers, and the Daughters of Wisdom, who cared especially for the sick. His book True Devotion to the Blessed Virgin has become a classic explanation of Marian devotion.
Louis died in Saint-Laurent-sur-Sèvre, where a basilica has been erected in his honor. He was canonized in 1947. His Liturgical Feast Day is April 28.
---
Reflection
Like Mary, Louis experienced challenges in his efforts to follow Jesus. Opposed at times in his preaching and in his other ministries, Louis knew with Saint Paul, "Neither the one who plants nor the one who waters is anything, but only God, who causes the growth" (1 Corinthians 3:7). Any attempt to succeed by worldly standards runs the risk of betraying the Good News of Jesus. Mary is "the first and most perfect disciple," as the late Sulpician Father Raymond Brown described her.
---
Another Saint of the Day for 
April 27

 is Saint Zita of Lucca.
Saint Zita of Lucca's Story
Zita is a good saint for those of us who sometimes lose a chance to do some good by waiting to do something better.
Saint Francis of Assisi was still living when Zita was born to poor, devout Italian parents. From the age of 12 until her death, she worked as a servant for the Fatinelli family in Lucca. She was a hard worker, pious and generous. Although that dedication provoked jealousy on the part of some other servants, Zita won them over by her patience.
As the years passed, she became famous for helping the sick, the poor and the imprisoned. She was regarded locally as a saint soon after her death; that title was officially given to her in 1696. Zita is the patroness of domestic workers.
---
Reflection
"You can't take it with you," we say. Yet, often, people are afraid to perform the corporal works of mercy because they fear depleting their resources—time, money or energy. Zita is honored as a saint largely because of her charity. She might have compared herself with others having greater resources and excused herself from aiding Christ's poor. She lived out Jesus's story about the widow's mite (see Luke 21:1-4).
Shaken but Unashamed
By Grace Mills
Friday, April 27, 2018
God is our refuge and strength, an ever-present help in trouble. Therefore we will not fear, though the earth give way and the mountains fall into the heart of the sea, though its waters roar and foam and the mountains quake with their surging. Psalm 46:1-3 NIV
I recently came across an old journal entry of mine that said,
In the midst of chaos and confusion, in the midst of pain and loss, I can say it is well with my soul not because I understand or I feel okay. I can say that it is well with my soul because I still believe my God is good and there is a strength inside me that has overcome the world.
I'm torn between feeling inspired and snickering. See, I read this and deep within me I still believe it… but I also look at my life and ask where to find the proof of that belief.
I've been tossed by the storms. I've given footholds to fear and doubt. I've been shaken by the crumbling of my foundations.
Does this mean that I don't believe, that I don't have enough faith?
I've found myself praying something lately that's new for me,
God, prepare me for the things that You have prepared for me.
The past year and a half has been a season of the Lord strengthening me, getting my heart and life in order, and making me spiritually and mentally healthy. Through that process, I've experienced radical ups and downs and more unexpected things than I could have imagined.
I've come to realize, though, that each unexpected thing, each trial that caught me off guard, each hardship, has taught me deeply valuable lessons and strengthened me to my core. These things were not by happenstance, but God used them to mold me and shape me as a Potter does.
And when I was unaware, He was preparing me for them as well.
He's used these trials and moments of feeling shaken to uproot shame from my life. He has opened my eyes to see that He has good works prepared for me to complete (Eph. 2:10) and each thing that I go through prepares me to better complete those good things.
Because I have walked through a deep battle with depression, I am better equipped to walk with others through those same dark places and invite them to live in the Light.
Because I dealt with fear, I am better equipped to share the wisdom I've gained down the road of fearing less with those who are still afraid to step onto the waters.
Because I walked certain roads, I can recognize those who are on the same roads that I once was and invite them to find the same life that I have in Christ. A life that is actually abundant and full.
This is what uproots the shame!
Each moment that I was shaken, broken and lost, is a moment that opens my heart to compassion for someone who is there now.
Each of those moments is a testimony to the grace of God, to the strength of His Spirit in me and with me, and to His faithfulness.
So even still, when the waves rise and the pain tries to take hold, it is well with my soul. Even still, I know that God is good, He always has been and will never fail to be.
Even still, I trust that He is using each experience to prepare my heart and mind for the good things He has in store.
Today, I pray that you will join me in surrendering to the Lord, allowing Him to use each experience as preparation for all the desires of His heart for you.
Lord, I ask You to prepare me for the things that You have prepared for me. Open my heart to receive Your correction. Open my mind to yield to Your ways. Open my eyes to gain Your divine perspective. I give myself to You to be held in peace. With You, it is well with me.  In Jesus' Name, Amen.
(c) 2018 by Grace Mills.  All rights reserved.
---
Do you know Jesus Christ as your personal Savior?  Pull up a chair… He's been waiting for you.
Need a refill?  Please join us at the Encouragement Café with Luann and Friends.
The conversation at the Café is always hot and fresh.  We invite you to listen in as we gather around the table to discuss everyday life.
Comfort food for your soul is always on our menu, and friends are always close enough to hug.  We invite you to join us daily, as our writer's share how the Lord continues to transform them into His glorious image.
Still craving more…Join us as we grow together in grace and truth through our online bible study.
Stop by Encouragement Café and listen as the girls share life. Find podcasts, videos, Bible studies, prayer, resources and daily helpings of hope, laughter and friendship around our table. We've saved a seat just for you!                                          
Walk With a Limp
When the man saw that he could not overpower him, he touched the socket of Jacob's hip so that his hip was wrenched as he wrestled with the man. – Genesis 32:25
There's a story in the Bible about Jacob wrestling with God, and as a result, God touched Jacob's hip resulting in Jacob walking the rest of his days with a limp.
Have you wrestled with God? What's your limp? Do you have a scar or a wound that you have hidden from the world? Note that God gave Jacob a limp. Unlike a scar or a wound, you can't hide a limp. It shows whenever you get up and move around. I think God wanted Jacob to limp with pride. It was his battle scar.
What's your battle scar? Have you accepted them for what they are and for the person they have made you? Have you allowed the pain of your wrestling match to grow you into a better, more compas¬sionate person? Let God unfold more of His beauty and grace and love in your life. Would you have it any other way?
God will take the lowest of all and raise him up. He'll take the weakest one and strengthen him. He'll take the most insecure and fill him with courage. He'll take the least and make him the most.  All you have to do is let him.
So, whatever your limp is, walk with it and don't deny it. It is who you are, and He is molding you into a masterpiece. You are who you are because of your painful past. God accepts you right where you are, limp and all.  I hope you do, too.
"Comfort and prosperity have never enriched the world as much as adversity has." – Billy Graham (1918-    )
From Lead Serve Love by Gregory Lang
Act with compassion
Jesus had compassion with everyone, attending first to their worldly hunger and thirst and then to their spiritual deprivation. Acts of compassion demonstrate the unfailing concern Christ has for the people, his sheep. In this way you will also become a shepherd. Act with compassion.
May I ask you a direct question? If you believe there are things God is calling you to do, what's stopping you from doing them? Why the holdup?
You might be wondering, Doesn't this guy normally write about contemporary issues in the culture and the world around us?
Yes, of course, I do, several times a week. But every so often I feel prompted to write about practical, spiritual issues. Now is one of those times.
So, I ask you again: What's stopping you from stepping out in faith? What's stopping you from obeying the Lord? If you know what He wants you to do, why the procrastination? Why the delay?
Excuses are a dime a dozen, and we all have them in abundance.
"Tomorrow I'll step out," we say. But haven't we been saying that for years? It's hardly a cliche to say that tomorrow never comes.
We say, "When my finances get in order, I'll obey." But there will always be financial challenges, at least on some level. And more often than not, we fail to take the steps we can take. We're stuck in a rut of inaction as we wait for that mythical moment when every need will be met and problem solved. That moment will never come
We say, "Once my family is established I'll be ready." But family dynamics are fluid, and we can put our own calling on hold for decades while we wait for every family member to get his or her act together.
Why not obey the Lord today? Why not determine that now is the time to take that major step of faith? Why not live by this motto? "No excuses. Ever."
I agree that maturity is important. But will we ever be mature enough? Will we ever be able to say to God, "I'm totally ready for Your assignment?"
Do you think the disciples were ready when Jesus called them? It's clear they were not. But they were ready to get ready. They were ready to leave everything and follow Jesus. They were to be trained. And they were ready to learn how unready they were.
God has no perfect vessels to work through other than His Son. Every one of us is flawed in some way or another.
What He is looking for is willingness more than worthiness, availability more than ability. If you make yourself available, He will give you His ability. If you are willing to serve Him and be used, He will help you to walk worthy of His calling.
What, then, is stopping you? What is holding you back? Is it fear of failure? Fear of people? Fear of consequences? Fear of yourself?
Sometimes the key to breakthrough is taking one small step. Don't worry about all the things you can't do. Do what you can, however small and insignificant it might seem. God does not despise baby steps, and you shouldn't either.
Is God challenging you to share your money with the needy? Perhaps all you have is one dollar to give, but it feels like one million at the moment because your finances are so tight. Give that one dollar. A year from now, you might well be giving away one million.
Is God calling you to share your faith more boldly? Perhaps you're shy by nature, and the idea of walking up to a total stranger is intimidating to you. Take a step in the right direction. Ask a friend to go out witnessing with you. Post your personal testimony online or print it up and hand it out. Sow some seeds in the ground. You never know which ones will take root.
Is God speaking to you to get out on the mission field? Perhaps you see no way to leave your job or you feel you need years of training to prepare for ministry. Why not sign up for a single mission trip with your church or with a recommended organization? It might just rock your world and give you a vision for the future.
Throughout the Scriptures, people had to take a first step before the miracle came. The priests had to put their feet in the Jordan River before God split the waters (see Josh. 3). The disciples had to launch out into the deep (at the wrong time of the day, no less) before they caught a miraculous catch of fish (see Luke 5). And on and on it goes. People had to respond by faith before the breakthrough came.
It's the same thing today. Nothing will happen until we take the steps we know how to take. Even if the Lord gives us encouraging signs that He is with us and is calling us, we must step through the doors He opens.
Are you willing to do that today? Are you willing to acknowledge that your excuses are simply disguises for unbelief or fear or, worse still, rebellion?
Leonard Ravenhill once said, "One of these days some simple soul will pick up the Book of God, read it, and believe it. Then the rest of us will be embarrassed."
Could that simple soul be you? Believe God and take a step of faith. Seize hold of His promises today and get out of your comfort zone. Live today in such a way that you will have no regrets tomorrow.
Just do it.

What Jesus Did!

 'Eager for His Presence'

[The disciples] had rowed three or four miles when suddenly they saw Jesus walking on the water toward the boat. They were terrified, but he called out to them, "Don't be afraid. I am here!" Then they were eager to let him in the boat, and immediately they arrived at their destination!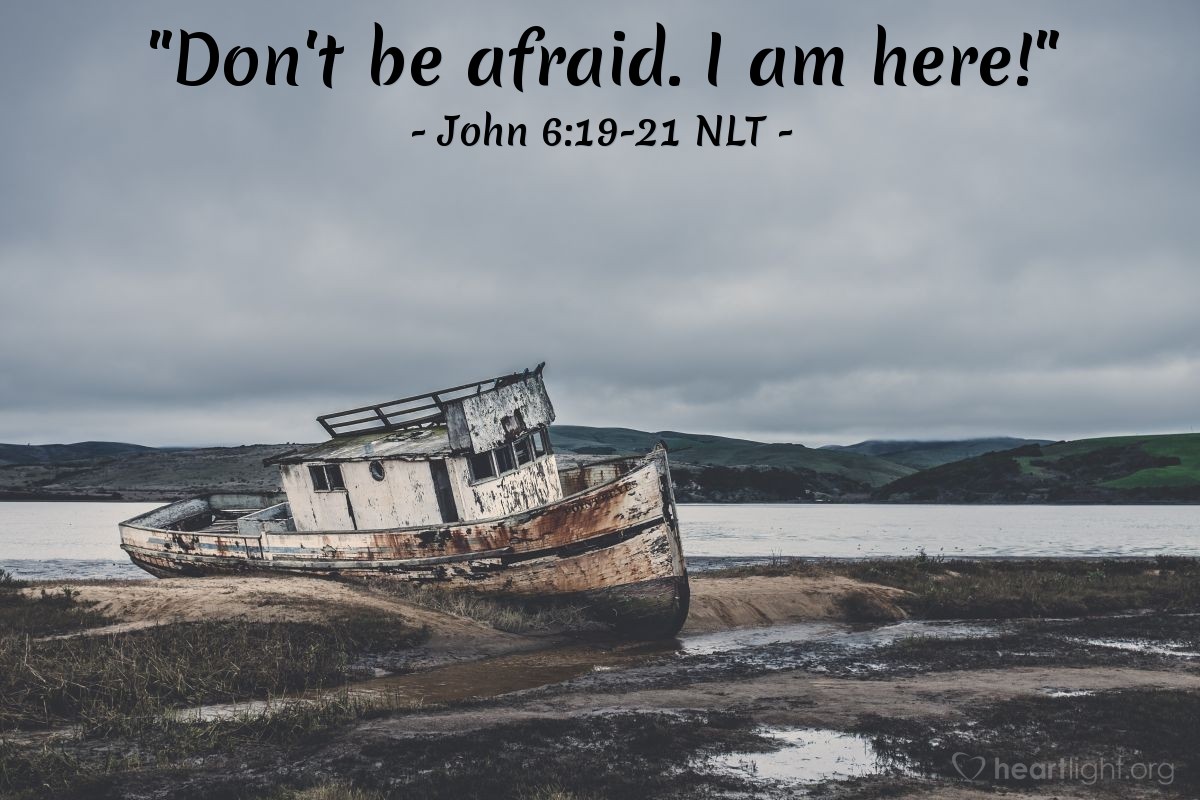 Key Thought
Sometimes we get so caught up in where we are going that we forget to take Jesus along with us. We try to do things ourselves rather than depending on him. Bottom line: If we don't welcome Jesus eagerly into the middle of our lives, especially in times of difficulty and struggle, we're not going to make it to the place we want to go.
Today's Prayer
Please forgive me, dear Father, when I try to do things by myself and do not depend upon your grace, your Son's presence, and the Spirit's power. I recognize that I will not accomplish what I want to accomplish outside of your grace and without Jesus' presence. I pray in his name, Jesus my Lord. Amen.
Related Scripture Readings
Daily Wisdom:

 Proverbs 17:27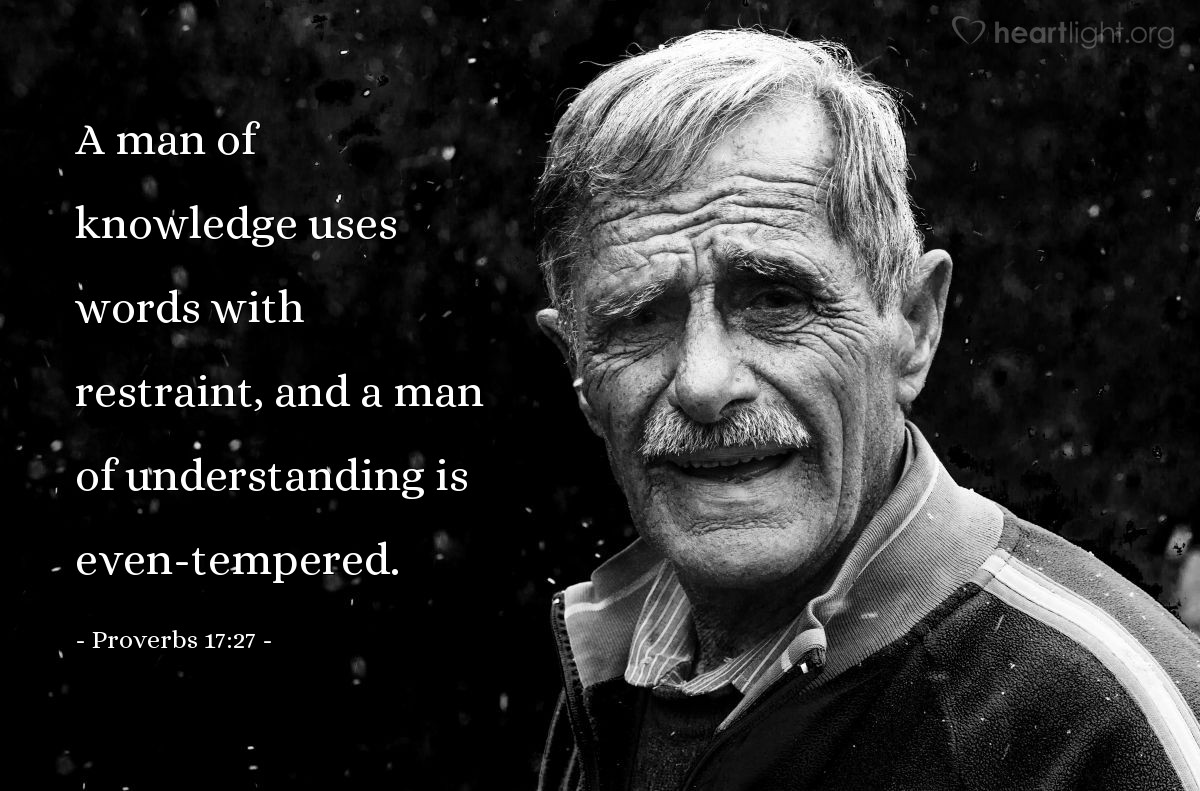 Spiritual Warfare:

 'Focusing on Others Gives Strength to Endure'

God's Power for Our Battles

So we have been greatly encouraged in the midst of our troubles and suffering, dear brothers and sisters, because you have remained strong in your faith. It gives us new life to know that you are standing firm in the Lord.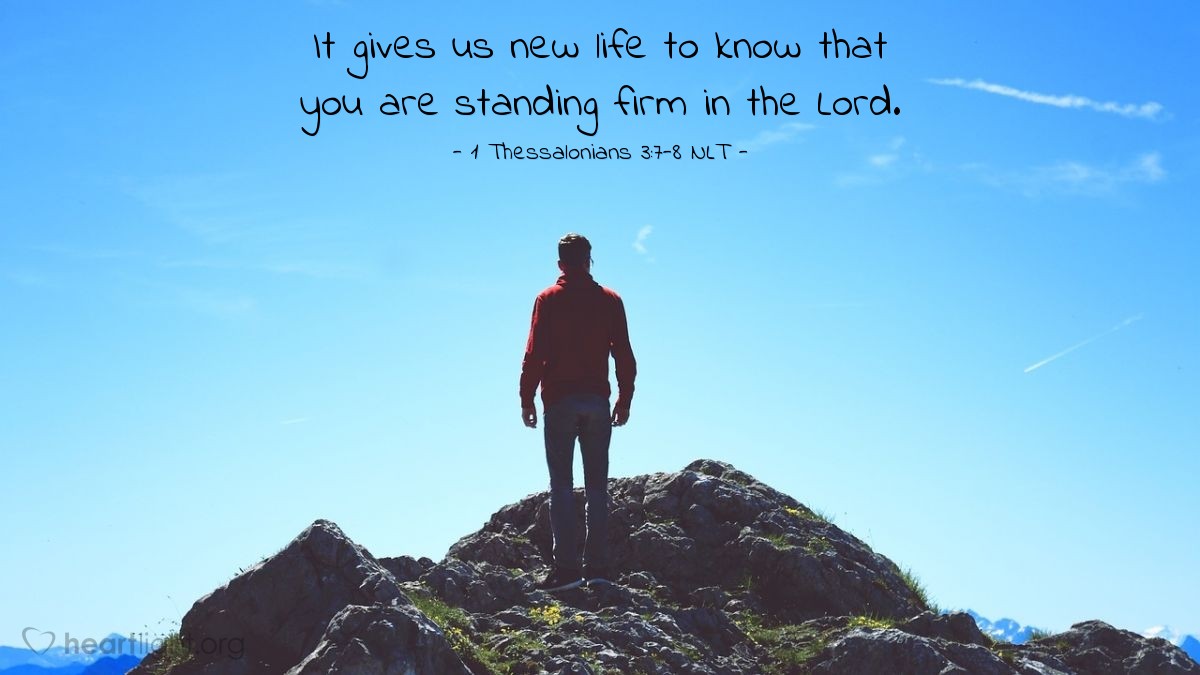 Lord, I have lived so selfishly and self-centered, and when I live like that, it's easy to end up in my own pity-party, sad and depressed. Thank You for reminding me through this verse that I should be focused on serving and helping and praying for others, and that when I do this, Lord, it gives me the strength I need to endure my own problems and pains. Help me to set the right example in this area in the future. In Jesus' Name, Amen.
Today's Scripture
"All praise to God, the Father of our Lord Jesus Christ. God is our merciful Father and the source of all comfort. He comforts us in all our troubles so that we can comfort others. When they are troubled, we will be able to give them the same comfort God has given us." – 2 Corinthians 1:3-4
Thoughts for Today
As we choose to trust God through our trials, he will bring good things from even the most difficult situations. One of these good things is described in today's scripture: He comforts us in our troubles so that we can comfort others who are suffering. His comfort gives us the strength to comfort others. His comfort builds our faith so that we can comfort others. His comfort gives us the desire to comfort others. His comfort demonstrates how we can comfort others.
The process of suffering, perseverance and proven character results in hope. Hope in the goodness and mercy of God. Hope in all that he has promised us. And the empowerment to share that hope with others.
Consider this …
Ask God to help you use every experience in your life, every challenge and trial you have had, every mistake you have made … and all that you have learned … to help others going through similar things. Ask him to help you demonstrate his love and comfort to others, just as he comforts you during your difficult times.
Prayer
Father, thank you for your love and comfort. I thank you that as I trust you and rest in you, you will bring good from even the most difficult times in my life. Thank you for comforting me so that I can comfort others. Help me to be faithful in demonstrating your love. In Jesus' name …
Unrighteous Acts
TGIF Today God Is First Volume 1 by Os Hillman
April 27, 2018
…"Shouldn't you walk in the fear of our God to avoid the reproach of our Gentile enemies?" – Nehemiah 5:9
Nehemiah was the cupbearer to King Artaxerxes in Babylon. Jerusalem's walls had been destroyed and word had come to Nehemiah that the remnant of his people left in Jerusalem were distressed over the plight of the wall.
Nehemiah was grieved over this situation. He appealed to his king for permission to rebuild the wall. When he got to the city, he found many problems among his own people due to an economic crisis in the region. Among the classes affected by the economic crisis were (1) the landless, who were short of food; (2) the landowners, who were compelled to mortgage their properties; (3) those forced to borrow money at exorbitant rates and sell their children into slavery. It was unlawful for Hebrews to charge interest to other Hebrews.
"Although we are of the same flesh and blood as our countrymen and though our sons are as good as theirs, yet we have to subject our sons and daughters to slavery. Some of our daughters have already been enslaved, but we are powerless, because our fields and our vineyards belong to others" (Nehemiah 5:5).
Nehemiah stepped forward to admonish his people for this wrongful action on the basis that not only was it wrong, but God would respond to such action by making them susceptible to His judgment through the Gentile enemies.
Nehemiah was modeling to each of us a spiritual principle regarding sin. Whenever we sin, we give God permission to unleash the enemy into our souls to deal with that sin. Nehemiah understood this principle and warned the people of what this action would encourage from God. The people repented and returned the money gained through usury.
As Christian workplace believers we must make sure that our practices are righteous in God's sight. If not, we can expect the enemy to be released to judge that sin. Ask the Lord today if there is any unrighteousness in your business practices that makes you vulnerable to judgment.
https://nationaldaycalendar.com/2018/04/26/april-27-2018-national-devil-dog-day-national-day-of-silence-national-tell-a-story-day-national-arbor-day-national-hairball-awareness-day-national-babe-ruth-day-national-prime-rib-day/
Stay blessed and safe this weekend!!!