Christoph Friedrich Blumhardt
I look for your deliverance, Lord. Genesis 49:18, NIV
Lord our God, help us in these days that are so difficult for us. Help us never to lose our expectation of the time that is to come, the time of Jesus Christ, Lord of heaven and earth. Strengthen us, we pray, and strengthen those all over the world who have to endure great suffering, especially the destitute and the dying. May your heavenly hosts come down to the many who are in misery, so that your name is praised in life and in death, in whatever we have to go through. For we shall praise you, no matter what happens now or in the days ahead. May your glory remain in our hearts, with the joy that you, O God, are the Father of all. Amen.
Verse of the Day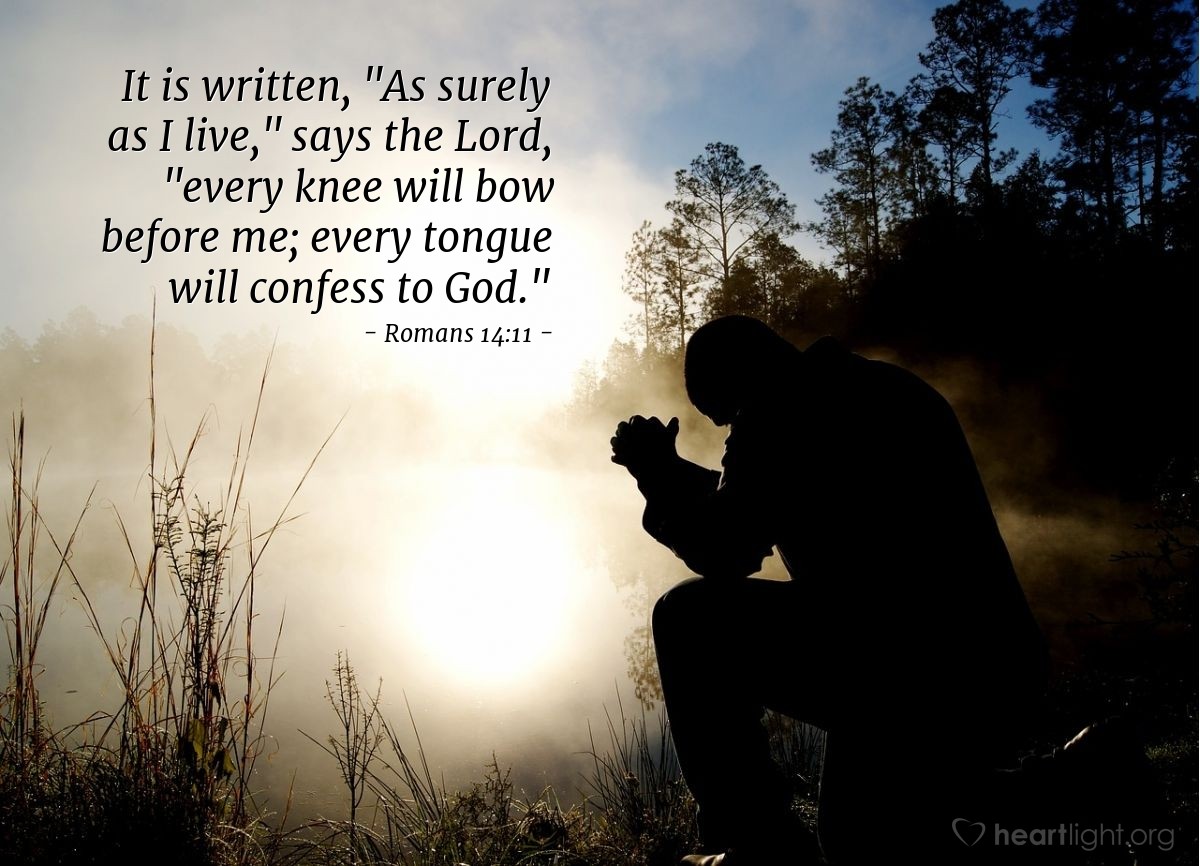 Thoughts on Today's Verse…
"Thy kingdom come, thy will be done on earth as it is in heaven." "Maranatha! Come Lord Jesus!" Yes, every knee will bow. But ours already do. We live in anticipation of the day when all peoples will bow before our King. Until that day, let's do all we can to make sure as many as we can influence bow before Jesus on that Day in joy and not on in fear!
My Prayer…
Father, I thank you for saving me. May my anticipation of the day of Jesus' victory move me to be your agent of reconciliation so others are ready for that day and will welcome it with joy. Give me eyes to see those who need to come to Jesus today. Through him I pray. Amen.
10 Things Grandchildren Need to Hear
Rhonda Stoppe  

Speaker and Author
"For this reason I will not be negligent to remind you always of these things…" (2 Peter 1:12)
Last week all our children were home along with their spouses and our eight grandchildren. We live on a ranch in the mountains so coming home to visit Gramma and Papa is filled with lots of adventures and feeding the animals.
Getting older brings a clarity to what's important. While we want our grandkids to remember their times on Papa's farm, we want to leave them with a godly legacy. With this goal in mind, let's look at 10 things every grandparent should tell their grandchildren.
1. I'm so glad God made you.
Our grandkids are growing up in a world that does not acknowledge God as their Creator, so it's vital that parents and grandparents regularly remind them how God carefully designed them in their mother's womb.
Along with knowing God made them, kids need to believe that people important to them are happy they are alive. Too many children struggle with feelings of inadequacy and loneliness. Some act out, some recluse, but few will say, "Hey, when you're too busy to play with me, read to me, or tuck me in at night, I feel like I don't matter."
2. I will always listen to you.
If you want to have the privilege of speaking truth to your grandkids, you have to earn that honor by being a good listener. Too many grandparents spend little time in conversations with their grandchildren until they see them making mistakes or choosing a wrong path. If the only time you engage with your grandchild is to correct them or point out what you don't like about their attitude or attire, don't be surprised if they're not interested in listening to your wisdom when they become adolescents or young adults.
3. You are precious.
Jesus Loves the Little Children is the song at the top of my 3-year-old granddaughter's request list whenever she gets tucked into bed at night. I often bend over and kiss her forehead as I sing, "Red, brown, yellow, black and white, they are precious in His sight" to show her how precious she really is to Jesus and to me.
Kids long to believe they are precious. And while God puts in the heart of every person a longing to find their worth in being loved deeply by their Creator, He has also created us to love and be loved by others. The more valued your grandchild feels by you and your family, the more they will be empowered not to seek affirmation by their peers by succumbing to peer pressure.
4. God loves you.
It may seem logical to teach kids about Christianity by telling them what the Bible says they should and should not do. And it is right to train them to honor and obey God's commands. But if we focus only on the list of dos and don'ts, we miss the wonderful opportunity to introduce our grandchildren to the depth of Jesus' great love for them.
Kids learn best how they are loved when it is demonstrated to them through loving actions. Saying "I love you" without showing love can feel like empty words to a child––or anyone really. In the same way, God, who is the perfect loving Father, displayed the depth of His love by sending his only Son whose sacrifice would pay the price for our sin. Reminding your grandchild of how God lovingly offers new life in Christ to anyone who would turn from their sin to follow Jesus is a great way to help them realize how great the Father's love is for them.
The Bible offers many reminders of God's display of adoration for us. You would be wise to memorize some of these verses and regularly share them with your grandchild:
"Behold what manner of love the Father has bestowed on us that we should be called children of God." (1 John 3:1)
"For God so loved the world that He gave His only begotten Son that whoever believes in Him should not perish but have everlasting life." (John 3:16)
"But God demonstrates His own love for us in that while we were yet sinners, Christ died for us." (Romans 5:8)
5. God has a plan for your life.
From the time kids are little, people begin to ask them what they want to be when they grow up. Some children have a definite plan, like our oldest son who dreamt from a young age of being a fighter pilot in the Air Force. He grew up and did just that. But for most kids, their goals change daily––and that's okay. But deep in their little minds, and this grows more intense as they reach adulthood, your grandchildren give a lot of thought to what they should do with their lives.
My husband often told our kids, and now our grandkids, "I don't care what you grow up to do for a living as long as you are serving Christ." When people would inquire, teaching them to respond by saying, "I'm gonna do whatever God wants me to do," took a lot of pressure off of our kids. When our younger son made the decision to study music in college, he was met with a number of negative comments from men who challenged the wisdom of his decision. Saying things like, "You can't support a family on a worship leader's salary."
These comments were meant in kindness but really threw off our son, Brandon. We would remind him how we trusted his decision because he was walking in a close walk with Christ and  seeking the Lord for His wisdom and discernment. In the end Brandon studied music and biblical studies in college. After graduation he toured with some well known
Christian bands and then after he married, he was hired to lead worship at a church in Southern California. God has blessed Brandon's decision as a young man to follow the leading of the Spirit, rather than succumb to fear and follow the "more reasonable career path" others thought he should have taken.*
I share this story to remind you of the power of your words as a grandparent. You can pour courage into your grandkids to follow God's plan for their lives if you remind them of how God saved them unto good works that He has ordained in advance (see Ephesians 2:8-10). Exposing your grandkids to Bible stories and good biographies of people who wholeheartedly followed Christ is a great way to inspire them to trust that God has a plan for their lives too.
6. Loving God is the secret to loving others.
Loving others selflessly does not come naturally. Just spending an afternoon watching your grandkids take each other's toys confirms this truth. But there is a way to train your grandkids to love others in a way that is truly selfless.
When the religious leaders asked Jesus what was the priority of life His response was, "You must love the Lord your God with all your heart, soul, mind and strength." And then He said the second commandment was to love others as we love ourselves (see Mark 12:30-31). All too often we attempt to love others without first growing the depth of our love for God. When this happens loving others is usually a difficult task.
But when people first determine to spend the rest of their lives discovering God's character as revealed in Scripture, their trust and love for Him will grow as they learn His ways. The more deeply you love God, the more freely His selfless love will spill out of your heart and onto those around you––even on those who are difficult to love. And don't you want this to be the example of love your kids learn from you their grandparent?
Jesus said, "The student will become like his teacher" (Luke 6:40). Your grandchildren will learn to love by how they observe you loving others––not by how you tell them they should be treating people. You will bless your grandchildren if you teach them the secret to loving others deeply is not found in how well they measure up to your expectations, but in how well they love God. And let it begin with you.
7. Be quick to forgive.
Learning to quickly forgive others and to think well of them are valuable lessons to teach your grandchild. It is in our sinful nature to hold onto grudges and to assign wrong motives to people's actions. But by God's grace and the Spirit's power, we can break free of these unpleasant sinful practices to become a person who is ready to forgive––and looks for the best in others.
Wouldn't you agree that the best friendships are with those who you trust to believe the best about you? Helping your grandchild discover this valuable secret will equip them to become someone others will not only like to be around, but also trust to be a loyal friend.
8. Be content.
1 Timothy 6:6 says, "Godliness with contentment is great gain." In a generation where your grandkids will be influenced to believe they're entitled to more of whatever their little hearts desire, training them this valuable secret of contentment will do more to equip them for a happy life than all the gifts you might lavish upon them.
Trust me, I'm a grandparent who loves to pile gifts on my grandkids. But a wise grandparent will balance generosity with training them to be grateful for what they have. Ask God for His wisdom to help you guide them in godliness and contentment––beginning with your own example.
9. I'm praying for you.
When I was a young girl, I'd awaken each morning to the smell of coffee. As I dragged my sleepy self out of bed, I'd walk past the living room where I'd see my father on his knees praying for our family. (To this day the smell of coffee brings a warm reminder of those mornings.) I cannot tell you the security I felt knowing my daddy was daily interceding before God on our behalf. I learned from his example the power of prayer. So naturally when I had children, praying for them became a regular practice.
These days my children are grown, married, and have kids of their own. My father continues to pray for my kids, their spouses, and their children. My eldest daughter recently said, "Mom, Papa's prayers are precious to me. I love knowing that he and Oma are daily praying for me and my family." One of the most powerful legacies you can leave your grandkids is training them by example the importance of prayer.
10. Tell others about the hope of Jesus.
Do your grandkids hear you complaining about how the world's going to hell in a handbasket? Or do they sense your burden for the lost who are blinded by the enemy? It's easy to point out what's wrong in the world today––and we should help our grandkids learn to discern right from wrong. But couple those comments with your deep sorrow over the lost. And how their only hope for salvation is if we tell them God loves them so much He sent His Son to save them from their sin.
In this way you'll train them not to grow overwhelmed with anxiety, but rather to ask God to use them as a light shining like a star in a crooked and perverse generation (Daniel 12:3, Philippians 2:15). For in this, your grandchildren will find purpose in life and hope for the future. And I promise you won't regret it!
*Get more insights for moms from Rhonda's book: Moms Raising Sons to Be Men
Rhonda Stoppe is the NO REGRETS WOMAN with more than 30 years experience of helping women build a no regrets lives. Rhonda is the author of six books and appears on numerous radio programs including FamilyTalk, Focus on the Family, Family Life Today and hosts The No Regrets Hour. She speaks at women's events, Pastor's Wives Conferences, MOPs, and homeschool conventions. Rhonda ministers alongside her husband Steve, who pastors First Baptist Church of Patterson, California. They live out their own Real Life Romance writing books and speaking at their No Regrets Marriage Conferences, but their favorite ministry is their family. To learn more about Rhonda's speaking topics, watch her teaching, and to book Rhonda for your next event visit NoRegretsWoman.com.
A Prayer for When Life is Messy
By Kelly O'Dell
"He will take great delight in you, he will quiet you with his love." (Zephaniah 3:17)
Today I am not the most shining example of motherhood. The sun is shining but I am certainly not. I yelled at my 14-year-old son at 5:45 a.m. when he didn't want to wake up for morning soccer practice and then cried myself back to sleep. I tried to have a discussion with my 21-year-old about a simple chore I've asked her to do for weeks, with no success, and it ended with both of us shouting and me screaming at her, grabbing my bag, and leaving the house in tears. It sounds stupid. And it is. But that doesn't change the fact that I'm fuming mad and not feeling all that loving or prayerful right now.
I know these are not life-and-death situations. So many of the things we face daily are huge. True loss, severe and unavoidable consequences, serious and real stuff that far surpasses stress-and hormone-induced rage. It's never just one situation that makes it hard to pray, but an accumulation. Emotions and losses. Disappointments and mistakes.
It's not realistic to think that we'll ever be without pain or fear or grief or doubt or chaos.
We need God now, every single day, each and every moment, not at some unforeseeable point in the future. Not only in the moments of crisis, but in the days in between.
The only way to get through anything—to get through everything—is to pray.
So I sit. I imagine the whirring gears in my mind slowing, then stopping. I focus on stilling my entire body. I close my eyes and begin. "Lord…" I take a deep breath, and I feel anxiety fluttering again, so I take another. I don't even try to find words. I soak in the presence of God. Knowing that whatever is ailing me, He can fix. Whatever is lost can be restored. Whatever troubles me can be managed.
I certainly don't mean to oversimplify the process, but the truth is that something supernatural happens when we long for Him. When we pray. When we recognize our own limitations, when we acknowledge the barriers before us. When we ask God to quiet our souls and renew our strength.
Pray with me:
Prince of Peace, I find myself unable to cope with life sometimes. Instead of feeling grateful, I feel bogged down by the responsibilities of all that You've given me. I want to live out Your love, but I find myself consumed with frustration, jealousy, or worry. I want to grow closer to You, but in practice, I'm too tired or bored or busy. Circumstances will rarely be ideal; I know that. But I also know that the only thing that makes life worthwhile is living it with You. Show me how to pray when things aren't perfect. Show me how to put aside all of the weights and sins and emotions that tangle me up. And demonstrate to me, daily, the reality that if I spend time with You, things will be better. I will be better. Amen.
Saint George
Saint of the Day for 
April 23
(c. 280 – 
April 23, 303

)

https://www.franciscanmedia.org/wp-content/uploads/2016/08/SODApr23.mp3
Saint George's Story
Saint George is the object of a vast amount of imagination. There is every reason to believe that he was a real martyr who suffered at Lydda in Palestine, probably before the time of Constantine. The Church adheres to his memory, but not to the legends surrounding his life. That he was willing to pay the supreme price to follow Christ is what the Church believes. And it is enough.
The story of George's slaying the dragon, rescuing the king's daughter, and converting Libya is a 12th-century Italian fable. George was a favorite patron saint of crusaders, as well as of Eastern soldiers in earlier times. He is a patron saint of England, Portugal, Germany, Aragon, Catalonia, Genoa, and Venice.
---
Reflection
Human nature seems to crave more than cold historical data. Americans have Washington and Lincoln, but we somehow need Paul Bunyan, too. The life of Saint Francis of Assisi is inspiring enough, but for centuries the Italians have found his spirit in the legends of the Fioretti, too. Santa Claus is the popular extension of the spirit of Saint Nicholas. The legends about Saint George are part of this yearning. Both fact and legend are human ways of illumining the mysterious truth about the One who alone is holy.
---
Saint George is the Patron Saint of:
Boy Scouts
England
Portugal
Soldiers
Germany
James Goll: How the Blood of Jesus Breaks Your Chains of Fear
"Don't let your fears stand in the way of your dreams."
Does that statement speak to you? It sure spoke to me the first time I read it. I had always been by nature a very quiet and reserved person. But until then I had also been bound by fear and intimidation, and I hated it.
There was so much in me that wanted to come out, but I felt tied down inside. I was like a runner who longed to run but couldn't because heavy chains and weights hung on her ankles, holding her back.
For years, I cried out, "Lord, I want to be totally sold out to You. I want to be so consumed with You that my fear is completely annihilated."
Eventually, God answered my prayer, granting me the grace to walk in places where I had never walked before.
No More Fear
Once God delivered me, it was as though He had attached jumper cables to my spiritual battery.
The life and energy of the blood of Jesus flooded my being and set me free. The fear of man was gone—that anxious dread and concern about what other people would think or say about me.
Now I could enter into a fuller dimension of the fear of the Lord.
God wants you to be free, not just for the sake of freedom, but so you can truly commune with Him face-to-face. He wants to take you to a place where you can walk with Him, full of the fear of the Lord, where the fear of man is completely gone.
He wants to deliver you from intimidation and its companion spirits of comparison, shame, guilt and the fear of man.
He wants you to be able to fulfill your destiny, to complete your calling in Him, to do those things that you are uniquely qualified and designed to accomplish.
You Can Be Fearless and Free!
Do you find it easier to believe that God will do something for someone else than to believe that He will do something for you? Do you find it difficult to accept the possibility that God could really use you, that He can take you out of your shell and remove all fear from your heart?
God does not have favorites, and if He did it for me, He will do it for you!
When you deal with fear and intimidation, you will find that God will bring circumstances across your path that may intimidate you or make you fearful, when actually God just wants to use you.
You must get out of your comfort zone and open your heart and mouth for His sake.
As God uses you to draw people to Himself through divine appointments, people will begin looking at you and talking with you. You have to learn not to be fearful when that happens. Instead, you can recognize the hand of God moving in that other person's life and the part you are to play in what He is doing.
It is when you get out of yourself that you become truly free.
Learning to be free is a lifelong process; but in Christ, you have everything you need, and it is never too late to begin.
Don't let your fears stand in the way of your dreams.
"There is no fear in love. But perfect love casts out fear" (1 John 4:18a). 
This article was adapted from Chapter 1 of the A Call to Courage bookby James and Michal Ann Goll.
Dr. James W. Gollis the founder of God Encounters Ministries, an award-winning author and communications trainer and has ministered in over 50 nations. For information on his webinars and online classes, visit godencounters.com. James continues to live in Tennessee and is a joyful father and grandfather today.
Finding God in the Dry of Your Drought
Gwen Smith
Today's Truth
Let us hold unswervingly to the hope we profess, for he who promised is faithful. (Hebrews 10:23, NIV)
Friend to Friend
Now, the Old Testament prophet Elijah is a guy I can relate to. God asked him to do and say some difficult things. He also got an all-access pass to the God-Is-Awesome show as he experienced epic miracles at the hand of the Almighty. Even so, at one point he became gripped by fear and tried to run away from his problems.
He knew exhaustion and sank into a pit of depression that darkened his hope.
He felt alone, yet was provided for when God sent angels to care for his every need.
At times Elijah found God in grandiose shouts and flames, but also heard from Him in a humble whisper. And through all his highs and lows, he loved and served God. I can totally relate to this guy. He's my kind of people.
The story of Elijah begins in 1 King 17 when God sent the prophet to give a bold message to King Ahab, the reigning King of Israel who had been doing evil in the eyes of the Lord.
"Now Elijah the Tishbite, from Tishbe in Gilead, said to Ahab, 'As the LORD, the God of Israel lives, whom I serve, there will be neither dew nor rain in the next few years except at my word.'" (1 Kings 17:1)
Then, at the prompting of the Lord, Elijah went into hiding – first in the Kerith Ravine.
At the ravine, just east of the Jordan, God miraculously made sure His prophet had water from a brook and food from ravens. How crazy is that? Birds brought dinner to the man every night. Birds! Love it. God is Jehovah Jireh, our Provider.
I think it's important to point out here that even Elijah, God's faithful servant and great prophet, had to endure the drought. He was provided for, but not kept from the strain and struggle just because he was living for God. Deep thirst, hard times, and hunger impacted Elijah's days just like those of the rebellious Israelites. Just like yours and mine. Jesus spoke of this reality in Matthew 5:45 when He said that God "makes his sun rise on the evil and on the good, and sends rain on the just and on the unjust."
Droughts and difficulties are a reality for all of us.
Turning again to the story, we see that back at the palace King Ahab was furious about the drought. So much so, that he searched high and low for Elijah. (1 Kings 18:10) But in spite of Ahab's efforts, God kept Elijah hidden for about three years and used a drought to wring dry the rebellious nation of Israel in order to get their attention so they would turn back to Him.
After the brook dried up at the Kerith Ravine due to lack of rain, the Lord sent Elijah to the home of a God-fearing single mom… a widow in Zarephath of Sidon. Circumstances were bleak in the land. Crops had dried up and food was extremely scarce. Yet, in spite of the desperate times, God had a fresh and fruitful mission for Elijah.
The Lord didn't simply want Elijah to survive the drought, He wanted him to serve and trust Him in the arid, arduous trenches of it. God used the drought to lead Elijah to new places of ministry – places that brought hope and life to others – places where he had to walk with fresh faith in the unfamiliar.
Holy Father, help me get this and expect this!
Elijah experienced provision, protection, intervention, and direction from God. Day after day, miracle after miracle, hard times came but the Lord was with him in and through it all.  Just like He is for you and me.
As I consider this my mind scrolls through a few fingerprints of God's faithfulness and provision in my own life…
He protected me back in high school when I wrecked my parent's car.
He was with us when my son fractured his skull and broke his jaw in three places … during the seven-hour reconstructive surgery, and the six-week wired-shut-healing.
He was our provision year after year through the strains of job loss, job changes, health challenges, and cross-country moves.
God is faithful, faithful, faithful.
Are you or a loved one in a season of drought? As you cry out to Jesus, expect to experience God's grace, provision, and peace even in the times you face challenges that you were not wanting or expecting. Andtrust that when the dry of your drought is fierce, God is inviting you to serve and trust Him in the arid, arduous trenches of it. You are not alone, friend.
Let us hold unswervingly to the hope we profess, for he who promised is faithful. (Hebrews 10:23)
Let's Pray
Dear Lord, Thank You for being my Protector, my Help, and my Refuge. When times are desperate, I know that I can trust You to provide the wisdom, provision, comfort, and grace I need to endure.
In Jesus's Name I pray,
Amen.
Now It's Your Turn
Has God ever given you a fresh and fruitful mission in the middle of a drought? What did that look like? Would you have had the opportunity to impact others had it not been for the drought? Why or why not?
Feel like today's devotion was written just for you? It was. God made sure you read it and I'd sure love to pray with you. Click hereto join me on my blog wall for a time of PRAYER today.
Samson
A man of many companions may come to ruin, but there is a friend who sticks closer than a brother. – Proverbs 18:24
As a child, Samson was dedicated to God, and God gifted him with supernatural strength. But Samson had a lifetime weakness . . . his desire for women. If you know the story, then you know that Samson was blinded to the dangers he faced in his relationship with Delilah. His enemies paid Delilah to discover the secret of his strength. Three times she begged him to let her in on his secret, and each time she tried to use this information to hand him over to his enemies. All three times, Samson lied to her and was able to escape, but each time he got closer to telling her the truth. In the end, Samson revealed his secret, was taken captive, and died a slave in the hands of his enemies.
Samson's real problem can be found in his wayward passions, which his enemies took advantage of. His disobedience to God caused him to gradually inch his way toward destruction and a violent death.
What do we learn from the story of Samson? Though our choices may not lead to a violent death, they can lead to the destruction of our families, jobs, or reputation. You can protect yourself by developing relationships with those who love you and are devoted to God's truth. It will help you choose obedience when you might have been tempted to choose otherwise. Unlike Delilah, safe, trustworthy friends will prove to be a source of strength, encouragement and wisdom.
"Good communication is as stimulating as black coffee, and just as hard to sleep after." – Anne Morrow Lindbergh (1906-2001)
What It Means To Lay Aside Every Weight And Sin
We know what it means to lay aside sin, but what does it mean to lay aside "every weight" that so easily slows down our race to the finish?
Sin
Sin is defined as transgressing the law of God (1 John 3:4). It is missing the mark…the mark of perfection that God requires to enter the kingdom of God (Rev 21:27). Thankfully we can receive the righteousness that is required by God from God Himself through Jesus Christ. The Apostle Paul writes, "For our sake he made him to be sin who knew no sin, so that in him we might become the righteousness of God" (2 Cor 5:21). This means a person who has been brought to repentance and faith in Christ will be a new creation in Christ (2 Cor 5:17), and they will no longer be enslaved to sin. This doesn't mean that they are sinless, but over time, they will find that they sin less! Paul told the Galatians, "you are no longer a slave, but a son, and if a son, then an heir through God" (Gal 4:7), reminding them (and us) that "when you did not know God, you were enslaved to those that by nature are not gods. But now that you have come to know God, or rather to be known by God, how can you turn back again to the weak and worthless elementary principles of the world, whose slaves you want to be once more" (Gal 4:8-9)? Jesus said that "everyone who practices sin is a slave to sin" (John 8:34b), however, "if the Son sets you free, you will be free indeed" (John 8:36). We will be set free from the domination of sin in our lives, but not from the absence of it. We have a new nature, but the old nature still tries to have his way. Paul still battled the flesh, writing, "I do not do the good I want, but the evil I do not want is what I keep on doing" (Rom 8:19), so sanctification is a lifelong process. We have been freed from sin's penalty (Rom 6:23), but even though we still sin, "sin will have no dominion over you, since you are not under law but under grace" (Rom 6:14).
Obvious Sins
The author of Hebrews told the Jewish believer's about the heroes and heroines of the faith (Heb 11) in order to encourage them and help them endure their walk with Christ. When chapter 12 begins, the author says, "Therefore," so what's the "Therefore," there for? It looks backward at what was just written, and essentially says, "Because of this," so in that light, he writes, "Therefore, since we are surrounded by so great a cloud of witnesses, let us also lay aside every weight, and sin which clings so closely, and let us run with endurance the race that is set before us, looking to Jesus, the founder and perfecter of our faith, who for the joy that was set before him endured the cross, despising the shame, and is seated at the right hand of the throne of God" (Heb 12:1-). We are to lay aside every sin in our life, but again, never being able to be sinless. For some people, it takes longer to overcome certain sins, but for others, they can overcome them quickly. Each of us are so different from one another and so we have unique struggles than greatly differ from what our brothers or sisters might struggle with, but even the "saintiest" of saints are still overcoming sin on a daily basis. Only when we enter the kingdom will we be saved to sin no more. What a joy that will be! Until then, we strive to live by the Spirit and not in the flesh, which in times past, meant sins like "sexual immorality, impurity, sensuality, idolatry, sorcery, enmity, strife, jealousy, fits of anger, rivalries, dissensions, divisions, envy, drunkenness, orgies, and things like these," but then Paul writes, "I warn you, as I warned you before, that those who do such things will not inherit the kingdom of God" (Gal 5:19-21). By practicing these things as a lifestyle, they show that they are not those who will enter the kingdom (1 John 3).
Every Weight
The late Dr. J. Vernon McGee (Through the Bible) once said that there are sins and there are weights, but they are not the same thing. He explained that drinking may not be a sin to someone, provided there is no drunkenness, but that can prove to be a weight in a person's life. He didn't see it as sin, but as a weight that can slow them down in "the race that is set before" them. Things like sports, shopping, eating, video games, and Facebook time can all slow us down in the race set before us. They take our eyes off of Christ. They can come dangerously close to skirting with idolatry if we're not careful. I heard one old pastor say, "If it doesn't glorify God and if it doesn't promote the kingdom," then it could be a weight…not a sin, but a weight. If you're not shamed to do it in front of others (even Christ or children), then it could be a weight and not a sin. Those explanations from Dr. McGee and that old pastor are about the best I have heard for Hebrews 12:1-2. This "weight" can drag a person down in their walk with Christ, and if they're not careful, it can lead to a powerful addiction that can lead to sin.
Conclusion
If there is a non-essential area but it seems to be an essential to someone else, we must use caution and not cause others to stumble on account of the freedom we have in Christ. What might seem fine for us might be hard for others to accept, particularly new believers. For me to sit down at a Bar-B-Que and have one cold beer would not be sin, but it could be a weight. Drinking puts people at risk for alcoholism, DUI's, and destroyed relationships, so the weight is just not worth it. I choose not to drink because it's a weight I don't need. I don't want to take that risk. I don't want anything to hinder my running "the race that is set before" me. How about you? What weight do you need to lay aside?
Article by Jack Wellman
Jack Wellman is Pastor of the Mulvane Brethren Church in Mulvane Kansas. Jack is a writer at Christian Quotes and also the Senior Writer at What Christians Want To Know whose mission is to equip, encourage, and energize Christians and to address questions about the believer's daily walk with God and the Bible. You can follow Jack on Google Plus or check out his book Teaching Children the Gospel available on Amazon.
From The Joshua Code by O.S. Hawkins
Vision is Vital
"Where there is no revelation, the people cast off restraint;
But happy is he who keeps the law." –Proverbs 29:18
Vision is vital to Christian living. Those who grew up memorizing the King James Version of the Bible remember this verse translated as, "Where there is no vision, the people perish." According to Strong's Hebrew Lexicon, the word revelation (vision) means "to mentally perceive; to contemplate." The word translated restraint or perish is translated other places in the Old Testament as "to go back." We see this in Numbers 14:3 (NIV) when those wandering in the wilderness wanted to "go back" to Egypt. Thus, those who have no vision, no perception of what they could be, seem to have no real direction in their Christian pilgrimage.
Vision is vital. Soon after the completion of Disney World in Orlando, someone asked Michael Vance, the creative director, "Isn't it too bad Walt Disney did not live to see this?" Vance quickly replied, "He did see it, and that is precisely why we are here today!" If this is true for secular organizations, how much more vital is vision for those of us who are seeking to be followers of Christ, the greatest visionary who ever lived?
Before every great undertaking, there is someone who has a vision for the task ahead. The football coach has a game plan before the kickoff, a vision of what he wants his team to accomplish. The army commander or platoon leader sees the infantry's strategy, a battle plan, before the fighting ever begins. The artist has a conception in his or her mind before the painting is put on the canvas. What a difference vision makes in life. Too many Christians are just going to meetings, following schedules, simply existing— and something is missing. Vision, a perception of what God wants us to be and do, is vital.

What Jesus Did!

 'Leftovers!'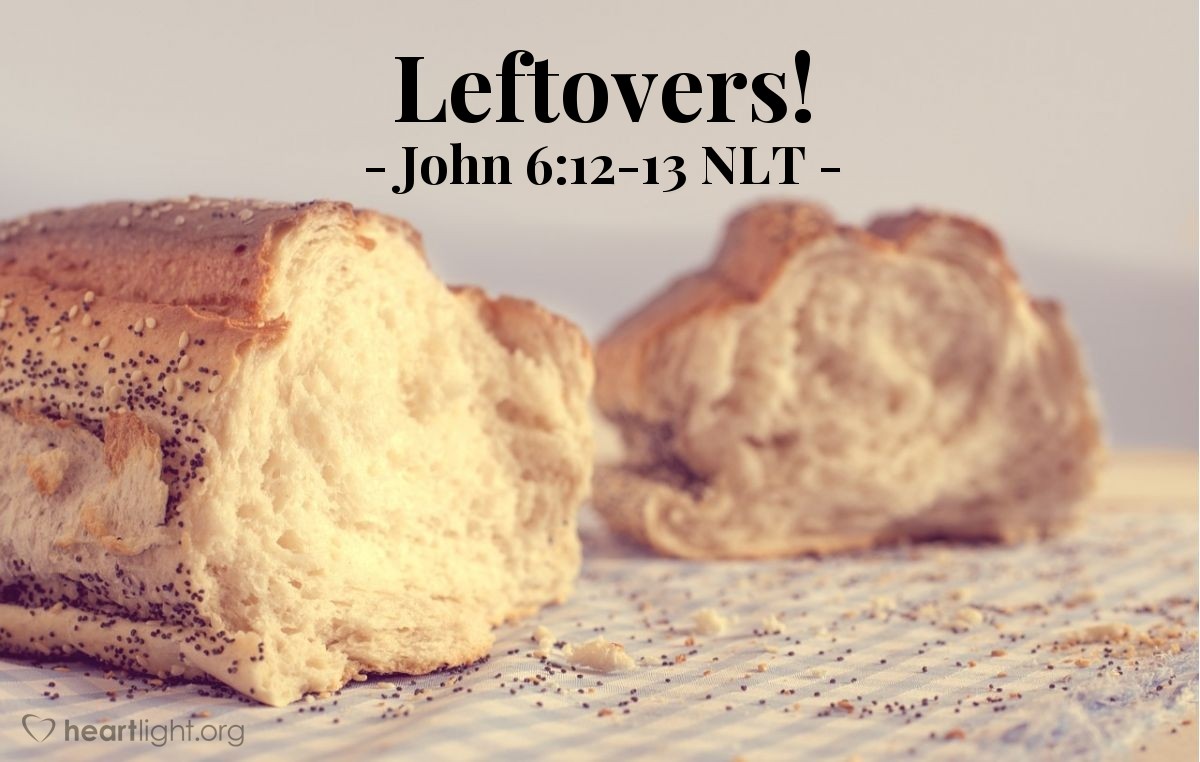 After everyone was full, Jesus told his disciples, "Now gather the leftovers, so that nothing is wasted." So they picked up the pieces and filled twelve baskets with scraps left by the people who had eaten from the five barley loaves.
Key Thought
Some leftovers I love. Others I can do without. These leftovers are marvelous. I especially love the fact that there were 12 baskets of leftovers — one basket for each apostle! I really don't think Jesus' only concern was avoiding waste or not leaving a mess. No, I believe he really wanted to leave an indelible memory on his closest friends. Once Jesus returned to the Father, these men would be faced with impossible challenges. They would find themselves in situations they couldn't begin to handle on their own. This one memory would remind them again and again that the power was from Jesus, not from their strength or resources. They had picked up the scraps with their own hands. They had carried the baskets. They had seen the boy's picnic lunch that had fed the huge crowd. Those leftovers were the tangible grace of Jesus left for them to touch. Nothing could be a more powerful reminder that their meager resources, touched with prayer, could meet the needs of others and much, much more.
Today's Prayer
Father, let me experience the leftovers of your mighty work after having stepped out in faith. I believe you can move mountains, heal diseases, and perform works that I can neither comprehend nor imagine. But, dear Father, I am always happy to pick up the leftovers from such events! Show me the leftovers. In Jesus' name, I pray. Amen.
Related Scripture Readings
Daily Wisdom:

 Proverbs 10:12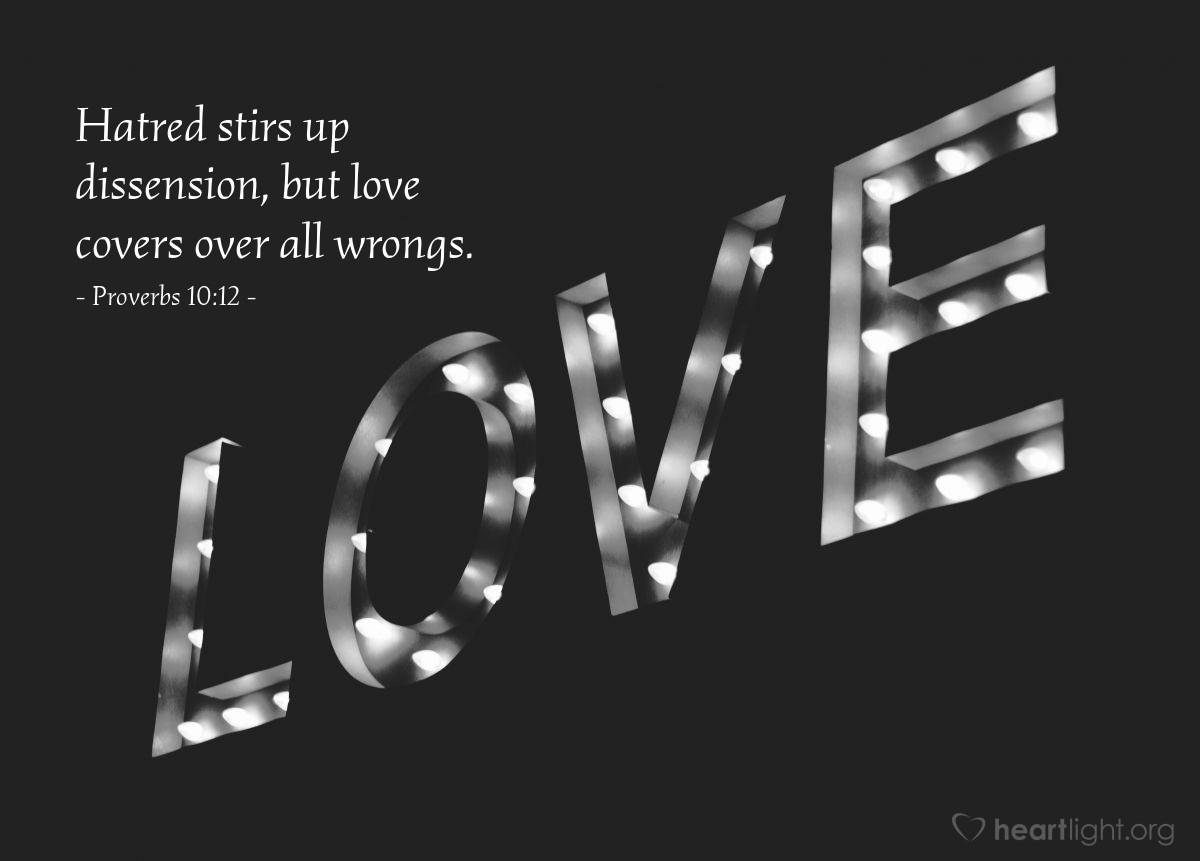 Spiritual Warfare:

 'God's Word Is to Be Both Feared & Treasured'

God's Power for Our Battles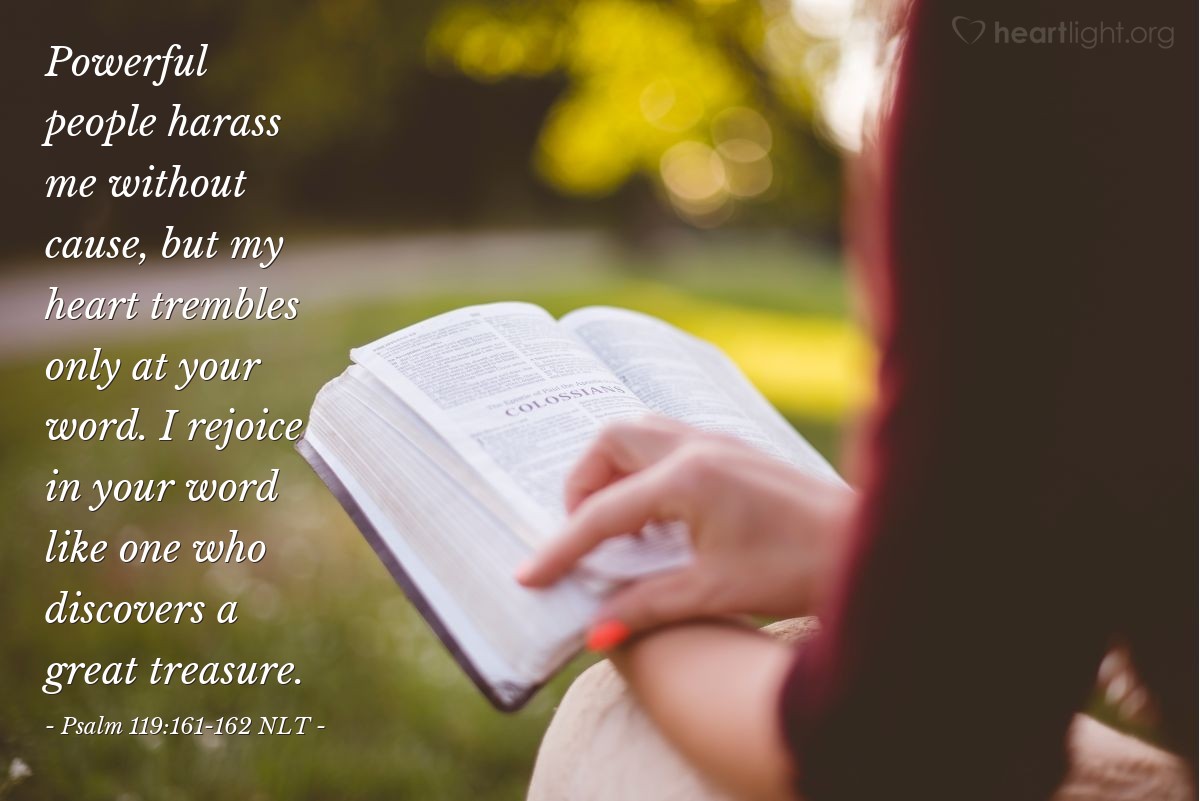 Today's Prayer
Lord, forgive me for not holding Your Holy Word in high esteem. Help me to honor it as a treasure from now on. Help me to study and know Your commands. Let that knowledge lead me to a healthy fear of hell and of displeasing You so I will be totally committed to truth, love, and righteousness in my daily life. Your words truly are a treasure — a great treasure leading me to the way of life and eternity with You. May that day come soon, Lord, and may I serve You faithfully until then. In Jesus' Name, Amen.
Today's Scripture
"Therefore, since we have been made right in God's sight by faith, we have peace with God because of what Jesus Christ our Lord has done for us. Because of our faith, Christ has brought us into this place of undeserved privilege where we now stand, and we confidently and joyfully look forward to sharing God's glory." – Romans 5:1-2
Thoughts for Today
The Bible teaches us that we are enemies of God and objects of his wrath until we come to faith in Christ (Ephesians 2:1-3). But even in that state, we were loved by God. Because of his love and mercy, he gave his son, Jesus, to pay the price for our sin. When we come in faith to God, trusting the sacrifice of Christ, our whole relationship to God changes to a condition of peace and friendship with him. We are reconciled to God the moment we become Christians. We have peace with him.
When we say the word peace, we think of an absence of conflict. The Hebrew word for peace is shalom, and it carries with it the ideas of rest, safety, freedom from care, prosperity, health and contentedness. In biblical language, peace is much more than just the absence of conflict; God is at peace with us and he works to bring blessing into our lives.
Consider this …
Do you believe and really feel that God is at peace with you? When we come to Christ in faith, some of us have difficulty comprehending the fact that we are truly at peace with God. It might take time for us to absorb this magnificent truth. It helps to tell ourselves and others the truth out loud. Hearing it makes it seem personal and more real.
Sometimes we continue to condemn ourselves for past sins even though God through Christ has forgiven us. Sometimes we let circumstances destroy the peace that God has provided. If you are allowing anything to rob you of the peace and blessing God has so graciously provided for you, be encouraged to focus more on him and the promises in his Word. Read today's scripture and other verses throughout the Bible that assure us of his love, his forgiveness, his grace and all that he will freely give to his children. Speak the truth out loud. You are special to God. You are loved by him. You are forgiven through your faith in Christ. You are a new creation. You are at peace with God.
Prayer
Father, I thank you for loving me even when I was a sinner. I thank you for Jesus and that through him, I am forgiven. I thank you that I have peace with you. Help me to walk freely in your peace. In Jesus' name …
Understanding the Roadblock
TGIF Today God Is First Volume 1 by Os Hillman
April 23, 2018
"And Joshua said, 'Ah, Sovereign Lord, why did You ever bring this people across the Jordan to deliver us into the hands of the Amorites to destroy us? If only we had been content to stay on the other side of the Jordan!'" – Joshua 7:7
Have you ever felt like you were doing what God wanted you to do, but your plans were totally frustrated? This was how Joshua felt.
The Lord had been with the people of Israel as they entered the Promised Land. They defeated every enemy because of God's blessing and protection. They had just taken the city of Jericho. The next battle was the city of Ai. They scouted the enemy and determined it would require only 3,000 men to defeat them. They attacked, and soon the reports came back that they were being routed. Joshua could not understand this. He cried out to God asking why this was happening.
The Lord said to Joshua, "Stand up! What are you doing down on your face? Israel has sinned; they have violated My covenant, which I commanded them to keep. They have taken some of the devoted things; they have stolen, they have lied, they have put them with their own possessions. That is why the Israelites cannot stand against their enemies; they turn their backs and run because they have been made liable to destruction. I will not be with you anymore unless you destroy whatever among you is devoted to destruction" (Joshua 7:10-12).
Whenever we open ourselves up to sin, we become liable. God removes His protective shield from our lives in order for the sin in our lives to be purged out. He often uses the enemy of our souls to accomplish the task. If you feel you are being thwarted in some way, examine your life to see if there is any sin that is the cause of the problem. Adversity is not always due to sin, but it can be. Ask Him. He will show you. As with Joshua, God immediately answered this prayer when Joshua asked. He desires for His children to live in a right relationship with Him.
NATIONAL LOST DOG AWARENESS DAY
National Lost Dog Awareness Day is observed every April 23rd.
This day was created not only to bring awareness to the dogs that go missing but to also celebrate the reunions.  Through networks of shelters, veterinaries, social media and other media sources, many lost canines are reunited with their loved ones. National Lost Dog Awareness Day is an opportunity to learn more about prevention and networking.
HOW TO OBSERVE
Participate in National Lost Dog Awareness Day by posting your experiences on social media using #LostDogAwarenessDay.
HISTORY
The first annual National Lost Dog Awareness Day was celebrated on April 23, 2014.
For more information regarding this day visit http://www.lostdogsillinois.org/lost-dogs-of-america-announces-the-first-annual-national-lost-dog-awareness-day/  
God bless!!!