Christoph Friedrich Blumhardt
He ransoms me unharmed from the battle waged against me, even though many oppose me. Psalm 55:18, NIV
Dear Father in heaven, grant that we may come into your presence as your children. Give to us all that we need each day, so that we are no longer caught in the turmoil of life but can receive your peace. For you care for us as your children, and we are allowed to go confidently through all the troubles of these times because our way leads to you, the eternal Father in heaven. Keep us from going astray and from spending our efforts on what is temporal and cannot last. Let your light strengthen us in what is of heaven, in what is eternally true for our lives. Amen.
Verse of the Day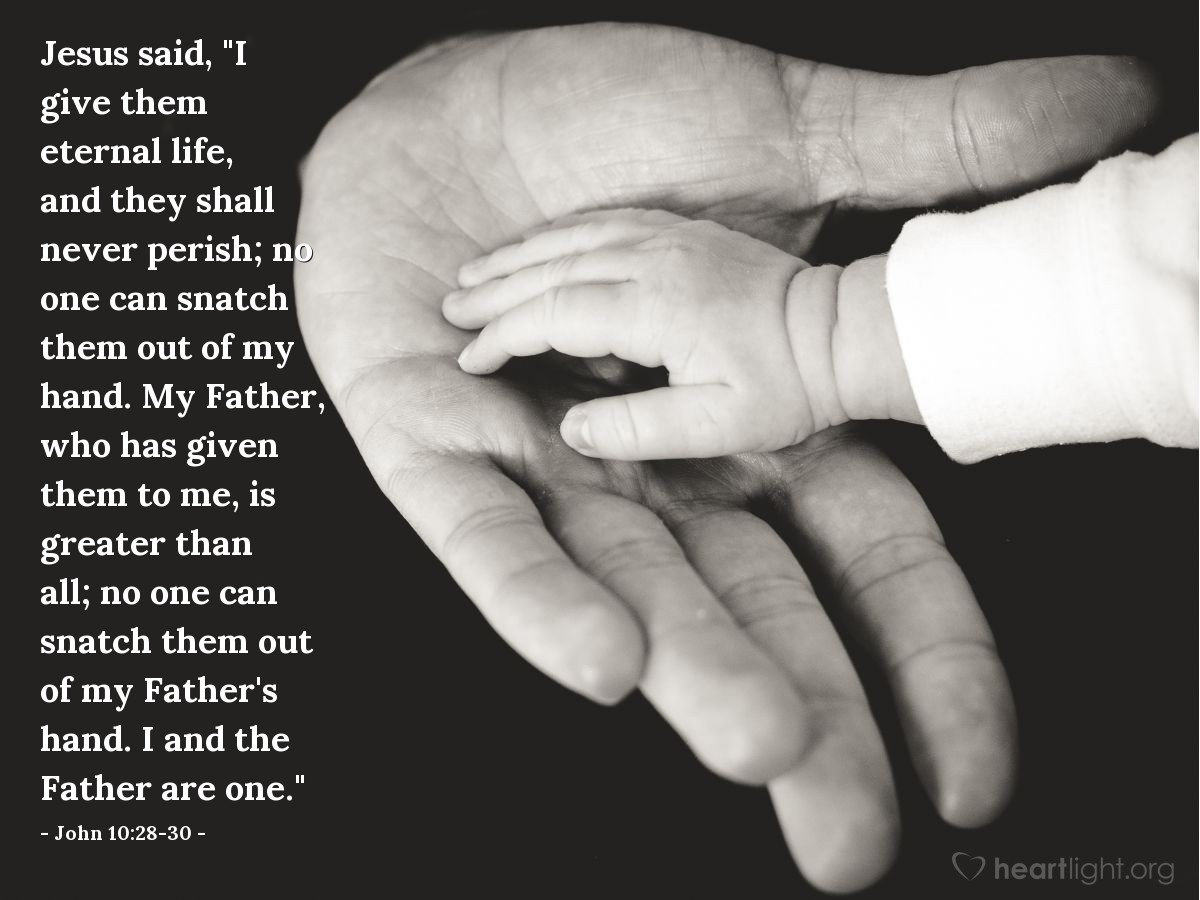 Thoughts on Today's Verse…
"He's got the whole world in his hand." Yes, the song may be true, but in a much more special way, God holds his children of faith in his hand. As long as their lives are entrusted to him and his grace, no one or nothing can steal them away.
My Prayer…
O Lord, thank you for your steadfast and secure love. Thank you for the assurance that my future rests in your hands. Thank you for holding me in your protective grace. May I live today with confidence and joy knowing that no matter where I find myself, you are there to uphold and sustain me. For this grace, I thank you in Jesus' name. Amen.
TODAY

'S
Christian 

Quote
Christ is a jewel of more worth than a thousand worlds, as all know who have him. Get him, and get all; miss him and miss all.
A Prayer for Guidance for When Life is Challenging
By Charles Stanley
The LORD is my light and my salvation; Whom shall I fear? The LORD is the defense of my life; Whom shall I dread? – Psalm 27:1
Nehemiah was a man who lived on his knees. Whenever he needed guidance, strength, provision, or protection, his first response was prayer. Because of Nehemiah's humble dependence, God was able to use him greatly to achieve His purposes.
This principle is still true for believers today. God can use us in the most awesome fashion if we'll seek Him and make ourselves available. He has a calling for each of us and doesn't want us wasting the opportunities He provides.
To follow Nehemiah's example of dependent prayer, we must first recognize God as the sovereign Ruler of the universe (v. 5). Although He's our loving Father and loyal Friend, we must never forget that He is also our high and exalted Creator whose holiness is beyond our comprehension. Never think of the Lord as "the man upstairs" or come into His presence in a frivolous manner.
Because Nehemiah respected the awesome holiness of God, he approached Him with confession, admitting not only his sin, but his father's and Israel's as well (vv. 6-7). We cannot hide, deny, or cherish sin and expect the Lord to hear and answer our prayers. Purity of heart and the power of God are linked. We need the sensitivity to instantly recognize when we've strayed, and the willingness to deal with sin immediately.
The reason Nehemiah stood so tall and strong was not due to his natural abilities, but because he developed a relationship of dependency on the Lord through prayer. The same can be true for you. Don't rush into your day without taking time to enter God's throne room to seek His guidance.
Pray with me:
"Lord, I'm here today with open hands and an open heart, ready to depend on you to help me through the day and all it will bring my way. Help me be like Nehemiah, help me come to you for guidance, strength, provision and protection. As I face tough choices and hard situations, help me remember my belovedness, help me remember that I am Your child and Your representative to the world around me. Help me live today in a way that brings honor to Your holy name. In Jesus' Name, Amen."
Saint Anselm
Saint of the Day for 
April 21
(1033 – 
April 21, 1109

)

https://www.franciscanmedia.org/wp-content/uploads/2016/08/SODApr21.mp3
Saint Anselm's Story
Indifferent toward religion as a young man, Anselm became one of the Church's greatest theologians and leaders. He received the title "Father of Scholasticism" for his attempt to analyze and illumine the truths of faith through the aid of reason.
At 15, Anselm wanted to enter a monastery, but was refused acceptance because of his father's opposition. Twelve years later, after careless disinterest in religion and years of worldly living, he finally fulfilled his desire to be a monk. He entered the monastery of Bec in Normandy, was elected prior three years later, and 15 years later, was unanimously chosen abbot.
Considered an original and independent thinker, Anselm was admired for his patience, gentleness, and teaching skill. Under his leadership, the Abbey of Bec became a monastic school, influential in philosophical and theological studies.
During these years, at the community's request, Anselm began publishing his theological works, comparable to those of Saint Augustine. His best-known work is the book Cur Deus Homo ("Why God Became Man").
Against his will, Anselm was appointed archbishop of Canterbury in 1093, at age 60. His appointment was opposed at first by England's King William Rufus and later accepted. Rufus persistently refused to cooperate with efforts to reform the Church.
Anselm finally went into voluntary exile until Rufus died in 1100. He was then recalled to England by Rufus' brother and successor, Henry I. Disagreeing fearlessly with Henry over the king's insistence on investing England's bishops, Anselm spent another three years in exile in Rome.
His care and concern extended to the very poorest people. Opposing the slave trade, Anselm obtained from the national council at Westminster the passage of a resolution prohibiting the sale of human beings.
---
Reflection
Like every true follower of Christ, Anselm had to carry his cross, especially in the form of opposition and conflict with those in political control. Though personally a mild and gentle man and a lover of peace, he would not back off from conflict and persecution when principles were at stake.
Troubled Comparisons
For everything God created is good, and nothing is to be rejected if it is consecrated by the word of God and prayer. – 1 Timothy 4:4
Why is it that we don't accept who we are? I don't know about you, but I look at others around me (friends, people in the news, in movies, athletes, co-workers) and compare how I look . . . my clothes, my physical features, my sense of humor, my speaking ability, my communication skills, my car, my cell phone, my glasses, the color, length and fullness of my hair, and my experiences.
If you're like me, you always come up short and feel intimidated. You never measure up so you clam up. You don't offer to use your gifts and talents because you're feeling inferior. So your gifts and talents die inside you. You stop living, stop loving, and stop feeling. Some of you may have turned to things to numb the pain and shut down the lying, hounding voices of your past hurts, mistakes, disappointments, and your failure to measure up to others.
But it's all a lie. God created you just as you are. Satan wants to shut you down. He doesn't want the uniqueness of you to shine forth.  When you stifle who you are, you're giving Satan a victory. When you allow your personality, your experience, your gifts and skills to shine forth, you're giving God a chance to use you just as he made you. It's only then that you'll grow more and more into who he created you to be.
Accept who you are in Christ. He accepts you. Why don't you accept you? There's no reason good enough. Work through your insecurities and let God use you, starting today, just as you are.
"What lies behind you and what lies in front of you, pales in comparison to what lies inside of you." – Ralph Waldo Emerson (1803-1882)
From Catch of the Day by Jimmy Houston
Jesus stood up and commanded the wind and said to the waves, "Quiet! Be still!" Then the wind stopped, and it became completely calm. – Mark 4:39
Although it's not necessarily the best time to catch fish, all of us like the magic of a dead calm lake. Every movement and sound.is magnified. We can hear and see a fish jump a couple of hundred yards away. Every movement of a topwater bait sends ripples seemingly forever. The problem is the fish can see and hear much better than we do. Rest assured, they know we're there, and that makes them harder to catch.
Think about the Jesus you believe in. He can calm the crashing waves of a raging sea. How much more can He calm the daily storms we face? This is a God so powerful He can take the fury out of any situation we face. Place your full trust in Him today.

What Jesus Did!

 'What Good Is This?'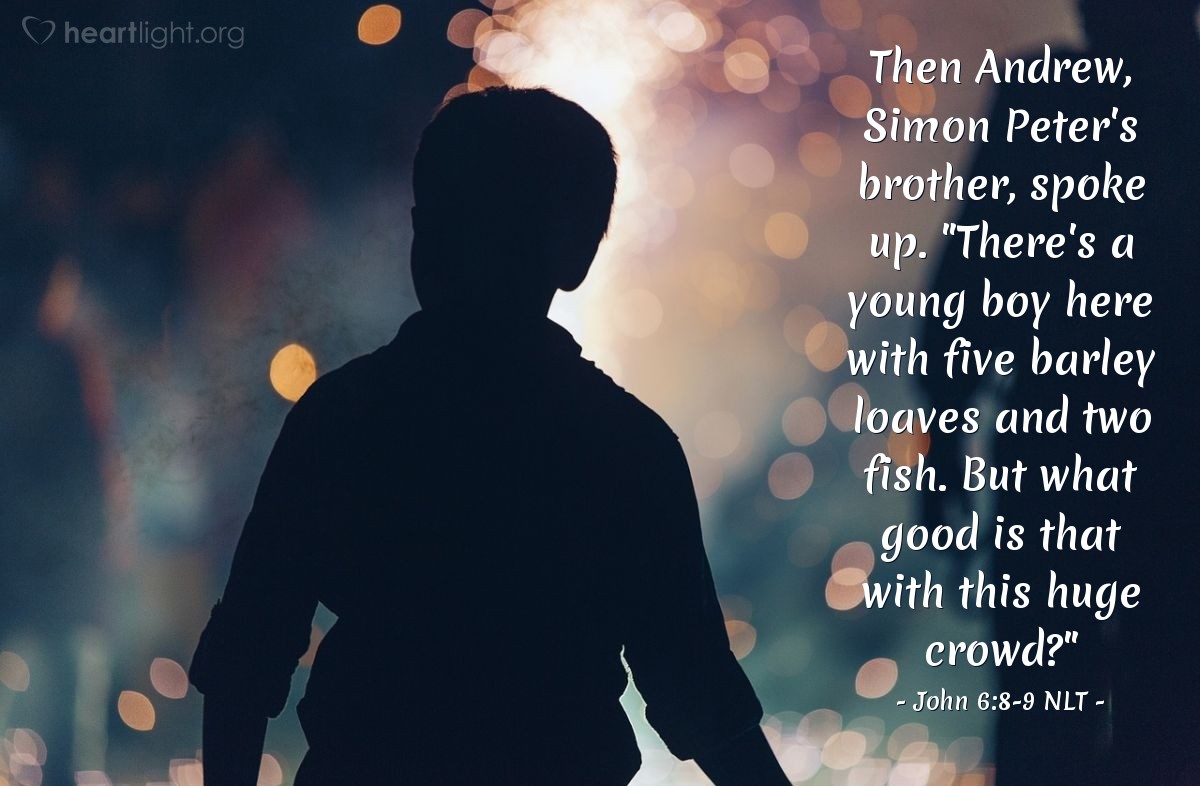 Key Thought
Our resources are limited. God's aren't. Our wisdom is limited. God's isn't. Our power is limited. God's isn't. What we offer, in the face of a great need, is small … until it is brought to God through Jesus, and then it is multiplied, empowered, enhanced, broadened, increased, and made to be sufficient. As observed yesterday, this expansion of our resources and abilities is not just our hope; it is God's track record throughout time with his people. Let's bring him what we have now to do his work, and not wait until we think we have the plan, the power, and the resources to do what only he can do. Let's quit waiting and wandering and wondering and bring him what we have.
Today's Prayer
Lord God Almighty, God of Israel and God of the nations, I come offering you who I am and what I have to be used for your work in the world. I know that my resources and abilities may not go very far in the view of a world in so much need, but I bring them to you because you are the mighty God and they are what I have. I believe that you can do more with them than I can. In Jesus' name. Amen.
Related Scripture Readings
Daily Wisdom:

 Proverbs 12:8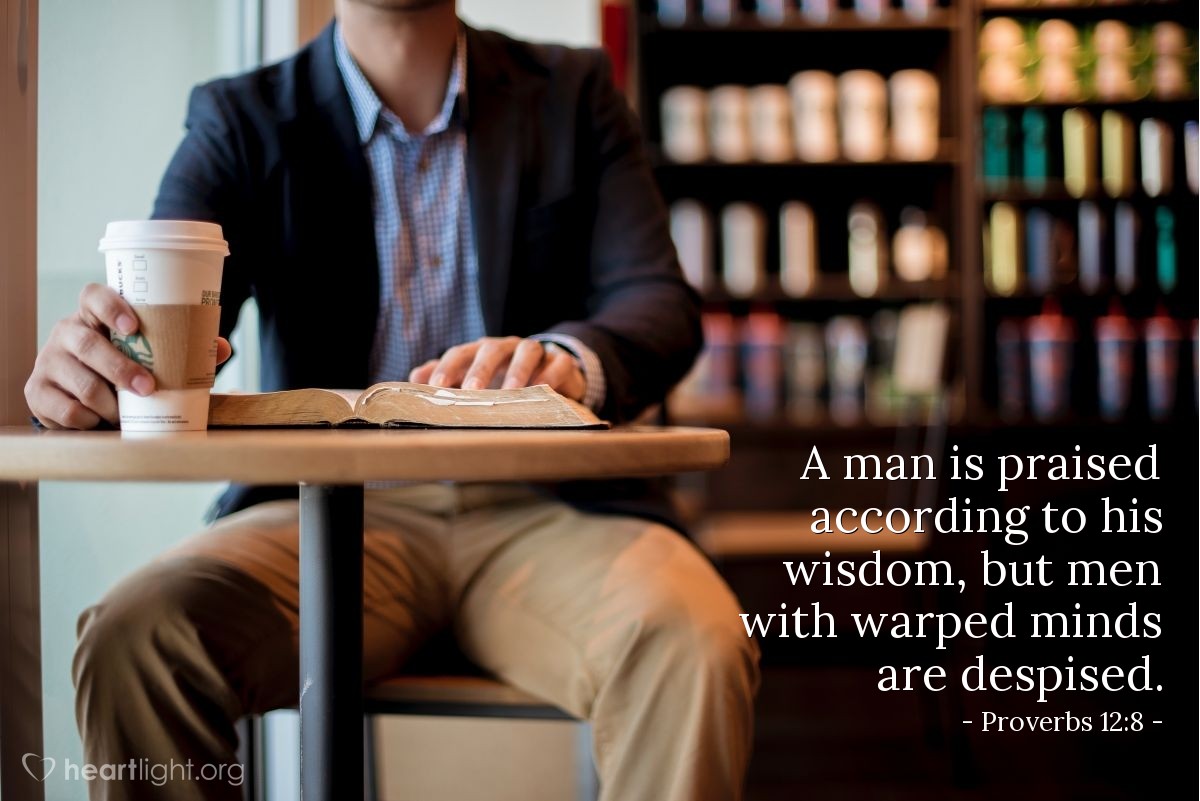 Passion for Praise:

 'Make a Joyful Symphony'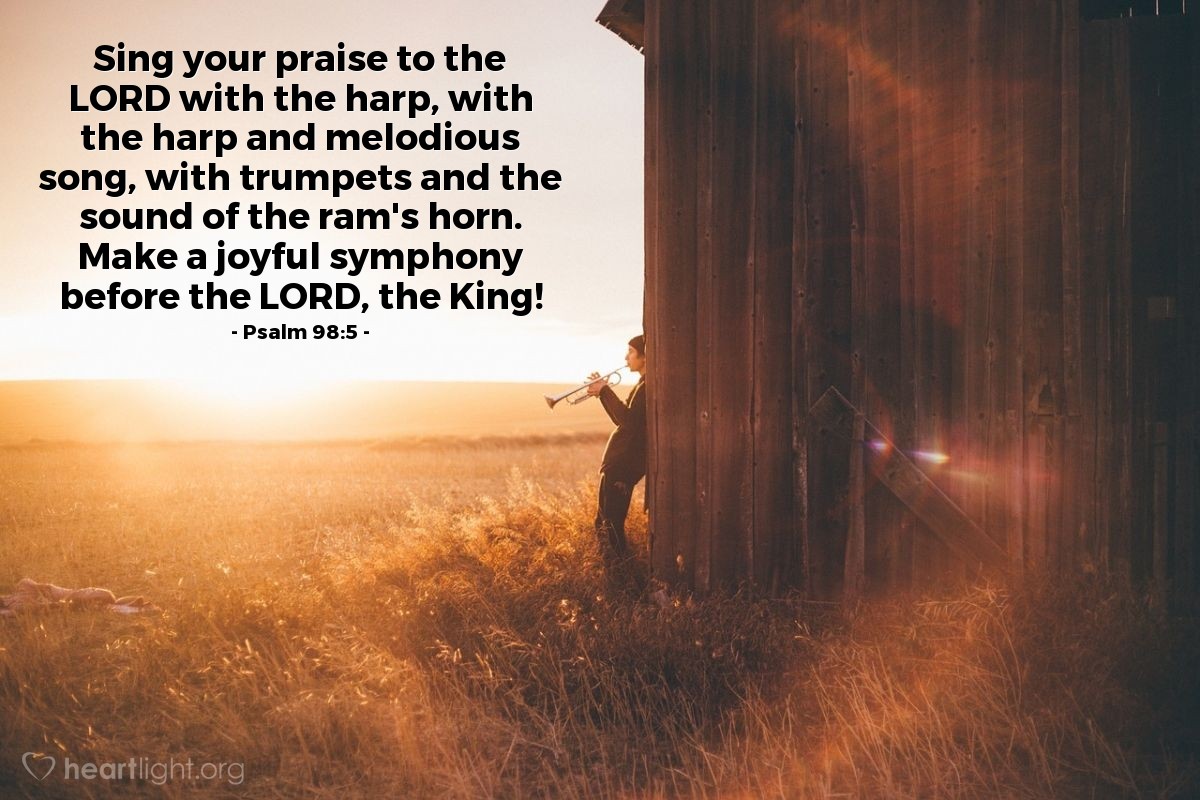 Spiritual Warfare:

 'Be Brave Because the Lord Is on Our Side'

Be brave and confident! There's no reason to be afraid of King Sennacherib and his powerful army. We are much more powerful, because the Lord our God fights on our side. The Assyrians must rely on human power alone. These words encouraged the army of Judah.
Today's Prayer
Lord, I have been so fearful and worried in the past. I lay awake at night and imagine how things could easily get worse. Forgive me. Help me to be brave and confident because You are in control. You got this. You are all-powerful, and You are able to see me through. You are on my side, Lord, so please help me to be faithful and true to my covenant with You so I can walk in Your protection each day. In Jesus' Name, Amen.
NATIONAL CHOCOLATE COVERED CASHEWS DAY
National Chocolate Covered Cashews Day is observed each year on April 21st. The cashew is a tree from the family Anacardiaceae.  Its English name comes from Portuguese the fruit of the cashew tree "caju."  Originally native to Northeastern Brazil, cashew trees are now widely grown in tropical climates for its cashew fruit and nuts.
Surprisingly, the shell of the cashew nut is toxic, which is why the cashew is shelled before it is sold to consumers.  The cashew nut is a very popular snack with a delicious flavor.  They are a well-known favorite during the holidays but can be enjoyed anytime throughout the year.
HOW TO OBSERVE
Enjoy this delicious chocolate covered cashew recipe: Microwave Chocolate Cashew Cluster recipe. Use #NationalChocolateCoveredCashewsDay to share on social media.
HISTORY
We were unable to find the creator of National Chocolate Covered Cashews Day.