Christoph Friedrich Blumhardt
Jesus answered, "I am the way and the truth and the life. No one comes to the Father except through me. If you really knew me, you would know my Father as well. From now on, you do know him and have seen him." John 14:6-7, NIV
Lord our God, we come seeking to find community with you and ask you to keep us in your truth throughout all that occupies us in our daily lives. Keep us from growing confused about truths we have already found through the witness of your Spirit in our hearts. Keep us in your truth so that we can hold firmly to our course on earth under the many hardships and burdens that try to drag us down. Help us to remain steady and to find the path that goes straight ahead, leading us on and on to your final goal. Amen.
Church hurt. Heard of it?

I've been burned in churches. I've faced spiritual abuse. I've wanted to run away and never step foot in a church again. But that's not the answer. Church hurt can make you a bitter Christian, or it can make you a better Christian.

In this video, I speak from my heart. It gets real and raw and offers hope for the hurting. You can get healed from church hurt. I did.

Jennifer LeClaire is senior leader of Awakening House of Prayer in Fort Lauderdale, Florida, founder of the Ignite Network and founder of the Awakening Blaze prayer movement. She is author of over 25 books. Find her online at jenniferleclaire.org or email her at info@jenniferleclaire.org.
Verse of the Day
for Monday, April 16, 2018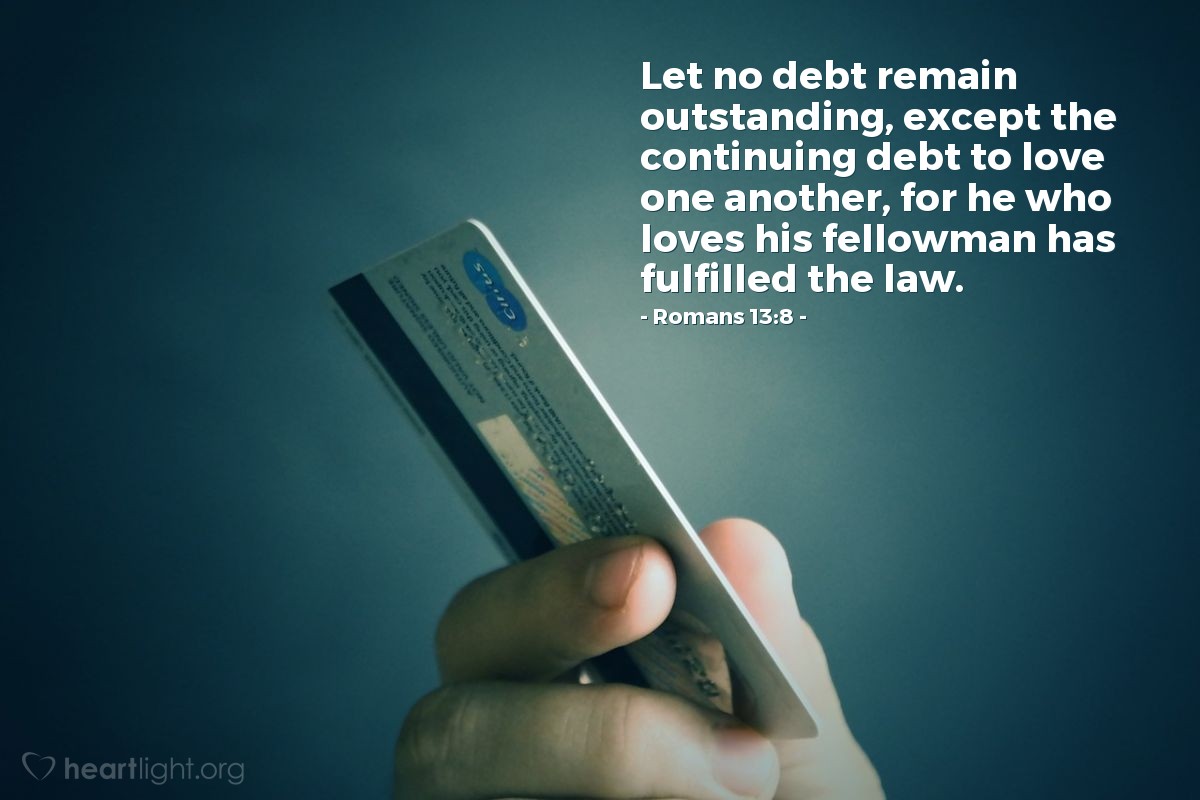 Thoughts on Today's Verse…
He paid a debt and I owe one. Thank God I don't owe the debt for my sin, but I owe others the same love, respect and grace with which God has treated me!
My Prayer…
Holy God who owns all things, I thank you for not just owning me, but for having bought me out of slavery, sin, and death. Please kindle love in my heart through the Holy Spirit so I will love others as you do. In Jesus' name. Amen.
How To Find God's Will For Your Life
It's easier to find the will of God than you might imagine, so here's how we can find God's will in order to do God's will.
God's Will Verses Ours
When the disciples came up to Jesus and asked Him how to pray, they must have seen how much of a Man of prayer He was. They knew the intimacy He had with the Father, and they wanted that same intimacy, so one of the first things Jesus taught them was to pray for God's will over their own. Even in the Garden of Gethsemane, Jesus prayed three times to have the cup removed, but He still submitted to the Father's will. When we pray, we must pray for God's will above our own since His will is perfect and our will is less than. Jesus told them to pray, "Your kingdom come, your will be done" (Matt 6:10), so first of all, prayer must be within the will of God and praying for the will of God, so how can we know the will of God?
Discerning God's Will
A believer is better equipped to discern the will of God when they're not conformed to this world, but rather are transformed by a renewed mind. This is exactly what the Apostle Paul said in Romans 12:1-2 where he wrote, "I appeal to you therefore, brothers, by the mercies of God, to present your bodies as a living sacrifice, holy and acceptable to God, which is your spiritual worship. Do not be conformed to this world, but be transformed by the renewal of your mind, that by testing you may discern what is the will of God, what is good and acceptable and perfect." Step one is presenting ourselves to be used by God, making our lives a living sacrifice for the good of others, and not letting the world squeeze us into its own image or mold, but being "transformed by the renewal of your mind." When our mind is not conformed to this world, but transformed by Word, only then can we discern what the will of God is, so we must pray for God's will, and then allow God's Spirit to transform our mind so that we cannot only do God's will, we can discern what God's will is so that we can do it.
Knowing God's Will
Living a life that pleases God and not living in the flesh is the will of God, so God's will is not something He hides from us or is some mystery we must figure out. The Bible clearly spells out what God's will is. The Apostle Peter writes, "Be subject for the Lord's sake to every human institution, whether it be to the emperor as supreme, or to governors as sent by him to punish those who do evil and to praise those who do good" (1 Pet 2:13-14). Peter says "this is the will of God, that by doing good you should put to silence the ignorance of foolish people" (1 Pet 2:15). Another place where God's will is clearly defined is in 1 Thessalonians 4:3-4 where Paul writes, "this is the will of God, your sanctification: that you abstain from sexual immorality, that each one of you know how to control his own body in holiness and honor," so we must "Flee from sexual immorality. Every other sin a person commits is outside the body, but the sexually immoral person sins against his own body" (1 Cor 6:18).
Accepting God's Will
If Jesus had not accepted God's will, we would still be in our sins, and we'd die in our sins, and that means the wrath of God would abide on us for all time (John 3:36b), so doing God's will, even though painful, must always be done. Jesus Himself prayed, "Father, if you are willing, remove this cup from me. Nevertheless, not my will, but yours, be done" (Luke 22:42). Just as Jesus taught the disciples to pray for the Father's will over their own, Jesus lives this out by knowing and then doing the will of God, even though it was contrary to what He wanted at the time. He knew God's will must be done. If not, there would be no Savior, and if there were no Savior, there would be no salvation. Most of us would probably not sign up for suffering for His name's sake, even though it says, "it has been granted to you that for the sake of Christ you should not only believe in him but also suffer for his sake" (Phil 1:29). The will of God is sometimes hard to accept, but it's harder still if it's resisted.
Thankfulness is God's Will
Christians give thanks to God for all of the good things He's done, and those are innumerable, but it's actually God's will for us to be thankful at all times, no matter what the circumstances. God's will is not some hidden mystery or puzzle you have to figure out, rather as we have read (above), it is clearly spelled out in Scripture. The Apostle Paul tells us, "Rejoice always, pray without ceasing, give thanks in all circumstances; for this is the will of God in Christ Jesus for you" (1 Thess 5:16-18). You don't have to ask what the will of God is when there are dozens of Scriptures that show what it is, just as it is obviously God's will that we rejoice, we pray, and we are thankful to God.
Conclusion
You don't need to be a Bible scholar or theologian to understand what the will of God is. For example, we know the will of God is for us is to abstain from sexual immorality; God's will is for us to be rejoicing and giving thanks to Him in prayer; God's will is for us to be transformed by the Spirit of God so that we can discern what God's will is; and it's God's will for us to submit to human and heavenly authorities (Rom 13:1-7). Only when human authority tells us to do what is contrary to God's will must we submit to God's will instead (Acts 5:29), so submitting to God is part of the will of God. James wrote, "Submit yourselves therefore to God. Resist the devil, and he will flee from you. Draw near to God, and he will draw near to you. Cleanse your hands, you sinners, and purify your hearts, you double-minded" (James 4:7-8). I can also assure you that God "is patient toward you, not wishing that any should perish, but that all should reach repentance" (2 Pet 3:9). I pray that your will is also that none should perish apart from Christ. If it is, then why not share Christ today?
Article by Jack Wellman
Jack Wellman is Pastor of the Mulvane Brethren Church in Mulvane Kansas. Jack is a writer at Christian Quotes and also the Senior Writer at What Christians Want To Know whose mission is to equip, encourage, and energize Christians and to address questions about the believer's daily walk with God and the Bible. You can follow Jack on Google Plus or check out his book Teaching Children the Gospel available on Amazon.
A Prayer for God's Presence
By Debbie Przybylski
May the LORD answer you in the day of trouble! May the name of the God of Jacob protect you! – Psalm 20:1
With all the turmoil and fear over the elections, radical terrorism, rising prices, and unforseen natural disasters, we desperately need God's presence here on earth. When I was writing this article, a devastating earthquake hit Italy in the middle of the night, killing dozens and trapping scores of others under debris. Where is one to hide? The earth is shaking and the birth pangs before the Lord's return are getting stronger. Prayer warriors are needed to contend for God's presence everywhere. He is looking throughout the earth for those who will give themselves to prayer and to seeking His face. We read in 2 Chronicles 16:9, "The eyes of the LORD search the whole earth in order to strengthen those whose hearts are fully committed to him." We have to evaluate our life in our personal time with the Lord and ask:
"Do I know that God is searching the earth, and is my heart completely His?"
The problem is that most of us are not aware of where we are personally and what is available to us. We are too busy. Our hearts are not burning for God, and we have settled for lesser things. But the eyes of the Lord are searching. He wants to take us deeper into His intimate presence internally, and He wants to invade our neighborhoods and cities with His presence outwardly. Then we will see His miraculous power and salvation demonstrated in our streets and everywhere we go.
We must admit that we are living in perilous times. We need God's captivating power and presence in our cities and in our personal lives. One thing that God wants us to realize is how very desperately He cares for the lost in our cities. He is a God of compassion (Psalm 116:5, Lamentations 3:22), and the pain and cries in the city have touched His heart deeply. He longs for us to partner with Him in bringing hope into our cities. He is the answer to all the problems and pain, and His presence in our cities will make all the difference. When we see the ruined condition of our communities, it should break our hearts and stir us to prayer.
"We have underestimated the pain in God's heart over the devastation and brokenness of people who live in darkness. Isaiah 9:2 declares what the result would be when Jesus' presence came to earth: 'The people walking in darkness have seen a great light' (NIV). God fully intends to continue to bring hope and restoration to forsaken, desolate communities, and He is looking for those who will partner with Him."
It's time to contend for God's presence in prayer. Will you join me in this great endeavor to go deeper with God in prayer for such a time as this? It will be the best thing that we can do because He longs for our intimacy and wants to invade our world with His power and presence. He is the God of hope and we can anticipate His help and encouragement in even the darkest hour. "The LORD delights in those who fear him, who put their hope in his unfailing love" (Psalm 147:11).
How to Pray for Your Daily Bread
After this manner therefore pray ye: Our Father which art in heaven, Hallowed be thy name. 10Thy kingdom come, Thy will be done in earth, as it is in heaven. 11Give us this day our daily bread.
As we read this prayer our Lord gave, remember it is the model prayer. The Lord did not say "Pray this prayer," but "Pray in this manner." He taught us something wonderful about prayer: it's not the length of our prayer, the logic of our prayer, or the language of our prayer, but the faith, the focus, and the force of our prayer that causes it to be heard in heaven.
"Bread" in this prayer is really symbolic of any need you have. Do you have a need today? God delights to meet your need.
Here are four important steps to follow when praying for "daily bread."
A Proper Priority
Notice the priority in this prayer:
Thy name
Thy kingdom
Thy will
First comes God's name, His kingdom, and His will. Only after that comes our need, "Give us this day our daily bread." If you don't get that priority straight, you'll never have power in prayer.
God is not a heavenly bellhop, running around to meet your needs. Prayer is not the way man gets his will done in heaven. Prayer is the way God gets His will done on earth. It's important we understand this. Jesus Christ summed it up in Matthew 6:33
"Seek ye first the kingdom of God and His righteousness, and all these things shall be added to you."
If you don't establish that priority, you're not going to get your prayers answered.
Answered prayer is not for rebels. Why should God answer your request for daily bread if you're not going to use that strength to serve Him? You must pray "Thy will" before you pray "our bread." Give Him first place. The one place God will not work is second place.
Is the burning, consuming desire of your heart that His name be glorified, His kingdom come, and His will be done? Matthew 6:33 will remain only an unreached promise if you've not put it to practice.
Your Prayerful Petition
Another reason some people don't have their needs met: they don't ask. It's that simple.
If ye then, being evil, know how to give good gifts unto your children, how much more shall your Father which is in heaven give good things to them that ask Him?  Matthew 7:11
You simply say, "Lord I have a need." Many people have not because they ask not. (James 4:2) You deny yourself when you don't pray. Prayer is the key that unlocks heaven's treasury.
God answers prayer. The One Who created the universe, the great eternal God, says that I can call upon Him and He will answer me and show me great and mighty things. (Jeremiah 33:3)
A Proper Perspective
This doesn't mean you have the key to Fort Knox or you're going to get everything you want. It doesn't say God's going to meet our greed. God is going to meet our need, according to His riches in glory by Christ Jesus. (Phil. 4:19)   "Give us…our daily bread," may be also translated "give us this day bread sufficient for us." Our Lord taught us to pray for bread, not for cake. Sometimes we want things we don't need. And sometimes we need things we don't want. Seek first the Kingdom of God and His righteousness, and God will delight to meet your need.
Your Personal Part
Prayer is not a substitute for work or diligence. If you pray for bread, do you know how to say Amen? Work for it.
"In the sweat of thy face shall thou eat bread." Genesis 3:19
"…if any would not work, neither should he eat." 2 Thessalonians 3:10
"The sluggard will not plow by reason of the cold. Therefore shall he beg in harvest and have nothing." Proverbs 20:4
"He that tilleth his land shall have plenty of bread, but he that followeth after vain persons shall have poverty enough." Proverbs 28:19
Too lazy to plow? Then you won't have anything to eat. God doesn't bless laziness and or indolence.
Don't sit back and say, "I'm going to show my faith by doing nothing." To the contrary! You will show your faith by doing something, for faith without works is dead.
Jesus is heaven's bread for earth's hunger. He became the Bread of Life so you and I could have our deepest hunger met.
Do you know Jesus? Friend, if you had bread to spare and died and went to hell, so what? If you don't have Jesus, there's a hidden hunger never satisfied until it's satisfied in the Lord Jesus Christ. "Man shall not live by bread alone." (Matthew 4:4) When you go to bed tonight, have that Bread in your heart. His name is Jesus. He'll be sufficient for tomorrow.
Timeless Truths for a New Generation
From childhood you have known the sacred writings which are able to give you the wisdom that leads to salvation through faith which is in Christ Jesus.
One of the tragedies of our contemporary culture is that people are not convinced of the Bible's worth. I have often shared with our congregation the burden that people in the 21st century do not believe the Bible has anything to say to today's generation.
Six hundred Christians from a wide range of cultures were questioned, and it was discovered that 25% read their Bible more than once a week, and most of the remaining 75% don't read it at all. Did you catch that? Over half of so-called "Christians" today do not even read their Bible! The president of the research group  summarized the findings of the survey:
People aren't reading the Bible because they think it is irrelevant to everyday life. Many people, even those who read the Bible, do not see the Scriptures as containing instruction and answers that deal with the everyday problems they face. They think of the Bible as they would a cookbook. It is a wonderful thing for putting together thirty-person dinner parties, but it doesn't have any recipes in it for tonight's dinner for the family. It's great for special occasions but not for everyday situations.
Is the Bible relevant today? In the 21st century, is the Word of God still as powerful as it was in Hebrews 4:12, when it was described as "living and active and sharper than any two-edged sword?" Is our Bible today the same divinely-inspired book that Paul spoke of to Timothy in 2 Timothy 3:16-17, praising it as "profitable for teaching, for reproof, for correction, for training in righteousness; so that the man of God may be adequate, equipped for every good work"?
The answer is yes!
The Bible that we hold in our hands today, translated from the original languages and passed down to us over the centuries, is just as profitable for every aspect of our lives in the 21st century as it was for believers in the first century.
If you've paid attention to history, you'll understand that except for technological advances, the world hasn't changed much. People will always be people, and as Solomon wisely said in Ecclesiastes 1:9, "There is nothing new under the sun." As long as there are people to inhabit the world, there will always be a dire need for truth and direction for living.
Praise be to God who has given us both in His Word! Perhaps the reason Christianity has taken somewhat of a "new face" in the present century is because we have forgotten whose face we are supposed to reflect. The Bible is clear–if we want to know God and His Son, Jesus Christ, He has been revealed in Scripture. His Word is not just a to-do list of spiritual chores, or an informative historical document; it is the way we can know Him and show Him to an unbelieving world.
Scripture is God's Truth to mankind in every generation, and it never grows old . . . it's timeless!
Prayer Point: If you have been taking God's Word lightly, having fallen into the belief that it is no longer relevant, confess that to God and ask Him to show you your desperate need for it. Then, thank him for calling men throughout the centuries who were willing to face death and persecution, so that you and I could have copies of the Bible in our own language.
Extra Refreshment: 2 Timothy 3–a promise that mankind will forsake truth in "the last days."
Saint Bernadette Soubirous
Saint of the Day for April 16
(January 7, 1844 – April 16, 1879)
Saint Bernadette Soubirous's Story
Bernadette Soubirous was born in 1844, the first child of an extremely poor miller in the town of Lourdes in southern France. The family was living in the basement of a dilapidated building when on February 11, 1858, the Blessed Virgin Mary appeared to Bernadette in a cave above the banks of the Gave River near Lourdes. Bernadette, 14 years old, was known as a virtuous girl though a dull student who had not even made her first Holy Communion. In poor health, she had suffered from asthma from an early age.
There were 18 appearances in all, the final one occurring on the feast of Our Lady of Mt. Carmel, July 16. Although Bernadette's initial reports provoked skepticism, her daily visions of "the Lady" brought great crowds of the curious. The Lady, Bernadette explained, had instructed her to have a chapel built on the spot of the visions. There, the people were to come to wash in and drink of the water of the spring that had welled up from the very spot where Bernadette had been instructed to dig.
According to Bernadette, the Lady of her visions was a girl of 16 or 17 who wore a white robe with a blue sash. Yellow roses covered her feet, a large rosary was on her right arm. In the vision on March 25 she told Bernadette, "I am the Immaculate Conception." It was only when the words were explained to her that Bernadette came to realize who the Lady was.
Few visions have ever undergone the scrutiny that these appearances of the Immaculate Virgin were subject to. Lourdes became one of the most popular Marian shrines in the world, attracting millions of visitors. Miracles were reported at the shrine and in the waters of the spring. After thorough investigation, Church authorities confirmed the authenticity of the apparitions in 1862.
During her life, Bernadette suffered much. She was hounded by the public as well as by civic officials until at last she was protected in a convent of nuns. Five years later, she petitioned to enter the Sisters of Notre Dame. After a period of illness she was able to make the journey from Lourdes and enter the novitiate. But within four months of her arrival she was given the last rites of the Church and allowed to profess her vows. She recovered enough to become infirmarian and then sacristan, but chronic health problems persisted. She died on April 16, 1879, at the age of 35.
Bernadette Soubirous was canonized in 1933.
Reflection
Millions of people have come to the spring Bernadette uncovered for healing of body and spirit, but she found no relief from ill health there. Bernadette moved through life, guided only by blind faith in things she did not understand—as we all must do from time to time.
You're a Child of God
For everyone who asks receives; he who seeks finds; and to him who knocks, the door will be opened. – Matthew 7:8
Have you ever been in the uncomfortable position of having to defend your rights or your personal property?
A 47 year-old woman conceived by artificial insemination after the death of her father was awarded Social Security "survivor's" benefits. This ended a seven year battle between the woman's mother and the Social Security Administration over the woman's rights as a child of the deceased. The Social Security Administration never conceded that she was legally entitled to the benefits, but rather stated that they did not want to spend the time and money necessary to fight the issue in a court of law.
When you ask Jesus into your heart, you are re-born into the family of God. From that point forward, there is no question that you are His child. You don't have to prove that He is your Father or that you are entitled to receive support from him.
As a child of God, you are given a promise, that all of your needs will be met. No one can deny you that benefit.
Live life with the assurance that you are a child of the King. God is your Father and you will never have to fight for your inheritance.
"Take the first step in faith. You don't have to see the whole staircase, just take the first step." – Martin Luther King, Jr. (1929-1968)
From Grace Happens Here by Max Lucado
God 's Gracious Love
At the time Martin Luther was having his Bible printed in Germany, a printer's daughter encountered God's love. No one had told her about Jesus. Toward God she felt no emotion but fear. One day she gathered fallen pages of Scripture from the floor. On one paper she found the words "For God so loved the world, that he gave . . ." The rest of the verse had not yet been printed. Still, what she saw was enough to move her. The thought that God would give anything moved her from fear to joy. Her mother noticed the change of attitude.
When asked the cause of her happiness, the daughter produced the crumpled piece of partial verse from her pocket. The mother read it and asked, "What did he give?" The child was perplexed for a moment and then answered, "I do not know. But if He loved us well enough to give us anything, we should not be afraid of
Him." —From It's Not About Me

What Jesus Did!

 'Listening to the Wrong Folks'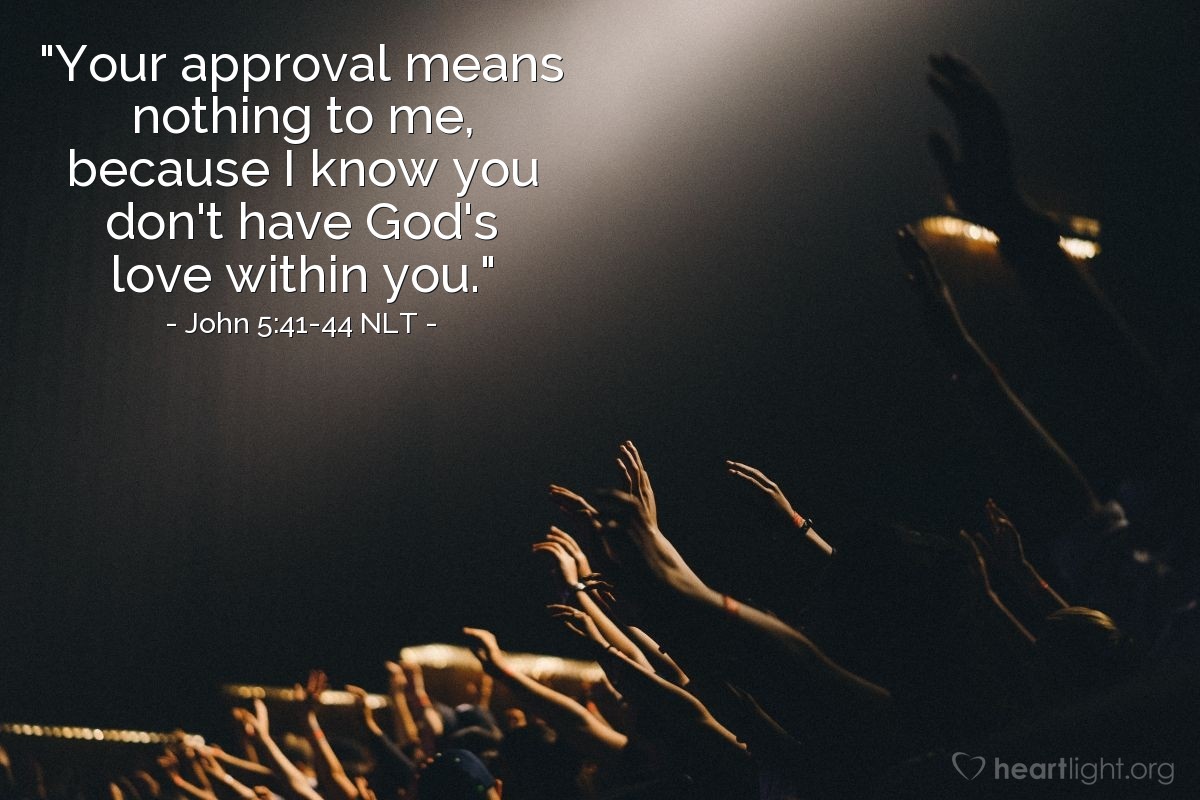 [Talking to Jewish leaders who opposed him, Jesus said,] "Your approval means nothing to me, because I know you don't have God's love within you. For I have come to you in my Father's name, and you have rejected me. Yet if others come in their own name, you gladly welcome them. No wonder you can't believe! For you gladly honor each other, but you don't care about the honor that comes from the one who alone is God."
Key Thought
Whose approval are you trying to receive? Peer pressure is powerful in the lives of teens, but if we are really honest, adults are just as susceptible to peer pressure. Look at designer fashions, hot cars, house styles, popular movies, top ten books, and a host of other areas. Can we stand with Jesus and stand up to the ridicule of others, or do we cave in, hide out, or give up our faith when it's unpopular? Sometimes our churches are stained glass museums filled with spiritually impoverished people afraid to speak up for Jesus because they're too concerned about what others think and say. Let's pray that we may be both bold and respectful in sharing our faith in Jesus (
Acts 4:31
, 
1 Peter 3:15-16
).
Today's Prayer
Glorious Father, please give me the courage to stand up for Jesus as much in the marketplace as I do when I am around other believers. Help my witness to be genuinely consistent as well as sensitive to those around me. Forgive me when I have been more concerned about what others think about me than I have about honoring Jesus as my Lord. In the name of your Son and my Savior, I pray. Amen.
Related Scripture Readings
Daily Wisdom:

 Proverbs 19:15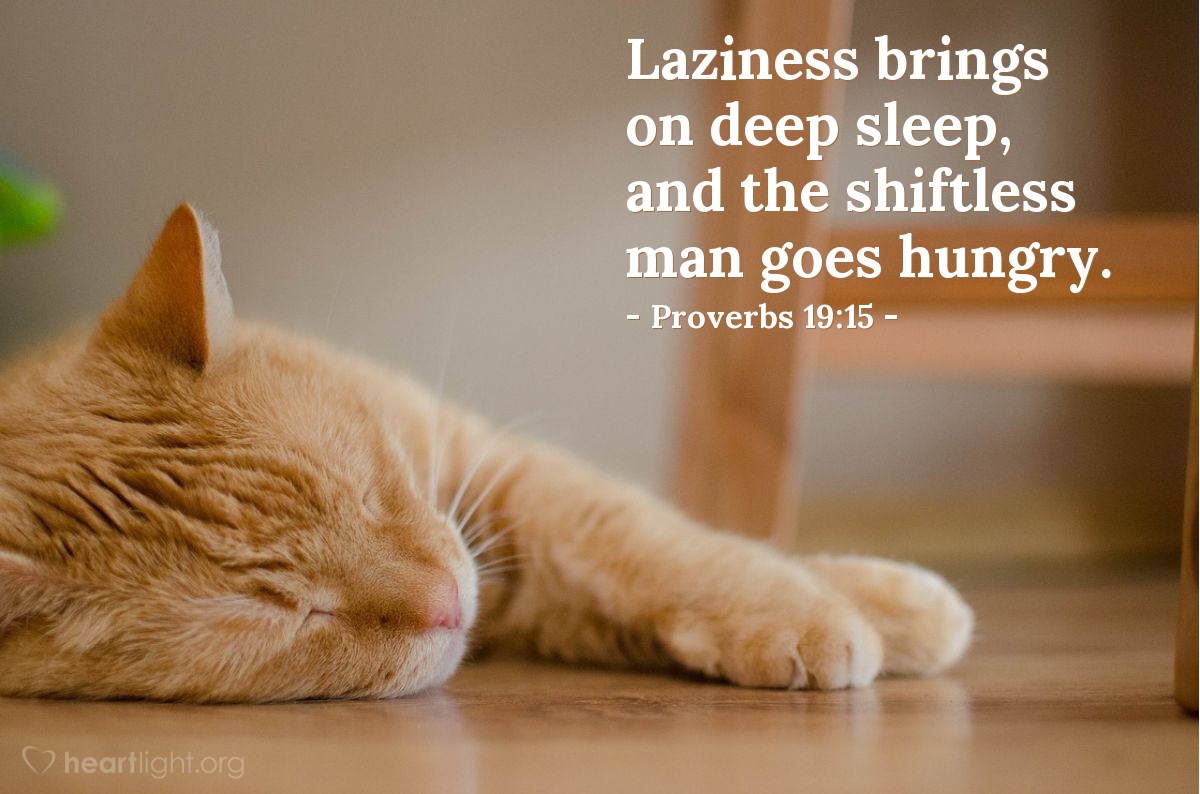 Passion for Praise:

 'Coastlands Be Glad!'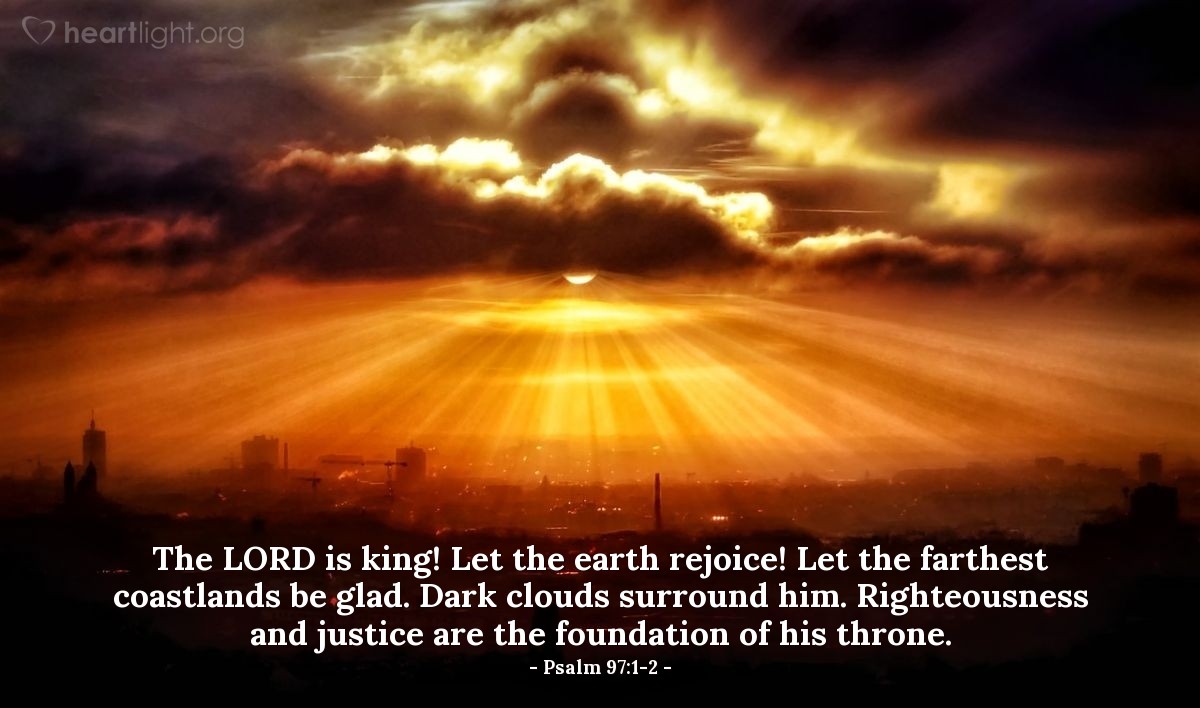 Praying with Paul:

 'Perseverence'
Dear Father, righteous judge of all mankind,
Help me to live as one upon whom the end of the ages has come. Help me take what happened to the Israelites as a warning to myself. Don't let me get puffed up, thinking that I cannot fall. But at the same time let me keep in mind that no temptation has overtaken me that is not common to man. Help me remember that you are faithful and will not allow me to be tempted beyond my strength, but with every temptation will also provide the way for me to escape, that I may be able to endure it!
The way of escape may be death, as it was for Jesus. If so, may I be willing to die if that is what it takes to enter your eternal kingdom.
It is better that I should enter it with eyes or hands gone than to enter into hell with my whole body intact. Help me to obey you from a heart of love and gratefulness for what you have done for me.
In the name of Jesus grant me such love for you that I will persevere in obedience until the very end. Amen.
Monday of the Third Week of Easter
Stephen, filled with grace and power,
was working great wonders and signs among the people.
Certain members of the so-called Synagogue of Freedmen,
Cyreneans, and Alexandrians,
and people from Cilicia and Asia,
came forward and debated with Stephen,
but they could not withstand the wisdom and the Spirit with which he spoke.
Then they instigated some men to say,
"We have heard him speaking blasphemous words
against Moses and God."27
They stirred up the people, the elders, and the scribes,
accosted him, seized him,
and brought him before the Sanhedrin.
They presented false witnesses who testified,
"This man never stops saying things against this holy place and the law.
For we have heard him claim
that this Jesus the Nazorean will destroy this place
and change the customs that Moses handed down to us."
All those who 
sat
 in the Sanhedrin looked intently at him
and saw that his face was like the face of an angel.
R. (1ab)
 Blessed are they who follow the law of the Lord!
or:
R. 
Alleluia.
Though princes meet and talk against me,
your servant meditates on your statutes.
Yes, your decrees are my delight;
they are my counselors.
R. 
Blessed are they who follow the law of the Lord!
or:
R. 
Alleluia.
I declared my ways, and you answered me;
teach me your statutes.
Make me understand the way of your precepts,
and I will meditate on your wondrous deeds.
R. 
Blessed are they who follow the law of the Lord!
or:
R. 
Alleluia.
Remove from me the way of falsehood,
and favor me with your law.
The way of truth I have chosen;
I have set your ordinances before me.
R. 
Blessed are they who follow the law of the Lord!
or:
R. 
Alleluia.
R. Alleluia, alleluia.
One does not live on bread alone
but on every word that comes forth from the mouth of God.
R. Alleluia, alleluia.
[After Jesus had fed the five thousand men, his disciples saw him walking on the sea.]
The next day, the crowd that remained across the sea
saw that there had been only one boat there,
and that Jesus had not gone along with his disciples in the boat,
but only his disciples had left.
Other boats came from Tiberias
near the place where they had eaten the bread
when the Lord gave thanks.
When the crowd saw that neither Jesus nor his disciples were there,
they themselves got into boats
and came to Capernaum looking for Jesus.
And when they found him across the sea they said to him,
"Rabbi, when did you get here?"
Jesus answered them and said,
"Amen, amen, I say to you, you are looking for me
not because you saw signs
but because you ate the loaves and were filled.
Do not work for food that perishes
but for the food that endures for eternal life,
which the Son of Man will give you.
For on him the Father, God, has set his seal."
So they said to him,
"What can we do to accomplish the works of God?"
Jesus answered and said to them,
"This is the work of God, that you believe in the one he sent."
– – –
Lectionary for Mass for Use in the Dioceses of the United States, second typical edition, Copyright © 2001, 1998, 1997, 1986, 1970 Confraternity of Christian Doctrine; Psalm refrain © 1968, 1981, 1997, International Committee on English in the Liturgy, Inc. All rights reserved. Neither this work nor any part of it may be reproduced, distributed, performed or displayed in any medium, including electronic or digital, without permission in writing from the copyright owner.
Peter said to the people:
"The God of Abraham,
the God of Isaac, and the God of Jacob,
the God of our fathers, has glorified his servant Jesus,
whom you handed over and denied in Pilate's presence
when he had decided to release him.
You denied the Holy and Righteous One
and asked that a murderer be released to you.
The author of life you put to death,
but God raised him from the dead; of this we are witnesses.
Now I know, brothers,
that you acted out of ignorance, just as your leaders did;
but God has thus brought to fulfillment
what he had announced beforehand
through the mouth of all the prophets,
that his Christ would suffer.
Repent, therefore, and be converted, that your sins may be wiped away."
R. (7a) Lord, let your face shine on us.
or:
R. Alleluia.
When I call, answer me, O my just God,
you who relieve me when I am in distress;
have pity on me, and hear my prayer!
R. Lord, let your face shine on us.
or:
R. Alleluia.
Know that the LORD does wonders for his faithful one;
the LORD will hear me when I call upon him.
R. Lord, let your face shine on us.
or:
R. Alleluia.
O LORD, let the light of your countenance shine upon us!
You put gladness into my heart.
R. Lord, let your face shine on us.
or:
R. Alleluia.
As soon as I lie down, I fall peacefully asleep,
for you alone, O LORD,
bring security to my dwelling.
R. Lord, let your face shine on us.
or:
R. Alleluia.
My children, I am writing this to you
so that you may not commit sin.
But if anyone does sin, we have an Advocate with the Father,
Jesus Christ the righteous one.
He is expiation for our sins,
and not for our sins only but for those of the whole world.
The way we may be sure that we know him is to keep
his commandments.
Those who say, "I know him," but do not keep his commandments
are liars, and the truth is not in them.
But whoever keeps his word,
the love of God is truly perfected in him.
R. Alleluia, alleluia.
Lord Jesus, open the Scriptures to us;
make our hearts burn while you speak to us.
R. Alleluia, alleluia.
The two disciples recounted what had taken place on the way,
and how Jesus was made known to them
in the breaking of bread.
While they were still speaking about this,
he stood in their midst and said to them,
"Peace be with you."
But they were startled and terrified
and thought that they were seeing a ghost.
Then he said to them, "Why are you troubled?
And why do questions arise in your hearts?
Look at my hands and my feet, that it is I myself.
Touch me and see, because a ghost does not have flesh and bones
as you can see I have."
And as he said this,
he showed them his hands and his feet.
While they were still incredulous for joy and were amazed,
he asked them, "Have you anything here to eat?"
They gave him a piece of baked fish;
he took it and ate it in front of them.
He said to them,
"These are my words that I spoke to you while I was still with you,
that everything written about me in the law of Moses
and in the prophets and psalms must be fulfilled."
Then he opened their minds to understand the Scriptures.
And he said to them,
"Thus it is written that the Christ would suffer
and rise from the dead on the third day
and that repentance, for the forgiveness of sins,
would be preached in his name
to all the nations, beginning from Jerusalem.
You are witnesses of these things."
– – –
Lectionary for Mass for Use in the Dioceses of the United States, second typical edition, Copyright © 2001, 1998, 1997, 1986, 1970 Confraternity of Christian Doctrine; Psalm refrain © 1968, 1981, 1997, International Committee on English in the Liturgy, Inc. All rights reserved. Neither this work nor any part of it may be reproduced, distributed, performed or displayed in any medium, including electronic or digital, without permission in writing from the copyright owner.
Today's Scripture
"Let us fix our eyes on Jesus, the author and perfecter of our faith, who for the joy set before him endured the cross, scorning its shame, and sat down at the right hand of the throne of God." – Hebrews 12:2
Thoughts for Today
Have you ever been carsick? The primary reason for car sickness is because as the car races along, passengers are not able to focus on a solid object. The one person in a car who almost never gets sick is the driver. Why? The driver is focused on the road ahead, looking intently at the solid objects outside the car that aren't bouncing and turning. He or she has a good sense of where the horizon is.
The key is in the word focus. Are we focusing on Christ–who never changes–or are we focusing on the circumstances that keep turning and swirling and changing? Focusing on Jesus can bring much-needed balance to our lives.
Consider this …
Are you focusing on circumstances? Have you become a caretaker of another person's problem? What about how your time is spent? Your priorities in life? Your daily schedule? Your health? Your time alone with God? Your involvement at church? Your friendships? Has your value system been compromised? Is your life out of balance?
When a loved one is trapped in a life-controlling problem, we can be drawn into focusing all our attention and energy on that problem. But today's scripture has the answer to the danger of codependency: fix our eyes–focus–on Jesus.
When our focus is on Christ, all the other areas of our life will come into balance–including our relationships with those we care about.
Where is your focus?
Prayer
Father, I know I have been focusing too much on problems instead of on Jesus. And as the circumstances around me change, I have become confused and discouraged. Help me fix my eyes on Jesus. In Jesus' name …
So his hands were steady until the going down of the sun.
Exodus 17:12
The prayer of Moses was so mighty that everything depended upon it. The petitions of Moses disconcerted the enemy more than the fighting of Joshua. Yet both were needed. In the soul's conflict, force and fervor, decision and devotion, valor and vehemence must join their forces, and all will be well.
You must wrestle with your sin, but the major part of the wrestling must be done alone in private with God. Prayer like Moses' holds up the token of the covenant before the Lord. The rod was the emblem of God's working with Moses, the symbol of God's government in Israel. Learn, praying saint, to hold up the promise and the oath of God before Him. The Lord cannot deny His own declarations. Hold up the rod of promise, and have what you seek.
Moses grew tired, and then his friends assisted him. Whenever your prayer loses vigor, let faith support one hand, and let holy hope lift up the other, and prayer seating itself upon the stone of Israel, the rock of our salvation, will persevere and prevail. Beware of growing faint in your devotion.
If Moses felt it, who can escape? It is far easier to fight with sin in public than to pray against it in private. It has been observed that while Joshua never grew weary in the fighting, Moses did grow weary in the praying; the more spiritual an exercise, the more difficult it is for flesh and blood to maintain it.
Let us cry, then, for special strength, and may the Spirit of God, who helps our weaknesses as He helped Moses, enable us like him to continue with our steady hands "until the going down of the sun," until the evening of life is over, until we shall come to the rising of a better sun in the land where prayer is swallowed up in praise.
The Graduate-Level Test: Self-Defense
TGIF Today God Is First Volume 1 by Os Hillman
April 16, 2018
"He will make your righteousness shine like the dawn, the justice of your cause like the noonday sun." – Psalm 37:6
As a believer grows in trusting obedience and love, God often brings a test that seems uncharacteristically cruel. The test: being wrongfully judged by those close to you. It is not for the reactionary. It cannot be passed over by simply gutting it out. Supernatural grace is the only means of passing this one. It is one of those tests the Savior had to experience Himself when being tried by the court of public opinion, the religious community, and the government of His day. His response to the government was silence. His response to the religious establishment was silence at the final judgment. To the rest of His accusers He remained quiet and left vindication to the Father. He lived the commandment He gave to the disciples:
"But love your enemies, do good to them, and lend to them without expecting to get anything back. Then your reward will be great, and you will be sons of the Most High, because He is kind to the ungrateful and wicked" (Luke 6:35).
How do you react when you are accused or mistreated for no reason? Do you listen quietly, or do you justify each and every action? Most of us take pride in doing what is right and expect the same from others, especially our brothers and sisters in the faith. Jesus knew that if you were to be a true follower of His, you would enter this test eventually. It is part of the program. The workplace gives ample opportunity to be wronged, misunderstood, and maligned. When God brings a measured assault against one of His children, it is to find out if he truly believes in the cross. The cross is where each of us is given the opportunity to die to our pride, our reputations, and our ego. When He allows a measured assault upon us, it is to find out if the cross is sufficient. He wants to see if we will seek to rescue ourselves. Jesus said if we die with Him, we will be raised with Him. When God allows satan to bring the measured assault, ask God for the grace to cling to the cross. Let the pride and arrogance that Jesus wants to remove from our lives be crucified. Thank God for the opportunity to be crucified with Christ. Then your righteousness will shine like the noonday sun and the justice of your cause will be in His hands.
The Lord laid this powerful word on my heart recently. He has been sharing with me that when we entered into the New Year according to the Hebrew calendar on the 1st day of Nisan, March 17, we were being repositioned to see the fulfillment of what we had been declaring and decreeing over our lives. He began to share that we needed to pray, fast and give to be consecrated unto Him this week, so we would be ready to step into what He has for us on in this new time.
Consecrate Yourselves
This is similar to what He told Joshua when He spoke to Him about going into the Promised Land. He said in Joshua 3:5, "Consecrate yourselves, for tomorrow the Lord will perform wondrous deeds among you."
That meant to purify or sanctify yourself because God was about to advance His people's borders. When God says He is about to advance you or elevate you, there will be a time of consecration prior to that. I believe this is a week for preparation.
Earlier in Joshua, the officers instructed the people, "When you see the Ark of the Covenant of the Lord your God, and the Levitical priests carrying it, you are to move out from your positions and follow it. Then you will know which way to go, since you have never been this way before" (see Josh. 3:4).
This means we are to lift up our tent pegs and begin to move when God says "move." The Israelites needed instruction, as they had never been that way before. So it is with us. This way will be new, but we must begin to move as God leads. Just as the Israelites were led by the Ark of the Covenant, we have the Holy Spirit fire to lead us.
Later in Joshua 3:6-7, "Joshua said to the priests, 'Pick up the ark of the covenant, and proceed ahead of the people.' So they picked up the ark of the covenant and went in front of the people. The Lord said to Joshua, 'Today I will begin to honor you in the sight of all Israel, so that they may know that just as I was with Moses, so I will be with you.'"
The Lord is saying, "I will lead you to the place I have prepared for you." God must lead us before He exalts us as His people. He must be your guide before you step into your destiny. You must know that He is with you always, just as He was with Moses.
How Do We Consecrate Ourselves?
So, how do you consecrate yourself this week? Pray, fast and give. A threefold cord cannot be broken. Anytime God has moved me into a new position He required me to pray, fast and give. Let this be the week that you step into destiny by consecrating your heart to Him and Him alone.
Pray, fast and give and watch Him begin to move you into position. This is also exactly what He told the Israelites when He was moving them into Promised Land, and He sent an angel before them to take them into the place He prepared. In Exodus 23:20 it says, "Indeed, I am going to send an angel before you to guard you along the way and to bring you into the place which I have prepared."
Then He tells the Israelites that the place He is taking them to will have other gods, and He tells them to not bow down to the gods or worship them. He says in Exodus 23:25-26, "You shall serve the Lord your God, and He shall bless your bread and your water, and I will remove sickness from your midst. No one shall be miscarrying or be barren in your land. I will fulfill the number of your days."
You Will See Him Do Wonders
We must learn through this purification process that we are to worship the Lord our God and serve Him only, as He purifies you to take you into the place you are destined. You will find during the purification process that there are areas you do not worship the Lord your God and serve Him only. He promises you will not miscarry your dream and will have a full life span. We must worship and serve Him only.
Keep your eyes out this week and repent during prayer, fasting and giving, so those places in your heart where you are not serving Him and Him alone, will be exposed. This will be the ground that the enemy will try and wipe you out on when you get to your promised destiny. But if you allow God to purify you, you will be ready for the journey into your new land. Consecrate yourself as tomorrow you will see Him do wonders! 
Dr. Candice Smithyman is the founder of Dream Mentors International, a biblical life counseling and coaching educational organization that teaches and trains educators and coaches in the specialty of life coaching. She is also founder of the Glory Road show, where she hosts weekly interviews that are seen on internet TV, Facebook and her YOUTUBE channel. Her ministry website is available at candicesmithyman.comand dreammentors.org, where people people can become credentialed biblical or transformational life coaches and receive biblical and transformational life coaching for every area of their life. She is also co-founder of Freedom Destiny Church in Orange Park, Florida, along with her husband, Senior Pastor Adam Smithyman. They have three married children.
NATIONAL WEAR YOUR PAJAMAS TO WORK DAY
Each year on April 16th, the day after taxes are due in the United States; it is time to let go of the stress and wear your pajamas to work. After all, it is National Wear Your Pajamas To Work Day.
What some people are calling "the best holiday of the year," this day was created as a fun holiday.  It is a day to celebrate and unwind from the long hours and hard work of those whose job is to prepare taxes and the anxiety of the last minute tax filers. National Wear Your Pajamas to Work Day allows you to sleep in a little later than you normally would. Once you get up, you do not have to take the time getting dressed as you are already dressed for your day.
National Wear Your Pajamas to Work Day has been catching on across the nation.  To see pictures of participants and more information, go to http://nationalwearyourpajamastoworkday.com/
HOW TO OBSERVE
Wear your pajamas to work and use #WearYourPajamasToWorkDay to post on social media.
HISTORY
Within our research, we were unable to find the creator of National Wear Your Pajamas to Work Day.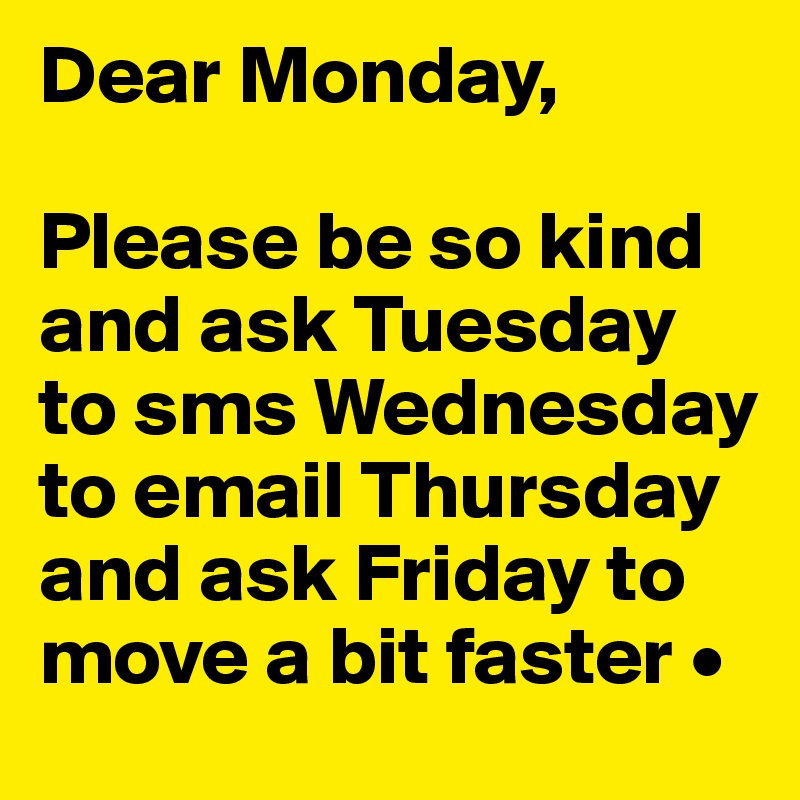 Well, our freezer went on the fritz last night and all the meats he just bought started to thaw……I had bunches of frozen stir-fry meals, too, and they are all thawed…..I pray they don't go bad!  He got up early to try to find a new freezer and after he left, I got online and lo and behold!  A woman just posted an upright freezer, just 2 years old, same size as ours, and we bought it!  God hear and He answers, when it's something we need!!  Alleluia!!!  Praise Him!!!