Christoph Friedrich Blumhardt
But I trust in you, Lord; I say, "You are my God." My times are in your hands; deliver me from the hands of my enemies, from those who pursue me. Let your face shine on your servant; save me in your unfailing love. Psalm 31:14–16, NIV
Dear Father in heaven, we turn to you. Hear our longing, hear our hopes, hear our faith! Our future lies in your hands. Free each heart from discouragement and sadness over the many evils of the world. Make us free from earthly things, free yet bound in spirit with you, O God. Help us on our pilgrimage toward eternity. As we walk with you, fill us with hope that the whole world will see the light, for in your light alone can we find fullness of life. Protect us and bless us through your Spirit. Amen.
Third Sunday of Easter
Peter said to the people:
"The God of Abraham,
the God of Isaac, and the God of Jacob,
the God of our fathers, has glorified his servant Jesus,
whom you handed over and denied in Pilate's presence
when he had decided to release him.
You denied the Holy and Righteous One
and asked that a murderer be released to you.
The author of life you put to death,
but God raised him from the dead; of this we are witnesses.
Now I know, brothers,
that you acted out of ignorance, just as your leaders did;
but God has thus brought to fulfillment
what he had announced beforehand
through the mouth of all the prophets,
that his Christ would suffer.
Repent, therefore, and be converted, that your sins may be wiped away."
R. (7a) Lord, let your face shine on us.
or:
R. Alleluia.
When I call, answer me, O my just God,
you who relieve me when I am in distress;
have pity on me, and hear my prayer!
R. Lord, let your face shine on us.
or:
R. Alleluia.
Know that the LORD does wonders for his faithful one;
the LORD will hear me when I call upon him.
R. Lord, let your face shine on us.
or:
R. Alleluia.
O LORD, let the light of your countenance shine upon us!
You put gladness into my heart.
R. Lord, let your face shine on us.
or:
R. Alleluia.
As soon as I lie down, I fall peacefully asleep,
for you alone, O LORD,
bring security to my dwelling.
R. Lord, let your face shine on us.
or:
R. Alleluia.
My children, I am writing this to you
so that you may not commit sin.
But if anyone does sin, we have an Advocate with the Father,
Jesus Christ the righteous one.
He is expiation for our sins,
and not for our sins only but for those of the whole world.
The way we may be sure that we know him is to keep
his commandments.
Those who say, "I know him," but do not keep his commandments
are liars, and the truth is not in them.
But whoever keeps his word,
the love of God is truly perfected in him.
R. Alleluia, alleluia.
Lord Jesus, open the Scriptures to us;
make our hearts burn while you speak to us.
R. Alleluia, alleluia.
The two disciples recounted what had taken place on the way,
and how Jesus was made known to them
in the breaking of bread.
While they were still speaking about this,
he stood in their midst and said to them,
"Peace be with you."
But they were startled and terrified
and thought that they were seeing a ghost.
Then he said to them, "Why are you troubled?
And why do questions arise in your hearts?
Look at my hands and my feet, that it is I myself.
Touch me and see, because a ghost does not have flesh and bones
as you can see I have."
And as he said this,
he showed them his hands and his feet.
While they were still incredulous for joy and were amazed,
he asked them, "Have you anything here to eat?"
They gave him a piece of baked fish;
he took it and ate it in front of them.
He said to them,
"These are my words that I spoke to you while I was still with you,
that everything written about me in the law of Moses
and in the prophets and psalms must be fulfilled."
Then he opened their minds to understand the Scriptures.
And he said to them,
"Thus it is written that the Christ would suffer
and rise from the dead on the third day
and that repentance, for the forgiveness of sins,
would be preached in his name
to all the nations, beginning from Jerusalem.
You are witnesses of these things."
– – –
Lectionary for Mass for Use in the Dioceses of the United States, second typical edition, Copyright © 2001, 1998, 1997, 1986, 1970 Confraternity of Christian Doctrine; Psalm refrain © 1968, 1981, 1997, International Committee on English in the Liturgy, Inc. All rights reserved. Neither this work nor any part of it may be reproduced, distributed, performed or displayed in any medium, including electronic or digital, without permission in writing from the copyright owner.
As the number of disciples continued to grow,
the Hellenists complained against the Hebrews
because their widows
were being neglected in the daily distribution.
So the Twelve called together the community of the disciples and said,
"It is not right for us to neglect the word of God to serve at table.
Brothers, select from among you seven reputable men,
filled with the Spirit and wisdom,
whom we shall appoint to this task,
whereas we shall devote ourselves to prayer
and to the ministry of the word."
The proposal was acceptable to the whole community,
so they chose Stephen, a man filled with faith and the Holy Spirit,
also Philip, Prochorus, Nicanor, Timon, Parmenas,
and Nicholas of Antioch, a convert to Judaism.
They presented these men to the Apostles
who prayed and laid hands on them.
The word of God continued to spread,
and the number of the disciples in Jerusalem increased greatly;
even a large group of priests were becoming obedient to the faith.
R. (22) 
Lord, let your mercy be on us, as we place our trust in you.
or:
R. 
Alleluia.
Exult, you just, in the LORD;
praise from the upright is fitting.
Give thanks to the LORD on the harp;
with the ten-stringed lyre chant his praises.
R. 
Lord, let your mercy be on us, as we place our trust in you.
or:
R. 
Alleluia.
Upright is the word of the LORD,
and all his works are trustworthy.
He loves justice and right;
of the kindness of the LORD the earth is full.
R. 
Lord, let your mercy be on us, as we place our trust in you.
or:
R. 
Alleluia.
See, the eyes of the LORD are upon those who fear him,
upon those who hope for his kindness,
To deliver them from death
and preserve them in spite of famine.
R. 
Lord, let your mercy be on us, as we place our trust in you.
or:
R. 
Alleluia.
Alleluia
R. Alleluia, alleluia.
Christ is risen, who made all things;
he has shown mercy on all people.
R. Alleluia, alleluia.
When it was evening, the disciples of Jesus went down to the sea,
embarked in a boat, and went across the sea to Capernaum.
It had already grown dark, and Jesus had not yet come to them.
The sea was stirred up because a strong wind was blowing.
When they had rowed about three or four miles,
they saw Jesus walking on the sea and coming near the boat,
and they began to be afraid.
But he said to them, "It is I. Do not be afraid."
They wanted to take him into the boat,
but the boat immediately arrived at the shore
to which they were heading.
– – –
Lectionary for Mass for Use in the Dioceses of the United States, second typical edition, Copyright © 2001, 1998, 1997, 1986, 1970 Confraternity of Christian Doctrine; Psalm refrain © 1968, 1981, 1997, International Committee on English in the Liturgy, Inc. All rights reserved. Neither this work nor any part of it may be reproduced, distributed, performed or displayed in any medium, including electronic or digital, without permission in writing from the copyright owner.
St. Peter
"When they had finished breakfast, Jesus said to Simon Peter, 'Simon, son of John, do you love me more than these?' He said to him, 'Yes, Lord; you know that I love you.' Jesus said to him, 'Feed my lambs.' A second time he said to him, 'Simon, son of John, do you love me?' He said to him, 'Yes, Lord; you know that I love you.' Jesus said to him, 'Tend my sheep.' He said to him the third time, 'Simon, son of John, do you love me?' Peter felt hurt because he said to him the third time, 'Do you love me?' And he said to him, 'Lord, you know everything; you know that I love you.' Jesus said to him, 'Feed my sheep.'"
—John 21:15–17
Having denied Jesus three times—as the Lord had predicted at the Last Supper—Peter was given a chance to make things right. Jesus asked Peter three times if he loved him.
"Yes, Lord, you know that I love you," Peter answered each time. And a relationship that was damaged by his denial was re-established by his affirmation of love.
But Jesus wanted more than just words. "Feed my lambs, tend my sheep, and feed my sheep," Jesus told Peter. Jesus teaches me that love is more than just saying the words, "I love you." Peter had to enflesh his words with actions.
That is how I understand faith—it is the enfleshing of love. In Peter's case, his faith took the form of being the shepherd to the flock (that is, the early Church). And while I'm not called to the priesthood or religious life, I have a vocation that is just as important—that of a husband. I cannot simply tell my wife I love her. I have to live it. After all, anyone can say, "I love you." That requires no great sacrifice. But to feed and nourish another person—that requires a sacrifice that is truly Christlike.
Easter Action
The disciples are wise teachers during this Easter season. Reading the Gospels that celebrate the Resurrection of Jesus, I chuckle at people's responses as Jesus appeared to them or as they heard of the good news of Jesus appearing to their friends.
Mary Magdalene was "fearful yet overjoyed." (Matthew 28:1–10)
The disciples were "startled and terrified." (Luke 24:35–38)
Two disciples "went back and told the rest, but they did not believe them." (Mark 16:12–13)
My first reaction often echoes something along the lines of, "Come on, people! Don't you get that Jesus is right in front of you?! Don't you get that he rose from the dead?!"
This Easter season, however, I identify with the disciples and their responses in a new way. Our life is full of abundant signs of new life and reminders of the risen Christ working in our lives: new city, new job, new friends, new schools for the kids, new communities. However, I find myself "fearful, yet overjoyed," "startled and terrified," and "not believing" all the signs of new life around me.
There are days that despite the new life, I feel we are still in a Holy Saturday moment, caught between the grief of the transition and loss of our old life and the hope of new life. The disciples surely felt that way as they were overwhelmed with grief and loss, and suddenly new life was in front of them. Eventually, the disciples began to understand what the new life of Jesus rising from dead meant for them and for the world. I know that with a little help from God, we, too, will understand what the signs of new life mean for us.
I offer all of us this prayer when we attempt to embrace new life in front of us. I find it is a prayer that helps me name the loss of old life while holding, celebrating, and discerning the new life in front of me.
Holy Spirit, strengthen me in…
Holy Spirit, guide me in…
Holy Spirit, comfort me in…
Holy Spirit, enlighten me in…
Read Praying in Resurrection Joy by Chris Sullivan.
"'He has been raised from the dead, and indeed he is going ahead of you to Galilee; there you will see him.'…So they left the tomb quickly with fear and great joy…"
—Matthew 28:7–8
How perfectly Matthew captures the essence of our encounter with the empty tomb! We are fearful yet overjoyed. Through the season of Lent we were invited to unite our sufferings with the suffering of our Lord. The old self had to die, like the grain of wheat in the parable, so that it could yield a rich harvest (John 12:24). The Easter season is the time of reaping. Our tears turn to joy as we see that the stone has been rolled away, the tomb is empty, the wrappings of burial and death are left behind, the Master is risen, and he is inviting us to share his resurrected life.
But isn't it also true, as Matthew intimates, that our resurrection joy is tinged with a sort of fear? What does it mean for us to step out of the tombs in which we have been lain—or into which we may willingly have entered? What are the death wrappings we have discarded through our Lenten practices of almsgiving, fasting, and prayer? We may be tempted to look behind and grieve the loss of the old. But St. Paul in 2 Corinthians implores us to look ahead: "So if anyone is in Christ, there is a new creation: everything old has passed away; see, everything has become new!" (5:17). That is God's Easter promise to us!
Throughout the 50 days of the Easter season, we are invited to celebrate the reality of new creation in our own lives, our re-creation as the children of God, having moved through Baptism from death to new life in Christ. Even as we may fear entering into this new world, uncharted but for the fact that our Risen Lord goes always before us, how might we pray our resurrection joy?
Easter comes in the midst of spring. How can the new life rising out of the earth—green shoots and crocuses, lilies, and daffodils—inspire us to prayer? What newness is springing forth in your soul?
The Risen Christ bears in his resurrected body the scars of his crucifixion (John 20:27). We too may bear the scars of our former life of sin and death. We can ask the Lord in prayer to show us how he might use our scars to lead others to share in our trust that our God can make all things new.
How do you best experience a sense of praise and gratitude toward God? Do you feel called to sing and dance like David? To create works of art? To keep a gratitude journal? What is one practice you could continue or add to your life of prayer that celebrates the truth that God is renewing creation in you?
Four Attributes of a Life God Blesses
TGIF Today God Is First Volume 1 by Os Hillman
April 15, 2018
"So this is what the Sovereign Lord says: 'See, I lay a stone in Zion, a tested stone, a precious cornerstone for a sure foundation; the one who trusts will never be dismayed.'" – Isaiah 28:16
Whenever God calls us into a consecrated life, it is made up of four distinct stages. Christ often compared this process to building a house. First, we must prepare to build by laying a foundation. That foundation is none other than Jesus Christ Himself. Any foundation other than Christ will not stand.
Second, as we enter a walk of faith with God, He allows each of us to experience trials, testings, miracles, and challenges in life that are designed to provide "faith experiences" that demonstrate tangible evidences of His work in our life: Moses' burning-bush experience, Peter's walk on the water, Joshua's parting of the Jordan River. These experiences built the faith of these people. The depth and width of our calling is directly proportional to the faith experiences He allows in each of our lives. If God plans an international ministry with you, chances are you will experience a higher degree of faith experiences compared to another. The reason being, you will need to look on these to ensure your calling and provide testimony to His work in your life.
The third stage deals with motives. "All a man's ways seem innocent to him, but motives are weighed by the Lord" (Prov. 16:2). What is the motive behind my actions? Is it only financial accumulation? Is it to gain control? Is it to create independence? The primary motive must be God's leading you to take such an action – it must be obedience. These other factors must be by-products of the decision.
Finally, we are prepared to take action. Here we must ask, "Do we have the skill, quality, and ability to enter into this activity?" So often we have not trained ourselves adequately to be successful in our endeavor. You would never want someone working on your teeth who had not been trained and certified as a dentist.
Before you begin your next project, ask yourself these four questions. What is the foundation this project is based on? What experiences has God demonstrated in my life that indicate His involvement? What is my motive for entering this activity? Do I have the skill, quality, and ability to accomplish the task? Answering these questions will tell you whether God will bless your activity.
Verse of the Day
for Sunday, April 15, 2018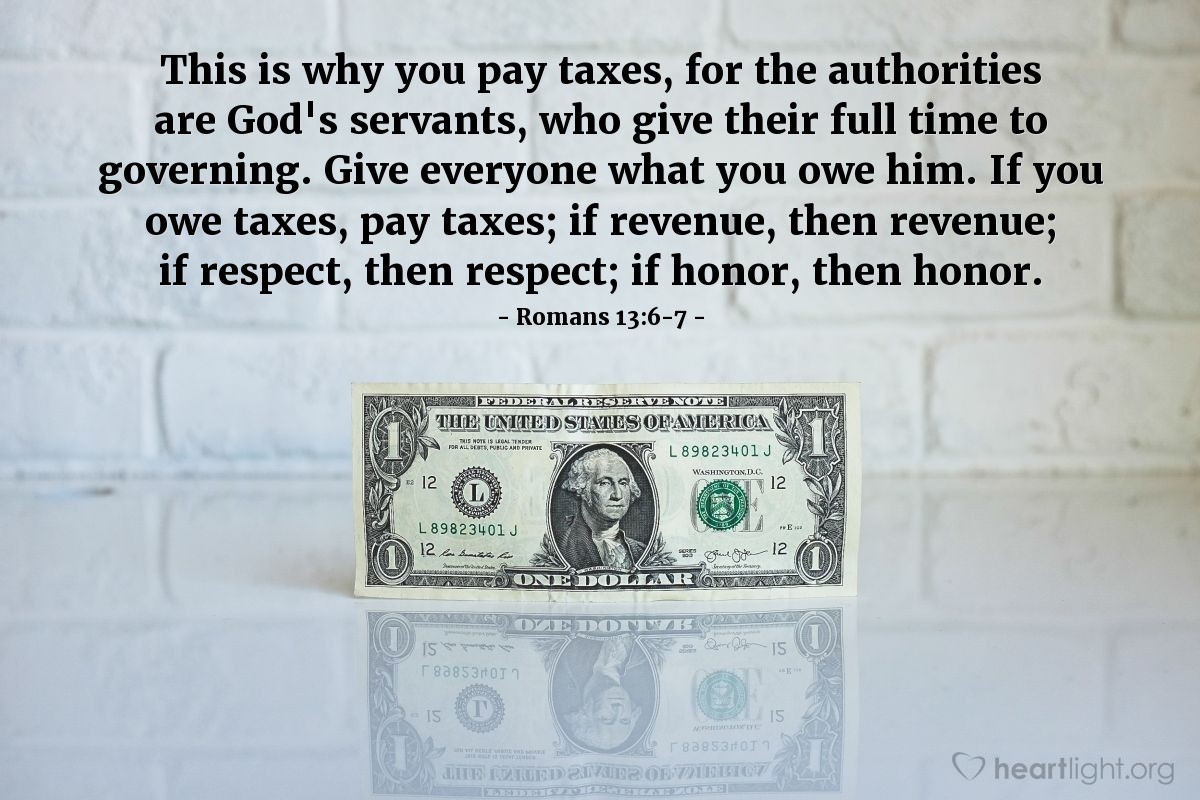 Thoughts on Today's Verse…
Owe! Tax day. Not my favorite, how about yours? But where would we be without government, order and laws. While we may not like how the system functions today, what if we had no system. Let's be redemptive in our living and obedient in our citizenship and ask God to bless our country and bring it revival.
My Prayer…
Holy God, I thank you that I am free in you and belong to no one and no power. Yet because I want your name to be respected, I will obey the laws of this land according to your will. At the same time, O Lord, I fervently pray that you will heal our land and bring our hearts back to you. In Jesus' name I pray. Amen.
A Prayer for a Thankful Heart
By Debbie Przybylski
My cup overflows with your blessings – Psalm 23:5
It is not easy to give thanks in every circumstance. But when we choose to thank God in the midst of difficulty, it defeats the forces of darkness in the spiritual realm. When we thank God for every gift He has given us even when things are hard, the enemy loses the battle against us. He is stopped in his tracks when we come to God with a thankful heart.
Learn to be thankful for every blessing from God in your life. It is of great significance to Him if in the midst of great trials, we can be thankful. There is a way of looking at life from the standpoint of eternity. The reality of eternal life and eternal glory that far exceeds this life is a priceless treasure. Our afflictions are working for us a far more exceeding and eternal weight of glory.
A Prayer for a Thankful Heart
Lord, teach me to offer you a heart of thanksgiving and praise in all my daily experiences of life. I long to bring pleasure to Your heart daily. Break the power of the enemy in my life. Defeat Him through my sacrifice of praise. Change my outlook and attitude into one of joyful contentment with my present circumstances. I thank You for… [Name a difficult circumstance in your life presently and thank God for it.]
Jesus, I want to be like You who obeyed the Father without complaint. You embraced the chains of humanity when You walked this earth. Convict me whenever I complain or compare myself with others. I know that Your truth dwells in a thankful heart.
'I will give thanks to the LORD because of His righteousness and will sing praise to the name of the LORD Most High. O LORD, our Lord, how majestic is your name in all the earth! You have set your glory above the heavens' (Psalm 7:17-18:1). In Jesus' Name, Amen."
Burdens or Blessings? Sunday, April 15th 2018
To the Chief Musician. To the tune of "Death of the Son." A Psalm of David. I will praise You, O Lord, with my whole heart; I will tell of all Your marvelous works.
NKJV
As we dig into Psalm 9 we see that it begins with "to the tune of 'Death of the Son'". Interestingly we see David speak of the praising of God and declaring His deeds among the people (Psalm 9:11) along with the declaration of His judgements 'The wicked shall be turned into hell' (Psalm 9:17). The heart of God for us is to be a strong witness to do good when evil seems to surround us. It is powerful to shine the light when it seems life is at its darkest. All you have to do is look to humanity's darkest moment at the death of God's son.
Matt 27:45-46
45 Now from the sixth hour until the ninth hour there was darkness over all the land. 46 And about the ninth hour Jesus cried out with a loud voice, saying, "Eli, Eli, lama sabachthani?" that is, "My God, My God, why have You forsaken Me?"
NKJV
Perhaps circumstances seem to be overwhelming you and the darkness makes you feel like the Lord has forsaken you. Take heart friend, for it's in those moments of darkness that the light shines it's brightest as you continue to press through and declare His goodness in Your life with all your heart. Remember the centurion at the cross saw Jesus at the crucifixion and said 'truly this was the Son of God!' (Matt 27:54). Don't let those moments of difficulty, sickness, a set back at work, or a squabble among your family keep you away from pursuing the promises of God. In these moments we may think why bother with going to church? Additional pressure may make you ponder why should I take time to pray and have devotions today? Friend it is in these tests and trials that those things we need to be consistent in with the Lord can seem like a burden, yet often those things that seem like a burden may be the very thing that is holding us up.
Life Lesson: The enemy wants us to see our blessings as burdens and wants you to see your burdens as blessings.
Lord,
Please forgive me when I am tempted to allow my feelings in dark circumstances to affect my choice to consistently pursue You. It's in that moment that I need to continue to choose to follow after You in spite of my feelings. Please help me to be empowered by Your Spirit to continue to pursue You, remember Your works, and praise You with all my heart. I pray in Jesus' name. Amen.
Living to tell what He died to say,
Pastor David McGee
Cross the Bridge
crossthebridge.com
Scripture quotations marked 'NKJV™' are taken from the New King James Version*.
Copyright (c) 1982 by Thomas Nelson, Inc. Used by permission. All rights reserved.
Scripture quotations marked (NLT) are taken from the Holy Bible, New Living Translation, copyright (c) 1996. Used by permission of Tyndale House Publishers, Inc., Wheaton, Illinois 60189. All rights reserved.
Copyright (c) 2018 Cross the Bridge.
Earning Your Way
For the wages of sin is death, but the gift of God is eternal life in Christ Jesus our Lord. – Romans 6:23
How many things can you think of in this world, that are "Free of Charge" . . . no strings attached? Not many! Perhaps that's why there are so many people trying to work their way into the Kingdom of God.
At a "Celebrity Roast" in Beverly Hills, California, long time comedian and actor Bob Hope was put on the "Hot Seat". Among the nearly 1,000 people in attendance, were many of Hope's long time friends and fellow entertainers from Hollywood's early days.
Bob Hope's wife, Delores, while reflecting upon the recent passing of two Hollywood legends, Gene Kelly and George Burns, said, "God must want us around for something. So many other wonderful people have gone and we are here. I guess maybe we haven't earned heaven yet." How many mistakenly believe that they can earn their way into heaven?
Accept the "Free Gift" of Salvation by asking Jesus to come into your heart and forgive you and your sins. If you've already taken that step, I challenge you to serve the Lord out of love and appreciation for the gift that he has given you.
"There are many things that are essential to arriving at true peace of mind, and one of the most important is faith, which cannot be acquired without prayer." – John Wooden (1910-    )
From The One Year Devotional Prayer Book by Johnny Hunt
Galatians 6:7 contains a near paraphrase of today's text: "Whatever a man sows, that he will also reap." These two verses reflect a deep truth: if we live and speak righteously, there will be four positive results.
The first is that the righteous man will not be "ensnared by the transgression of his lips." Lies always lead to entrapment. Once the truth is twisted, it will eventually have to be twisted again to cover the first lie. But no trap waits for those who are consistent with all they say.
Second, "the righteous will come through trouble." Once our way is committed to the Lord, He is committed to see us through any difficulty in our path. Proverbs 3:6 reminds us that if we acknowledge the Lord, "He shall direct [our] paths."
Third, the righteous man will be "satisfied with good by the fruit of his mouth." The greatest of all rewards is an upright and righteous character. Consequently, what is earned by truth telling is a righteous character that is the most valuable of possessions.
Lastly, the "recompense of a man's hands will be rendered to him." In other words, what goes around comes around. When we stand in judgment before Christ, our perfect Judge— and we soon shall—all that matters will be to hear Him say, "Well done, good and faithful servant" (Matthew 25:23). May we live in a way that is worthy of His approval!

What Jesus Did!

 'The Center of Scripture'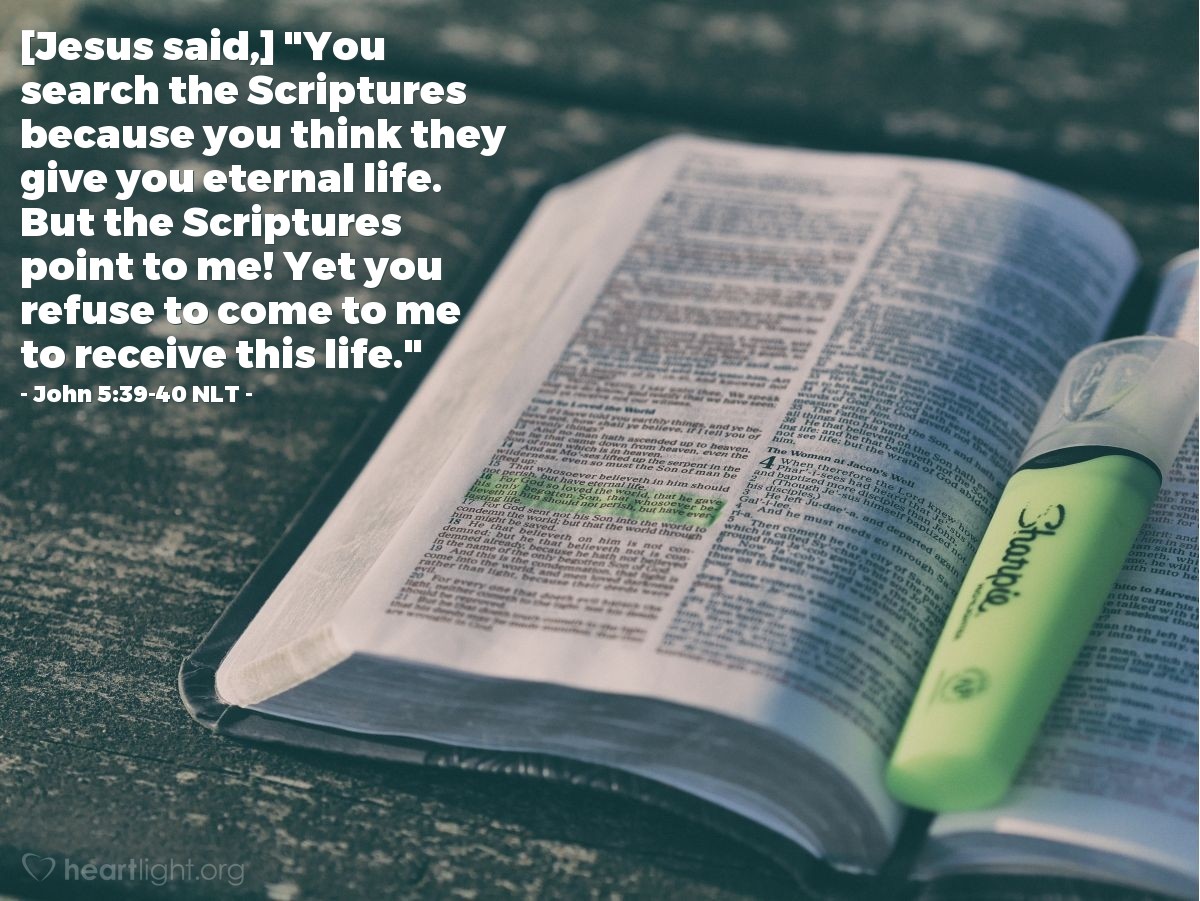 Key Thought
As important as the Scriptures are, Jesus is very much more important. He is the message to whom Scripture points. He is the key to unlock the message of God in the Bible. He is the reason the "Amen" can be spoken when Scripture is read. Jesus is the crucial, central, essential message around which Scripture turns. Why? Because he is God's greatest word (
Hebrews 1:1-3
). He is God with us, Immanuel (
Matthew 1:23
). He is God's message (
John 1:1
, 
14
). He gives life.
Today's Prayer
Thank you, O LORD God of Israel, for speaking through nature, Scripture, and experience. Thank you, most of all, for speaking so clearly and definitively in Jesus. Please open my heart and my mind to the message you want me to hear. In Jesus' name. Amen.
Related Scripture Readings
God's Holy Fire:

 'Led by the Spirit of God'
Key Thought
Parents lead their children till they are ready for life on their own. As we cry out to God as our 
"Abba, Father"
 (
Romans 8:15
), God leads us. We are his young children
, and we never outgrow our need for his leading
. He leads and guides us through the influence and work of the Holy Spirit. This is one reason why Jesus could promise his closest followers that he would not leave them as orphans when he went back to the Father. Instead, he promised to send them the Advocate — the Counselor, the Intercessor, the Comforter, The Helper — whom we know as the Holy Spirit (
John 14:16-18
). As God's dearly loved children, we can choose to follow the leading of the Holy Spirit, or we can rebel and live on our own. Life and peace, however, are found 
by living
 in step with the Spirit's leading (
Romans 8:6
). Rebellion and death are the results of living on our own without the Father's help (
Romans 6:23
; 
Romans 8:6-7
). The Father has demonstrated his love for us through the gift of his Son. The Son has promised to be with us through the Holy Spirit. So, let's listen for our Father's voice and follow our Father's heart by responding to the leading of the Holy Spirit!
Today's Prayer
O Father, you are righteous and holy, gracious and merciful. Thank you for claiming me as your child. Thank you for not leaving me alone, left only with my own power, as I try to live for you. I intentionally submit to the leadership of the Holy Spirit, knowing that the Spirit's presence in my life is a gift from your love to help me live as your beloved child. I thank you, in the name of Jesus my Lord. Amen.
Illustration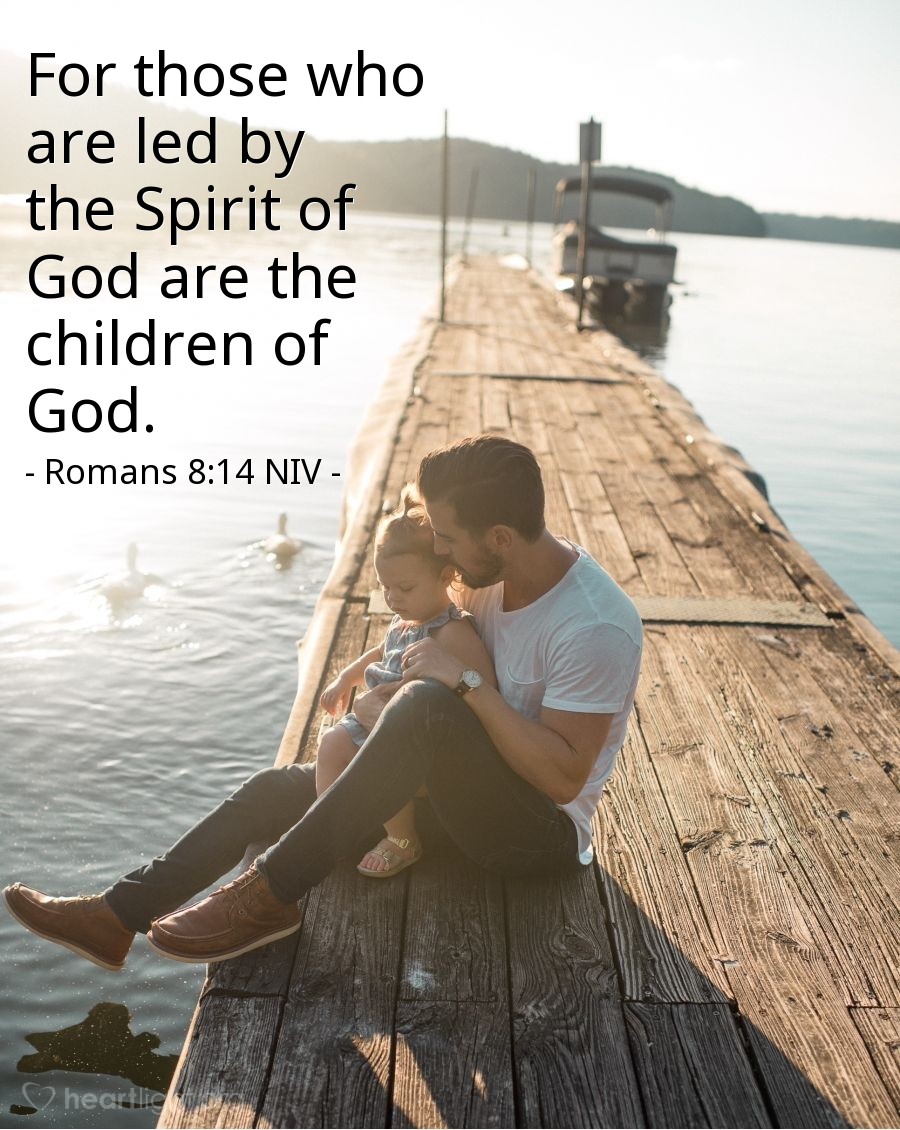 Daily Wisdom:

 Proverbs 15:3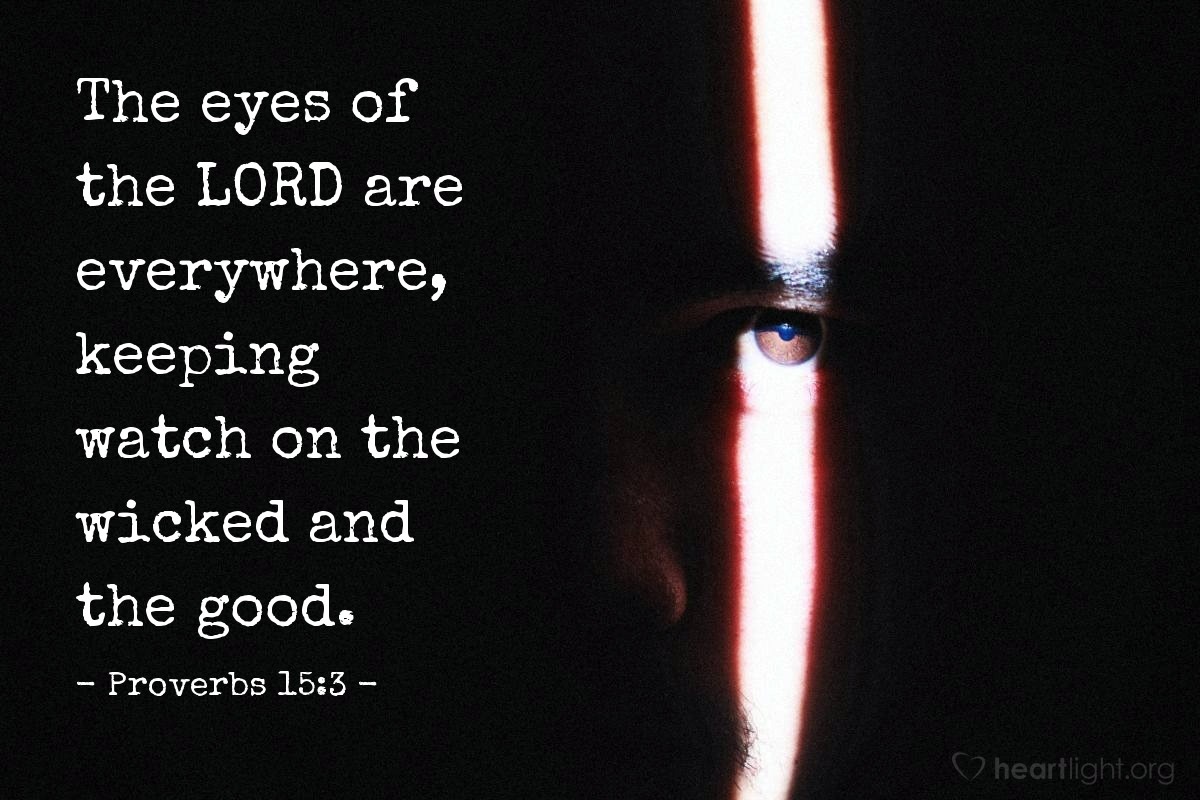 Passion for Praise:

 'Shout His Praise!'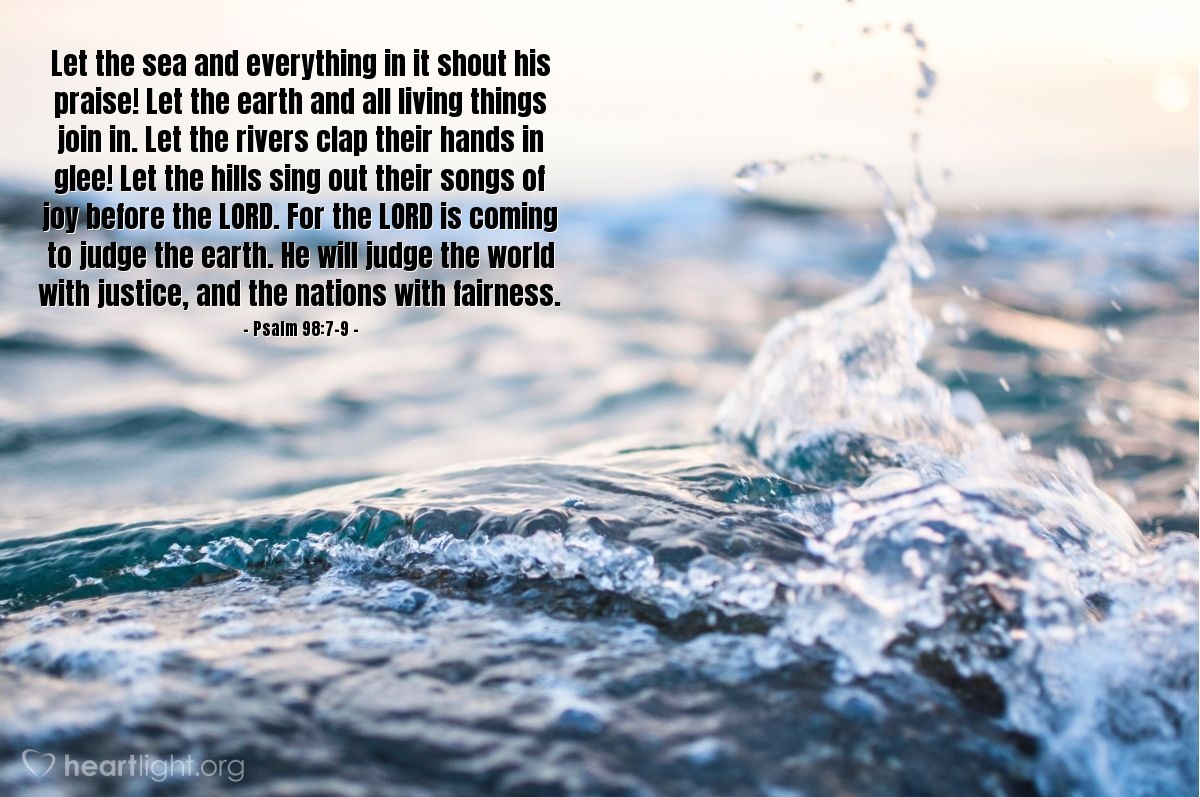 Praying with Paul:

 'Heeding Warnings'

Dear Father, righteous judge of all mankind,

Help me take to heart the examples of disobedience and punishment set by your ancient people as they wandered through the wilderness.

Although they were baptized into Moses in the cloud and the sea, and drank of the spiritual food and spiritual water, flowing backward through time from that spiritual Rock, which was Christ himself. In spite of all this, they got lost in the wilderness because they displeased you.

O Father, let me take to heart these warnings, and not desire anything evil, as they did, nor to worship idols, as they did, or to engage in immorality, as they did. May I never put you to the test or grumble about your providence, as they did.

In the name of Jesus grant me patience to persevere until the end. Amen.
Be their shepherd and carry them forever.
Isaiah 3:10
God's people need to be carried. They are very heavy by nature. They have no wings, or if they have, they are like the dove of old that lay among the pots; and they need divine grace to make them rise up on wings covered with silver and with feathers of yellow gold. By nature sparks fly upward, but the sinful souls of men fall downward.
O Lord, "carry them forever"! David himself said, "To you, O LORD, I lift up my soul,"1 and here he feels the necessity that other men's souls should be lifted up as well as his own. When you ask for this blessing, do not forget to seek it for others also.
There are three ways in which God's people require to be carried or lifted up. They require to be lifted up in character. Lift them up, Lord; do not allow Your people to be like the rest of the world! The world lies in the wicked one; lift them out of it! The world's people are looking for silver and gold, seeking their own pleasures and the gratification of their lusts; but, Lord, carry Your people up beyond all this; keep them from being "muck-rakers," as John Bunyan calls the man who was always scraping for gold! Set their hearts upon their risen Lord and the heavenly heritage!
Moreover, believers need to be carried in conflict. In the battle, if they seem to fall, Lord, be pleased to give them the victory. If the foot of the enemy is upon their necks for a moment, help them to grasp the sword of the Spirit and eventually to win the battle. Lord, lift up Your children's spirits in the day of conflict; do not let them sit in the dust, mourning forever. Do not allow the adversary to disturb their peace and make them fret; but if they have been, like Hannah, persecuted, let them sing of the mercy of a delivering God.
We may also ask our Lord to carry them at the last! Lift them up by taking them home; carry their bodies from the tomb, and raise their souls to Your eternal kingdom in glory.
Blessed Caesar de Bus
Saint of the Day for April 15
(February 3, 1544 – April 15, 1607)
Blessed Caesar de Bus' Story
Like so many of us, Caesar de Bus struggled with the decision about what to do with his life. After completing his Jesuit education he had difficulty settling between a military and a literary career. He wrote some plays but ultimately settled for life in the army and at court.
For a time, life was going rather smoothly for the engaging, well-to-do young Frenchman. He was confident he had made the right choice. That was until he saw firsthand the realities of battle, including the Saint Bartholomew's Day massacres of French Protestants in 1572.
He fell seriously ill and found himself reviewing his priorities, including his spiritual life. By the time he had recovered, Caesar had resolved to become a priest. Following his ordination in 1582, he undertook special pastoral work: teaching the catechism to ordinary people living in neglected, rural, out-of-the-way places. His efforts were badly needed and well received.
Working with his cousin, Caesar developed a program of family catechesis. The goal—to ward off heresy among the people—met the approval of local bishops. Out of these efforts grew a new religious congregation: the Fathers of Christian Doctrine.
One of Caesar's works, Instructions for the Family on the Four Parts of the Roman Catechism, was published 60 years after his death.
He was beatified in 1975.
---
Reflection
"Family catechesis" is a familiar term in parish life today. Grounded in the certainty that children learn their faith first from their parents, programs that deepen parental involvement in religious education multiply everywhere. There were no such programs in Caesar's day until he saw a need and created them. Other needs abound in our parishes, and it's up to us to respond by finding ways to fill them or by joining in already established efforts.
NATIONAL TAX DAY
2018 tax filing deadline is April 17.
April 15 of each year is National Tax Day.  In the United States, Tax Day is a term for the day on which individual income tax returns are due to the federal government. Tax Day may also refer to April 15 for state tax returns.
Federal income tax filing deadline is midnight on April 15th of every year with extensions occurring when the 15th lands on a Saturday, Sunday or a holiday. In those circumstances, the returns are due the first succeeding day that is not a Saturday, Sunday or a holiday.
These dates can differ depending on residence as well.  Some years, due to extenuating circumstances such as natural disasters larger extensions have been granted by the Federal Government.
HOW TO OBSERVE
Use #NationalTaxDay to post on social media.
HISTORY
Income tax was first collected in The Untied States in 1862 to fund the Civil War.  It was deemed unconstitutional due to not being apportioned with conformity across the states. The United States once again enacted income tax with the 16th Amendment in 1913. At that time, the filing deadline was March 1.  In 1918 the deadline was changed to March 15 and then in 1955 for the most recent change, the filing deadline was moved to April 15th.  The day has come to be known as Tax Day.
Well, Sunday and a cool, really cool, day……..and, not just with the weather………there's a definite "breeze" between me and my guy here……..I just wish I could come down with a sudden case of amnesia!  I think it may be the only way I can forget the hurt and pain that I still feel…………………….
I do way too much thinking!!!  I dwell on the past…..I regret what I've done…….I resent what's been done to me………I am hurt by how I was treated by people I love and who I thought at least accepted me…………….
That's what I need to learn…………I keep depending on my fella when I KNOW he's just a little boy in a man's body……….he has proven so many times that I may be the least important thing in his life……………
I'll keep trying, and praying……..