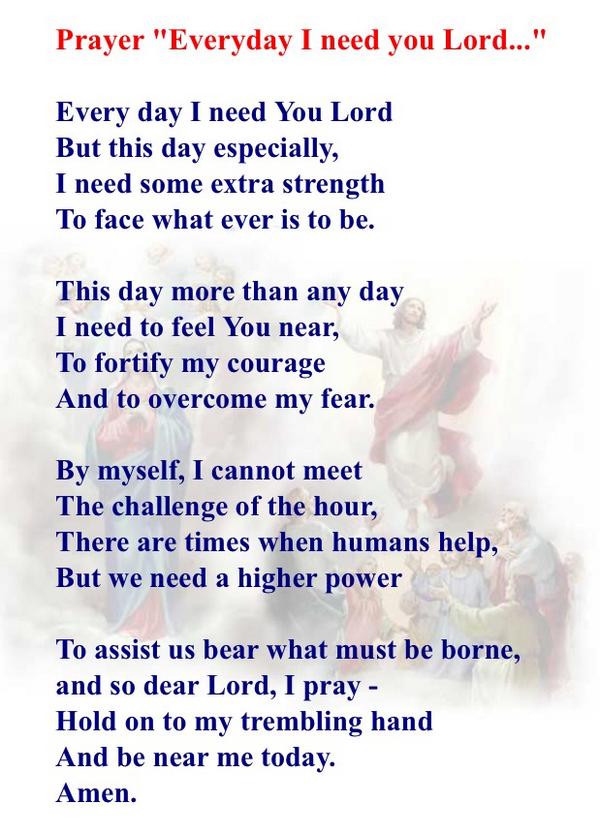 Christoph Friedrich Blumhardt
For none of us lives for ourselves alone, and none of us dies for ourselves alone. If we live, we live for the Lord; and if we die, we die for the Lord. So, whether we live or die, we belong to the Lord. For this very reason, Christ died and returned to life so that he might be the Lord of both the dead and the living. Romans 14:7-9, NIV
Lord God, unite us with Jesus Christ, the risen and living One. Unite us so that our lives are completely submerged in your will through Jesus Christ. Tear us loose from all that tries to bind us to earth. Make us free people who always lift their heads and look up because their redemption is approaching. Almighty God, we trust in you, however difficult the times may be. Remember all peoples, for it is your will to gather them into your kingdom. You, O God, are our refuge and our help. In you we trust until the end. Amen.
Verse of the Day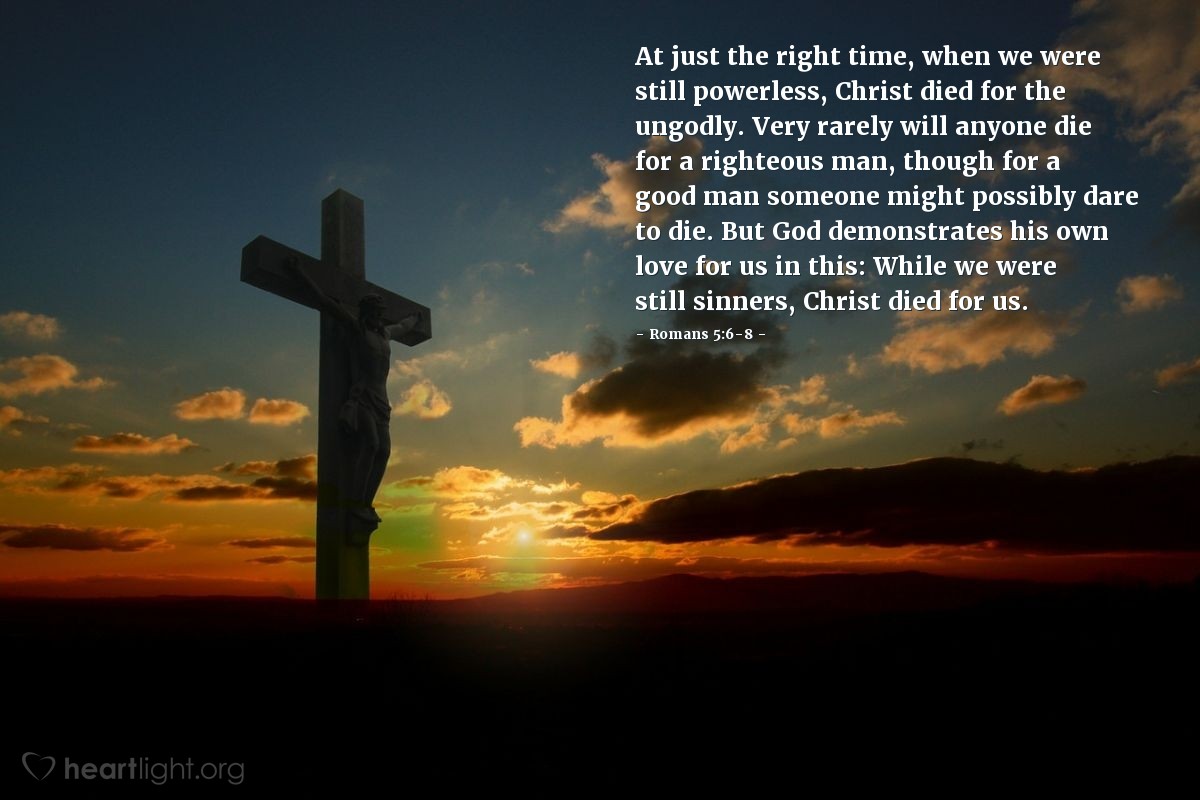 Thoughts on Today's Verse…
Jesus did not die for us because he had some high hopes for who we are or what we would be. No, he died for us because he knew exactly who we are and what we would be without him. Praise be to God; we are now God's righteousness because Jesus took our sin upon himself and gave us God's grace and righteousness in its place (2 Corinthians 5:17-21).
My Prayer…
Holy God, thank you for Jesus, my Savior. No words are adequate to express my love and devotion to you for such an incredible gift! Through him I give and live my thanks to you. Amen.
Tuesday of the Second Week of Easter
The community of believers was of one heart and mind,
and no one claimed that any of his possessions was his own,
but they had everything in common.
With great power the Apostles bore witness
to the resurrection of the Lord Jesus,
and great favor was accorded them all.
There was no needy person among them,
for those who owned property or houses would sell them,
bring the proceeds of the sale,
and put them at the feet of the Apostles,
and they were distributed to each according to need.
Thus Joseph, also named by the Apostles Barnabas
(which is translated Ason of encouragement"),
a Levite, a Cypriot by birth,
sold a piece of property that he owned,
then brought the money and put it at the feet of the Apostles.
R. (1a) 
The Lord is king; he is robed in majesty.
or:
R. 
Alleluia.
The LORD is king, in splendor robed;
robed is the LORD and girt about with strength.
R. 
The Lord is king; he is robed in majesty.
or:
R. 
Alleluia.
And he has made the world firm,
not to be moved.
Your throne stands firm from of old;
from everlasting you are, O LORD.
R. 
The Lord is king; he is robed in majesty.
or:
R. 
Alleluia.
Your decrees are worthy of trust indeed:
holiness befits your house,
O LORD, for length of days.
R. 
The Lord is king; he is robed in majesty.
or:
R. 
Alleluia.
R. Alleluia, alleluia.
The Son of Man must be lifted up,
so that everyone who believes in him
may have eternal life.
R. Alleluia, alleluia.
Jesus said to Nicodemus:
"'You must be born from above.'
The wind blows where it wills, and you can hear the sound it makes,
but you do not know where it comes from or where it goes;
so it is with everyone who is born of the Spirit."
Nicodemus answered and said to him,
'How can this happen?"
Jesus answered and said to him,
"You are the teacher of Israel and you do not understand this?
Amen, amen, I say to you,
we speak of what we know and we testify to what we have seen,
but you people do not accept our testimony.
If I tell you about earthly things and you do not believe,
how will you believe if I tell you about heavenly things?
No one has gone up to heaven
except the one who has come down from heaven, the Son of Man.
And just as Moses lifted up the serpent in the desert,
so must the Son of Man be lifted up,
so that everyone who believes in him may have eternal life."
– – –
Lectionary for Mass for Use in the Dioceses of the United States, second typical edition, Copyright © 2001, 1998, 1997, 1986, 1970 Confraternity of Christian Doctrine; Psalm refrain © 1968, 1981, 1997, International Committee on English in the Liturgy, Inc. All rights reserved. Neither this work nor any part of it may be reproduced, distributed, performed or displayed in any medium, including electronic or digital, without permission in writing from the copyright owner.
The LORD spoke to Ahaz, saying:
Ask for a sign from the LORD, your God;
let it be deep as the nether world, or high as the sky!
But Ahaz answered,
"I will not ask! I will not tempt the LORD!"
Then Isaiah said:
Listen, O house of David!
Is it not enough for you to weary people,
must you also weary my God?
Therefore the Lord himself will give you this sign:
the virgin shall be with child, and bear a son,
and shall name him Emmanuel,
which means "God is with us!"
R. (8a and 9a) Here I am, Lord; I come to do your will.
Sacrifice or oblation you wished not,
but ears open to obedience you gave me.
Holocausts or sin-offerings you sought not;
then said I, "Behold I come."
R. Here I am, Lord; I come to do your will.
"In the written scroll it is prescribed for me,
To do your will, O my God, is my delight,
and your law is within my heart!"
R. Here I am, Lord; I come to do your will.
I announced your justice in the vast assembly;
I did not restrain my lips, as you, O LORD, know.
R. Here I am, Lord; I come to do your will.
Your justice I kept not hid within my heart;
your faithfulness and your salvation I have spoken of;
I have made no secret of your kindness and your truth
in the vast assembly.
R. Here I am, Lord; I come to do your will.
Brothers and sisters:
It is impossible that the blood of bulls and goats
take away sins.
For this reason, when Christ came into the world, he said:
"Sacrifice and offering you did not desire,
but a body you prepared for me;
in holocausts and sin offerings you took no delight.
Then I said, 'As is written of me in the scroll,
behold, I come to do your will, O God.'"
First he says, "Sacrifices and offerings,
holocausts and sin offerings,
you neither desired nor delighted in."
These are offered according to the law.
Then he says, "Behold, I come to do your will."
He takes away the first to establish the second.
By this "will," we have been consecrated
through the offering of the Body of Jesus Christ once for all.
R. Alleluia, alleluia.
The Word of God became flesh and made his dwelling among us;
and we saw his glory.
R. Alleluia, alleluia.
The angel Gabriel was sent from God
to a town of Galilee called Nazareth,
to a virgin betrothed to a man named Joseph,
of the house of David,
and the virgin's name was Mary.
And coming to her, he said,
"Hail, full of grace! The Lord is with you."
But she was greatly troubled at what was said
and pondered what sort of greeting this might be.
Then the angel said to her,
"Do not be afraid, Mary,
for you have found favor with God.
Behold, you will conceive in your womb and bear a son,
and you shall name him Jesus.
He will be great and will be called Son of the Most High,
and the Lord God will give him the throne of David his father,
and he will rule over the house of Jacob forever,
and of his Kingdom there will be no end."
But Mary said to the angel,
"How can this be,
since I have no relations with a man?"
And the angel said to her in reply,
"The Holy Spirit will come upon you,
and the power of the Most High will overshadow you.
Therefore the child to be born
will be called holy, the Son of God.
And behold, Elizabeth, your relative,
has also conceived a son in her old age,
and this is the sixth month for her who was called barren;
for nothing will be impossible for God."
Mary said, "Behold, I am the handmaid of the Lord.
May it be done to me according to your word."
Then the angel departed from her.
– – –
Lectionary for Mass for Use in the Dioceses of the United States, second typical edition, Copyright © 2001, 1998, 1997, 1986, 1970 Confraternity of Christian Doctrine; Psalm refrain © 1968, 1981, 1997, International Committee on English in the Liturgy, Inc. All rights reserved. Neither this work nor any part of it may be reproduced, distributed, performed or displayed in any medium, including electronic or digital, without permission in writing from the copyright owner.
1866
ASPCA is founded
On April 10, 1866, the American Society for the Prevention of Cruelty to Animals (ASPCA) is founded in New York City by philanthropist and diplomat Henry Bergh, 54.
In 1863, Bergh had been appointed by President Abraham Lincoln to a diplomatic post at the Russian court of Czar Alexander II. It was there that he was horrified to witness work horses beaten by their peasant drivers. En route back to America, a June 1865 visit to the Royal Society for the Prevention of Cruelty to Animals in London awakened his determination to secure a charter not only to incorporate the ASPCA but to exercise the power to arrest and prosecute violators of the law.
Back in New York, Bergh pleaded on behalf of "these mute servants of mankind" at a February 8, 1866, meeting at Clinton Hall. He argued that protecting animals was an issue that crossed party lines and class boundaries. "This is a matter purely of conscience; it has no perplexing side issues," he said. "It is a moral question in all its aspects." The speech prompted a number of dignitaries to sign his "Declaration of the Rights of Animals."
Bergh's impassioned accounts of the horrors inflicted on animals convinced the New York State legislature to pass the charter incorporating the ASPCA on April 10, 1866. Nine days later, the first effective anti-cruelty law in the United States was passed, allowing the ASPCA to investigate complaints of animal cruelty and to make arrests.
Bergh was a hands-on reformer, becoming a familiar sight on the streets and in the courtrooms of New York. He regularly inspected slaughter houses, worked with police to close down dog- and rat-fighting pits and lectured in schools and to adult societies. In 1867, the ASPCA established and operated the nation's first ambulance for horses.
As the pioneer and innovator of the humane movement, the ASPCA quickly became the model for more than 25 other humane organizations in the United States and Canada. And by the time Bergh died in 1888, 37 of the 38 states in the Union had passed anti-cruelty laws.
Bergh's dramatic street rescues of mistreated horses and livestock served as a model for those trying to protect abused children. After Mary Ellen McCormack, 9, was found tied to a bed and brutally beaten by her foster parents in 1874, activists founded the New York Society for the Prevention of Cruelty to Children. Bergh served as one of the group's first vice presidents.
The Lord laid this powerful word on my heart recently. He has been sharing with me that when we entered into the New Year according to the Hebrew calendar on the 1st day of Nisan, March 17, we were being repositioned to see the fulfillment of what we had been declaring and decreeing over our lives. He began to share that we needed to pray, fast and give to be consecrated unto Him this week, so we would be ready to step into what He has for us on in this new time.
Consecrate Yourselves
This is similar to what He told Joshua when He spoke to Him about going into the Promised Land. He said in Joshua 3:5, "Consecrate yourselves, for tomorrow the Lord will perform wondrous deeds among you."
That meant to purify or sanctify yourself because God was about to advance His people's borders. When God says He is about to advance you or elevate you, there will be a time of consecration prior to that. I believe this is a week for preparation.
Earlier in Joshua, the officers instructed the people, "When you see the Ark of the Covenant of the Lord your God, and the Levitical priests carrying it, you are to move out from your positions and follow it. Then you will know which way to go, since you have never been this way before" (see Josh. 3:4).
This means we are to lift up our tent pegs and begin to move when God says "move." The Israelites needed instruction, as they had never been that way before. So it is with us. This way will be new, but we must begin to move as God leads. Just as the Israelites were led by the Ark of the Covenant, we have the Holy Spirit fire to lead us.
Later in Joshua 3:6-7, "Joshua said to the priests, 'Pick up the ark of the covenant, and proceed ahead of the people.' So they picked up the ark of the covenant and went in front of the people. The Lord said to Joshua, 'Today I will begin to honor you in the sight of all Israel, so that they may know that just as I was with Moses, so I will be with you.'"
The Lord is saying, "I will lead you to the place I have prepared for you." God must lead us before He exalts us as His people. He must be your guide before you step into your destiny. You must know that He is with you always, just as He was with Moses.
How Do We Consecrate Ourselves?
So, how do you consecrate yourself this week? Pray, fast and give. A threefold cord cannot be broken. Anytime God has moved me into a new position He required me to pray, fast and give. Let this be the week that you step into destiny by consecrating your heart to Him and Him alone.
Pray, fast and give and watch Him begin to move you into position. This is also exactly what He told the Israelites when He was moving them into Promised Land, and He sent an angel before them to take them into the place He prepared. In Exodus 23:20 it says, "Indeed, I am going to send an angel before you to guard you along the way and to bring you into the place which I have prepared."
Then He tells the Israelites that the place He is taking them to will have other gods, and He tells them to not bow down to the gods or worship them. He says in Exodus 23:25-26, "You shall serve the Lord your God, and He shall bless your bread and your water, and I will remove sickness from your midst. No one shall be miscarrying or be barren in your land. I will fulfill the number of your days."
You Will See Him Do Wonders
We must learn through this purification process that we are to worship the Lord our God and serve Him only, as He purifies you to take you into the place you are destined. You will find during the purification process that there are areas you do not worship the Lord your God and serve Him only. He promises you will not miscarry your dream and will have a full life span. We must worship and serve Him only.
Keep your eyes out this week and repent during prayer, fasting and giving, so those places in your heart where you are not serving Him and Him alone, will be exposed. This will be the ground that the enemy will try and wipe you out on when you get to your promised destiny. But if you allow God to purify you, you will be ready for the journey into your new land. Consecrate yourself as tomorrow you will see Him do wonders! 
Dr. Candice Smithyman is the founder of Dream Mentors International, a biblical life counseling and coaching educational organization that teaches and trains educators and coaches in the specialty of life coaching. She is also founder of the Glory Road show, where she hosts weekly interviews that are seen on internet TV, Facebook and her YOUTUBE channel. Her ministry website is available at candicesmithyman.comand dreammentors.org, where people people can become credentialed biblical or transformational life coaches and receive biblical and transformational life coaching for every area of their life. She is also co-founder of Freedom Destiny Church in Orange Park, Florida, along with her husband, Adam Smithyman, Sr. They have three married children.
"There are two kinds of pride, both good and bad. Good pride represents our dignity and self-respect. Bad pride is the deadly sin of superiority that reeks of conceit and arrogance."

—John Maxwell
Relationships are not win-lose.
For a large chunk of my life, I cared about winning. I expected to win at board games, bridge, bowling, tennis, collegiate debates, chess and probably even tiddly winks.
No win ever seemed to satisfy. While I wanted to beat my sister at games, I remember feeling bad that she didn't win. When I won forensic debates, I hoisted the trophy but witnessed images of despair in my opponents.
Along the way, tennis coaches scolded me after a loss, "Remember how this feels. You don't want to feel this way again do you?"
Honestly, coach, today, I feel just fine. I have good memories of the match and as I look over my shoulder, I remember losses more than I remember wins.
Relationships are built without the need of a scorecard.
My most cherished memories in tennis came in a summer of matches with Dr. Joe Iverstine. He was my statistics professor in a required MBA statistics class. In the summer of 1977, we played tennis three days a week at noon, in the heat and humidity of southeastern Louisiana.
We seemed evenly matched, but I think he won often. I didn't care. I loved spending time with him. He was one of the best teachers I knew throughout all of my college course work. I tried throughout my teaching career to model his art in the classroom.
Dr. Iverstine and his wife, Kay, were killed in the horrific Pan American plane crash in Kenner, Louisiana, in 1982. Flight 759 crashed one minute after take-off from New Orleans. When I heard the news of Joe's passing, my thoughts went to our times on the courts. I recalled how gentle he was with students and, though passionate about winning, he always rooted for me to win at tennis and in the classroom. He was tall and powerful but lived as one inferior to others.
Real loss happens when we lose people from our lives. When a love leader is taken from us by a career move or finally in death, perhaps it's just fine to feel a little good pride. It's an honor to learn, grow and pass on the legacy of godly leaders.
"A man who has friends must show himself friendly, and there is a friend who sticks closer than a brother" (Prov. 18:24).
Dr. Steve Greene is the publisher and executive vice president of the media group at Charisma Media and executive producer of the Charisma Podcast Network. His book, Love Leads: The Spiritual Connection Between Your Relationships and Productivity, released July 2017.
A Prayer for Guidance from the Holy Spirit
By Kenny Luck
And do not forget to do good and to share with others, for with such sacrifices God is pleased. – Hebrews 13:16
One of the Holy Spirits tasks is to experientially validate for every believer God's awesome love, acceptance, and encouragement toward each of His children. We "taste and see" that the Lord is good through the Holy Spirit, bringing his goodness to us (Psalm 34:8). We sense it and feel it deeply. We love how the Holy Spirit takes the intellectual concepts of love, mercy and grace of God and makes them practical and experiential.
The Holy Spirit's best work in people is seen in how He changes the way they relate to one another. You want the best part of your character displayed in your kids. It's when your positive qualities, ways, words, actions and encouragements are reproduced In your child's interactions with others that brings you joy. On the other hand, if they abuse, discourage and harm others with their way and words, you are grieved." That's not me," you protest. I think our waywardness has the same effect on the Holy Spirit.
The Holy Spirit heals relationships. He does this by lending and prompting all believers to show to others what God has shown them in the person of Jesus Christ. His point: you didn't deserve grace, but now that you have it, you better give it as liberally as you received it! If we don't the same thing grieve the Holy Spirit. Jesus aggressively illustrated His heart in the parable of the unmerciful servant. You feel the Holy Spirit's presence and you honor him when your character reveals the grace that Jesus has freely given you.
If you want more of the Spirit's presence in your life, to be more in touch with His leading, here is a prayer you can pray today:
Lord, I pray you would move the Spirit more boldly in my life. I know that any sin can grieve and diminish the voice of the Spirit, and I pray against the temptation to sin. Help me crave your presence more than I crave sin. Help me grow in the fruit of the Spirit and so walk closer with Yourself. I pray for guidance from your Spirit- let your will and promises always be a meditation of my heart. In Jesus' Name, Amen.
"IT'S GOING TO BE OKAY."
Five words can change your life. They can definitely sway you in the direction toward faith in the midst of a big storm, and they can feel like a life-size umbrella during a torrential down-pour of unfortunate events. You know what I'm talking about. Think back to the last struggle you had. Maybe you are in the midst of a huge struggle, and you feel like the word 'struggle' just doesn't do your suffering or the suffering of your loved one justice in its description.
Now, consider the people who commented or who are commenting on your struggle. There are people who will tell you that 'the men are like giants in the new land and you are the size of grasshopper' much like the story in Numbers:
Nu 13:27They gave Moses this account: "We went into the land to which you sent us, and it does flow with milk and honey! Here is its fruit. 
Nu 13:28But the people who live there are powerful, and the cities are fortified and very large. We even saw descendants of Anak there. 
Nu 13:29The Amalekites live in the Negev; the Hittites, Jebusites and Amorites live in the hill country; and the Canaanites live near the sea and along the Jordan."
Nu 13:30Then Caleb silenced the people before Moses and said, "We should go up and take possession of the land, for we can certainly do it."
Nu 13:31But the men who had gone up with him said, "We can't attack those people; they are stronger than we are." 
Nu 13:32And they spread among the Israelites a bad report about the land they had explored. They said, "The land we explored devours those living in it. All the people we saw there are of great size. 
Nu 13:33We saw the Nephilim there (the descendants of Anak come from the Nephilim). We seemed like grasshoppers in our own eyes, and we looked the same to them."
Now think back to the same situation, and ask the Lord to bring to your mind a face of someone who spoke to you in faith. The people who are in our lives like modern day Calebs, who tell us that we can surely do it (with God and God alone, of course), these are the ones who stand out like heroes to our hearts, aren't they?!
Essentially, the ones who speak in faith, who stand in the gap with us and for us, who offer to pray beyond any shadow of any doubt, until the doubt flees as far as the east is from the west, these are the people that God uses to transform us and the circumstances around us.
Jesus is the ultimate example of someone who always taught that it was going to be okay because it was all well with Him then, and it remains all okay with Him today!
I spilled a cup of coffee into my laptop three days before a huge research paper was due, and you know what God said to me?
"I don't have crises, and I don't expect you to have them either."
Rather than cry, I nearly laughed aloud! His words really made me reconsider my response. Essentially, the Holy Spirit was speaking loudly to my heart, but it seemed as if He was looking me straight in the eyes in the midst of my dilemma saying, "It's going to be okay."
Let us remember that all is well, and let us be of those with the feet that bring good news.
Scripture says, "Anyone who trusts in him will never be put to shame."
Ro 10:12For there is no difference between Jew and Gentile–the same Lord is Lord of all and richly blesses all who call on him, 
Ro 10:13for, "Everyone who calls on the name of the Lord will be saved."
Ro 10:14How, then, can they call on the one they have not believed in? And how can they believe in the one of whom they have not heard? And how can they hear without someone preaching to them? 
Ro 10:15And how can they preach unless they are sent? As it is written, "How beautiful are the feet of those who bring good news!"
Do you need to hear, "It's going to be okay"?  Do you know someone who needs to hear, "It's going to be okay"?
Kristina Seymour loves to encourage and equip women through the Word and through community. She is the author of The Warrior Mom Handbook, The Warrior Mom Leadership Manual, and The Warrior Wife Handbook; they are available at Amazon.com. Kristina's Bible studies are for women who desire to live by faith in the midst of their everyday lives. She has learned that women can't survive on caffeine and animal crackers alone; women in the Word and in community are united and able to stand firm. To learn more about Kristina, please visit her website, https://kristinaseymour.com/.
 God loves to share His story of love and grace through us all, and Kristina believes that everyone has a story to tell.
Secret Kindness
But when you give to the needy, do not let your left hand know what your right hand is doing, so that your giving may be in secret. Then your Father, who sees what is done in secret, will reward you. –  Matthew 6:3
Has someone ever done something special for you anonymously? Didn't it make you feel wonderful?
There was a doctor who had been practicing medicine for over 30 years in a small Arkansas town. He was called before the State Medical Board because it had been reported that the doctor kept no written records of his patients' medical histories. The doctor admitted that he kept all patient information in his head but avoided having his license revoked when it was discovered that he was the only doctor in the small town and treated most of his patients at no charge.
When was the last time you did something special for someone else without taking credit for the effort? You would be amazed at how something simple can be such a blessing, not only to the receiver, but also to you.
Make a habit of doing a secret kindness for someone each and every day. Not only will you be able to shed happiness on others, but you, too, will surely be blessed!
"You can't live a perfect day without doing something for someone who will never be able to repay you." – John Wooden (1910-    )
From Lead Serve Love by Gregory Lang
Calm troubled waters.
Live and encourage peaceful lives. Christ understood that for the gospel to be made known, believers must be peace-loving rather than quarrelsome so that those who had not yet heard the Word would listen rather than turn away. Don't participate in or encourage foolish and stupid arguments that lead to conflict rather than peace. Calm troubled waters.

What Jesus Did!

 'The Grand Consultant'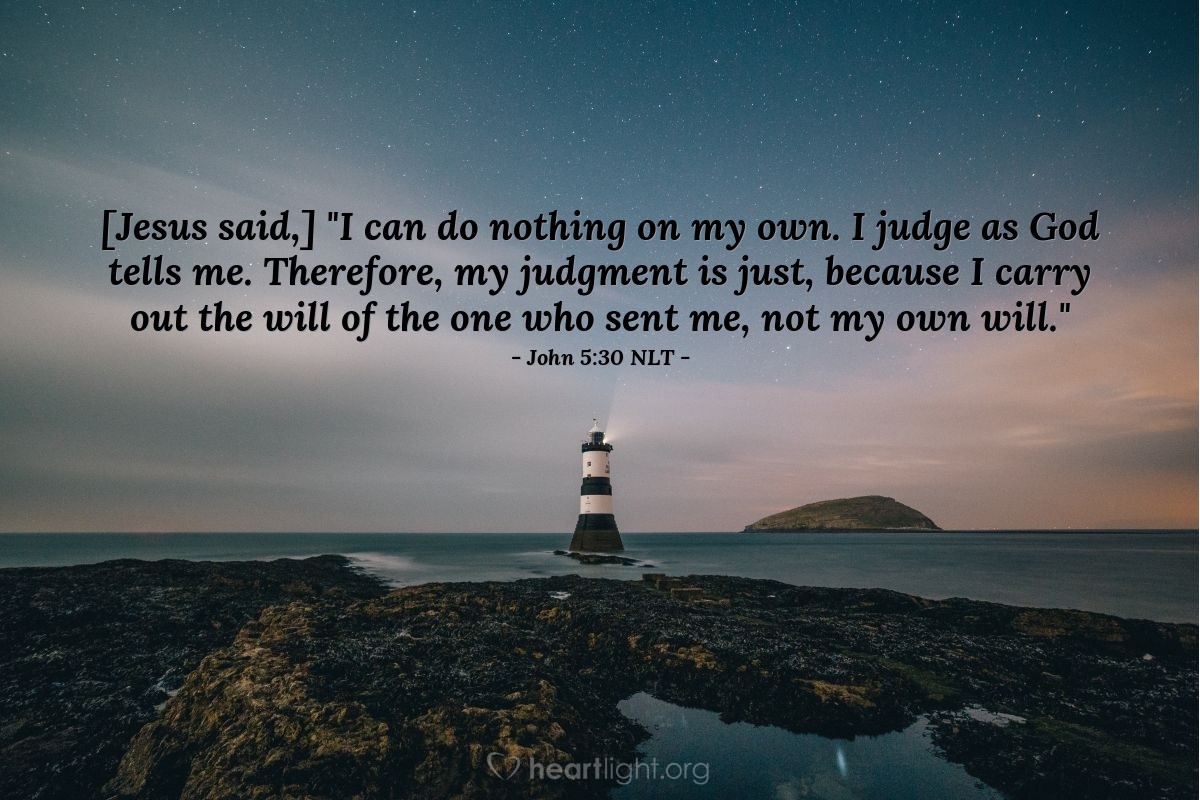 Key Thought
When businesses or key business leaders get in a bind or try to decide about strategic opportunities, they hire a consultant. They use a consultant to help them sort through the issues, avoid making careless mistakes, and make the best decisions. Jesus consistently used this same strategy in his ministry. However, Jesus used only one consultant, the Grand Consultant, his Father. Incredibly, Jesus taught us to use this same Consultant as well. So as you face tough decisions or questions about what you need to do, why not follow the example of your Savior? Spend time consistently with the Grand Consultant!
Today's Prayer
Father, the all-wise and all-knowing Creator, please give me wisdom. I face decisions, and I need your help. I have opportunities placed before me, and I need your guidance. I have blind spots in my perception, and I need your truth. Help me know the way I am to go and the things I need to do to live victoriously and to honor you fully. In Jesus' name, I pray. Amen.
Related Scripture Readings
Daily Wisdom:

 Proverbs 6:6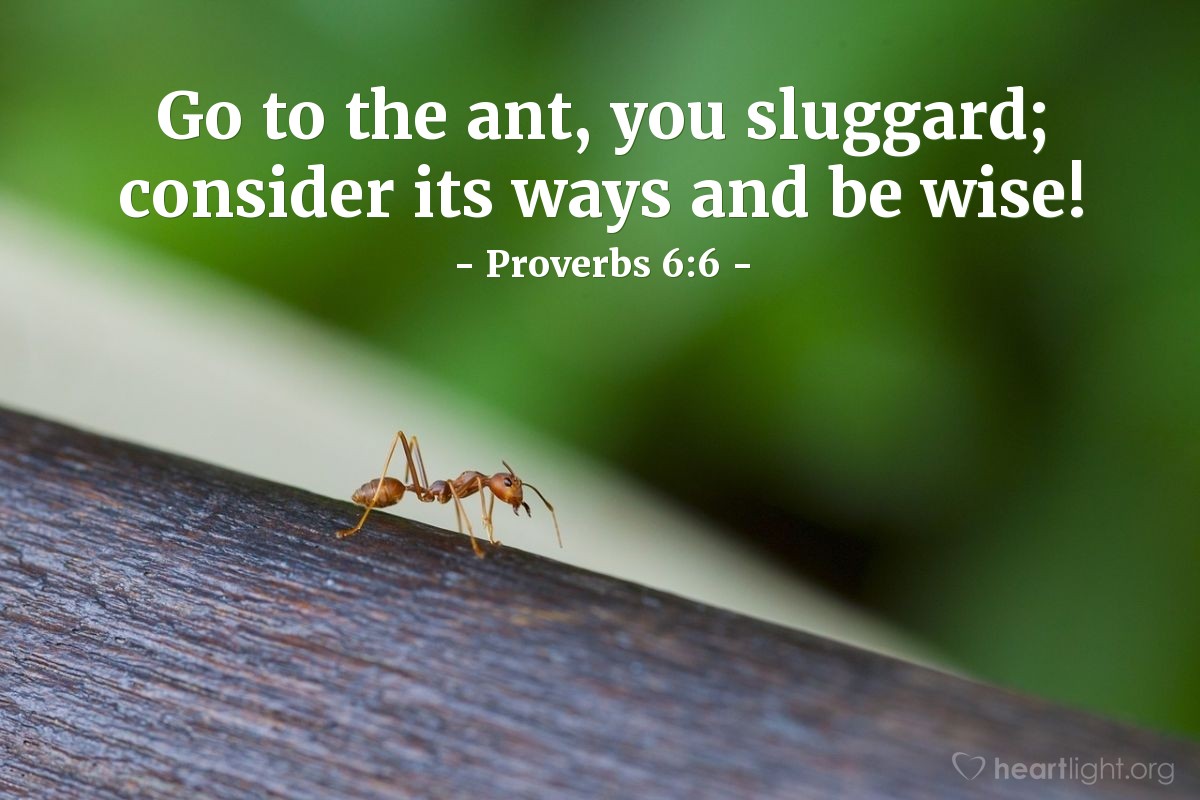 Passion for Praise:

 'Sing!'
Praying with Paul:

 'Love above Knowledge'

Dear Father, the one real and only God,

Give me more love and humility than knowledge, for "Knowledge puffs up but love builds up."

People know lots of things, but they let it go to their heads. Help me, Father, never to imagine that I know everything, because I know that I do not yet know as I ought to know. What I want is to love you as I should, for if I love you, then I am loved and known by you. All the things that men and women pursue, O God, seem to have no real existence when compared to you. There is no God but you, the one God.

The world is full of "gods." But for us Christians there is just one God, you, from whom all things come and for whom they exist, and there is just one Lord, the Lord Jesus Christ, through whom are all things and through whom we exist.

In the name of Jesus and by his authority I ask these things according to his will. Amen.
For this very night there stood before me an angel of the God to whom I belong. Acts 27:23
Storms and darkness, combined with imminent risk of shipwreck, had brought the crew of the vessel into a sorry predicament; only one man among them remained perfectly calm, and by his word the rest were reassured. Paul was the only man who had enough heart to say, "I urge you to take heart." There were veteran Roman soldiers on board, and brave sailors, but their poor Jewish prisoner had more spirit than all of them. He had a secret Friend who kept his courage up. The Lord Jesus sent a heavenly messenger to whisper words of comfort in Paul's ear, and as a result his face shone, and he spoke like a man at ease.
If we fear the Lord, we may look for His timely intervention when our case is at its worst. Angels are not kept from us by storms or hindered by darkness. Seraphs do not think it is beneath them to visit the poorest of the heavenly family. If angels' visits are few and far between at ordinary times, they will be frequent in our nights of tempest and storm. Friends may leave us when we are under pressure, but our awareness of the members of the angelic world will be far more apparent. Strengthened by loving words brought to us from the throne via Jacob's ladder, we will be able to do daring feats.
Dear reader, are you facing an hour of distress? Then ask for particular help. Jesus is the angel of the covenant, and if you earnestly seek His presence, it will not be denied. The encouragement which that presence brings will be remembered by those who, like Paul, have had the angel of God standing by them in a night of storm, when anchors slipped and shipwreck threatened.
O angel of my God, be near,
Amid the darkness hush my fear;
Loud roars the wild tempestuous sea,
Thy presence, Lord, shall comfort me.
Today's Scripture
"There is a time for everything, a season for every activity under heaven. A time to be born and a time to die. A time to plant and a time to harvest." Ecclesiastes 3:1-2 NLT
Thoughts for Today
Human life has a natural cycle that has existed since the time of Adam and Eve. It is wise to recognize the seasons of life – including aging and death – and to gracefully accept their effect on us.
During our lives, circumstances are always changing. When these changes are beyond our control, we must graciously accept what comes our way. Whether the season is pleasant or painful, it is good to remember that none of these seasons is permanent.
The true person we are, the inner person, can grow stronger even while our physical person is wasting away. The time we spend in physical discomfort in these bodies is nothing compared to the eternity we will spend in perfect wholeness in God's presence.
Consider this . . .
Be encouraged by these words of the apostle Paul: "Therefore we do not lose heart. Though outwardly we are wasting away, yet inwardly we are being renewed day by day. For our light and momentary troubles are achieving for us an eternal glory that far outweighs them all. So we fix our eyes not on what is seen, but on what is unseen. For what is seen is temporary, but what is unseen is eternal." 2 Corinthians 4:16-18 NIV
Prayer
Father, guide me through the seasons of life and help me trust you through each one. Help my parents ,and me, to have an eternal perspective. In Jesus' name…
Planning for Success
TGIF Today God Is First Volume 1 by Os Hillman
April 10, 2018
"I know, O Lord, that a man's life is not his own; it is not for man to direct his steps." – Jeremiah 10:23
In business I hear a lot about planning. Every January I hear workplace believers establishing their planning for the year. Corporations establish plans that cover anywhere from one to five years. Individuals establish personal life plans. There is only one problem that I see with most planning done by well-meaning believers. If God is not the originator and director of the plan, then that plan is doomed for failure. So often, Christian workplace believers set out to plan something that seems good in their own mind. The merits of what is being planned can look great, and it can even be a worthy endeavor. However, that is not the point. When Jesus said He came only to do the will of the Father, He could not consider doing anything that was not what the Father wanted, no matter how good or righteous it might appear to be.
"In his heart a man plans his course, but the Lord determines his steps" (Prov. 16:9). God must give us the vision for what He calls us to do. After we have the vision, we must ask Him if He wants us to take action on that vision and what the action steps entail. The Lord wants to direct each step of the planning process. David learned this lesson when he went to battle against his enemy, the Philistines. One day he inquired of God as to whether he was to go up against the Philistines, and the Lord said, "Yes, but only when you hear the marching in the balsam trees." It is a mistake to reason and analyze in order to come to a decision on a matter. The Lord already knows the answer. It is our responsibility to seek Him to find out His mind on the matter. Our planning must be established in Him. Only when we remain so connected to the source can we be assured of putting God's plan into place. Also, getting that plan confirmed through others will assure that we are not following the deceit of our own heart.
When you begin to plan next time, ask God for His wisdom for establishing the vision and action steps. You will be surprised how well He can plan.
NATIONAL SIBLINGS DAY
National Siblings Day (also referred to as Sibling Day) is observed on April 10.  It is a day created to honor our brothers and our sisters.
HOW TO OBSERVE
Spend some time with your sibling(s).  Enjoy looking at photos and videos of time spent with your sibling(s).   Listen to the 35 Best Sister Songs.  Use #NationalSiblingsDay to post on social media.
HISTORY
National Siblings Day was founded by native New Yorker, Claudia Evart in 1995 to honor and celebrate siblings.  After losing her two siblings early in life in separate accidents, she knew how important siblings could be in our lives.
Claudia created the Siblings Day Foundation (SDF), a tax-exempt organization, whose goals included the establishment of National Siblings Day.  Claudia selected April 10 in honor of her late sister, Lisette's birthday.  Visit the website for more National Siblings Day information at  http://www.siblingsday.org/.
Stay blessed!!!