TODAY'S DAILY PRAYER
Solemnity of the Annunciation of the Lord
– – –
Lectionary for Mass for Use in the Dioceses of the United States, second typical edition, Copyright © 2001, 1998, 1997, 1986, 1970 Confraternity of Christian Doctrine; Psalm refrain © 1968, 1981, 1997, International Committee on English in the Liturgy, Inc. All rights reserved. Neither this work nor any part of it may be reproduced, distributed, performed or displayed in any medium, including electronic or digital, without permission in writing from the copyright owner.
– – –
Lectionary for Mass for Use in the Dioceses of the United States, second typical edition, Copyright © 2001, 1998, 1997, 1986, 1970 Confraternity of Christian Doctrine; Psalm refrain © 1968, 1981, 1997, International Committee on English in the Liturgy, Inc. All rights reserved. Neither this work nor any part of it may be reproduced, distributed, performed or displayed in any medium, including electronic or digital, without permission in writing from the copyright owner.
Verse of the Day
for Monday, April 9, 2018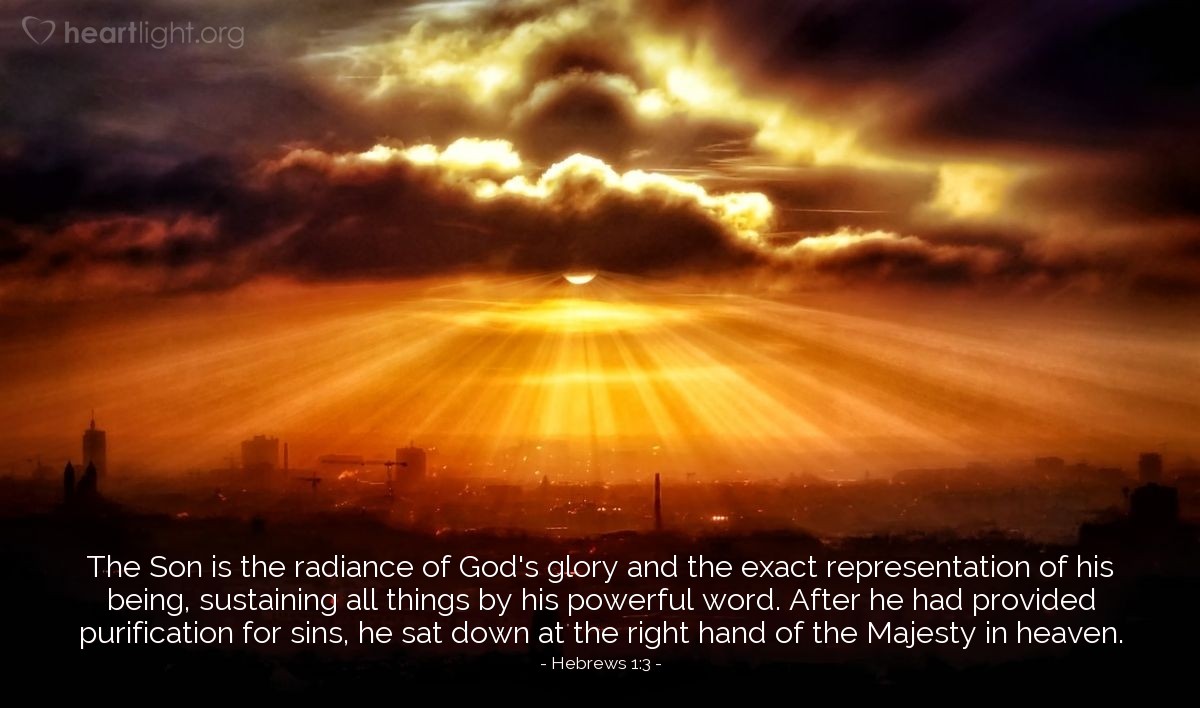 What Do You Say To A Grieving Friend Or Family Member?
Everyone that I know has endured a time of grief, so what do you say to a grieving friend when they've experienced a great loss in their life?
Life and Death
Dying is part of living. All things that are born will live and then die, and no one knows exactly when that end will come in most cases. Being human is 100% fatal. Death comes to all (unless Christ appears first), and at best, we can only guess, so what happens when someone is taken away by tragedy or disease, and suddenly you're left speechless before your friend or family member? What do you say to someone who's lost a loved one? Sometimes the best thing to say is nothing at all, only telling them you're sorry for their loss, so if you have a friend or family member who's going through a time of grief right now, please share some of these Bible verses with them in order to give them some comfort. One of the most powerful and comforting verses to share with someone is Revelation 21:3-4 where the Apostle John wrote, "I heard a loud voice from the throne saying, Behold, the dwelling place of God is with man. He will dwell with them, and they will be his people, and God himself will be with them as their God. He will wipe away every tear from their eyes, and death shall be no more, neither shall there be mourning, nor crying, nor pain anymore, for the former things have passed away." That means death will be vanquished forever, and when the saint of God dies, they will live again, according to Jesus' own promise to all who believe (John 11:25-26).
Recently, I had a prophetic dream, and it was very simple but very significant. In the dream, I was in a huge field. Morning dew was covering the field. I could tell it was very early morning because the sun was just starting to rise. As the sun began to rise, I was overwhelmed by the beauty of it. It was the prettiest sunrise I have ever seen. The vibrant colors, the oranges and reds and yellows filled the sky and it was so beautiful. Then the Lord began to speak and said, "A new day is dawning." And there was a pause and I thought the Lord meant right now. But then the Lord spoke and said, "A new day is dawning at the end of April."
A week before this, the Lord had instructed me to set aside the month of April to seek Him to a higher degree. I felt the Lord calling me to season of special prayer and fasting during the month of April. The Lord continued to speak to me about doing specific spiritual things in the month of April but also to do some physical things. So as I have been seeking the Lord, preparing for the month of April, this dream excited me to a whole new level.
I felt the Lord say, "This word is for the body of Christ." I then remembered several words the Lord spoke to me last September and November about the first four months of 2018. The Lord kept telling me that this season would be a time where He would launch many people and many would experience new dimensions of favor and of His Spirit.
I feel what is coming at the end of April is not just a small season God is setting us up for years of life, planning, strategy and vision. The Lord was reminding me of many of my favorite Scriptures that promise that those who diligently seek Him will find Him. Through this the Lord has already been showing me strategies for so many different things. Just a few mornings ago, I woke up extremely excited. I shared two visions that I had for different things with my wife. We have already started implementing these new things just from things the Lord revealed to us just a few days ago.
What the Lord does within us during the month of April will cause Him to do something through us after that. It even says in Ephesians that God wants to do a powerful work in us so He can do it through us. In the month of April, diligently seek the Lord. Spend extra time in fasting and prayer. Dig deep into the Word. Make sure to connect with your prophets and apostles and allow them to speak into your life.
This is going to be a season of divine strategy and divine outpouring of the Holy Spirit. What God is about to in your life is powerful. Many have had dreams and visions for different things in past seasons but lacked the knowledge and strategy to move forward with them. This season, God is releasing those strategies to you so that you can go onto your next level, your next assignment and do whatever the Lord has for you.
New days are dawning! There is a new day dawning in your life. Look up! Night is over. This is your season. There is an acceleration from the Lord coming to you. I challenge you, get ready for April because God is about to show up in a great and mighty way. Seeking the Lord in the month of April is key to unlocking what is coming as this new day dawns for the body of Christ. 
Joe Joe Dawsonis the founder and apostle of ROAR Apostolic Network and ROAR Church Texarkana. Joe Joe is married to the love of his life, Autumn Dawson, and they have three children, Malachi, Judah and Ezra. The Dawsons live and teach a lifestyle of revival and awakening. Their desire is to see every believer fulfill their God-given destiny and live life to the fullest in God. Joe Joe is also the author of Living Your God-Sized Dream and Recipe for Revival. To connect with Joe Joe or for more information, visitjoejoedawson.net.
A  Prayer for Forgiving Others
By Rick Warren
"We know that our old life died with Christ on the cross so that our sinful selves would have no power over us." -Romans 6:6a, NCV
Romans 6:6 says, "We know that our old life died with Christ on the cross so that our sinful selves would have no power over us" (NCV). What does "our sinful selves would have no power over us" mean? It means our natural inclination is to do the wrong thing.
My natural inclination when you hurt me is to hurt you back. My natural inclination when you say something bad against me is say something bad against you and hold on to it and never forgive you. All of the things that I'm naturally inclined to do actually make it worse.
But we can break that bondage to bitterness, that bondage to guilt, that bondage to resentment, that bondage to worry. We can keep from becoming slaves to the past and hurtful memories. We can choose to forgive.
The cross has the power to free you from grudges and grief and resentment. There is no other way to let go of these emotions that are weighing you down than the cross. Jesus on the cross broke the power of sin and death and bondage in your life.
I want you to think of the person you need to forgive, the person whose offense planted a seed of bitterness in you, and I want you to pray this prayer right now:
Father, only you understand how much I've been hurt by this person. I don't want to carry the pain for another second. I don't want to be a bitter person. But I need your grace and the power of the cross to release my hurt and to forgive those who've hurt me. This is the turning point. First, I need to experience your forgiveness. You know all the ways I've hurt others, and I'm so sorry for my sins. Jesus, thank you for dying for me. I accept your grace and forgiveness, and I need it daily. Today I'm turning to you, and I'm choosing to forgive the way you have forgiven me. Every time the memory comes back, I'll forgive that person again until the pain is gone. Heal my heart with your grace. In Jesus' name. Amen.
Curious, Convinced, or Committed?
This beginning of signs Jesus did in Cana of Galilee, and manifested His glory; and His disciples believed in Him. – (John 2:11)
When Christ walked our planet, He spent a lot of time with twelve handpicked disciples. In Matthew 5:1-2 we read, "And seeing the multitudes, He went up on a mountain, and when He was seated His disciples came to Him. Then He opened His mouth and taught them" (nkjv). After that came the Sermon on the Mount, which was given to His disciples who had gathered around Him. Jesus took time for His disciples. He spent time with them.
The word disciple means "a learner." If you're a disciple of Jesus, then you're a learner. You're someone who is listening and processing. These disciples listened to Jesus and followed Him.
Dwight Pentecost used three words to describe the different phases of where people are spiritually: curious, convinced, and committed.
During Jesus' earthly ministry, He had a lot of curious people gather around him, especially when He performed a miracle like multiplying the loaves and fish. A free lunch? Now we're talking. Jesus would show up, and the crowds would show up. They listened to Him, but it didn't impact them for the most part.
Then there are the convinced. These people aren't impacted personally by what they hear, but they give intellectual assent to it, which is an important step. For example, we read that the first miracle Jesus did was turn water into wine in Cana of Galilee. John 2:11 tells us, "This beginning of signs Jesus did in Cana of Galilee, and manifested His glory; and His disciples believed in Him" (nkjv). The disciples had gone from curious to convinced. They were so convinced that they were starting to follow Him. But at that point, after that miracle, they went from convinced to committed.
Which of these categories best describes you? Have you gone from curious to committed?
Copyright (c) 2018 by Harvest Ministries. All rights reserved.
Social media summary: Curious, convinced, or committed: Which one describes you?
Do Your Homework
Even a child is known by his actions, by whether his conduct is pure and right. – Proverbs 20:11
From Dear Jesus by Sarah Young
I am always before you, beckoning you on—one step at a time. Neither height nor depth, nor anything else in all creation, can separate you from My loving Presence.
Dear Jesus,
I want to live my life focused on Your Presence in the present. I believe You are always before me, leading and encouraging me, but I need to live out of that reality moment by moment. My mind tends to leap over the present moment to the next task, ignoring the one that is before me and the One who is before me. During rare times when I am able to stay focused on You, my work is infused with Your Presence. It is no longer laborious but delightful: more like play than work.
Beloved,
Living in collaboration with Me can be a foretaste of heaven. It is wonderful, though not easy: It requires a level of spiritual and mental concentration that is extremely challenging. In the Psalms, David wrote about this collaborative way of living, declaring that he had set Me always before him. As a shepherd, he had plenty of time to seek My Face and enjoy My Presence. He discovered the beauty of days lived with Me always before him—and beside him. I am training you to live this way too. This endeavor requires more persistent effort than anything else you have attempted. Yet, rather than detracting from your other activities, it fills them with vibrant Life.
Whatever you do, do it for Me—with Me, through Me, in Me. Even menial tasks glow with the Joy of My Presence when you do them for Me. Ultimately, nothing will be able to separate you from Me. So this you-and-Itogether venture can continue throughout eternity.
For I am convinced that neither death nor life, neither angels nor demons, neither the present nor the future, nor any powers, neither height nor depth, nor anything else in all creation, will be able to separate us from the love of God that is in Christ Jesus our Lord. – Romans 8:38–39
I have set the LORD always before me. Because he is at my right hand, I will not be shaken. – Psalm 16:8
And whatever you do, do it heartily, as to the Lord and not to men, knowing that from the Lord you will receive the reward of the inheritance; for you serve the Lord Christ. – Colossians 3:23-24NKJV

What Jesus Did!

 'They Will Hear and Rise Again!'

[Jesus said,] "Don't be so surprised! Indeed, the time is coming when all the dead in their graves will hear the voice of God's Son, and they will rise again. Those who have done good will rise to experience eternal life, and those who have continued in evil will rise to experience judgment."
Passion for Praise:

 'Giving Thanks'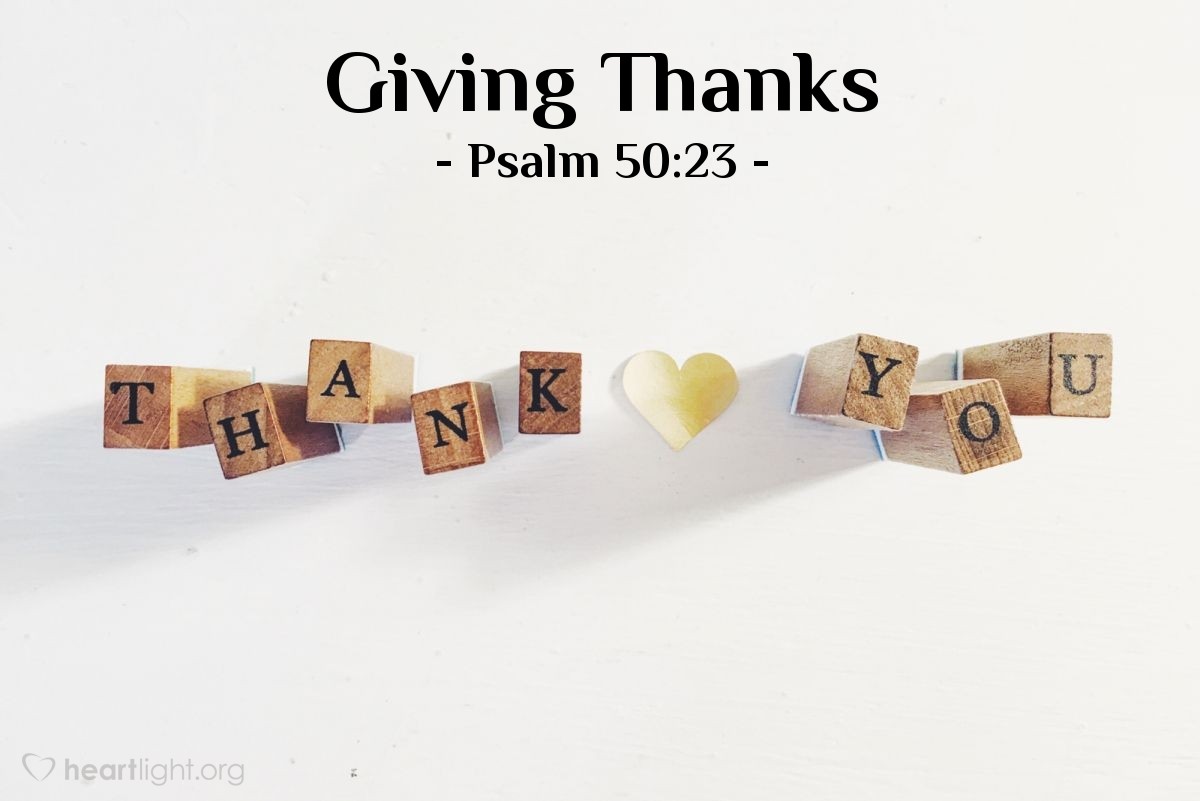 [God says] "But giving thanks is a sacrifice that truly honors me. If you keep to my path, I will reveal to you the salvation of God."
God's Holy Fire:

 'Who Controls You?'

Those who are dominated by the sinful nature think about sinful things, but those who are controlled by the Holy Spirit think about things that please the Spirit.
Your gentleness made me great.
Psalm 18:35
These words are capable of being translated, "Your goodness made me great." David gratefully ascribed all his greatness not to his own goodness, but to the goodness of God.
"Your providence" is another reading; and providence is nothing more than goodness in action. Goodness is the bud of which providence is the flower, or goodness is the seed of which providence is the harvest. Some render it, "Your help," which is just another word for providence, providence being the firm ally of the saints, aiding them in the service of their Lord.
Or again, "Your humility made me great." "Your condescension" may perhaps serve as a comprehensive reading, combining all these ideas, including humility. God's making Himself little is the cause of our being made great. We are so little that if God should display His greatness without condescension, we would be trampled under His feet; but God, who must stoop to view the skies and bow to see what angels do, turns His eye yet lower and looks to the lowly and contrite and makes them great.
There are still other translations. For example, the Septuagint reads, "Your discipline. "Your fatherly correction—"made me great," while another paraphrase reads, "Your word increased me."
Still the idea is the same. David ascribes all his own greatness to the condescending goodness of his Father in heaven. May this attitude be echoed in our hearts this evening while we cast our crowns at Jesus' feet and cry, "Your gentleness made me great."
How marvelous is our experience of God's gentleness! How gentle His corrections! How gentle His patience! How gentle His teachings! How gentle His invitations! Meditate upon this theme, believer. Let gratitude be awakened; let humility be deepened; let love be quickened before you fall asleep tonight.
Today's Scripture
Where Do You Place Your Confidence?
TGIF Today God Is First Volume 1 by Os Hillman
April 09, 2018
"Satan rose up against Israel and incited David to take a census of Israel." -1 Chronicles 21:1
God always requires total trust in Him alone for our victories in life. Throughout Scripture we are cautioned not to place our trust in the strength of horses, other men or our own abilities. In 1 Chronicles, David's decision to take a census was a failure to keep his trust totally upon the Lord.
David's purpose in counting his population was to assess his military strength, much like the second census taken under Moses (see Numbers 1:2-3). David found 800,000 men eligible for military service in Israel, and 500,000 men in Judah (see 2 Samuel 24:9), more than double the previous head count.
David's commander evidently recognized the grave error that his king was about to make. "But Joab replied, 'May the Lord multiply his troops a hundred times over. My lord the king, are they not all my lord's subjects? Why does my lord want to do this? Why should he bring guilt on Israel?'" (1 Chronicles 21:3).
Joab was right–the census displeased the Lord. David was falling into the temptation of trusting in the size of his army rather than in the Lord. In consequence, God punished David and reduced his forces by bringing a plague that killed 70,000 men.
How do you avoid placing your trust in God today? Do you trust your bank accounts, your skills and the security of your workplace? When you begin to place your faith in these things instead of in the Provider of these things you get into trouble with God.
What a lesson this is for each of us. Today, place your total trust in the Lord for all of your needs.
NATIONAL NAME YOURSELF DAY
National Name Yourself Day is observed each year on April 9.   To celebrate, you are allowed to give yourself a new name for one day.
If you have ever wondered what it would be like to have a different name, this would be the day to find out.  If you like your name and do not want to play along, you can try a nickname instead. The nickname might just stick with you.
HOW TO OBSERVE
Pick yourself a new name and use #NationalNameYourselfDay to post on social media.
HISTORY
Our research was unable to find the origin and the creator of National Name Yourself Day.
Well, I was going to do more griping about myself and how unfair I think I and my sons were treated by both my family and his…….BUT!  Then I read the one Blog I follow…..Godtube……..and how the Cross has the power to set me free of all grudges, resentments, etc…..Well, please, Lord, set me free!!!
Stay blessed!!!