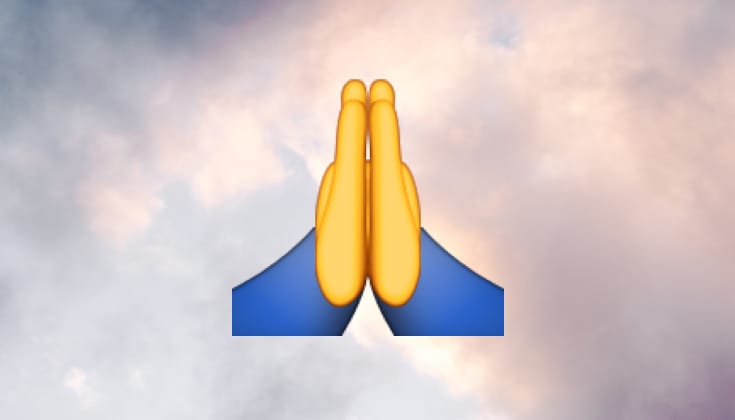 Christoph Friedrich Blumhardt
He replied, "Because you have so little faith. Truly I tell you, if you have faith as small as a mustard seed, you can say to this mountain, 'Move from here to there,' and it will move. Nothing will be impossible for you." Matthew 17:20, NIV
Lord our God, we thank you for revealing your rulership, which is for the good of each of us. Each one of us will become what we ought to be when our faith is united with your divine power. Protect this faith in us through every temptation and through all we have yet to endure in this earthly life. Free us again and again for one thing alone, that your kingdom may come into being within us and around us, to the praise and glory of the everlasting truth you have given us in Jesus Christ. Amen.
Second Sunday of Easter
(Or Sunday of Divine Mercy)
Lectionary: 44
The community of believers was of one heart and mind,
and no one claimed that any of his possessions was his own,
but they had everything in common.
With great power the apostles bore witness
to the resurrection of the Lord Jesus,
and great favor was accorded them all.
There was no needy person among them,
for those who owned property or houses would sell them,
bring the proceeds of the sale,
and put them at the feet of the apostles,
and they were distributed to each according to need.
R. (1) Give thanks to the LORD, for he is good, his love is everlasting.
or:
R. Alleluia.
Let the house of Israel say,
"His mercy endures forever."
Let the house of Aaron say,
"His mercy endures forever."
Let those who fear the LORD say,
"His mercy endures forever."
R. Give thanks to the LORD, for he is good, his love is everlasting.
or:
R. Alleluia.
I was hard pressed and was falling,
but the LORD helped me.
My strength and my courage is the LORD,
and he has been my savior.
The joyful shout of victory
in the tents of the just:
R. Give thanks to the LORD, for he is good, his love is everlasting.
or:
R. Alleluia.
The stone which the builders rejected
has become the cornerstone.
By the LORD has this been done;
it is wonderful in our eyes.
This is the day the LORD has made;
let us be glad and rejoice in it.
R. Give thanks to the LORD, for he is good, his love is everlasting.
or:
R. Alleluia.
Beloved:
Everyone who believes that Jesus is the Christ is begotten by God,
and everyone who loves the Father
loves also the one begotten by him.
In this way we know that we love the children of God
when we love God and obey his commandments.
For the love of God is this,
that we keep his commandments.
And his commandments are not burdensome,
for whoever is begotten by God conquers the world.
And the victory that conquers the world is our faith.
Who indeed is the victor over the world
but the one who believes that Jesus is the Son of God?
This is the one who came through water and blood, Jesus Christ,
not by water alone, but by water and blood.
The Spirit is the one that testifies,
and the Spirit is truth.
R. Alleluia, alleluia.
You believe in me, Thomas, because you have seen me, says the Lord;
Blessed are those who have not seen me, but still believe!
R. Alleluia, alleluia.
On the evening of that first day of the week,
when the doors were locked, where the disciples were,
for fear of the Jews,
Jesus came and stood in their midst
and said to them, "Peace be with you."
When he had said this, he showed them his hands and his side.
The disciples rejoiced when they saw the Lord.
Jesus said to them again, "Peace be with you.
As the Father has sent me, so I send you."
And when he had said this, he breathed on them and said to them,
"Receive the Holy Spirit.
Whose sins you forgive are forgiven them,
and whose sins you retain are retained."
Thomas, called Didymus, one of the Twelve,
was not with them when Jesus came.
So the other disciples said to him, "We have seen the Lord."
But he said to them,
"Unless I see the mark of the nails in his hands
and put my finger into the nailmarks
and put my hand into his side, I will not believe."
Now a week later his disciples were again inside
and Thomas was with them.
Jesus came, although the doors were locked,
and stood in their midst and said, "Peace be with you."
Then he said to Thomas, "Put your finger here and see my hands,
and bring your hand and put it into my side,
and do not be unbelieving, but believe."
Thomas answered and said to him, "My Lord and my God!"
Jesus said to him, "Have you come to believe because you have seen me?
Blessed are those who have not seen and have believed."
Now Jesus did many other signs in the presence of his disciples
that are not written in this book.
But these are written that you may come to believe
that Jesus is the Christ, the Son of God,
and that through this belief you may have life in his name.
Perfect Love Casts Out Fear
For I, the Lord your God,
will hold your right hand,
saying to you, "Do not fear;
I will help you."
—Isaiah 41:13
Verse of the Day
for Sunday, April 8, 2018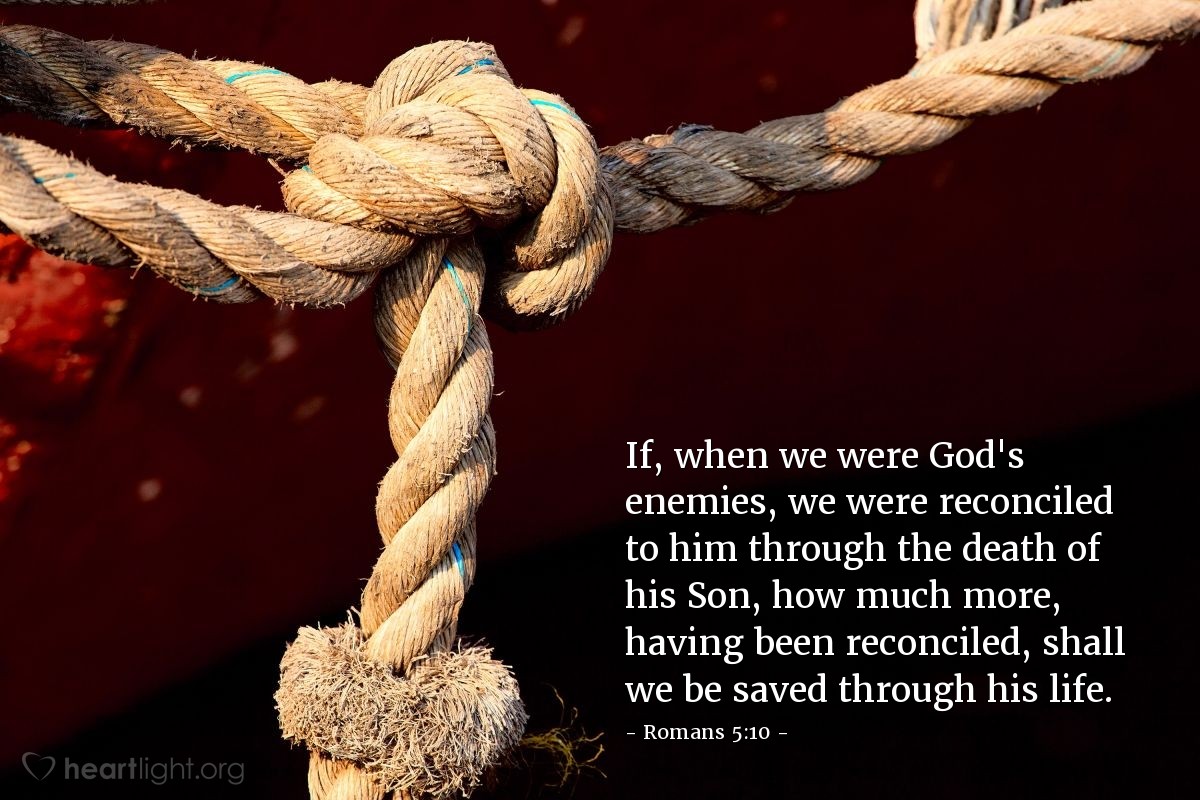 Thoughts on Today's Verse…
Jesus didn't just die for my sins; he lives for me. In fact, he is at God's right hand claiming me as his own (see 1 John 2:1-2). If he was willing to die to save me, what will he withhold now that he lives victorious over death?
My Prayer…
Holy and Righteous Father, I thank you for Jesus who is at your side and who knows my heart, my struggles, and my world. I thank you for your constant care and protection through all of my difficulties and triumphs. Please make your presence known more clearly today than ever before as I try to serve you with wholehearted devotion. In the name of Jesus I pray. Amen.
St. Mary Magdalene
"So [Mary Magdalene and the other Mary] left the tomb quickly with fear and great joy, and ran to tell his disciples. Suddenly Jesus met them and said, 'Greetings!' And they came to him, took hold of his feet, and worshiped him. Then Jesus said to them, 'Do not be afraid; go and tell my brothers to go to Galilee; there they will see me.'"
—Matthew 28:8–10
As I watch this scene unfold in my imagination, I cannot help but laugh.
Mary Magdalene and Mary, the mother of James and Joseph, are running from Jesus' tomb. They had just seen an angel who told them with great fanfare (the earth itself shook with the news) that Jesus had been raised from the dead. "Go quickly," the angel tells them, "and tell his disciples to meet him in Galilee!"
I crack up when I hear Jesus say to them, "Greetings!" (although, in my imagination, Jesus shouts "Hey, Mary!"). At that moment, I realize that Jesus is excited to see Mary Magdalene and the other Mary. That makes sense. Jesus is excited to tell the disciples the Good News of his victory over sin and death as much as anyone, if not more so. After all, Jesus knew how defeated, lost, and dejected they must have felt just a few days earlier. They saw him—and with him their hopes and dreams—die on the Cross.
Jesus probably couldn't wait to see them. And that is why I laugh when I imagine Mary Magdalene's encounter with Jesus: it is the laughter of excitement that accompanies a surprise.
Easter Action
In the Resurrection accounts, Jesus' friends often need time in order to recognize him. Mary Magdalene initially thinks he is the gardener as she sits near the tomb, mourning. Did she not recognize Jesus because she assumed he was dead, and his Resurrection did not fit into her expectations? Only when he calls her by name does she recognize him. The disciples on the road to Emmaus initially dismiss Jesus as someone who is ignorant of the Crucifixion and all that weighs heavily on their hearts. Only later do they recognize him in the breaking of the bread, the opening of Scripture, and a sense of consolation.
Today we might also wonder where we can find the Resurrected Christ in our midst. The stories of Jesus' first appearances suggest that finding the Resurrected Christ requires attentiveness and patience. Moreover, by staying with our longing, we are more likely to encounter the Resurrection. Mary Magdalene was the first to see Jesus because she had a deep and holy longing for him. She stayed present to her desires. Instead of walking away from her unfulfilled hopes and desires, the way the men on the road to Emmaus were walking away from Jerusalem, Mary remained faithful to her desire to be close to the Lord.
In a way, Jesus' appearance must have felt sudden to Mary, a complete turning around of her beliefs about his Death. Yet in another way, Jesus' appearance and what it means to her unfolded over time. At first, he only looked like the gardener, until spoke her name. Mary responded with her own act of recognition, but then he instructed her not to hold onto him—as she naturally would have wanted to do. Instead, she is told to go and share the Good News. She becomes the "Apostle to the Apostles" as a result of her encounter with the living Christ. The encounter fundamentally changes her place in the world as she moves from grief to recognition to a sense of her own place in participating in God's mission in the wider world.
For us, too, the meaning of the Resurrection is not as simple as just seeing "all at once." For example, we can easily fall into the belief that we can find God in only one place—one that is familiar to us. Perhaps a particular kind of experience, like spending time in nature, or mothering one's children, or a particular relationship or vocational call seems like "the" place where Christ is. But over time, our sense of God's presence in the world becomes wider, and we can recognize God in other people and places, or experience the same old people and places in new ways. Mary had to let go of knowing and loving Jesus in one way, in order to know and love him in another. Indeed, she had to discover a new identity about herself as an evangelist in order to relate to Jesus anew in the Resurrection.
What are the deepest longings of your heart? What signs of God's presence might be a first glimpse of the Resurrected Christ? In what new experiences might the Resurrected Christ be discovered?
Read about Divine Mercy Sunday, which the Church celebrates today.
In the Jubilee Year 2000, Pope John Paul II proclaimed that from that year forward the Second Sunday of Easter would be celebrated as Divine Mercy Sunday. This was proclaimed at the Canonization Mass of St. Faustina Kawalska, who worked throughout her life to make all aware of the merciful love of God. St. Faustina (1905–1938) was born and raised in Poland. Following a vocation to religious life, she was accepted by the Congregation of the Sisters of Our Lady of Mercy.  As a member of the Congregation, she worked as a cook, gardener, and porter. In her spiritual life, her contemplation on the Mercy of God led her to develop a childlike trust in God and deep love for her neighbor.
In her years in the convent, St. Faustina heard a call from God to make God's mercy known to the world so that the world may more fully receive God's healing grace. St. Faustina promoted the Chaplet of Divine Mercy which consists of the recitation of prayers to the Eternal Father with the use of the rosary for the sake of Christ's sorrowful passion.
The Chaplet is prayed as follows:
1. Begin with the Sign of the Cross, one Our Father, one Hail Mary, and the Apostles' Creed.
2. On the Our Father beads, recite the following:
"Eternal Father, I offer you the Body and Blood, Soul and Divinity of your dearly beloved Son, our Lord Jesus Christ, in atonement for our sins and those of the whole world."
3. On the ten Hail Mary beads, say the following:
"For the sake of His sorrowful Passion, have mercy on us and on the whole world."
4. Repeat step two and three for all five decades.
5. Conclude by reciting three times:
"Holy God, Holy Mighty One, Holy Immortal One, have mercy on us and on the whole world."
 When celebrating Divine Mercy Sunday, the faithful are called to reflect more personally on the graces won through the life, death, and Resurrection of Jesus Christ. In this way their hearts may be more fully aware of the mercy of God for them personally and for the sake of the world.
Absolution
The full text of the absolution given by the priest is: "God, the Father of mercies, through the death and resurrection of his Son has reconciled the world to himself and sent the Holy Spirit among us for the forgiveness of sins; through the ministry of the Church may God give you pardon and peace, and I absolve you from your sins in the name of the Father, and of the Son, and of the Holy Spirit." Included in this text are several important messages:
Forgiveness comes from the mercy of God.
Reconciliation takes place through the death and resurrection of Jesus.
The presence of the Holy Spirit among us is a sign of God's forgiveness.
The Church plays a role in the extension of God's forgiveness to us.
The priest acts as judge of the person's sincerity in seeking forgiveness.
Forgiveness is granted in the name of the three persons of the Trinity.
A Prayer to Rest in God's Love
By Amy Carroll
"As the Father has loved Me, I have also loved you. Remain in My love." John 15:9 (HCSB)
In today's key verse, John, the beloved disciple, records this instruction from Jesus: "As the Father has loved Me, I have also loved you. Remain in My love" (John 15:9). In this verse, the word "remain" can also be translated dwell or abide. Reflecting on these definitions made me realize how wrong my beliefs had been.
We want to move on, but Jesus invites us to move in.
Remain, abide and dwell — these words revealed how I evaluated progress and growth, and they helped me understand God's approval in a new way. We don't have to produce or create forward movement to earn God's love. Instead, He asks us to move into … to settle … to be still in His love.
This idea changes everything. As a wise friend once told me, "You don't work for God's love. You rest in His love."
God doesn't measure our worth by our works. He establishes our worth by His love. Although I tend to calculate value by external things, God gauges value by internal things, and love is an internal work.
I invite you with the same invitation God extends to each of us: Remain in God's love.
Move in all the pieces of your life. Every thought, emotion, gift and flaw.
Stay awhile.
As we say in the South, "Sit a spell!" In other words, dwell and bask in the love of God. You are worthy because of God's gift of love, not the checks on your to-do list.
Lord, I've been so prone to evaluate my value in terms of what I produce. I've believed wrong things about how You see me, keeping me from being as close as You desire. Today, I surrender. I move in to dwell permanently in Your love. I choose to rest and abide. In Jesus' Name, Amen.
April 7/8
Thoughtful Living
Are you living thoughtfully and intentionally–or automatically? It's so easy to get up each morning, do our work, enjoy some relaxation or entertainment, and fall into bed each night without giving any thought to God's involvement in our lives. But to be ignorant of how He has blessed, guided, protected, and warned us is a foolish way to live. Just consider the benefits of keeping our spiritual eyes and ears open throughout the day.
Those who are aware of the Lord's presence during their daily activities enjoy the peace of knowing that He is always in control and working to accomplish His good purposes. Every day's experiences with Him teach them to know and love Him more.
When we learn to see God's footprints in our days, we will become aware of the scope of His involvement in our lives. Maybe He strengthened you for a task or opened a door of opportunity. Perhaps He guided your decisions or helped you respond in a godly way to a difficult person.
If our ears are open to the Lord's warnings and instructions, we won't repeat the same mistakes again and again. But those who are deaf to His voice will continue in unhealthy thought patterns, negative emotions, and foolish responses.
Each night before you go to sleep, take some time to reflect on the day's activities. The Lord is constantly with you, guarding and guiding your way. He wants you to see Him in everything and understand life from His perspective as you rely on His wisdom and power to face any challenge.
Corruptible Pride
His fame spread far and wide, for he was greatly helped until he became powerful. But after Uzziah became powerful, his pride led to his downfall. He was unfaithful to the Lord his God, and entered the temple of the Lord to burn incense on the altar of incense. – >2 Chronicles 26:15-16
Have you personally witnessed the destruction that pride can cause?
The Nagasaki, Japan Police Department launched an investigation to get to the bottom of how one of their prisoners got a gun while in police custody. What the investigators found was a group of of­ficers, who in the hopes of obtaining a coveted "Weapons Charge" commendation on their employment record, arranged the whole thing.
The corruption caused by pride is nothing new. In the Old Testa­ment book of 2 Chronicles, the Bible tells us of 16-year-old Uzziah, King of Judah, who had every blessing from God; and his pride led to losing his reign to his son, Jotham.
We must always be on guard to keep pride from creeping into our lives.
I challenge you today, to take an honest look at yourself. Have you become proud or haughty? If so, ask the Lord's forgiveness and His help in keeping pride out of your life.
"A proud man is always looking down on things and people; and, of course, as long as you're looking down, you can't see something that's above you." -C. S. Lewis (1898-1963)
From This is Love by Max Lucado
His Resurrected Body
Jesus appeared to the followers in a flesh-and-bone body: "A spirit does not have flesh and bones as you see that I have" (Luke 24:39 NASB). His resurrected body was a real body, real enough to walk on the road to Emmaus, to be mistaken for that of a gardener, to swallow fish at breakfast.
In the same breath, Jesus' real body was really different. The Emmaus disciples didn't recognize him, and walls didn't stop him. Mark tried to describe the new look and settled for "[Jesus] appeared in another form" (Mark 16:12 NKJV). While his body was the same, it was better; it was glorified. It was a heavenly body. )
And I can't find the passage that says he shed it. He ascended in it. "He was lifted up while they were looking on, and a cloud received Him out of their sight" (Acts 1:9 NASB). He will return in it. The angel told the followers, "This Jesus, who has been taken up from you into heaven, will come in just the same way as you have watched Him go into heaven" (Acts 1:11 NASB).
The God-man is still both. The hands that blessed the bread of the boy now bless the prayers of the millions. And the mouth that commissions angels is the mouth that kissed children. ) You know what this means? The greatest force in the cosmos understands and intercedes for you. "We have an Advocate with the Father, Jesus Christ the righteous" (1 John 2:1 NASB).

What Jesus Did!

 'Hear My Voice!'

[Jesus said,] "And I assure you that the time is coming, indeed it's here now, when the dead will hear my voice — the voice of the Son of God. And those who listen will live. The Father has life in himself, and he has granted that same life-giving power to his Son. And he has given him authority to judge everyone because he is the Son of Man."
Key Thought
I have a friend who has been deaf for most of his life. He has a great anticipation of the day he will be able to hear again. He tells everybody he knows that the very first words he will hear are these: "Lloyd, this is Jesus. It's time to rise up and come home to be with me in glory!" All of us who have lived for the Lord will hear him call us from our graves. What an awesome thought: Even though I live thousands of years after Jesus' death, resurrection and ascension, I will get to hear his voice and share in glory and grace.
Today's Prayer
Almighty God, Father of all life and sustainer of the universe, you spoke the things in my world into existence. You spoke your word through the prophets and the inspired writers of Scripture. I trust that you will one day have Jesus also call my name, and I will rise up and come home to you. Please accept my thanks and praise until that day is fully realized! In Jesus' name. Amen.
Related Scripture Readings
Passion for Praise:

 'All the Marvelous Things'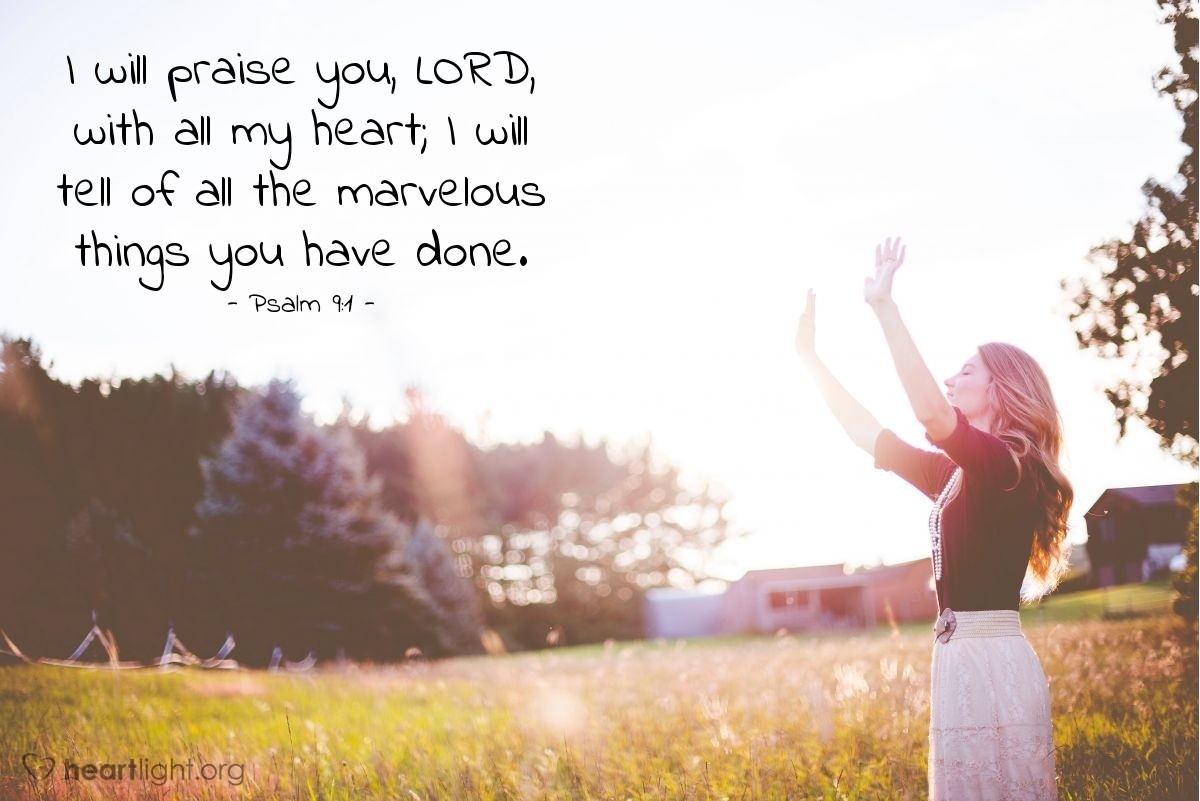 Daily Wisdom:

 Proverbs 3:11-12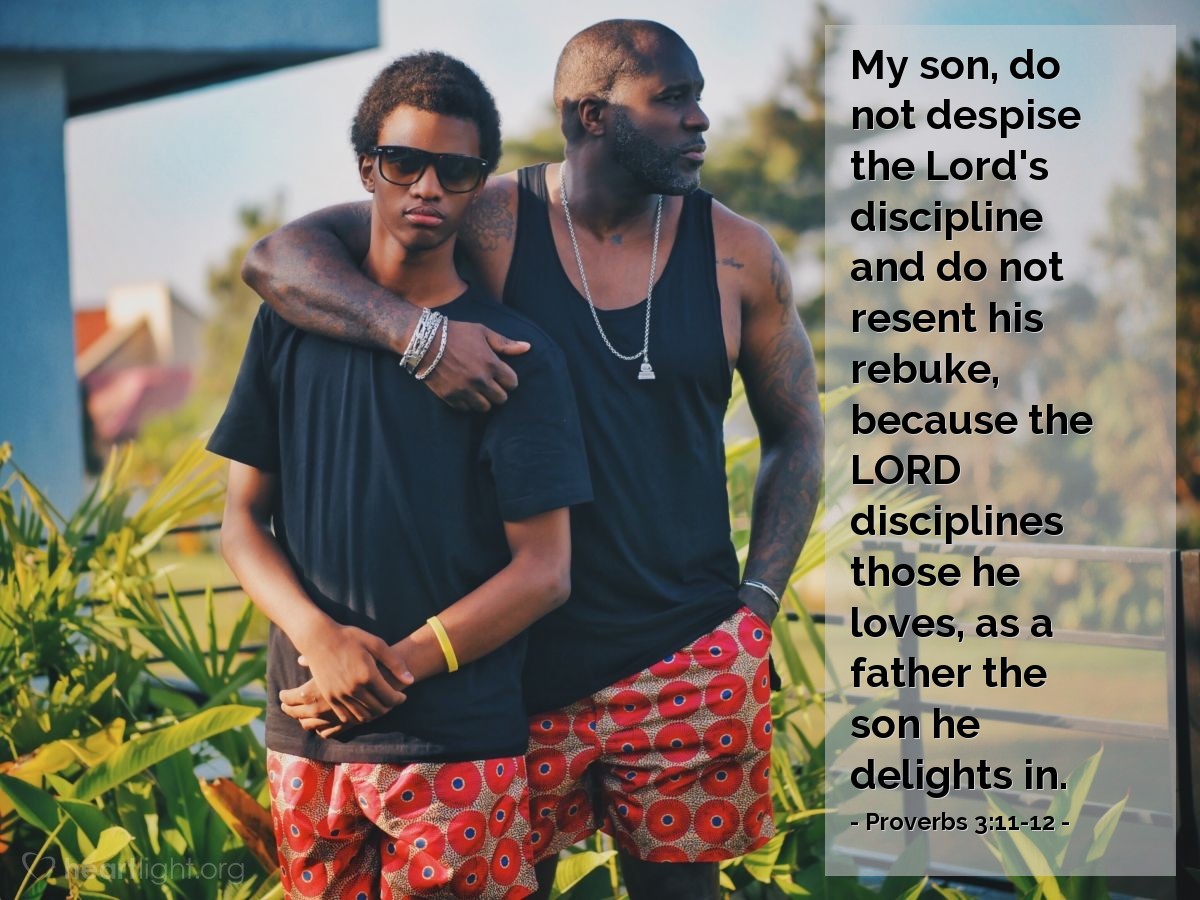 God's Holy Fire:

 'Follow the Spirit'

The law of Moses was unable to save us because of the weakness of our sinful nature. So God did what the law could not do. He sent his own Son in a body like the bodies we sinners have. And in that body God declared an end to sin's control over us by giving his Son as a sacrifice for our sins. He did this so that the just requirement of the law would be fully satisfied for us, who no longer follow our sinful nature but instead follow the Spirit.
Key Thought
Jesus paid the price for sin and ended sin's control over us and over our destiny. No words can adequately thank Jesus for the price he paid and the gift he gave. His purpose was to free us to live by the Spirit — the Holy Spirit he pours out on us when we come to him and are reborn into a new life (
Titus 3:3-7
). The real question you and I face each day is whether we will consciously, intentionally, and prayerfully seek to follow the Spirit.
Today's Prayer
Righteous Father, I confess that I often don't consciously engage my heart and mind around the leadership of the Spirit in my life. Please remind me each day of this need that I have. Please make your Spirit's presence tangibly real as I commit to depending upon his leadership more and more in my daily life. In Jesus' name, I ask for this grace. Amen.
Illustration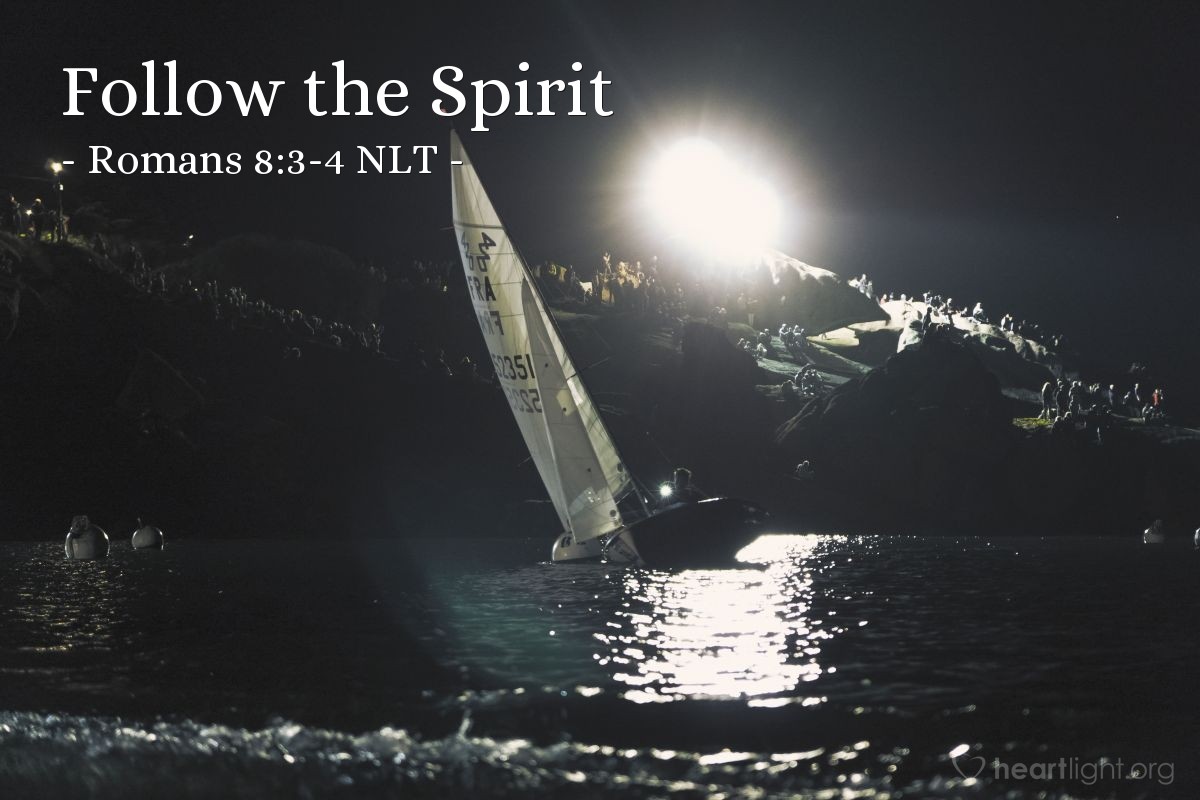 I will fear no evil, for you are with me.
Psalm 23:4
Consider how the Holy Spirit can make the Christian independent of outward circumstances. What a bright light may shine within us when it is really dark outside! How firm, how happy, how calm, how peaceful we may be when the world shakes, and the foundations of the earth are removed! Even death itself, with all its terrible influences, has no power to suspend the music of a Christian's heart, but instead makes that music sweeter, clearer, more heavenly, until the last kind act that death can do is allow the earthly song to melt into the heavenly chorus, the temporal joy into the eternal bliss!
Let us have confidence, then, in the blessed Spirit's power to comfort us. Dear reader, are you facing poverty? Do not fear—the Holy Spirit can give you, in your need, a greater plenty than the rich have in their abundance. You never know what joys may be stored up for you in the cottage around which grace will plant the roses of contentment.
Are you conscious of your physical frailty? Do you anticipate sleepless nights and painful days? Do not be sad! Your bed may become a throne to you. You cannot tell how every pain that shoots through your body may be a refining fire to consume your dross—a beam of glory to light up the secret parts of your soul.
Is your eyesight failing? Jesus will be your light. Is your hearing deteriorating? Jesus' name will be your soul's best music, and His person your dear delight. Socrates used to say, "Philosophers can be happy without music," and Christians can be happier than philosophers when all outward causes of rejoicing are removed.
In You, my God, my heart shall triumph, no matter my circumstances! By Your power, O blessed Spirit, my heart shall rejoice even though all things should fail me here below.
Friendship in the Pit
TGIF Today God Is First Volume 1 by Os Hillman
April 08, 2018
"A friend loves at all times, and a brother is born for adversity." – Proverbs 17:17
"I am in there again," I told my friend. "The pit." A time when no one can cheer you up and you wonder if there ever was or is a God. Have you ever had such times? Discouragement can be devastating even to the best of saints. It can bring us so low. The writer of Proverbs phrased it well when he said, "Hope deferred makes the heart sick" (Prov. 13:12). When we get so low that we despair of our belief, we can identify with the prophet Elijah who wanted to die after being so discouraged with life.
"I'm coming over," my friend said.
"Aw, you don't have to do that," I said.
"I'm coming over. We're going to pray."
About 30 minutes later my friend walked in the door. We sat in living room and my friend began to pray. I didn't feel like praying. I was too deep in the pit. All I could do was listen. After awhile my friend was quiet. We both sat quietly for ten to fifteen minutes, praying quietly to ourselves. Suddenly my friend said, "First Thessalonians 5:24!"
"What verse is that?" I asked.
"I don't know," she said. "That is the verse He spoke to me."
I grabbed my Bible and looked up the verse. "The one who calls you is faithful and He will do it."
We laughed. Can He be so personal? Can He care that much? That night I grew more in my love of my two friends, not to mention being brought out of the pit.
Do you have a friend who is there when you need somebody at any hour of the day? Are you there for your friend? Ask the Lord how you can be a better friend to someone today.
Stay blessed!!!