Christoph Friedrich Blumhardt
And I will ask the Father, and he will give you another Counselor to be with you forever – the Spirit of truth. The world cannot accept him, because it neither sees him nor knows him. But you know him, for he lives with you and will be in you. John 14:16–17, NIV
Lord our God and our Father, we thank you for giving us the Holy Spirit, who binds us to you. Give us continually afresh something of this Spirit so that we can go forward with light shining on the paths we must follow on earth. Grant us your Spirit, grant that light may break into our whole life and we can rejoice because we experience so much of what you are doing. For through the power of your Spirit you can help us toward your future and all that is to come, that we may live not only in time but in eternity. Amen.
Verse of the Day
for Saturday, April 7, 2018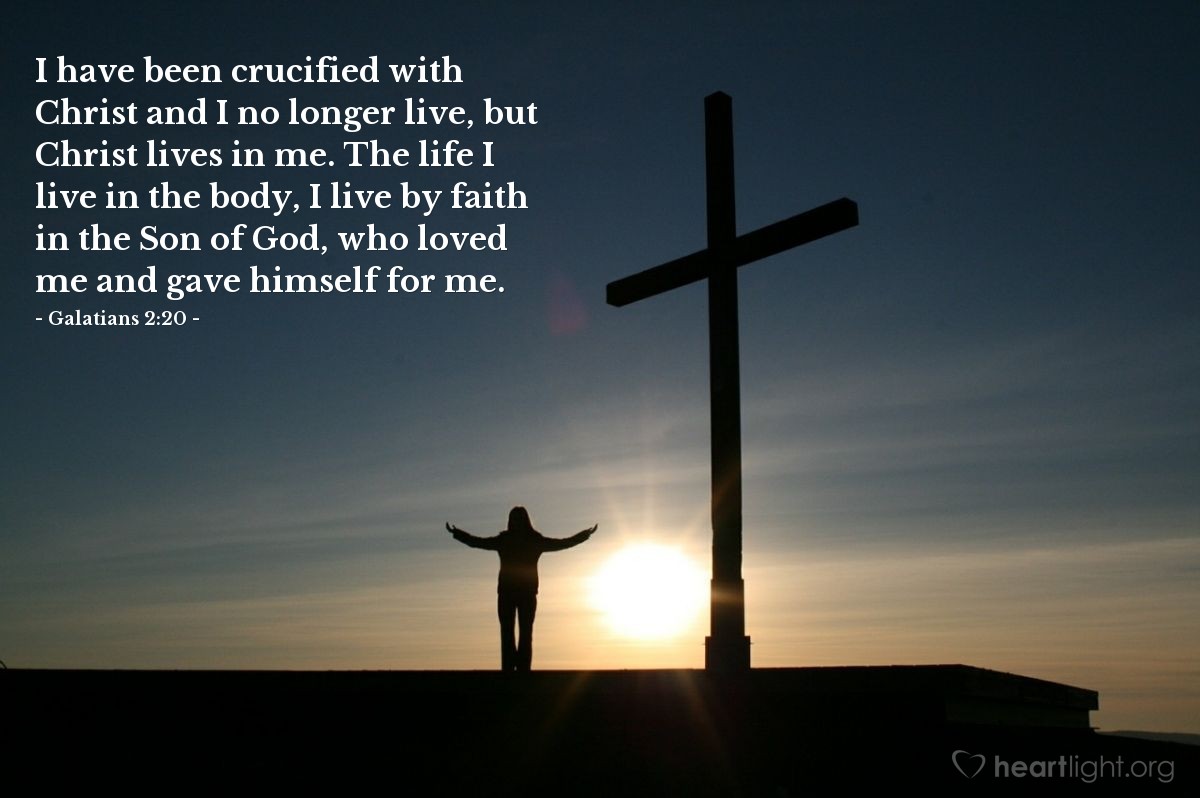 Thoughts on Today's Verse…
When we were baptized into Christ, we shared in his crucifixion and we were raised up to be a new person. Christ is alive in us. The real challenge is for us to be Christ alive in our world! Our motivation? Not to earn salvation, which has already been given us by grace, but to honor him who sacrificed all to save us. (See Romans 6:1-14)
My Prayer…
Thank you, God, for loving me and sending Jesus to redeem me from my sin. I commit to you today that I will live by faith in your Son who gave himself so I can spend eternity with you. I ask that by your Spirit, you help Jesus' life be seen in me. Through him I pray. Amen.
Saturday in the Octave of Easter
Observing the boldness of Peter and John
and perceiving them to be uneducated, ordinary men,
the leaders, elders, and scribes were amazed,
and they recognized them as the companions of Jesus.
Then when they saw the man who had been cured standing there with them,
they could say nothing in reply.
So they ordered them to leave the Sanhedrin,
and conferred with one another, saying,
"What are we to do with these men?
Everyone living in Jerusalem knows that a remarkable sign
was done through them, and we cannot deny it.
But so that it may not be spread any further among the people,
let us give them a stern warning
never again to speak to anyone in this name."
So they called them back
and ordered them not to speak or teach at all in the name of Jesus.
Peter and John, however, said to them in reply,
"Whether it is right in the sight of God
for us to obey you rather than God, you be the judges.
It is impossible for us not to speak about what we have seen and heard."
After threatening them further,
they released them,
finding no way to punish them,
on account of the people who were all praising God
for what had happened.
R. (21a) 
I will give thanks to you, for you have answered me.
or:
R. 
Alleluia.
Give thanks to the LORD, for he is good,
for his mercy endures forever.
My strength and my courage is the LORD,
and he has been my savior.
The joyful shout of victory
in the tents of the just.
R. 
I will give thanks to you, for you have answered me.
or:
R. 
Alleluia.
"The right hand of the LORD is exalted;
the right hand of the LORD has struck with power."
I shall not die, but live,
and declare the works of the LORD.
Though the LORD has indeed chastised me,
yet he has not delivered me to death.
R. 
I will give thanks to you, for you have answered me.
or:
R. 
Alleluia.
Open to me the gates of justice;
I will enter them and give thanks to the LORD.
This is the gate of the LORD;
the just shall enter it.
I will give thanks to you, for you have answered me
and have been my savior.
R. 
I will give thanks to you, for you have answered me.
or:
R. 
Alleluia.
R. Alleluia, alleluia.
This is the day the LORD has made;
let us be glad and rejoice in it.
R. Alleluia, alleluia.
When Jesus had risen, early on the first day of the week,
he appeared first to Mary Magdalene,
out of whom he had driven seven demons.
She went and told his companions who were mourning and weeping.
When they heard that he was alive
and had been seen by her, they did not believe.
After this he appeared in another form
to two of them walking along on their way to the country.
They returned and told the others;
but they did not believe them either.
But later, as the Eleven were at table, he appeared to them
and rebuked them for their unbelief and hardness of heart
because they had not believed those
who saw him after he had been raised.
He said to them, "Go into the whole world
and proclaim the Gospel to every creature."
– – –
Lectionary for Mass for Use in the Dioceses of the United States, second typical edition, Copyright © 2001, 1998, 1997, 1986, 1970 Confraternity of Christian Doctrine; Psalm refrain © 1968, 1981, 1997, International Committee on English in the Liturgy, Inc. All rights reserved. Neither this work nor any part of it may be reproduced, distributed, performed or displayed in any medium, including electronic or digital, without permission in writing from the copyright owner.
After the crippled man had been cured,
while Peter and John were still speaking to the people,
the priests, the captain of the temple guard,
and the Sadducees confronted them,
disturbed that they were teaching the people
and proclaiming in Jesus the resurrection of the dead.
They laid hands on Peter and John
and put them in custody until the next day,
since it was already evening.
But many of those who heard the word came to believe
and the number of men grew to about five thousand.
On the next day, their leaders, elders, and scribes
were assembled in Jerusalem, with Annas the high priest,
Caiaphas, John, Alexander,
and all who were of the high-priestly class.
They brought them into their presence and questioned them,
"By what power or by what name have you done this?"
Then Peter, filled with the Holy Spirit, answered them,
"Leaders of the people and elders:
If we are being examined today
about a good deed done to a cripple,
namely, by what means he was saved,
then all of you and all the people of Israel should know
that it was in the name of Jesus Christ the Nazorean
whom you crucified, whom God raised from the dead;
in his name this man stands before you healed.
He is the stone rejected by you, the builders,
which has become the cornerstone.
There is no salvation through anyone else,
nor is there any other name under heaven
given to the human race by which we are to be saved."
R. (22) 
The stone rejected by the builders has become the cornerstone.
or:
R. 
Alleluia.
Give thanks to the LORD, for he is good,
for his mercy endures forever.
Let the house of Israel say,
"His mercy endures forever."
Let those who fear the LORD say,
"His mercy endures forever."
R. 
The stone rejected by the builders has become the cornerstone.
or:
R. 
Alleluia.
The stone which the builders rejected
has become the cornerstone.
By the LORD has this been done;
it is wonderful in our eyes.
This is the day the LORD has made;
let us be glad and rejoice in it.
R. 
The stone rejected by the builders has become the cornerstone.
or:
R. 
Alleluia.
O LORD, grant salvation!
O LORD, grant prosperity!
Blessed is he who comes in the name of the LORD;
we bless you from the house of the LORD.
The LORD is God, and he has given us light.
R. 
The stone rejected by the builders has become the cornerstone.
or:
R. 
Alleluia.
R. Alleluia, alleluia.
This is the day the LORD has made;
let us be glad and rejoice in it.
R. Alleluia, alleluia.
Jesus revealed himself again to his disciples at the Sea of Tiberias.
He revealed himself in this way.
Together were Simon Peter, Thomas called Didymus,
Nathanael from Cana in Galilee,
Zebedee's sons, and two others of his disciples.
Simon Peter said to them, "I am going fishing."
They said to him, "We also will come with you."
So they went out and got into the boat,
but that night they caught nothing.
When it was already dawn, Jesus was standing on the shore;
but the disciples did not realize that it was Jesus.
Jesus said to them, "Children, have you caught anything to eat?"
They answered him, "No."
So he said to them, "Cast the net over the right side of the boat
and you will find something."
So they cast it, and were not able to pull it in
because of the number of fish.
So the disciple whom Jesus loved said to Peter, "It is the Lord."
When Simon Peter heard that it was the Lord,
he tucked in his garment, for he was lightly clad,
and jumped into the sea.
The other disciples came in the boat,
for they were not far from shore, only about a hundred yards,
dragging the net with the fish.
When they climbed out on shore,
they saw a charcoal fire with fish on it and bread.
Jesus said to them, "Bring some of the fish you just caught."
So Simon Peter went over and dragged the net ashore
full of one hundred fifty-three large fish.
Even though there were so many, the net was not torn.
Jesus said to them, "Come, have breakfast."
And none of the disciples dared to ask him, "Who are you?"
because they realized it was the Lord.
Jesus came over and took the bread and gave it to them,
and in like manner the fish.
This was now the third time Jesus was revealed to his disciples
after being raised from the dead.
– – –
Lectionary for Mass for Use in the Dioceses of the United States, second typical edition, Copyright © 2001, 1998, 1997, 1986, 1970 Confraternity of Christian Doctrine; Psalm refrain © 1968, 1981, 1997, International Committee on English in the Liturgy, Inc. All rights reserved. Neither this work nor any part of it may be reproduced, distributed, performed or displayed in any medium, including electronic or digital, without permission in writing from the copyright owner.
A Prayer for When You Don't Feel Like Praising God
By Mary Southerland
And the peace of God, which transcends all understanding, will guard your hearts and your minds in Christ Jesus. Philippians 4:7, NIV
Praise does not depend on an understanding of the circumstance or trial. Praise depends on an understanding of who God really is and wants to be in our life, and on our willingness to put our faith in Him.
As humans, we will never fully understand God – this side of heaven. God is holy and without blemish. God is all-powerful and omniscient. He is Creator of the universe and yet lives in you and me at our invitation. He is the only true, living God!
I learned that I couldn't depend on my own strength or my fickle emotions. God often asked me to praise Him when there didn't seem to be a whole lot to praise him for. I didn't feel like praising Him. I began to understand that praise is not a feeling.
Praise is a choice, a step of obedience taken without the assurance of a changed circumstance or the elimination of a trial.
Praise focuses on God, not the circumstance, and fixes its gaze on God's truth and God's character instead of on the trial at hand.
Praise begins and ends with faith in the very nature, personality and integrity of God … and that never changes.
No matter what lies ahead, God is faithful. No matter how hot the fiery trial may be, God is with us and will deliver us in it or from it.
So praise God! Thank Him today for every victory tomorrow holds.
Let's Pray
Father, I praise You today for all that You have done in my life. You are faithful even when I am faithless. Your love pursues me even when I am unlovable. Your forgiveness covers my sin and frees me from its penalty. I praise You for your love and faithfulness to me. Your presence in my life changes everything, empowering me to live each moment of every day, content in knowing You are in control. As I face today, Lord, remind me that no matter what happens, I can praise You!
In Jesus' Name,
Amen.
Sit Still
Their strength is to sit still. (Isa. 30:7).
In order really to know God, inward stillness is absolutely necessary. I remember when I first learned this. A time of great emergency had risen in my life, when every part of my being seemed to throb with anxiety, and when the necessity for immediate and vigorous action seemed overpowering; and yet circumstances were such that I could do nothing, and the person who could, would not stir.
For a little while it seemed as if I must fly to pieces with the inward turmoil, when suddenly the still small voice whispered in the depths of my soul, "Be still, and know that I am God." The word was with power, and I hearkened. I composed my body to perfect stillness, and I constrained my troubled spirit into quietness, and looked up and waited; and then I did "know" that it was God, God even in the very emergency and in my helplessness to meet it; and I rested in Him.
It was an experience that I would not have missed for worlds; and I may add also, that out of this stillness seemed to arise a power to deal with the emergency, that very soon brought it to a successful issue. I learned then effectually that my "strength was to sit still."
–Hannah Whitall Smith
There is a perfect passivity which is not indolence. It is a living stillness born of trust. Quiet tension is not trust. It is simply compressed anxiety.
Not in the tumult of the rending storm,
Not in the earthquake or devouring flame;
But in the hush that could all fear transform,
The still, small whisper to the prophet came.
0 Soul, keep silence on the mount of God,
Though cares and needs throb around thee like a sea;
From supplications and desires unshod,
Be still, and hear what God shall say to thee.
All fellowship hath interludes of rest,
New strength maturing in each poise of power;
The sweetest Alleluias of the blest
Are silent, for the space of half an hour.
0 rest, in utter quietude of soul,
Abandon words, leave prayer and praise awhile;
Let thy whole being, hushed in His control,
Learn the full meaning of His voice and smile.
Not as an athlete wrestling for a crown,
Not taking Heaven by violence of will;
But with thy Father as a child sit down,
And know the bliss that follows His "Be Still!"
–Mary Rowles Jarvis
Will You Have a Ride?
What good is it for a man to gain the whole world, yet forfeit his soul? – Mark 8:36
Have you ever desired something so much that you didn't real­ize what you would be giving up in order to gain this prize?
In Des Moines, Iowa, a group of young men were arrested for trespassing and attempted burglary. The foursome had driven to a car lot late at night and removed a set of tires from a vehi­cle there. Unbeknownst to them, the owner of the lot had seen them on a closed circuit camera. So, while they were busy try­ing to steal his tires . . . he picked up their vehicle with his fork­lift and hid it inside a building. When they had finished their dirty work and were ready to leave; they had no transportation.
In much the same way, many people spend their lives striving to get all of the things that should make them happy, but they never devel­op a personal relationship with God. And it's that relationship which will provide the transportation when the time comes to leave this life.
I challenge you to evaluate your personal relationship with God. Have you accepted Jesus Christ as your Savior? Someday, you will have to leave this earth. When that day comes, will you have a ride?
"I don't believe people are looking for the meaning of life as much as they are looking for the experience of being alive." – Joseph Campbell (1904-1987)
From Right from the Heart by Bryant Wright
A Secret Christian
After these things Joseph of Arimathea, being a disciple of Jesus, but a secret one for fear of the Jews, asked Pilate that he might take away the body of Jesus; and Pilate granted permission. So he came and took away His body. – John 19:38
Crucifixion is the most horrible form of execution man has ever devised. It was so degrading that those crucified were not supposed to be buried in a cemetery. Very often their bodies were cast on the garbage dump outside the city. Because He was crucified, Jesus would have been considered unclean and denied burial in a Jewish cemetery. But for some reason, a rich man intervened.
Joseph of Arimathea was that man. He was a member of the ruling council. But he was also afraid of what his fellow Jews would think if they knew he were a follower of Jesus. What would it do to his wealth, prominence, and influence? So to protect himself, he kept his love for Christ a secret. Yet there was something in Jesus' death that caused him to go public. In fact, he went so public that he went before Pilate and asked for permission to bury Jesus in a tomb that had been reserved for his own family.
Let me ask: In your daily life, are you one of those secret Christians? Would people at the office know that you're a follower of Christ? Would your neighbors? This Easter, use Joseph's example to move from being a secret follower to a public follower of Christ. Jesus said, "But whoever denies Me before men, I will also deny him before My Father who is in heaven" (Matthew 10:33).

What Jesus Did!

 'Passed into Life!'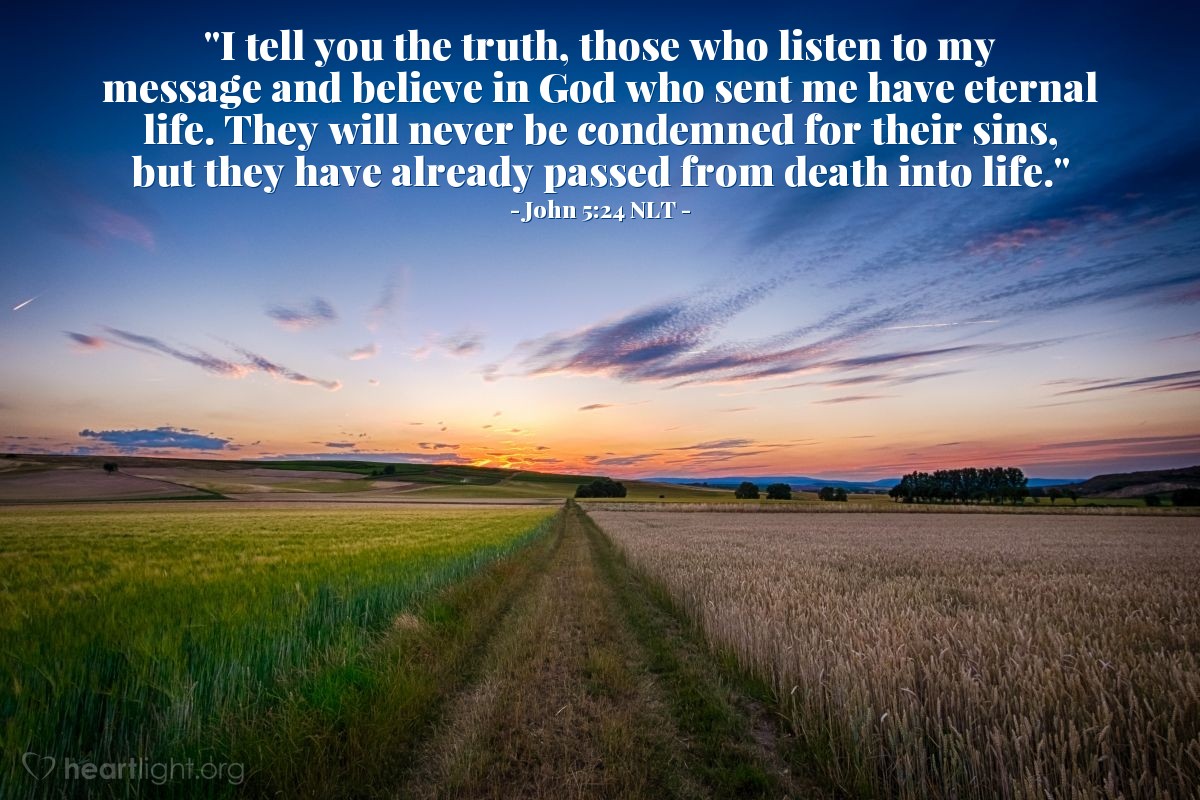 Key Thought
Every great once-in-a-while, I awaken after the sun is up and the glory of the day has begun. Without my fully realizing it, night has already passed into day, darkness into light. In much the same way, the better I know Christ and the salvation he brings, the more I realize that my life has begun again in a new, fresh, and exciting way. I have passed from death to life. Even though my body will ultimately fail me, my Lord Jesus will not. While death and decay may claim my physical existence, the eternal part of me is joined to Jesus and will never die. My future is tied to Christ. My sin is gone, and eternal life has begun!
Today's Prayer
Author of life, thank you for giving me a new life in Jesus. I know that I have passed from death to life. The life I live, I commit to live for Jesus. Bless me as I seek to live wholeheartedly and vibrantly for you so that when my physical life is over, my spiritual life is ready to be taken to you in glory. In Jesus' name, I pray. Amen.
Related Scripture Readings
God's Holy Fire:

 'No Condemnation!'
Key Thought
This 
phrase
 is such a great description of our identity — 
"those who belong to Christ Jesus."
 This identity ensures that God stamps his mark of authenticity on our hearts while Jesus sends the empowering Comforter and Advocate, the Holy Spirit, to be with us. The Spirit's presence brings us many blessings — like spiritual gifts, spiritual conviction, 
insight into
 God's truth, direction for our difficult journeys, along with many other blessings. Paul, in 
Romans 8
, 
emphasized
 another great blessing from the Holy Spirit: the gift of power. The Holy Spirit brings us power over sin, power over death, power over the struggles of our sinful nature, and power through prayer. It is no wonder 
"there is no condemnation for those who belong to Christ Jesus": We
 have the presence of God himself within us, empowering us, and transforming us.
Today's Prayer
Father God, you are holy and righteous. On my own, I do not have the character or the willpower to be what you want me to be. In fact, dear Father, I confess that I cannot live up to all that I want to be. But I can see the work of your Spirit, progressively and surely, conforming me to be more and more like Jesus. I am thrilled that I belong to Jesus, but I do ask today that you work mightily to make me into what you desire me to be as I live to honor you. In Jesus' name, I pray. Amen.
Illustration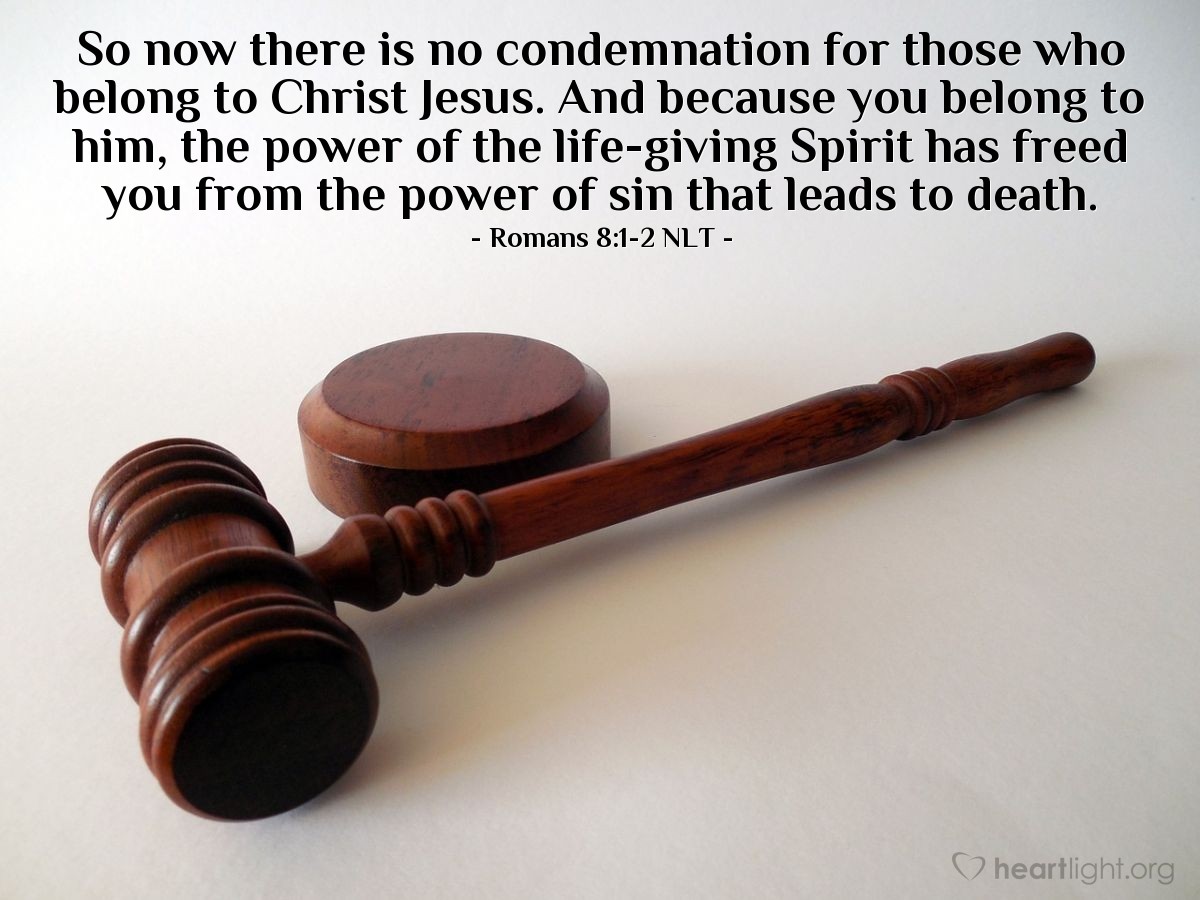 Passion for Praise:

 'The People Gladly Followed'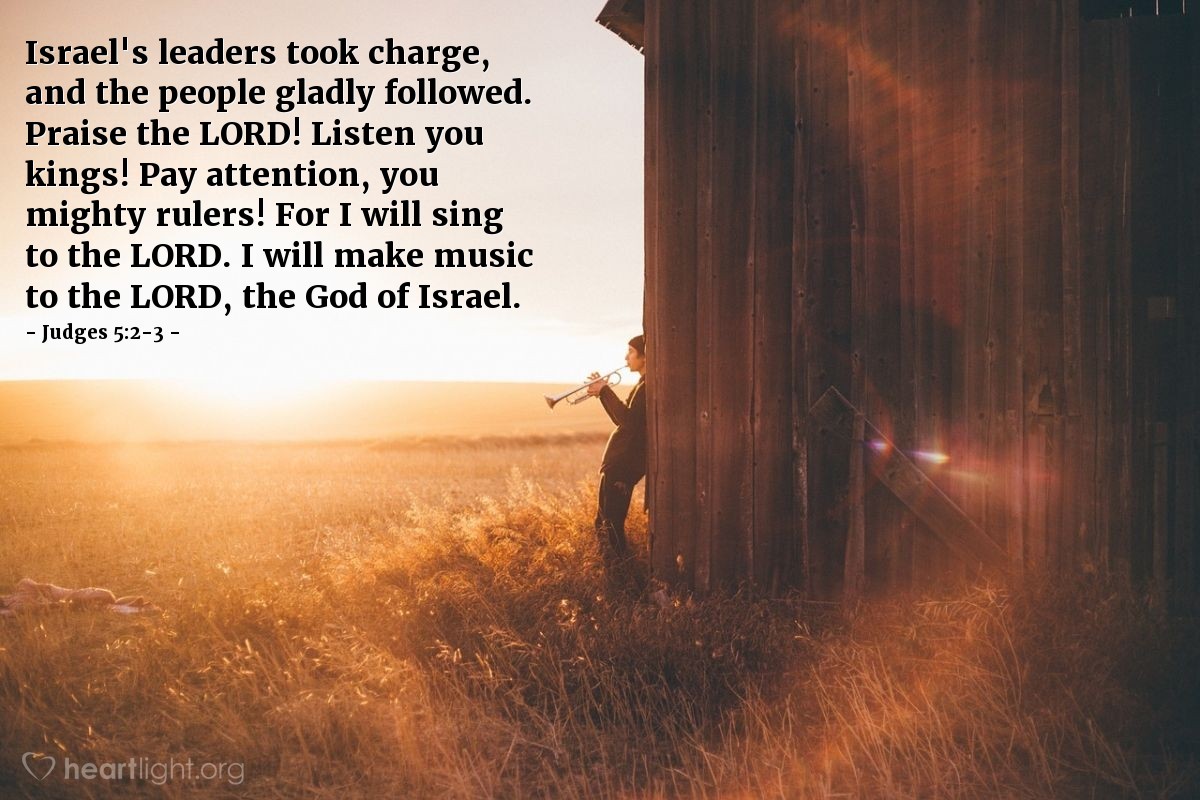 Deliver me from bloodguiltiness, O God,
O God of my salvation,
and my tongue will sing aloud of your righteousness.
Psalm 51:14
In this solemn confession, it is helpful to observe that David plainly names his sin. He does not call it manslaughter or speak of it as an imprudence by which an unfortunate accident occurred to a worthy man, but he calls it by its true name, "bloodguiltiness." He did not actually kill the husband of Bathsheba; but still it was planned in David's heart that Uriah should die, and David was before the Lord responsible for his murder. Learn in confession to be honest with God. Do not give fair names to foul sins; call them what you will, they will smell no sweeter. What God sees them to be, that you should work to feel them to be; and with an honest, open heart acknowledge their real character. Observe that David was evidently oppressed with the heinousness of his sin. It is easy to use words, but it is difficult to feel their meaning. The fifty-first Psalm is the photograph of a contrite spirit. Let us seek to display the same brokenness of heart; because no matter how excellent our words may be, if our heart is not conscious of the hell-deservingness of sin, we cannot expect to find forgiveness.
Our text has in it an earnest prayer—it is addressed to the God ofsalvation. It is His prerogative to forgive; it is His very name and office to save those who seek His face. Better still, the text calls Him the God ofmy salvation. We bless His name, in that while we are still going to Him through Jesus' blood, we may rejoice in the God of our salvation.
The psalmist ends with a commendable vow: If God will deliver him he will sing—actually, he will "sing aloud." Who can mute their praise in light of such a mercy as this! But note the subject of the song —"your righteousness." We must sing of the finished work of a precious Savior; and the one who knows this forgiving love the best will sing the loudest of us all.
Three Priceless Insights in Answer to a Priceless Letter
[Editor's Note: Not long ago, David Bryant received this letter from a friend who is going through a major transition in his profession. This turning point stirred up in his friend a new determination to reset his course toward a stronger engagement with Christ in the second half of his life. Below you'll find Mike's letter of requestand David's letter of counsel. We share them here because we know many of our readers are right now wrestling with similar questions and searching for wise answers. FYI: Mike is not his real name.]
Dear David,
As I mentioned at our dinner last night, I am really torn in my struggle to understand God's purpose for me at this turning point in my life.
Above all, as I shared, I can't shake this persistent question: "Where do I go from here in my quest for all God has for me in Christ?" Is this it?  Or is there more?
For sure, every day at home and at work I try to walk faithfully with Jesus. But I know I'm not focused the way I should be on growing to know Jesus better and helping others to know about the great salvation we have in him. I'm pretty certain God has so much more for me in my relationship with his Son.
Sometimes it feels as if I'm still trying to figure out—secretly, deep inside—who is the person God wants me to be when I finally grow up! Does that make sense?
Right now, as I transition professionally to a new phase of my work, these unsettling thoughts have caused me to become more desperate than ever to discover how God wants me to serve the Lord Jesus—and how to do so not casually but with every fiber of my being.
David, when I look at you, I see someone who appears to be serving Christ with your whole heart. Over the years you have become a model for me. Walking alongside you has stirred me up to want to seek more of Christ and to be more for Christ. I would appreciate any direction you can give me.
Your friend in Christ,
Mike
Dear Mike,
This note is very special! Thank you for sharing your search so openly. I want to share three priceless insights that I know will help. They're based on discoveries I made wrestling with the same longings.
First Priceless Insight
Desperation for More of Christ Is Your Life Calling:
So Pursue Him for All He's Worth
Mike, you should be encouraged by the struggle itself—by the "restlessness" you express here—because your longings for more of Christ and to be more for Christ have been ignited in you by the Spirit of God. The Spirit's main role in the lives of Christians is to reveal to us so much more of the glory of Christ that makes us hungry to go deeper with him.
In other words, the yearnings in your heart are God's gracious gift to you. It is his primary calling for you in Jesus for the rest of your life!
This fact should fill you with great hope because you can be certain the Spirit has not stirred you up to seek more of Christ unless he fully intends to bring you into more of Christ!
In that sense, you and I are like Siamese twins: Despite what you may think of where I am spiritually, I too remain restless in the very same ways you are. The Spirit is working in me to keep me always coming back to Jesus looking for more. Frankly, I hope he never stops making me dissatisfied—aware that there are many more "unsearchable riches in Christ Jesus" to be found for those who diligently seek them (Ephesians 3).
And in comparison to what more OF Christ awaits for any of us to discover and enter into, and in terms of what more FOR Christ any of us could be in comparison to what we are at this moment—well, as someone has said:
If the moon is your destination, then whether you've flown 10 feet or 10,000 feet, in either case, relatively speaking, you've barely just begun to make the journey!
So keep flying higher!
Second Priceless Insight
This Calling Touches Every Facet of Life:
So Stay on Your Face in the Marketplace
Mike, you write here that you want to get a better understanding of God's "calling" for your life at this time of new beginnings in your job. Well, based on what I wrote above the clear answer is that your calling is the same as mine! The only difference is that you are living out yours most often in marketplaces whereas I'm living out mine more often in ecclesiastical places.
But for both of us, our place of service is equally sacred space.
That's because we are equally alive in God's Son and equally valuable to him because he's also alive in us. Therefore, we are equally summoned by the Holy Spirit to bring Jesus greater glory by displaying the impact of his lordship over allour activities.
This means that living in light of the spectacular supremacy of God's Son, who we are and all we have, as well as all we do (parenting, teaching Sunday school, traveling on business, studying, jogging, etc.) is automatically lived out at the center of who Christ is.
Of course, Christ should be kept at the center of who we are. But far more, the Bible calls us to keep ourselves at the center of who he is—at the center of what his reign is all about, of where he is headed in the purposes of God, of what he is doing right now to fulfill the promises of God.
Jesus calls us to lose our lives for his sake (Mark 8)—to give ourselves over to his agenda so he gains greater praise as our Redeemer.
This is another feature of our ultimate calling as Jesus followers. It became our reality the moment, when by the grace and power of the living God, each of us was "transferred from the domain of darkness into the kingdom of God's dear Son" (Colossians. 1).
For all believers this means that as we walk in this world—which for you is the business world ten hours a day—our priority moment by moment is this (as I often put it):
Stay on your face in the marketplace.
That's because every day—whether at home, at work, at school—Christians continually operate in the very real presence of the reigning Christ, who said in Matthew 28: "I am with you always."
Therefore, for Christians, every daily activity becomes a form of WORSHIP—in the sense that everything we do is done before the face of King Jesus, in union with King Jesus, for the cause of King Jesus, because of the worthiness of King Jesus.
It is as if we fulfilled every task directly in front of the Eternal Throne where Jesus reigns, surrounded by worshipping saints and angels (see all of Revelation 5).
Since the Holy Spirit ties us inseparably to the living Christ, time and space, in the truest sense, become irrelevant. We find ourselves with one foot on earth and one foot in heaven. "For he raised us from the dead along with Christ and seated us with him in the heavenly realms because we are united with Christ Jesus" (Ephesians 2:6, NLT).
Thus, each day while I fulfill my responsibilities to family, friends, employers, neighbors—in my heart I must "stay on my face" before Jesus.
Moment by moment I must seek to remain yielded, open, and responsive to his proactive lordship over me. With that as my way of life, I am doing the most I could do in fulfilling God's calling for me.
Anything else I accomplish with any eternal value flows out of my "staying on my face" in my heart—inwardly positioned before Jesus like John was in Revelation 1 when outwardly he fell facedown before the ascended Savior in adoration, fully attentive to hear his Master's marching orders for him.
Mike, that is how you and I keep entering into more of Christ. That is how we become more for Christ. That is how we fulfill God's calling to all of his children.
Third Priceless Insight
In This Calling Christ Precedes Us:
So Expect Him to Meet You Where He Sends You
Every day Christ's kingdom is active right where you and I live and work—long before we show up.
Scripture tells us in Psalm 24 (NLT):
The earth is the Lord's, and everything in it.
The world and all its people belong to him.
Therefore, nothing blocks the reign of Christ. Every barrier must yield in order to:
. . . let the King of glory enter.
Who is the King of glory?
The Lord, strong and mighty;
the Lord, invincible in battle.
Good news! Already this is happening right now. So we can joyfully join in with how Jesus' kingdom is invading our homes, our jobs, our campuses, and our friendships.
As I like to say:
Christ meets us where he sends us.
What this means in your case, Mike, is that every day you go to the office, as one who belongs to God's Son, you can be certain of two things:
(1) the reason you're going there is that Jesus is sending you there; and
(2) Jesus already has gone ahead of you to prepare the way and is now waiting there for you.
Put differently: Wherever you find yourself, Jesus has already preceded you, waiting and ready at that very moment to work in you and through you in that situation.
Not to sound overly dramatic, but each day every believer is on a mission from the Throne—whether it's working in a bank, driving a school bus, performing surgery, housing the homeless, or planting a new church somewhere in the Hindu world.
For all of us, the truth is that our King has sent us to our places of ministry—whether at home, office, factory, school, or other places—in order to enter into what he has already prepared for us to do in our service for him in that place long before we get there.
More than that, he's already waiting there to greet us every time we arrive! What a welcome that is!
Hopefully, now you see more of what it means for us to live today under the spectacular supremacy of God's Son.
Furthermore, Mike, in your case I would suggest that the "earthly success" you've experienced in your business so far is evidence of your faithfulness to him. In addition, it is a testimony to how fully he has incorporated your labors over all these years into who he is, where he is headed, what he is doing, and how he gets blessed.
Above all, it confirms that not only was it Christ who sent you into the work—who commissioned you into this job as your mission from him—but also, it was Christ who went ahead of you day by day, week by week, to lay the groundwork, to put things in place, to create the resources, to bring the people together, to set plans in motion, to bless your efforts.
Then, he turned around and welcomed you as you arrived at your office each morning, inviting you to come and join him to seek more of his glory there.
Your Redeemer chose for you to prosper in your business as unto him and to exalt him—so that through you the Holy Spirit might advance, in ways always mysterious, the Father's cosmic plan of redemption, which is to sum up all things under Jesus as Lord.
Two Key Prayers
Based on Three Priceless Insights
Mike, in light of all I've shared here, at this transitional stage of your life we need to pray two key prayers for you (and for me, too):
(1) Revelation: As you review your past journey with Jesus, pray that the Holy Spirit will give you fresh revelation as to how fully engaged with Christ you have been over all these years. Even if you haven't been the "flaming evangelist" you think you should have been, all along you have been serving the King of Glory in very special ways. So pray that these three empowering insights will cause you to celebrate all that has been accomplished in you so far for the glory of the Lamb. And then pray for an abounding hope concerning all that the future holds for you as you keep living for Christ.
(2) Determination: As you look to the future, pray that your "restlessness" for more OF Christ and to be more FOR Christ will never stop! In other words, pray that your hunger for Christ will keep you determined to discover everything God has for you in your calling in Christ—which comes down to this:
He wants to give you more of an expanding focus on Christ
He wants to give you more of an experience of the fullness of Christ
He wants to give you more opportunities to help fulfill God's purposes in Christ
Go for it!
Your friend and brother,
David
About the Author
Over the past 40 years, David Bryant has been defined by many as a "messenger of hope" and a "Christ proclaimer" to the Church throughout the world. Formerly a minister-at-large with the InterVarsity Christian Fellowship, president of Concerts of Prayer International (COPI) and chairman of America's National Prayer Committee, David now provides leadership to ChristNow.com and to Proclaim Hope!, whose mission is to foster and serve Christ-awakening movements. Order his widely read books at DavidBryantBooks.com.
Stay blessed!!!