Christoph Friedrich Blumhardt
Yes, my soul, find rest in God; my hope comes from him. Truly he is my rock and my salvation; he is my fortress, I will not be shaken. My salvation and my honor depend on God; he is my mighty rock, my refuge. Trust in him at all times, you people; pour out your hearts to him, for God is our refuge. Psalm 62:5-8, NIV
Dear Father in heaven, we thank you for this day and for all the loving kindness you pour out on us. May we continue to receive your help and your protection. Bless us in whatever we are allowed to do in your service, that it may always be done in love to all people. Watch over us this night and be with us. May your will be done throughout the world, so that at last all confusion may come to an end, Satan's work may be destroyed, and your children may shout for joy that your will is being done on earth as in heaven. Amen.
Thursday in the Octave of Easter
As the crippled man who had been cured clung to Peter and John,
all the people hurried in amazement toward them
in the portico called "Solomon's Portico."
When Peter saw this, he addressed the people,
"You children of Israel, why are you amazed at this,
and why do you look so intently at us
as if we had made him walk by our own power or piety?
The God of Abraham, the God of Isaac, and the God of Jacob,
the God of our fathers, has glorified his servant Jesus
whom you handed over and denied in Pilate's presence,
when he had decided to release him.
You denied the Holy and Righteous One
and asked that a murderer be released to you.
The author of life you put to death,
but God raised him from the dead; of this we are witnesses.
And by faith in his name,
this man, whom you see and know, his name has made strong,
and the faith that comes through it
has given him this perfect health,
in the presence of all of you.
Now I know, brothers and sisters,
that you acted out of ignorance, just as your leaders did;
but God has thus brought to fulfillment
what he had announced beforehand
through the mouth of all the prophets,
that his Christ would suffer.
Repent, therefore, and be converted, that your sins may be wiped away,
and that the Lord may grant you times of refreshment
and send you the Christ already appointed for you, Jesus,
whom heaven must receive until the times of universal restoration
of which God spoke through the mouth
of his holy prophets from of old.
For Moses said:
A prophet like me will the Lord, your God, raise up for you
from among your own kin;
to him you shall listen in all that he may say to you.
Everyone who does not listen to that prophet
will be cut off from the people. 
"Moreover, all the prophets who spoke,
from Samuel and those afterwards, also announced these days.
You are the children of the prophets
and of the covenant that God made with your ancestors
when he said to Abraham,
In your offspring all the families of the earth shall be blessed.
For you first, God raised up his servant and sent him to bless you
by turning each of you from your evil ways."
R. (2ab) 
O Lord, our God, how wonderful your name in all the earth!
or:
R. 
Alleluia.
O LORD, our Lord,
how glorious is your name over all the earth!
What is man that you should be mindful of him,
or the son of man that you should care for him?
R. 
O Lord, our God, how wonderful your name in all the earth!
or:
R. 
Alleluia.
You have made him little less than the angels,
and crowned him with glory and honor.
You have given him rule over the works of your hands,
putting all things under his feet.
R. 
O Lord, our God, how wonderful your name in all the earth!
or:
R. 
Alleluia.
All sheep and oxen,
yes, and the beasts of the field,
The birds of the air, the fishes of the sea,
and whatever swims the paths of the seas.
R.
 O Lord, our God, how wonderful your name in all the earth!
or:
R. 
Alleluia.
R. Alleluia, alleluia.
This is the day the LORD has made;
let us be glad and rejoice in it.
R. Alleluia, alleluia.
The disciples of Jesus recounted what had taken place along the way,
and how they had come to recognize him in the breaking of bread.
While they were still speaking about this,
he stood in their midst and said to them,
"Peace be with you."
But they were startled and terrified
and thought that they were seeing a ghost.
Then he said to them, "Why are you troubled?
And why do questions arise in your hearts?
Look at my hands and my feet, that it is I myself.
Touch me and see, because a ghost does not have flesh and bones
as you can see I have."
And as he said this,
he showed them his hands and his feet.
While they were still incredulous for joy and were amazed,
he asked them, "Have you anything here to eat?"
They gave him a piece of baked fish;
he took it and ate it in front of them.
He said to them,
"These are my words that I spoke to you while I was still with you,
that everything written about me in the law of Moses
and in the prophets and psalms must be fulfilled."
Then he opened their minds to understand the Scriptures.
And he said to them,
"Thus it is written that the Christ would suffer
and rise from the dead on the third day
and that repentance, for the forgiveness of sins,
would be preached in his name
to all the nations, beginning from Jerusalem.
You are witnesses of these things."
– – –
Lectionary for Mass for Use in the Dioceses of the United States, second typical edition, Copyright © 2001, 1998, 1997, 1986, 1970 Confraternity of Christian Doctrine; Psalm refrain © 1968, 1981, 1997, International Committee on English in the Liturgy, Inc. All rights reserved. Neither this work nor any part of it may be reproduced, distributed, performed or displayed in any medium, including electronic or digital, without permission in writing from the copyright owner.
Peter and John were going up to the temple area
for the three o'clock hour of prayer.
And a man crippled from birth was carried
and placed at the gate of the temple called "the Beautiful Gate" every day
to beg for alms from the people who entered the temple.
When he saw Peter and John about to go into the temple,
he asked for alms.
But Peter looked intently at him, as did John,
and said, "Look at us."
He paid attention to them, expecting to receive something from them.
Peter said, "I have neither silver nor gold,
but what I do have I give you:
in the name of Jesus Christ the Nazorean, rise and walk."
Then Peter took him by the right hand and raised him up,
and immediately his feet and ankles grew strong.
He leaped up, stood, and walked around,
and went into the temple with them,
walking and jumping and praising God.
When all the people saw him walking and praising God,
they recognized him as the one
who used to sit begging at the Beautiful Gate of the temple,
and they were filled with amazement and astonishment
at what had happened to him.
R. (3b) 
Rejoice, O hearts that seek the Lord. 
or:
R. 
Alleluia.
Give thanks to the LORD, invoke his name;
make known among the nations his deeds.
Sing to him, sing his praise,
proclaim all his wondrous deeds.
R. 
Rejoice, O hearts that seek the Lord. 
or:
R. 
Alleluia.
Glory in his holy name;
rejoice, O hearts that seek the LORD!
Look to the LORD in his strength;
seek to serve him constantly.
R. 
Rejoice, O hearts that seek the Lord. 
or:
R. 
Alleluia.
You descendants of Abraham, his servants,
sons of Jacob, his chosen ones!
He, the LORD, is our God;
throughout the earth his judgments prevail.
R. 
Rejoice, O hearts that seek the Lord. 
or:
R. 
Alleluia.
He remembers forever his covenant
which he made binding for a thousand generations—
Which he entered into with Abraham
and by his oath to Isaac.
R. 
Rejoice, O hearts that seek the Lord. 
or:
R. 
Alleluia.
R. Alleluia, alleluia.
This is the day the LORD has made;
let us be glad and rejoice in it.
R. Alleluia, alleluia.
That very day, the first day of the week,
two of Jesus' disciples were going
to a village seven miles from Jerusalem called Emmaus,
and they were conversing about all the things that had occurred.
And it happened that while they were conversing and debating,
Jesus himself drew near and walked with them,
but their eyes were prevented from recognizing him.
He asked them,
"What are you discussing as you walk along?"
They stopped, looking downcast.
One of them, named Cleopas, said to him in reply,
"Are you the only visitor to Jerusalem
who does not know of the things
that have taken place there in these days?"
And he replied to them, "What sort of things?"
They said to him,
"The things that happened to Jesus the Nazarene,
who was a prophet mighty in deed and word
before God and all the people,
how our chief priests and rulers both handed him over
to a sentence of death and crucified him.
But we were hoping that he would be the one to redeem Israel;
and besides all this,
it is now the third day since this took place.
Some women from our group, however, have astounded us:
they were at the tomb early in the morning
and did not find his Body;
they came back and reported
that they had indeed seen a vision of angels
who announced that he was alive.
Then some of those with us went to the tomb
and found things just as the women had described,
but him they did not see."
And he said to them, "Oh, how foolish you are!
How slow of heart to believe all that the prophets spoke!
Was it not necessary that the Christ should suffer these things
and enter into his glory?"
Then beginning with Moses and all the prophets,
he interpreted to them what referred to him
in all the Scriptures.
As they approached the village to which they were going,
he gave the impression that he was going on farther.
But they urged him, "Stay with us,
for it is nearly evening and the day is almost over."
So he went in to stay with them.
And it happened that, while he was with them at table,
he took bread, said the blessing,
broke it, and gave it to them.
With that their eyes were opened and they recognized him,
but he vanished from their sight.
Then they said to each other,
"Were not our hearts burning within us
while he spoke to us on the way and opened the Scriptures to us?"
So they set out at once and returned to Jerusalem
where they found gathered together
the Eleven and those with them who were saying,
"The Lord has truly been raised and has appeared to Simon!"
Then the two recounted what had taken place on the way
and how he was made known to them in the breaking of the bread.
– – –
Lectionary for Mass for Use in the Dioceses of the United States, second typical edition, Copyright © 2001, 1998, 1997, 1986, 1970 Confraternity of Christian Doctrine; Psalm refrain © 1968, 1981, 1997, International Committee on English in the Liturgy, Inc. All rights reserved. Neither this work nor any part of it may be reproduced, distributed, performed or displayed in any medium, including electronic or digital, without permission in writing from the copyright owner.
Verse of the Day
for Thursday, April 5, 2018
For Christ's love compels us, because we are convinced that one died for all, and therefore all died. And he died for all, that those who live should no longer live for themselves but for him who died for them and was raised again.
Thoughts on Today's Verse…
"What am I living for?" While that is an important question, the most important question of all is "Who am I living for?" Only one person can insure that I will never die because he has already died for me and conquered death! If he was willing to die for me, I'm for sure going to live for him!
My Prayer…
Victorious Lord, thank you for giving me triumph over death through Jesus, my Lord. Thank you for giving me victory over sin through his sacrificial death. Thank you for giving me victory today in my life as I live it for him. Through the precious name of Jesus I pray. Amen.
Recently, I had a prophetic dream, and it was very simple but very significant. In the dream, I was in a huge field. Morning dew was covering the field. I could tell it was very early morning because the sun was just starting to rise. As the sun began to rise, I was overwhelmed by the beauty of it. It was the prettiest sunrise I have ever seen. The vibrant colors, the oranges and reds and yellows filled the sky and it was so beautiful. Then the Lord began to speak and said, "A new day is dawning." And there was a pause and I thought the Lord meant right now. But then the Lord spoke and said, "A new day is dawning at the end of April."
A week before this, the Lord had instructed me to set aside the month of April to seek Him to a higher degree. I felt the Lord calling me to season of special prayer and fasting during the month of April. The Lord continued to speak to me about doing specific spiritual things in the month of April but also to do some physical things. So as I have been seeking the Lord, preparing for the month of April, this dream excited me to a whole new level.
I felt the Lord say, "This word is for the body of Christ." I then remembered several words the Lord spoke to me last September and November about the first four months of 2018. The Lord kept telling me that this season would be a time where He would launch many people and many would experience new dimensions of favor and of His Spirit.
I feel what is coming at the end of April is not just a small season God is setting us up for years of life, planning, strategy and vision. The Lord was reminding me of many of my favorite Scriptures that promise that those who diligently seek Him will find Him. Through this the Lord has already been showing me strategies for so many different things. Just a few mornings ago, I woke up extremely excited. I shared two visions that I had for different things with my wife. We have already started implementing these new things just from things the Lord revealed to us just a few days ago.
What the Lord does within us during the month of April will cause Him to do something through us after that. It even says in Ephesians that God wants to do a powerful work in us so He can do it through us. In the month of April, diligently seek the Lord. Spend extra time in fasting and prayer. Dig deep into the Word. Make sure to connect with your prophets and apostles and allow them to speak into your life.
This is going to be a season of divine strategy and divine outpouring of the Holy Spirit. What God is about to in your life is powerful. Many have had dreams and visions for different things in past seasons but lacked the knowledge and strategy to move forward with them. This season, God is releasing those strategies to you so that you can go onto your next level, your next assignment and do whatever the Lord has for you.
New days are dawning! There is a new day dawning in your life. Look up! Night is over. This is your season. There is an acceleration from the Lord coming to you. I challenge you, get ready for April because God is about to show up in a great and mighty way. Seeking the Lord in the month of April is key to unlocking what is coming as this new day dawns for the body of Christ. 
Joe Joe Dawson is the founder and apostle of ROAR Apostolic Network and ROAR Church Texarkana. Joe Joe is married to the love of his life, Autumn Dawson, and they have three children, Malachi, Judah and Ezra. The Dawsons live and teach a lifestyle of revival and awakening. Their desire is to see every believer fulfill their God-given destiny and live life to the fullest in God. Joe Joe is also the author of Living Your God-Sized Dream and Recipe for Revival. To connect with Joe Joe or for more information, visit joejoedawson.net.
A Prayer for Rejection
By Lysa Terkeurst
"The righteous person may have many troubles, but the LORD delivers him from them all." Psalm 34:19 (NIV)
The enemy loves to take our rejection and twist it into a raw, irrational fear that God really doesn't have a good plan for us.
This fear is a corrupting companion. It replaces the truths we've trusted with hopeless lies. Satan knows what consumes us controls us. Therefore the more consumed we are with rejection, the more he can control our emotions, our thinking and our actions.
So what's a brokenhearted person to do? We must take back control from something or someone that was never meant to have it and declare God as Lord. To help us see how we can practice this when the worries of rejection try to control us, here are three things to remember and proclaim.
1. One Rejection is Not a Projection of Future Failures
It's good to acknowledge the hurt, but don't see it as a permanent hindrance. Move on from the source of the rejection, and don't let it shut you down in that arena of life. It has already stolen enough from your present. Don't let it reach into your future. Replace the negative talk that will hinder you. Replace it with praises for God, who will deliver you.
2. There is Usually Some Element of Protection Wrapped in Every Rejection
This is a hard one to process at the time of the rejection. But for many of my past rejections, I can look back and see how God was allowing things to unfold the way they did for my protection. In His mercy, He allowed this.
3. This is a Short-Term Setback, Not a Permanent Condition
The emotions that feel so intense today will ease up over time as long as we let them. We just have to watch how we think and talk about this rejection. If we give it the power to define us, it will haunt us long-term. But if we only allow it enough power to refine us, the hurt will give way to healing.
Father God, I don't understand this situation. But I do understand Your goodness to me. Help me replace the fears threatening to consume me with truth. I know You love me, You are for me, and I absolutely can trust You with all of my heart. In Jesus' Name, Amen.
Praying the Scripture: A Case Study
By Randy McKinion
Have you ever listened to someone pray and wondered why you don't (or can't) pray as they do? From the first, we must remember that prayer is not rendered ineffective because of its lack of eloquence or theological vocabulary. At the same time, this is an area in which believers will consistently grow, not so they can flatter a crowd, but so that they might pray in concert with God's will. Although it is probably not a good practice to compare the prayers of other men and women, it seems that a prayer—especially when prayed corporately—can vary in its effectiveness in both asking according to the will of God and reflecting with the body of Christ.
My supposition is simple: Praying Scripture promotes growth and effectiveness in prayer. Granted, Scripture must meet a heart compelled to believe in a God who is sovereign and therefore able to answer prayer. That is, a praying heart must trust in the God who desires to answer the prayers of His children. Such was Jesus' expectation for His disciples (John 15:7). Yet, Scripture provides inspired vocabulary and theology for prayer that pleases the Lord.
Fortunately, Scripture has provided examples of what this looks like. Not only are we given prayers of God's children through the text, but we also have an example of the manner and result of a servant of God who prays as a reflection of his meditation upon the word of God. We see this in the text of Daniel 9.
Daniel 9:2 makes an interesting shift in the book. Daniel had previously received revelation through visions and dreams. Here, the text shifts to the interpretation of Scripture. Instead of receiving a new divine vision, Daniel reads, tries to understand Jeremiah 25:1, and prays as a response to this text. The particular verse that mentions the 70 years is Jeremiah 25:11 (see also Jeremiah 29:10), but it is pretty clear based on his prayer that he was reading the whole chapter.
As a result of his understanding the text of Jeremiah, Daniel responded in the following manner: "So I gave my attention to the Lord God to seek Him by prayer and supplications, with fasting, sackcloth and ashes" (Daniel 9:3). Daniel literally "turned his face toward the Lord God," which is a fitting description of prayer. In prayer, believers turn their face from the world, its allurements, and their preoccupation with themselves to the Lord their God. The focus of their mind turns to God Himself and His will for their lives. Daniel's manner in prayer revealed a determined, fervent heart; not an in-passing, flippant approach to prayer. He was desperate, and he lingered long before the Lord in order to understand God's will. This was not simply a quick request before reading Scripture to ask for God's blessing; this was a prolonged time of fasting and sitting before the Lord in a humble state. We learn much from Daniel's countenance, but we also learn from the way he approached both the text and his response to it. Though the passages resonates with the rest of the Old Testament, two examples suffice to make our point.
1.      Daniel and Moses
Moreover, as an example for us, Daniel's prayer demonstrates how he prayed in accordance with the text. For example, he begins his prayer, "Alas, O Lord, the great and awesome God, who keeps His covenant and lovingkindness for those who love Him and keep His commandments" (Daniel 9:4). Consider the words of Deuteronomy 7:9:
Know therefore that the Lord your God, He is God, the faithful God, who keeps His covenant and His lovingkindness to a thousandth generation with those who love Him and keep His commandments.
Now, even if Daniel was not quoting from this text—which I believe he is doing—he is at least echoing the words of God given in the text. As such, there is a resonance between his words and those of the Pentateuch. As such, the implication is important. According to Moses in Deuteronomy 7:9, when God brought His people out of Egypt with a mighty hand and redeemed them from slavery, this should have served as a perpetual example of how God would be faithful to the covenant that He had made with His people. This covenant was the promise that God had made to Abraham that these people would be God's chosen people. Godhad promised to bless them, to multiply their seed, and to give them the land of Canaan. Thus, Moses and Daniel recognized that God is one who keeps His covenant, that He would keep His lovingkindness (or loyal love). In fact, later in the prayer, Daniel reflects upon the Lord's work in bringing His people "out of the land of Egypt with a mighty hand" (Daniel 9:15).
2.      Daniel and Solomon
Daniel's prayer continues: "We have sinned, committed iniquity, acted wickedly and rebelled, even turning aside from Your commandments and ordinances" (Daniel 9:5). In setting these three phrases together, Daniel's prayer seems to be bringing together the truths of Solomon's prayer in 1 Kings 1:1. When Solomon had finished building the temple and when the ark had been brought in, he prayed a prayer of dedication. Near the end, he acknowledged the sinful tendencies that they as a nation had, and so he made the following request of the Lord in 1 Kings 8:46:
When they sin against You (for there is no man who does not sin) and You are angry with them and deliver them to an enemy, so that they take them away captive to the land of the enemy, far off or near.
This was the exact case, the reason Daniel was in exile to begin with. God had given them over to their enemies because of their continued sin. Solomon continued:
If they take thought in the land where they have been taken captive, and repent and make supplication to You in the land of those who have taken them captive, saying, "We have sinned and have committed iniquity, we have acted wickedly." (1Kgs 8:47)
These are the same words that Daniel uses to make confession. If God's people were to find themselves in exile, the proper response was to confess that they had sinned, committed iniquity, and acted wickedly, just as Daniel confessed. He seems to have "taken thought" just as Solomon had prayed later readers would.
What is more, the balance of Daniel's prayer seems to reflect the rest of Solomon's as well:
If they return to You with all their heart and with all their soul … and pray to You … then hear their prayer and their supplication [plea for mercy] in heaven Your dwelling place, and maintain their cause, and forgive Your people … and make them objects of compassion before those who have taken them captive, that they may have compassion on them. (1Kgs 8:47–50)
What Solomon had foreseen and prayed about, Daniel was living. He and his people found themselves in exile because of the sins of their fathers. Now the question remained: Would they respond correctly by not following the pattern of their fathers' reaction? In this prayer, Daniel demonstrates that he was responding correctly, in line with Solomon's prayer hundreds of years before.
Conclusion
I am pretty certain that good praying is not marked by its use of King James English. I think what sticks out in my mind about such individuals is that their prayers are well versed in Scripture. I think this is the reason that their prayers seem to be an expression of the heart of God. They know Him well, because they have spent time in His Word. This reflects itself in their praying as they view life through His lens, not their own.
For those of us who struggle with this, praying in light of Scripture, I believe, is an important principle for modern believers. If God speaks to us in His word—and He does—and if we desire to pray according to His will—as we should—then we will consistently pray in light of the text. When we read Scripture, in other words, we learn what God's heart truly loves and what He desires. Therefore, when we pray with the words of Scripture, we are assured that our requests are not self-centered or outside of His will. Our requests will be focused upon Him and His glory and in line with His larger plans. When we read the Bible for our devotions or when reflecting upon Sunday's sermon, it would be helpful for us to rephrase what we have learned in a prayer. This will help us develop not only a better vocabulary for prayer but also train our hearts to respond to God in a way that pleases Him. In many ways, this is why the book of Psalms has been so well loved by believers. In it we find the writer dealing with the highs and lows of life, and we learn how he responds to those situations with his words. The same is true of Daniel in this passage. His mind was filled with the Word of God. Much of the language he uses in his prayer is not new to him; it is taken from what he was reading in Jeremiah. This prayer may leave you saying, "If I could only pray like Daniel!" Well, the good news is that you can, because he was simply a faithful student of God's words, and he recognized their continued validity in his life.
So, through these couple example from Daniel's prayer, the pattern emerges whereby God's servant reads the text, works diligently to understand that text within the context of Scripture, and responds to the text with requests influenced and governed by God's words. Following Daniel's example can ensure that our prayers clearly articulate the will of God, with the full understanding that in our weakness "the Spirit Himself intercedes for us with groaning too deep for words" (Romans 8:26).
Randy McKinion is a regular contribtuor to Expository Thoughts. He is a husband and father of three and Associate Professor of Old Testament and Biblical Languages at shepherds seminary in Cary, NC.
Peace or Worry?
Let the peace of Christ rule in your hearts, since as members of one body you were called to peace. And be thankful. – 
Colossians 3:15
Doesn't the world look pretty safe sometimes?
Peace accords are signed. Cold wars end. The wall comes down. Just when my fears began to calm, I ran across an article about nuclear weapons in Russia. Organized crime is trying to steal nuclear material in Russia and sell it on the black market. And while the FBI can't confirm that material has been stolen, Interpol reported that highly enriched uranium disappeared near St. Petersburg.
When I learn about the threat of nuclear weapons falling into the wrong hands, it's easy for me to feel anxious. But this is when I can turn to the truth from the Bible and learn from the words of Jesus.
In the Bible, the disciples of Jesus were anxious about their future. Jesus was telling them that he would soon die on a cross and be raised from the dead on the third day. They began to worry about their future. Then Jesus told them, "Peace I leave with you, my peace I give you. I do not give to you as the world gives. Do not let your hearts be troubled and do not be afraid." 
(John 14:26
).
It's easy to worry about the future but it's not what God wants for us. I challenge you today to rest in God's peace.
"Peace is more the product of our day-to-day living than of a spectacular program, intermittently executed."
-Dwight D. Eisenhower (1890-1969)
From Good Morning, Lord by Sheila Walsh
Today I will keep my eyes on the cross, a picture of Jesus' love for me.
It changed my perception of the Cross. I'm talking about the question "Do you know how much Jesus loves you?" and the answer "This much," an answer illustrated with arms outstretched just as our Savior's were when he was hanging on the cross. His nail-scarred hands, stretched volun­tarily across the rough wood and held there by iron pegs that pierced his flesh and made him bleed, speak volumes of Jesus' amazing love . . . for you.
Life's bumpy road, however, can have any one of us doubting God's love and fearing what the next day or week or month will hold. I don't know what kind of past you are dealing with or what fears have resulted from your jour­ney through life. But I do know this: God is love, and his love is far bigger than any past circumstances, current fear, or worry about the future that can try to distract you and keep you from focusing on him. "Let us," as the author of Hebrews says, "fix our eyes on Jesus, the author and perfecter of our faith, who for the joy set before him endured the cross, scorning its shame, and sat down at the right hand of the throne of God" (12:2 NIV).

What Jesus Did!

 'He Will Raise the Dead!'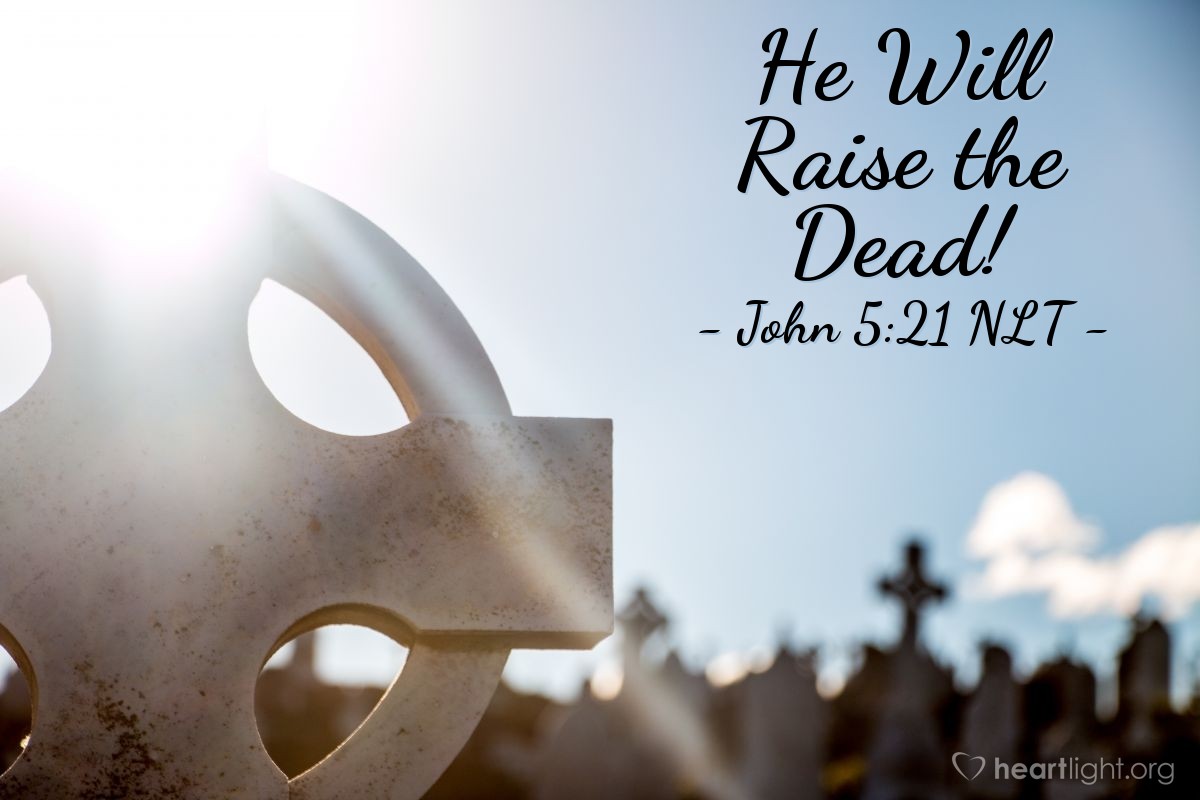 Key Thought
Death was our impenetrable barrier as mortals. We could not escape it. We could not go around it. We could not see beyond it. Then the Father sent his Son, Jesus. Jesus conquered death. Jesus destroyed it as our barrier. He showed us what is on the other side of death. Just as surely as the Father raised Jesus from the dead, Jesus will also raise from the dead those who love him. He has promised it. He has demonstrated it. He now longs to do it, and one day he will raise the dead. Then, as God's children, we will experience his glory firsthand.
Today's Prayer
Father, thank you for not letting death have the final word. Thank you for demonstrating your power over our death through Jesus' resurrection. Give me the courage to live with conviction and faithfulness knowing that my life will not be claimed by my death, but by my Savior, with whom I will live and reign forever. In his name, Jesus Christ my Lord, I pray. Amen.
Related Scripture Readings
Passion for Praise:

 'Be My Rock of Protection'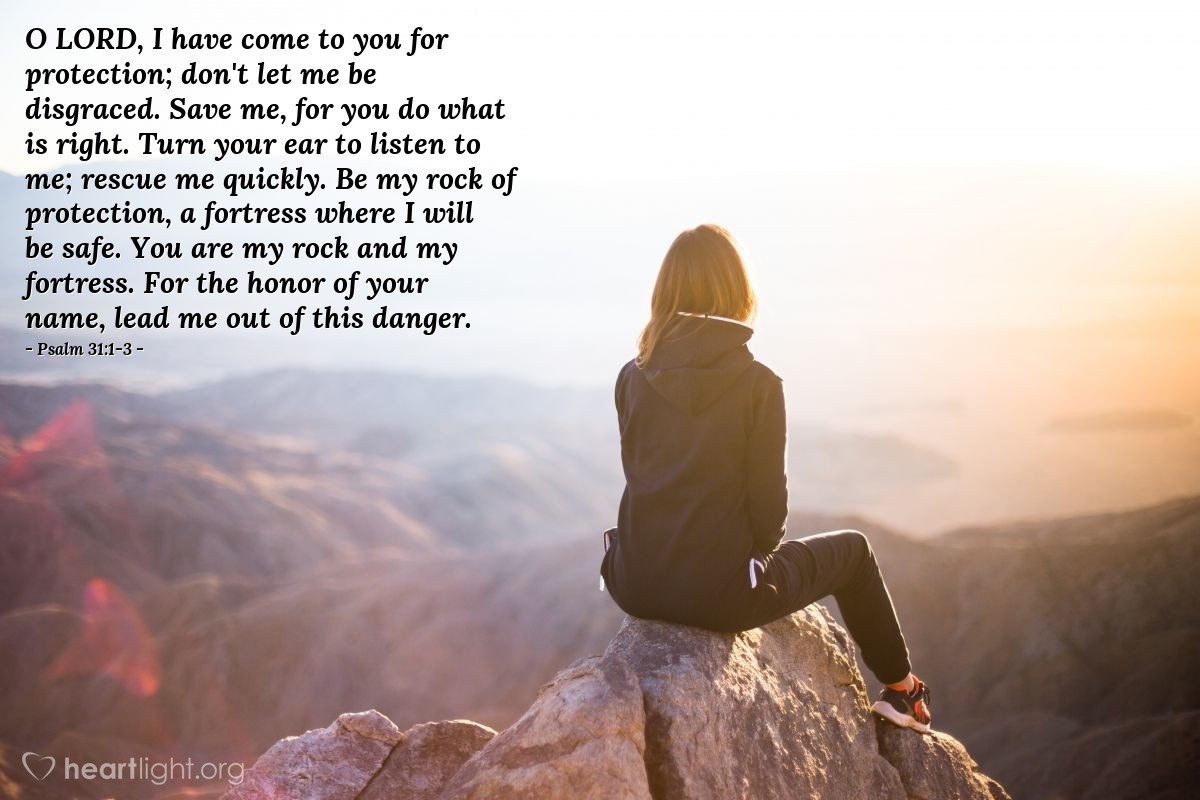 God's Holy Fire:

 'A Matter of the Heart'

For no one is a Jew who is merely one outwardly, nor is circumcision outward and physical. But a Jew is one inwardly, and circumcision is a matter of the heart, by the Spirit, not by the letter. His praise is not from man but from God.
Key Thought
Prejudice is ungodly. It is a divisive stain fueled by 
the powers
 of hell. To view people based on their ethnicity, their skin color, their tribe, their language, their culture, their education, or their status is to remain trapped in the sin-dominated world that Satan inflicted on us after the fall. Jesus came to tear down the walls that separate people from each other 
and to bring
 us together, through the Holy Spirit, into one new body — his body, the church — where he animates and empowers us through the Holy Spirit (
Ephesians 2:11-22
). So 
our identity
 is not determined by our skin color but by the presence of God's Spirit. We are the cleansed and claimed people of God — spiritually "circumcised" — by the Holy Spirit.
Today's Prayer
Father, we confess that we have allowed petty differences, racial prejudices, tribal conflicts, and regional rivalries to inflict wounds on the body of Christ. We ask — I ask personally — that your Holy Spirit work in each of our hearts to tear down these barriers and help us welcome and cherish each other based on our allegiance to Jesus as Lord and on the presence of your Spirit within us. In Jesus' name, I pray. Amen.
Humility comes before honor.
Proverbs 15:33
Humiliation of soul always brings a positive blessing with it. If we empty our hearts of self, God will fill them with His love. If we desire close communion with Christ, we should remember the word of the Lord: "This is the one to whom I will look: he who is humble and contrite in spirit and trembles at my word."1
Stoop if you want to climb to heaven. Is it not said of Jesus, "He who descended is the one who also ascended"?2 So must you. You must grow downwards, that you may grow upwards; for the sweetest fellowship with heaven will be enjoyed by humble souls and by them alone. God will deny no blessing to a thoroughly humbled spirit. "Blessed are the poor in spirit, for theirs is the kingdom of heaven,"3with all its riches and treasures. All of God's resources will be made available to the soul that is humble enough to be able to receive them without growing proud because of it.
God blesses each of us up to the level and extent of what it is safe for Him to do. If you do not get a blessing, it is because it is not safe for you to have one. If our heavenly Father were to let your unhumbled spirit win a victory in His holy war, you would snatch the crown for yourself, and in the next battle you would fall a victim. He keeps you low for your own safety!
When a man is sincerely humble and never tries to take the credit or the praise, there is scarcely any limit to what God will do for him. Humility makes us ready to be blessed by the God of all grace and equips us to deal efficiently with our fellows. True humility is a flower that will adorn any garden. This is a sauce that will season every dish of life and improve it in every case. Whether in prayer or praise, whether in work or suffering, the genuine salt of humility cannot be used in excess.
1) Isaiah 66:2
2) Ephesians 4:10 
3) Matthew 5:3
Today's Scripture
"But God shows and clearly proves His [own] love for us by the fact that while we were still sinners, Christ (the Messiah, the Anointed One) died for us." – Romans 5:8
Thoughts for Today
You are significant!
Why? Because you are successful? Because you are good-looking? Because you are popular? Because you do good things? No. You are significant because God loves you. Because Jesus died on the cross for your sins–while you were still a sinner.
No matter what you have or haven't done, look at God's Word to find your reflection of significance. Nothing and no one can take that from you. You are significant because of God's great love for you–now and forever.
Here are just a few more reflections of your significance:
Spend time in God's Word–you will find many more reflections.
Consider this …
Have you opened your heart to God's love? No matter what your past or what you have done, you are significant to God. He sent His Son Jesus to die on the cross for your sins. Forgiveness is available to you as a gift–Jesus has already paid the price. Consider receiving that gift right now. Just tell God how you feel. Ask Him to forgive you. Tell Him you want to accept Jesus and His precious gift. And then begin to see your reflection in the Bible.
Prayer
Lord, thank you for loving me. I don't understand how I can be significant to you, but I thank you that I am.
In Jesus' name …
Could This Be Why Teenagers Are Killing Their Peers?
"We don't have a gun problem; we have a sin problem," Pastor Shane Idleman says.
In the wake of so many school shootings, parents and students alike are crying out for justice. But there's more happening than meets the eye, and the answer isn't as simple as new laws.
Idleman ties in the increase of violence to what kids are watching.
Take a look.
The Famine That Leads to Freedom
TGIF Today God Is First Volume 1 by Os Hillman
April 05, 2018
"Go down there and buy some for us, so that we may live and not die." – Genesis 42:2b
F. B. Meyer in his book, The Life of Joseph, describes a time in the life of the 12 sons of Jacob in which they were driven from their lives of self-satisfaction to an unlikely place to save their lives. Many years earlier they had thrown their youngest brother into a pit, then sold him into slavery. Thirteen years later he became the second most powerful person in Egypt. Now the world was experiencing a famine, and Joseph controlled all the stored grain of Egypt.
As long as the hills were green and the pastures clothed with flocks, as long as the valleys were covered over with corn and rang with the songs of reapers, Reuben, Simeon, and the rest of them would have been unconcerned and content. But when the mighty famine came, the hearts of these men were opened to conviction. Their carnal security was shattered. They were being prepared for certain spiritual experiences they would never have dreamed. And they were being prepared for the meeting with Joseph. This is how God deals with us; He breaks up our nest, He loosens our roots, He sends a mighty famine that cuts away the whole staff of bread. Then, at such times, weary, worn, and sad, we are prepared to confess our sins and receive the words of Christ when He says, "Come to Me, all you who are weary and burdened, and I will give you rest" (Mt. 11:28).
A missionary once said, "There is a place where we will all be obedient." Joseph was a type of Christ in the Old Testament. The famine was an event designed to bring the brothers to repentance and a saving knowledge, physically and spiritually. It created the circumstances that led to freedom for these men, for they had been in bondage to a wicked crime against their brother for many years. It was the forgiveness from Joseph that led to that freedom.
Is your life passing through a time of famine? Are your supplies limited? Is God leading you into directions that you would not normally seek? Perhaps this is God's hand creating circumstances for His purposes. Now is the time to look attentively as He directs you to unlikely sources.
Cold Wars, Trade Wars, and the Way of Peace
It seems that the world is teetering on the brink of disaster, and it may be only the beginning.
Cold Wars
I am old enough to remember having Civil Defense drills in our neighborhood so that we'd know what to do if a nuclear war broke out. I still remember doing the drills and hearing the sirens in our community when they went off. Many of us though, "Was this it or was this just a drill?" Even in elementary school I became quite familiar with the underneath portion of my desk. Later, they moved us out to the hallway, I suppose thinking we'd have a better chance for survival. We might not have said it out loud, but many wondered if we'd live into adulthood. The tension was sometimes palpable. You could almost cut it with a knife or even touch it. It was that tangible. We'd seen on TV what the nuclear bombs could do, and we thought, "Would holding your head between your legs and covering your head with your hands really help us survive? Those were dangerous times…and as it turned out, far more dangerous than we actually knew. For example, the Cuban Missile Crisis had us all on our seats for a time. There was every reason to believe we'd be the first ones to blink…but time proved we were wrong, and the crisis passed…but now, is it back? Or, is it more of an economic cold war, and not just with Russia, but with China (and others, like Mexico)? It seems that we're on another teeter totter, and who knows which way it's headed?
Peace with God
Isaiah wrote, "There is no peace," says the LORD, "for the wicked" (Isaiah 44:22), but this is not just about pointing fingers because the Bible says that none are good, and to make sure there are no exceptions. To make sure of that, Paul says there is "not even one" (Rom 3:12c). I can only point a finger at myself because I am also included in the "not even one," but the difference is, a Christ-follower does not acquire their own righteousness, but the very righteousness of God found in Jesus Christ (2 Cor 5:21). We are not good, but we are made good in God's sight by Jesus Christ's life, death, and resurrection, but this does not deter from the fact that this is not our Father's world. "There is no peace," says my God, "for the wicked" (Isaiah 57:21), and "The way of peace they do not know, and there is no justice in their paths; they have made their roads crooked; no one who treads on them knows peace" (Isaiah 59:8).
Good and Evil
What people used to call good many years ago is now laughed to scorn, and what was once called bad many years ago is now esteemed to be good, and so as it was prophesied that evil would become good, and good would become evil in the eyes of the world. That doesn't mean good becomes evil or evil becomes good, but things that we used to esteem as good are now looked down upon or even laughed at, however Isaiah pronounces a judgment ("woe") upon those who call evil good and call good evil. Isaiah wrote, "Woe to those who call evil good and good evil, who put darkness for light and light for darkness, who put bitter for sweet and sweet for bitter" (Isaiah 5:20). Relativism has gripped society and pragmatism rules the world. Now it is, "What works best for the most must be true, even if it hurts the few," but as we know, what is often popular is not always right, just as what is right is not often popular.
No Peace
You cannot have the peace of God until you are first at peace with God, and you can only be at peace with God if you make peace with God through Jesus Christ. For anyone who rejects Jesus Christ, there is no peace…at least between you and God, and if there is no peace established between you and God, it is because you have not repented and trusted in Christ. Jesus went back to the Father after His resurrection, but He left the disciples with something that would help them. He said, "Peace I leave with you; my peace I give to you. Not as the world gives do I give to you. Let not your hearts be troubled, neither let them be afraid" (John 14:27), and when the One Who rebuked the storms tells you, you don't have to be afraid, you can believe it! The peace of God comes from God and not us, and this peace surpasses all human understanding (Phil 4:7). It's hard to have peace when there is the threat of another potential cold war, and even worse, a growing threat of a trade war. These things only create more tension and apprehension for us, so it's hard to have peace when many are walking on thin ice, at least financially. The more cracks you see, the more uncertain it looks, but this is not the view of most Christians. Their trust is in God and not in things. Contentment doesn't rest on things but on a Person. If circumstances are allowed to regulate our peace, then we'll never be at peace, and unlike the peace Jesus gives, this peace will not remain.
Conclusion
There is only one solution and it's not human-centered. It will take a righteous King to rule over the earth before there is justice and equity and mercy. No more will there begging bread in the streets but the reaper will actually overtake the plow (Amos 9:13), and God "will wipe away every tear from their eyes, and death shall be no more, neither shall there be mourning, nor crying, nor pain anymore, for the former things have passed away" (Rev 21:4). There will be little problem in having peace if there is no starvation, no sickness, no crying, no pain, no suffering, and no more death. At that time, peace will be like a river that flows out of the New Jerusalem and will sweep over the entire world. The Lord Jesus Christ will have made "all things new" as He promised in His Word (Rev 21:5). Only then will the world know peace and it is only because of the Prince of Peace.
Article by Jack Wellman
Jack Wellman is a pastor, author, and a writer at Christian Quotes and also the Senior Writer at What Christians Want To Know whose mission is to equip, encourage, and energize Christians and to address questions about the believer's daily walk with God and the Bible. You can follow Jack on Google Plus or check out his book Teaching Children the Gospel available on Amazon.
In a brazen assault on our most fundamental freedoms, California legislators are considering a bill that would make it illegal for anyone to receive professional help to resolve unwanted same-sex attractions or gender confusion. This would apply to people of all ages. People of all religious and moral convictions. It is an absolute outrage, and it must be opposed vigorously.
For the last few years, a growing number of states and cities have embraced legislation making it illegal for minors struggling with unwanted same-sex attractions or gender confusion to receive professional help, even with the full support of their parents.
This would apply to a 14-year-old girl who was raped by her uncle at the age of 8 and now feels repulsion towards men and attraction towards women. If her parents stood with her and she wanted to meet with a trained counselor to help to get to the root of her attractions, in some states, that would be illegal. No professional counselor or therapist or psychologist would be allowed to help her.
Yet in these same states, if an 8-year-old girl believed she was really a boy and wanted to receive professional help to affirm her female identity, that would be perfectly legal. A counselor could tell her parents to encourage her to dress and identify as a boy. That counselor could also recommend that, at age 10, she start taking hormone blockers, then prepares to "transition" fully to male at age 16, then has sex-change surgery at 18, with hormones prescribed for life.
That would be perfectly legal. But for that same 8-year-old girl to say, "I want to be at home in the body God gave me. I don't want hormones and surgery. Can anyone help me?" The answer would be, "No. Such help is illegal."
California wants to take this one dangerous step farther, making it illegal for anyone of any age to receive such help. This defies all logic and can only be seen for what it is: a frontal assault on our freedom to self-determination. A frontal assault on our freedom of religion. And a frontal assault on our freedom of conscience.
And make no mistake about this. As ADF attorney Matt Sharp explained on my Line of Fire broadcast, this legislation would extend into the churches.
For example, let's say that your church has the policy of offering free pastoral counseling for all tithing members. That would mean a financial transaction is involved in those services. So, you, a member in good standing want to receive some much-needed counseling.
You're a married father of four, but you struggle deeply with gender identity confusion. You set up an appointment with one of the pastors, only to be told, "It is illegal for us to help you."
I am not exaggerating.
Or you're reading the Bible, which strictly forbids homosexual relationships, and you want help with unwanted same-sex attractions. You even read where the Bible says that some people used to practice homosexuality, but through the gospel, they no longer do (see 1 Cor. 6:9-11).
You try to set up that counseling appointment with your pastor, only to be told, "It is illegal for us to help you."
That pastor could not even recommend a book on the subject from the church bookstore.
That's how far this outrageous bill goes, and it's only one of a series of bills being put forward in California. If the bills pass there, other states will be eager to follow suit.
What makes this even more outrageous is that: 1) there are thousands of ex-gays who can personally testify to their own transformation; 2) there are gay and lesbian psychologists who argue against the myth that homosexuality is innate and immutable; and 3) most children who identify as transgender no longer do so after puberty.
And remember, while California seeks to pass this monstrous legislation, it has no problem backing a psychologist who will help a man embrace his alleged male and female identity simultaneously. Or a counselor who will help someone embrace their alleged animal (or alien) identity. All of that is fine. But to help someone be at home in their own body would be illegal.
The whole basis of the legislation is the claim that: 1) medical fraud is being practiced; and 2) harm can be done to patients who undergo such counseling or therapy.
But there are plenty of patients who attest to the life-transforming impact of the counseling they received. And there are plenty of Christians who attest to the life-transforming power of the gospel—including transformation from homosexual and transgender identities.
It's also a fact that there is no definitive proof that such counseling harms a patient anymore than some patients claim harm after undergoing counseling for substance abuse or overeating or depression.
In fact, during my radio broadcast, Ann Paulk, an ex-lesbian herself, said that positive counseling outcomes for people dealing with unwanted same-sex attractions are higher than positive outcomes for those dealing with alcoholism. Yet no one in their right mind would seek to ban professional counseling or therapy for alcoholics.
No, this California assault on our most fundamental freedoms is simply the latest manifestation of LGBT activism. As I and others have warned incessantly for many years, those who came out of the closet want to put us in the closet. Do you believe me now?
And while critics of any kind of change therapy mocked us with the (false) claim that we were trying to "pray away the gay," these same critics now want to pass a law that says, "You must stay gay" (or, "gender confused").
Will you stand up and make your voice heard today?
Here are four things you can do: 1) share this article and my radio broadcast with your friends; 2) go here to find out more; 3) alert your friends in California and encourage them to contact their legislators; 4) pray for awakening in the church and sanity in the society.
You have been forewarned.
Dr. Michael Brown(www.askdrbrown.org) is the host of the nationally syndicated Line of Fire radio program. His latest book is Playing with Holy Fire: A Wake-up Call to the Pentecostal-Charismatic Church. Connect with him on Facebook or Twitter, or YouTube.
Stay blessed!!!