Christoph Friedrich Blumhardt
Then John gave this testimony: "I saw the Spirit come down from heaven as a dove and remain on him…I have seen and I testify that this is God's Chosen One." John 1:32, 34, NIV
Our Father in heaven, as your children may we truly receive something from you to bring our lives into a living bond with you. Grant that we may overcome everything harmful and evil. May it be given to us to help that your kingdom may come closer and closer, that your will may be done, and Jesus Christ, your Son, may be recognized as the light of the world for the salvation of all people and their deliverance from all evil. Protect us and grant that your Spirit may remain with us. Amen.
Verse of the Day
for Wednesday, April 4, 2018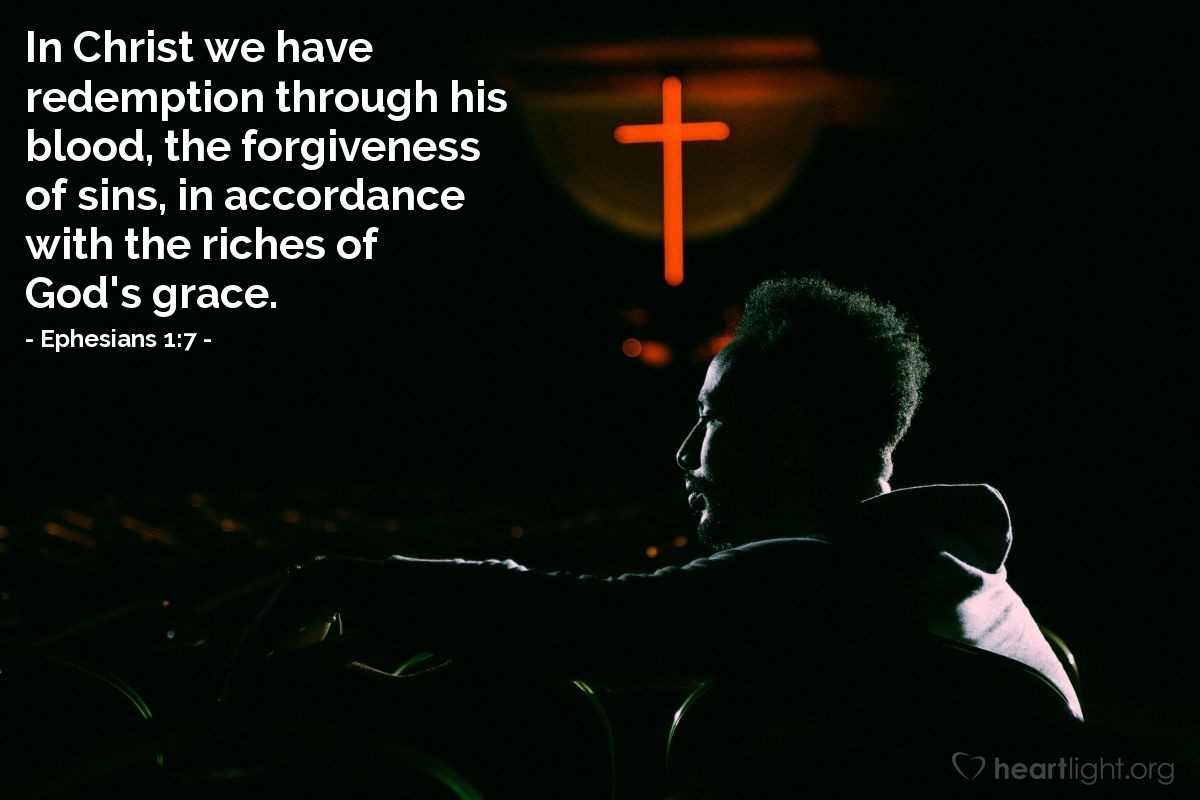 Thoughts on Today's Verse…
Forgiveness! What a sweet and precious gift. What we were powerless to fix, make up or pay for, God did for us in Jesus. With him, each day is a fresh start and rebirth of Springtime. But my, such a terrible cost he paid to give it to us!
My Prayer…
Thank you, Father, for your anguish and cost to forgive my sins by the blood of your Son. I refuse to take lightly the cost of my sin and will live for your glory in appreciation of your grace. In the name of him who sacrificed all for my salvation I pray. Amen.
Jesus' Victory Doesn't End on Easter. It Lasts Forever.
Jesus' victory doesn't end on Easter. It lasts forever. Just ask the author of Hebrews who encouraged his congregation enduring suffering not to give up but persevere. Their reward awaits them and will last forever in view of Jesus' lasting work on their behalf.
Hebrews 7-10 get at various aspects of how resilient and everlasting God's saving work on their behalf really is. First, Jesus' priesthood is eternal. It does not belong to the Aaronic order, but to the order of Melchizedek: "It is even more obvious when another priest arises, resembling Melchizedek, one who has become a priest, not through a legal requirement concerning physical descent, but through the power of an indestructible life. For it is attested of him, 'You are a priest forever, according to the order of Melchizedek'" (Hebrews 7:15-17; NRSV).
Second, the New Covenant which Jesus inaugurates is eternal. It is not like the covenant established by Moses, which according to the author of Hebrews is "obsolete": "'For I will be merciful toward their iniquities, and I will remember their sins no more.' In speaking of 'a new covenant,' he has made the first one obsolete. And what is obsolete and growing old will soon disappear" (Hebrews 8:12-13; NRSV).
Third, the heavenly temple in which Jesus serves presently is the eternal ideal. The earthly temple which was a copy of the eternal sanctuary has since been destroyed, but which was likely still standing at the time this epistle was written (See Hebrews 9:8-10). Regarding the copy and original temples or sanctuaries, the author of Hebrews writes, "For Christ did not enter a sanctuary made by human hands, a mere copy of the true one, but he entered into heaven itself, now to appear in the presence of God on our behalf" (Hebrews 9:24; NRSV).
Fourth, Jesus' sacrifice is priceless and never loses its value, whereas the bulls of blood and goats which can never cleanse us from sin had to be repeated indefinitely on behalf of the people. Now those sacrifices are no more, as the temple is no more. In contrast, Jesus' sacrifice is finished, though its cleansing, saving and perfecting benefits are once and for all and last forever, just like his priesthood: "And every priest stands day after day at his service, offering again and again the same sacrifices that can never take away sins. But when Christ had offered for all time a single sacrifice for sins, 'he sat down at the right hand of God'" (Hebrews 10:11-12; NRSV). Jesus achieves his lasting victory through the eternal Spirit through whom he offered himself unblemished to God (Hebrews 9:14).
All these points are summed up beautifully in the following passage in Hebrews 9:
But when Christ came as a high priest of the good things that have come, then through the greater and perfect tent (not made with hands, that is, not of this creation), he entered once for all into the Holy Place, not with the blood of goats and calves, but with his own blood, thus obtaining eternal redemption. For if the blood of goats and bulls, with the sprinkling of the ashes of a heifer, sanctifies those who have been defiled so that their flesh is purified, how much more will the blood of Christ, who through the eternal Spirit offered himself without blemish to God, purify our conscience from dead works to worship the living God! For this reason he is the mediator of a new covenant, so that those who are called may receive the promised eternal inheritance, because a death has occurred that redeems them from the transgressions under the first covenant (Hebrews 9:11-15; NRSV).
 Matthias Grünewald, The Resurrection of Christ (right wing of the Isenheim Altarpiece)
The Aaronic priesthood, Mosaic Law and Covenant, earthly temple and sacrifices of old all have important roles in God's story of salvation, but they do not stand alone. Rather, they foreshadow and serve as copies and types of God's perfect redemption made available to us in Jesus. And so, we must not go back to them or fall back never to return. Like the Hebrew Christians to whom the author of the epistle writes, we must press on to receive all that Jesus' Easter victory anticipates.In Hebrews 10:19-39, we find the author giving his congregation a stern warning, not out of spite, but out of sincere concern for his community of faith's spiritual and eternal well-being. Members of his congregation are tempted to return to the copies and types and turn away from Jesus in the face of persecution. The warning regarding what awaits those who turn away from the one who alone can save them is real. However, in true pastoral form, the author of this epistle has confidence that his readers' faith is real, and that they will remain true to Jesus, their faithful high priest:
"But we are not among those who shrink back and so are lost, but among those who have faith and so are saved" (Hebrews 10:39; NRSV).
There are times when you and I may feel defeated, ready to give up and throw in the towel. During such times, it is easy to think that Easter is but one day of the year, and Jesus' victory on Easter Sunday does not carry over to Monday morning. It's almost as if Jesus went back to bed, or worse, the grave! When such feelings and thoughts arise, we need to step back and reconsider our spiritual surroundings, putting everything back in the broader context. We need to take note that such struggles, temptations and discouragements will not last forever. What will last forever is Jesus and his kingdom that conquered the grave, sin and guilt, and the ghastly devil on Easter morn. And so, we have every reason to get back up and run the race well to the end! I like how Thomas G. Long puts the matter in his discussion of Hebrews:
The Preacher knows that his congregation is tired, discouraged, and playing with injuries. The danger is that they will lose perspective and forget who they are, where they are, and the nature of the event, and simply quit. Losing sight of the goal, they will fear that they are merely running ragged rather than running in the great marathon of all time (see 12:1). So the Preacher tells them what they cannot see you are running in the supreme contest of humanity; the end of the race is near, and the victor's prize of the 'promised eternal inheritance' awaits (10:36; see 9:15).[1]
I have had the privilege of sharing life with missionaries and ministry leaders from across the world this spring at the Overseas Ministries Study Center in New Haven, Connecticut. I have been struck by their perspective on numerous occasions. No doubt, God has used life circumstances and challenges to refine them, helping them to discern what really counts in light of what really lasts: Jesus and his Easter victory. These Christian leaders from Myanmar, South Korea, Malaysia, Nigeria and other countries understand that Jesus' victory does not end on Easter but lasts forever. They are banking on Jesus in the midst of their disappointments and trials. They know he will come through and that they will receive their eternal reward. Their global and eternal perspective helps me see more clearly and focuses my eye on our eternal prize.
Long after we pick up the wrappings from chocolate Easter eggs and bunnies and clean up after Easter dinner, Jesus' victory on Easter Sunday will continue—longer than an eternity of Mondays. Unlike the prize a child gets for winning the Easter egg hunt, which like everything else on earth perishes in due course, Jesus' reward of life with God will last forever for us. Run the race well until the end.

God's Holy Fire:

 'Jesus: The Name Above All Names!'

The Good News is about [God's] Son. In his earthly life he was born into King David's family line, and he was shown to be the Son of God when he was raised from the dead by the power of the Holy Spirit. He is Jesus Christ our Lord.
Key Thought
Jesus is the Son — David's Son, God's Son in power, Christ, and Lord! Each name means something very important, but the simple truth based on Jesus' resurrection from the dead is this: Jesus is the one of ultimate importance to God. As Paul 
said
 elsewhere, 
"For no matter how many promises God has made, they are 'Yes' in Christ"
 (
2 Corinthians 1:20
). No wonder the gospel is The Good News: 
It is
 the news about Jesus, God's Son, descended from David, one of us as God clothed in humanity, clothed in power as the Son of God, raised from the dead, the Messiah (the Christ), and the Lord of all. And underneath 
all these attributes of Jesus
 is the power of the Holy Spirit, the same Spirit that is alive in us and is transforming us to be like our Lord (
2 Corinthians 3:18
).
Today's Prayer
O almighty God, thank you for Jesus. Thank you for the Holy Spirit. Thank you that you are revealed to us in the unity and the dance of grace that is Father, Son, and Spirit. Thank you for The Good News: that Jesus died, that he was buried, that he was raised, and that he is returning in glory. Until that day, may I live for you! In Jesus' name, I pray. Amen.
Illustration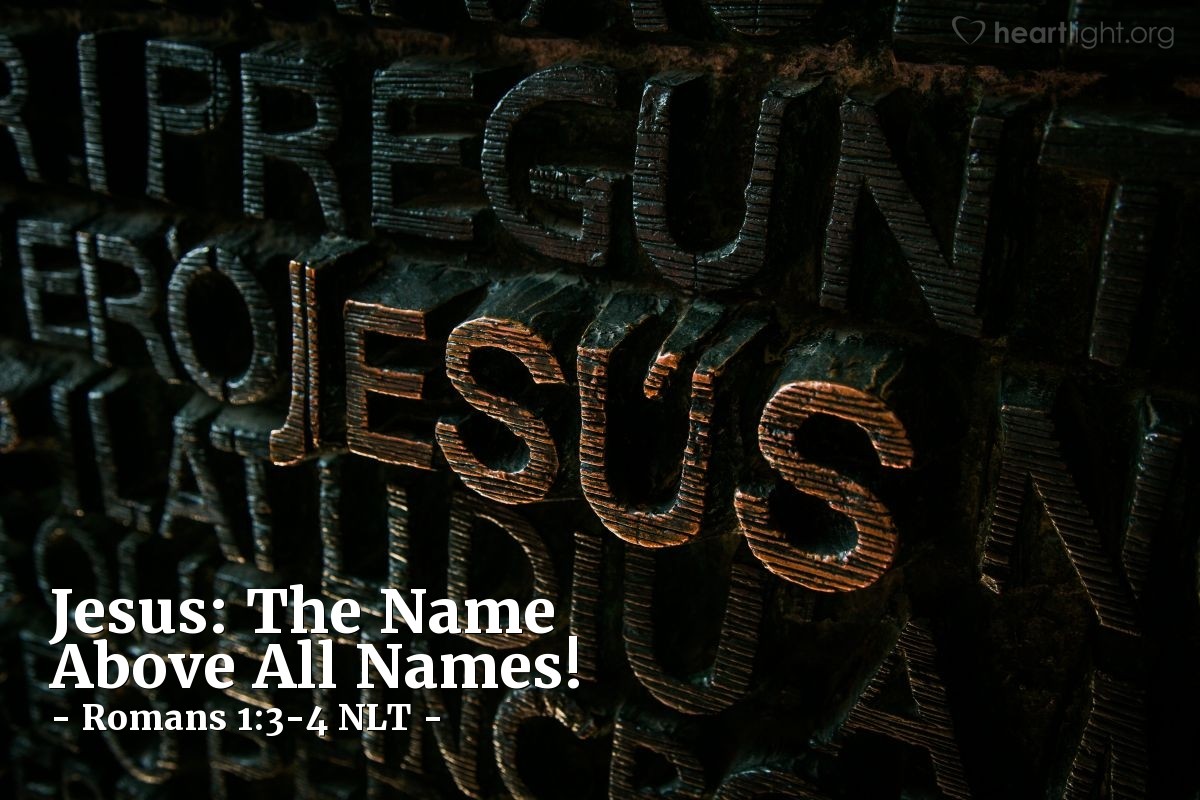 Passion for Praise:

 'Everyone on Earth'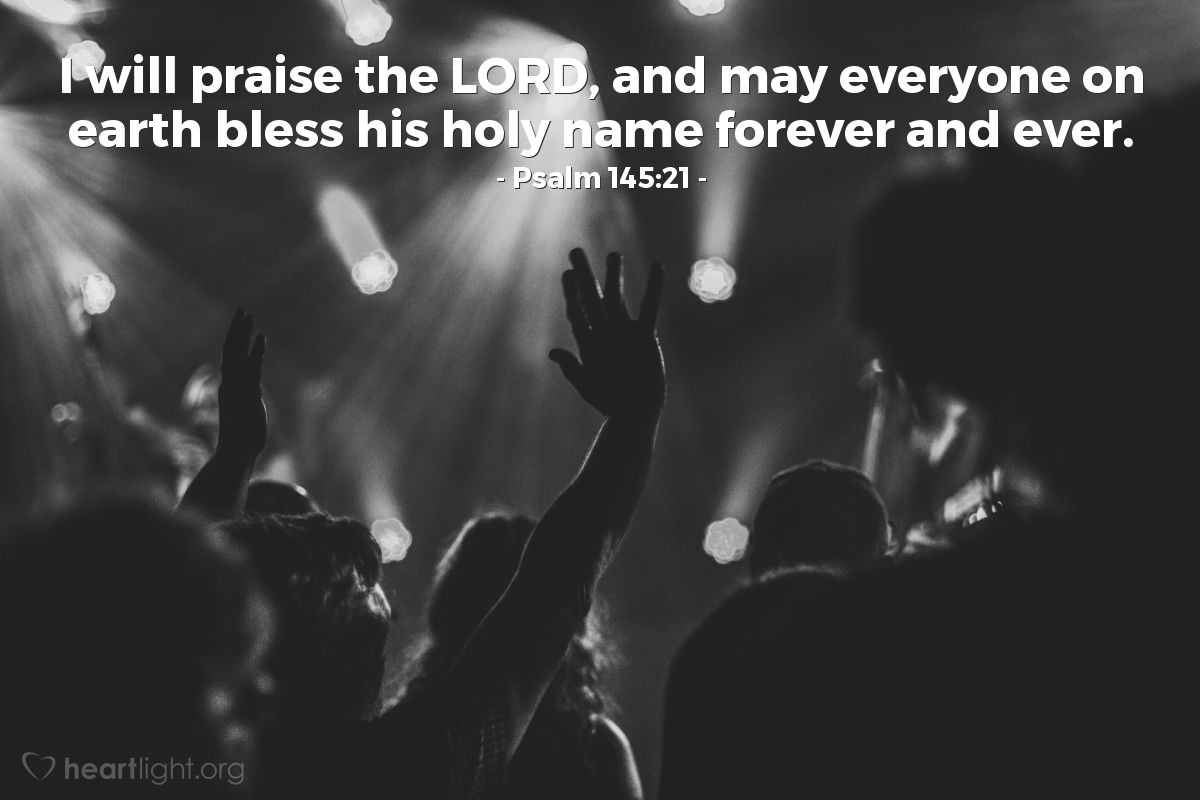 What Jesus Did!

 'Father and Son, Greater Works!'

So Jesus explained, "I tell you the truth, the Son can do nothing by himself. He does only what he sees the Father doing. Whatever the Father does, the Son also does. For the Father loves the Son and shows him everything he is doing. In fact, the Father will show him how to do even greater works than healing this man. Then you will truly be astonished."
Key Thought
Astonished? Yes, that is the word for it. Jesus will do many more miracles in his ministry, he will touch many more people, and he will teach many other awe-inspiring truths. The people around Jesus haven't begun to see all that the Father will reveal through his Son. The greatest of the revelations, however, will bring the people to full astonishment; the Father will raise his Son from the dead and bring him back to life in their presence. They will be astonished. Then some of them will begin to do great works in his name, and the work of Jesus will continue to astonish as he works through his disciples. Jesus' work is astonishing! And, if you will look closely, some of that astonishing work is being done in you!
Today's Prayer
Righteous and Almighty God, your power is incredible, and your holiness is unapproachable. Thank you for bringing this astonishing set of characteristics together in Jesus and then sharing Jesus with us as our Savior. Give me eyes to see his astonishing work, not just as I read the stories of his life, but also as I live for him and he does his work through me. In Jesus' name, I pray. Amen.
Related Scripture Readings
Fairy tales have gotten a bad reputation in recent years. Clean versions of classic fairy tales like Rapunzel and Cinderella have been derided as unauthentic. The original Grimm stories, however, have been deemed too violent. Even beloved Disney adaptations have come under attack as promoting abusive relationships ("Beauty and the Beast") and racism ("Moana"). As such, some parents have practically thrown up their hands and tossed the old fairy tale book out the window. Putting down a blanket ban on fairy tales, however, is a mistake. While yes, the old tales were filled with blood and danger, sanitized versions of classic tales have a great deal to teach children.
Selflessness
One of the classic tropes in fairy tales is for the protagonist to give away something of great value or share what little they have with another person. In most cases, this selfless decision is then rewarded. This trope is played out in the original version of "The Little Mermaid." At the end of Hans Christian Anderson's tale, Ariel's sisters bargain with the sea witch to give Ariel a way to turn back into a mermaid. If Ariel remains a human, she will die at sunrise because the prince chose to marry another. The catch is that Ariel's way to return to the sea is murdering the prince. Ariel refuses and dies at sunrise. Her selfless decision earns Ariel the chance to win an immortal soul after death.
Selflessness is also emphasized by the terrible things that befall the characters in fairy tales who are selfish. They are transformed into animals, cursed and killed in any number of bizarre and painful ways. While parents may not want to elaborate on the bloody fate of the stepsisters in the original Cinderella story, the transformation of a selfish prince into a horrible beast drives the point home.
Courage
The classic image most people picture when they think of fairy tales is that of a knight in shining armor fighting off a dragon. This is largely because one of the most important lessons in fairy tales is the importance of bravery and courage. Heroes and heroines face all sorts of dangers in fairy tales from the evil dragon in "The Two Brothers" to the strange little man in "Rumpelstiltskin." These examples of courage often involve the protagonist standing their ground even when they are hopelessly outmatched. There are far worse lessons to teach children who will face down the dragons of drugs, sex, alcohol, violence and peer pressure than to stand their ground and fight back against what would harm them.
Patience
Curses last a long time in fairy tales. These long curses drive home the importance of patience. It would not be easy to wait 100 years for a curse to end, but protagonists in fairy tales do so all the time. Those who are not patient often end up paying for their impatience. In a culture where everything anyone could want is just a few clicks away, and children as young as elementary school are bombarded with Facebook likes, instant gratification is becoming the norm. In this environment, there are worse things to read to children at night than "The Six Swans" where the heroine must work diligently and patiently for seven years in order to save her brothers.
Cleverness
Most people think of feats of strength when they think of fairy tales, but most fairy tale heroes and heroines are actually victorious because they are quick witted and clever. Gretel manages to kill the evil witch in "Hansel and Gretel" by tricking the witch into looking into the over. The clever heroine in "The Feather Bird" manages to outsmart an evil sorcerer in order to defeat the villain in one of the bloodiest of the Grimm fairy tales. Jack survives the giant in "Jack and Beanstalk" by being too clever and quick for the giant to catch. The woman of "A Woman's Wiles," meanwhile, creates both the conflict and the resolution when she tricks a smug man into getting himself in trouble and then concocts a clever plan to help him get out of the mess he made. In a time when "nerds" and "geeks" are still bullied in schools and TV shows are filled with vapid reality stars, it is good for children to have a few clever role models.
Value of the Individual
Even the oldest fairy tales manage to emphasize the importance of the individual. Fairy tale heroes and heroines are not always given proper names. Many of them are called "the eldest sister" or "the young man," and they are not usually identified by their ethnic or social groups. They are often described briefly as being "poor," "a princess" or "from a far away land," but the importance of what they are pales in comparison to who they are. Fairy tales remind children that what matters is not what groups they belong to but who they are and what they do with their lives.
Compassion
Old fairy tales are known for the bloody endings of their villains, but even old fairy tales contain some startling examples of compassion especially for the times in which they were written. The Japanese fairy tale "The Mirror of Matsuyama" ends with the protagonist forgiving her stepmother for all the pain that she caused the protagonist. In the Arabic fairy tale "Women's Wiles," the woman who tricked the smug man into getting himself into so much trouble takes pity on him and helps him find his way back out of the mess he made. Numerous other fairy tales showcase men and women sparing animals only to have those animals come back to help them later. In a time when people are becoming increasingly tribal and wary of strangers and "outsiders," the importance of teaching children compassion cannot be overstated.
Love
Given that most classic fairy tales were written in the Middle Ages, it is no surprise that they are not the best examples of modern, healthy relationships. That said, fairy tales still place an important emphasis on love. They are not all examples of romantic love either. "The Snow Queen" involves a courageous young girl who braves dangers to save her friend. "The Six Swans" includes a woman who is driven by her love for her brothers, and Belle in "Beauty and the Beast" originally meets the Beast when she goes to rescue her father. Love in all forms remains a central theme of fairy tales from the old to the latest Disney version of these classic tales.
Creativity
Fairy tales involve a number of creative characters. The young man from "The Twelve Dancing Princesses" has to find creative ways to tail the princesses who vanish every night, and the titular character in "Bearskin" gets creative in order to find a way to identify himself to his future wife when he returns after a year.
In addition to having creative characters, fairy tales encourage children to develop their own creativity. Most fairy tales do not list detailed appearances of the characters which forces children to make up their own mental picture of the characters. The vague descriptions of places and events also help children develop their imaginations by envisioning what is happening in the story. This creativity, in turn, will be an invaluable skill for children in later life.
Fairy tales contain valuable lessons for children. Patience, creativity, cleverness and bravery are rewarded while arrogance, greed and lies are punished. The wicked are defeated, and good reigns supreme. While these tales may seem simple to adults, they are important for children.  As G.K. Chesterton said, "Fairy tales do not tell children the dragons exist. Children already know that dragons exist. Fairy tales tell children the dragons can be killed." Let children learn that evil can be beaten and that they have the tools to do it. If they grow up knowing that, they will have the mindset they need to truly change the world for the better.
A Prayer for What Really Fulfills Us
By Suzie Eller
"Then someone called from the crowd, 'Teacher, please tell my brother to divide our father's estate with me.' Jesus replied, 'Friend, who made me a judge over you to decide such things as that?' Then he said, 'Beware! Guard against every kind of greed. Life is not measured by how much you own.'" – Luke 12:13-15, NLT
What's inside is important to God, and we see that affirmed in the story where today's key verse is found. Jesus and the disciples are traveling, when a guy stops Jesus and asks Him to step in and demand that his brother share a portion of an inheritance. Jesus hears something in the man's request that troubles Him. In direct response to the man's question, He starts a conversation about craving what you don't have.
Jesus tells a parable about a rich man who has a fertile farm. His barns are full. Yet instead of being content, he tears down the old barns and builds bigger, better barns to store more grain to acquire even more wealth.
Jesus warns His listeners that these things aren't what fulfill us, but rather we find our "riches" in our relationship with God (verse 20). It's a lesson Jesus taught often. He helped lead His disciples away from worrying over things that didn't have lasting significance, to center on things that did.
So often we are measured in this culture by things that have little eternal value, like how in shape (or out-of-shape) we are, the size of our home, the prestige of our job, our cute shoes or wardrobe. Can I be honest? Sometimes I measure myself by those same standards, forgetting there's much more to life than that.
But I know that as a woman who's loved by Jesus, I am faith-filled and my faith shines a light in darkness.
Jesus led the disciples to a life of "more." He leads you and me down the same path — to a life well-lived from the inside out.
Dear Jesus, I know that beauty begins with my heart, but sometimes that's not where I put my energy or thoughts. Give me wisdom to end the pursuit of things that have little eternal value. Help me run after what changes me from the inside out. In Jesus' Name, Amen.
Following Joshua
Many Christians first learned of Joshua when they were Sunday school children. They heard the exciting story of Jericho's falling walls and Rahab's faith. Perhaps later they learned that "Joshua" and "Jesus" are two forms of the same name in Hebrew (yehoshua' / yeshua' [TH3091/3442, ZH3397/3800]; cf. Neh 8:17), and were taught that Joshua's bringing Israel into Canaan was an Old Testament precursor of Jesus' bringing us out of our bondage to sin and into fellowship with God in the "new land" of freedom in Christ. While these things are important and true, the book of Joshua merits deeper reading on its own account.
Israel's preparations east of the Jordan, the crossing of the Jordan, and the taking of Jericho occupy fully one quarter of the book's chapters (Joshua 1). It then records Joshua's leadership in two major military campaigns, one southern and one northern, bringing Israel into position to begin settling the previously sparsely occupied Canaanite hill country west of the Jordan (Joshua 7). Some of the theological issues raised by a hurried reading of these accounts turn out to have profound significance upon closer reading. Allocation of the land, with some descriptions of boundaries and lists of towns, is the subject of most of the second half of Joshua (Joshua 13). Joshua's farewells, his death, and the burials of three leaders bring the book to its touching conclusion (Joshua 22).
Joshua 1–12 is a consciously crafted unity reporting Israel's penetration into Canaan, just as 13–24 is a consciously crafted unity reporting the beginnings of Israel's settlement in the land. Among many evidences of this crafting is the "bridge" between chapters 1–6 and 7–12, comprising chapters 6–9:
Joshua 6—Jericho: victory following obedience to God's instructions for war
Joshua 7—Ai: defeat following disobedience to God's instructions for war
(Joshua 8—Ai: victory following repentance and judgment)
Joshua 9—Gibeon: troublesome treaty following neglect of God's instructions
(specifically, instruction to make oracular inquiry for war)
The book of Joshua has much to teach us and much with which to inspire the church today as we, too, follow where God would have us go. Joshua's ringing farewell affirmation, "But as for me and my family, we will serve the Lord" (Joshua 24:15), is reason enough to study this important and stirring book, to discover how Joshua became a faithful follower of God.
When Influential Trouble Comes in Waves
By Meg Bucher
"Troublemakers have arisen among you and have led the people of their town astray." Deuteronomy 13:13 NIV
Much like hard times come in seasons, trouble comes in waves. The tricky part about determining a bad influence is weeding out our assumptions. We may tend to honor older people as wiser, louder people deserving of our ear, younger people as having nothing to add to our experience, and so on and so on. We all kind of jockey around for position in this life, don't we? And when it get's turned on it's head, it makes us feel uncomfortable and confused. It often blindsides us, and sometimes traps us.
Before we allow our lives to be swayed, it's wise to determine the direction of the waves. Captains navigate following seas, a shallow-water chop and oncoming rollers differently. So should we, expect to handle, recognize, or navigate trouble.
troublemaker – a person who causes difficulties, distress, worry, etc., for others, especially one who does so habitually as a matter of malice. –dictionary.com
Trouble doesn't always announce itself. Quite the opposite, it often looks appealing and sounds very convincing. Today's verse takes us back to a time in the Old Testament when God's people were being warned of 'troublemakers.' Those that attempted to pry people away, maliciously or not, from God.
"Troublemaker," translated to "worthless" in the New American Standard Bible, is taken from the Hebrew word beliyya`al, which means, worthlessness …worthless, good for nothing, unprofitable, base fellow …wicked …ruin, destruction. 
What happens when trouble is permitted to seep through a leaky crack? As the definition above states: destruction. Just because we didn't realize trouble when we followed it doesn't mean we're not liable for what we do under its influence.
Walking with Christ allows us to double-check for trouble, including a scan of our own thoughts and intentions. Jesus died to open the flood gates of forgiveness, in an extension of God's grace. When we know Him, the Spirit stirs us. To warn us, nudge us, and protect us. But we have to be listening to head the warning. We have to be in the Word and in prayerful conversation with Him. When we let go of His hand we leave space for trouble to cause trouble.
Later, this word (beliyya'al in Hebrew) was used as a name for Satan (2Co 6:15; Greek Beliar, a variant of Belial), who is the personification of wickedness and lawlessness. -NIV Study Bible Notes.
Wickedness and lawlessness. That's not what I want creeping in the back door of my awareness. But it does. And he will …take every advantage of our thrown-down guard, our relationships, and every weakness he can get his hands on in order to trample and ruin as much as he can. As followers of Christ, it's wise to be very wary of who we entertain and encourage."Pray about everything," and that's how we'll know what to do.
Father, Praise You for altering us to danger… to trouble. Thank You for Jesus, that we may receive Your guidance in conversation through the gift of Your Holy Spirit. We confess letting trouble sneak up on us, on account of our lack of listening skills. Please bless us to make time for You and Your Word, so that we can hear You.
In Jesus' Name,
Amen. 
From Jesus Calling® by Sarah Young
MEET YOU in the stillness of your soul. It is there that I seek to commune with you. A person who is open to My Presence is exceedingly precious to Me. My eyes search to and fro throughout the earth, looking for one whose heart is seeking Me. I see you trying to find Me; our mutual search results in joyful fulfillment.
Stillness of soul is increasingly rare in this world addicted to speed and noise. I am pleased with your desire to create a quiet space where you and I can meet. Don't be discouraged by the difficulty of achieving this goal. I monitor all your efforts and am blessed by each of your attempts to seek My Face.
Zechariah 2:13; 2 Chronicles 16:9 (nkjv); Psalms 23:2-3 (nkjv)
Wednesday in the Octave of Easter
Peter and John were going up to the temple area
for the three o'clock hour of prayer.
And a man crippled from birth was carried
and placed at the gate of the temple called "the Beautiful Gate" every day
to beg for alms from the people who entered the temple.
When he saw Peter and John about to go into the temple,
he asked for alms.
But Peter looked intently at him, as did John,
and said, "Look at us."
He paid attention to them, expecting to receive something from them.
Peter said, "I have neither silver nor gold,
but what I do have I give you:
in the name of Jesus Christ the Nazorean, rise and walk."
Then Peter took him by the right hand and raised him up,
and immediately his feet and ankles grew strong.
He leaped up, stood, and walked around,
and went into the temple with them,
walking and jumping and praising God.
When all the people saw him walking and praising God,
they recognized him as the one
who used to sit begging at the Beautiful Gate of the temple,
and they were filled with amazement and astonishment
at what had happened to him.
R. (3b) 
Rejoice, O hearts that seek the Lord. 
or:
R. 
Alleluia.
Give thanks to the LORD, invoke his name;
make known among the nations his deeds.
Sing to him, sing his praise,
proclaim all his wondrous deeds.
R. 
Rejoice, O hearts that seek the Lord. 
or:
R. 
Alleluia.
Glory in his holy name;
rejoice, O hearts that seek the LORD!
Look to the LORD in his strength;
seek to serve him constantly.
R. 
Rejoice, O hearts that seek the Lord. 
or:
R. 
Alleluia.
You descendants of Abraham, his servants,
sons of Jacob, his chosen ones!
He, the LORD, is our God;
throughout the earth his judgments prevail.
R. 
Rejoice, O hearts that seek the Lord. 
or:
R. 
Alleluia.
He remembers forever his covenant
which he made binding for a thousand generations—
Which he entered into with Abraham
and by his oath to Isaac.
R. 
Rejoice, O hearts that seek the Lord. 
or:
R. 
Alleluia.
R. Alleluia, alleluia.
This is the day the LORD has made;
let us be glad and rejoice in it.
R. Alleluia, alleluia.
That very day, the first day of the week,
two of Jesus' disciples were going
to a village seven miles from Jerusalem called Emmaus,
and they were conversing about all the things that had occurred.
And it happened that while they were conversing and debating,
Jesus himself drew near and walked with them,
but their eyes were prevented from recognizing him.
He asked them,
"What are you discussing as you walk along?"
They stopped, looking downcast.
One of them, named Cleopas, said to him in reply,
"Are you the only visitor to Jerusalem
who does not know of the things
that have taken place there in these days?"
And he replied to them, "What sort of things?"
They said to him,
"The things that happened to Jesus the Nazarene,
who was a prophet mighty in deed and word
before God and all the people,
how our chief priests and rulers both handed him over
to a sentence of death and crucified him.
But we were hoping that he would be the one to redeem Israel;
and besides all this,
it is now the third day since this took place.
Some women from our group, however, have astounded us:
they were at the tomb early in the morning
and did not find his Body;
they came back and reported
that they had indeed seen a vision of angels
who announced that he was alive.
Then some of those with us went to the tomb
and found things just as the women had described,
but him they did not see."
And he said to them, "Oh, how foolish you are!
How slow of heart to believe all that the prophets spoke!
Was it not necessary that the Christ should suffer these things
and enter into his glory?"
Then beginning with Moses and all the prophets,
he interpreted to them what referred to him
in all the Scriptures.
As they approached the village to which they were going,
he gave the impression that he was going on farther.
But they urged him, "Stay with us,
for it is nearly evening and the day is almost over."
So he went in to stay with them.
And it happened that, while he was with them at table,
he took bread, said the blessing,
broke it, and gave it to them.
With that their eyes were opened and they recognized him,
but he vanished from their sight.
Then they said to each other,
"Were not our hearts burning within us
while he spoke to us on the way and opened the Scriptures to us?"
So they set out at once and returned to Jerusalem
where they found gathered together
the Eleven and those with them who were saying,
"The Lord has truly been raised and has appeared to Simon!"
Then the two recounted what had taken place on the way
and how he was made known to them in the breaking of the bread.
– – –
Lectionary for Mass for Use in the Dioceses of the United States, second typical edition, Copyright © 2001, 1998, 1997, 1986, 1970 Confraternity of Christian Doctrine; Psalm refrain © 1968, 1981, 1997, International Committee on English in the Liturgy, Inc. All rights reserved. Neither this work nor any part of it may be reproduced, distributed, performed or displayed in any medium, including electronic or digital, without permission in writing from the copyright owner.
On the day of Pentecost, Peter said to the Jewish people,
"Let the whole house of Israel know for certain
that God has made him both Lord and Christ,
this Jesus whom you crucified."
Now when they heard this, they were cut to the heart,
and they asked Peter and the other Apostles,
"What are we to do, my brothers?"
Peter said to them,
"Repent and be baptized, every one of you,
in the name of Jesus Christ, for the forgiveness of your sins;
and you will receive the gift of the Holy Spirit.
For the promise is made to you and to your children
and to all those far off,
whomever the Lord our God will call."
He testified with many other arguments, and was exhorting them,
"Save yourselves from this corrupt generation."
Those who accepted his message were baptized,
and about three thousand persons were added that day.
R. (5b) 
The earth is full of the goodness of the Lord.
or:
R. 
Alleluia.
Upright is the word of the LORD,
and all his works are trustworthy.
He loves justice and right;
of the kindness of the LORD the earth is full.
R. 
The earth is full of the goodness of the Lord.
or:
R. 
Alleluia.
See, the eyes of the LORD are upon those who fear him,
upon those who hope for his kindness,
To deliver them from death
and preserve them in spite of famine.
R. 
The earth is full of the goodness of the Lord.
or:
R. 
Alleluia.
Our soul waits for the LORD,
who is our help and our shield.
May your kindness, O LORD, be upon us
who have put our hope in you.
R. 
The earth is full of the goodness of the Lord.
or:
R. 
Alleluia.
R. Alleluia, alleluia.
This is the day the LORD has made;
let us be glad and rejoice in it.
R. Alleluia, alleluia.
Mary Magdalene stayed outside the tomb weeping.
And as she wept, she bent over into the tomb
and saw two angels in white sitting there,
one at the head and one at the feet
where the Body of Jesus had been.
And they said to her, "Woman, why are you weeping?"
She said to them, "They have taken my Lord,
and I don't know where they laid him."
When she had said this, she turned around and saw Jesus there,
but did not know it was Jesus.
Jesus said to her, "Woman, why are you weeping?
Whom are you looking for?"
She thought it was the gardener and said to him,
"Sir, if you carried him away,
tell me where you laid him,
and I will take him."
Jesus said to her, "Mary!"
She turned and said to him in Hebrew, "Rabbouni,"
which means Teacher.
Jesus said to her, "Stop holding on to me,
for I have not yet ascended to the Father.
But go to my brothers and tell them,
'I am going to my Father and your Father,
to my God and your God.'"
Mary went and announced to the disciples,
"I have seen the Lord,"
and then reported what he had told her.
– – –
Lectionary for Mass for Use in the Dioceses of the United States, second typical edition, Copyright © 2001, 1998, 1997, 1986, 1970 Confraternity of Christian Doctrine; Psalm refrain © 1968, 1981, 1997, International Committee on English in the Liturgy, Inc. All rights reserved. Neither this work nor any part of it may be reproduced, distributed, performed or displayed in any medium, including electronic or digital, without permission in writing from the copyright owner.
Come, let us go up to the mountain of the Lord.
Isaiah 2:3
It is exceedingly beneficial to our souls to rise above this present evil world to something nobler and better. The cares of this world and the deceitfulness of riches are apt to choke everything good within us, and we grow fretful, desponding, perhaps proud and carnal. It is good for us to cut down these thorns and briers, because heavenly seed sown among them is not likely to yield a harvest.
Where will we find a better scythe with which to cut them down than communion with God and the things of the kingdom? There are places in the world where the lowlands are a breeding ground for sickness. Doctors will often suggest that their patients head for the mountains where they can breathe the clear, fresh air. Heeding such advice, the valley dwellers leave their homes among the marshes and the fever mists to inhale the bracing elements upon the hills.
It is to such an exploit of climbing that I invite you this evening. May the Spirit of God assist us to leave the mists of fear and the fevers of anxiety and all the ills that gather in this valley of earth, and to ascend the mountains of anticipated joy and blessedness. May God the Holy Spirit cut the cords that keep us here below and enable us to climb! We are too often like chained eagles fastened to the perch, and even worse, unlike the eagle, we begin to love our chain and might even, if it came to the test, be loath to have it snapped.
May God now grant us grace, if we cannot escape from the chain as to our flesh, yet to do so as to our spirits; and leaving the body, like a servant, at the foot of the hill, may our soul, like Abraham, reach the top of the mountain, so that we can enjoy communion with the Most High.
Today's Scripture
Therefore, there is now no condemnation for those who are in Christ Jesus, because through Christ Jesus the law of the Spirit of life set me free from the law of sin and death." Romans 8:1-2 NIV
Thoughts for Today
Condemnation. A distorted reflection . . . and a lie.
We confess our sins to Jesus and He forgives us. When we become a follower of Jesus Christ, He forgives all our past sin. As Christians, when we fall into sin, the Bible promises that if we confess that sin, He is faithful to forgive us and cleanse us (1 John 1:9).
And yet, we persistently hang on to the guilt. We condemn ourselves and sometimes allow others to condemn us. If we can get our eyes off the expectations of others and ourselves and look into the mirror of God's Word, we will see ourselves as God sees us–forgiven, clothed in the righteousness of Christ. Here are a few of the reflections found in the Bible–there are many more.
Look into God's mirror. He sees you as forgiven and righteous!
Consider this …
Are you struggling with condemnation? It can weigh you down, depress you, fill you with fear, and keep you from doing what God has called you to do. God wants us to repent and seek forgiveness. He wants us to try to make things right with others when that is possible. And then He wants us to move on. To learn from our mistakes, but not to dwell on them. He wants us to see ourselves through His eyes–forgiven and righteous.
Prayer
Father, I thank you that Jesus paid the price for my sins. Thank you that when I repented and confessed my sins to you, you forgave me and cleansed me. Because of Jesus, I am righteous in your eyes. Please help me see myself through your eyes. Help me to walk in the peace of knowing that I am forgiven. In Jesus' name …
The Dangers of Overcontrol
TGIF Today God Is First Volume 1 by Os Hillman
April 04, 2018
"For rebellion is like the sin of divination, and arrogance like the evil of idolatry. Because you have rejected the word of the Lord, He has rejected you as king." – 1 Samuel 15:23
A friend of mine who is a jet pilot once told me that whenever a jet goes out of control and begins to spin, the only thing to do is totally take your hands off the controls and the plane will right itself. This goes against our natural inclination to control and manipulate in order to bring things back under control. It is scary to be out of control. Or is it?
Saul was a man out of control. He was losing control of his kingdom to David. He was losing the favor of God and the people. It began as compromises. Eventually he was given a final test to obey the voice of God fully. He was instructed to kill the Amalekites completely; but he failed to follow through. The prophet Samuel delivered a hard word to King Saul, "Because you have rejected the word of the Lord, He has rejected you as king" (see 1 Sam. 15:26). Saul obeyed partially, but not fully. It was partial obedience that led to his removal as king of Israel and his calling from God. But why did Saul do such a thing? "I was afraid of the people and so I gave in to them" (1 Sam. 15:24b). Saul's fear and insecurity made him more afraid of the people and what they thought than of God. At the core of Saul's disobedience was fear of losing control. That fear of losing control led to partial obedience and the loss of his reign as king.
How many of us are in danger of losing God's blessing due to partial obedience? How many of us have such a need to control people and circumstances that we fail to fully walk in obedience to God's voice in our lives? Saul provides a great lesson for us as workplace believers. The need to overcontrol things around us can prevent us from receiving all that God has for us. Today, take an inventory of your control quotient.
Ask God if you are being fully obedient to what He has called you to do this day, and avoid being put on the shelf for disobedience. "To obey is better than sacrifice, and to heed is better than the fat of rams" (1 Sam. 15:22b).
Stay blessed!!!