Christoph Friedrich Blumhardt
In the last days the mountain of the Lord's temple will be established as the highest of the mountains; it will be exalted above the hills, and all nations will stream to it. Many peoples will come and say, "Come, let us go up to the mountain of the Lord, to the temple of the God of Jacob. He will teach us his ways, so that we may walk in his paths." Isaiah 2:2-3a, NIV
Dear Father in heaven, we thank you that we have you and the light of your Spirit, which always gives us new determination for the tasks you ask of us. We thank you that we may live not just in the passing moment but also in eternity, looking with joyful hope to the future meant for us and for all humankind. Keep us in your Spirit, and open to us truth after truth. May we be part of that people who carry a light within them, a light which will show them the way through all the struggles and temptations of life; then each one of us will know day by day that you can help us and everyone on earth to a better life through your Holy Spirit. Amen.
If Jesus, So You: The Spirit And Jesus And You
From Open to the Spirit
I contend many don't really think Jesus needed the Spirit or depended upon the Spirit; I contend, too, that those who think that also don't think (they may not say so) we need the Spirit.
If with Jesus, so also with us.
The New Testament Gospels are not like the other gospels that didn't make it into our Bible. For example, there is a story about Jesus as a boy making mud birds in a puddle and then, to dazzle those around him, swished his hands and off the birds went flying. That tale didn't make the cut. It doesn't portray the real, human Jesus of the four Gospels.
However, we know that the human Jesus had to learn mathematics; he had to learn the names of friends; and he had to grow in wisdom and knowledge like the rest of us. He also had emotions. In fact, the Gospels let us in on how Jesus felt: he was exasperated, he wept, he wailed, he got angry with other people, and he even cried out in despair. But he also expressed victory and triumph….
Jesus was a real human being, which means he grew Spirit-ually by learning to be open to the Spirit. I know busloads of Christians who deny this was true of Jesus. Other Christians would like it not to be true, so they choose to avoid the truth. Most of us, however, would prefer to not explicitly deny a plain reading of the Gospels. So I'll say it again: Jesus was human and because Jesus was a human, he needed to be empowered from day one with and by the Holy Spirit. If this is true—and I am about to show how this is found in the Bible—then it is all the more true that you and I need the Holy Spirit. Even more so.
How Did He Pull off the Miracles?
Jesus healed people; he exorcised demons and unswirled a storm at sea. He knew things in people's hearts before they had expressed what was going on inside. How did he do these things? I will begin with Peter, a disciple who knew because he was there. Peter gave a sermon that was heard by a gentile named Cornelius, who himself had experienced a life-altering vision. In the sermon, Peter said this about Jesus:
You know…how God anointed Jesus of Nazareth with the Holy Spirit and power, and how he went around doing good and healing all who were under the power of the devil, because God was with him.
Peter was pointing out two things. First, what Jesus did is accurately characterized as "doing good" and "healing." How Jesus did these things is clear: "God anointed Jesus…with the Holy Spirit and power." Jesus did these things "because God was with him." Jesus's kingdom powers were at work in him because he was wide open to the Holy Spirit.
Peter and others who wrote the New Testament don't give us a choice in the matter. Jesus, as a human, did all that he did—living, eating, praying, conversing, healing, teaching, doing good, rebuking, defending—by the power of the Spirit.
The highly regarded Wheaton College professor Gerald Hawthorne summarized his study of Jesus and the Spirit in these words: "[T]he Holy Spirit was the divine power by which Jesus overcame his human limitations [such as being limited in knowledge and bound by physical space and human strength], rose above his human weakness, and won out over his human mortality." Unlocking the doors so the Spirit can come in begins with Jesus, the perfectly wide-open human.
Jesus, the Spirit-Filled Man
What often has been overlooked needs to be made clear. Every major facet of the life of Jesus is a Spirit-event. So much so that we need to see that the more Christlike we become, the more Spirit-ual we become. Again, the closer our Spirit-uality gets to Jesus, the more dependent on and empowered by the Spirit we will be.
The Gospels of Matthew, Mark, and Luke open with the baptism of Jesus: "As soon as Jesus was baptized, he went up out of the water. At that moment heaven was opened, and he saw the Spirit of God descending like a dove and alighting on him." This same event is described by John:
Then John [the baptizer] gave this testimony: "I saw the Spirit come down from heaven as a dove and remain on him. And I myself did not know him, but the one who sent me to baptize with water told me, 'The man on whom you see the Spirit come down and remain is the one who will baptize with the Holy Spirit.'"
John saw the Spirit descend on Jesus. He knew the Spirit-anointed Jesus would have a perpetual filling of the Spirit and would go about plunging people into the Spirit.
A window was opened into the Spirit-prompted religious experience of Jesus, which is captured in the word Abba:
As soon as Jesus was baptized, he went up out of the water. At that moment heaven was opened, and he saw the Spirit of God descending like a dove and alighting on him. And a voice from heaven said, "This is my Son, whom I love; with him I am well pleased."
When the Father announces that this Jesus is God's very beloved "Son," Jesus knows from those words that God is his special, loving Father. This event was an epochal moment in Jesus's spirituality. From this point on, Jesus will be known as Son and he will teach his followers to call God "Father."To call God "Father" ushers us into an intimate relationship with God, and it is one that Jesus himself knew personally. How so? Jesus's reference to God as his Father shows the trust of Jesus, the intimacy of Jesus with God, and the interactive relationship of Father and Son in the life of the man Jesus. This is a Spirit-ual reality because it was when the Spirit came upon Jesus that this reality was announced to the world.
…
When Did God Unleash the Spirit?
Jesus was a Spirit-drenched man. Jesus did what he did because he was wide open to the Spirit, more open to the Spirit than any human in history.
We can back up thirty years from his opening-day sermon to the events surrounding his birth. With Jesus's arrival, God unleashed the Spirit afresh on earth. To Elizabeth, mother of John the Baptist, the angel revealed that her son would be "filled with the Holy Spirit" and would "go before the Lord in the spirit and power of Elijah." The same angel let Mary know that she would become pregnant when the "Holy Spirit will come on you, and the power of the Most High will overshadow you. So the holy one to be born will be called the Son of God." When Mary went to visit Elizabeth, we are told "Elizabeth was filled with the Holy Spirit." Then her silenced husband enters the story: "His [John the Baptist's] father Zechariah was filled with the Holy Spirit and prophesied." We are told, too, that John lived in the desert and "became strong in spirit."
One more. When Mary and Joseph took Jesus to the Temple to dedicate him and offer their sacrifice for their son, an old man named Simeon grabbed the baby and sang a praise song. God had finally, finally sent the Messiah to Israel. But before Simeon sang and before he grabbed the baby, Luke made it clear to his readers that "the Holy Spirit was on him." It had been revealed to Simeon "by the Holy Spirit that he would not die before he had seen the Lord's Messiah." The old man was "moved by the Holy Spirit" to go into the Temple to meet the Messiah and his parents.
The Days of the Spirit Unleashed
It is customary to date God's unleashing of the Spirit at Pentecost (see Acts 2). But Luke, who ought to have known since he wrote Acts as well, presents the days leading up to Jesus's appearance on earth as a special unleashing of the Holy Spirit on the principal people in the story: Elizabeth and Zechariah, Mary and Joseph, Simeon and Anna, and most especially John the Baptist and Jesus.
Each was empowered by God's Spirit. John Levison, professor at Perkins School of Theology at Southern Methodist University, has researched the Holy Spirit in the ancient world more than almost anyone else. At the end of his lengthy academic study, Filled with the Spirit, Levison concluded: "God breathes into every individual a spirit that can be filled with understanding, a spirit that rolls over the tongue in a flood of peculiar eloquence, a spirit that can be the locus of holiness or, under the care of the careless, a commodity to be traded for lucre."
Jesus was the Spirit-filled human among humans. Was he different from us? Not in his need for and dependence on the Spirit, except that he was always wide open and we are not. I agree with former Wheaton College professor Gerald Hawthorne, when he wrote that Jesus "needed the Spirit's power to lift him out of his human restrictions, to carry him beyond his human limitations, and to enable him to do the seeming impossible." With Jesus a new age has begun, the Age of the Spirit. If Jesus could do his ministry only by the power of the Spirit, and if special but ordinary humans such as Elizabeth and Mary and Simeon could do their ministries only by the power of the Spirit, then you and I especially need to be more and more open to the Spirit.
To be a follower of Jesus is to be open to the same Spirit to whom Jesus was wide open. The good news is that the Spirit at work in Jesus is available to us.
Are you open to the Spirit as Jesus was open?
If you are open to the Spirit, you will hear from God. Why? Because every page of the Bible tells us our God is a God who speaks. God may speak in a variety of ways, but these are true: God has spoken, God is speaking today, and God will continue to speak. It begins when we see Jesus himself as the Speech of God.

 'Life-Giving Spirit'
Key Thought
Death, the immutable reality of our physical mortality, is an enemy (
1 Corinthians 15:26
). Yes, there are times for those who follow Jesus that death is a blessing. The hard reality, however, is that death, and the decay of everything good and precious to us in this world, hold our world captive. They have 
done so
 since the sad rebellion in the Garden of Eden. Adam brought this captivity to us, and we have compounded it by our own rebellions, big and small. This decay, and our dance with it, 
spread
 the vile smell of death to our relationships, our physical lives, and our dreams. But Christ Jesus, who is God's Messiah, faced death and triumphed. His bodily resurrection began the sure hope of our own escape from our world of decay. His Spirit is now alive in us. The Spirit is our guarantee of ultimate victory over sin, death, and decay 
(Ephesians 1:13-14)
. Death no longer holds us captive. The antidote courses through us just as surely as our blood does. God's life-giving Christ is alive in us through the Spirit, and we are assured we will stand with him, redeemed and whole, alive and victorious.
Today's Prayer
O Father, my heart feels the weight of rebellion and the death, decay, and despair that poison my world. Please make me always aware of the antidote, the Spirit that was given me by Jesus Christ. Please show your life through my choices, my actions, my thoughts, my words, and my attitudes. O come, Holy Spirit, and bring life in me and through me. In Jesus' name, I pray. Amen.
Illustration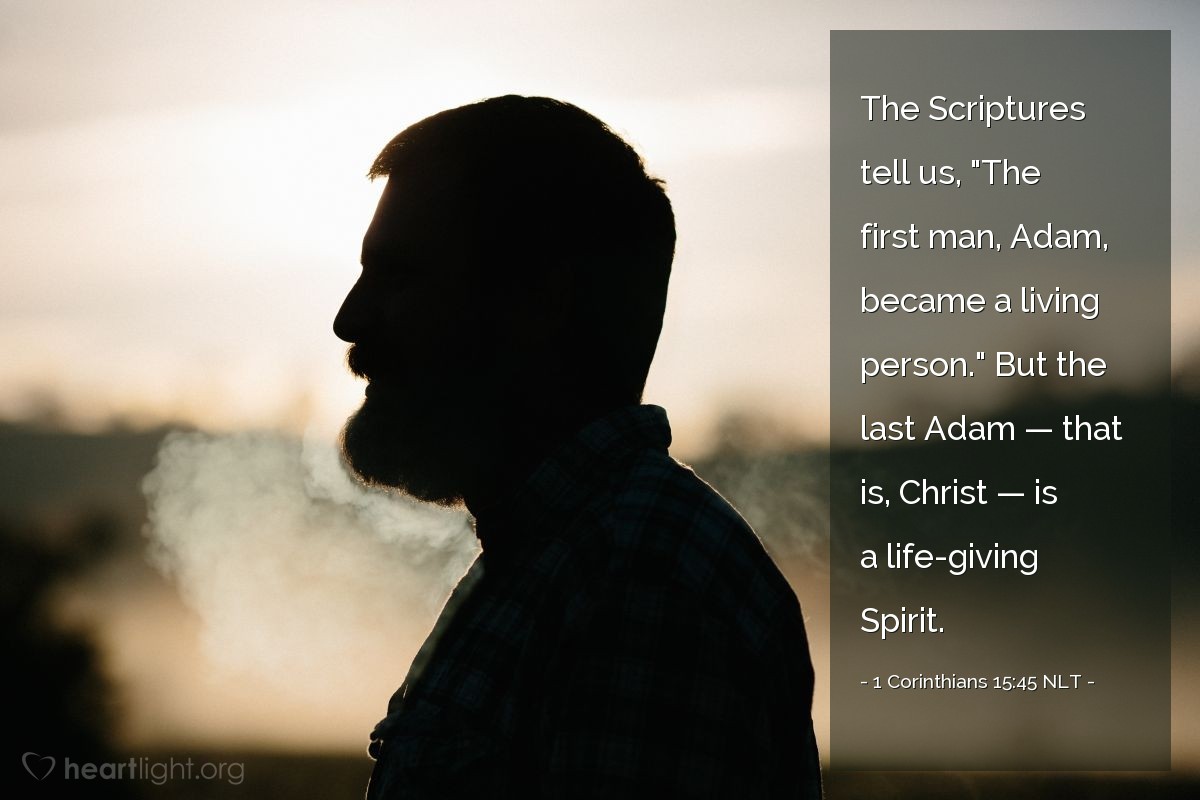 Passion for Praise:

 'To Your Sacred Home'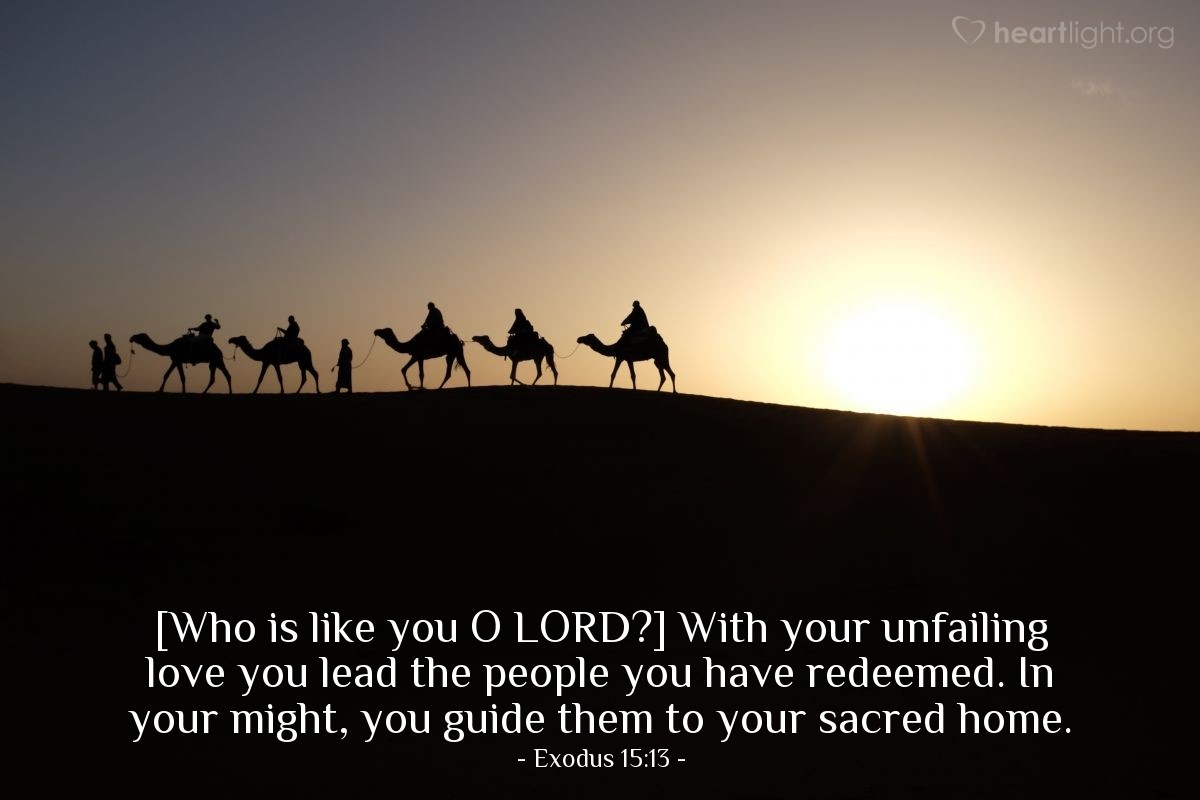 What Jesus Did!

 'Equal with God'

So the Jewish leaders tried all the harder to find a way to kill [Jesus]. For he not only broke the Sabbath, he called God his Father, thereby making himself equal with God.
Key Thought
John's Gospel confronts us with a crucial decision: Is Jesus really the Son of God, God with us in human flesh? John paints the story of Jesus so we see that he claims to be God — the 
"I am"
statements (
"I am the good shepherd," "I am the resurrection and the life," "I am the bread of life," "I am the light of the world,"
 etc.) tie Jesus to the revelation of Israel's God in 
Exodus 3
, especially 
Exodus 3:14
. Jesus does only what the Father wants him to do. Jesus and the Father are one. If we have seen Jesus, we have seen the Father. While we may not fully grasp what the assertion 
"Jesus is the Son of God"
 truly means, Jesus' opponents in his own day did. They knew he was making himself equal with God. Their reaction was appropriate for them because they believed Jesus was a blasphemer who must be stopped. Indeed, either he was a delusional power-grabbing religious rebel who must be thwarted, or he is God with us, Immanuel, Son of God, and our great God and Savior Jesus Christ. What is your decision?
Today's Prayer
Father in heaven, thank you for being God come in human flesh. Jesus shows me so much of who you are and how you care about me. Forgive me for the times I have not held you in appropriate reverence. Forgive me for the times that I have robbed your incarnation of its grit and mortality. I confess that I cannot fully comprehend how divine incarnation works, but I do know this, dear Father: I believe that Jesus Christ is your Son and my great God and Savior. In his name, I pray and praise you. Amen.
Related Scripture Readings
Verse of the Day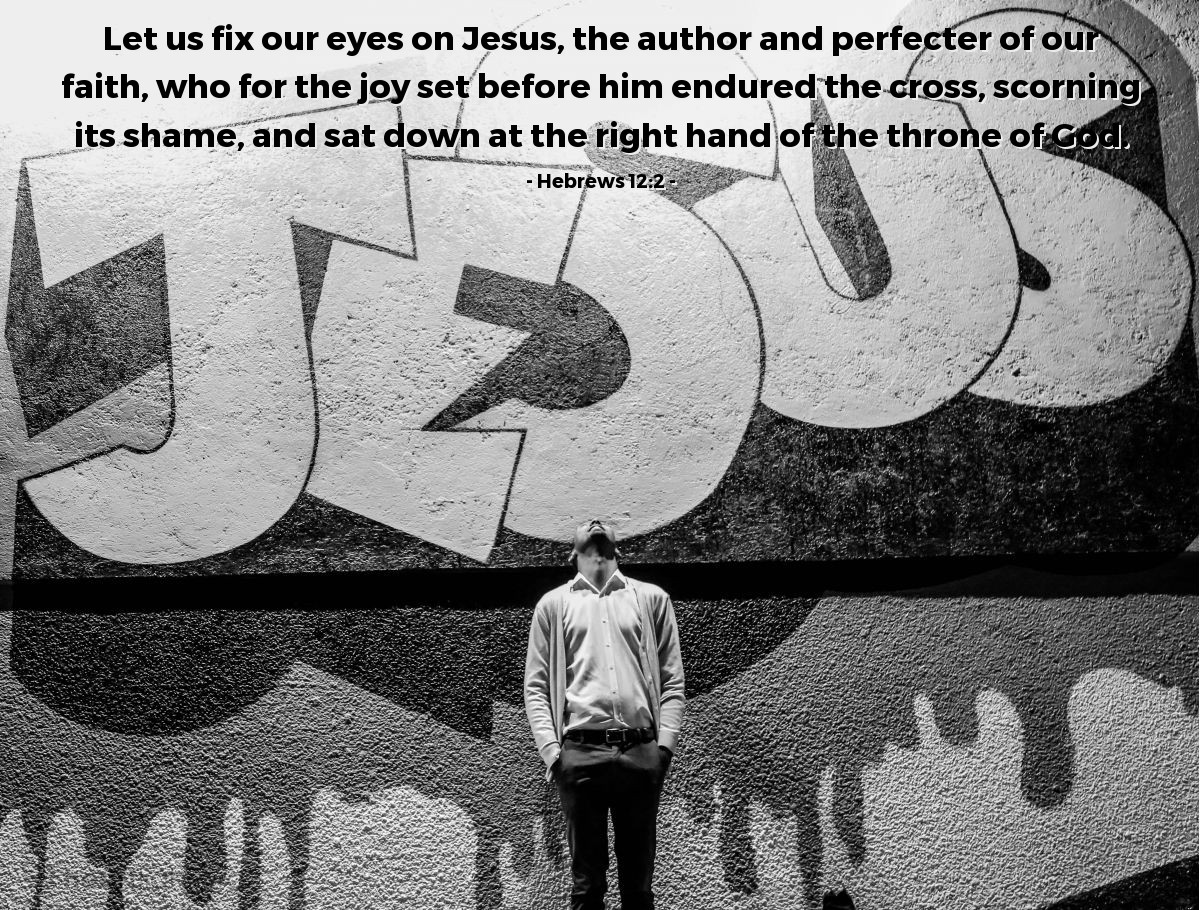 Thoughts on Today's Verse…
"He drives where he looks, he drives where he looks!" That statement made by a disgruntled wife about her husband really spoke the truth. He invariably would turn the steering wheel in the direction he was looking. This principle is also true of each of us and our life: "Lives where she or he looks!" That's why it's important to fix our eyes on Jesus! Our life will follow where we look! Let's make sure that our gaze is on Jesus.
My Prayer…
Almighty and holy God, without your grace and the gift of your salvation I could not approach you with confidence. Thank you for sending Jesus! Thank you for his life, his death, his resurrection, his exaltation and his intercession. I pledge this day to keep my eyes on him! Through his holy name I pray. Amen.
A Prayer to Forgive Yourself
By Sarah Coleman
"Indeed, we all make many mistakes. For if we could control our tongues, we would be perfect and could also control ourselves in every other way." (James 3:2)
"What an idiot," I whisper in condescension to myself. "Such a loser."
I am not very kind to myself. Oh, I'm patient, compassionate and encouraging to others. I have all the tolerance in the world for others, but I'm brutal to myself.
From whom did I learn this insidious habit? None other than Satan, the father of lies. He loves to remind me of all the times I have failed. He loves to pile guilt and shame as high as the sky. But he is the father of lies and the names he calls me (and insists I call myself) are false.
So why do I listen when I have a Father who tenderly whispers the opposite? 
Nowhere in the Bible do I read of God's disappointment, impatience or hatred toward me. Instead, I read His sheer delight. It's time I listened to the One who speaks truth over my soul.
The names you call yourself matter.
What sayest the tongue, so goest everything else. Your words matter. Words build or tear down, create or destroy. We all make mistakes, but if we control our words, we control everything else. You better believe they matter.
God calls us a different name.
By grace He calls us chosen (1 Peter 2:9). He calls us loved (Ephesians 1:4). He calls us delight (Isaiah 62:4). The apple of His eye (Psalm 17:8). He loves us so He carved our names on the palm of His hand (Isaiah 49:16).
Forgive yourself.
Of all the people I have had to forgive, I have been the most difficult. Unforgiveness toward myself is a cancer that will eat away at my heart. I have to forgive myself in order to move forward.
The self-abuse has to stop. My voice should not curse one who has been made in the image of God.
Father, today I ask forgiveness of all the negative and harmful words I have spoken about myself. I do not want to abuse myself in such a way again. Transform my thoughts and let me understand how marvelously you made me. Change my habits so I use my tongue to speak hope and favor upon my life. In Jesus' name. 
Years ago, dear Christian friends of my wife and me explained why they had gotten divorced by writing, "We exhausted our spiritual resources." It was one of the strangest explanations I had ever heard, especially from two Ph.D.'s and Christian educators who knew very well that God's spiritual resources are inexhaustible. Apparently, they were unwilling to admit what had really happened and to say, "We quit trying."
More recently, another close Christian friend, a Ph.D. in New Testament studies no less, and a long-time educator, left his wife for another woman, who herself was seminary trained and a pastor, by saying to his wife, "I haven't loved you for the last seven years." What he meant, of course, was that he didn't have the same kind of feelings he once had for her. But in the Bible love is primarily a commitment, obedience to God's commands, rather than an emotion.
Just this fall, a former student and long-time pastor told me about how had "made a mistake" and cheated on his wife. In fact, he used the expression several times in our conversation. Never once did I hear the word "sin," however.
I guess in a world in which politicians "misspeak" when they lie, in which athletes "make bad choices" when they commit crimes, and prostitutes are called "sex workers," I shouldn't be so surprised.
But how about the innocuous and even heart-warming, "I fell in love"? As sweet as it sounds, it's not a biblical expression. And if you can claim you've fallen in love, then you can say you've fallen out of love, as lots of people do. In a country in which even many Christians think the pursuit of happiness is an inalienable right (no, just because the American Constitution declares it so doesn't make it true), is it any wonder that people justify leaving their spouses because they just don't feel good any more?
Paul, in his famous love chapter, writes in 1 Corinthians 13:4-7: "Love is patient, love is kind. It does not envy, it does not boast, it is not proud. It does not dishonor others, it is not self-seeking, it is not easily angered, it keeps no record of wrongs. Love does not delight in evil but rejoices with the truth. It always protects, always trusts, always hopes, always perseveres." Notice the use of "always" a few times? And the adjectives and verbs used to characterize love don't have that much to do with emotion, except perhaps when they refer to keeping it under control.
Twice in my life, I've had friends who were in the process of divorcing their spouses who looked me straight in the face, and admitted, "I know, I'm reneging on my wedding vows." At least they were honest. So were Bill McCartney and company when they challenged us to be promise-keepers. That's what it's really all about – promise keeping.
If I can't trust someone to remain true to their word when they have made the most solemn pledge of their entire lives before God, spouse, and a Christian congregation, why should I trust them for anything else?
Now, of course, God is a God of amazing grace, wonderful forgiveness and countless fresh starts. And I have dear friends who sinned miserably with their first spouses and are having godly, inspiring second marriages.
But they repented. They called sin sin. They confessed to God and fellow humans. They prayed for forgiveness. They received godly counsel and, often, counseling. Their lives genuinely changed. The words we use for labeling concepts do matter.
Most countries and cultures in the history of the world that have practiced arranged marriages have had extremely low divorce rates. At least those couples recognized that it wasn't feelings or emotions that made or unmade marriages. They were also less likely to define love as a feeling or an emotion in the first place.
1 Corinthians 13 ends with the famous 1 Corinthians 13:13: "And now these three remain: faith, hope and love. But the greatest of these is love." If love is eternal and love is the greatest of the attributes we will share throughout eternity, maybe we'd better start paying more attention in this life to what it truly involves. Richard Walker, a former pastor of mine and founder of AMOR Ministries, working with Brazilians in the Upper Amazon basin, put it well, "Love is the giving of the very best you have on behalf of another regardless of response." – even when it's thrown back in your face. Isn't that what Jesus did with and for us?
---
Dr. Craig L. Blomberg is a distinguished professor of New Testament at Denver Seminary in Denver, Colorado. His books include Interpreting the Parables, Neither Poverty nor Riches, Jesus and the Gospels: An Introduction and Survey, The Historical Reliability of John's Gospel,commentaries on Matthew and 1 Corinthians, Making Sense of the New Testament: 3 Crucial Questions and Preaching the Parables.
Riches of Grace
Listen, my dear brothers: Has not God chosen those who are poor in the eyes of the world to be rich in faith and to inherit the kingdom he promised those who love him? – James 2:5
Have you ever wanted to instantly be a millionaire?
It happened one day to Howard Jenkins. One day Jenkins checked his account through an automated teller and discovered that his account had over $88 million dollars in it. To double check the amazing number, Jenkins went into the bank and asked the teller for his balance. When she wrote eight zeros on the piece of paper, he almost fainted.
Although he knew that it was an error, Jenkins asked to withdraw $4 million and they handed it to him without batting an eye. He showed the money to his girlfriend, and her first reaction was, "Where are we going?" But then she said, "We can't keep this money." Jenkins already knew it.  He just wanted to be a millionaire for the afternoon. He returned the cash.
You may strike it rich or work your way to be a millionaire. But if you are a follower of Jesus Christ, you have available incredible riches . . . riches of grace.
I challenge you today, to celebrate the riches of God's grace in your life.
"The riches of His free grace cause me to daily triumph over all the temptations of the wicked one, who is very vigilant, and seeks all occasions to disturb me." – George Whitefield (1714-1770)
Swamp: an area of low-lying, uncultivated ground where water collects; a bog or marsh.
I saw the Spirit of the Lord as a great ocean beginning to recede off an enormous shore line. This was a season in time when "the tide" was beginning to go out. The body of Christ was standing in the water, practically immersed in the tide. But as the tide gradually began to go out, we began to gradually be exposed as though we could no longer be covered by the water. We stood spiritually naked in a swamp as the tide was still going out.
As the tide went out from the shoreline, many chains and bondages could be seen holding God's people. This was hindering them and stopping them from going on to follow the Spirit, which was gradually going out from them, leaving them helpless and powerless as though the Spirit was exposing their sin and weakness, yet at the same time, departing from them.
Others were able to go further on after His Spirit, but the tide seemed to pick up a faster pace, and there was a great cry as the tide rapidly went out and even the very elect and righteous began to cry out, "My God, my God, why hast Thou forsaken me?" As the body of Christ stood still with exhaustion and weariness and great discouragement, the ground beneath turned into dry land, where there was no water—just like a desert.
The church could only see the tide going out a long way off and could no longer experience the move of the Spirit. On the contrary, what was left was their sins, bondage and helplessness. As the church was exposed and stood as though naked, a great mocking cry was heard from those who were back on the shore who had never touched the water. This represented the world. The world's people were seeing the shame and sin, and God was being reproached. The time frame in which this took place seemed like forever to God's people—as though they were separated from God and nothing appeared to be happening, except for failure.
Many turned from looking toward the tide going out, and after a while, they began to walk back towards the shore from where they came. They just gave up and were tired of waiting and waiting, convinced that God had forsaken them by all appearances.
But a remnant stayed and stood still, waiting upon the Lord, confessing their sins and repenting and interceding for all the world, realizing it is not by might, nor by power, but only by the Spirit of the living God. Then it seemed that the earth stood still, and the waters going out even stopped and a strange calmness came. And then the Lord spoke: "The tide is beginning to turn. The tide is beginning to turn. And the tide is on its way back in! This is the tsunami of My glory that My earth has been waiting for!"
It was wave after wave after wave. These waves were bringing in the lost. I mean lost, lost! These waves were bringing the lost up out of the lowest places of the earth. It seemed as though the sea was giving up her dead. There were pornographic stars, mass murderers, witches, many from occult and Eastern religions. Souls who had committed horrendous, indescribable crimes. The powers of hell were letting go of them. These last waves had the power to bring up the very bottom of the ocean.
As these waves kept coming in, the waves of salvation began covering more and more of the shore and coming upon the earth. Like a flood, the Spirit was coming in, lifting His standard upon the earth itself and multitudes were being saved as the waves of salvation continued to literally cover the earth. As these waves increased in magnitude and became humongous tidal waves, the Lord said, "Truly as I live, all the earth shall be filled with the glory of the Lord like the waters cover the sea." 
Bill Younthas been a member of Bridge of Life in Hagerstown, Maryland, where he is now an elder, and a home missionary for the past 40 years. He faithfully served in prison ministry at Mount Hope Inc. for 23 years and now travels full-time, ministering in churches and Aglow circles. He is currently an adviser at large for Aglow International. Bill has authored several prophetic books. His latest book is: The Power of Real / Transparent Prophetic Encouragement. His prophetic email list is:billyountweekly.com. Visit Bill's website atbillyount.com.
From Sanctuary by David Jeremiah
Take Hope in the Risen Christ
Blessed be the God and Father of our Lord Jesus Christ, who according to His abundant mercy has begotten us again to a living hope through the resurrection of Jesus Christ. – 1 Peter 1:3
The resurrection of our Lord is the single greatest event in history. Had the Lord merely died, He would have been considered a great teacher and a moral leader, but He would not have proven Himself God. By coming out of the grave, He triumphed over death and hell, showed His sacrifice on the cross as being acceptable to God, and gave hope of eternal life to everyone who puts their trust in Him.
Every other religious leader lies buried in the earth. Mohammed lies dead and buried. Buddha, Confucius, Zoroaster, and all the others who have attempted to lead men and women into a religious experience apart from Almighty God could not defeat death. But Jesus Christ, in what is one of the best documented facts in history, rose victorious from the grave. In this troubled world today, we can take hope in the risen Christ.
Tuesday in the Octave of Easter
On the day of Pentecost, Peter said to the Jewish people,
"Let the whole house of Israel know for certain
that God has made him both Lord and Christ,
this Jesus whom you crucified."
Now when they heard this, they were cut to the heart,
and they asked Peter and the other Apostles,
"What are we to do, my brothers?"
Peter said to them,
"Repent and be baptized, every one of you,
in the name of Jesus Christ, for the forgiveness of your sins;
and you will receive the gift of the Holy Spirit.
For the promise is made to you and to your children
and to all those far off,
whomever the Lord our God will call."
He testified with many other arguments, and was exhorting them,
"Save yourselves from this corrupt generation."
Those who accepted his message were baptized,
and about three thousand persons were added that day.
R. (5b) 
The earth is full of the goodness of the Lord.
or:
R. 
Alleluia.
Upright is the word of the LORD,
and all his works are trustworthy.
He loves justice and right;
of the kindness of the LORD the earth is full.
R. 
The earth is full of the goodness of the Lord.
or:
R. 
Alleluia.
See, the eyes of the LORD are upon those who fear him,
upon those who hope for his kindness,
To deliver them from death
and preserve them in spite of famine.
R. 
The earth is full of the goodness of the Lord.
or:
R. 
Alleluia.
Our soul waits for the LORD,
who is our help and our shield.
May your kindness, O LORD, be upon us
who have put our hope in you.
R. 
The earth is full of the goodness of the Lord.
or:
R. 
Alleluia.
R. Alleluia, alleluia.
This is the day the LORD has made;
let us be glad and rejoice in it.
R. Alleluia, alleluia.
Mary Magdalene stayed outside the tomb weeping.
And as she wept, she bent over into the tomb
and saw two angels in white sitting there,
one at the head and one at the feet
where the Body of Jesus had been.
And they said to her, "Woman, why are you weeping?"
She said to them, "They have taken my Lord,
and I don't know where they laid him."
When she had said this, she turned around and saw Jesus there,
but did not know it was Jesus.
Jesus said to her, "Woman, why are you weeping?
Whom are you looking for?"
She thought it was the gardener and said to him,
"Sir, if you carried him away,
tell me where you laid him,
and I will take him."
Jesus said to her, "Mary!"
She turned and said to him in Hebrew, "Rabbouni,"
which means Teacher.
Jesus said to her, "Stop holding on to me,
for I have not yet ascended to the Father.
But go to my brothers and tell them,
'I am going to my Father and your Father,
to my God and your God.'"
Mary went and announced to the disciples,
"I have seen the Lord,"
and then reported what he had told her.
– – –
Lectionary for Mass for Use in the Dioceses of the United States, second typical edition, Copyright © 2001, 1998, 1997, 1986, 1970 Confraternity of Christian Doctrine; Psalm refrain © 1968, 1981, 1997, International Committee on English in the Liturgy, Inc. All rights reserved. Neither this work nor any part of it may be reproduced, distributed, performed or displayed in any medium, including electronic or digital, without permission in writing from the copyright owner.
On the day of Pentecost, Peter stood up with the Eleven,
raised his voice, and proclaimed:
"You who are Jews, indeed all of you staying in Jerusalem.
Let this be known to you, and listen to my words.
"You who are children of Israel, hear these words.
Jesus the Nazorean was a man commended to you by God
with mighty deeds, wonders, and signs,
which God worked through him in your midst, as you yourselves know.
This man, delivered up by the set plan and foreknowledge of God,
you killed, using lawless men to crucify him.
But God raised him up, releasing him from the throes of death,
because it was impossible for him to be held by it.
For David says of him:
I saw the Lord ever before me,
with him at my right hand I shall not be disturbed.
Therefore my heart has been glad and my tongue has exulted;
my flesh, too, will dwell in hope,
because you will not abandon my soul to the nether world,
nor will you suffer your holy one to see corruption.
You have made known to me the paths of life;
you will fill me with joy in your presence.
My brothers, one can confidently say to you
about the patriarch David that he died and was buried,
and his tomb is in our midst to this day.
But since he was a prophet and knew that God had sworn an oath to him
that he would set one of his descendants upon his throne,
he foresaw and spoke of the resurrection of the Christ,
that neither was he abandoned to the netherworld
nor did his flesh see corruption.
God raised this Jesus;
of this we are all witnesses.
Exalted at the right hand of God,
he poured forth the promise of the Holy Spirit
that he received from the Father, as you both see and hear."
R. (1) 
Keep me safe, O God; you are my hope.
or:
R. 
Alleluia.
Keep me, O God, for in you I take refuge;
I say to the LORD, "My Lord are you."
O LORD, my allotted portion and my cup,
you it is who hold fast my lot.
R. 
Keep me safe, O God; you are my hope.
or:
R. 
Alleluia.
I bless the LORD who counsels me;
even in the night my heart exhorts me.
I set the LORD ever before me;
with him at my right hand I shall not be disturbed.
R. 
Keep me safe, O God; you are my hope.
or:
R. 
Alleluia.
Therefore my heart is glad and my soul rejoices,
my body, too, abides in confidence;
Because you will not abandon my soul to the nether world,
nor will you suffer your faithful one to undergo corruption.
R. 
Keep me safe, O God; you are my hope.
or:
R. 
Alleluia.
You will show me the path to life,
fullness of joys in your presence,
the delights at your right hand forever.
R. 
Keep me safe, O God; you are my hope.
or:
R. 
Alleluia.
R. Alleluia, alleluia.
This is the day the LORD has made;
let us be glad and rejoice in it.
R. Alleluia, alleluia.
Mary Magdalene and the other Mary went away quickly from the tomb,
fearful yet overjoyed,
and ran to announce the news to his disciples.
And behold, Jesus met them on their way and greeted them.
They approached, embraced his feet, and did him homage.
Then Jesus said to them, "Do not be afraid.
Go tell my brothers to go to Galilee,
and there they will see me."
While they were going, some of the guard went into the city
and told the chief priests all that had happened.
The chief priests assembled with the elders and took counsel;
then they gave a large sum of money to the soldiers,
telling them, "You are to say,
'His disciples came by night and stole him while we were asleep.'
And if this gets to the ears of the governor,
we will satisfy him and keep you out of trouble."
The soldiers took the money and did as they were instructed.
And this story has circulated among the Jews to the present day.
– – –
Lectionary for Mass for Use in the Dioceses of the United States, second typical edition, Copyright © 2001, 1998, 1997, 1986, 1970 Confraternity of Christian Doctrine; Psalm refrain © 1968, 1981, 1997, International Committee on English in the Liturgy, Inc. All rights reserved. Neither this work nor any part of it may be reproduced, distributed, performed or displayed in any medium, including electronic or digital, without permission in writing from the copyright owner.
All we like sheep have gone astray; we have turned every one to his own way; and the Lord has laid on him the iniquity of us all.
Isaiah 53:6
Here a confession of sin is shared by all the elect people of God. They have all fallen, and therefore, in one voice, from the first who entered heaven to the last who shall arrive they all say, "All we like sheep have gone astray."
This confession is not only unanimous, it is also special and particular: "We have turned every one to his own way." All are sinful, but each individual faces his or her own peculiar sinfulness, which is not found in someone else. It is the mark of genuine repentance that while it naturally associates itself with other penitents, it also takes up a position of loneliness. "We have turned every one to his own way" is a confession that each individual had sinned against light peculiar to himself or sinned with an aggravation that he could not perceive in others.
This confession is unreserved; there is not a word to detract from its force, nor a syllable by way of excuse. This confession bids farewell to every plea of self-justification. It is the declaration of those who are consciously guilty—guilty with aggravations, guilty without excuse: they stand with their weapons of rebellion broken in pieces and cry, "All we like sheep have gone astray; we have turned every one to his own way."
Yet we hear no mournful wailings attending this confession of sin; for the next sentence makes it almost a song. "The LORD has laid on him the iniquity of us all." It is the most grievous sentence of the three, but it overflows with comfort. How strange that where misery was concentrated, mercy reigned; where sorrow reached her climax, weary souls find rest. The Savior bruised is the healing of bruised hearts.
Consider how the humble confession gives way to assured confidence by simply gazing at Christ on the cross!
Today's Scripture
"And I am convinced that nothing can ever separate us from God's love. Neither death nor life, neither angels nor demons, neither our fears for today nor our worries about tomorrow–not even the powers of hell can separate us from God's love. No power in the sky above or in the earth below–indeed, nothing in all creation will ever be able to separate us from the love of God that is revealed in Christ Jesus our Lord." – Romans 8:38-39
Thoughts for Today
Even on the days we feel the most unlovable–God loves us. And His Word promises us that nothing–NOTHING–can ever separate us from His love.
What a reassuring promise! We live in a world where it is difficult to count on anything or anyone. Everything keeps changing. The economy changes. Governments change. Friends change. Circumstances change. But God's love for us will never change.
We all want to be loved. If we will consistently look in God's mirror, we will always know that we are loved. Here are just a few of the many reflections found there.
God loved you so much that he gave His Son for you. (John 3:16)
God loved you even before you loved Him. (1 John 4:19)
Jesus corrects us only because He loves us. (Revelation 3:19)
God is love. (1 John 4:8)
Consider this …
Do you sometimes feel unloved? Look in God's mirror. You are loved. God loves you, and nothing can separate you from His love. Nothing. You are special to Him. You matter to Him. He cares about you and what is happening in your life. You may not always feel His presence. You may not always feel His love. But He is always with you. And He always loves you.
Prayer
Father, thank you that I can count on your love. When I am feeling down, help me look in the mirror of your Word. I know that I will always see the refection of your love there. In Jesus' name …
Is Anything Too Hard for God?
TGIF Today God Is First Volume 1 by Os Hillman
April 03, 2018
"So Sarah laughed to herself as she thought, 'After I am worn out and my master is old, will I now have this pleasure?'" – Genesis 18:12
God had promised Abraham and Sarah a son who would be the seed of a whole nation. Sarah was now beyond childbearing years. So when some angels from God paid Abraham and Sarah a visit to inform them that Sarah was going to have a child, she happened to be listening outside the tent and erupted with laughter. The thought seemed preposterous to her. The angels reminded her that nothing is impossible with God. "Is anything too hard for the Lord? I will return to you at the appointed time next year and Sarah will have a son" (Gen. 18:14). Sarah gave birth to Isaac as foretold.
Recently, I was considering putting on another workplace-leader summit for ministry leaders who minister to those in the workplace. I had been involved in such an event a year earlier. My friend Gunnar Olson, who is the founder of the International Christian Chamber of Commerce of Sweden, had been involved with me in putting on the first event, so I inquired whether he would be willing to participate in the second event. He wrote me an e-mail letter informing me that an international gathering of Christian workplace leaders would be taking place on the island of Cyprus in March and asked if I could postpone my event and instead participate in an event in Cyprus and invite other leaders. My initial response was laughter due to my current financial condition. In fact, I had to go to a map to see just where this place was.
The following day I received a call from a man I had met only 30 days earlier. We had not discussed this event in March. "What are you doing tomorrow? I would like you to go to the airport with me to pick up a missionary whom I want you to meet. We'd like to propose an idea to you. Can you come?"
"Sure," I said.
The next day he picked me up and informed me that we were picking up a missionary who was flying in from Cyprus. "We are planning to take 25 workplace believers to Cyprus for an event that Gunnar Olson is involved in and would like you to come and teach your Esau-to-Joseph workshop the day before. We will cover your expenses. Would you be interested in doing this?" Again, I had to laugh as I saw the hand of God orchestrate in such a miraculous way and in such a timely manner to assure me of His involvement in the new directions in my life.
Jesus looked at them and said, "With man this is impossible, but not with God; all things are possible with God" (Mark 10:27).
Are there things that make you laugh when you think of the miracle that would be required for it to take place? Ask God for the miracle you need today.
Stay blessed!!!