Christoph Friedrich Blumhardt
Lift up your eyes to the heavens, look at the earth beneath; the heavens will vanish like smoke, the earth will wear out like a garment and its inhabitants die like flies. But my salvation will last forever, my righteousness will never fail. Isaiah 51:6, NIV
Lord our God, in you we want to find our strength, in you we want to hold out even in these times. We rejoice that the end is coming, the end you are preparing, when your salvation and justice will come on earth according to your promises. Be with us and with the believing circle given to us through Jesus Christ. Make us alert and give us fresh courage again and again, however difficult life may be. We want to continue to live and find strength in the grace of Jesus Christ, holding on in joy without grumbling and complaining. Lord God, may your name be honored, your kingdom come, and your will be done in us according to your plan. Amen.
Verse of the Day
for Monday, April 2, 2018
Now as Jesus was going up to Jerusalem, he took the twelve disciples aside and said to them, "We are going up to Jerusalem, and the Son of Man will be betrayed to the chief priests and the teachers of the law. They will condemn him to death and will turn him over to the Gentiles to be mocked and flogged and crucified. On the third day he will be raised to life!"
Thoughts on Today's Verse…
One thing the Gospels (Matthew, Mark, Luke and John) make clear, Jesus' death on the cross was no accident. Jesus knew the challenge that awaited him in Jerusalem and he walked into it to deliver us from the same fate. If only we will face our challenges with a faith that God will lead us to triumph beyond our pain!
My Prayer…
Holy God and Loving Father, thank you for your plan to cover my sin with your grace by the death of your Son. May I live today aware of his sacrifice and confident of his victory over sin and death, so my life may reflect your victory. In the name of Jesus, my precious Savior, I pray. Amen.
Monday in the Octave of Easter
On the day of Pentecost, Peter stood up with the Eleven,
raised his voice, and proclaimed:
"You who are Jews, indeed all of you staying in Jerusalem.
Let this be known to you, and listen to my words.
"You who are children of Israel, hear these words.
Jesus the Nazorean was a man commended to you by God
with mighty deeds, wonders, and signs,
which God worked through him in your midst, as you yourselves know.
This man, delivered up by the set plan and foreknowledge of God,
you killed, using lawless men to crucify him.
But God raised him up, releasing him from the throes of death,
because it was impossible for him to be held by it.
For David says of him:
I saw the Lord ever before me,
with him at my right hand I shall not be disturbed.
Therefore my heart has been glad and my tongue has exulted;
my flesh, too, will dwell in hope,
because you will not abandon my soul to the nether world,
nor will you suffer your holy one to see corruption.
You have made known to me the paths of life;
you will fill me with joy in your presence.
My brothers, one can confidently say to you
about the patriarch David that he died and was buried,
and his tomb is in our midst to this day.
But since he was a prophet and knew that God had sworn an oath to him
that he would set one of his descendants upon his throne,
he foresaw and spoke of the resurrection of the Christ,
that neither was he abandoned to the netherworld
nor did his flesh see corruption.
God raised this Jesus;
of this we are all witnesses.
Exalted at the right hand of God,
he poured forth the promise of the Holy Spirit
that he received from the Father, as you both see and hear."
R. (1) 
Keep me safe, O God; you are my hope.
or:
R. 
Alleluia.
Keep me, O God, for in you I take refuge;
I say to the LORD, "My Lord are you."
O LORD, my allotted portion and my cup,
you it is who hold fast my lot.
R. 
Keep me safe, O God; you are my hope.
or:
R. 
Alleluia.
I bless the LORD who counsels me;
even in the night my heart exhorts me.
I set the LORD ever before me;
with him at my right hand I shall not be disturbed.
R. 
Keep me safe, O God; you are my hope.
or:
R. 
Alleluia.
Therefore my heart is glad and my soul rejoices,
my body, too, abides in confidence;
Because you will not abandon my soul to the nether world,
nor will you suffer your faithful one to undergo corruption.
R. 
Keep me safe, O God; you are my hope.
or:
R. 
Alleluia.
You will show me the path to life,
fullness of joys in your presence,
the delights at your right hand forever.
R. 
Keep me safe, O God; you are my hope.
or:
R. 
Alleluia.
R. Alleluia, alleluia.
This is the day the LORD has made;
let us be glad and rejoice in it.
R. Alleluia, alleluia.
Mary Magdalene and the other Mary went away quickly from the tomb,
fearful yet overjoyed,
and ran to announce the news to his disciples.
And behold, Jesus met them on their way and greeted them.
They approached, embraced his feet, and did him homage.
Then Jesus said to them, "Do not be afraid.
Go tell my brothers to go to Galilee,
and there they will see me."
While they were going, some of the guard went into the city
and told the chief priests all that had happened.
The chief priests assembled with the elders and took counsel;
then they gave a large sum of money to the soldiers,
telling them, "You are to say,
'His disciples came by night and stole him while we were asleep.'
And if this gets to the ears of the governor,
we will satisfy him and keep you out of trouble."
The soldiers took the money and did as they were instructed.
And this story has circulated among the Jews to the present day.
– – –
Lectionary for Mass for Use in the Dioceses of the United States, second typical edition, Copyright © 2001, 1998, 1997, 1986, 1970 Confraternity of Christian Doctrine; Psalm refrain © 1968, 1981, 1997, International Committee on English in the Liturgy, Inc. All rights reserved. Neither this work nor any part of it may be reproduced, distributed, performed or displayed in any medium, including electronic or digital, without permission in writing from the copyright owner.
Peter proceeded to speak and said:
"You know what has happened all over Judea,
beginning in Galilee after the baptism
that John preached,
how God anointed Jesus of Nazareth
with the Holy Spirit and power.
He went about doing good
and healing all those oppressed by the devil,
for God was with him.
We are witnesses of all that he did
both in the country of the Jews and in Jerusalem.
They put him to death by hanging him on a tree.
This man God raised on the third day and granted that he be visible,
not to all the people, but to us,
the witnesses chosen by God in advance,
who ate and drank with him after he rose from the dead.
He commissioned us to preach to the people
and testify that he is the one appointed by God
as judge of the living and the dead.
To him all the prophets bear witness,
that everyone who believes in him
will receive forgiveness of sins through his name."
R. (24) This is the day the Lord has made; let us rejoice and be glad.
or:
R. Alleluia.
Give thanks to the LORD, for he is good,
for his mercy endures forever.
Let the house of Israel say,
"His mercy endures forever."
R. This is the day the Lord has made; let us rejoice and be glad.
or:
R. Alleluia.
"The right hand of the LORD has struck with power;
the right hand of the LORD is exalted.
I shall not die, but live,
and declare the works of the LORD."
R. This is the day the Lord has made; let us rejoice and be glad.
or:
R. Alleluia.
The stone which the builders rejected
has become the cornerstone.
By the LORD has this been done;
it is wonderful in our eyes.
R. This is the day the Lord has made; let us rejoice and be glad.
or:
R. Alleluia.
Brothers and sisters:
If then you were raised with Christ, seek what is above,
where Christ is seated at the right hand of God.
Think of what is above, not of what is on earth.
For you have died, and your life is hidden with Christ in God.
When Christ your life appears,
then you too will appear with him in glory.
Or
Brothers and sisters:
Do you not know that a little yeast leavens all the dough?
Clear out the old yeast,
so that you may become a fresh batch of dough,
inasmuch as you are unleavened.
For our paschal lamb, Christ, has been sacrificed.
Therefore, let us celebrate the feast,
not with the old yeast, the yeast of malice and wickedness,
but with the unleavened bread of sincerity and truth.
Sequence Victimae paschali laudes
Christians, to the Paschal Victim
Offer your thankful praises!
A Lamb the sheep redeems;
Christ, who only is sinless,
Reconciles sinners to the Father.
Death and life have contended in that combat stupendous:
The Prince of life, who died, reigns immortal.
Speak, Mary, declaring
What you saw, wayfaring.
"The tomb of Christ, who is living,
The glory of Jesus' resurrection;
bright angels attesting,
The shroud and napkin resting.
Yes, Christ my hope is arisen;
to Galilee he goes before you."
Christ indeed from death is risen, our new life obtaining.
Have mercy, victor King, ever reigning!
Amen. Alleluia.
R. Alleluia, alleluia.
Christ, our paschal lamb, has been sacrificed;
let us then feast with joy in the Lord.
R. Alleluia, alleluia.
On the first day of the week,
Mary of Magdala came to the tomb early in the morning,
while it was still dark,
and saw the stone removed from the tomb.
So she ran and went to Simon Peter
and to the other disciple whom Jesus loved, and told them,
"They have taken the Lord from the tomb,
and we don't know where they put him."
So Peter and the other disciple went out and came to the tomb.
They both ran, but the other disciple ran faster than Peter
and arrived at the tomb first;
he bent down and saw the burial cloths there, but did not go in.
When Simon Peter arrived after him,
he went into the tomb and saw the burial cloths there,
and the cloth that had covered his head,
not with the burial cloths but rolled up in a separate place.
Then the other disciple also went in,
the one who had arrived at the tomb first,
and he saw and believed.
For they did not yet understand the Scripture
that he had to rise from the dead.
Or
When the sabbath was over,
Mary Magdalene, Mary, the mother of James, and Salome
bought spices so that they might go and anoint him.
Very early when the sun had risen,
on the first day of the week, they came to the tomb.
They were saying to one another,
"Who will roll back the stone for us
from the entrance to the tomb?"
When they looked up,
they saw that the stone had been rolled back;
it was very large.
On entering the tomb they saw a young man
sitting on the right side, clothed in a white robe,
and they were utterly amazed.
He said to them, "Do not be amazed!
You seek Jesus of Nazareth, the crucified.
He has been raised; he is not here.
Behold the place where they laid him.
But go and tell his disciples and Peter,
'He is going before you to Galilee;
there you will see him, as he told you.'"
Or
That very day, the first day of the week,
two of Jesus' disciples were going
to a village seven miles from Jerusalem called Emmaus,
and they were conversing about all the things that had occurred.
And it happened that while they were conversing and debating,
Jesus himself drew near and walked with them,
but their eyes were prevented from recognizing him.
He asked them,
"What are you discussing as you walk along?"
They stopped, looking downcast.
One of them, named Cleopas, said to him in reply,
"Are you the only visitor to Jerusalem
who does not know of the things
that have taken place there in these days?"
And he replied to them, "What sort of things?"
They said to him,
"The things that happened to Jesus the Nazarene,
who was a prophet mighty in deed and word
before God and all the people,
how our chief priests and rulers both handed him over
to a sentence of death and crucified him.
But we were hoping that he would be the one to redeem Israel;
and besides all this,
it is now the third day since this took place.
Some women from our group, however, have astounded us:
they were at the tomb early in the morning
and did not find his body;
they came back and reported
that they had indeed seen a vision of angels
who announced that he was alive.
Then some of those with us went to the tomb
and found things just as the women had described,
but him they did not see."
And he said to them, "Oh, how foolish you are!
How slow of heart to believe all that the prophets spoke!
Was it not necessary that the Christ should suffer these things
and enter into his glory?"
Then beginning with Moses and all the prophets,
he interpreted to them what referred to him
in all the Scriptures.
As they approached the village to which they were going,
he gave the impression that he was going on farther.
But they urged him, "Stay with us,
for it is nearly evening and the day is almost over."
So he went in to stay with them.
And it happened that, while he was with them at table,
he took bread, said the blessing,
broke it, and gave it to them.
With that their eyes were opened and they recognized him,
but he vanished from their sight.
Then they said to each other,
"Were not our hearts burning within us
while he spoke to us on the way and opened the Scriptures to us?"
So they set out at once and returned to Jerusalem
where they found gathered together
the eleven and those with them who were saying,
"The Lord has truly been raised and has appeared to Simon!"
Then the two recounted
what had taken place on the way
and how he was made known to them in the breaking of bread.
– – –
Lectionary for Mass for Use in the Dioceses of the United States, second typical edition, Copyright © 2001, 1998, 1997, 1986, 1970 Confraternity of Christian Doctrine; Psalm refrain © 1968, 1981, 1997, International Committee on English in the Liturgy, Inc. All rights reserved. Neither this work nor any part of it may be reproduced, distributed, performed or displayed in any medium, including electronic or digital, without permission in writing from the copyright owner.
Taking Refuge From A Troubled World
Everyone has to go through troubles, but you don't have to go through them alone. Read how the storms of life help bring us safely into the harbor of heaven.
Piles of Trials
An old Moody Blues song once proclaimed that we can face piles of trials with smiles, but it's hard to smile when it seems you're being buried by piles of trials, so smiling is fine, but smiles don't banish piles of trials, believe me…but faith can! There's nothing wrong with smiling, but Jesus once said to His disciples who thought they were going to perish in a storm at sea, "Why are you afraid, O you of little faith?" Then he rose and rebuked the winds and the sea, and there was a great calm. And the men marveled, saying, "What sort of man is this, that even winds and sea obey him" (Matt 8:26-27)? I doubt very much the disciples felt like smiling, so smiling, or trying to endure in your own strength just won't work, but what Jesus said was something very similar to what was recorded by the psalmist who wrote: "He made the storm be still, and the waves of the sea were hushed" (Psalm 127:29), so I believe that was like a prophecy which Jesus Christ would fulfill when He calmed the great storm. Today, your storm may not be an actual storm, but maybe a financial one, a health crisis, or a wrecked relationship…or it could be all of the above, but this makes Psalm 57:1 more relevant, as the psalmist wrote, "Be merciful to me, O God, be merciful to me, for in you my soul takes refuge; in the shadow of your wings I will take refuge, till the storms of destruction pass by." That's why we can say, along with the Prophet Nahum, "The LORD is good, a stronghold in the day of trouble; he knows those who take refuge in him" (Nahum 1:7).
Shadows of Death
One of the greatest Psalms in the Bible about walking in shadowy valleys of life is Psalm 23, and one in which the author (David) knew much about. He writes, "Even though I walk through the valley of the shadow of death, I will fear no evil, for you are with me; your rod and your staff, they comfort me" (23:1). He understood that "He who dwells in the shelter of the Most High will abide in the shadow of the Almighty. I will say the LORD, My refuge and my fortress, my God, in whom I trust" (Psalm 91:1-2). David had been running from King Saul, some say for over 10 years, so he knew what it was like to be walking in the shadows of death, but David also understood that a shadow and reality is not the same thing. Even though it looked like a "valley of the shadow of death," he feared no evil because God was with him. If I were in a valley, I'd rather be hit by the shadow of a great boulder than by the boulder itself. In other words, shadows can't hurt you. Next, God's rod and staff, or God's sovereignty over all, gave David comfort. He knew that he'd been anointed king and would surely serve someday as king of Israel, so even though there were dangerous situations, he knew God would be with him and bring him through it all. David knew he would not die, but harrow escapes from death still made him cling to His God for a refuge, and much of what he wrote reflected that trust in God. David could state what Isaiah the Prophet wrote: "There will be a booth for shade by day from the heat, and for a refuge and a shelter from the storm and rain" (Isaiah 4:6), because "He made the storm be still, and the waves of the sea were hushed" (Psalm 107:29). The One Who created the storm, steers the storm, and even though he may not take us around, over, or under the storm, surely He will go with us through the storm…the same as Jesus did with His disciples, who by the way, all arrived safe and sound on the other shore (Matt 8:28). That's our destination too…the other shore that is. It is coming…undoubtedly.
Cries for Help
Not long ago a friend told me that he felt like God was distant, so I asked, "Do you think God's farther away than He used to be?" to which he replied, "Yes," Then I asked him, "Who moved?" All he did was smile because he got the point. God declares that He never forsakes us or leaves us (Heb 13:5), so when He feels far away, He may in fact be closest of all. God's Word says He has "been a stronghold to the poor, a stronghold to the needy in his distress, a shelter from the storm and a shade from the heat; for the breath of the ruthless is like a storm against a wall" (Isaiah 25:4), and so "The LORD is near to the brokenhearted and saves the crushed in spirit. Many are the afflictions of the righteous, but the LORD delivers him out of them all. He keeps all his bones; not one of them is broken" (Psalm 34:17-20). God is near the crushed in spirit, but He delivers every one out of their afflictions. We may not know the "when" of that deliverance, but it is coming. God is also near to the humble, but is opposed to the proud (James 4:6), so when you just can't stand it anymore, Jesus says, "Come to me, all who labor and are heavy laden, and I will give you rest. Take my yoke upon you, and learn from me, for I am gentle and lowly in heart, and you will find rest for your souls. For my yoke is easy, and my burden is light" (Matt 11:27-30).
Conclusion
We all fall under one of these categories; we've either just passed through a storm, we are currently in a storm, or have one on the horizon, but you're not alone because God goes with you in the storms. Jesus actually sent the disciples into the storm, but they forgot…Jesus was with them in the boat, so He will be with us in our storms of adversity, whatever they may be. It might be a financial catastrophe caused by a health issue. It could be a relationship that's just been destroyed and now its wreaking havoc on the family, or it could even be the impending death or recent death of a loved one or a close friend. There's one thing about being human…it's 100% fatal. Ten out of every 10 die, but that's not the end. For those who have believed, it is only the beginning. Its goodbye to pain, sorrow, suffering, and death (Rev 21:3), but its hello to eternal life and being in the presence of God in the New Jerusalem (Rev 22). Jesus said, "I am the resurrection and the life. Whoever believes in me, though he die, yet shall he live, and everyone who lives and believes in me shall never die. Do you believe this" (John 11:25-26)? Only you can answer that, but the answer determines your eternity. Death levels the playing field for the rich and poor and the great and small, but for those who trust in Christ, it is the beginning of it all!
Article by Jack Wellman
Jack Wellman is Pastor of the Mulvane Brethren Church in Mulvane Kansas. Jack is a writer at Christian Quotes and also the Senior Writer at What Christians Want To Know whose mission is to equip, encourage, and energize Christians and to address questions about the believer's daily walk with God and the Bible. You can follow Jack on Google Plus or check out his book Teaching Children the Gospel available on Amazon.
The Most Important Passage in All of Scripture?
Michael J. Kruger

President, Reformed Theological Seminary
I have been teaching a weekly Bible study on the book of Romans to women in the Charlotte community. For the last several months, we have been plodding our way through the first three chapters as Paul has laid out his case that all mankind—Jew and Gentile—are sinful and rightly under the judgment of God. Paul finishes this section of his letter with this monumental statement: "For by works of the Law no human being will be justified in his sight" (Rom 3:20).
You can almost hear the gavel fall with a boom.
But now…
Thankfully, Paul does not end his letter here. This morning, in the last installment of the women's study for the Fall term (we will resume in the new year), we will move onto to 3:21 and following. There Paul utters two of the most beautiful words in all of Scripture, "But now…." These two little words provide a great sigh of relief for any sin-wracked soul wondering about his fate.
"But now" tells us that something has been done to solve the problem of our sins.
Faith Alone
What is it that solves the problem of our sins? "A righteousness of (from) God has been manifested apart from the law… through faith in Jesus Christ" (3:21–22). Luther referred to these verses as "the center of the whole Bible." Martin Lloyd Jones called it "the most important and crucial passage in the whole of Scripture." Leon Morris said it is "possibly the most important single paragraph ever written."
This passage is the basis for the great Reformation doctrine of sola fide—the idea that we are saved by faith alone and not by the works of the law.
Faith as the Instrument
But Paul makes a critical clarification here. He makes it clear that the righteous status we so desperately need comes through faith (v.22), but it is not the faith itself that is the grounds of our justification. The grounds of our justification—the reason God can declare us sinners to be righteous—is because of the righteousness of Christ given to us. He can regard us as righteous because a righteous status has been granted to us.
Thus, faith is merely the instrument or the means by which that righteous status is attained.
Faith as its Own Object
This is a critical reminder for Christians today. Whenever our world discusses religion, they will praise the merits of "faith" and laud people who possess it (think Oprah Winfrey). But notice the world never praises the merits of the object of that faith. It doesn't matter what you believe in (after all, all religions are the same), what matters is that you are sincerely committed.
For our world, then, faith is its own object.
Saved through Faith
Contrast that to what Paul is saying in Rom 3:21–22. Paul is saying that you are not saved because of faith (as if it were meritorious in itself), but you are saved through and by faith in Christ. The object of the faith is what is definitive.
Our Lasting Hope
So, the Reformed doctrine of sola fide does not mean what the world might think it means. For the world, it simply means that all you need is faith. For the Reformers, it meant faith is the sole instrument by which you acquire a righteous status in Christ (and thus not by works).
For those who doubt their faith and find their faith to be weak, this is a great encouragement. Our hope is not in how strong our faith is, but in how strong and righteous our Savior is.
A Prayer for Protection
By James MacDonald
Love does not delight in evil but rejoices with the truth. It always protects, always trusts, always hopes, always perseveres. – 1 Corinthians 13:6–7
Love protects. Real, biblical love always protects others. When we abandon protecting love, our relationships unravel. The Apostle John reminds us of that with a graphic illustration: "For this is the message that you have heard from the beginning, that we should love one another. We should not be like Cain, who was of the evil one and murdered his brother. And why did he murder him? Because his own deeds were evil and his brother's righteous" (1 John 3:11–12, ESV).
Remember Cain? He was the first child born on Earth, the firstborn son of Adam and Eve. But he's notorious for murdering his brother, Abel. In fact, the word translated murdered (or slew) literally means cut his throat. Cain brutally killed his younger brother.
Why? Why do people hurt each other? Why did Cain hurt innocent Abel? John tells us clearly. "And why did he murder him? Because his own deeds were evil and his brother's righteous" (1 John 3:12). Never underestimate the conflict that rages in the heart of a person who is in the process of rejecting God. Never underestimate the tension that person feels between your life and his. "Do not be surprised, brothers, that the world hates you" (1 John 3:13). In this context, the word world refers to the people you know: your neighbors, coworkers, friends, and family members who have not received Christ and are not walking in Him—and who feel the dissonance between your life and theirs.
If you want God's protection on your family, choose love instead of hate. Turn the other cheek (Matthew 5:39). Go the second mile (Matthew 5:41). Avoid the life of Cain. Choose instead the way of love, and experience God's protection over your relationships.
Pray
Father God, open my eyes to see the ways I'm like Cain. What conflicts am I allowing to brew in my family? What anger is bubbling into murderous rage in my relationships? Thank You for the clarity to see how hatred kills relationships. I choose instead the way of love. Love protects. Help me to protect those I love by loving them. Your way is always best, Father. I pray in Jesus' Name, Amen.
6 Prayers to Pray the Week After Easter
Lysa TerKeurst
"The angel said to the women, 'Do not be afraid, for I know that you are looking for Jesus, who was crucified. He is not here; he has risen, just as he said. Come and see the place where he lay. Then go quickly and tell his disciples: "He has risen from the dead and is going ahead of you into Galilee. There you will see him." Now I have told you.'" Matthew 28:5-7 (NIV)
I don't think Easter is quite done with me yet.
I know what glorious things this Holy Day says to the world at large.
But what does Jesus want me to know, to think about, to wrestle through at this time of year? This season of new beginnings.
So, I'm lingering here a bit longer.
I feel like the girl who wears the same outfit to school two days in a row. Easter is done now. Time to put it back in the closet. Only for me it isn't. I want to wear it again today, tomorrow and many more tomorrows.
He Is Risen! Take off the Grave Clothes!
When He had said this Jesus called in a loud voice, "Lazarus, come out!" The dead man came out, his hands and feet wrapped with strips of linen, and a cloth around his face. Jesus said to them, "Take off the grave clothes and let him go." John 11:43-44 NIV
This event triggered the Pharisees to crucify Jesus. Lazarus had been dead four days. Jewish tradition prompted the family to bury soon after death, but the Jews also believed the spirit hovered over the dead body for up to three days. This time too had passed. Lazarus was a fully dead man! It was a real miracle to bring him back to life, and this was too much for the Pharisees. What the Pharisees underestimated was that this power would continue to be exhibited in the life of Christians for thousands of years to come. If you are a child of God, you have been brought from death unto life.
Jesus had raised Lazarus from the grave. We should love the story because it shows the power of the Savior. We can know that if He can raise the dead to life, we can trust Him to help us make our house payment or whatever struggles our life may hold. We need to remember that today. Since Jesus has power over death, is there anything in your life that He can't handle?
Jesus came to give us life! Jesus told Lazarus to take off His grave clothes, to quit "living" like he was dead. Shouldn't we do the same thing? Have you received Christ as your Savior? Is your name recorded in Heaven as a child of God? Have the angels sung "Glory" over your salvation? Have you personally, without reservation, believed that Jesus died for your sins, and that the only way you will enter Heaven is through the grace of His shed blood on the cross?
Well, TAKE OFF YOUR GRAVE CLOTHES! Quit "living" among the dead. Look alive! Jesus saved you by grace, through faith, not unto death, but unto life! Shouldn't that make a noticeable difference in your life today? SO LIVE! Don't let this world steal your joy. Don't let Satan rob you of your peace. Stop worrying over tomorrow.  Start living!
Take off your grave clothes and LIVE!
A Tale of Two Itineraries
"Why is the Lord bringing us into this land, to fall by the sword? Our wives and little ones will become a prey. Would it not be better for us to go back to Egypt"(Numbers 14:3, esv)?
Have you ever wondered what part of "Promised Land" they didn't understand?
Israel's whole objective, after packing up at Mount Sinai, was to head out for "the land I promised to Abraham, Isaac, and Jacob, saying: I will give it to your offspring" (Exodus 33:1, csb)–Canaan, their Promised Land. And they were headed straight for it . . . until fear stepped out into the road.
If you've ever had a journey or experience in life like that, then you know there are only two choices whenever God says go and fear says stop. And based on what we learn from the Israelites, the ramifications of letting fear become our travel agent can lead to a detour we may never recover from.
The vast majority of the spies who were sent out by Moses in Numbers 14 to investigate the land came back scared of what they saw. And by the time the people had been spooked by this version of the men's report, they couldn't even sleep at night for worrying about what dangers they were heading into. But God "heard the grumblings of the people of Israel, which they grumble[d] against [Him]" (Numbers 14:27, esv). And He decided if they didn't trust Him to be good to them–if they didn't trust Him to take care of them–if they didn't think He had their needs on His heart and was working on their behalf–He would find someone else who did.
Those "someones" turned out to be their kids. An entire generation forfeited their taste of God's blessing and plenty because they chose to listen to fear rather than lean on His promises.
That's how devastating fear can be. It leads you toward embracing the negative–viewing any downturns and setbacks as evidence that God's Word and way cannot be trusted. It leads toward enlarging the enemy–declaring present and future obstacles as unable to be cleared, unable to be conquered. It leads toward engaging fearful thinking–complicating your ability to keep from seeing life any other way than through the lens of dread and hopelessness.
You may call it caution, but it's more likely fear. You may call it thoroughness, but it's grounded in dread. When trepidation is driving the show, it leaves no space for faith and trust. And although fear makes its appeal on the basis of protecting you from harm, it really only keeps you from what would bring you the greatest joy.
So with their parents' graves dotting the wilderness behind them, a new breed of Israelite prepared to enter the Promised Land–forty years and two million other people's lifetimes later.
Joshua stood on the banks of the Jordan River, saying, "Have I not commanded you? Be strong and courageous. Do not be frightened, and do not be dismayed, for the Lord your God is with you wherever you go" (Joshua 1:9). And this time, rather than falling to pieces like their ancestors did, they pulled up into formation and answered, "All that you have commanded us we will do, and wherever you send us we will go" (Joshua 1:16). They were determined not to revisit the same failed expectations that fear had produced in the past generation.
If you're standing with fear at a fork in the road, you know which way to go.
Journal
What's the most damaging, potentially paralyzing fear in your life right now?
How would you articulate your commitment to not being bound by fear in following the Lord?
Pray
Father in heaven, thank You for examples in Your Word that speak to real-life situations in my own experience. And thank You for the promises in Scripture that declare what You have committed to doing on Your people's behalf. Lead me today to follow Your will and trust Your heart, to not choose fear any longer but to walk in the victory You have claimed for Your redeemed ones. I choose You, Lord, completely confident in the mighty name of Jesus, amen.
Finding the Balance
The Son of Man came eating and drinking, and they say, "Here is a glutton and a drunkard, a friend of tax collectors and sinners." But wisdom is proved right by her actions. – Matthew 11:19
Have you ever flirted with danger? Recently six officials in the White House were told by their doctors that their "stress levels were so high, they were flirting with danger unless they slowed down." While actual people were not named, it reminded me that each of us flirts with danger at times.
Like when driving your car, you step on the gas and fly down the highway towards your next meeting risking your safety and risking that you won't have a tire blow out, let alone see a policeman with a radar gun. Or maybe you put your money in some volatile invest¬ment, or you keep piling on the work and don't know how to say "no", and risk burnout.
One of the key ingredients to lowering our stress level is finding the proper balance in our life. It keeps us from flirting with danger. In the Bible, wisdom and folly are described as two different women. Folly calls out, "Let all who are simple come in here! Stolen water is sweet; food eaten in secret is delicious! But little do they know  that her guests are in the depths of the grave." On the other hand, Wisdom says, "Instruct a wise man, and he will be wiser still."
Each day, we choose whether to flirt with danger by living in an imbalanced state or to walk in wisdom. I challenge you today to think about what you are doing and to walk in wisdom.
"Happiness is not a matter of intensity but of balance and order and rhythm and harmony." – Thomas Merton (1915-1968)

What Jesus Did!

 'My Father Never Stops Working'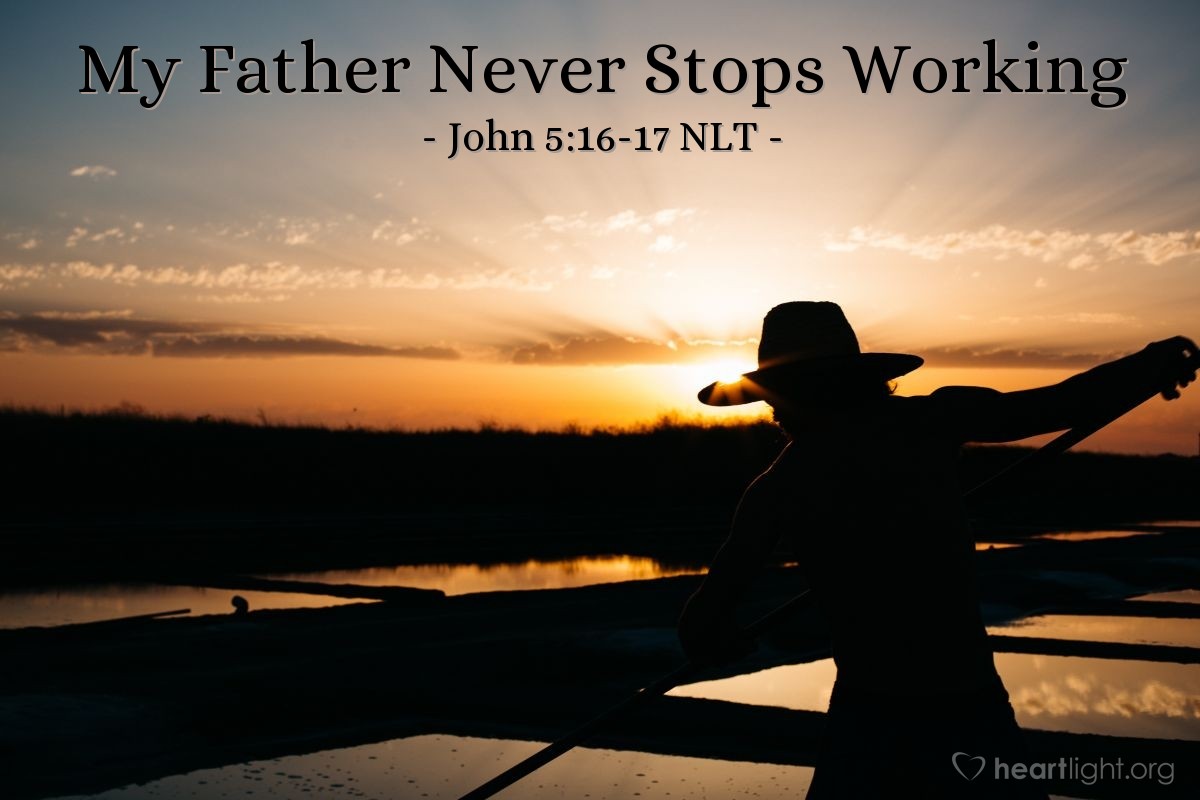 Key Thought
For centuries, the Father in heaven heard prayers, created babies, healed diseases, and upheld the universe on the Sabbath. Why? So his children, his human creations, could be blessed by his rest and honor him. To turn the Sabbath rest into a legalistic debate and forget the people for whom he created it was a sham and a shame. Jesus puts himself in the place of the Father and emphasizes that as long as the Father is working on the Sabbath to do things that bless others, he will too. Jesus' statement is both bold and daring. He is claiming the right to do good on the Sabbath, not just because God wants goodness to be a part of the Sabbath rest, but also because Jesus, like his Father, will not rest nor abandon his human children in their misery.
Today's Prayer
God, I do thank you that when I sleep, you do not. Thank you for working on my concerns, answering my prayers, sustaining my world, and doing your work while I sleep as well as when I'm awake. I cannot comprehend it, but I am truly thankful that you are the God who does not tire or grow weary in doing what is good and what is a blessing. I recognize that all the good things I have in my life have come because of your blessing. I praise you for your mercy and grace that sustain me. In Jesus' name. Amen.
Related Scripture Readings
God's Holy Fire:

 'Words Given by the Spirit!'

And we have received God's Spirit (not the world's spirit), so we can know the wonderful things God has freely given us. When we tell you these things, we do not use words that come from human wisdom. Instead, we speak words given to us by the Spirit, using the Spirit's words to explain spiritual truths.
Key Thought
The apostle Paul is making a direct claim to speak the truth of God based on the work of the Holy Spirit to inspire what he says. In other words, Paul's words are God's message, inspired by the Holy Spirit. Paul's words are the Spirit's words used to explain spiritual realities, heavenly realities, in human language. His words aren't words of human wisdom but of our Father's will.
Today's Prayer
Almighty God, I recognize that I do not fully understand the process of inspiration. But Father, I do believe that you use the Holy Spirit to lead people to speak your truth in human words. So I commit to value your inspired words and to let the Holy Spirit use them in my heart to comfort, convict, correct, motivate, and equip me to live for you. In Jesus' name, I pray. Amen.
Passion for Praise:

 'Sing Out Your Thanks'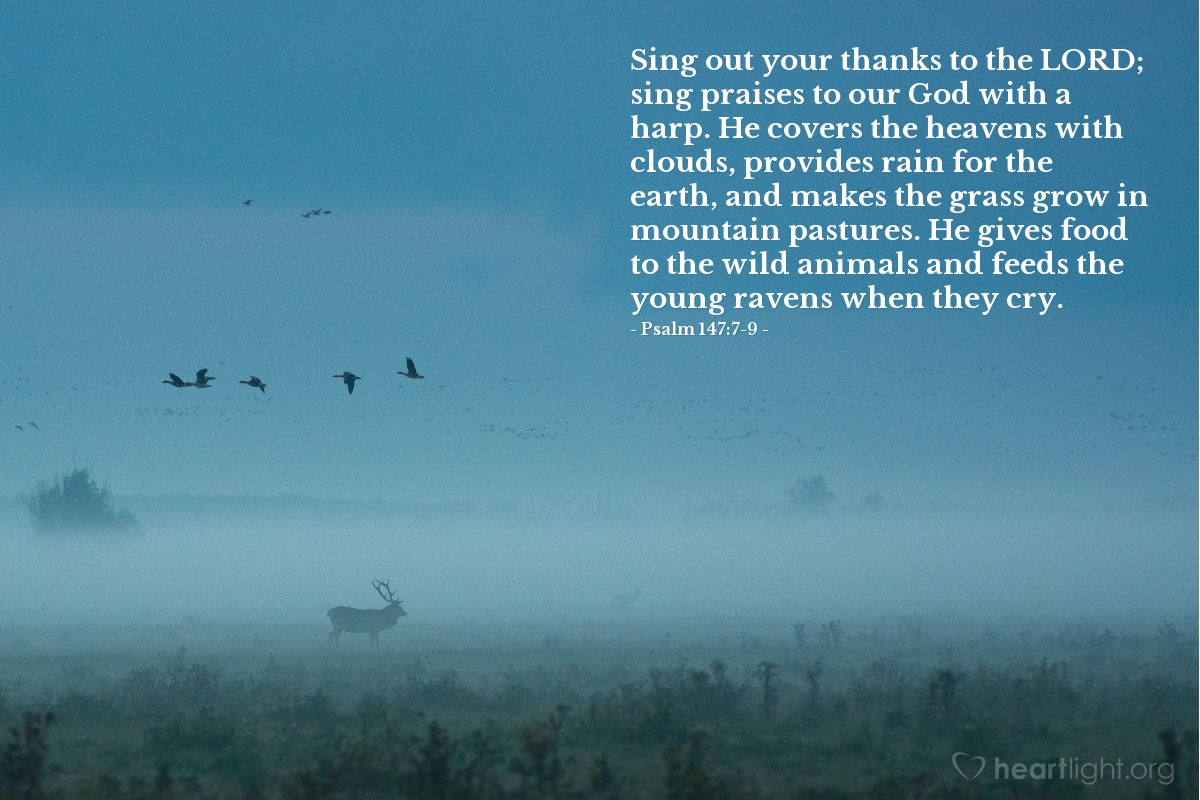 He shall see his offspring; he shall prolong his days; the will of the Lord shall prosper in his hand.
Isaiah 53:10
Ask God to fulfill this promise quickly, all you who love the Lord. It is easy work to pray when our desires are fixed and established on God's own promise. How can He who gave the word refuse to keep it? Immutable truth cannot demean itself by a lie, and eternal faithfulness cannot degrade itself by neglect. God must bless His Son; His covenant binds Him to it.
The Spirit prompts us to ask for Jesus what God the Father decrees to give Him. Whenever you are praying for the kingdom of Christ, let your eyes behold the dawning of the blessed day that draws near, when the Crucified will receive His coronation in the place where men rejected Him.
Take courage, you who prayerfully work for Christ with only scant success—it will not always be this way; better times are ahead. Your eyes cannot see the wonderful future: borrow the telescope of faith; wipe the misty breath of your doubts from the viewfinder; look through it and behold the coming glory.
Reader, let us ask, do you make this your constant prayer? Remember that the same Christ who tells us to say, "Give us each day our daily bread," first gave us this petition, "Hallowed be your name; your kingdom come; your will be done in earth as it is in heaven." Do not let your prayers be all about your own sins, your own desires, your own imperfections, your own trials, but let them climb the starry ladder and get up to Christ Himself, and then as you draw near to the blood-sprinkled mercy-seat, offer this prayer continually: "Lord, extend the kingdom of Your dear Son."
When you fervently present such a petition, it will elevate the spirit of all your devotions. Make sure that you prove the sincerity of your prayer by working to promote the Lord's glory.
Today's Scripture
"God decided in advance to adopt us into his own family by bringing us to himself through Jesus Christ. This is what he wanted to do, and it gave him great pleasure." – Ephesians 1:5 NLT
Thoughts for Today
When we received Jesus, we became a member of God's family! God is our Father. Jesus is not only our Savior, He is also our brother (Hebrews 2:11-12). We are a member of the family of believers. We belong!
A true sense of belonging comes from not only knowing that we belong to God but also from belonging to each other. Many of Paul's letters in the New Testament offer guidance for successful relationships within this worldwide family. For example, he said, "Clothe yourselves with tenderhearted mercy, kindness, humility, gentleness, and patience. Make allowance for each other's faults, and forgive anyone who offends you (Colossians 3:12-13 NLT).
Many scriptures reflect us as belonging and being accepted. Here are just a few:
Consider this …
Do you ever feel lonely? It is possible to feel lonely even when we are surrounded by people. But if you will look at the mirror of God's Word, you will see clearly that you belong to God–and to His family. God will always love you and will always be your perfect Father. Jesus will never leave you nor forsake you.
In the family of believers, as in any family, there will be conflicts and offenses. But we will always be family. We sometimes need to be reminded by looking in the mirror of God's Word that we will always belong to one another and need to forgive and love.
You belong to God. He has adopted you into His family. Jesus is your Savior, your friend–and your brother. You belong!
Prayer
Lord, thank you for reassuring me that I am not alone. I belong! I am your child. And I am in your family. Jesus is not only my Savior and my friend, but my brother. Help me to be faithful to you–and to all my family. In Jesus' name …
Spiritual Contracts
TGIF Today God Is First Volume 1 by Os Hillman
April 02, 2018
"In the first year of his reign, I, Daniel, understood from the Scriptures, according to the word of the Lord given to Jeremiah the prophet, that the desolation of Jerusalem would last seventy years." – Daniel 9:2
When you enter a legal contract, it binds the two parties to fulfill the terms of that contract. In Heaven there are legal contracts that, when fulfilled, allow the spiritual to impact the physical.
Israel had been in captivity to Babylon for 70 years. Daniel, when he investigated the history of his nation, found the prophecy of Jeremiah, which revealed there would be 70 years of captivity. He recognized that in order to release his nation from this captivity, there had to be a confession of sin on the part of the nation. Daniel took that responsibility. Although he could not personally repent for his nation, he could acknowledge their sin and repent himself. When Daniel acknowledged this sin before God, something took place in Heaven. God heard this prayer and responded by sending His angel Gabriel to Daniel's side.
We know from history that this was the time when Judah's return from exile began. Daniel's prayer of confession was the spiritual key to the physical manifestation of releasing the nation from captivity to Babylon.
Whenever you want to confront spiritual forces that have dominion over a situation, you must find the source of the problem. Once you find the source of the problem, you must take the necessary steps in the spiritual realm to release God's power into that situation. For Daniel, it meant taking responsibility for the sin of the nation by confessing its sins and asking forgiveness on behalf of the entire nation. This allowed God to begin the process of releasing the nation.
Ask God to show you the source of the problems that may exist in your city, your work, or people you want to see freed to fulfill God's purposes for their lives.
24 of Bonhoeffer's Most Challenging Quotes
Wisdom for instituting change.
by 
GODINTEREST – Christian digital media website exploring faith, culture and life
Dietrich Bonhoeffer was a German pastor, theologian, spy, anti-Nazi dissident, key founding member of the Confessing Church as well as one of the most influential spiritual voices across the globe for decades. It's a good thing for the modern Church that Bonhoeffer was determined in his course.
Bonhoeffer grew up amid the academic circles of the University of Berlin, where his father, Karl Bonhoeffer, was a professor of psychiatry and neurology and was awarded a doctorate in 1927 at the age of only 21. He also studied at Union Theological Seminary in New York from 1930–1931. During that time he attended Abyssinian Baptist Church in Harlem and became deeply interested in the issue of racial injustice.
Bonhoeffer's involvement in a plot to overthrow Adolf Hitler led to his imprisonment and execution on the 9th April 1945.
More than seventy years after his death, Dietrich Bonhoeffer's writings on faith, the Church, ethics and the nature of God serve as a touchstone for all of us who seek to understand a Christian's responsibility in the face of injustice and have gone on to have a profound influence on Western Culture and the legions of Christian thinkers who've encountered them ever since. He also remains an important symbol of opposition to Hitler.
Here's a look back at some of Bonhoeffer's most powerful quotes.
ON GRACE
"Cheap grace is preaching forgiveness without requiring repentance, baptism without church discipline, Communion without confession. Cheap grace is grace without discipleship, grace without the cross, grace without Jesus Christ, living and incarnate."
ON JUDGING OTHERS
"Judging others makes us blind, whereas love is illuminating. By judging others we blind ourselves to our own evil and to the grace which others are just as entitled to as we are."
ON LIFE
"Christianity preaches the infinite worth of that which is seemingly worthless and the infinite worthlessness of that which is seemingly so valued."
ON SIN
"May we be enabled to say 'No' to sin and 'Yes' to the sinner."
ON JUDGING
"Judging others makes us blind, whereas love is illuminating. By judging others we blind ourselves to our own evil and to the grace which others are just as entitled to as we are."
ON SERVING GOD
"We must be ready to allow ourselves to be interrupted by God."
ON GOD'S LOVE
"God does not love some ideal person, but rather human beings just as we are, not some ideal world, but rather the real world."
ON GOD'S WILL
"Being a Christian is less about cautiously avoiding sin than about courageously and actively doing God's will."
ON SERVING OTHERS
"The Church is the Church only when it exists for others, not dominating, but helping and serving. It must tell men of every calling what it means to live for Christ, to exist for others."
ON OBEDIENCE
"One act of obedience is worth a hundred sermons."
ON EVIL
"Silence in the face of evil is itself evil: God will not hold us guiltless. Not to speak is to speak. Not to act is to act."
ON AFFIRMATIVE ACTION
"We are not to simply bandage the wounds of victims beneath the wheels of injustice, we are to drive a spoke into the wheel itself."
ON STANDING UP FOR INJUSTICE
"If I sit next to a madman as he drives a car into a group of innocent bystanders, I can't, as a Christian, simply wait for the catastrophe, then comfort the wounded and bury the dead. I must try to wrestle the steering wheel out of the hands of the driver."
ON GRATITUDE
"In normal life we hardly realize how much more we receive than we give, and life cannot be rich without such gratitude. It is so easy to overestimate the importance of our own achievements compared with what we owe to the help of others."
"When Christ calls a man, he bids him come and die."
ON INJUSTICE
"We are not to simply bandage the wounds of victims beneath the wheels of injustice, we are to drive a spoke into the wheel itself."
ON PEACE
"There is no way to peace along the way of safety. For peace must be dared, it is itself the great venture and can never be safe. Peace is the opposite of security. To demand guarantees is to want to protect oneself. Peace means giving oneself completely to God's commandment, wanting no security, but in faith and obedience laying the destiny of the nations in the hand of Almighty God, not trying to direct it for selfish purposes. Battles are won, not with weapons, but with God. They are won when the way leads to the cross."
ON 'DEFENDING' THE BIBLE
"Do not try to make the Bible relevant. Its relevance is axiomatic. Do not defend God's word, but testify to it. Trust to the Word. It is a ship loaded to the very limits of its capacity."
ON REAL MORALITY
"The ultimate test of a moral society is the kind of world that it leaves to its children."
ON PEOPLE
"We must learn to regard people less in light of what they do or omit to do, and more in the light of what they suffer."
ON SPIRITUALITY
"When all is said and done, the life of faith is nothing if not an unending struggle of the spirit with every available weapon against the flesh."
ON FELLOWSHIP
"The first service that one owes to others in the fellowship consists of listening to them. Just as love of God begins with listening to his word, so the beginning of love for our brothers and sisters is learning to listen to them."
ON PROOF OF GOD
"A God who let us prove his existence would be an idol."
ON THE FUTURE
"The ultimate test of a moral society is the kind of world that it leaves to its children."
NATIONAL PEANUT BUTTER AND JELLY DAY
National Peanut Butter and Jelly Day is celebrated annually on April 2nd.  This food holiday is a classic favorite of many.  The average American will have eaten over 2000 peanut butter and jelly sandwiches by the time they graduate from high school.
Peanut butter was considered a delicacy in the early 1900s and was only served in New York City's finest tea rooms.  In a May 1896 article published in the Good Housekeeping magazine, a recipe "urged homemakers to use a meat grinder to make peanut butter and spread the result on bread."  That same year, in June, the culinary magazine Table Talk, published a "peanut butter sandwich recipe."
It is thought to be that the first reference of peanut butter paired with jelly on bread, to be issued in the United States, was by Julia Davis Chandler in 1901.  In the late 1920s, the price of peanut butter declined, and the sandwich became very popular with children.
According to the Peanut Board, during World War II, both peanut butter and jelly were part of the United States soldiers military ration list.
In 1968, The J.M. Smucker Co. introduced Goober, a jarred product which combined alternating vertical stripes of peanut butter and jelly.
HOW TO OBSERVE
It may be a good day to try something different.  Following are a few ideas to help you out!
Peanut Butter and Jelly Cupcakes
Peanut Butter and Jelly French Toast
Peanut Butter and Jelly Pie
Peanut Butter and Jelly Sushi
Peanut Butter and Jelly Cookies
Peanut Butter and Jelly Donuts
Peanut Butter and Jelly Pancakes
Peanut Butter and Jelly Fudge
Use #PeanutButterAndJellyDay to post on social media.
HISTORY
Our research was unable to find the creator and the origin of National Peanut Butter and Jelly Day.
NATIONAL RECONCILIATION DAY
National Reconciliation Day is celebrated on April 2 of each year.  There are many different "Days of Reconciliation" held around the world that are celebrated on different days.
HOW TO OBSERVE
This is a day intended to patch up relationships.  Misunderstandings, unintended words or actions and simply an unforgiven mistake can tear apart relationships.  National Reconciliation Day is the time to take that step and make amends.  It's not too late.  Reach out to that friend or loved one and make a fresh start.  Use #ReconciliationDay to post on social media.
HISTORY
Our research has found several references to Reconciliation Day throughout the year.  However, credit is given to newspaper columnist Ann Landers, who in 1989, in response to one of her reader's letters, began annually promoting April 2nd as Reconciliation Day.  She encouraged her readers to repair their broken relationships and dedicated each April 2nd column to letters concerning just such relationships.
Stay blessed!!!