TODAY'S DAILY PRAYER
Come to me, all who labor and are heavy laden, and l will give you rest. Matthew 11:28, RSV
Dear Father in heaven, grant us the inner quiet we need so that we may come into your presence and hear you speak, forgetting all the things that try to force themselves upon us. May we experience your true and living support. Keep our hearts glad and thankful for everything, even in grief, anxiety, and suffering. In this thankfulness we can remain with you, and Jesus Christ can help us, Jesus, whom you have given as our support and helper in all that most deeply concerns us. We entrust ourselves to you. Keep us in your Spirit. Amen.
TODAY'S DAILY DIG
Someday, after mastering the winds, the waves, the tides and gravity, we shall harness for God the energies of love. And then, for the second time in the history of the world, man will have discovered fire.
Source: Toward the Future
Verse of the Day
Thoughts on Today's Verse…
Ask! So often we're afraid to ask for help because we have to admit we don't have the answers. Seek! Effort and interest and perseverance are necessary and that's sometimes hard. Knock! In an era of doorbells, this is a forgotten action. But God wants us to use the A.S.K. principle and bring our hearts before him. So let's don't just whine, complain, desire, and want. Let's A.S.K. our Father and seek his glory.
My Prayer…
Waiting Father, I am sorry that so often you only hear my whines and complaints and concerns. You have been so generous with your love. Help me to keep my heart set on you and your will today as I ask you to minister to the things on my heart. Through Jesus I pray. Amen.
A Prayer for the Lord to Be Your Shepherd
By Dr. James MacDonald
The Lord is my shepherd; I shall not want. He makes me lie down in green pastures. He leads me beside still waters. He restores my soul. — Psalms 23:1-3
When David said, "The Lord is my Shepherd," he knew something about the word picture he was using.
First—like a shepherd, God leads us.
There is nothing coming into your life that isn't terrain the Shepherd has already covered and given His full approval—including the rocky ground, the most difficult times. Don't ever forget the Shepherd leads you through that ground. God will use it for your good and bring you through it to the place He has planned.
Second—like a shepherd, He protects us.
Sheep are so vulnerable—to disease, to weather, to predators and thieves that come to steal them. In the same way, the enemy of our souls would terrorize us, harm us, steal our focus, and tempt us to chart our own course—but our Shepherd protects us. You're reading this today because the Shepherd is leading you, and He is filling your life with good things. God is protecting you.
Third—like a shepherd, He feeds us.
For sheep, it's green pastures and still waters. For us, our Shepherd offers nourishment of every kind. Devotionals like this and even Sunday sermons are just a sampling of the feeding that comes from the Lord. These portions are intended to fire us up and help us take hold of the abundant food God has provided in His Word to feed ourselves day by day, moment by moment.
Take a moment to realize how desperately you need all the Shepherd's care for you. Keep seeking Him—in prayer, reading and reflecting on His promises, adoring Him in worship—as He leads, protects, and feeds you. Because the Lord is your faithful Shepherd.
Prayer:
Father, I praise You for the many ways You are my Shepherd. Thank You that in Your leading, protecting, and feeding, You have never failed. Your faithfulness has never faltered. There hasn't been, nor will there ever be, a circumstance or danger You can't handle. I rest my life in Your care. In Jesus' name, amen.
Pole of Fear
When I am afraid, I put my trust in you. In God, whose word I praise–in God I trust and am not afraid. What can mere mortals do to me? Psalm 56:3-4
Scott is a daredevil … to say the least. I have never seen him back down from anything. From his cycle riding to his traveling the world to his business ventures, the term "risk-taker" aptly describes him. That's why I was so surprised when he wouldn't climb the pole to the zip-line platform. Granted, the zip-line platform was high. And granted, the pole to the platform demanded a few maneuvers, but I never expected him to say, "I'm not climbing that pole!" No matter how much I encouraged and cajoled, his feet stayed planted on the ground. We had some serious (and not so serious) discussions about Scott's refusal to climb. But here's one thing that we concluded: everybody has a "pole of fear." You may be described as a risk taker, but there is something you won't or can't do because of your fear.
What is your "pole of fear"? Does it have to do with your family? Is it found in relationships? Do you fear getting close to others? Maybe your "pole of fear" makes itself known in your job. Maybe your self-doubt is a subconscious paralyzer. Maybe you fear failure. You can't stand the thought of letting someone down or letting him or her see your vulnerability. Or maybe your "pole of fear" is getting close to God and letting others help you in the process.
Remember, everyone has a "pole of fear." The words "fear" and "afraid" are found 483 times in the Bible! But the remedy to fear is found in today's passage. The psalmist says, "When I am afraid, I put my trust in you … in God I trust and am not afraid." Turn your fear over to God. He is more than capable to turn your "pole of fear" into a pathway of faith.
Father, we are all afraid of something. As we stand before our "poles of fear" today, help us to trust in You. Thank You for giving us everything we need to climb. In Jesus' name. Amen.
From Jesus Calling, by Sarah Young
YOU ARE MINE FOR ALL TIME; nothing can separate you from My Love. Since I have invested My very Life in you, be well assured that I will also take care of you. When your mind goes into neutral and your thoughts flow freely, you tend to feel anxious and alone. Your focus becomes problem solving. To get your mind back into gear, just turn toward Me, bringing yourself and your problems into My Presence.
Many problems vanish instantly in the Light of My Love, because you realize you are never alone. Other problems may remain, but they become secondary to knowing Me and rejoicing in the relationship I so freely offer you. Each moment you can choose to practice My Presence or to practice the presence of problems.
[Romans 8:38-39; Exodus 33:14]
Male Visual Stimulation
Men tend to be highly visual. Consequently, they also tend to be very susceptible to sexual temptation when it's presented visually. Put bluntly: most men have eyes that follow every short skirt that walks by. This presents a huge obstacle to marital intimacy. One disgruntled wife put it simply: "Men are pigs." And to the extent we choose our own way rather than purifying our eyes and submitting out behaviors to God, it's an apt indictment.
Consider this letter I received from a reader of my book, Every Man's Battle:
"My husband has bought into the lie that 'all men look' because they're so visual. He read your book Every Man's Battle, but he still says it's impossible for any real man to avoid looking at a babe in a string bikini. This bothers me, but he's threatened me with divorce if I don't stop 'nagging' him about this…I'm sick to my stomach to think that for the rest of my life, I'll be robbed of fullness in my marriage. Because this bothers me so much, and because my husband is so sick of being reminded of it, he does it even more now! Can you imagine? Everywhere I go with my husband I know I can't keep his attention. NOWHERE!"
Note her pain, men. The lust of your eyes hardens your heart and blinds you to your own wife. This dishonors both your wife and the God who so graciously gave her to you.
The Daily Word of Hope Devotional
Bible Fun Fact: One of the names of God is I AM (Exodus 3:14)
The Thorn
By reason of the exceeding greatness of the revelations, that I should not be exalted excessively, a thorn in the flesh was given to me: a messenger of Satan to torment me, that I should not be exalted excessively. Concerning this thing, I begged the Lord three times that it might depart from me. He has said to me, 'My grace is sufficient for you, for my power is made perfect in weakness.' Most gladly therefore I will rather glory in my weaknesses, that the power of Christ may rest on me. 2 Corinthians 12:7 WEB
Paul, the converted Christian hunter who wrote a lot of the New Testament, had a thorn in the flesh. He does not say what it was. It may have been lust, or a critical spirit, or headaches, or possibly bad eyes (Galatians 4:15). Whatever it was, it bothered him and he wanted to be free of it. Paul asked the Lord three times to take it away, but the Lord told him 'My grace is sufficient for you, for My power is made perfect in weakness.' Paul continued to minister while the thorn was still there.
The grace of God is like oil that smooths the gears of life. It makes things fall into place, and it can make you be at the right place, at the right time, saying the right things, and knowing all the right answers. When the Lord herded me into my own computer repair business, it seemed like they almost fixed themselves. Often when I touched them, they suddenly started working correctly, or the problem revealed itself.
Grace can make things seem easy, but when the grace lifts, things become difficult and that can be a sign to move on. Later, when the Lord decided to put me in the ministry, the computer business dried completely up and it became a living nightmare. It seemed like trivial things like burning a disk could take half a day, where it used to take a few minutes. The grace was gone, and it was time to move on.
Having problems and thorns will not stop God from using you. If you are walking with something today that will not leave, and you cry out to the Lord repeatedly, but still it is there, don't give up. Know that His grace is sufficient to get you through this day, and He will still use the imperfect and weak to show His power, with all their flaws, just as He continued to use Paul.
Prayer: Heavenly Father I thank You for Your grace. Please forgive me of my sins and help me to live a life that is pleasing to You. Lead me into all that You have for me here, in the name of Jesus Christ I pray.
'Does Job fear God for no reason?'
Job 1:9
This was the wicked question of Satan concerning that upright man of old, but there are many in the present day concerning whom it might be asked with justice, for they love God after a fashion because He prospers them; but if things went ill with them, they would give up all their boasted faith in God. If they can clearly see that since the time of their supposed conversion the world has gone prosperously with them, then they will love God in their poor, carnal way; but if they endure adversity, they rebel against the Lord.
Their love is the love of the table, not of the host; a love of the cupboard, not of the master of the house. As for the true Christian, he expects to have his reward in the next life and to endure hardness in this. The promise of the old covenant was prosperity, but the promise of the new covenant is adversity. Remember Christ's words–"Every branch of mine that does not bear fruit"–what?–"he takes away, and every branch that does bear fruit he prunes, that it may bear more fruit."1 If you bring forth fruit, you will have to endure affliction.
"Alas," you say, "that is a terrible prospect." But this affliction works out such precious results, for the Christian who is the subject of it must learn to rejoice in tribulations because as his tribulations abound, so his consolations abound by Christ Jesus.
Rest assured, if you are a child of God, you will be no stranger to the rod. Sooner or later every bar of gold must pass through the fire. Fear not, but rather rejoice that such fruitful times are in store for you, for in them you will be weaned from earth and made meet for heaven; you will be delivered from clinging to the present and made to long for those eternal things that are so soon to be revealed to you. When you feel that as regards the present you do serve God for nothing, you will then rejoice in the infinite reward of the future.
Worship and Warfare: Distract the Enemy
Today's Scripture
"The one who is in you is greater than the one who is in the world." (1 John 4:4 NIV)
Thoughts for Today
Worship is an essential part of our preparation for spiritual battle. When we worship God, we focus on who he is. We become more aware of his holiness . . . his power . . . his wisdom . . . his greatness . . . and his love. And so worship brings a proper perspective.
With this renewed perspective, our vision of God begins to loom larger than the size of our difficulties. Nothing takes him by surprise. And he is so much greater than anything that can ever come against us. Today's scripture reminds us of that.
Consider this …
What are you dealing with right now? Are you focusing on the problem, allowing it to block out your vision of God? Are you experiencing fear or confusion or discouragement?
You need to regain a right perspective. How? Begin to worship Jesus. Praise him. Focus on him, not your problem. Then you will remember . . .
God's power is greater than your problem.
God's love for you is greater than you can imagine.
God is with you.
Only then will you be able to turn the problem over to the Lord. Only then will you have faith for the victory.
Prayer
Lord, the size of this problem temporarily blinded me. I have been overcome with fear and anxiety. I've been trying to win the victory on my own . . . and have failed miserably. But now as I worship and praise you, I am reminded of your power and love. I know the only answer is to turn the problem over to you . . . and to continue to worship and praise you. I know that you will bring victory–just as you did for King Jehoshaphat. In Jesus' name . .
This Dangerous Habit Can Sabotage Your Spiritual Blessings
(Unsplash/Kalle Kortelainen)
As I was preparing for work one morning, I dropped a hand mirror, and it went crashing to the floor. The pieces were everywhere. When I stooped down to pick them up, the phrase "seven years" immediately went through my head.
Now, I'm not a person who believes in luck, good or bad. The phrase probably came to mind because it's one I've heard all my life—"seven years of bad luck." But instead of finishing it, I heard a still small voice say, "Don't look back," then "Press on!" I knew that sweet voice was the voice of the Lord.
I also knew exactly what He was saying to me.
Unless you are looking into a mirror that is large enough to see only a small part of your face, you can normally see only your reflection, looking ahead, but also what is behind you. If you focus on the things behind, even though you're facing the other direction, you are no longer looking forward.
I had been going through a very difficult time in my life and still wanted to hold on to some things that were virtually gone. The Father was telling me that it was time to let them all go, to mark the date, to build an altar, if you will. He showed me that looking back is very dangerous.
When the children of Israel left Egypt, they kept looking back. Many times, they complained that they had it better where they came from. Their former life of making bricks to build another's kingdom seemed better than taking their own ground, even though they were headed for a land flowing with milk and honey, a place of freedom.
In spite of all God did for them on their journey to Canaan, regardless of the times He proved Himself over and over, they still looked back, searching for what they once had. Most of them ended up dying in the wilderness.
The Morton Salt girl (Lot's wife) was the same way. She and her husband were raising their daughters in Sodom, a land of lust and perversion. Surely she and her daughters were safe. In fact, when two angels came to visit their house, the men in the town demanded that Lot send them out so the men could have their way with them (see Gen. 19:4-5)!
To spare the angels, Lot, in desperation, offered his own precious daughters (see v. 6-8). Yet when he and his family were given the chance to get out of Sodom (vv. 15-16), Lot's wife couldn't bear to leave. Even though she was told not to look back, she did—and it cost her her life (vv. 17, 26).
I can remember instances in my life in which I experienced problems as a result of looking back. On more than one occasion, I have looked back for just an instant while walking or running. The moment I turned around again, I ran smack into a wall or door.
I've done it while driving too. I thought the person in front of me had already accelerated and looked back for one reason or another. The sickening sound of a crunch made me realize the person had not taken off as I had thought he had.
When I was reflecting on all this, I remembered the Scripture concerning pressing on, which says, "forgetting those things which are behind" (Phil.3:13). You can't get more specific than that. The Word also says that Jesus "set [His] face like a flint" (Isa. 50:7) toward the cross. He didn't look back. His temporary death was followed by eternal life for all.
I encourage you in this new year to begin looking forward to today. Our Father can help you forget "those things which are behind," And what He has ahead for you is more wonderful than you can imagine (see Jer. 29:11).
Prayer Power for the Week of Jan. 21, 2018
This week in prayer, repent of past sins and failures, close the door on them and press on to what God has for you in 2018. Ask Him to reveal His goals for you this coming year and direct you toward them. Continue to pray for our nation and its allies. Pray that our leaders would seek God's will and wisdom, and heed wise counsel. Remember the needy and those suffering great loss. Ask the Lord how you can be a blessing. Read Jeremiah 29:11, Philippians 3:13.
The Proper Foundation
TGIF Today God Is First Volume 1 by Os Hillman
January 22, 2018
Unless the Lord builds the house, its builders labor in vain. – Psalm 127:1a
Imagine spending years building an expensive home with the finest materials and craftsmanship. It is a work of art, and the project is almost complete. As the day arrives to move in, a building inspector arrives and hands you a notice that condemns your beautiful home because it doesn't meet code.
Many Christian workplace believers who invest years in their businesses will one day stand before the Lord and realize they were building the house, not the Lord. God is very picky about motives behind the actions. Before we act, we must ask why? Why are we doing what we are doing? Has God called us to this task? Or is the real motive purely financial? Or control. Or prestige.
If any man builds on this foundation using gold, silver, costly stones, wood, hay or straw, his work will be shown for what it is, because the Day will bring it to light. It will be revealed with fire, and the fire will test the quality of each man's work (1 Corinthians 3:12-13).
David learned this principle by the end of his life. Throughout his life he had learned that God always tested him to find out what was in his heart, and what his motive was in his actions. David instructed his son to "…acknowledge the God of your father, and serve Him with wholehearted devotion and with a willing mind, for the Lord searches every heart and understands every motive behind the thoughts" (1 Chron. 28:9a).
Passion for Praise:

 'His Everlasting Arms'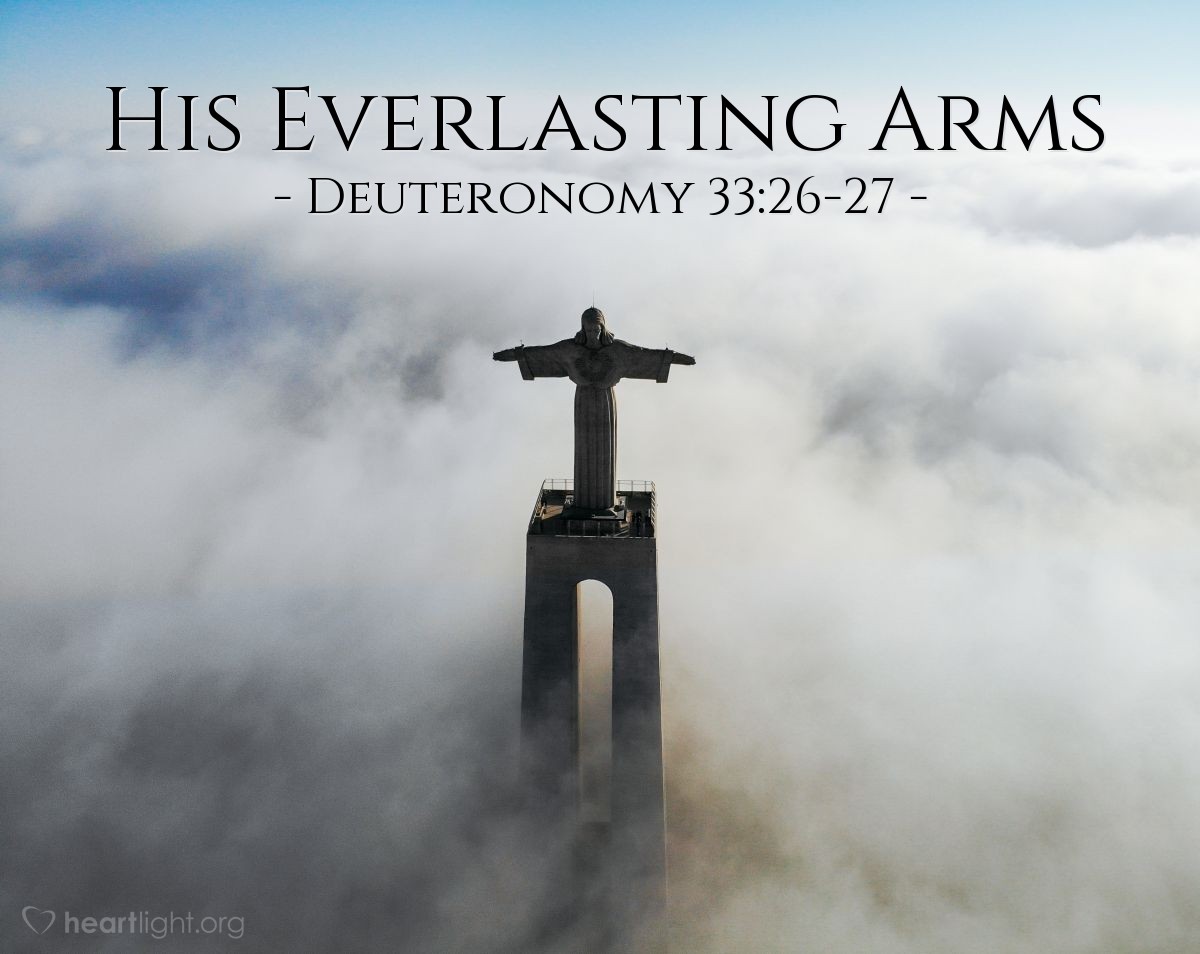 President Donald J. Trump Proclaims January 22, 2018, as National Sanctity of Human Life Day
---
---
Today, we focus our attention on the love and protection each person, born and unborn, deserves regardless of disability, gender, appearance, or ethnicity. Much of the greatest suffering in our Nation's history — and, indeed, our planet's history — has been the result of disgracefully misguided attempts to dehumanize whole classes of people based on these immutable characteristics. We cannot let this shameful history repeat itself in new forms, and we must be particularly vigilant to safeguard the most vulnerable lives among us. This is why we observe National Sanctity of Human Life Day: to affirm the truth that all life is sacred, that every person has inherent dignity and worth, and that no class of people should ever be discarded as "non-human."
Reverence for every human life, one of the values for which our Founding Fathers fought, defines the character of our Nation. Today, it moves us to promote the health of pregnant mothers and their unborn children. It animates our concern for single moms; the elderly, the infirm, and the disabled; and orphan and foster children. It compels us to address the opioid epidemic and to bring aid to those who struggle with mental illness. It gives us the courage to stand up for the weak and the powerless. And it dispels the notion that our worth depends on the extent to which we are planned for or wanted.
Science continues to support and build the case for life. Medical technologies allow us to see images of the unborn children moving their newly formed fingers and toes, yawning, and even smiling. Those images present us with irrefutable evidence that babies are growing within their mothers' wombs — precious, unique lives, each deserving a future filled with promise and hope. We can also now operate on babies in utero to stave off life-threatening diseases. These important medical advances give us an even greater appreciation for the humanity of the unborn.
Today, citizens throughout our great country are working for the cause of life and fighting for the unborn, driven by love and supported by both science and philosophy. These compassionate Americans are volunteers who assist women through difficult pregnancies, facilitate adoptions, and offer hope to those considering or recovering from abortions. They are medical providers who, often at the risk of their livelihood, conscientiously refuse to participate in abortions. And they are legislators who support health and safety standards, informed consent, parental notification, and bans on late-term abortions, when babies can feel pain. These undeterred warriors, many of whom travel to Washington, D.C., every year for the March for Life, are changing hearts and saving lives through their passionate defense of and loving care for all human lives. Thankfully, the number of abortions, which has been in steady decline since 1980, is now at a historic low. Though the fight to protect life is not yet over, we commit to advocating each day for all who cannot speak for themselves.
NOW, THEREFORE, I, DONALD J. TRUMP, President of the United States of America, by virtue of the authority vested in me by the Constitution and the laws of the United States, do hereby proclaim January 22, 2018, as National Sanctity of Human Life Day. I call on all Americans to reflect on the value of our lives; to respond to others in keeping with their inherent dignity; to act compassionately to those with disabilities, infirmities, or frailties; to look beyond external factors that might separate us; and to embrace the common humanity that unites us.
IN WITNESS WHEREOF, I have hereunto set my hand this nineteenth day of January, in the year of our Lord two thousand eighteen, and of the Independence of the United States of America the two hundred and forty-second.
DONALD J. TRUMP
Beware Of The Critic
When a man is a critical person, it often shows that he has a wicked heart. Beware of the person who finds fault with everybody and everything. How careful we ought to be not to criticize, because we ourselves have so many faults.
Galatians 6:1 says, "Brethren, if a man be overtaken in a fault, ye which are spiritual, restore such an one in the spirit of meekness; considering thyself, lest thou also be tempted."
If somebody has fallen and done wrong, don't criticize him—help him. Lift him up. It's the same thing Jesus said when they wanted to stone the woman taken in adultery: "He that is without sin among you, let him first cast a stone at her" (John 8:7).
How careful we ought to be in criticizing others. How ashamed we ought to be to criticize other people when we have so many faults in our hearts and in our own lives.
God bless you all!!!!