TODAY'S DAILY PRAYER
In the beginning you laid the foundations of the earth, and the heavens are the work of your hands. They will perish, but you remain; they will all wear out like a garment. Like clothing you will change them and they will be discarded. But you remain the same, and your years will never end. Psalm 102:25–27, NIV
Lord our God, thank you for letting your light shine every day of every year. Thank you that we may always lift our eyes to you, whose right hand will bring true order to everything, even in difficult times. Give our hearts the strength to be faithful in this age, the strength to glorify you. For you remain, no matter what happens on earth. You are our God. You have sent us the Savior and we can draw close to you. Your promise to us stands firm, the promise that your day with its truth and justice shall come, to the honor of your name. May many people turn their hearts to you; may they worship you and call to you for help, to the glory of our Savior Jesus Christ. Amen.
Verse of the Day
Thoughts on Today's Verse…
"Fast away the old year passes…" But we can be new and fresh and clean (cf. 2 Cor. 4:17). Kingdom people are those who have been born fresh and new through the power of the Spirit and the grace of God (cf. John 3:3-7; Titus 3:3-7; John 1:11). So as we close out the old year, with its good things and bad, achievements and failures, successes and disappointments, let's approach the New Year as Kingdom people. God's mercies are new every morning and our lives can be made new everyday by the Holy Spirit who lives in us. Yes, we have been born again. But each sunrise offers us the opportunity to be made new, to live in a fresh new way, as God's grace rekindles our hopes and the Holy Spirit makes us new as we trust in Jesus our Lord.
My Prayer…
Heavenly Father, you are holy and righteous. I confess that as hard as I have tried and as much as I have wanted to be holy and righteous, without your grace and the empowering presence of the Holy Spirit, I fail. Thank you for your forgiveness. Please make me new. As I stand on the threshold of a new year, please empower me beyond my weaknesses and besetting sins. Open my eyes to your work in the world around me and use me in your work of grace. Fire my passion to live fully for your Kingdom and my King, Jesus Christ, in whose name I pray. Amen.
BIBLE STUDY BUDDY
Read Revelation 21:9-27…
One of the seven angels who had the seven bowls full of the seven last plagues came and said to me, "Come, I will show you the bride, the wife of the Lamb." 10. And he carried me away in the Spirit to a mountain great and high, and showed me the Holy City, Jerusalem, coming down out of heaven from God. 11. It shone with the glory of God, and its brilliance was like that of a very precious jewel, like a jasper, clear as crystal. 12. It had a great, high wall with twelve gates, and with twelve angels at the gates. On the gates were written the names of the twelve tribes of Israel. 13. There were three gates on the east, three on the north, three on the south and three on the west. 14. The wall of the city had twelve foundations, and on them were the names of the twelve apostles of the Lamb.
15. The angel who talked with me had a measuring rod of gold to measure the city, its gates and its walls. 16. The city was laid out like a square, as long as it was wide. He measured the city with the rod and found it to be 12,000 stadia in length, and as wide and high as it is long. 17. The angel measured the wall using human measurement, and it was 144 cubits thick. 18. The wall was made of jasper, and the city of pure gold, as pure as glass. 19. The foundations of the city walls were decorated with every kind of precious stone. The first foundation was jasper, the second sapphire, the third agate, the fourth emerald, 20. the fifth onyx, the sixth ruby, the seventh chrysolite, the eighth beryl, the ninth topaz, the tenth turquoise, the eleventh jacinth, and the twelfth amethyst. 21. The twelve gates were twelve pearls, each gate made of a single pearl. The great street of the city was of gold, as pure as transparent glass.
22. I did not see a temple in the city, because the Lord God Almighty and the Lamb are its temple. 23. The city does not need the sun or the moon to shine on it, for the glory of God gives it light, and the Lamb is its lamp. 24. The nations will walk by its light, and the kings of the earth will bring their splendor into it. 25. On no day will its gates ever be shut, for there will be no night there. 26. The glory and honor of the nations will be brought into it. 27. Nothing impure will ever enter it, nor will anyone who does what is shameful or deceitful, but only those whose names are written in the Lamb's book of life.
v22-27 Perfect and direct communion with God, will more than supply the place of gospel institutions. And what words can more full express the union and co-equality of the Son with the Father, in the Godhead? What a dismal world would this be, if it were not for the light of the sun! What is there in heaven that supplies its place? The glory of God lightens that city, and the Lamb is the Light thereof. God in Christ will be an everlasting Fountain of knowledge and joy to the saints in heaven. There is no night, therefore no need of shutting the gates; all is at peace and secure. The whole shows us that we should be more and more led to think of heaven as filled with the glory of God, and enlightened by the presence of the Lord Jesus. Nothing sinful or unclean, idolatrous, or false and deceitful, can enter. All the inhabitants are made perfect in holiness. Now the saints feel a sad mixture of corruption, which hinders them in the service of God, and interrupts their communion with him; but, at their entrance into the holy of holies, they are washed in the laver of Christ's blood, and presented to the Father without spot. None are admitted into heaven who work abominations. It is free from hypocrites, such as make lies. As nothing unclean can enter heaven, let us be stirred up by these glimpses of heavenly things, to use all diligence, and to perfect holiness in the fear of God.
The Ultimate Real Estate…
The University of Colorado's Fiske Planetarium needed money, so its director dreamed up a comical fund-raiser. He printed brochures that offered 1,000-acre lots on the planet Mars for only $20.
The flier read: "This land steal features pink skies, unlimited rock gardens, and not one but two moons. So peaceful, quiet, and romantic- even the natives are friendly." The literature promised, "At one-sixth the gravity of Earth, your golf game will improve immensely- drives will be six times longer. Mars will provide a world of adventure for the entire family." The gag was surprisingly successful. People across the country sent in $20 for a deed, for space flight insurance, and for a simulated sample of red Martian soil.
If this story catches your imagination, then think about the ultimate real estate- heaven. As an expression of His love, God promised it to all who trust Jesus as their Savior. It's a real place where the Lord Himself will live with His people. There will be no tears, pain, or death, and the occupants will rejoice forever in God's everlasting goodness (Rev. 21:4).
How reassuring to know that God's free offer of a home in heaven is not a promotional gimmick! It may sound too good to be true, but it isn't. It's too good to pass up.
Don't Look Back
Look not back on yesterday
So full of failure and regret
Look ahead and seek God's way
All sin confessed you must forget. 
-Dennis DeHaan
A New Soul
The object of a New Year is not that we should have a new year. It is that we should have a new soul. 
-G. K. Chesterton
A Solution
Instead of making a New Year's resolution
Consider committing to a biblical solution 
-Mary Fairchild
The New
To reach up for the new, you must let go of the old. What lies behind you is not nearly as important as what lies in front of you.
-Joel Osteen
Glory to God
Glory to God in highest heaven,
Who unto man His Son hath given;
While angels sing with tender mirth,
A glad new year to all the earth. 
-Martin Luther
Direct
If this is to be a Happy New Year, a year of usefulness, a year in which we shall live to make this earth better, it is because God will direct our pathway. How important then, to feel our dependence upon Him! 
– Matthew Simpson
Love Is A Fruit
Love is a fruit in season at all times, and within the reach of every hand. 
-Mother Teresa.
Renewal
Renewal is rooted in faith, not in resolutions! They are made for New Year's and forgotten on an average of thirteen days later, say the surveys. Faith is the result of a decision about Christ. I cannot make a new me or a new you, but Christ can make you new and me new, as well, if we decide for Him.
-Frank Harrington
TODAY

'S
Christian Quote
The best gifts to give: To your friend, loyalty; To your enemy, forgiveness; To your boss, service; To a child, a good example; To your parents, gratitude and devotion; To your mate, love and faithfulness; To all men and women, charity.
Your Story, God's Story
Luke 1
Why is Christmas such a magical time of year? I think its because everyone is expecting a miracle at Christmas. Consider all the popular movies. Each one has a miracle as it's central plot. Whether it's a boy hoping his parents get back together, a shop-owner hoping he can keep his business running, or a town who needs a new hero to help "save Christmas."
You might be reading this and wishing for your own miracle this Christmas. It's probably much smaller than what makes a holiday movie. But it no less important to you.
Maybe you're hoping our prodigal comes home. Maybe you're wishing for a job. Some are yearning for a special someone to sit next to you by the fire.
2,000 years ago, there was a couple who hoped for their own miracle. But like many, they had long given up on this dream. Zacharias and Elisabeth prayed for a child, but year after year, that prayer went unfulfilled. So, they gave up on the dream.
But this couple didn't give up on God. They stayed faithful. Then, one ordinary day, the extraordinary happened. Zacharias, a priest in Israel, was chosen to give the incense at the altar. This was a once-in-a-lifetime chance, a rare honor for such a common man. Then, as he performed this sacred duty, an angel of God appeared, breaking God's 400-year silence with Israel.
The angel told Zacharias that he and his wife, Elisabeth would have a son after all. He would have a special purpose an would prepare Israel for the coming of the Messiah, Jesus.
This all sounded impossible to Zacharias. Not the miracle itself—that Jesus would come, that John would be the forerunner. Zacharias, as a believing Jew, knew the Scriptures and believed this.
He just had a hard time thinking God could use silly old him. After all, he and his wife were well past the child-bearing age. But, true to His word, God performed this miracle in the lives of Zacharias and Elisabeth. You know the rest of the story. John the Baptist led revival in Israel and would later baptize Jesus Christ, the very son of God.
But let's focus on Zacharias and Elisabeth. They were faithful people in a time of unfaithfulness. And yet they had given up on the dream God had planted in their hearts—the dream of having a son. What's interesting is that Zacharias had no problem with the big miracle: God sending a Son to be born of a virgin and be the Savior. It was the little miracle he had trouble with, the miracle in his own life. Even though God had done a similar thing in Sarah and Hannah and Rebekah and Rachel, Zacharias refused to believe his wife, Elisabeth could bear a child.
He did something we often do. We believe in the big things of God—sending a son to be our Savior, Creation, Heaven—but when it comes to littler miracles, we limit Him. It's as if we say, Yes, God can create the earth in six days, be born of a baby, and send us to Heaven, but He can't possibly change me, fix a relationship, get me a job. 
And God's answer is Yes I can. You see, the biggest miracle has already been done—Jesus. Everything else is small to God.
So maybe today, like Zacharias, you're letting God know that there is something too big for Him. Something even He can't fix.
And the story of Zacharias tells us that there is nothing too hard and that God is still in the business of doing miracles. Even in your own life.
Daniel Darling is an author, pastor, and public speaker. His latest book is Crash Course, Forming a Faith Foundation for Life. Visit him on Facebook by clicking here, follow on him on Twitter at twitter.com/dandarling, or check out his website: danieldarling.com.
When You Come to the Iron Gate
"Peter was kept in prison: but prayer (instant and earnest prayer) was made for him" (Acts 12:5, margin).
Peter was in prison awaiting his execution. The Church had neither human power nor influence to save him. There was no earthly help, but there was help to be obtained by the way of Heaven. They gave themselves to fervent, importunate prayer. God sent His angel, who aroused Peter from sleep and led him out through the first and second wards of the prison; and when they came to the iron gate, it opened to them of its own accord, and Peter was free.
There may be some iron gate in your life that has blocked your way. Like a caged bird you have often beaten against the bars, but instead of helping, you have only had to fall back tired, exhausted and sore at heart. There is a secret for you to learn, and that is believing prayer; and when you come to the iron gate, it will open of its own accord.
How much wasted energy and sore disappointment will be saved if you will learn to pray as did the Church in the upper room! Insurmountable difficulties will disappear; adverse circumstances will prove favorable if you learn to pray, not with your own faith but with the faith of God (Mark 11:22, margin). Souls in prison have been waiting for years for the gate to open; love ones out of Christ, bound by Satan, will be set free when you pray till you definitely believe God.
–C. H. P.
Emergencies call for intense prayer. When the man becomes the prayer nothing can resist its touch. Elijah on Carmel, bowed down on the ground, with his face between his knees, that was prayer–the man himself.
No words are mentioned. Prayer can be too tense for words. The man's whole being was in touch with God, and was set with God against the powers of evil. They couldn't withstand such praying. There's more of this embodied praying needed.
–The Bent-knee Time
"Groanings which cannot be uttered are often prayers which cannot be refused."
–C. H. Spurgeon
Lessons In Humility
I recently heard a story about a woman who invited guests to her home for dinner. As they sat to eat, the woman turned to her six-year-old daughter and said, "Sweetheart, would you like to ask the blessing?" The little girl replied sheepishly, "Yes, but I wouldn't know what to say."
Mom spotted a teaching moment, and perhaps an opportunity to draw attention to her own piety. "Just say what you hear Mommy saying, dear," she said. The counsel seemed to work. The little girl clasped her hands, bowed her head, and said, "Lord, why on earth did I invite all these people to dinner?"
Life is a school for humility. And we dare not ignore the lessons–especially if you're a Christian. St. Augustine once said the three essential components of the Christian life are as follows: humility, humility, and humility.
The Daily Word of Hope Devotional
Bible Fun Fact: Moses was the meekest man on the earth (Numbers 12:3).
God Called to the Man
They heard Yahweh God's voice walking in the garden in the cool of the day, and the man and his wife hid themselves from the presence of Yahweh God among the trees of the garden. Yahweh God called to the man, and said to him, 'Where are you?' Genesis 3:8 WEB
Adam walked with God in the garden. Then after disobeying His command, Adam withdrew and tried to hide from Him. The serpent talked Eve into risking their relationship with God so that they could have the knowledge of 'Good and Evil.' Since they already had the knowledge of good, they only lacked the knowledge of evil. The call of the dark side overcame them. Immediately after they disobeyed, the enemy brought shame and fear on them in order to drive them even further away. Then he convinced them to hide from the presence of God.
I find it comforting that the Almighty God, the Creator of heaven and earth, came down and asked Adam: 'Where are you?' God knew exactly where Adam was, even better than Adam did. Instead of pointing directly at him, God called to Adam and waited for him to answer. God gave Adam space, and called for him from a distance. He could just have easily struck Adam with a lightning bolt, or picked him up by his ear, but instead He waited for Adam to answer Him on his own.
When you stumble, God will always call for you. You can run, but you can't hide from the presence of the Lord. The mistakes that you have made, He already knows about so there is nothing to hide from. Jesus has already paid for your sin, even the ones in your future. With a simple prayer, you can have a clean slate and be washed as white as snow. So don't try to cover up your mistakes. Instead, learn from them. His strength is made perfect in our weakness (2 Corinthians 12:9). Don't put on a church face for we are not fooling Him with our religious shenanigans. Just be real, and be you, and talk to Him wherever you are without hiding from His presence.
Prayer: Heavenly Father, I thank You today for Your mercy. I pray that You draw my heart to You and teach me to hear Your voice clearly. May Your will be done, in my life. In the name of Jesus Christ I pray.
The Purpose of Elevation
TGIF Today God Is First Volume 1 by Os Hillman
December 31, 2017
"And the Lord said to Joshua, 'This day I will begin to exalt you in the sight of all Israel, that they may know that, as I was with Moses, so I will be with you.'" (Josh 3:7-8).
Joshua had been a faithful number two man under Moses for 40 years. Can you imagine serving one man for 40 years? Now that is faithfulness!
Even so, when the time came to pass the mantel to Joshua, God knew he needed to be elevated in the eyes of the people in order for Joshua to accomplish his purpose. That is the purpose for elevation – so that you and I can fulfill our purpose and our mission.
We are not called to elevate ourselves. If we elevate ourselves before our time we will short circuit God's plans for our lives. We will not have the same level of grace as we would have if it were in God's perfect timing. Jesus refused to let others elevate Him or make Him into something contrary to His purpose. Moving into a job or responsibility before we are ready is a formula for failure. We may not be mature enough. We may not have the proper skill set.
Let God elevate you in His timing and you will be successful in the thing He created you to be and do.
Passion for Praise:

 'You Have No Equal'

Sunday, December 31, 2017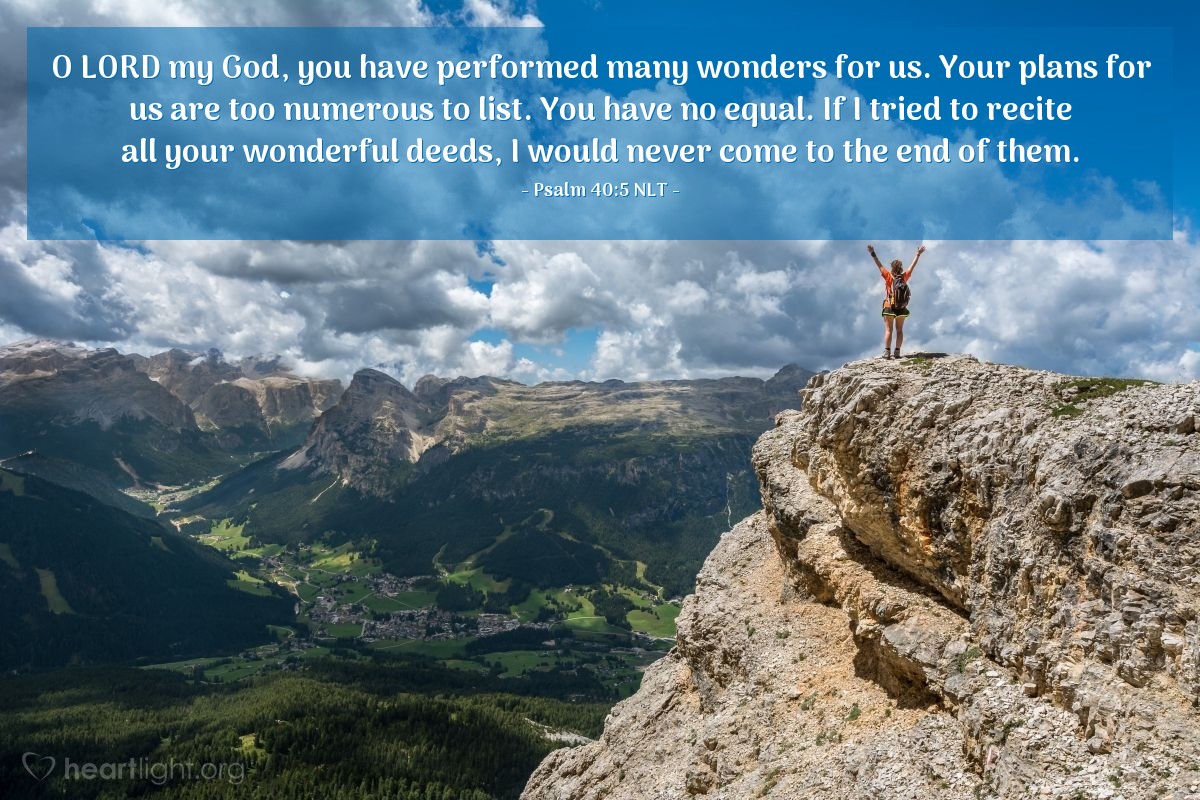 (1)  Do NOT be overly critical of your loved ones and family.  Even they are allowed to make mistakes!
(2)  Be forbearing with others, even if it causes you mental anguish and pain!
(3)  Forgive, even when NO apology is offered!
(4)  Keep your lips sealed tight!
(5)  Hold onto your Love…it's what gets you through each day!!