TODAY'S DAILY PRAYER
But when the set time had fully come, God sent his Son, born of a woman, born under the law, to redeem those under the law, that we might receive adoption to sonship. Galatians 4:4–5, NIV
O Lord God, we thank you for everything you allow us to see and hear. May our hearts become awake and alive through all we receive so that we await your final revelation and recognize your ultimate will for all people, for all nations and races on earth. Hear us in these days, for we know your kingdom is coming. Your kingdom is before our eyes. Your Word, your help, is coming, and in Jesus Christ light will dawn for all the world. Praise and honor to you for all you do! May we see it all before our eyes so that our expectation of the last days is a living expectation, full of joy and blessing. We want to wait in joy, in love, and in longing for the day that is coming to your glory. Amen.
Verse of the Day
Thoughts on Today's Verse…
Jesus is God's greatest message. He not only proclaims and declares God's love, mercy, and grace, he has made it known. Only Jesus can display God to us fully, for he is one with the Father. Yet when we "see" Jesus ministering in the Gospels, we see God. If we want to know how God feels about us, all we have to do is look at how Jesus ministers to others. If we want to know what God would do for us, we can notice what Jesus does to bless others. Jesus is our window to the Father's heart. So as this year winds down, and as you stand in the afterglow of Christmas, why not make a commitment to get to know Jesus better in this coming year by spending more time with him in the Gospels (Matthew, Mark, Luke, and John). If you do, you will better know God!
My Prayer…
Thank you, Father, for giving me a window to your heart through the life and ministry of Jesus. Please bless me as I seek to know you better by knowing, understanding, and following Jesus more passionately. I pray in the name of your Son, Jesus Christ, my Lord. Amen.
BIBLE STUDY BUDDY
Read John 12:23-28…
v20-26 In attendance upon holy ordinances, particularly the gospel passover, the great desire of our souls should be to see Jesus; to see him as ours, to keep up communion with him, and derive grace from him. The calling of the Gentiles magnified the Redeemer. A corn of wheat yields no increase unless it is cast into the ground. Thus Christ might have possessed his heavenly glory alone, without becoming man. Or, after he had taken man's nature, he might have entered heaven alone, by his own perfect righteousness, without suffering or death; but then no sinner of the human race could have been saved. The salvation of souls hitherto, and henceforward to the end of time, is owing to the dying of this Corn of wheat. Let us search whether Christ be in us the hope of glory; let us beg him to make us indifferent to the trifling concerns of this life, that we may serve the Lord Jesus with a willing mind, and follow his holy example.
More Than Giftwrap…
Every year at Christmas, James Baxter watches people rip apart his company's product and throw it away. All the hours of creative design and careful manufacturing are gone in a flash. And he has no regrets. As president of the nation's largest maker of Christmas giftwrap, Mr. Baxter says, "What we don't want is our product sitting in somebody's closet."
A product like wrapping paper lends an interesting perspective on the real meaning of Christmas. When God sent His only Son into this world, His purpose was not to give us a pretty package to gaze upon. Jesus willingly left His glory in heaven and came to earth, clothed with our humanity, knowing that His purpose was to die for our sins. When talking about His approaching death on the cross, Jesus said, "Now My soul is troubled, and what shall I say? 'Father, save Me from this hour'? But for this purpose I came to this hour" (Jn. 12:27).
Sacrifice, not self-preservation, was our Savior's goal. And He accomplished it to the glory of God.
This season, ponder the lesson of the wrapping paper. As you think of how it is torn to reveal a gift, let it remind you of the Savior's sacrifice on the cross so that you can receive eternal life, the priceless gift of God.
A Prayer for When Your Overwhelmed Heart Aches for His Overwhelming Peace
By Courtney Stanford
The Lord is close to the brokenhearted and saves those who are crushed in spirit. – Psalm 34:18 NIV
There are times…times when we don't have the words to say at all. We have times when all we can do is simply take a deep breath in and whisper a quiet prayer, "God, please give me the words to say."
Around here, we're all suddenly finding ourselves in one of those seasons. My heart is so heavy. Our community is experiencing great loss…waves of loss. It is hard to know what to say to bring comfort to the hurting friends and community members. From the outside, so many of us just want to help in some way. Kind exchanges of love that come in the forms of flowers, casseroles, cards, or visits…the small kindnesses matter. Those small acts of compassion are meaningful ways to express our deep concern and care for another's breaking heart. Still, we truly want to do more. "We just have to keep praying," we gently whisper to each other. "Keep praying…we don't know what else to do." Friends, keep praying. Continue to present your hearts to God. He will meet us there.
Dear Lord, You alone are the Comforter. Please provide a season of comfort in the midst of deep sadness, to the hearts that are hurting. Hold them, Father. Please wrap your loving arms around them so that they know they are not alone. You are the One who brings peace. We need you, Lord. Please cover the hurt with Your faithful and peaceful presence, Jesus. In Your name we pray, Amen.
May you know and feel the embrace of His mercy. May your overwhelmed heart experience His overwhelming peace.
Living for Christ the Rest of the Year
And Mary said, "My soul magnifies the Lord, and my spirit rejoices in God my Savior, for he has looked on the humble estate of his servant. For behold, from now on all generations will call me blessed; for he who is mighty has done great things for me, and holy is his name. And his mercy is for those who fear him from generation to generation. He has shown strength with his arm; he has scattered the proud in the thoughts of their hearts; he has brought down the mighty from their thrones and exalted those of humble estate; he has filled the hungry with good things, and the rich he has sent empty away. He has helped his servant Israel, in remembrance of his mercy, as he spoke to our fathers, to Abraham and to his offspring forever."
Luke 1:46-55
It's always a little sad, isn't it? Christmas is over, and soon decorations will come down and be put away in boxes for the next 11 months. It's like we experience this feel-good high that crashes to the ground.
Unfortunately, that's the way many live the spiritual life, just waiting for the next big event so they can get their feel-good fix. But Mary's first Christmas was anything but feel-good.
Mary sang and praised God for the same reasons that we ought to be singing every day of the year: She sang because of her salvation. Mary knew the challenges that were on the horizon and was getting ready to face some severe scrutiny for turning up pregnant and unwed! And never mind the anguish she was going to cause her family, who would be forced to disown her or face the same rejection.
True praise isn't grounded in your circumstances. So as you unwind from Christmas, don't just settle back into business as usual. Take something special from this Christmas like a better appreciation of who Christ is and what he did. Because while you may celebrate the birth of Christ on December 25th, you should experience the life of Christ every day as he lives through you.
THE CHRISTIAN LIFE SHOULDN'T BE BASED ON FEEL-GOOD EVENTS BUT ON YOUR DAILY RELATIONSHIP WITH CHRIST.
LoveWorthFinding
Ministries with Adrian Rogers
The Virgin Birth
Is the virgin birth incidental or is it mythological? No, it is ultimate and foundational truth. Your eternal destiny rises or falls on the virgin birth. Without the virgin birth you could not be saved. Why?
Had Jesus been born of a natural birth, rather than a supernatural birth, He would have been a child of Adam, not a child of God. Had Adam been His father, He would have been a sinner because He would have had Adam's nature.
First Corinthians 15:22 says, "For as in Adam all die, even so in Christ shall all be made alive." Had Jesus been a sinner, He could not have been the perfect sacrifice. He could have only died for His own sin. He could never have died for yours and mine.
But being born of a virgin, Jesus did not inherit the sinful nature and humanity of Adam. He had the nature of His Father, Who had fathered and sired Him, and He was absolutely without sin. Therefore, He and He alone could be the sinless sacrifice to pay for our sins. He was born of a virgin that you and I might be born again.
Editor's note: This is part 1 in a two-part series.
What does God want to do in 2018? What is fresh in the Spirit? How should we set our expectations, study and prayer life on Him in the new year?
At the turn of each calendar year many people's hearts are renewed with fresh hope and vision for their lives and future. A new year presents an opportunity to start over, to refocus and to prioritize our goals and objectives for the fulfillment of our vision and dreams. Many churches take advantage of this time of year to do the same as they give themselves to prayer and fasting. Some will pray into the new year and receive direction or a word from God concerning the church and the nation. These things are all commendable, and worthy of our time and attention, but could there be a word from the Lord we are not hearing?
In the days of Samuel the prophet, the true word of the Lord was rare (1 Sam. 3:1), and after a terrible defeat at the hands of the Philistines, the elders of Israel decided to return the ark of the covenant from Shiloh in order to save them from their enemies. When the ark came into the camp, there was great shouting and rejoicing (1 Sam. 4:1-5). Amidst all of the shouting and celebration, however, the Philistines attacked Israel again, and there was a great slaughter of death and destruction among them. Israel learned that having the ark of God in the camp, in and of itself, did not guarantee victory. We can have God's Spirit living in us and yet not be seeing the manifestation of His presence and glory that gives us resounding victory over our enemies.
At some point we need to be honest with ourselves and ask the tough questions.
Why are we being defeated? Why doesn't the world respect us?  Why aren't we impacting our culture and our spheres of influence? Where is the power of God? Why aren't we seeing the glory of God that we see in the early church?
We are missing something in this generation. A carnality, a casualness and a complacency have left us void of the reality of God's mighty power and holy presence. A party spirit, a prayer-less posture, pomp and pride has hindered the Spirit's manifestations.
The church has created a smokescreen that has hidden her true spiritual condition. Our big, ornate buildings, our popular conventions and conferences, the Hollywood glare that so many of today's ministers bask in and the noise of our promotions and advertisements make it painfully clear that the fame of men is greater than the fame of the Master.
Can we honestly admit that in spite of our mega churches, our state-of-the-art buildings, our celebrity preachers, an abundance of gospel resources, our in-vogue programs, our professional productions, we are still falling short of the New Testament standard? Can we honestly admit that a large segment of the church is dead and in need of a resurrection? Can we admit that the real glory of the Lord has departed?
Leaders must recognize the difference between kabod (means "heavy glory" in Hebrew), and Ichabod ("the glory has departed"). Either God is with us or He's not.
Eli's sons were killed in the battle with the Philistines, and Eli and his daughter-in-law also died tragically when they heard the news of their death and of the capturing of the Ark of God (1 Sam. 4:19-22). In her dying moments, Eli's daughter-in-law gave birth to a child and named him Ichabod, which means the glory of the Lord has departed from Israel.
This is where we are in a majority of the Western church. The genuine glory of the Lord has departed, and godly leaders must arise, as Samuel arose in his day to judge Israel. It was when he called them to repentance, confession and contrition that the tide began to turn in Israel (1 Sam. 7), and the people began to desire and lament after the Lord again (v. 2). It took a series of crisis to cause Israel to turn to the Lord. We are at that point right now.
It is time for the sleeping saints to awaken. The world is not going to get any better but will only get darker. God is endeavoring to get the church to judge herself, so that His glory can shine in us, among us, and through us to a lost and dying world.
"For the time has come for judgment to begin at the house of God; and if it begins with us first, what will be the end of those who do not obey the gospel of God?" (1 Pet. 4:17).
The context of this verse is the glory of God. God wants to reveal His glory to us and through us, for His purpose has always been for the church to reflect His glory. He will do what He can to prepare us for His glory and to spare us from being judged. We must understand that His judgment is always in proportion to the manifestation of His glory. Always. The judgment that fell on Ananias and Sapphira was equal to the pure glory of God that was manifesting in the early church (Acts 5). The judgment was severe because the glory was heavy. The Lord is zealous to restore His glory again among His people.
Goodness and severity is the two-edged sword of the Lord. If we don't judge ourselves, we will be judged by the Lord.
"For if we would judge ourselves, we would not be judged. But when we are judged, we are chastened by the Lord, that we may not be condemned with the world" (1 Cor. 11:31-32).
The Lord will awaken us and get our attention through His goodness or through His severity. The sleeper can be awakened with a kiss of kindness of a severe shaking. We choose.
"Therefore consider the goodness and severity of God—severity toward those who fell, but goodness toward you, if you continue in His goodness. Otherwise, you will not be cut off" (Rom. 11:22).
Bert M. Farias, revivalist and founder of Holy Fire Ministries, has authored several books with an emphasis on helping to restore the true spirit of Christianity in the Church today, including the newly released, Passing on The Move of God to The Next Generation and the highly sacred book, The Journal Of A Journey To His Holiness. An anointing of fire marks his ministry with frequent demonstrations of the Spirit and power of God. He ministers interdenominationally and cross-culturally in nations, churches, conferences, on the streets and in homes. He and his wife Carolyn also host The Holy Ghost Forum – a school of the Spirit. Follow him at Bert Farias and Holy Fire Ministries on Facebook and @Bertfarias1 on Twitter.
8 Keys to Knowing God's Will For Your Life
Chris Russell
When I was a young man, I seemed to continually wrestle with knowing God's will for my life. I wanted more than anything to follow His plan. Interestingly, now that I'm "old" (currently 47 years old), I still wrestle with doing His will in my life. I have come to learn that this is not just something that a young person does early in life; it is a lifelong pursuit in order to stay in the exact center of His plan.
So, then, how can we know God's plan for our lives? Over the past twenty-five years that I have been in ministry, I have discovered eight vital keys to knowing God's will. Here they are:
1) Walk with God.
For starters, if you are interested in knowing God's plan for your life, then you must learn to walk with God. You need to develop a relationship with Him. Christianity is all about relationship rather than just religion.
And so you must cultivate your relationship with God. You must seek to know Him and not just seek to know about Him.
You will cultivate that relationship best by spending time in His Word, taking time for prayer, and taking every opportunity you can to be involved in church and small group Bible study opportunities. When you seek these disciplines in your life, God will begin the first steps to revealing His plan to you.
Proverbs 3:5-6
5 Trust in the Lord with all your heart, and lean not on your own understanding; 6 In all your ways acknowledge Him, and He shall direct your paths.
2) Surrender your will to God's.
Many times when we say we are seeking God's will, what we are really wanting to say to God is this: "OK, God, here's what I'm planning to do. Now I need you to rubber stamp this, all right?" I must tell you that this is not really effective in finding His true will.
Before God will begin to reveal His will to you, you must be committed to doing whatever it is that He desires for you to do. God will likely be slow to show you His plan if He knows you will likely not do that plan anyway.
1 I beseech you therefore, brethren, by the mercies of God, that you present your bodies a living sacrifice, holy, acceptable to God, which is your reasonable service. 2 And do not be conformed to this world, but be transformed by the renewing of your mind, that you may prove what is that good and acceptable and perfect will of God.
Jesus was willing to die for us, so shouldn't we be willing to live for Him? When we surrender to Him, that is when He really begins to direct our steps.
3) Obey what you already know to be God's Will.
Many people seem to want to know what God's plan is for their lives, but they overlook the fact that 98% of His will is already delineated carefully through His Word. God is very clear about many, many aspects of His will. For instance, it is clearly His plan that we abstain from sexual immorality (1 Thessalonians 4:3).
If we do not obey the things that God has shown us clearly to be His will, why would we think He would reveal any further information regarding His plan for our lives? Obedience is an important first step.
4) Seek godly input.
One key component to finding God's will is to seek the input of godly advisors in your life. If you don't currently have 3-4 godly mentors, then I would highly recommend that you seek them out right away.
Think of it this way: you should understand that you are basically a composite of the five people you spend the most time with. So, then, it is vital that you choose those five people well. If you choose to surround yourself with godly advisors, they will be instrumental in helping you discern God's plan for your life. But if you surround yourself with people who are far from God, your hope of finding His best for your life will be greatly diminished.
Where there is no counsel, the people fall; but in the multitude of counselors there is safety.
The church is designed to help you greatly with this. I would encourage you to be in church every single time the doors are opened. The more you involve yourself with a community of believers, the greater your chances will be of finding godly men and women who can help you discern God's will.
5) Pay attention to how God has wired you.
God has created you to fulfill a specific role in this world. There is no one else who can achieve completely what God has purposely created you to do.
The Apostle Peter gives us this admonition:
1 Peter 4:10
As each one has received a gift, minister it to one another, as good stewards of the manifold grace of God.
The "Nubbies"
Therefore, since we have been justified through faith, we have peace with God through our Lord Jesus Christ. – Romans 5:1
A psychologist friend recently told me about Cliff–a client he described as "a believer after God's own heart."
After years of service to The Lord, Cliff's wife developed aggressive cancer. Many people joined Cliff in prayer for his wife, but she declined rapidly and died. Through it all, Cliff didn't break his determined gaze upon Christ.  Instead of allowing the tragedy to shake his faith, he allowed his experience of pain, suffering, confusion, and grief to push him deeper into the arms of the living God.
Cliff knew two things, and held to them tenaciously. The first was that God was good. He didn't understand the circumstances surrounding his wife's sickness, or why she had to suffer and die. But he knew a reason resided with God, and that he would come to understand in the light of eternity. The second thing Cliff held to was his certainty that God loved him–in spite of everything, no matter what, and through it all.
When you're in severe pain or distress, life becomes pretty simple. You're in survival mode, and you have neither the heart nor the strength to spread your emotional energy around.  As Chuck Swindoll might say, "Life gets boiled down to the nubbies."
When pain or distress boils your life down to the "nubbies," do what Cliff did. Keep it simple. Grab hold of what you know is true about the living God, and hold on like a pit bull.
"The nearer the dawn the darker the night." – Henry Wadsworth Longfellow (1807-1882)
The Daily Word of Hope Devotional
Bible Fun Fact: Isaiah walked naked for three years! (Isaiah 20:2-3)
Mountains and Valleys
A man of God came near and spoke to the king of Israel, and said, 'Yahweh says, 'Because the Syrians have said, 'Yahweh is a god of the hills, but he is not a god of the valleys;' therefore I will deliver all this great multitude into your hand, and you shall know that I am Yahweh.' 1 Kings 20:28 WEB
When the Syrians attacked Israel, they thought that the God of Israel was only a god of the mountains and not of the valleys. After several battles they learned that He is God Almighty on the mountain, as well as in the valley.
It is very easy for us to feel God's presence when we are on the mountain top. Certainly God is with us, our life is great, things are looking bright, hallelujah, praise the Lord.
The valley though is a completely different place in our life and where most of our learning takes place. 'Where is God's presence? It certainly isn't here with me. Look at this! What am I going to do now?' Then He comes through and our panic was all for nothing.
Too many times we measure God's power by how well He obeys us, instead of us obeying Him and finding the way out. It is normal to cycle between these two poles. It seems that you are often coming out of one and heading towards another in the Christian life.
Keep your head up, keep serving God right across the valley and straight up the mountain. He is the God of the mountains and the valleys. In fact, He will still be God when the mountains and valleys are long gone. S do not get overly excited on the mountain, and do not get depressed in the valley. Keep it steady and stay the course.
Prayer: Heavenly Father I thank You for always being there for me. Help me praise You through the valley and on the mountain as well. You are the Creator of the heavens and the earth, please forgive me of ever doubting You, in the name of Jesus Christ I pray.
Today's Scripture
"You shall not make for yourself an idol in the form of anything in heaven above or on the earth beneath or in the waters below." Exodus 20:4 NIV
Thoughts for Today
This is the second of the Ten Commandments and shows that we are to worship only God. God forbids us to worship or use created things or even creation itself as an approach to him. The only correct image of God to worship is his son, Jesus Christ. Not trees or flowers or animals or land. Not statues or monuments or traditions. Only Jesus.
We should have no God-substitutes. When we look to anyone or anything other than Christ as our primary source of meaning, self-worth, comfort or fulfillment, we are in danger of having an idol in our lives. An idol is anything that we depend on for solutions that only God can provide. Three common types of idols are substances, behaviors and relationships that control our lives.
Consider this . . .
God doesn't want us to serve idols because he loves us and knows what is best for us. Let us come before him daily, seeking his will and his plan for our lives. Let us worship Jesus.
Prayer
Lord, forgive me for trying to find comfort . . . solutions . . . happiness in things or activities or relationships. Although you may use some of these things or people to enrich my life and to help me, I know that you are the source of all good things. Help me to never again depend on a substitute. In Jesus' name …
Management by Force
TGIF Today God Is First Volume 1 by Os Hillman
December 28, 2017
"Take the staff, and you and your brother Aaron gather the assembly together. Speak to that rock before their eyes and it will pour out its water. You will bring water out of the rock for the community so they and their livestock can drink." – Numbers 20:8
Moses and the people had been traveling for days without water. The people were thirsty. They were complaining and grumbling about their plight, and Moses became the object of their complaining. Moses sought the Lord for wisdom on how to handle the situation. The Lord instructed him to speak to the rock and water would flow. This would be a sign that God was still in control, that Moses was still the leader, and that God was their provider.
When it came time to speak to the rock, Moses' disgust with the people became so great that instead of speaking to the rock, he angrily addressed the people and then struck the rock twice. The water came out, in spite of Moses' disobedience. But the Lord was not pleased with Moses.
This was a time for Moses to operate at a higher level. No longer was he called to touch things with his staff to perform miracles; it was a time for him to speak to the problem. His very words would have changed the situation. Moses' staff represented two things-his physical work as a shepherd of sheep and his spiritual work as a shepherd of the people. God was calling him to move into a new dimension of using his staff. Up to now, Moses had always been commanded by God to touch something to perform the miracle. Now it was time to speak God's word to the problem.
However, Moses made the mistake many of us make. He used his instrument with force to accomplish something for God. He took something God wanted to be used in a righteous manner and used it in an unrighteous manner. He used force to solve the problem. This disobedience cost Moses his right to see the Promised Land.
Have you ever been tempted to use your power, skill, and ability to force a situation to happen, perhaps even out of anger? God is calling us to use prayer to move the face of mountains. The force of our ability is not satisfactory. God is calling each of us to a new dimension of walking with Him. Pray that God will give you the grace to wait on Him and not take matters into your own hands. Then you will not be in jeopardy of failing to move into the Promised Land in your life.
Passion for Praise:

 'Overcome!'

Thursday, December 28, 2017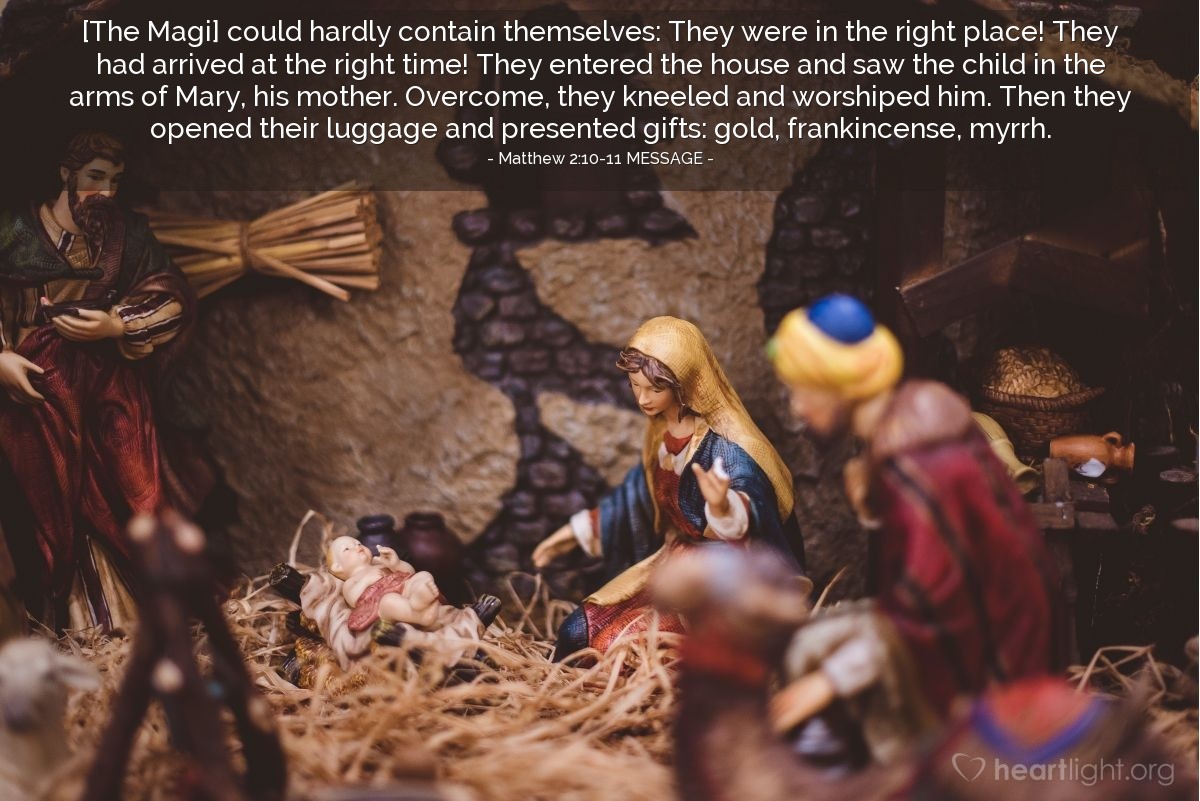 God bless everyone!!