Since you have kept my command to endure patiently, I will also keep you from the hour of trial that is going to come on the whole world to test the inhabitants of the earth. I am coming soon. Hold on to what you have, so that no one will take your crown. Revelation 3:10–11, NIV Lord our God, strengthen our hearts today through your Word. You are our Father and we are your children, and we want to trust you in every aspect of our lives. Protect us on all our ways, and grant that we may always watch and wait for the coming of your kingdom, for the future of our Lord Jesus Christ. Keep us from becoming confused by present-day events. Help us to remain free, that we may serve you and not be led astray, no matter what happens in the world. Grant us your Holy Spirit in everything, for without your Spirit we can do nothing. Help us, and accept our praise for the many ways you have given us help. Amen.
Quote of the Day
"That's the beauty of the Christmas event. Jesus took His place in a manger so that we might have a home in heaven."
– Greg Laurie (from The Perfect Gift in the Manger?)
Today's Answer
Why Bethlehem? 
by John Piper
Bethlehem is scarcely worth counting among the clans of Judah, yet God chooses to bring his magnificent Messiah out of this town. Why? One answer is that the Messiah is of the lineage of David and David was a Bethlehemite. That's true, but it misses the point of verse two. The point of verse two is that Bethlehem is small–not that it is great because David was born there. (That's what the scribes missed in Matthew 2:6). God chooses something small, quiet, out of the way, and does something there that changes the course of history and eternity.
Why? Because when he acts this way we can't boast in the merits or achievements of men but only in the glorious mercy of God. We can't say, "Well, of course he set his favor on Bethlehem, look at the human glory Bethlehem has achieved!" All we can say is, "God is wonderfully free; he is not impressed by our bigness; he does nothing in order to attract attention to our accomplishments; he does everything to magnify his glorious freedom and mercy." …
God chose a stable so no innkeeper could boast, "He chose the comfort of my inn!" God chose a manger so that no wood worker could boast, "He chose the craftsmanship of my bed!" He chose Bethlehem so no one could boast, "The greatness of our city constrained the divine choice!" And he chose you and me, freely and unconditionally, to stop the mouth of all human boasting. This is the point of Romans 11 and this is the point of Micah 5.
The deepest meaning of the littleness and insignificance of Bethlehem is that God does not bestow the blessings of the Messiah–the blessings of salvation–on the basis of our greatness or our merit or our achievement. He does not elect cities or people because of their prominence or grandeur or distinction. When he chooses he chooses freely, in order to magnify the glory of his own mercy, not the glory of our distinctions. So let us say with the angels, "Glory to God in the highest!" Not glory to us. We get the joy. He gets the glory.
Excerpted from "From Little Bethlehem Will Come a Ruler in Israel" by John Piper. © Desiring God. Website: desiringGod.org.
He went up into a mountain apart (Matthew 14:23).
One of the blessings of the old-time Sabbath was its calm, its restfulness, its holy peace. There is a strange strength conceived in solitude. Crows go in flocks and wolves in packs, but the lion and the eagle are solitaires.
Strength is not in bluster and noise. Strength is in quietness. The lake must be calm if the heavens are to be reflected on its surface. Our Lord loved the people, but how often we read of His going away from them for a brief season. He tried every little while to withdraw from the crowd. He was always stealing away at evening to the hills. Most of His ministry was carried on in the towns and cities by the seashore, but He loved the hills the best, and oftentimes when night fell He would plunge into their peaceful depths.
The one thing needed above all others today is that we shall go apart with our Lord, and sit at His feet in the sacred privacy of His blessed presence. Oh, for the lost art of meditation! Oh, for the culture of the secret place! Oh, for the tonic of waiting upon God!
–Selected
It is well to live in the valley sweet,
Where the work of the world is done,
Where the reapers sing in the fields of wheat,|
As they toil till the set of sun.
But beyond the meadows, the hills I see
Where the noises of traffic cease,
And I follow a Voice that calleth to me
From the hilltop regions of peace.
Aye, to live is sweet in the valley fair,
And to toil till the set of sun;
But my spirit yearns for the hilltop's air
When the day and its work are done.
For a Presence breathes o'er the silent hills,
And its sweetness is living yet;
The same deep calm all the hillside fills,
As breathed over Olivet.
"Every life that would be strong must have its Holy of Holies into which only God enters."
December 4
Paul Preaches and Teaches in Rome
Now when they had escaped, they then found out that the island was called Malta. And the natives showed us unusual kindness; for they kindled a fire and made us all welcome, because of the rain that was falling and because of the cold. But when Paul had gathered a bundle of sticks and laid them on the fire, a viper came out because of the heat, and fastened on his hand. So when the natives saw the creature hanging from his hand, they said to one another, "No doubt this man is a murderer, whom, though he has escaped the sea, yet justice does not allow to live." But he shook off the creature into the fire and suffered no harm. However, they were expecting that he would swell up or suddenly fall down dead. But after they had looked for a long time and saw no harm come to him, they changed their minds and said that he was a god.
In that region there was an estate of the leading citizen of the island, whose name was Publius, who received us and entertained us courteously for three days. And it happened that the father of Publius lay sick of a fever and dysentery. Paul went in to him and prayed, and he laid his hands on him and healed him. So when this was done, the rest of those on the island who had diseases also came and were healed. They also honored us in many ways; and when we departed, they provided such things as were necessary.
After three months we sailed in an Alexandrian ship whose figurehead was the Twin Brothers, which had wintered at the island. And landing at Syracuse, we stayed three days. From there we circled round and reached Rhegium. And after one day the south wind blew; and the next day we came to Puteoli, where we found brethren, and were invited to stay with them seven days. And so we went toward Rome. And from there, when the brethren heard about us, they came to meet us as far as Appii Forum and Three Inns. When Paul saw them, he thanked God and took courage.
Now when we came to Rome, the centurion delivered the prisoners to the captain of the guard; but Paul was permitted to dwell by himself with the soldier who guarded him.
And it came to pass after three days that Paul called the leaders of the Jews together. So when they had come together, he said to them: "Men and brethren, though I have done nothing against our people or the customs of our fathers, yet I was delivered as a prisoner from Jerusalem into the hands of the Romans, who, when they had examined me, wanted to let me go, because there was no cause for putting me to death. But when the Jews spoke against it, I was compelled to appeal to Caesar, not that I had anything of which to accuse my nation. For this reason therefore I have called for you, to see you and speak with you, because for the hope of Israel I am bound with this chain."
Then they said to him, "We neither received letters from Judea concerning you, nor have any of the brethren who came reported or spoken any evil of you. But we desire to hear from you what you think; for concerning this sect, we know that it is spoken against everywhere."
So when they had appointed him a day, many came to him at his lodging, to whom he explained and solemnly testified of the kingdom of God, persuading them concerning Jesus from both the Law of Moses and the Prophets, from morning till evening. And some were persuaded by the things which were spoken, and some disbelieved. So when they did not agree among themselves, they departed after Paul had said one word: "The Holy Spirit spoke rightly through Isaiah the prophet to our fathers, saying,
'Go to this people and say:
"Hearing you will hear, and shall not understand;
And seeing you will see, and not perceive;
For the hearts of this people have grown dull.
Their ears are hard of hearing,
And their eyes they have closed,
Lest they should see with their eyes and hear with their ears,
Lest they should understand with their hearts and turn,
So that I should heal them."'
"Therefore let it be known to you that the salvation of God has been sent to the Gentiles, and they will hear it!" And when he had said these words, the Jews departed and had a great dispute among themselves.
Then Paul dwelt two whole years in his own rented house, and received all who came to him, preaching the kingdom of God and teaching the things which concern the Lord Jesus Christ with all confidence, no one forbidding him.
Acts 28
WORSHIP
Bless the LORD, O house of Israel!
Bless the LORD, O house of Aaron!
Bless the LORD, O house of Levi!
You who fear the LORD, bless the LORD!
Blessed be the LORD out of Zion,
Who dwells in Jerusalem!
Praise the LORD!
Psalm 135:19-21
WISDOM
As cold water to a weary soul,
So is good news from a far country.
Proverbs 25:25
Key #1 to Effective Prayer – Being Specific
Over the next number of devotionals, I want to walk you through the keys to effective prayer.  To start, I want to focus today's devotional on Mark 10:46-52where we find a very intriguing story.
Now they came to Jericho.  As He went out of Jericho with His disciples and a great multitude, blind Bartimaeus, the son of Timaeus, sat by the road begging.  And when he heard that it was Jesus of Nazareth, he began to cry out and say, "Jesus, Son of David, have mercy on me!"  Then many warned him to be quiet; but he cried out all the more, "Son of David, have mercy on me!"  So Jesus stood still and commanded him to be called.  Then they called the blind man, saying to him, "Be of good cheer.  Rise, He is calling you."  And throwing aside his garment, he rose and came to Jesus.  So Jesus answered and said to him, "What do you want Me to do for you?"  The blind man said to Him, "Rabboni, that I may receive my sight."  Then Jesus said to him, "Go your way; your faith has made you well."  And immediately he received his sight and followed Jesus on the road.
The question Jesus asked, "What do you want Me to do for you?", seemed obvious, didn't it?  Everybody present knew Bartimaeus needed his eyes to be healed.  Why would Jesus ask this question?
He wanted us to understand how important it is to be specific when we ask something of God.  Bartimaeus' faith had to become specific before it made him well.  It was after he said, "Lord, that I might receive my sight," that Jesus said, "Your faith has made you well."
Being specific in what you request of God is the first key to effective prayer.
---
Visit the Answers with Bayless Conley website for more ways to connect with God. 
December 4
Fight the good fight of faith, lay hold on eternal life, whereunto thou art also called.–I TIM. vi. 12.
Oh, dream no more of quiet life;
Care finds the careless out; more wise to vow
Thy heart entire to faith's pure strife;
So peace will come, thou knowest not when or how.
LYRA APOSTOLICA.
Who art thou that complainest of thy life of toil? Complain not. Look up, my wearied brother; see thy fellow-workmen there, in God's Eternity; surviving there, they alone surviving; sacred band of the Immortals, celestial body-guard of the empire of mankind. To thee Heaven, though severe, is not unkind; Heaven is kind,–as a noble mother; as that Spartan mother, saying while she gave her son his shield, "With it, my son, or upon it." Thou too shall return _home_ in honor; to thy far-distant Home, in honor; doubt it not,–if in the battle thou keep thy shield! Thou, in the Eternities and deepest death-kingdoms art not an alien; thou everywhere art a denizen. Complain not.
T. CARLYLE.
Evangelical
The Season of Christ "Coming to" Us
The season of Advent has begun!  The word comes from the Latin, meaning "coming to" (from ad "to" + venire "to come").   The season is about Christ "coming to" us.
He came to us at Christmas, of course, so Advent anticipates that celebration.  By reading and reflecting on the Old Testament prophecies of Christ, Christians put themselves in the point of view of the ancient Israelites, yearning through all of their troubles, for the promised coming of the Messiah.
Advent has other levels as well, all reflecting on Christ's coming to us.
He is coming to judge the living and the dead.  So Advent anticipates Christ's second coming, when He returns, raises the dead, and establishes the new heavens and the new earth.  So we too, like the Israelites, are looking ahead to that day.
We meditate on Christ's coming to us in the past (the first Christmas) and in the future (His second coming), which we put together by looking forward to the near future celebration of Christmas in a few weeks.  But we also meditate on Christ's coming to us in the present!  He comes to us through the Sacraments and through the Word.
Advent is parallel to Lent.  Both are penitential seasons, times to repent of our sins and to reflect on our need for Christ.
Christmas has spilled over into Advent, with the joy of that feast giving Advent too a joyous flavor, as opposed to its traditional solemnity.  If Advent is supposed to be a "preparation for Christmas," what that means today is not fasting, self-denial, and meditating on the Bible's prophecies.  Rather, our "preparation for Christmas" means buying presents and putting up the decorations.
I am not sure that is all bad.  But we can filter the excitement about Christmas coming and the logistical preparations that have become necessary through the lens of penitence.
All of the Christmas lights that are going up can be a reminder of how Christ comes to me in my darkness.
The evergreens that deck the halls can be a reminder of how Christ comes to me bringing life though I am dead in my sins.
Buying presents can be a reminder that Christ's coming to me brings the gift of salvation, despite my sinfulness.  This, in turn, can motivate me to give to others, as I love and serve my neighbors in my various vocations.
And yes, the stress and strain and frenetic activity that often accompanies our "preparations for Christmas" can also be reminders of our lost condition, which is our lot, except that Christ comes to us.
10 False Versions of Jesus People Are Falling For
Jami Amerine

Author of Stolen Jesus: an Unconventional Search for the Real Savior
When I found out I wasn't following the real Jesus, I was totally undone. The hard work of making Jesus fit my brain, answer when I called, and label me righteous was a full-time job that robbed me of peace. When I finally fell into the loving arms of the real Jesus, I began a genuine relationship with the Savior of the world—the One who died for me.
He is everything He promised and so much more. Our culture presents us with so many versions of Jesus, letting us make Him in our own image. Maybe you've come to depend on a false Jesus and didn't even realize it. If you are struggling to find peace, read about these false Jesuses with an open mind. Consider what Jesus said about Himself and test your beliefs against the truth from Scripture.
Here are 10 false Jesuses you keep falling for:
1. Mean Jesus
Perhaps this image of Jesus comes from social media and the rants we see from devoted churchgoers. Maybe it is our constant news sources bickering over who is better. Or it could be you had a hellfire and brimstone pastor growing up, and this became your earliest depiction of Jesus. Mean and angry, full of wrath, ranting and raging about how sin would destroy you. But balance this image of Jesus with the story of the little children gathering to him, with his compassion for the sisters of Lazarus, with his acceptance of the woman at the well. While Jesus called out sin when He saw it, He was never cruel. Jesus, the lamb, went to slaughter so that you would be free.
2. Political Jesus
How would Jesus vote? Since there were no Democrats or Republicans in His day, we don't know. What we do know is that He loved. The side He took was the side of the those in need. Today, we are all in need in one form or another, and we all need Him. As a believer in Jesus Christ, He is on your team. He is for you. He is for your redemption. He is for your sanctification. He died for you while you still sinned. Right or left, wrong or right, He is for you. He is patient with us as we learn and grow and understands the frustrations that we face. He walks with us through the valleys, and He delights in our newfound wisdom and growth.
3. Genie in a Bottle Jesus
Your wish is not necessarily His command. We're often mystified when we clasp our hands tightly together and summon Jesus to answer our every request…and nothing happens. We become deflated by what we believe is unanswered prayer, allowing our faith to increase or decrease by what we perceive. If you're a parent, chances are you desire a good relationship with your child. But if your child asks for $10 and you say no, does that mean they stop believing in you and the relationship is destroyed? Of course not. In the same way, you must consider what you are asking of Jesus. What are your expectations? And are you still going to believe in Him even when you don't get your way?
4. I'll Teach You Jesus.
Imagine what your relationship with your child would look like if these were some of the requirements: You will meet me at 5:00 every morning, I don't care if you didn't sleep. Now tell me what you want. I may or may not give it to you. If you have been completely impossible to deal with, I might sprain your ankle or give you a brain tumor to teach you something. Laughable? Sure. But how many of us believe in this works-based and punishment-loving Jesus? He died while we still sinned. He came to bind up the brokenhearted, not break our hearts and spirits to keep us in line.
5. You Look Like You Can Take It Jesus.
"God won't give you more than you can handle." Do I look like I can handle cancer? Or bankruptcy, or a natural disaster, or the death of a child? Do I even look like I could handle an itchy rash? Scripture teaches that we can't handle anything apart from Christ. Far from doling out sickness or discomfort or tragedy, He promises to be with us in times of need. In our weakness, He shows Himself strong.
6. I Couldn't Care Less Jesus.
Sometimes we feel like He is nowhere to be found. We call, and there is no answer. This Jesus is not the compassionate Christ who laid down His life for ours. Still, in times of heartache, it is hard to understand why He doesn't answer. He has shown me it is okay to question Him. My most favorite prayer in these seasons? "Lord, help my unbelief." A relationship with Jesus is a journey. There will be ups and downs. He can take the heat—He proved that through the cross. It is okay to ask why. He always shows up, every time. Ask, seek, knock. He will answer.
7. Church Jesus
"The Law is Holy and Good, but it doesn't make me Holy and Good," says author and teacher Tricia Gunn. No matter how good a church and it's teaching of the Word of God, it does not make me holy. Paul reminds us, do not neglect the assembly(Hebrews 10:25). Yes, hold each other up, hold each other accountable, and by all means encourage one another. But if the pew is shaken, guess what shouldn't be? You and Jesus. Your relationship with Jesus is separate and not dependent on the church. No matter what unexpected challenges happen in the church, you and Jesus should still be on solid ground. The church is made up of imperfect people, while Jesus is perfect and holy.
8. Rule-Play Jesus
This Jesus and I have been super tight for many years. I obeyed all the rules. I even laminated a list and used color-coordinated markers to check off my accomplishments, believing they counted me worthy. Beloved, salvation is the Cross plus nothing. The thief on the cross was asked only to believe. There was really nothing left for him to do. He couldn't attend a service, memorize Scripture, sing in the choir, take a meal to a neighbor, volunteer, or wash the altar clothes. He was made righteous because he said yes to Jesus. There was no other requirement to fulfill. There is nothing that can make the perfected work of the Cross anymore perfect. Your yes to Jesus counts you as righteous. Toss out the rules of religiosity and bask in the refreshment of relationship.
9. Confused Jesus
A couple years ago I went to a pastor and asked some questions about the Sermon on the Mount. The pastor laughed and said, "Yes, ours is not to understand. Ours is just to obey. Jesus was a confusing guy." I lived with this, heavy on my heart. It would be two more years before I heard a sermon by another pastor and was undone by the revelation that Jesus was not confusing. Jesus fulfilled the Law and set us free from this heavy burden of condemnation. Jesus died to set me free. There is nothing confusing about this. We walk free from condemnation in the grip of grace.
10. If/Then Jesus
This is the most elusive and deceptive Jesus. If I do such and such, then Christ will do what I expect. But Jesus cannot be manipulated, and our works do not make Him move. Our good deeds do not make him love us more. And most importantly, nothing can separate us from the love of Jesus. The belief that "If I do or do not do, then Jesus will or won't do" is a Jesus of colossal works. This Jesus keeps us in bondage to busyness and striving that keeps us apart from the good nature of a Jesus who just simply loves. He loved perfectly so that we might be together for eternity. That was all. Simply Jesus.
Was there even a twinge or flutter in your spirit? One that said, "Oh, that is the Jesus I have been serving?" I know as I came to a place of knowing and loving the real Jesus I saw pieces of the false Jesuses falling away and more of His natural and good character shining through. Will you pray this prayer with me? Jesus, I said yes to you. I want only you. The real you. All of you. You promised that if I seek I will find. Help me seek the truth and keep my eyes wholly fixated on the true you. Amen.
Jami Amerine M.Ed. is the author of Stolen Jesus an Unconventional Search for the Real Savior. She and her husband Justin live in the Houston, Texas area. The couple have six children ranging in age from 22 to 3 and are advocates of foster care and adoption. You can find more of Jami's work at www.sacregroundstickyfloors.com
Why Would God Want to Use Me?
The Man God Started With: Abraham – The Greatest Patriarch
Apart from Jesus Christ, Abraham is probably the most important person in the Bible. Abraham is a giant in Scripture – his stature is far greater than that of Moses, David, or Paul. These latter three were great men, and God used them in great ways, even giving portions of the Scriptures to us through them. But each of them would have agreed without qualification that Abraham was his father in faith.
In the early chapters of Genesis, we read of God's promise to Abraham that he would be the father of many nations (Genesis 17:4). This was fulfilled physically and spiritually. On the physical side, Abraham became the father of the Jewish people, through whom the Messiah was born; he became the father of the many Arab tribes through his son Ishmael. On the spiritual side, Abraham has become the father of a great host of believers whose numbers are now swelled by Christians of countless tongues and nations.
No one can understand the Old Testament without understanding Abraham, for in many ways the story of redemption begins with God's call to this patriarch. Abraham was the first man chosen by God for a role in the plan of redemption. The story of Abraham contains the first mention in the Bible of God's righteousness imputed to man as the sole means of salvation (Genesis 15:6). Matthew includes the genealogy of Jesus in his Gospel in order to trace the beginnings of salvation back to Abraham (Matthew 1:1). Luke declares that the birth of Jesus occurred in response to God's promise to Abraham (Luke 1:68-73).
Great sections of the New Testament explain the spiritual significance of Abraham. An entire chapter in Romans refers to God's dealings with Abraham to support the doctrine of justification by grace through faith (Romans 4). Two chapters in Galatians refer to the life of Abraham to prove that salvation is apart from works (Romans 3 and Romans 4). One of the longest paragraphs on faith in the Book of Hebrews is devoted to the life of faith lived by this Hebrew patriarch (Hebrews 11:8-19). Faith stands preeminent in the life of Abraham.
No Good in Abraham
It is impossible to understand Abraham's faith without realizing that there was nothing in Abraham that commended him to God. God does not look down from heaven to find a person who has a bit of divine righteousness or a bit of faith and then say, "Oh, isn't it wonderful! I've found somebody with a bit of faith. I think I'll save him." When God looks down from heaven He sees that all men are without faith, and He passes a universal judgment: "They are all gone out of the way, they are together become unprofitable; there is none that doeth good, no, not one" (Romans 3:12). That included Abraham.
This truth is reinforced by another. Abraham came from a family of idol worshipers, and was undoubtedly an idol worshiper himself. This truth is clearly stated in at least three places in the Bible.
In the last chapter of the Book of Joshua, the aging leader delivers a final spiritual charge to the people of Israel. Joshua begins by reminding them of their pagan past.
Thus saith the Lord God of Israel, Your fathers dwelt on the other side of the river [the River Euphrates] of old, even Terah, the father of Abraham, and the father of Nahor; and they served other gods. And I took your father, Abraham, from the other side of the river, and led him throughout all the land of Canaan, and multiplied his seed, and gave him Isaac…Now, therefore, fear the Lord, and serve Him in sincerity and in truth; and put away the gods which your fathers served on the other side of the river, and in Egypt (Joshua 24:2-14).
The passage is a black-and-white statement of the fact that Abraham was chosen by God from the midst of a pagan ancestry and that he and Terah had once worshiped false gods.
The same thing is said by Isaiah: "Hearken to Me, ye that follow after righteousness, ye that seek the Lord; look unto the rock from which ye are hewn, and to the hole of the pit from which ye are digged. Look unto Abraham, your father, and unto Sarah, who bore you" (Isaiah 5:1-2). The whole thrust of these verses is that there was nothing in the ancestry of the Jewish people that could commend them to God.
The third passage that reveals the truth about Abraham's ancestry is a story from the life of Abraham's grandson, Jacob. Jacob was a schemer – even his name means "supplanter" – and his underhandedness made his brother angry enough to want to kill him. Jacob was forced to flee for his life. Where was he to go? Jacob did what many people do when they are cast adrift by life – he went back to his roots. For Jacob, that was in Mesopotamia, the place from which his grandfather Abraham had come. There Jacob associated himself with his uncle Laban. In time, he married both of Laban's daughters, Leah and Rachel, and came to own a large share of the family's sheep and cattle.
As time passed, bad feelings arose between Jacob and Laban, Jacob decided to return to the land of Canaan, choosing a moment when Laban was away on business. When Laban returned, his nephew, his daughters, and much of the property were gone.
The household gods also were missing. Laban set out in pursuit. When he overtook the band that Jacob was leading, he chided Jacob for this action and accused him of having stolen the idols. A search was made but the idols were not found. Jacob's wife, Rachel, who had stolen them, had hidden them in her camel's saddle. This story in Genesis 31 shows that Abraham's relatives still owned and cherished idols at least three generations after God had called Abraham out of Mesopotamia.
God's Choice
It was Abraham whom God chose to be the father of many nations. But why did God save Abraham? The answer is simply that this was God's will. In Deuteronomy 7, Moses tells why God chose Israel to be the nation through which He gave the law and would one day send the Saviour. We read, "The Lord did not set His love upon you, nor choose you, because ye were more in number than any people; for ye were the fewest of all people. But because the Lord loved you…" (Deuteronomy 7:7-8).
Why did God love them? Because He loved them. Why did He choose them? Because He chose them. This is not human logic; it is divine logic. It is the logic of grace.
This is the way God loved Abraham, and the way God loves us. We are like Abraham. There is nothing in us to commend us to God. And yet God loves us. Just as He sought Abraham, He seeks to draw us into fellowship with Himself.
In the first chapter of the Gospel of John, the apostle tells how Jesus had come to His own people, the Jews, but they had not received Him. And yet some did – both Jews and Gentiles – and John writes that Christ gave to all who believed authority to become the children of God.
As John wrote these words, however, he seemed to know that some would say, "But, you see, God gave them authority to become children of God because they had faith within; it was because they believed." Lest someone retain a false impression, John adds quickly that these "were born, not of blood, nor of the will of the flesh, nor of the will of man, but of God" (John 1:13). John knew that no Christian ever made the first move toward God; he knew that salvation originates in heaven.
This is unpopular teaching, and men and women have always hated it. They hated it when Isaiah reminded them that nothing in their ancestry commended them to God (see Isaiah 51:1-2). They hated it in Christ's day. We are told that from the time Jesus began to teach that "no man can come unto Me, except it were given unto him of My Father…many of His disciples went back, and walked no more with Him" (John 6:65-66). People hate it when this Gospel is preached in our own 20th century. And yet, in spite of the hatred of men, it is true. No man ever seeks God.
God's Call
Abraham's faith was preceded by God's call. God called him when he was without faith and promised to bless him. As a result of this encounter, Abraham believed God and set out on the journey to Canaan. Actually, the call to Abraham came twice, once when he was in Ur of the Chaldees (Acts 7:2-4), and once, years later, when he was in Haran.
The Bible says: Now the Lord had said unto Abram, Get thee out of thy country, and from thy kindred, and from thy father's house, unto a land that I will show thee; and I will make of thee a great nation, and I will bless thee, and make thy name great; and thou shalt be a blessing. And I will bless them that bless thee, and curse him that curseth thee: and in thee shall all families of the earth be blessed. So Abram departed, as the Lord had spoken unto him (Genesis 12:1-4).
Abraham's departure from Ur was the first evidence of his faith in God and in God's promises.
What is faith? Faith is simply belief, and all men have the capacity for it. They demonstrate it every day of their lives. Saving, faith is believing God and acting upon that belief. Abraham had saving faith because he believed God when God revealed Himself, and he acted upon his belief by setting out for Canaan immediately.
There are many mistaken views of faith. One links faith to credulity. This is the view that faith is belief without evidence. But God provides evidence, and He does so overwhelmingly. In Abraham's case the evidence was an appearance of God so striking that it got the patriarch and all his family and possessions moving out of their homeland into a land which they had never seen. In our case, the evidence is the biblical account of the life, death, and resurrection of Jesus Christ.
In the way that God called Abraham, God calls all who become His children. God comes to us when we are hopelessly lost in sin and without knowledge of Him (Ephesians 2:1-7). This is a universal fact in the spiritual biography of Christians. God's call comes first. And our response is nothing more than belief in God and in His promises.
Perhaps someone says, "Well, that may be right theoretically, but I just can't believe."
I disagree. You believe men, don't you? Every time you keep an appointment, sign a contract, ride a bus, read the newspaper, or do anything that involves other people, you show faith in some person, sometimes one whom you have not even met.
In the same way, you can believe God. He is more trustworthy. The Bible says, "If we receive the witness of men, the witness of God is greater" (1 John 5:9). What does God ask us to believe? He asks us to believe that we are lost without Him and that He has done everything through the death and resurrection of the Lord Jesus Christ to save us both for this life and for the life to come.
When Faith Is Weak
Someone may say, "Oh, I am able to believe in the sense that you have been explaining, but my faith is weak. I could become a Christian, but I am afraid that if I do – if I start out with God as Abraham did – I'll falter." Of course you will falter. But salvation depends not on the strength of your faith but on God's overwhelming faithfulness to you.
Abraham faltered. When he was in Ur of the Chaldees, God called Abraham to go to Canaan. Ur was in the Mesopotamian river valley, east of the great Arabian desert. Canaan was west of the desert and bordered the Mediterranean Sea. To obey God's call, Abraham had to leave Ur, travel north along the great Euphrates River, cross the northern end of the Arabian desert, and pass down along the Lebanese highlands, entering Canaan from the north. Abraham began the 1,000-mile journey in the best of faith. And yet, at the end of Genesis 11, we find that Abraham stopped at Haran, a little town in Syria hundreds of miles from Ur but still several hundred miles from Canaan.
Abraham stayed at Haran until his father died. When Abraham started once again for Canaan, he was 75 years old. Was Abraham strong in faith? Not at this point in his life. But God's promises were not withdrawn.
From God's point of view, the years in Haran were wasted. Abraham learned no new lessons there. And that happens to us. Times come when we stop and sit down spiritually. We must not sit too long. We must confess the emptiness of such moments, yield to God's repeated calls, and let Him lead us into all the blessings He originally intended.
The Second Call
God had called Abraham once and he obeyed. Then Abraham disobeyed and stopped at Haran. Years later God came again, calling, "Get thee out of thy country, and from thy kindred, and from thy father's house, unto a land that I will show thee; and I will make of thee a great nation, and I will bless thee, and make thy name great; and thou shalt be a blessing" (Genesis 12:1-2). God called Abraham a second time, and He calls us a second time also. God always persists in His calling.
This truth is found many places in Scripture. It is found in the story of David. God called David to be the political and moral leader of Israel, but David fell into sin. He stayed in Jerusalem instead of participating in a battle. While in Jerusalem he saw Bathsheba, enticed her, and made love to her. When he learned that she had become pregnant, he attempted to cover his sin by having her husband killed. And yet, God did not cast off King David.
Instead He came to him through Nathan to expose his sin and lead him to repentance (2 Samuel 12). God came a second time to David.
When God first called Jonah, He said, "Arise, go to Nineveh, that great city, and cry against it; for their wickedness is come up before Me" (Jonah 1:2). Jonah lived in Galilee near Cana, and the way to Nineveh was east. Did Jonah go east? No, Jonah went west! The Bible tells us that Jonah rose up to flee to Tarshish, for which he sailed from the Jewish port of Joppa (Jonah 1:3).
At this point in the action, God sent a storm. Jonah ordered himself to be thrown overboard by the sailors. He was swallowed by a great fish and was later vomited out on dry land. He was on the shore, right back where he started from, when God came to him to repeat His original commission, "And the word of the Lord came unto Jonah the second time" (Jonah 3:1). These are the most beautiful words in the entire story: ". . . the Lord came unto Jonah the second time."
So it will be with us. The word of the Lord comes to us once, twice, and, if need be, a hundred or a thousand times. He calls us to follow Him. We are so prone to stop. We have many Harans, Bathshebas, or ships to Tarshish. And yet, God calls again and again.
God's Faithfulness
Where do you stand? It may be that you have never responded to God's call the first time. If God is prodding you to believe, if you feel unhappy as you are, if you are looking for something better in life, if you are questioning the truths of Christianity, this is God's working. You must yield to Him. You must trust Him.
Perhaps you have stopped at some place in your walk with God. Perhaps God has given you a command to do something and you have put it off, a step to take and you have refused. You prefer to be where you are. The fullness of blessing is never going to come to you until you obey God and do what He has set before you. You will never improve on His instructions.
Perhaps you are one to whom the Lord is now coming a second time. Take great joy in that. Respond to Him. And rejoice that you serve a God who will not abandon the work that He has once set out to accomplish (see Philippians 1:6).
[To finish reading "Why in the World Would God Use Me" please click here to receive the complete booklet.]
© Alliance of Confessing Evangelicals Inc, 1716 Spruce St. Philadelphia, PA 19103 USA
The Alliance calls the twenty-first century church to a modern reformation through broadcasting, events, and publishing. This article and additional resources can be found at ReformedResources.org or by calling 800-956-2644.
This article may be duplicated in its entirety and without edit, including this full disclaimer for personal, small group, non-commercial use. No more than 200 copies may be made. No electronic use beyond email is permitted. Any use other then those listed herein are forbidden without prior written permission. All rights reserved.
[Content provided by OnePlace.com]
Bitter Doesn't Make it Better
See to it that no one fails to obtain the grace of God; that no "root of bitterness" springs up and causes trouble, and by it many become defiled (Hebrews 12:15, ESV).
Maybe you're in one of those seasons of life where you really don't want to accept what's happening right now. Maybe, if you're being really honest, surrendering your will to God is the last thing you feel like doing. Even if He were to stand over you and make you bend your will to His (which He wouldn't), maybe you'd be like that little kid in his school desk, with his teacher forcibly holding him down by the shoulders–sitting down on the outside, but still standing up on the inside.
This thing you're dealing with–it just doesn't seem right to you. You don't agree with what God is doing. You think you ought to have a choice in this matter. There's got to be some other alternative than just sitting here and taking it, even if you realize in your mind that He's allowing it for purposes you cannot see.
Yes, there is an alternative.
There's what I call "The Chain Reaction of Non-Surrender."
Whenever we remain at odds with God, whenever we push back against the fact that He is in control and we are not, the resistance creates a break in our relationshipwith Him. That's the first station on the road leading away from surrender. No fellowship.
Then, no joy. Broken fellowship with God leads, of course, to no experience with God. At that point, He's not moving in our life anymore. We're living without the blessings of ongoing interaction with Him. Which leads to no peace. We're not resting in Him. We're losing the ability to see His purposes in our life, not trusting that He's working out a good plan for us. The mess is too big. It's gone on too long. We've moved away from our hope. We've given up. Which can only lead to bitterness. The worst thing. What nobody wants.
That's all that can ever come from not surrendering.
But I'm here to "see to it" today that this downward spiral doesn't happen to you, "that no 'root of bitterness' springs up and causes trouble, and by it many become defiled." I promise you, God offers grace for every trial. God offers grace for every disappointment and heartache. God offers grace that, when you reach out to "obtain" it, can carry you up under it.
Anytime you're not drawing on the grace of God–any time you're not continuing to love and serve and forgive–life grows progressively harder, drier, colder, and more bitter. But when you start getting the grace, you can say from your heart, "Lord, Your ways are best. You've allowed this to happen. I didn't plan for this, I don't want this, but I know You're in control. I know You're going to use this. And I'm going to trust You until I see it."
I've seen God's Word proven true over a lifetime of experience. Hear me urging you to draw down deeply on His grace. Do not fail "to obtain the grace of God."
Because any other alternative is just no way to live.
Journal
What have you learned from your own experience with the Chain Reaction of Non-Surrender?
How can you be one of those who sees to it that others don't fail to"obtain the grace of God"?
Pray
Lord, You've shown me the dead end of bitterness. In myself as well as in others, I've seen the results of it. So I come to You, asking You to fight back against it in me. Make plain the lies that would lead me to consider not surrendering to You, as if it's my most promising option for the future. I need Your grace, Lord–grace to trust that Your plans and purposes are infinitely wiser, richer, and better than anything I could possibly want for myself. I pray this in Jesus' name, amen.
From Jesus TodayTM by Sarah Young
Learn to live from a place of resting in Me. Since I—the Prince of Peace—am both with and within you, you can choose to live from this peaceful place of union with Me. This enables you to stay calm in the midst of stressful situations, by re-centering yourself in Me. We can deal with your problems together—you and I—so there is no need to panic. However, the more difficult your circumstances, the more tempting it is for you to shift into high gear and forget My peaceful Presence.
As soon as you realize you have wandered from your place of Peace, return to Me immediately. Call upon My Name, for this reconnects you with Me and helps you feel safe. Don't be discouraged by how often you wander from Me. You are endeavoring to form a new habit, and this takes time plus persistent effort. The rewards, though, are well worth your efforts. The more you return to Me—to our resting place—the more peaceful and joyful your life will be.
For to us a child is born, to us a son is given, and the government will be on his shoulders. And he will be called Wonderful Counselor, Mighty God, Everlasting Father, Prince of Peace.
—Isaiah 9:6
I can do all things through Christ who strengthens me.
 —Philippians 4:13 NKJV
The name of the Lord is a strong tower; the righteous run to it and are safe.
—Proverbs 18:10 NKJV
©Jesus Today 2012 by Sarah Young
God Plus One
The Lord will fulfill his purpose for me; your love, O Lord, endures forever–do not abandon the works of your hands. – Psalm 138:8
In his book The Treasure Principle, Randy Alcorn tells the story of his family's trip to Egypt. While driving through the hot and dusty streets of Cairo, they passed a graveyard for American missionaries and decided to go see it. One sun-scorched tombstone in particular caught their attention. At the top it read: William Borden, 1887-1913.
What makes Borden so interesting is that he was a Yale graduate, and the heir to great wealth. Yet he rejected a life of ease in exchange for the life of a missionary in Egypt. He gave away hundreds of thousands of dollars to missions, and after only four months of ministry in Egypt, he contracted spinal meningitis and died at age twenty-five.
At the bottom of William Borden's tombstone, it says, "Apart from faith in Christ, there is no explanation for such a life."
If you are a follower of Christ, you can expect that in obedience to that still, small voice of the Holy Spirit, you will do some things that make no earthly sense but are spiritually significant.
Even those who resist Him carry out His will without realizing that they are doing so. – Thomas Merton (1915-1968)
The Daily Word of Hope Devotional
Bible Fun Fact: Solomon wrote 2 books known for wisdom, Ecclesiastes and Proverbs.
The Caterpillar
But our citizenship is in heaven, and from it we await a Savior, the Lord Jesus Christ, who will transform our lowly body to be like His glorious body, by the power that enables Him even to subject all things to Himself. Phil 3:20-21 ESV
Each year, at an oak tree in our yard, a fresh batch of caterpillars are born into the world. They first crawl about as tiny helpless worms stuck in the tree. After much effort, they find a spot to call home, build a cocoon, and shut themselves off from the world. After a few weeks of being in the dark, the air is filled with butterflies.
When walking with the Lord, we all start out excited, but difficult times do come. Rarely is this Christian walk that easy to do, but it is all preparing us for something better. The word transform in this verse means to remodel. To take what is there, and make it new again. The Lord does not destroy what we are, He makes us better.
Let the Lord remodel you into something better. Don't give up when you are alone and it gets dark, this is just part of the process. If you give up now, you will miss the most glorious part of your life. Right when the caterpillar thought it was over, it became a butterfly.
Prayer: Heavenly Father, I choose to serve You through the dark times as well as the light. Grant me courage and grace to follow You through whatever I may face, in the name of Jesus I pray.
Note: Happy Monday! 
When I was young, I loved Christmas. I looked forward with great anticipation to all the delightful surprises that attended it: special cookies baked at that time of year, ribbon candy, a breathtaking tree, carols on the family record player and, of course, presents. I could hardly wait until Christmas Eve, when I was allowed to open one gift—the one from my grandparents on my mother's side.
In spite of my childish excitement over the trappings, however, I never lost sight of the real reason for the holiday—the birth of Jesus. I believe this was because I was blessed to have parents who, according to Roman Catholic tradition, celebrated the liturgical season of Advent.
Every year, we set aside the four weeks before Christmas as a special time of preparation and rejoicing. Each Sunday during that period we would light candles on an Advent wreath, one candle for the first Sunday, two for the next and so on. Then we would sing "O Come, O Come Emmanuel," a hymn that expresses the longing of God's people for their Messiah, and say a prayer.
In addition, on the first day of December we put up an Advent calendar that had little numbered doors on it, one for each of the days leading up to Christmas. My siblings and I would take turns opening the doors to reveal characters or scenes related to Jesus' birth. It was a wonderful way to both count down to Christmas and instill in us a sense of expectation about the coming of the Christ child.
We were taught that Advent was a time of waiting, during which we were to prepare ourselves to celebrate Jesus' birth. Just as the Israelites had to wait while they made themselves ready for the Savior whose coming had long been prophesied to them, we had to wait while we prepared our hearts to receive the promised Son of God.
Of course, we knew that Jesus was not born into the world each year. The waiting was symbolic. But it served to help us focus on the magnificent gift God had given us that first Christmas.
I'm not recommending that you add these traditions to your current celebrations. I am simply pointing out that there is more to Christmas than Santa Claus and sleigh rides, trees and presents. Though the statement has become almost a cliché by now, it nevertheless rings true: Jesus is the reason for the season. Let's remind our children—and ourselves—of this fact, and take time to acknowledge Him in the midst of the holiday season.
In whatever activity you undertake, whether it be purchasing or wrapping gifts, decorating your home or attending a party, turn your heart to Him and thank Him for coming to earth to save us. Let Him know that you love Him and ask Him to prepare your heart for a fresh revelation of Himself. Teach your children to seek Him as the Magi once did and to cry out with the saints of old, "Come, Lord Jesus, come!" Build in them an excitement, not for the arrival of a jolly old man in a red suit, but for the advent of the Savior of the world.
In this season, I wish you and your family a very Merry Christmas. May the Lord bless you with an abundance of His love, His grace and His manifest presence. May He grant you the company of all those you hold dear and gift you, above all, with a greater measure of Himself.
Prayer Power for the Week of Dec. 3, 2017
In the midst of the hustle and bustle of Christmas preparations, pray that more and more would stop to contemplate the true meaning of Christmas. Pray that the Spirit of God would quicken the reality of His great gift, and that the songs, Bible stories and joy of the Lord would penetrate their hearts with the truth that sets them free. Continue to pray for the president and all those working with him to ensure the peace and safety of our nation. Remember the military and their families, and continue to pray for those still suffering from the effects of natural disaster, war, terror and disease. Pray for the peace of Jerusalem and the safety of those traveling there to worship. Read John 3:16.
Today's Scripture
"Trust in the Lord with all your heart; do not depend on your own understanding. Seek his will in all you do, and he will show you which path to take. Don't be impressed with your own wisdom. Instead, fear the Lord and turn away from evil. Then you will have healing for your body and strength for your bones." Proverbs 3:5-8 NLT
Thoughts for Today
Is there an area of your life that feels out of control?
We all have the potential of coming under the influence of a life-controlling problem. Facing the reality of the problem may be difficult; however, doing so can be the first step on the road to recovery.
One sign of a life-controlling problem (or the start of one) is when a substance, behavior or relationship interferes in an important area of life (job, school, family …) but we continue the behavior regardless. In other words, we are hurting ourselves or others, but do not make a change to correct the destructive issue.
Admitting our powerlessness over a life-controlling problem is not a weakness; it is a strength.
Consider this …
Is there some negative issue in your life that you don't seem to be able to control? Perhaps you have thoughts like these: "There is no way out." "I am in over my head." "I feel like a runaway truck." "I feel overwhelmed."
As trapped as you might feel right now, there is a way out. You can change–but not by yourself. Take the first step. Admit your powerlessness over this problem. Don't allow embarrassment, pride or hopelessness to stop you from getting help. Admit your need to yourself and to God. Tell him that you need his help. He loves you, he wants to help you and he is able.
Prayer
Father, I do need your help. I've tried to hide this problem from you and from others–even from myself. Please forgive me and show me the way out. In Jesus' name …
Shattered Dreams
TGIF Today God Is First Volume 1 by Os Hillman
December 04, 2017
"Then Elimelech, Naomi's husband, died; and she was left, and her two sons. Now they took wives of the women of Moab: the name of the one was Orpah, and the name of the other Ruth. And they dwelt there about ten years. Then both Mahlon and Chilion also died; so the woman survived her two sons and her husband." -Ruth 1:3-5
Naomi's life was going well. A great husband. Two fine sons who had two wonderful wives. Then the unthinkable happened. Her husband died. A little time later both her sons die. Her and her daughter-in-laws find themselves in the midst of shattered dreams. This isn't how life was supposed to be.
How did Naomi react to her situation? "…for it grieves me very much for your sakes that the hand of the Lord has gone out against me!" (Ruth 1:13) Ah, we see her true feelings about the situation. "How could a loving God let this happen?!" "Do not call me Naomi; call me Mara, for the Almighty has dealt very bitterly with me. I went out full, and the Lord has brought me home again empty. Why do you call me Naomi, since the Lord has testified against me, and the Almighty has afflicted me?" (Ruth 1:20-21)
Mara means bitter. She knew where she was. She was bitter toward this so called God of love. "How can I possibly reconcile this?!" No life insurance. No widow's fund. "What is going to happen to me and my daughters?"
The Bible says the rain falls on the righteous and the unrighteous. Naomi and Ruth move to a community where some of her relatives lived. Ruth goes out to work in the fields to put food on the table. She just so happens to work in the field of a wealthy farmer named Boaz. When Ruth tells her this the first ray of hope penetrates her bitter heart. Even she can recognize the hand of God.
So she told her mother-in-law with whom she had worked, and said, "The man's name with whom I worked today is Boaz. Then Naomi said to her daughter-in law, 'Blessed be he of the Lord, who has not forsaken His kindness to the living and the dead!'" (Ruth 2:19-20).
Hebrew custom was for the next in kin to care for the widow in the family. Boaz was to be this man. He would eventually marry Ruth. She would bare a son, Obed. He would be the father of Jesse, the father of David. Jesus would come from the same lineage.
Shattered dreams often lead to a world-impacting destiny. But getting there is often a process where we must work through honest feelings before we can see the God who redeems even the most devastating shattered dream.
Passion for Praise:

 'Hail to the King!'

Monday, December 4, 2017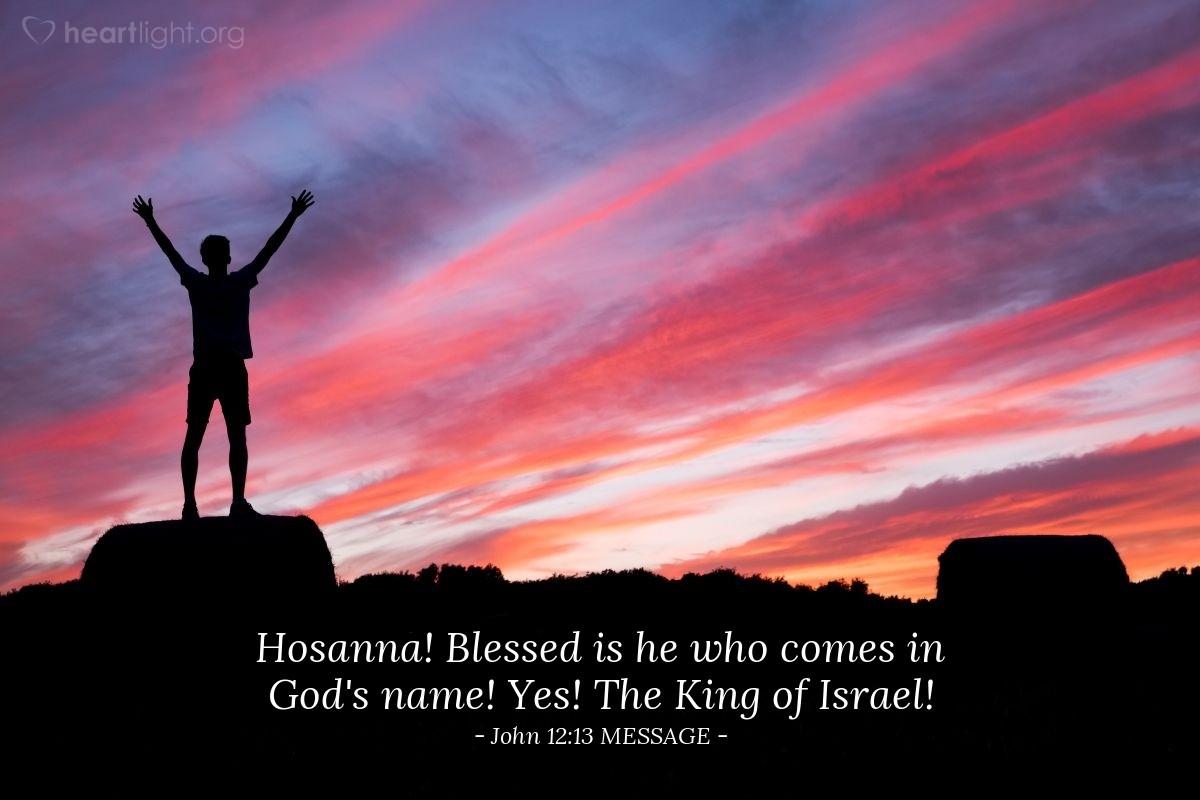 Hello again!  I hope your holiday seasons are all going well so far.  I'm starting to get into the FEEL of it all……every day, packages arrive on our doorstep and we wrap gifts.  Yesterday, Duane took me shopping and we got some musical stuff for the tree and house…..some cute Rudolph lights that play 3 Christmas songs and run on batteries, a 5-song jukebox, and motion-activated musical ornaments….also Frosty and Santa figurines that play music!  Then we got one of the Points of Light projectors at Walmart for the outside of the house…..it's really cool!  My guy is TOO good to me!
Today, all the "goodies" I ordered came– cookies, candies, meats, and a whole box of Baklava (mmmmm!)….so, I've told my boys that I am really going to try to forget Jenni and all of them and that whole chaotic mess……after all, I doubt she has given me even one single thought!  I have discovered that my sister Nan was at Mindy's wedding……Jenni trashes the rest of my family but she chooses the worst member to invite to the wedding……a girl who caused our Mother's early death!!  Wow!  This tells me a lot about my daughter…….it is proof that she truly is mean, spiteful, hypocritical, and a snob…….as for the good parenting she claims to have done…well, allowing your teenaged children to drink alcohol in your home……would a good Mother do this?  Is it any better than smoking pot?  Jenni, examine yourself…………you live in a glass house and should NOT throw rocks at other people's houses……which is what you did on my very first day at your house…..
So, I hope your cancer stays away…..I hope you never need your Mother again……if you ever do, I don't know if I would come running again……I needed my daughter and she threw me out of her life like I was trash……….what goes around, comes around………I've seen these words proved many times……..
Enjoy slumming with Nan…..I am so glad I wasn't at the wedding!  But then….you did say you didn't want me there, didn't you?  You and your "perfect" girls had it planned all along, didn't you????  Just like Nan did to our Mom….I'll bet she doesn't talk about her Mother, does she?  She hated Grandma…….and all because Papa didn't use his savings to give her a big wedding!  HA!
Oh, there I went, on and on again…I am sorry……..