TODAY'S DAILY PRAYER
Say to Daughter of Zion, "See, your king comes to you, gentle and riding on a donkey, and on a colt, the foal of a donkey." The crowds that went ahead of him and those that followed shouted, "Hosanna to the Son of David! Blessed is he who comes in the name of the Lord! Hosanna in the highest heaven!" Matthew 21:5, 9, NIV
Lord our God, we thank you for letting hosannas rise from people's hearts and for letting us cry out to you all the more fervently in dark times. Help us, O Almighty God, and help your king, Jesus Christ, to his final victory. For he shall be victor, bringing grace, peace, life, and victory for all that is good, on earth as in heaven. He shall be victor at all times in our lives, enabling us to keep faith in trouble, fear, and need, yes, even in death. Hosanna to the victor, Jesus Christ, the victor you have chosen! O Almighty God, proclaim him on earth. Let all the people know he is on his way, to the glory of your name. Amen.
Daily Dig
Reflections for Advent and Christmas
Our faith is that the Savior will come soon. I am often asked, "How do you know that?" I answer bluntly, "Because I want the Savior to come soon. That is why he is near – there is no other reason!" The cause of Christ must be fulfilled wherever there are people who are waiting for it. There it will be, there it will come! That is why the time was close at hand for the apostles. And today, something toward the Day of Christ can happen if we surrender ourselves for this. Preparations for this can begin already. When it matures in our hearts, it will spread rapidly throughout the world; then the Last Day will come, the last, great Christmas!
Verse of the Day
Thoughts on Today's Verse…
Reassurance beyond understanding! That's the beginning of the Christ story for Joseph. What he cannot understand and what he had no part in creating, will now be the groundbreaking journey of his own faithful and generous heart. He will be the human daddy to the Savior of the world. He will live the rest of his life knowing that a miracle happened with Mary without his input or involvement. His faith, and God's use of him in this story, should awaken each of us to the incredible possibilities that God may have in store for us. Why not use this December to re-awaken your heart to the Holy One, born Jesus of Nazareth.
My Prayer…
Father, I have long admired Joseph for his trust in you — a trust that helped him deal with what he could not understand. Now I come, with wild-eyed Joseph excitement and bewilderment to be reminded again of the miracle of your Son and my Savior. Please make him real to me as I seek to know him better. In Jesus' name. Amen.
BIBLE STUDY BUDDY 
Read Acts 20:17-21, 31-38…From Miletus, Paul sent to Ephesus for the elders of the church. 18. When they arrived, he said to them: "You know how I lived the whole time I was with you, from the first day I came into the province of Asia. 19. I served the Lord with great humility and with tears and in the midst of severe testing by the plots of my Jewish opponents. 20. You know that I have not hesitated to preach anything that would be helpful to you but have taught you publicly and from house to house. 21. I have declared to both Jews and Greeks that they must turn to God in repentance and have faith in our Lord Jesus.
*************************************************************************************~ So be on your guard! Remember that for three years I never stopped warning each of you night and day with tears.  32. "Now I commit you to God and to the word of his grace, which can build you up and give you an inheritance among all those who are sanctified. 33. I have not coveted anyone's silver or gold or clothing. 34. You yourselves know that these hands of mine have supplied my own needs and the needs of my companions. 35. In everything I did, I showed you that by this kind of hard work we must help the weak, remembering the words the Lord Jesus himself said: 'It is more blessed to give than to receive.' "  36. When Paul had finished speaking, he knelt down with all of them and prayed. 37. They all wept as they embraced him and kissed him. 38. What grieved them most was his statement that they would never see his face again. Then they accompanied him to the ship."
Life Shadowing…
When our daughter Julie was a high school senior, she had the opportunity to "job shadow" for 2 weeks. She went "on the job" to find out firsthand about two professions that had captured her interest. For the first week, she sat in on the classes of a math teacher at another school. For the second week, she shadowed a college basketball coach.
The idea of shadowing is a vital one, because it emphasizes the importance of example. A person who is being shadowed knows he or she is setting an example for the student.
We are all participants in a process that might be called "life shadowing." If we are parents, our children shadow us all the time, learning how to act as adults. At work, we have fellow employees who notice our reactions to all kinds of situations. In our community, our neighbors observe us and see how Christians live, even when we don't realize they are watching.
Is our life worthy of shadowing? Does our example lead others in the right direction? Paul said that his life was worth shadowing because he followed Jesus- the ultimate example (1 Cor. 11:1).
If you want to become a worthy example for others, shadow the Savior!
-Dave Brannon
v28-38 If the Holy Ghost has made ministers overseers of the flock, that is, shepherds, they must be true to their trust. Let them consider their Master's concern for the flock committed to their charge. It is the church He has purchased with his own blood. The blood was his as Man; yet so close is the union between the Divine and human nature, that it is there called the blood of God, for it was the blood of Him who is God. This put such dignity and worth into it, as to ransom believers from all evil, and purchase all good. Paul spake about their souls with affection and concern. They were full of care what would become of them. Paul directs them to look up to God with faith, and commends them to the word of God's grace, not only as the foundation of their hope and the fountain of their joy, but as the rule of their walking. The most advanced Christians are capable of growing, and will find the word of grace help their growth. As those cannot be welcome guests to the holy God who are unsanctified; so heaven would be no heaven to them; but to all who are born again, and on whom the image of God is renewed, it is sure, as almighty power and eternal truth make it so. He recommends himself to them as an example of not caring as to things of the present world; this they would find help forward their comfortable passage through it. It might seem a hard saying, therefore Paul adds to it a saying of their Master's, which he would have them always remember; "It is more blessed to give than to receive:" it seems they were words often used to his disciples. The opinion of the children of this world, is contrary to this; they are afraid of giving, unless in hope of getting. Clear gain, is with them the most blessed thing that can be; but Christ tell us what is more blessed, more excellent. It makes us more like to God, who gives to all, and receives from none; and to the Lord Jesus, who went about doing good. This mind was in Christ Jesus, may it be in us also. It is good for friends, when they part, to part with prayer. Those who exhort and pray for one another, may have many weeping seasons and painful separations, but they will meet before the throne of God, to part no more. It was a comfort to all, that the presence of Christ both went with him and stayed with them.
LoveWorthFinding
Ministries with Adrian Rogers
Daily Treasures
Friday, December 1, 2017
What Is Bitterness?
Some bitter people are like a porcupine. They may have a lot of good points, but they are hard to be near. They are harsh, critical, judgmental, sarcastic, and filled with anger.
Other bitter people are like an iceberg…very cool, aloof, and politely indifferent. They seem to have a sign on them that reads, "I don't need anybody." And like an iceberg, most of their problems are beneath the surface.
Hebrews 12:14 says, "Follow peace with all men, and holiness, without which no man shall see the Lord: Looking diligently lest any man fail of the grace of God; lest any root of bitterness springing up trouble you, and thereby many be defiled."
December 1
Charity envieth not, … thinketh no evil.–I COR. xiii. 4, 5.
Why dost thou judge thy brother? or why dost thou set at nought thy brother?–ROM. xiv. 10.
He that despiseth his neighbor sinneth.–PROV. xiv. 21.
Look thou with pity on a brother's fall,
But dwell not with stern anger on his fault;
The grace of God alone holds thee, holds all;
Were that withdrawn, thou too wouldst swerve and halt.
J. EDMESTON.
If, on hearing of the fall of a brother, however differing or severed from us, we feel the least inclination to linger over it, instead of hiding it in grief and shame, or veiling it in the love which covereth a multitude of sins; if, in seeing a joy or a grace or an effective service given to others, we do not rejoice, but feel depressed, let us be very watchful; the most diabolical of passions may mask itself as humility, or zeal for the glory of God.
ELIZABETH CHARLES.
Love taketh up no malign elements; its spirit prompteth it to cover in mercy all things that ought not to be exposed, to believe all of good that can be believed, to hope all things that a good God makes possible, and to endure all things that the hope may be made good.
J. H. THOM.
WHEN LIFE STINKS, OUR PERSPECTIVE SHRINKS
The LORD said, "I have indeed seen the misery of my people in Egypt. I have heard them crying out because of their slave drivers, and I am concerned about their suffering. So I have come down to rescue them from the hand of the Egyptians and to bring them up out of that land into a good and spacious land…" Exodus 3:7-8
God's chosen people were enslaved in miserable bondage and were crying out to Him in their suffering. God speaks to Moses about it at the burning bush and reveals His sustaining care for His people.
First of all, they were in Egypt because God cared for them. He rescued the Israeli nation from death by famine during the time of Joseph who himself was rescued from injustice and suffering to bring a solution to the coming famine crisis. This saved both the Israeli and the Egyptian nations. But a Pharaoh came in time when many did not know about Joseph and chose to persecute the growing Israeli population.
In this situation they were not forgotten by the God of their fathers. Though, for wise reason, He delayed to appear in their behalf for several hundred years, yet He was not indifferent to their sufferings. Every tear they shed was preserved and every groan they uttered was recorded as testimony against their oppressors. Only God sees the beginning from the end. We are time-bound creatures and as problems arise, our perspective becomes diminished. African-American preachers articulate it this way; "When life stinks, our perspective shrinks!"
Years earlier God spoke to Father Abram in his sleep; "Know for certain that for four hundred years your descendants will be strangers in a country not their own and that they will be enslaved and mistreated there…In the fourth generation your descendants will come back here, for the sin of the Amorites has not yet reached its full measure" (Genesis 15:13, 16). In this situation God reveals His plan to Abram ahead of time and explains the "why." He does not always do this, but from this example we learn we can trust His Father-heart.
So today we pray for the persecuted church members who are suffering severely from Satan's tactics of deceit and intimidation; loss of family members (Nigeria), economic deprivation (India), incarceration in metal shipping containers (Eritrea), lack of personal peace (Pakistan), fear of discovery (Middle East). As we pray, we can rest in the fact that they (and we) are part of God's wise and caring plan, no matter how inscrutable that plan may appear to human eyes. There is hope because He hears the cry; He sees the misery; He is concerned about the suffering. When it seems dark and hopeless, the persecuted testify "God is good—all the time!"
RESPONSE: I will live in the light of God's loving care and view my problems from His perspective.
PRAYER: Pray that persecuted believers will trust God and not suffer from shrunken perspectives.
Quote of the Day
"Some people have a hard time believing in the Virgin Birth. If you believe the Bible, you need to believe in the Virgin Birth."
– Greg Laurie (from The Need for Virgin Birth?)
Today's Answer
The House of Bread and War?
Charles Spurgeon
The word Bethlehem has a double meaning. It signifies, "the house of bread" and, "the house of war." Ought not Jesus Christ to be born in "the house of bread"? He is the Bread to His people! As our fathers ate manna in the wilderness, so do we live on Jesus here below! Famished by the world, we cannot feed on its shadows.
In that blessed Bread of Heaven, made of the bruised body of our Lord Jesus and baked in the furnace of His agonies, we find a blessed food! There is no food like Jesus to the desponding soul or to the strongest saint! The very meanest of the family of God goes to Bethlehem for bread—and the strongest man, who eats strong meat, goes to Bethlehem for it, too.
But it is also called, "the house of war" because Christ is to a person either "the house of bread," or else, "the house of war." While He is food to the righteous, He causes war to the wicked, according to His own words—"think not that I am come to send peace on the earth; I am not come to send peace, but a sword. For I am come to set a man at variance against his father, the daughter against her mother and the daughter-in-law against her mother-in-law. And a man's foes shall be they of his own household."
And now for that word Ephratah. That was the old name of the place which the Jews retained and loved. The meaning of it is, "fruitfulness," or, "abundance." It is fitting that Jesus was born in the house of fruitfulness, for where comes my fruitfulness and your fruitfulness but from Bethlehem?
Adapted from Spurgeon's Sermons, The Incarnation and Birth of Christ (No. 57), by Charles Spurgeon.
TODAY

'S
Christian Quote
Joy is the true gift of Christmas, not the expensive gifts that call for time and money….Let us pray that this presence of the liberating joy of God shines forth in our lives.
Proverbs 9:10
Proverbs 9:10 tells us, "The fear of the Lord is the beginning of wisdom; the knowledge of the Holy One is understanding." This verse is a great place to start if you want to understand what the book of Proverbs is all about and what you can really take away from it. Proverbs is the central book of the "wisdom literature" of the Bible. In addition to Job, Psalms, Ecclesiastes and the Song of Songs in the Old Testament, Proverbs teaches us how to avoid the pitfalls of life. Proverbs deals with various aspects of the human experience and guides us in the way of right living. The book of Proverbs also encourages us to seek after wisdom, while also telling us where that wisdom can be found. This wisdom must be sought like buried treasure. It also must be viewed as a precious jewel. We must seek after it diligently and not let go of it for all our days. The truth is, true wisdom always begins with God. Ultimately, the book teaches that wisdom can be found, but only by those who search for it diligently. Are you ready to discover what wisdom this incredible book has for your life? Here are six Proverbs to light your path.

Proverbs 3:5-6
Proverbs 3:5-6 says, "Trust in the LORD with all your heart and lean not on your own understanding. In all your ways acknowledge Him and He will make your paths straight" This is a familiar passage to many. Verse five is a complementary pair of commands. We are told, positively to trust the Lord and negatively, not to trust our own understanding. Those two things are mutually exclusive. In other words, if we trust in the Lord, we cannot also depend upon our own ability to understand everything God is doing. Most of us have a desperate desire to understand, but in so many areas we must acknowledge that we cannot understand. Our limited understanding will lead us astray.
Proverbs 22:6
Proverbs 22:6 says, "Start children off on the way they should go, and even when they are old they will not turn from it." At first glance this sounds like a wonderful promise to parents – exactly what every God-fearing parent would love to have as a promise from the Creator of marriage and family. Naturally, Christian parents possess an unquenchable hope that their children will remain with the faith in which they are reared. Or, if their child departs for a while, the parents cling to the belief that the child will return. But it isn't a guarantee from God to parents that their children will stay in church. While this verse doesn't guarantee to parents that children reared faithfully will keep the faith as adults, we know that there are numerous benefits to teaching your child the way and obeying His way of life.
Proverbs 1:7
Proverbs 1:7 says, "The fear of the LORD is the beginning of knowledge, but fools despise wisdom and instruction." This verse teaches that the fear of God is foundational to true wisdom; all other types of learning are worthless unless built upon knowledge of the Lord Himself. Notice there is a sharp contrast between the wise life and the foolish life. A wise person fears, reverences and obeys the Lord; a fool despises God's instruction and cannot be told what to do. The wise person is wise because he has started at the starting place; the fool has no foundation on which to build wisdom.
Proverbs 4:23-26
Proverbs 4:23 says, "Above all else, guard your heart, for everything you do flows from it. Keep your mouth free of perversity; keep corrupt talk from your lips. Let your eyes look straight ahead; fix your gaze directly before you. Give careful thought to the paths for your feet and be steadfast in all your ways." When Solomon refers to guarding the heart, he really means the inner core of a person, the thoughts, feelings, desires, will and choices that make that person who he or she is. The Bible tells us that our thoughts often dictate who we become. The mind of a person reflects who they really are, not simply their actions or words. This is why God examines the heart, not simply the outward appearance and what he or she appears to be.
Proverbs 30:5 
Proverbs 30:5 says, "Every word of God is flawless; He is a shield to those who take refuge in Him." We live in a time that tends to shrug its shoulders when confronted with error. We've grown accustomed to being lied to, and many people seem comfortable with the false notion that the Bible, too, contains errors. The doctrine of biblical inerrancy is an extremely important one because the truth does matter. The issue reflects on the character of God and is foundational to our understanding of everything that the Bible teaches. Ultimately, our goal is to approach Scripture reverently and prayerfully, and when we find something we do not understand, we pray harder, study more and if the answer still eludes us, humbly acknowledge our own limitations in the face of the perfect Word of God.
Proverbs 28:13
Proverbs 28:13 says, "Those who conceal their sins do not prosper, but those who confess and renounce them find mercy." We know from Scripture that a secret can be difficult to keep and equally difficult to share. Yet, life seems to run on secrets, from concealing birthday presents to obscuring a difficult past to protect an important figure. The Bible teaches, indirectly that keeping secrets can be either good or bad, but it does not clearly delineate the right and wrong uses of secrets. We do know that keeping secrets of one type is always wrong: trying to hide sin. When it comes to our sin, God wants full disclosure and He grants full forgiveness (Isaiah 1:18).
The book of Proverbs is a treasure trove of practical wisdom inspired by our Creator God. Each proverb is a short statement that uses every day, familiar illustrations to teach moral, ethical and spiritual principles. These principles apply to all people. The real appeal of this remarkable book is that it contains practical wisdom, understanding and knowledge that people can understand easily, at least on the surface. They are statements of common sense that have been observed and verified by people over the course of centuries. Ultimately, Proverbs gives us keys to a better life now and forever. Do you trust what God is telling you?
European Coalition for Israel has been part of a consortium of Jewish organizations that hosted the 70th anniversary of U.N. General Assembly Resolution 181 at the Queens Museum in New York, which in 1947 was the headquarters of the newly created United Nations. U.N. General Assembly Resolution 181, also called the U.N. Partition Plan, called for the creation of a Jewish state in the land of Israel alongside an Arab state.
But in speeches from U.S. Vice President Mike Pence, Israeli Ambassador to the U.N. Danny Danon, Ambassador Ronald Lauder from the World Jewish Congress and Israeli Minister Yisrael Katz it was made clear that it was not the U.N. who created the Jewish state, but the Jewish people themselves.
"The United Nations did not create the Jewish state, they simply reaffirmed the natural and irrevocable rights of the Jewish people to their own state in their historical homeland," U.S. Vice President Mike Pence pointed out at the event.
"Israel did not need a resolution to call for its existence, because its right to exist is self-evident and timeless," Pence said.
Ambassador Ronald Lauder from the World Jewish Congress reminded the audience that Jews had been living in Judea for eight centuries before they were dispersed from the land by the Romans in 135 AD.
"We know who we are and we know where we came from. This is why we are called Jews. These historical facts cannot be changed by any new UNESCO resolutions or others who try to deny our history," he said.
Permanent Representative of Israel to the U.N., Ambassador Danny Danon thanked the 33 nations that voted for U.N. General Assembly Resolution 181 in 1947 but went on to say that today Israel has diplomatic relations with over 160 nations.
"Today there are peace treaties with former enemies such as Egypt and Jordan and growing relations with many other Arab countries, especially in the Gulf region."
Each speaker quoted from the Bible in explaining how the miracle of 1947 was possible.
"While Israel was built by human hands, it is impossible not to also see the hands from heaven," Mike Pence said.
Ambassador Danon called the U.N. vote on Nov. 29 "the longest three minutes in Jewish history" but saw the results as a fulfillment of Bible prophecy, which speaks of a time when the Jews will return to Israel.
European Coalition for Israel was part of the organizing committee behind the event, which was hosted by the Israeli permanent representation to the U.N. ECI was represented by Founding Director Tomas Sandell, ECI Director of U.N. Affairs Gregory Lafitte and Honorary Chairman J. Rudolf Geigy.
"Our presence here today as the only non-Jewish organization in the hosting committee is important in that it shows that support for the State of Israel extends beyond the Jewish world," Tomas Sandell explained.
"U.N. General Assembly Resolution 181 is a historical achievement that we can be truly proud of." While the Jewish people did not receive all that had been promised to them by the international community in 1920, it re-affirmed the right to self-determination of the Jewish people in their historical homeland.
"The singular message from this commemoration is that the Jewish people said yes to peace and co-existence already in 1947 and have continued to do so for the last 70 years."
"It is now high time that also the enemies of the Jewish state recognize that Israel is here to stay and come back to the negotiating table."
Charles Manson, one of America's most hated murderers and the mastermind cult leader behind the barbaric slaughter of nine innocent people, is dead. He and his followers committed the series of ritualistic murders that included pregnant actress Sharon Tate at four locations in 1969. He was 83 when he breathed his last only days ago.
The question many raise when a high-profile person dies is, "I wonder what were his last words?" It's understandable to be curious with such a demonized individual as Manson who perpetrated such a jaw-dropping massacre.
I spoke with one of his followers, Susan Atkins, before she died at the age of 61 in prison. This once-deceived woman found redemption in her conversion to Jesus Christ, and her last public words were, "My God is an amazing God!"  You can read her story in the book she wrote, entitled Child of Satan, Child of God.
Although I prayed for Manson's repentance and conversion before his death, like you, I will have to wait to discover the exact answer to the above question. I can offer that in an interview with Charlie Rose that won an Emmy years ago, the "Helter Skelter" butcher did reveal something of his cryptic, confused and calloused heart.
Mr. Rose asked Manson how he'd respond to the public's perception that he was a "monster?" He retorted, "What you see is what you get." [Google YouTube video of Nightwatch with Charlie Rose and Charles Manson]
Dying Declarations
Dying declarations can have a profound effect on those who "have ears to hear." It's the time when people are usually most honest and what they say matters the most.
While we wait for some statement from the now-deceased Charles Manson, let's consider some of the sad statements left by others who apparently led lives apart from Jesus Christ. These people speak to us from beyond the grave to live wisely and not foolishly. Remember, "Only one life, that'll soon be past. Only what's done for Christ will last."
• Pop megastar Michael Jackson desperately pleaded for relief from the drug propofol, on which he fatally overdosed. "More milk! More milk!" he begged as he drifted into eternity.
• Music legend Kurt Cobain of Nirvana committed suicide after writing that he was a "miserable, self-destructive, death-rocker… hateful towards all humans in general."
• Freddie Mercury was the flamboyant frontman for the supergroup Queen and died a torturous death of AIDS. He experienced excruciating pain when clothing even touched his skin. His parting statement is best captured by the title of his final video, "These Are the Days of Our Lives" exposing the reality that the gay lifestyle isn't really "gay" after all.
• Actress Joan Crawford rebuked her housekeeper who began praying as she lay dying, "(Expletive)… Don't you dare ask God to help me!"
• Lecherous Henry VIII pleaded for spiritual support in beseeching, "All is lost! Monks! Monks! Monks!"
• Occultist Aleister Crowley shrieked, "I am perplexed! Satan get out!"
• Author of the dark side, Edgar Allan Poe, cried, "Lord, help my poor soul!"
• Frank Sinatra, who "Did It My Way" with serial affairs, lavish escapades and four wives, succumbed sorrowfully, uttering, "I'm losing it …" then breathed his last.
• Finally, Elizabeth I, the Queen of England, lamented before dying, "All my possessions for a moment of time."
I wonder if we will ever learn what the prince of pleasure and champion of sexual promiscuity, Hugh Hefner, said in his dying declaration from the Playboy mansion?
Time for Reflection
Here's the deal: Listening to and learning from individuals' deathbed confessions is not morbid curiosity but rather a healthy exercise so we always live in light of eternity. Have you ever paused to ponder your grand finale and what you would say?
The Bible tells us, "The years of our life are seventy, and if by reason of strength eighty" (Ps.90:10). Moses, who penned those words centuries ago, went on to advise us, "So teach us to number our days, that we may apply our hearts to wisdom" (Ps. 90:12).
God equates wisdom with the stewardship of our days on earth.
Are you wisely investing your time for His glory? Are you living a sincere ("sun-tested") life that draws people to Him because observers know you're the real deal? Are you passing your days with eternity in mind, ever conscious of life's brevity?
"The shoes you tie in the morning can be untied by an undertaker that very evening." Sobering, isn't it?
There are two Sauls in the Bible. One's exit statement was a pathetic, "I have acted foolishly and have seriously gone astray" (1 Sam. 26:21b).
The other Saul, whose name later became Paul, departed in triumph. "For I am already being poured out as a drink offering, and the time of my departure has come.  I have fought a good fight, I have finished my course, and I have kept the faith. From now on a crown of righteousness is laid up for me, which the Lord, the righteous Judge, will give me on that Day, and not only to me but also to all who have loved His appearing" (2 Tim. 4:6-8).
Which Saul reflects your life and the legacy you'll leave? One day as you lay on your bed ready to "pass through the valley of the shadow of death," may those gathered around you affirm that the apostle Paul's words were reflected authentically by your life.
As someone once said, "What you see is what you get."
Larry Tomczakis a cultural commentator of 45 yrs, Intercessors for America board member, best-selling author and a public policy advisor with Liberty Counsel. His new, innovative video/book, BULLSEYE, develops informed influencers in 30 days (see www.bullseyechallenge.com).
O Christmas Tree
By Skip Heitzig
I read somewhere that in a recent Christmas season Americans used 28 million rolls of wrapping paper and 17 million packages of tags and bows, sent out 372 million greeting cards, and set up 35 million Christmas trees.
Some of our Christmas traditions are just that, traditions. Jesus was probably not born on December 25, for example. And the Christmastree is based on the celebration of the reincarnation of Nimrod. The ancient Babylonians burned a "Yule" log (the Chaldean word for infant) in the fireplace, and the next day a symbolic evergreen tree was placed inside the house.
This pagan ritual is hinted at in the Bible, in Jeremiah 10:1-4. But before you get worried, I want you to know that if you come to my church, you'll find a very large Christmas tree in the foyer! And you know what? Most people born in this country don't know the origins of these things, and we aren't worshiping Babylonian gods and goddesses. It's not about that. (And it's good to remember that Martin Luther was the first guy to put a Christmas tree inside the home.)
At the same time, what are we to do with some of these traditions? Let's look at what Jesus did when He was faced with a festival that had a lot of tradition, some of which may have been true and some not. In John chapter 10, He was in the temple for the Feast of Dedication, also known as the Festival of Lights, or Hanukkah. You won't find it in the Bible anywhere; it dates from the period between Old and New Testaments. But Jesus was celebrating Hanukkah, and He used the Festival of Lights to shine the light on who He really is (John 10:22-30).
And I suggest that's what we do with Christmas. You can say, "Bah, humbug!" You can get "Santa Claustrophobic." You can run from it. Or you can use it to shine the light on who Jesus really is.
People are singing the words we preach in evangelical churches every week: Christ by highest heaven adored, Christ the everlasting Lord. Veiled in flesh the Godhead see! Hail, incarnate deity! Pleased as man with men to dwell, Jesus our Emmanuel. Hark, the herald angels sing, "Glory to the newborn king!"
At least some of them don't know what they're singing, but that's where we come in. We can redeem it by reminding them. Does it matter when He came? No, it matters THAT He came. Since the celebration is already ongoing, I say let's use it to remind them of Him.
Copyright © 2013 by Connection Communications. All rights reserved.
The Daily Word of Hope Devotional
Bible Fun Fact: David carried the head of Goliath around a while (1 Samuel 17:57).
The Closed Door
And they went through the region of Phrygia and Galatia, having been forbidden by the Holy Spirit to speak the word in Asia. And when they had come up to Mysia, they attempted to go into Bithynia, but the Spirit of Jesus did not allow them. So, passing by Mysia, they went down to Troas. Acts 16:6 ESV
There was a season in my life where I really caught fire for God. I fasted and prayed for Him to remove anything in my life that was holding me back from being closer to Him. Everything was rosy for about two weeks, and then I was called to the office and laid off. For the first time in my life, I stood in the unemployment line and I was asking, 'God where are you?'
During this time I looked everywhere for work but could find nothing. Finally after an interview one day, this company hired me over the phone and told me to be ready to start on Monday. While driving to work on Monday, I prayed that the Lord would keep me in His will, close any doors that He did not want me to go through, and to open the right one.
When I got there, they had already hired someone that they thought was me! Eventually, the right door opened somewhere else, I got a job, and led several people to the Lord during my time there.
Do not fight closed doors. They truly are signs of God's love for you, a confirmation that He is guiding you, and that He has something better for you right around the corner.
Prayer: Father, please close the doors that I should stay out of and open the door that I am supposed to go through. I want Your perfect will in my life, in the name of Jesus.
Note: "Let us then with confidence draw near to the throne of grace, that we may receive mercy and find grace to help in time of need." (Hebrews 4:16) If you are in need of prayer, please feel free always to send your requests to our prayer network, where we and the team will be honored to lift you up! Here is the link: RHM Prayer Network 
Living Forward, Understanding Backward
TGIF Today God Is First Volume 1 by Os Hillman
December 01, 2017
"The one who calls you is faithful and He will do it." – 1 Thessalonians 5:24
When I was in my 20's, I participated in a wilderness-training course in a desert and mountain area. For our "final exam," we were blindfolded, placed in the back of a pickup truck, and taken to a remote area. We were dropped off and told to meet back at the camp in three days. We did not know where we were. We had to determine our location with our compasses. It was a frightening experience for four young people who had learned to navigate through the use of a compass only a few days earlier. With our food and water on our backs, we began our trek. It had just snowed that morning, so the way was difficult. We walked through valleys, canyons, snow-covered hills, and forests. In all, we walked more than 60 miles in three days. There were times when we did not think we could go another foot. Exhaustion and frostbitten feet were taking their toll. However, we finally made it to our base camp successfully, and to our surprise, we were the first ones among the other patrols to make it back.
At the conclusion of our journey, we were able to stand on top of a ridge, look behind us and see the beautiful terrain that we had just scaled. The pain of what we had just endured seemed to subside. We could not believe we had actually walked through those valleys and snowcapped hills. There was a sense of accomplishment.
Life is very much like this. It is often lived forward, but understood backward. It is not until we are down the road a bit that we can appreciate the terrain God has allowed us to scale and the spiritual deposits He has made in our life as a result. When you begin to realize some of this, you sit back and breathe a sigh of relief because you know that God was in control all along. It didn't seem like it at the time, but He was.
Are you in the midst of a difficult journey that seems almost impossible to continue? Be assured that God is providing grace even now to equip you for that journey. There will be a time when you can say, "Wow, look at what God has done because of what I gained through that valley." Trust Him with the outcome of where you find yourself today.
Passion for Praise:

 'His Saving Power'

Friday, December 1, 2017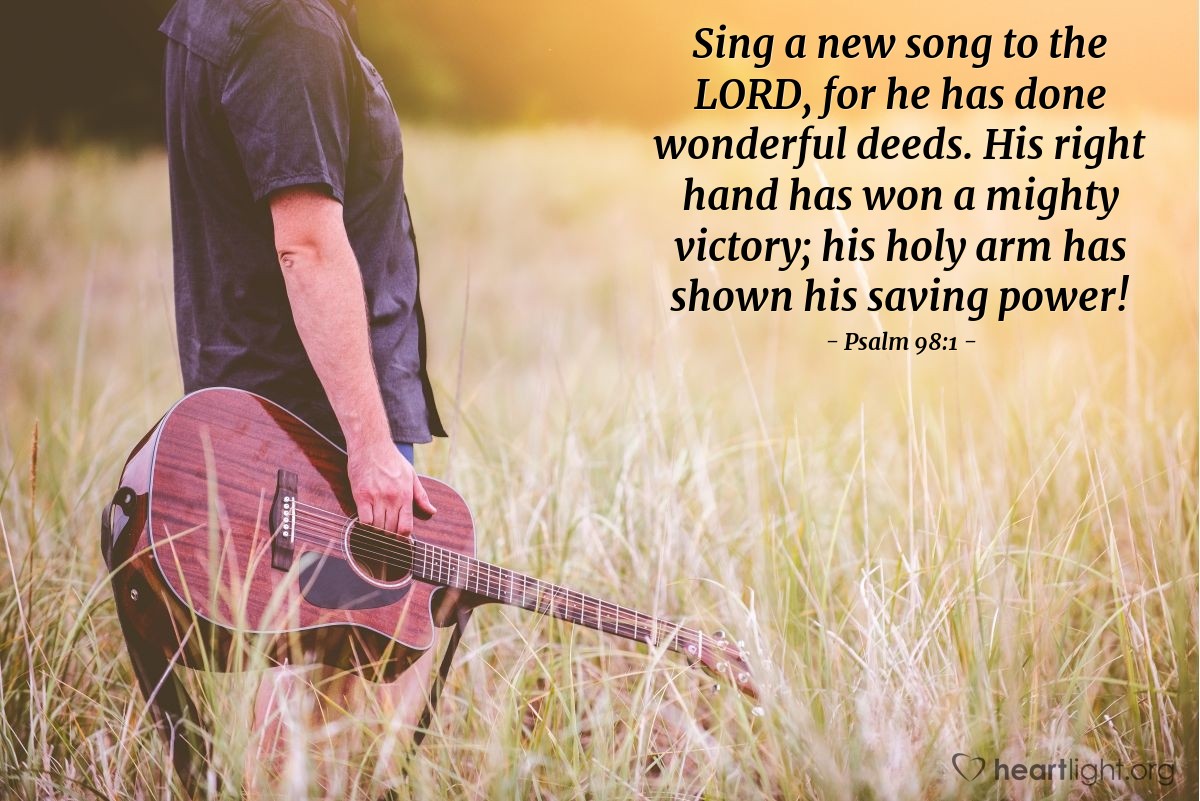 Yes, beginning today, I am not looking back anymore…..I am not going to try to get through to my daughter, granddaughters, oldest son….none of them.  I have tried and tried……I have exhausted myself!  They never really wanted me in their lives and I have to start accepting this……..
Jenni…..someday, you will miss having your one and only REAL Mother…….you will maybe wonder why and how you could have ever hurt me and let me go……maybe you'll try to contact me…….maybe I'll still be around, alive……….maybe, probably, most definitely, I'll respond to you……like you never responded to me or to any of my comments, unless you found my comments to be offensive, which was most of the time……for now, I'm going to try to forget you……forget Rick, too……it will be hard, as it has been up to now……..so many tears I have shed!  But, I'll weep some more…….the tears are proof that I have a heart……tell me, have YOU wept at all?  Or, like my sister Nan, have you just burned with anger and bitterness, as you said I do?  Oh, do not EVER even TRY to tell me about Nan……she's MY sister, and I know her well……..she IS cold-hearted…..after all, she and that husband of hers KILLED our Mother!  If you can defend her, then you may be like her……..whether you see it or not…………
Have a good season……..I'll keep you all in my prayers………I'll love and still miss all of you……Goodbye, and God bless!!
THEY can't handle it, I guess……
God bless everyone!!!