TODAY'S DAILY PRAYER
Good and upright is the Lord; therefore he instructs sinners in his ways. He guides the humble in what is right and teaches them his way. Psalm 25:8–9, NIV
Lord our God, dear Father in heaven, we thank you that we may be your children, led by you. We thank you for guiding us in times of grief and never forsaking us. Now, as of old, you are with us, Lord our God, and you show us the way in every situation. Protect us in this present time, and grant us strength to go on patiently even when our lives hold much suffering and distress. We thank you for your guidance and rejoice in your help for our time. Reveal your hand in power, for soon, very soon, your right hand will change everything. Amen.
Daily Dig
Reflections for Advent and Christmas
TODAY'S DAILY DIG
The password of the early Christians was joy, so let us still serve the Lord with joy. Joy is love, joy is prayer, joy is strength. God loves a person who gives joyfully, and if you give joyfully you always give more. A joyful heart is the result of a heart burning with love. Works of love are always works of joy. We don't need to look for happiness: if we have love for others we'll be given it. It is the gift of God.
Verse of the Day
Thoughts on Today's Verse…
Let's live as if we've been redeemed! Let's show our love and character in our daily lives. Let's especially work together, with one voice and spirit, making a vigorous effort to share the Gospel with those who have never heard of the grace of God in the ministry of Jesus. In the face of opposition, let's not be deterred or divided. Instead, let's work hand-in-hand for the cause of the Gospel.
My Prayer…
O LORD, give us greater unity of purpose and greater courage in the face of opposition so that we can show the world that we are your children and Jesus' disciples. In the name of our Lord and Christ we pray. Amen.
BIBLE STUDY BUDDY
Therefore, since through God's mercy we have this ministry, we do not lose heart. 2. Rather, we have renounced secret and shameful ways; we do not use deception, nor do we distort the word of God. On the contrary, by setting forth the truth plainly we commend ourselves to everyone's conscience in the sight of God. 3. And even if our gospel is veiled, it is veiled to those who are perishing. 4. The god of this age has blinded the minds of unbelievers, so that they cannot see the light of the gospel that displays the glory of Christ, who is the image of God. 5. For what we preach is not ourselves, but Jesus Christ as Lord, and ourselves as your servants for Jesus' sake. 6. For God, who said, "Let light shine out of darkness," made his light shine in our hearts to give us the light of the knowledge of God's glory displayed in the face of Christ.
7. But we have this treasure in jars of clay to show that this all-surpassing power is from God and not from us.
v1-7 The best of men would faint, if they did not receive mercy from God. And that mercy which has helped us out, and helped us on, hitherto, we may rely upon to help us even to the end. The apostles had no base and wicked designs, covered with fair and specious pretences. They did not try to make their ministry serve a turn. Sincerity or uprightness will keep the favourable opinion of wise and good men. Christ by his gospel makes a glorious discovery to the minds of men. But the design of the devil is, to keep men in ignorance; and when he cannot keep the light of the gospel of Christ out of the world, he spares no pains to keep men from the gospel, or to set them against it. The rejection of the gospel is here traced to the wilful blindness and wickedness of the human heart. Self was not the matter or the end of the apostles' preaching; they preached Christ as Jesus, the Saviour and Deliverer, who saves to the uttermost all that come to God through him. Ministers are servants to the souls of men; they must avoid becoming servants to the humours or the lusts of men. It is pleasant to behold the sun in the firmament; but it is more pleasant and profitable for the gospel to shine in the heart. As light was the beginning of the first creation; so, in the new creation, the light of the Spirit is his first work upon the soul. The treasure of gospel light and grace is put into earthen vessels. The ministers of the gospel are subject to the same passions and weaknesses as other men. God could have sent angels to make known the glorious doctrine of the gospel, or could have sent the most admired sons of men to teach the nations, but he chose humbler, weaker vessels, that his power might be more glorified in upholding them, and in the blessed change wrought by their ministry.
Lamb Chop Witness…
Have you ever heard of witnessing with a lamb chop? W. H. Lax, a Methodist minister in London for 38 years, did just that.
An old man was gravely ill, and Pastor Lax called on him. The man had no time for ministers, and as soon as he saw Lax's clerical collar he turned away and refused to speak.
Lax suspected that the man's food supply had run low. So when he left the house, the minister stopped at a local butcher shop and had two lamb chops sent over. He called again in a few days and the old fellow was a bit friendlier. On his way home, Lax left another order with the butcher. By his third visit there was a noticeable change. The man was congenial and outgoing; he even allowed the minister to witness to him.
While Lax was away on a preaching mission, the old man died. Apparently he had put his trust in Christ, for just before he died he said, "Tell the minister that it's all right now. I'm going to God. But be sure to tell him it wasn't his talking that changed me. It was those lamb chops!"
Meeting someone's need can provide a great opportunity to share the gospel. It can melt the most hardened heart and open doors that have been locked for a lifetime. Do you know someone who needs a "lamb chop" today?
November 27
Proving the Will of God By Your Service and Love
I beseech you therefore, brethren, by the mercies of God, that you present your bodies a living sacrifice, holy, acceptable to God, which is your reasonable service. And do not be conformed to this world, but 
be transformed by the renewing of your mind
, that you may prove what is that good and acceptable and perfect will of God.
For I say, through the grace given to me, to everyone who is among you, not to think of himself more highly than he ought to think, but to think soberly, as God has dealt to each one a measure of faith. For as we have many members in one body, but all the members do not have the same function, so we, being many, are one body in Christ, and individually members of one another. Having then gifts differing according to the grace that is given to us, let us use them: if prophecy, let us prophesy in proportion to our faith; or ministry, let us use it in our ministering; he who teaches, in teaching; he who exhorts, in exhortation; he who gives, with liberality; he who leads, with diligence; he who shows mercy, with cheerfulness.
Let love be without hypocrisy. Abhor what is evil. Cling to what is good. Be kindly affectionate to one another with brotherly love, in honor giving preference to one another; not lagging in diligence, fervent in spirit, serving the Lord; rejoicing in hope, patient in 
tribulation
, continuing steadfastly in prayer; distributing to the needs of the saints, given to hospitality.
Bless those who persecute you; bless and do not curse. Rejoice with those who rejoice, and weep with those who weep. Be of the same mind toward one another. Do not set your mind on high things, but associate with the humble. Do not be wise in your own opinion.
Repay no one evil for evil. Have regard for good things in the sight of all men. If it is possible, as much as depends on you, live peaceably with all men. Beloved, do not avenge yourselves, but rather give place to wrath; for it is written, "Vengeance is Mine, I will repay," says the Lord. Therefore
"If your enemy is hungry, feed him;
If he is thirsty, give him a drink;
For in so doing you will heap coals of fire on his head."
Do not be overcome by evil, but overcome evil with good.
Let every soul be subject to the governing authorities. For there is no authority except from God, and the authorities that exist are appointed by God. Therefore whoever resists the authority resists the ordinance of God, and those who resist will bring judgment on themselves. For rulers are not a terror to good works, but to evil. Doyou want to be unafraid of the authority? Do what is good, and you will have praise from the same. For he is God's minister to you for good. But if you do evil, be afraid; for he does not bear the sword in vain; for he is God's minister, an avenger to execute wrath on him who practices evil. Therefore you must be subject, not only because of wrath but also for conscience' sake. For because of this you also pay taxes, for they are God's ministers attending continually to this very thing. Render therefore to all their due: taxes to whom taxes are due, customs to whom customs, fear to whom fear, honor to whom honor.
Owe no one anything except to love one another, for he who loves another has fulfilled the law. For the commandments, "You shall not commit adultery," "You shall not murder," "You shall not steal," "You shall not bear false witness," "You shall not covet," and if there is any other commandment, are all summed up in this saying, namely, "You shall love your neighbor as yourself." Love does no harm to a neighbor; therefore love is the fulfillment of the law.
And do this, knowing the time, that now it is high time to awake out of sleep; for now our salvation is nearer than when we first believed. The night is far spent, the day is at hand. Therefore let us cast off the works of darkness, and let us put on the armor of light. Let us walk properly, as in the day, not in revelry and drunkenness, not in lewdness and lust, not in strife and envy. But put on the Lord Jesus Christ, and make no provision for the flesh, to fulfill its lusts.
Receive one who is weak in the faith, but not to disputes over doubtful things. For one believes he may eat all things, but he who is weak eats only vegetables. Let not him who eats despise him who does not eat, and let not him who does not eat judge him who eats; for God has received him. Who are you to judge another's servant? To his own master he stands or falls. Indeed, he will be made to stand, for God is able to make him stand.
One person esteems one day above another; another esteems every day alike. Let each be fully convinced in his own mind. He who observes the day, observes it to the Lord; and he who does not observe the day, to the Lord he does not observe it. He who eats, eats to the Lord, for he gives God thanks; and he who does not eat, to the Lord he does not eat, and gives God thanks. For none of us lives to himself, and no one dies to himself. For if we live, we live to the Lord; and if we die, we die to the Lord. Therefore, whether we live or die, we are the Lord's. For to this end Christ died and rose and lived again, that He might be Lord of both the dead and the living. But why do you judge your brother? Or why do you show contempt for your brother? For we shall all stand before the judgment seat of Christ. For it is written:
"As I live, says the LORD,
Every knee shall bow to Me,
And every tongue shall confess to God."
So then each of us shall give account of himself to God.
Romans 12:1-14:12
WORSHIP
LORD, my heart is not haughty,
Nor my eyes lofty.
Neither do I concern myself with great matters,
Nor with things too profound for me.
Surely I have calmed and quieted my soul,
Like a weaned child with his mother;
Like a weaned child is my soul within me.
O Israel, hope in the LORD
From this time forth and forever.
Psalm 131:1-3
WISDOM
My son, fear the LORD and the king;
Do not associate with those given to change;
For their calamity will rise suddenly,
And who knows the ruin those two can bring?
Proverbs 24:21-22
GOD'S ETERNAL LOVE
I have loved you with an everlasting love; I have drawn you with unfailing kindness.  Jeremiah 31:3
Yesterday we learned the first prison lesson from Pastor Okok Ojula who was incarcerated on false charges for three and a half years in a federal prison in Addis Ababa in Ethiopia.
When Jim Cunningham was able to visit him in the prison, he told Jim that before the prison experience, he had centered his life on serving the Lord, pursuing his education to the highest level (he has an MA in economics from the University of Reading-UK), doing research work and other good things to help people. But he had never thought of imprisonment as having any spiritual or practical value. He commented, "Time was very precious to me and I never thought of wasting it in prison sitting for nothing under a hostile situation."
But God taught Pastor Okok several lessons. The second one is that the depth of God's love for us is eternal. He says, "I was in prison for my protection. God put me in prison beforehand to escape the massacre of the elites and the educated people of my tribe in the Gambella region—the incident of December 2003 that shook the media world."
Genocide Watch reported that at least 416 Anuak people were massacred in December 2003 in Gambella led by Ethiopian government troops in uniform, but they were joined by other local tribal people from highland areas. Between 3000 and 5000 additional Anuak refugees fled into Sudan as refugees.
The pretext for these massacres was the ambush of a van on December 13 by an unidentified gang who murdered its eight occupants, who were U.N. and Ethiopian government refugee camp officials. There is no evidence that the killers were Anuak; the Ethiopian troops responded by murdering hundreds of Anuak civilians in Gambella and surrounding areas. They also burned their homes and raped the women.
Sources indicate that those targeted particularly were educated Anuak men, a tactic often intended to render a group leaderless and defenseless. To this day hundreds of Anuak Christians are still listed as "missing."
Pastor Okok is convinced that his imprisonment in Addis was God's love and protection because if he had been at home, he would have been a prime target because of his education.
RESPONSE: Today I will walk in the assurance of God's love and His positive actions on my behalf even when they do not seem to be favorable.
PRAYER: Pray for those brothers and sisters experiencing injustice without the understanding of God's purposes.
November 27
The Lord hath been mindful of us: He will bless us.–PS. cxv. 12.
My Father! what am I, that all
Thy mercies sweet like sunlight fall
So constant o'er my way?
That Thy great love should shelter me,
And guide my steps so tenderly
Through every changing day?
ANON.
What a strength and spring of life, what hope and trust, what glad, unresting energy, is in this one thought,–to serve Him who is "my Lord," ever near me, ever looking on; seeing my intentions before He beholds my failures; knowing my desires before He sees my faults; cheering me to endeavor greater things, and yet accepting the least; inviting my poor service, and yet, above all, content with my poorer love. Let us try to realize this, whatsoever, wheresoever we be. The humblest and the simplest, the weakest and the most encumbered, may love Him not less than the busiest and strongest, the most gifted and laborious. If our heart be clear before Him; if He be to us our chief and sovereign choice, dear above all, and beyond all desired; then all else matters little. That which concerneth us He will perfect in stillness and in power.
H. E. MANNING.
Quote of the Day
"The forgiveness of God is a prominent theme throughout Scripture, one that should invoke from us expressions of wonder and praise."
~Randy Alcorn (from "what does the unmerciful servant teach us?")
Today's Answer
Why Did Jesus Choose the Twelve Apostles?
Doug Bookman
In His early months of ministry in Israel, Jesus attracted great multitudes to hear His messages, receive His miraculous healings, and eat the bread He offered. Many of the Jewish leaders had rejected Him and claimed His power came from Satan (Matthew 12:1), but the people—for the most part—flocked after Him.
Then comes John 6:1.
Just as the Jewish leaders had done, the people sought a sign to prove Jesus was who He claims to be: the promised messiah. What Jesus gave them instead was a teaching that many found far too difficult. He asked them to trust in Him completely and to submit to His authority as the "bread from heaven." Many who claimed to be His disciples rejected Him and left.
Since the multitudes had turned away from their promised Messiah, Jesus began a six-month period of private instruction with the Twelve, those He would prepare for the time of this death, resurrection, and departure. Previously, Jesus had not mentioned these events and certainly not in explicit terms, which explains Peter's shock and consternation (Matthew 16:22). But with Israel's rejection, the shadow of the cross grew ever larger.
Seeking seclusion to instruct the Twelve, Jesus retreated to what would then be known as "heathen lands." The leaders in Israel harassed him because of their animosity to His teaching, and no place within the region would allow Him a time of true private instruction. The Twelve Apostles would serve as the core of the future church, and this time would prepare them for—from their vantage point—the catastrophe of His death. His instruction during this time culminated in the Transfiguration, witnessed by the three members of the "inner circle," Peter, James, and John, an event that fortified their faith and left an indelible impression on their later ministry (see 2 Peter 1:16).
Adapted from the lecture notes of Dr. Doug Bookman, professor of new testament Exposition atshepherds theological seminary (used by permission).
The Daily Word of Hope Devotional
Bible Fun Fact: Jesus and Peter once paid taxes with a coin found in a fish's mouth (Matt. 17:24-27).
Baby Steps
Our heart has not turned back, neither have our steps strayed from your path Psalms 44:18 WEB
If you begin to dig too deep into the 'shall' and 'shall nots' of the Bible and then compare it to your life, to examine all of your flaws and shortcomings, it will soon overwhelm you and you will spiral into an attitude of defeat. 'I can't do this, why bother?'
There is often a seemingly unlimited list of things that need to be made right before you stand 'Right with God', before you are ready to pray for someone, or to speak something in faith, before it is you encouraging someone else. After dwelling on the 'list' for a while, people often just give it up as a lost cause.
There is a better solution to this problem: just keep putting one foot in front of the other one and do not focus inward on yourself, instead focus on Jesus. Live your life one day at a time, and involve the Lord in your plans while doing the best that you can, today. You will soon find yourself fulfilling His will in your life, and bringing His Kingdom into your environment.
Yes, we have a lot of problems, but it's all that we have got going so lets make the best of it. Even if you take baby steps, you will still be moving forward each day. The Lord is always more concerned about who you are becoming as a person, than about what you do for Him.
I have heard it said that if you do not change your direction, then you will end up where you are headed. Relax. You will do this and you will be successful, if you keep a positive attitude and keep pressing forward. Do not get overwhelmed, and do not turn back. God loves you, and He is proud of the progress that you have made. Let go of the do's and don'ts and just say 'Lord, just as I am, I give myself to You. Please help me.'
Prayer: Heavenly Father please forgive me for sometimes taking my eyes off of You and getting overwhelmed with rules that I don't really understand that well. Make Your love simple to me and reveal it to me in an unmistakable way, in the name of Jesus Christ I pray.
EDITOR'S NOTE: Every day from Black Friday until New Year's Eve, we'll bring you one devotional from our archives about Christmas, celebrating the Incarnation, Advent, or the Nativity. Check back every morning as you thank the Lord for His gift of coming near! Emmanuel!
Ready for Christmas?
Sharon Jaynes
Today's Truth
"Repent, for the kingdom of heaven is near" (Matthew 3:2 NIV).
Friend to Friend
It seems like everywhere you go during the month of December people ask the same question.  At the grocery checkout counter – "Are you ready for Christmas?"  At the bank drive through window – "Are you ready for Christmas?"  At the doctor's office – "Are you ready for Christmas?"
I think the answer to that question depends on how you define "ready." Let me ask you this question:  "Are you ready for Jesus?"  Now that puts the idea of being ready in a completely different Christmas light, doesn't it?
John the Baptist was sent by God to get the people ready to meet Jesus. Here's what Matthew had to say about him:
In those days, John the Baptist came preaching in the Desert of Judea and saying, "Repent, for the kingdom of heaven is near."  This is he who was spoken of through the prophet Isaiah:
"A voice of one calling in the desert, 'Prepare the way for the Lord; make straight paths for him.'"…"People went out to him from Jerusalem and all Judea and the whole region of the Jordan.  Confessing their sins, they were baptized by him in the Jordan River" (Matthew 3:1-3, 5-6).
We don't like the words "repent" or "repentance" very much.  They mean "to make a radical change in one's life, to turn and go in the opposite direction from sin (another word we're not too fond of today) to God".  Repentance involves an element of grief over the way we have lived apart from God and a decision to run toward the Father. That was God's idea of the way to prepare for Christ's arrival in the book of Matthew, and it is still God's idea of preparing to worship Him today. Now that's what I call getting ready for Christmas!
Let's reflect for a moment on the words to this poem and then answer the question, "Are you ready for Christmas?"
"Ready for Christmas," she said with a sigh
As she gave a last touch to the gifts piled high…
Then wearily sat for a moment AND READ
Til soon, very soon, she was nodding her head.
Then quietly spoke a voice in her dream,
"Ready for Christmas, what do you mean?"
She woke with a start and a cry of despair.
"There's so little time and I've still to prepare.
Oh, Father!  Forgive me, I see what You mean!
Yes, more than the giving of gifts and a tree.
It's the heart swept clean that He wanted to see,
A heart that is free from bitterness and sin.
So be ready for Christmas – and ready for Him.
Let's Pray
Dear Lord, I want to be ready for Jesus today and every day.  I come to You now in repentance for my sins: my sin of selfishness, stubbornness, and rebellion.  I turn from my self-centeredness today and commit to keep my focus on You.  God, I cannot do this on my own.  I am not able.  So I ask that You fill me with the power of Your Holy Spirit.  Create in me a clean heart, O God, and renew a right spirit within me.
In Jesus' Name,
Amen
Now It's Your Turn
What do you think it means to be "ready for Christmas?"
What do you think it means to be ready for Jesus?
Go back and read the parable of the ten virgins in Matthews 25:1-13. Notice the difference between the five who were ready and the five who were not.  Which group more resembles your readiness for Christ?
A Prayer for Finding the Good During Hard Times
By Mary Southerland
"I will give you the treasures of darkness, riches stored in secret places so that you may know that I am the LORD, your God." – Isaiah 45:3, NIV
I am constantly amazed at the profound truths God has tucked into the simple things of life.
Pearls are formed when a piece of grit, sand or shell is trapped inside an oyster. The oyster protects itself from irritation by secreting a nacreous liquid that surrounds the irritant until it eventually becomes a pearl. In other words, that which begins as an annoying irritant eventually becomes a valuable treasure. The same is true in life.
The greatest treasures in my life are products of the darkest times of my life.
A battle with clinical depression stripped away years of fear and doubt, leaving me with a new identity in Christ and a ministry I never thought possible.
The inability to have biological children made it possible to adopt our son and daughter, Jered and Danna, giving my husband and me a gift beyond measure.
Over the years, weaknesses have given way to strengths and failures have led to successes.
God has used it all for His glory and my good.
In every trial or difficult moment of life, God has buried a treasure. To find the treasure, we must go through the trial. So when the tough times come, just look for the pearls.
Father, I am so sorry for the way I complain about my circumstances. Please forgive me for my bad attitude when things don't go my way. I want to see Your hand in every part of every day – good or bad. Help me learn how to face every storm with confidence, knowing that You really are in control even though I cannot hear Your voice or see Your hand at work.
In Jesus' Name,
Amen.
Two Fathers, Two Feasts
by Max Lucado
The following is an excerpt from In the Eye of the Storm.
Download Chapter 12 of In the Eye of the Storm to read even more.
I drove the family to Grandma's last night for Thanksgiving. Three hours into the six-hour trip, I realized that I was in a theology lab.
A day with a car full of kids will teach you a lot about God. Transporting a family from one city to another is closely akin to God transporting us from our home to his.
A journey is a journey, whether the destination be the Thanksgiving table or the heavenly one. The fact that my pilgrims were all under the age of seven only enriched my learning experience.
As minutes rolled into hours and our car rolled through the hills, I began to realize that what I was saying to my kids had a familiar ring. I had heard it before — from God. All of a sudden, the car became a classroom. I realized that I was doing for a few hours what God has done for centuries: encouraging travelers who'd rather rest than ride.
I shared the idea with Denalyn. We began to discover similarities between the two journeys. Here are a few we noted:
In order to reach the destination, we have to say no to some requests.
Children have no concept of minutes or miles.
Children can't envision the reward.
It's worth it.
As we sat around the table today, no one spoke of the long trip to get here. Yesterday's challenges were lost in today's joy.
That's what Paul meant. God never said that the journey would be easy, but he did say that the arrival would be worthwhile.
Remember this: God may not do what you want, but he will do what is right… and best. He's the Father of forward motion. Trust him. He will get you home. And the trials of the trip will be lost in the joys of the feast.
From In the Eye of the Storm
Copyright 2001, Max Lucado
How to Make Right Decisions
Chris Russell
I recently published a blog post called "8 Keys to Knowing God's Will For Your Life." That post was directed toward helping believers to figure out the big picture in regard to God's will. For instance, those keys have much to do with God's plan for you vocationally, in ministry, and in the important stages of life.
This post, on the other hand, lends help for the "smaller" decisions that we make from day to day.  In order to continue in the middle of God's perfect will, it is vital that we make right decisions each day and each week. But that is not always easy. As a tool to help you make right decisions from a biblical perspective, I have pulled together 13 questions you should ask when facing a choice. Here they are:
1)  Does God already have a clear teaching about this?
Joshua 1:8
This Book of the Law shall not depart from your mouth, but you shall meditate in it day and night, that you may observe to do according to all that is written in it. For then you will make your way prosperous, and then you will have good success.
If God has already spoken clearly about this, you do not have to wonder any longer. Just do what he has told you.
Simple, right?
Well, the problem here seems to be that most people in our culture today seem to have a fairly low level of knowledge of the Scriptures. They are "low-information believers."
So, I would encourage you to saturate your mind as much as possible with God's Word. Read it. Study it. Memorize it. Learn it. Once you have done so, you will be amazed at how much better you are at making good, solid decisions in life.
2)  What do my top spiritual advisors tell me about this?
Proverbs 11:14
Where there is no counsel, the people fall; but in the multitude of counselors there is safety.
It is vital that you surround yourself with godly friends who will be able to speak into your life about life's decisions. Do you realize that you are basically a composite of the five people you spend the most time with? It is crucial to choose those people carefully. If you don't have those types of friends, I would encourage you to increase your involvement in church and small groups and ministry in order to establish those godly relationships.
3)  What do authority figures in my life have to say about this?
Titus 3:1
Remind them to be subject to rulers and authorities, to obey, to be ready for every good work.
(Also see Romans 13:1-7; Hebrews 13:17)
God often works through authority relationships in our lives. For instance, it would be extremely rare for the best choice to be something that is illegal. Look at this choice from the vantage point of authority figures in your life, and at least use that as an important reference point for you.
4)  How will this affect me spiritually?
1 Corinthians 10:23
All things are lawful for me, but not all things are helpful; all things are lawful for me, but not all things edify.
There is much more to this life than just earning a bigger paycheck or improving your status amongst peers. When you make choices, make sure you consider how this decision will affect your spiritual development. Will this draw you nearer to God or further from him?  Will this decision interfere with your ability to attend church, maintain godly relationships, or spend time cultivating your spiritual disciplines?  If it harms you spiritually, then I would suggest pulling the plug on that choice.
5)  How will this affect my family? Will this draw us closer to God or further from God?
1 Corinthians 8:9
But beware lest somehow this liberty of yours become a stumbling block to those who are weak.
Not only must you consider how this decision will affect your own spiritual development, but you must also consider the affects it will have on the spiritual state of your family. Will this help your family to grow in Christ, or will it interfere with that spiritual growth? Will this pull them away from godly friends and away from a healthy, godly church environment? Will this divide your family in any way? Be careful not to make decisions that will cause your family to pay a big price.
6)  Is this going to bring more peace or less peace to my life?
1 Thessalonians 4:11
That you also aspire to lead a quiet life, to mind your own business, and to work with your own hands, as we commanded you.
Did you know that God actually wants you to have a peaceful life? Of course, this is not the "American way," but it is definitely an important consideration when it comes to making decisions. Be cautious that you are not stacking your life with more and more "stuff" that will send you over the edge with stress and anxiety. And make sure it is not going to steal the peace from your family as well.
7)  Is this consistent with the way God has wired me?
1 Peter 4:10
As each one has received a gift, minister it to one another, as good stewards of the manifold grace of God.
God has created you for a purpose, and He has designed you specifically to fulfill that purpose. You are a gifted individual, and His plan will be for you to function within that area of giftedness. When we veer outside of the way He has wired us, we often feel excessive stress, anxiety, and burnout very quickly.
When it comes to making decisions, make sure you evaluate the choice in light of the way that God has designed you. Are you creative? Are you detail-oriented? Are you relational? Are you task-oriented? Are you a communicator? Pay attention to how God has wired you.
8)  Am I paying attention to the risks that are associated with this?
Proverbs 27:12
A wise man foresees evil and hides himself; the simple pass on and are punished.
When making decisions, it is very important to honestly assess the risk that is involved. Sometimes we can become so mesmerized by a "golden carrot" that we overlook the risks that are associated. For this one, I would suggest that you have an outside voice speak into the situation.
In his book Entreleadership, Dave Ramsey says that anytime he has made a business decision that has gone against his wife's advice, it has cost him at least $10,000. Sometimes others, like a spouse, can see the risks that we overlook.
It is a sign of wisdom to be cautious. Not fearful, but cautious.
9)  Do I have total peace from God about this?
Philippians 4:7
And the peace of God, which surpasses all understanding, will guard your hearts and minds through Christ Jesus.
Sometimes everything can look right on the outside when I'm making a decision, but there will still be angst within my spirit. I have learned that making a decision without that inner peace is nearly always a mistake. God gives us peace as a protection and a guide. Seek His peace, and be cautious of making decisions that move against that peace.
10)  Are the doors of circumstances clearly open here?
(See Acts 16)
God often works through obvious circumstances. For example, He did that for Paul in Acts 16. In that chapter, Paul and his entourage kept facing closed doors as they were seeking where they were to minister next. And then, one door to Asia flew open while all other doors were closing.
God often directs me more by closing doors than by opening them. But there have been times in my life when I have attempted to force open a door that was not truly open. That never ends well.
It's always good to look at how God is opening or closing doors in front of you. And while an open door does not always mean that you are to pass through, it is often an indicator that God is at work. Pay attention to open doors, and be cautious of forcing doors open when they are closed.
11)  Is now the best time for this? Could waiting be better?
Ephesians 5:16-17
Redeeming the time, because the days are evil. Therefore do not be unwise, but understand what the will of the Lord is.
Haste does not always produce the best decisions. Sometimes everything might seem right about a choice, but making the decision at a later time might make more sense. This isn't always easy, because we often want to move forward quickly when we see an opportunity. But sometimes the wiser decision is to slow down, plan more, get more input, and give it more time to develop.
12)  Am I willing to let God close this door?
(Again, refer to Paul's journey in Acts 16.)
An important element to making good decisions is to make sure that you are completely submitted to God's ultimate plan for your life. Sometimes we get it into our heads that we want to do a certain thing, and then we struggle immensely when we begin to realize that God may not want us to move forward with that particular choice.
The disaster comes when we place our desire above God's plan. Let me be clear here. That never turns out well. The best decision you can ever make is to submit your choices to God's plan and be willing to give up an opportunity when you sense God does not want you to move forward with that decision.
13)  Am I willing to trust God if He asks me to step forward?
Hebrews 11:6
But without faith it is impossible to please Him, for he who comes to God must believe that He is, and that He is a rewarder of those who diligently seek Him.
Closely related to the above question is this: Are you willing to trust God if He asks you to step forward? This is basically the flipside of question 12. It's important to stop when God says, "Stop," and it is equally important to move forward when He says, "Move forward."
Are you willing to do that thing He might want you to do? What if it makes you feel uncomfortable? What if it moves you out of your comfort zone? What if it requires faith?
I can testify to you that the most exciting moments of my life have been when I have submitted to God and stepped forward with Him in faith. I hope you can experience that same joy.
Wrapping It Up
OK, so when you have a tough choice to make, I would encourage you to go over these questions before confirming your decision. Perhaps print these questions out and keep them as a reference point for the future. Talk through each of these questions with your spouse or a friend in the context of a decision you are currently making in your own life. I know of some parents who have used these with their kids to help train their children to make good decisions as well. In essence, these questions can serve as guidelines for helping you and your family make decisions that you will not regret.
* All Scripture quotes are taken from the New King James Version of the Bible.
Stress Less
by David Zerfoss
Spot That Sprout
Mary kept up a constant and hectic schedule of work travel. It kept her metabolism and adrenaline high. Add this to the fact that she was keeping up with two very active, triple sports–playing teenage sons, which meant there wasn't much time leftover to think about "simplifying." Besides, simple lives were what other people wanted. She was very content. She was busy being busy.
During one business trip out west, Mary traveled with one of her company's sales representatives. His name was Bob, and he was quite up in years. Mary often wondered why Bob continued to work at such an advanced age and chose to keep such a sizeable multistate territory.
On this particular trip they were traveling on an especially long car route, visiting customers throughout New Mexico and then on to Colorado. After driving several hours through sparselypopulated, very dry, and rocky terrain without even a singletraffic light in sight for miles, Bob looked over at Mary and said,"Are you overwhelmed by the vastness of the landscape andwondering when will it ever end?"
"Yes," she replied. "How did you know what I was thinking?"
Bob explained that throughout his many years of traveling this route, everyone who accompanied him felt the very same thing. Then Bob went on to share a profound rule with Mary about simplifying. Bob explained to Mary that we can all choose to easily get lost in and feel overwhelmed by our surroundings.
"Do you see that little tree sprouting up there ahead, among all those large rock formations?" Bob asked. Mary strained her eyes but could not find what he was seeing. As they got closer,
Bob pointed out the small sprouting tree he had seen when it was far off in the distance. Bob shared with Mary that he handled these long drives through hundreds of miles of vast terrain by looking for the little things amid the overwhelming, complex landscape. He didn't focus on just seeing what was all around him, but rather he chose to look for what he might have been missing. He continued on his drive, merrily searching for and pointing out more little things hiding along the way. As you go about your day, are you letting yourself become overwhelmed by the vast amount of things in the landscape of your life? Choose to live by one of Bob's rules, and spot that sprout you might otherwise be missing. In the midst of daunting, wide-open spaces, take the time to "be still, and know" that He is God (Psalm 46:10). Did you know that "the whole earth is full of His glory" (Isaiah 6:3)? We need only take the time to look.
God's Grace
But the things that come out of the mouth come from the heart, and these make a man 'unclean.'  – Matthew 15:18
A retired pastor, was returning home around midnight when he came upon a motorist covered in oil and red-faced with anger. Upon stopping his car, the pastor asked how he could help.  The man asked for a ride and immediately let loose with a barrage of profanity.  When he finished he asked the pastor what he was doing out so late.  When he told him he was a pastor returning home from some evangelistic meetings, the embarrassed man asked the pastor why he didn't stop him.  The pastor replied, "Your problem isn't your mouth.  It's your heart." And he proceeded to share with the man who Jesus was and what it means to be one of his followers.
Sometime later, when the pastor told this story, he asked, "How else should we have expected him to speak?" adding, "Would it be better for a man to sing hymns all the way to hell?"
Remember, what comes out of your mouth is a reflection of the condition of your heart.
The heart of a good man is the sanctuary of God in this world. -Madame Necker (1766-1841)
You've prayed. You've fasted. You've done all you know to do, but you're still waiting for the answer to your prayer. The good news is, even though you're waiting, God has the best answer, simply because God's timing is always perfect and He never fails. God knows the best time for your answer to be released.
Back in my childhood days, I would meet all my friends at the playground to play basketball. I wasn't as athletic as the rest of my friends, but I would still get out there and try to play. One thing that would disappoint me, though, was the process of picking teams. One group would stand on the left, one group would stand on the right, and they would call their team members by name. I was always so disappointed because out of all the friends who would stand and wait for their names to be called, I was always the last pick for a team. It was never up to me whose team I would be on. I would just have to deal with winning or losing. I can laugh about it now, but I would often end up on the losing team.
As believers, we are never God's last choice. You have to see yourself as God's first choice. You may say, "If I am God's first choice, why have I been waiting so long?" It may feel like everybody else is being picked for the team while you stand by and wait, as if you are God's last choice. The truth is, you are God's favorite choice. You were born as God's number-one pick. You are on the right team, the winning team, when you agree with God's timing for delivering you into the next season.
I'll admit that one of the hardest things to do while waiting on God's blessing is to watch others be blessed. Sometimes it's hard to listen to everybody else give their testimony of victory while you sit waiting to testify. It takes strength and maturity to be able to stay in position, knowing that God's best is still being prepared for you.
In this waiting season you want to win, but you can't be weak and start rushing God. Rushing God is like trying to manipulate Him into releasing your blessing. This is very dangerous. When you're on the right team (His team), it means you're on the winning team. And most of the time, the winning team has the best coach. Your coach is God—the One who is perfect in all His ways, the One who makes no mistakes. It's much like a professional football team. They may lose the first few games of the season, but if they follow the coach, learn the playbook and are patient, they could win the Super Bowl.
It may feel as if you're losing right now, but trust me, if you're on the Lord's side, you are on the winning side. You are on the right team. Being a part of God's family is one of the greatest positions to be in. Whatever you are waiting for God to do, when you're on the right team, you can believe that you already have it. You can wait and still rejoice, knowing that it's already done. You don't have to wait until the battle is over; when you're on the right team, you can rejoice in advance, knowing that you've already won!
In the Lord's team, there are no egos. There is no jealousy. So while you're waiting for your blessing, learn how to celebrate the blessings of your teammates. The Bible says to rejoice with those who rejoice! A good team knows how to celebrate the victory of another teammate because when one wins, they all win.
So don't be down in your waiting season. Get excited about the fact that you are on God's team. Get excited about the fact that you agree with your Coach, and whatever He says you'll do, knowing that everything is going to be all right.
What words are you speaking over yourself while you wait? I want to challenge you right now: Don't you dare agree with the enemy and speak words against your future blessings. Get in agreement with God and speak His Word over your life and future. Your words can either inspire you or destroy you. God's Word will destroy the enemy's plan against your life. His Words inspire you and push you to the next level. So be careful with your words.
In your waiting season, bring yourself into agreement with God by surrendering to Him, trusting Him and following (obeying) His Word. This way, you can't lose.
Adapted from Everybody Wants to Win but Nobody Wants to Wait by Marcus Gill, © 2017, published by Charisma House. This book will encourage you to trust God's timing, be patient while you wait, worship for breakthrough, and develop a vision, plan and goal in the process. To order your copy click on this link.
Prayer Power for the Week of Nov. 26, 2017
This week, thank the Lord for teaching you His ways and helping you live in agreement with His Word. Meditate on His precepts so that you can discern His voice from the enemy's. Yield to the Holy Spirit and surrender your will to His. Continue to pray for the nation and its leaders, our spiritual leaders, those who have suffered great losses through crime, terrorism, natural disaster and disease. Remember our allies and ask the Lord to make you a blessing during this holiday season (2 Cor. 10:5; Heb. 12:1-2; Ps. 19:14).
Today's Scripture
"And 'don't sin by letting anger control you.' Don't let the sun go down while you are still angry, for anger gives a foothold to the devil." –Ephesians 4:26-27 NLT
Thoughts for Today
Everyone from infancy on experiences angry feelings. However, Christians often find it difficult to admit that anger exists in their lives. Many see anger as a feeling that is contradictory to their faith, but the Bible makes it clear that anger is an ethically neutral force that can be used to glorify God . . . or to sin against him. It can be used for good, but it has potential for danger and can lead to sin.
God created our emotional being, and we are created in his image. How can we see anger itself as sinful if God gets angry? Many scriptures refer to God's anger, which is always directed toward defeating sin and unrighteousness. His anger is righteous. "God is an honest judge. He is angry with the wicked every day" (Psalm 7:11 NLT). Jesus showed his anger toward the wickedness in the house of God (Mark 11:15-18).
Consider this …
We all get angry, and sometimes our anger becomes sin against God. God's anger is directed toward defeating wickedness. Is ours?
Today's scripture warns about two ways anger can become sin. The first is by letting anger control us. Letting it shape our thoughts and attitudes and motivate our actions. The second is by not resolving it. "Don't let the sun go down while you are still angry." Don't let it fester and turn into bitterness. Uncontrolled, unresolved, or misdirected anger allows the devil to get a foothold in our lives. It can lead to a multitude of sins.
And so the question is not, do we get angry. Yes, we do. But where is our anger directed? Are we resolving it or letting it build. Is it our master–or our servant?
This week we will discuss steps we can take to make anger our servant.
Prayer
Father, forgive me for the times I become angry because I don't get my way. Forgive me for letting anger take control. Help me make anger my servant, not my master. In Jesus' name …
Staying Connected
TGIF Today God Is First Volume 1 by Os Hillman
November 27, 2017
"Let the morning bring me word of your unfailing love, for I have put my trust in You. Show me the way I should go, for to You I lift up my soul." – Psalm 143:8
Two of the greatest inventions of my time have been the laptop computer and e-mail. The laptop means I no longer have to stay in one place to be productive in my business life. E-mail has allowed me to stay connected to people all around the world with the touch of a button.
My greatest frustration is when either of these does not work. Sometimes e-mail cannot be used because I can't get a connection. Sometimes I cannot use my laptop because I have not properly charged it, and then the charge runs out while I am on an airplane. Both of these situations mean I am unable to tap into the resource that allows me to fulfill my calling in my work to the fullest.
The morning time with God is much like these situations. God pours His Word into my spirit, and I am recharged. This recharging has an important effect on my day. It allows me the greatest opportunity to hear the small voice that directs my steps. If I refuse to "get connected," I risk following my own ways of fulfilling the duties of my day. It sets forth the opportunity for God to speak into my spirit what He desires for me each day. It allows me to focus on God's purposes, not mine.
The only way to know someone is to spend time with him or her. The only way to discern the voice of another is to hear that person's voice. David, the author of this psalm, was a warrior, king, and businessman. He understood this principle of connecting with God in the morning. His morning allowed him to connect with God's love, renew his trust in Him, and hear His directions for his life. Shouldn't you and I do the same?
Passion for Praise:

 'In the Name of the Lord'

Monday, November 27, 2017

"Blessed is the king who comes in the name of the Lord! Peace in heaven and glory in the highest!"
So, what shall it be today?  Memories, if I can find any?  It becomes harder each day……..it's like my mind is all this vast emptiness and I must fill it up with something!  Why are my memories gone?  Is this a message from God?  Am I supposed to make new memories?
Is this what God has done?
Is this what He is trying to tell me?
And this, too?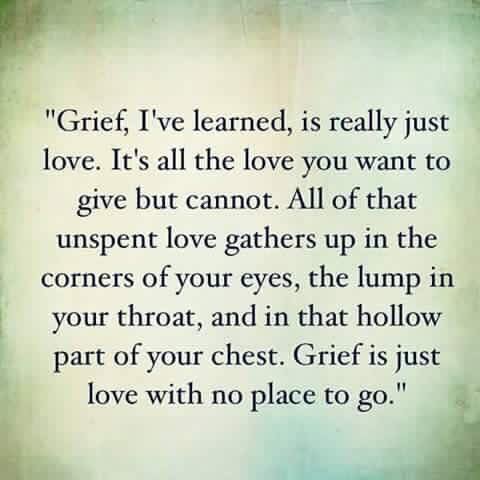 This is what I've felt lately……as if someone has died, gone away, and I know I'll never see them again…….
Will the love always be there, truly……is it even there NOW??
Jenni, if you ever read this…………know that, even out of love, I can scold and correct you and my grandchildren……I don't do it out of meanness or hate….NEVER!  I do it because I desire for MY family to be right and true to God in ALL ways………..I know the end times are upon us and I desire for us all to be together in the hereafter………You children were my life…..the best parts of my life…….though I have no memories, hardly, of your childhoods, I just know that we were happy all together……..I'm sorry if you look back and see only the bad, but, you know, even the bad times were lessons we all needed and even the bad was, in its own way, happy!  I took your words to me to my heart……..I've mulled them over and yes, I realize that I was wrong, but, NOTHING I did or said was out of meanness, spite, jealousy, or even bitterness………in all this world, you will not find a Mother as happy and proud of her children as me……..not for what you have or even for what you've accomplished "on your own, with your hard work"…….but simply because you're MINE………..you see, if you work to accomplish things for yourself, then the work is all in vain……..and if you take the credit for yourself, this, too, is a wrong kind of pride……Everything we do, we should do for love of God………..we should never pat our own backs!  We should give all thanks and praise to God, because, without Him allowing it, we would have NOTHING.
Stay tuned………
God bless everyone!!!