Therefore it is said, "When he ascended on high he led a host of captives, and he gave gifts to men." Ephesians 4:8, RSV Our dear Father in heaven, we thank you that you have given us the Lord Jesus on high and that we are allowed to be with him and find joy even while still surrounded by all that must fade and perish. For in Jesus Christ you hold us by the hand through anxiety, need, and death. Grant that he may be with us as we continue our pilgrimage. Grant us your Spirit, for we are poor in spirit and in soul. Give us your Holy Spirit from on high. Just in our weakness we come to know what strength and victory you bring through the Lord Jesus, our Savior. The Lord Jesus is our Savior for body, soul, and spirit for ever and ever. Amen.
Verse of the Day—
Thoughts on Today's Verse…
Offering ourselves to God isn't easy because it means we must first die to our own selfish will. Like Jesus did in the Garden of Gethsemane, we face our own cross and must cry out, "Not my will, dear Father, but your will be done!"
My Prayer…
Dear Father, thank you for sending Jesus as my Savior. Lord Jesus, I want to follow you. I don't want it to be half-hearted or hypocritical. I want your life to be seen in me. So please, gently show me the areas where my heart needs to be softened and my character needs to be shaped by the Spirit so that I can more perfectly reflect your glory, grace, and character to those around me. In Jesus' name. Amen.
BIBLE STUDY BUDDY 
04/23/PM
"Lo, in the midst of the throne . . . stood a Lamb as it had been slain."
—Re 5:6
Why should our exalted Lord appear in His wounds in glory? The wounds of Jesus are His glories, His jewels, His sacred ornaments. To the eye of the believer, Jesus is passing fair because He is "white and ruddy" white with innocence, and ruddy with His own blood. We see Him as the lily of matchless purity, and as the rose crimsoned with His own gore. Christ is lovely upon Olivet and Tabor, and by the sea, but oh! there never was such a matchless Christ as He that did hang upon the cross. There we beheld all His beauties in perfection, all His attributes developed, all His love drawn out, all His character expressed. Beloved, the wounds of Jesus are far more fair in our eyes than all the splendour and pomp of kings. The thorny crown is more than an imperial diadem. It is true that He bears not now the sceptre of reed, but there was a glory in it that never flashed from sceptre of gold. Jesus wears the appearance of a slain Lamb as His court dress in which He wooed our souls, and redeemed them by His complete atonement. Nor are these only the ornaments of Christ: they are the trophies of His love and of His victory. He has divided the spoil with the strong. He has redeemed for Himself a great multitude whom no man can number, and these scars are the memorials of the fight. Ah! if Christ thus loves to retain the thought of His sufferings for His people, how precious should his wounds be to us!
"Behold how every wound of His
A precious balm distils,
Which heals the scars that sin had made,
And cures all mortal ills.
"Those wounds are mouths that preach His grace;
The ensigns of His love;
The seals of our expected bliss
In paradise above."
Read Revelation 5:1-14…"Then I saw in the right hand of him who sat on the throne a scroll with writing on both sides and sealed with seven seals. 2. And I saw a mighty angel proclaiming in a loud voice, "Who is worthy to break the seals and open the scroll?" 3. But no one in heaven or on earth or under the earth could open the scroll or even look inside it. 4. I wept and wept because no one was found who was worthy to open the scroll or look inside. 5. Then one of the elders said to me, "Do not weep! See, the Lion of the tribe of Judah, the Root of David, has triumphed. He is able to open the scroll and its seven seals." 6. Then I saw a Lamb, looking as if it had been slain, standing at the center of the throne, encircled by the four living creatures and the elders. The Lamb had seven horns and seven eyes, which are the seven spirits of God sent out into all the earth. 7. He went and took the scroll from the right hand of him who sat on the throne. 8. And when he had taken it, the four living creatures and the twenty-four elders fell down before the Lamb. Each one had a harp and they were holding golden bowls full of incense, which are the prayers of God's people. 9. And they sang a new song, saying: "You are worthy to take the scroll and to open its seals, because you were slain, and with your blood you purchased for God persons from every tribe and language and people and nation. 10. You have made them to be a kingdom and priests to serve our God, and they will reign on the earth." 11. Then I looked and heard the voice of many angels, numbering thousands upon thousands, and ten thousand times ten thousand. They encircled the throne and the living creatures and the elders. 12. In a loud voice they were saying: "Worthy is the Lamb, who was slain, to receive power and wealth and wisdom and strength and honor and glory and praise!" 13. Then I heard every creature in heaven and on earth and under the earth and on the sea, and all that is in them, saying: "To him who sits on the throne and to the Lamb be praise and honor and glory and power, for ever and ever!" 14. The four living creatures said, "Amen," and the elders fell down and worshiped."
In His Presence…
As the bus rounded another bend in the Israeli road, I was not prepared for my reaction to what I would see. There stretching before us lay the Sea of Galilee. Its beauty sparkled in the bright sunlight, but my heart was not touched just by its natural grandeur. No, the tears of wonderment that clouded my vision came when I realized anew that I was in the land of Jesus earthly life.
When I looked over that body of water, I was viewing the sea on which Jesus sailed. When I visited the city of Capernaum, I was walking exactly where He walked. When I came to the Mount of the Beatitudes, I was standing in the very place where Jesus gave His remarkable sermon.
My heart was renewed by these realizations. It was warmed with the realities of Jesus life and especially His sacrificial death. Although those experiences in Israel have no redeeming power, they made me think about something that will happen in the future. I was touched by this thought: If being in the place where Jesus walked has the power to quicken my heart, how overwhelming it will be to stand in His presence in heaven!
Imagine the absolute ecstasy of being where Jesus is not just where He was. It will be astounding!
-Dave Brannon
Daily Dig
Caffeine for your conscience
TODAY'S DAILY DIG
How can we not lose our souls when everything and everybody pulls us in different directions? How can we "keep it together" when we are constantly being torn apart? Jesus says, "Not a hair of your head will be lost. Your perseverance will win you your lives" (Luke 21:18–19). We can only survive our world when we trust that God knows us more intimately than we know ourselves. We can only keep it together when we believe that God holds us together. We can only win our lives when we remain faithful to the truth that every little part of us, yes, every hair, is completely safe in the divine embrace of our Lord. To say it differently: when we keep living a spiritual life, we have nothing to be afraid of.
SATURDAY, SEPTEMBER 23
Making Plans
READ
How do you know what your life will be like tomorrow? Your life is like the morning fog—it's here a little while, then it's gone (v.14).
Andre-Francois Raffray was a middle-aged lawyer who found a bargain. A ninety-year-old widow named Jeanne Calment offered her French apartment en viager, or "for life." If Raffray paid her $500 US per month for her remaining days, he would inherit her apartment when she died. But as months turned into years, Calment kept living and Raffray kept paying. Finally, after thirty years and a lot of money, Raffray died! Jeanne Calment celebrated her 120th birthday and shrugged, "In life, one sometimes makes bad deals."
This true story at first glance sounds wildly unbelievable—but then life is full of unbelievable events. We're wise to look for deals, but as Solomon observed, "time and chance happen to [us] all" (Ecclesiastes 9:11 NIV). Businesses fail and accidents happen, often for no apparent reason. What seemed like security can be our undoing, all because we're paying rent to the oldest person alive. What are the odds?
As we plan, we must remain humble. James warns us not to boast about future profits, for who knows "what your life will be like tomorrow?" Our lives are as fleeting as the "morning fog" and fully dependent on God. So we should say, "If the Lord wants us to, we will live and do this or that" (4:14-15). Proverbs 19:21 explains, "You can make many plans, but the Lord's purpose will prevail." This proverb may be the source of the Yiddish saying, "Man plans and God laughs."
God's sovereign power should bring us comfort. He's not surprised when our best plans go awry. He's got us and that's enough. "The Lord's plans stand firm forever; his intentions can never be shaken" (Psalm 33:11). So prayerfully consider what to do, but know that you're secure in God's loving hands.  —Mike Wittmer
MORE
Read Isaiah 46:1-13 to get another view of God's sovereign ways.
NEXT
What plans are you working on today? Which ones might give you a false sense of security? How can you make sure your faith is in God and not in your plans?
Sharing Jesus with Your Children
"And thou shalt teach them diligently unto thy children, and shalt talk of them when thou sittest in thine house, and when thou walkest by the way, and when thou liest down, and when thou risest up." – Deuteronomy 6:7
Have you ever tried to take a tasty bone away from a dog? It's a good way to get bitten! But what if you put a steak down on the ground? The dog will drop the bone to get that steak.
This is the mistake so many parents are making today. They spend their time telling their children "Don't do this. Don't do that. That's wrong." By such behavior, these parents are failing an entire generation. Many times, children are never shown the riches of Jesus Christ. In every 24-hour cycle, there are a multitude of teachable moments for sharing and modeling life in Christ.
Children must be shown that what they have in the Lord Jesus Christ is so much better than what this world has to offer. But are they seeing that in your life?
From The Heaven Answer Book by Billy Graham
Worship on earth cannot compare to the per­fected worship of the saints in Heaven. It won't be about us—it will be about Him. Jesus said, "A time is coming . . . when the true worshipers will worship the Father . . . for they are the kind of worshipers the Father seeks. . . . His worshipers must worship in spirit and in truth" (John 4:23–24). He was responding to the Samaritan woman at the well, who was focused only on the place of worship rather than the Person she should worship. Jesus knew that the day would come when places of worship would be destroyed. He was moving her heart from the place of worship to the Person to be worshiped.
We are living in perilous times, watching the name of Christ attacked both from outside the church and also from within. At times Satan and his demons have disguised
themselves as sheep and have slipped in among believers, causing division, confusion, and deception. Jesus said, "Away from me, Satan! For it is written: 'Worship the Lord your God, and serve him only'" (Matthew 4:10). The Bible says, "Certain men . . . have secretly slipped in among you. They are godless men, who change the grace of our God into a license for immorality and deny Jesus Christ our only Sovereign and Lord" (Jude 4). Scripture warns against worshiping created things rather than the Creator (Romans 1:25). This is certainly evident in our society today; in some circles, we are even dangerously close to worshiping our worship.
Worship on earth can easily take the form of mind­less activity or superficial entertainment. Many have come to believe that worship is only singing songs and clapping our hands. But true worship is focusing on Christ and living for Him day by day, in spirit and in truth. The center of true worship is the Lord.
Even at our best, our worship on earth will always be imperfect, incomplete, and even superficial and boring at times. In Heaven, our worship will be transformed.
Our spirits will not feed on satisfying ourselves. Our minds will be fixed on Him. Our hearts will be filled with thanksgiving. And our lips will express the adora­tion due His name.
Order your own copy of The Heaven Answer Book by Billy Graham
Perfect-Mate Myth
Love is patient, love is kind. It does not envy, it does not boast, it is not proud. It is not rude, it is not self-seeking, it is not easily angered, it keeps no records of wrong. – 1 Corinthians 13:4-5
Do you believe the Perfect-Mate Myth? It goes something like this: "If I just had the right mate, then my life would be all right." This belief is profoundly off base. First, it assumes that we are good and our spouse is the real problem. Second, it implies that there is such a thing as a "perfect" spouse, one who is beyond the reach of sin.
This delusion keeps couples from growing the way God wants them to grow. If you're in a difficult marriage, believing this myth will prevent you from the hard work and commitment necessary to repair the relationship. To keep your relationship stable and growing you must concentrate on building your relationship with God–as a couple and as individuals. If you do that, your marriage will be strengthened and your soul will be fed.
"If you judge people, you have no time to love them." – Mother Teresa (1910-1997)
Daily Wisdom: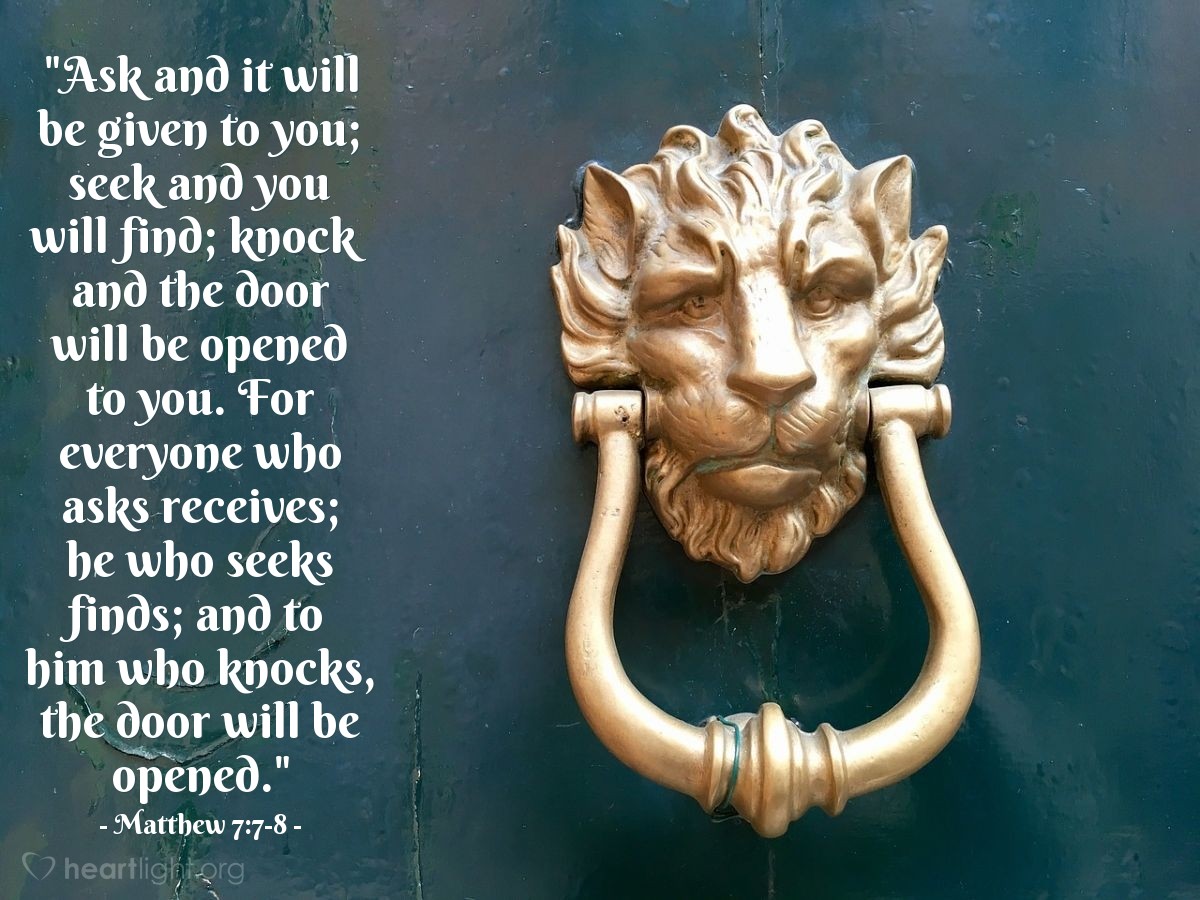 Passion for Praise:

 'How Great You Are!'

Let all that I am praise the LORD. O LORD my God, how great you are! You are robed in majesty. You are dressed in a robe of light.
The Daily Word of Hope Devotional
Bible Fun Fact: Lions killed people 3 times in the Bible, and three people killed lions: Samson, David, Benaiah.
Vineyards
For the Kingdom of Heaven is like a man who was the master of a household, who went out early in the morning to hire laborers for his vineyard. Matthew 20:1 WEB
Vineyards that produce some of the best wine, limit the water to the plants in order to make their roots go deeper into the soil. The resulting grapes are small, but intensely flavorful. The crop yields less, but the fruit quality is superior. This is why some areas become known for their wine, their perfect climate and terroir.
The grape vines that have had to drill deep into the earth for water become heartier and more stable. Their supporting root system runs deep, and they are not easily uprooted by winds. If it does not rain for a while, they are already prepared for it. They remain stable through out the seasons because of their deep roots.
Vines that have been flooded with all the water they could want, sit right on top of the ground with a shallow root system. A few days without water and they will begin to dry up. A light wind or tug can uproot the plant entirely. The fruit that they produce can be large, but often bland and watery.
The Lord knows how to tend His vineyard, and quality is more important to Him than quantity. He provides what we need to bring forth the best fruit in our lives. That means that He is not going to flood us with all that we desire, as that would make us produce shallow roots and we would wither at the first sign of adversity.
It is not always easy. Sometimes we feel like we do not have enough, but there is a purpose behind it. You may feel that you are in a spiritual draught today and think that God has forgotten you, but He has not. He knows what is needed to produce the correct fruit and you already have it in your life. Stop worrying about what you don't have, and realign your priorities with your mission here.
Prayer: Heavenly Father You know my needs before I ask them. I trust You to provide for me and cause me to prosper in what You give me to do. Help me bring forth spiritual fruit in my life, in the name of Jesus Christ I pray.
DAILY DEVOTIONAL SEPTEMBER 23, 2017
He has blessed us in the Beloved
Ephesians 1:6
What a state of privilege! It includes our justification before God, but the term "blessed" in the Greek means more than that. It signifies that we are the objects of divine satisfaction, even of divine delight. How marvelous that we-worms, mortals, sinners-should be made the objects of divine love!
But it is only "in the Beloved." Some Christians seem to be accepted in their own experience-at least that is their apprehension. When their spirit is lively and their hopes bright, they think God accepts them, for they feel so high, so heavenly-minded, so drawn above the earth! But when their souls cleave to the dust, they are the victims of the fear that they are no longer accepted. If they could only see that all their high joys do not exalt them, and all their low despondencies do not really depress them in their Father's sight, but that they stand accepted in One who never alters. This One is always the beloved of God, always perfect, always without spot or wrinkle or any such thing. How much happier they would be, and how much more they would honor the Savior if they could grasp Him!
Rejoice then, believer, in this: You are blessed "in the Beloved." You look within, and you say, "There is nothing acceptable here!" But look at Christ, and see if everything is not acceptable there. Your sins trouble you; but God has cast your sins behind His back, and you are accepted and blessed in the Righteous One. You have to fight with corruption and wrestle with temptation, but you are already accepted in Him who has overcome the powers of evil. The devil tempts you, but be of good cheer-he cannot destroy you, for you are accepted in Him who has broken Satan's head.
Know by full assurance your glorious standing. Even glorified souls are not more accepted than you are. They are only blessed in heaven "in the Beloved," and you are even now blessed in Christ after the same manner.
Happy Saturday to all of you!!
I'm beginning to feel much better…..Each day, I awake and thank God for the new day……if thoughts of my past distress intrude, I shut them out forcefully!  I will NOT let them come between me and my Lord!!
My fella bought a guitar from a friend of his….it's a beautiful guitar that belonged to Robert's Dad, may he Rest In Peace……..but, Duane paid exactly what the guitar sells for, if it was brand new……also, he put new strings on it but it still sounds like crap and one string broke………I really hope Robert didn't overprice it and sell it to a friend that way….Duane would never do that to him!  But, still, it's an honor just to own one of Robert's Dad's guitars because that man was a serious player!  Also, it's a blues guitar and maybe they sound different……
Chicken for dinner today……….
Have a good day and God bless!!!